The skinny scarf has seen a sudden surge among Scandinavian tastemakers. Below, how to take their cues on wearing this trendy staple from day to night throughout winter
It seems this season, the best sartorial statement comes in the slimmest of packages. Skinny scarves, once a staple of the '70s rock'n'roll scene and '90s red carpets, are making a triumphant return to the fashion forefront. First spotted on the runway, we saw Acne Studios, Swedish Hodakova, Boss, and Marine Serre presented their versions for the autumn/winter '23 season, while Alberta Ferreti, Dolce & Gabbana, Rotate, Roberto Cavalli, and Saint Laurent carried it into the spring/summer '24 season – transforming the skinny scarf from a vintage relic to a must-have item in today's style arsenal.
As this nostalgic accessory has been spotted adorning more than a few fashionable necks as of late, you may be wondering how to incorporate this easy outfit-topper into your weekly wardrobe rotation. Fret not, we've looked to some of the most stylish girls in out Nordic network to take outfit notes.
For daytime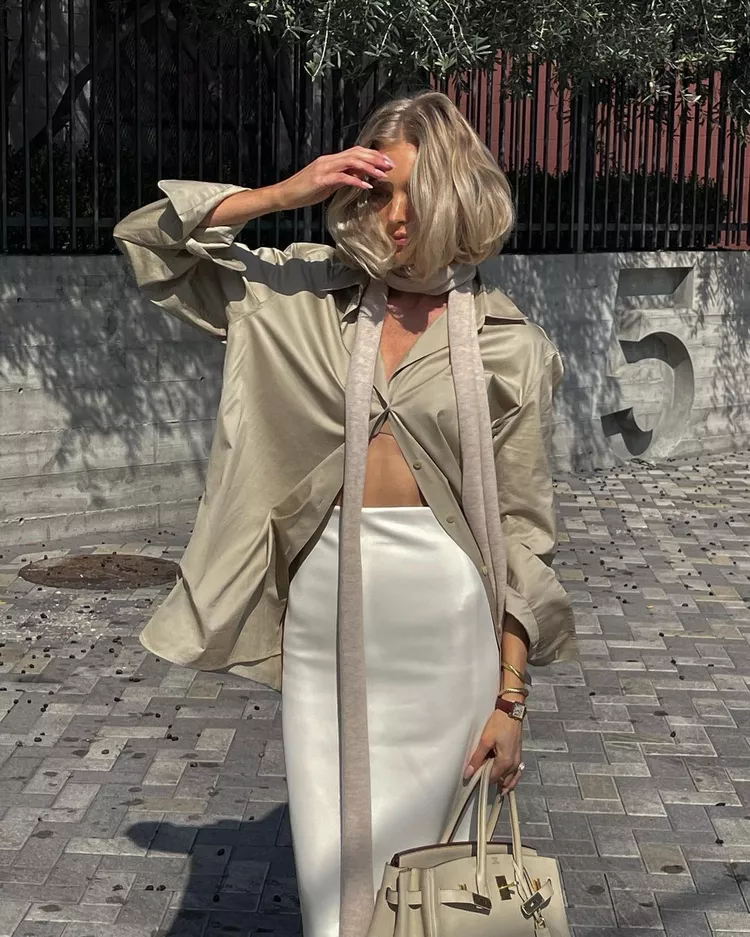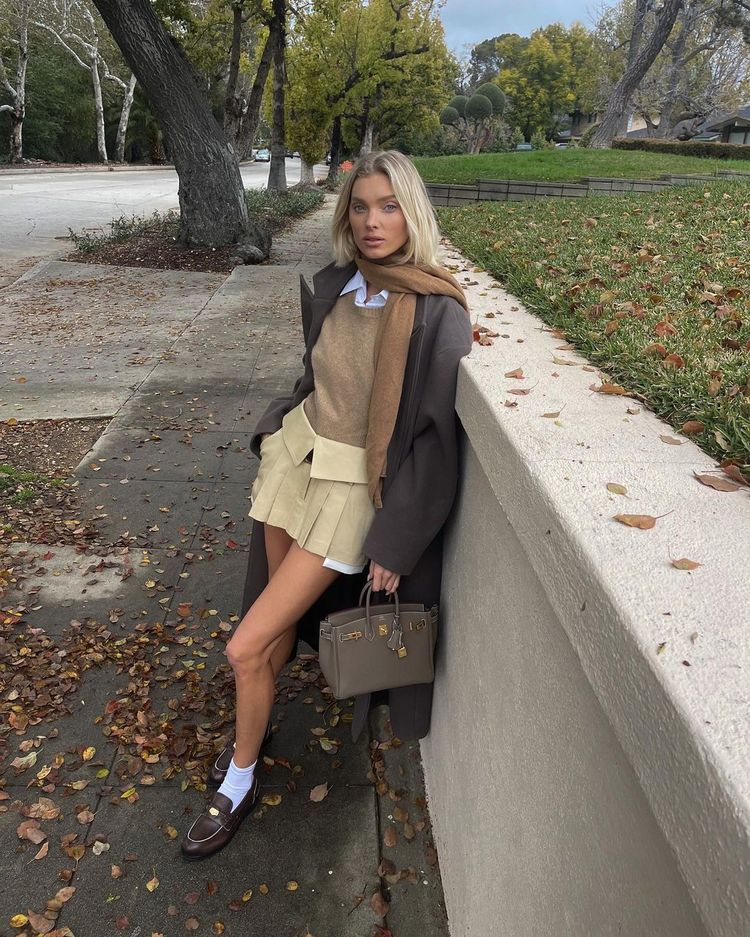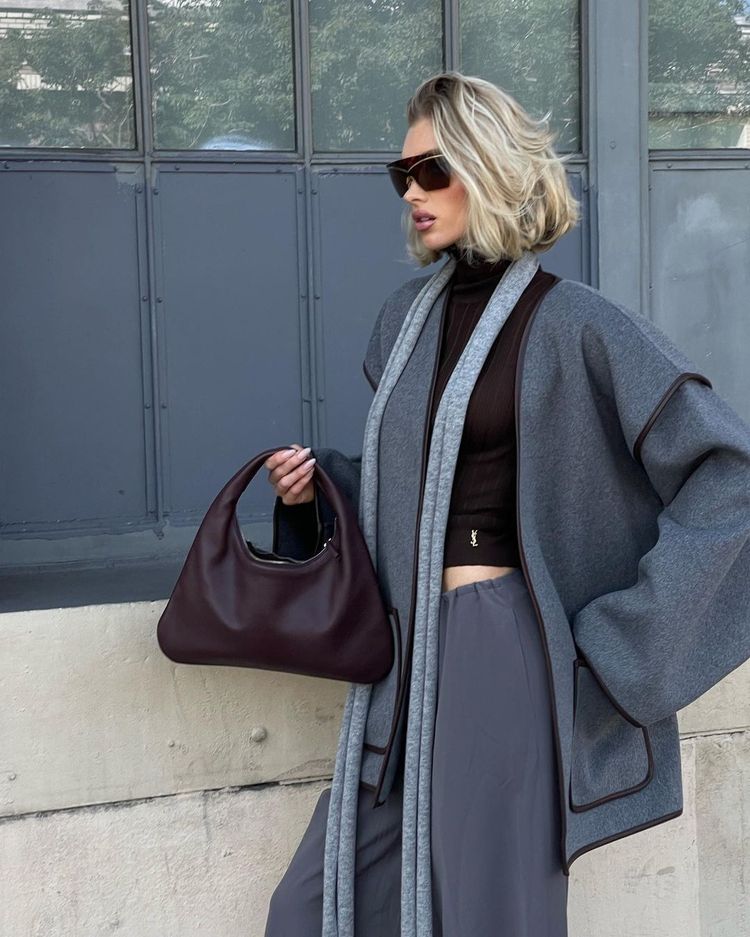 For wearing a skinny scarf during the day, knitted versions may be your best friend. Swedish supermodel Elsa Hosk serves as our blueprint for styling the soft accessory, sporting not one, but three looks over the past couple of weeks.
Leaning into subtle colour schemes, her first looks sees Hosk sport a beige cashmere scarf by her own brand Helsa. And here's her key to styling it for the day: a tone-in-tone ensemble, featuring a cream coloured silk maxi skirt and an off-white cotton shirt by The Row, complete with a matching Birkin bag.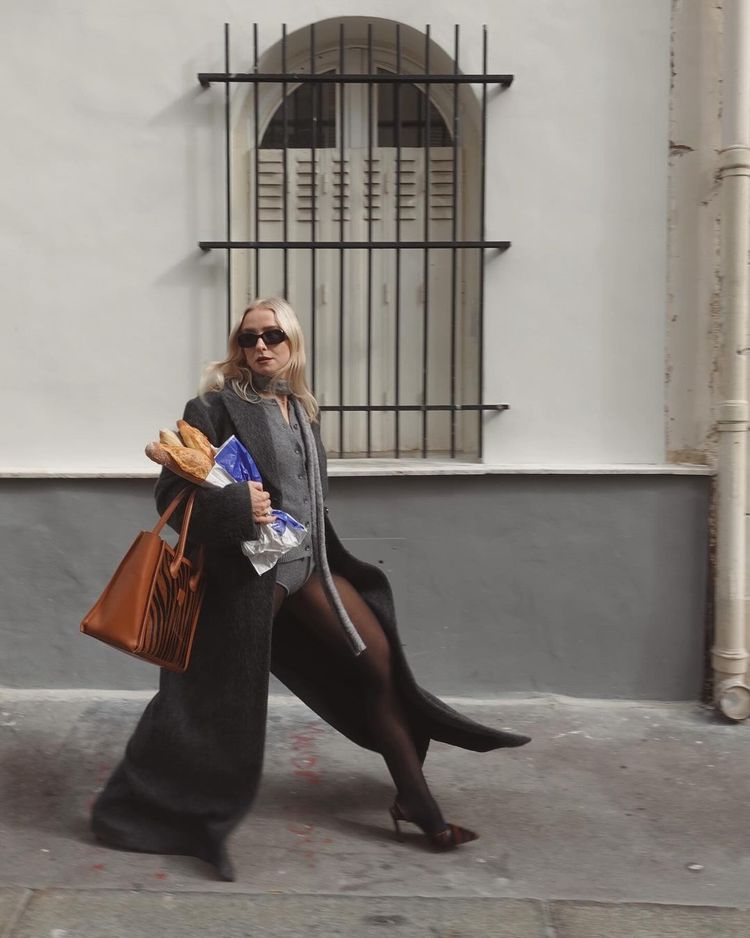 Photo: Fanny Ekstrand (@fannyekstrand)
Further cementing her prowess of mono-shades, Hosk sported preppy greige shades . Hosk's third look cemented once and for all that tone-in-tone styling is the way to go. Layered over a chocolate brown Saint Laurent top, the model paired tactile grey trouser by The Row and a wrap coat by Helsa with the grey version of her Danya scarf.
Swedish content creator Fanny Ekstrand was another stylish Scandianavian who opted to sport matching shades with her knitted skinny scarf. Embracing the no-trouser trend, Ekstrand wore knitted knickers with a matching cardigan, layered with luxe deniers and a dark grey woollen coat. Adding to the grey appeal, she accessorised the look with ATP Atelier's upcoming collection: a tiger-striped horsehair handbag and heels.
For evening occasions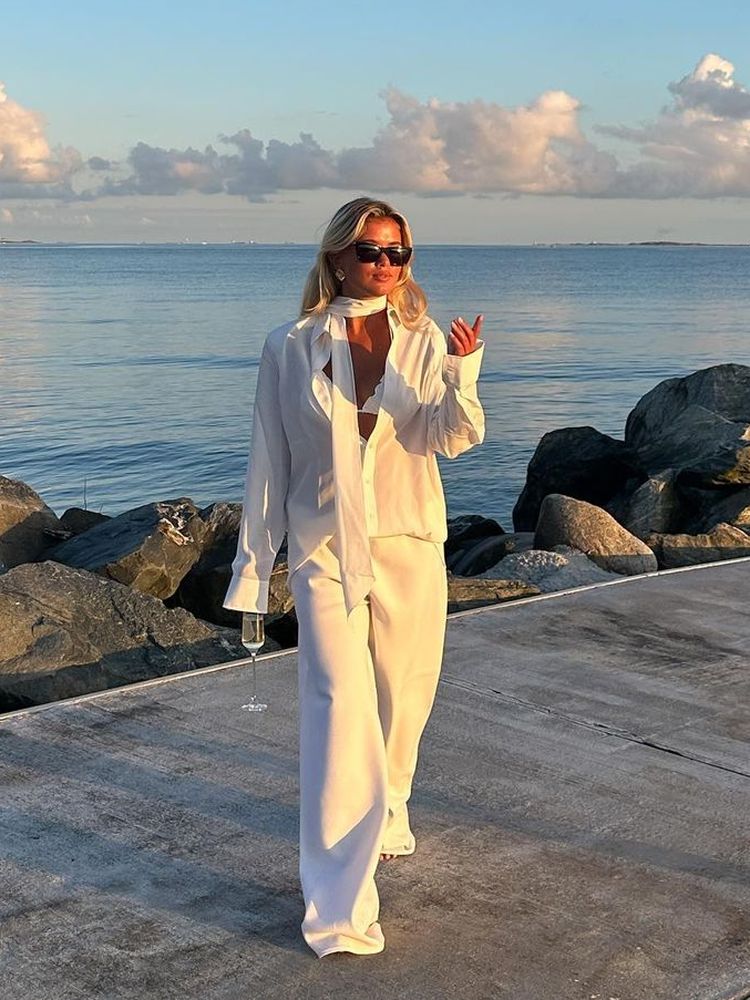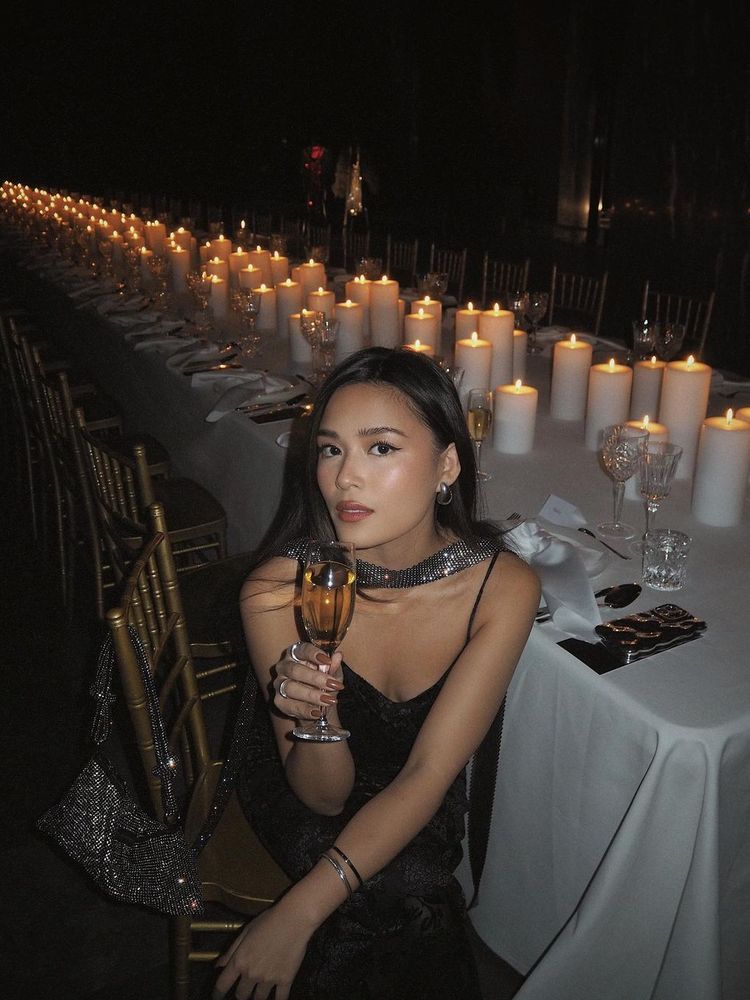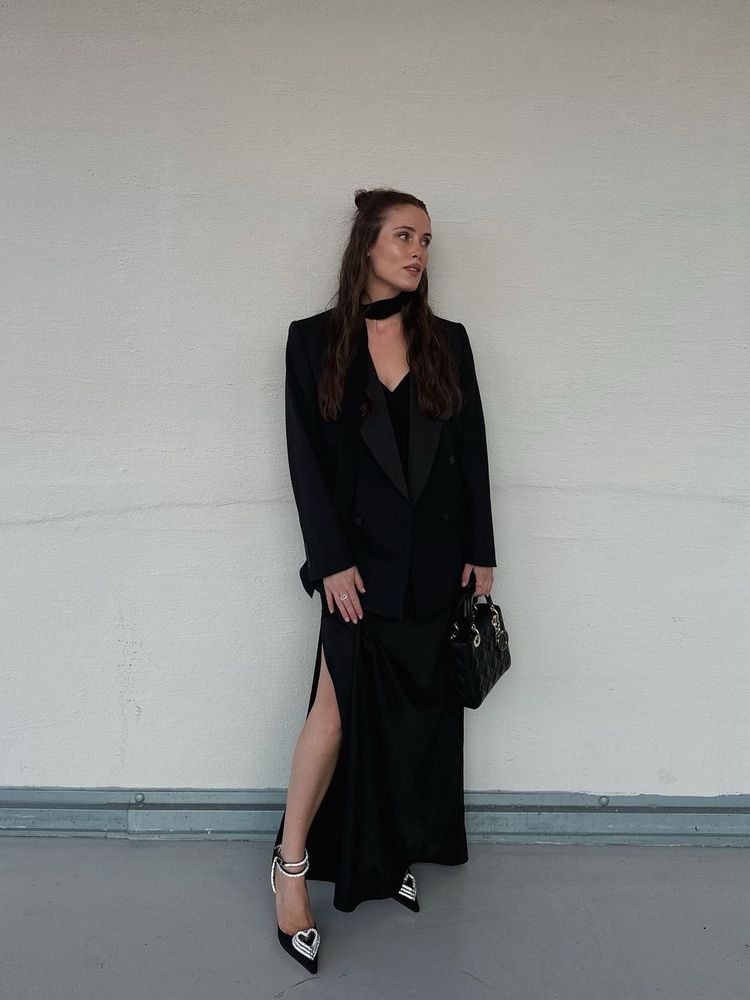 Keen to style your skinny scarf after the sun sets? Cocktail hour calls for an alternative materials – think chiffons or sequins – according to our sartorially-savvy Scandinavians. While the likes of Swedish Matilda Djerf and Norwegian Annabel Rosendahl stick to one-shade styling: Djerf sporting a silky white set, while Rosendahl delivered a masterclass in all-black.
Fellow Norwegian Tsutsumi Hoang, however, has us reconsidering the skinny scarf as an evening jewellery piece. Wearing a black strappy column dress in floral velvet brocade, Hoang slung her sparkling skinny scarf across her shoulders, wearing the accessory like jewellery for a candlelit dinner.