Valentino's best selling shoe is making a loud comeback, here Sandra pens an ode to the Valentino rockstud
Like many fellow aesthetic appreciators, I enjoy surrounding myself with beautiful things. Personally this includes is Russian matryoshka dolls, rocks, seashells and to state the obvious - shoes. To name a few recent highlights these are Amina Muaddi architectural heels, Bottega Veneta mules, Balenciaga's 'Knife' pumps and of course the Valentino Rockstuds.
The now iconic, studded shoe needs no introduction and has come in every shape imaginable: flats, sandals, towering stilettos and kitten heels, there was something for everyone, or in my case… everything for someone. My name is Sandra and I am a (former) Valentino Rockstud addict.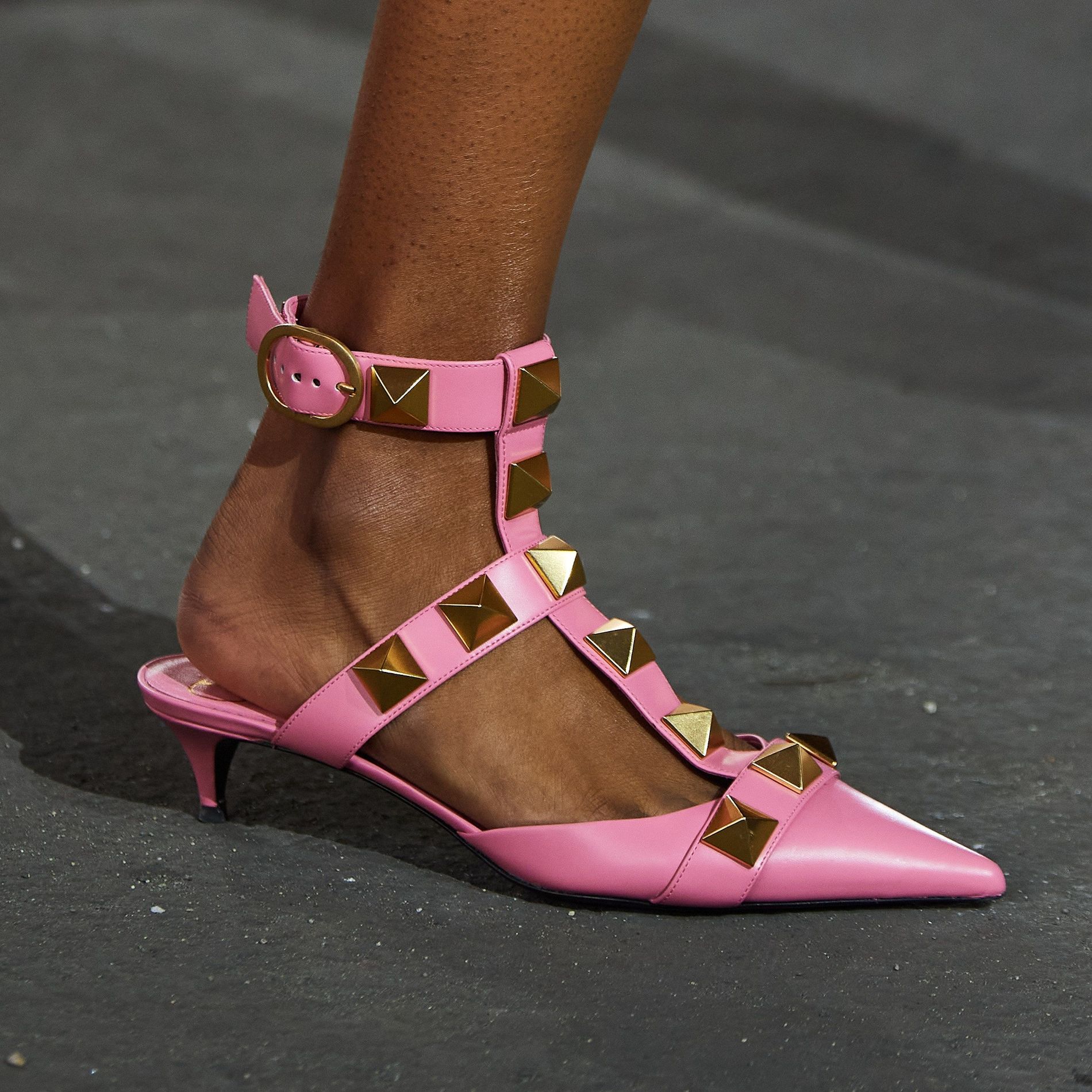 Valentino SS21 kitten heel rockstud. Photo: Vogue Runway
The eponymous shoe has grown into a cult classic since its 2010 debut, and made an ambitious return for the SS21 runway. Bigger and bolder, the renamed 'Roman Stud' were in true Rockstud nature, sprinkled on bags, shoes and large parts of the runway jewellery, savvily banking on yet more fool-proof classics and entry level accessories to see the brand through a pandemic ridden year. 

Of course for SS21 the heels were lower, dresses looser and the glamorous Italian energy of the house was poetically translated to reflect the times. After a year of reviewing 'house shoes' and weakly trying to gather excitement for the 'best fuzzy slippers on the market', all I could see were the shoes and the supersized-studs that gained my undivided attention. Was I actually ready for the return of the Rockstud? Ready or not, what I learner in the next coming months was that the Roman Stud is now part of Valentino's permeant collection, with reoccurring runway appearances in both the pre-fall and the AW21 collection. Placed strategically on bags, shoes and the clothes, at times even alongside the original, smaller Rockstud, it is safe to say the Rockstuds are here to stay.
Valentino
Roman stud leather point-toe flats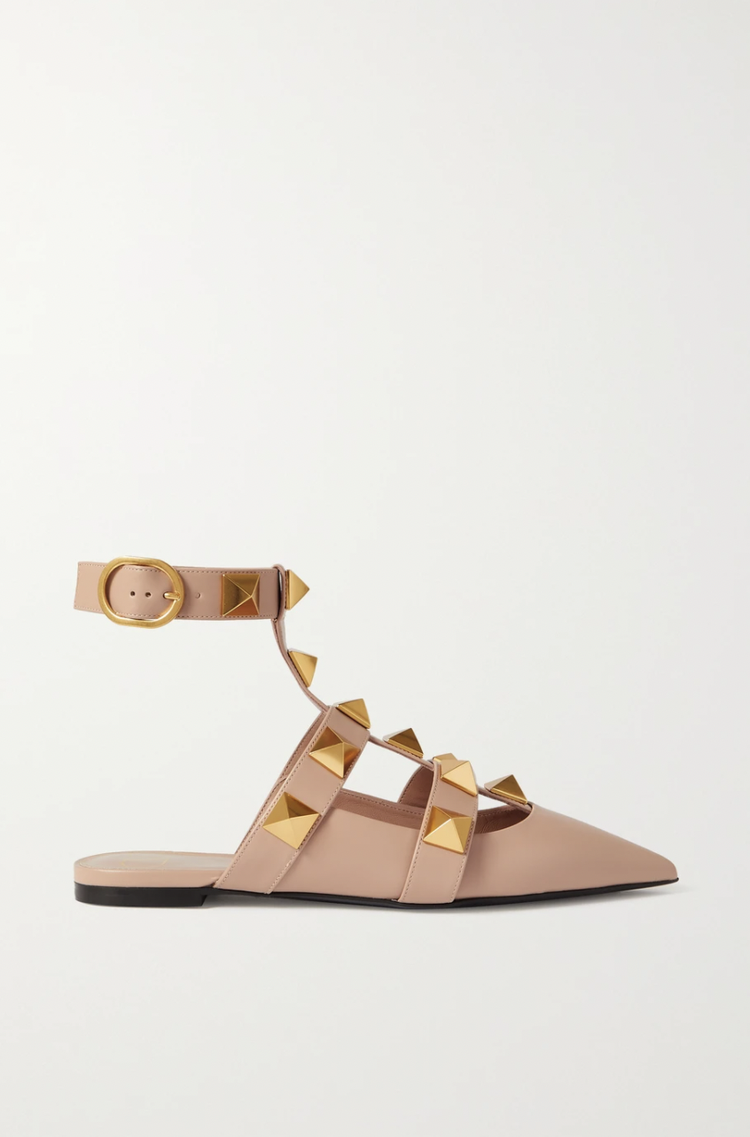 Ten plus years in this industry has taught me to never say never, out loud or in an Instagram caption, may designer crocs and crop tops be proof of that. However, Valentino's original pyramidal hardware stiletto that I wore throughout fashion weeks and most weekends, for weddings and even a funeral, was not a style that I would willingly re-embrace quite yet. Like a song that's been played too many times the over saturation circa early 2016 made me move on to less obvious styles, but not before I had proudly collected a notable line-up of the punky Rockstud pumps.
See the shoes came with one key feature, they were the most comfortable heels I owned, which was to someone that built a life and career around high heels, quite a game changer at the time. Comfort was not necessarily what made me buy the shoes in the first place, nor was it a priority in my 20's, but it was a damn good reason to justify me to start my Rockstud collection.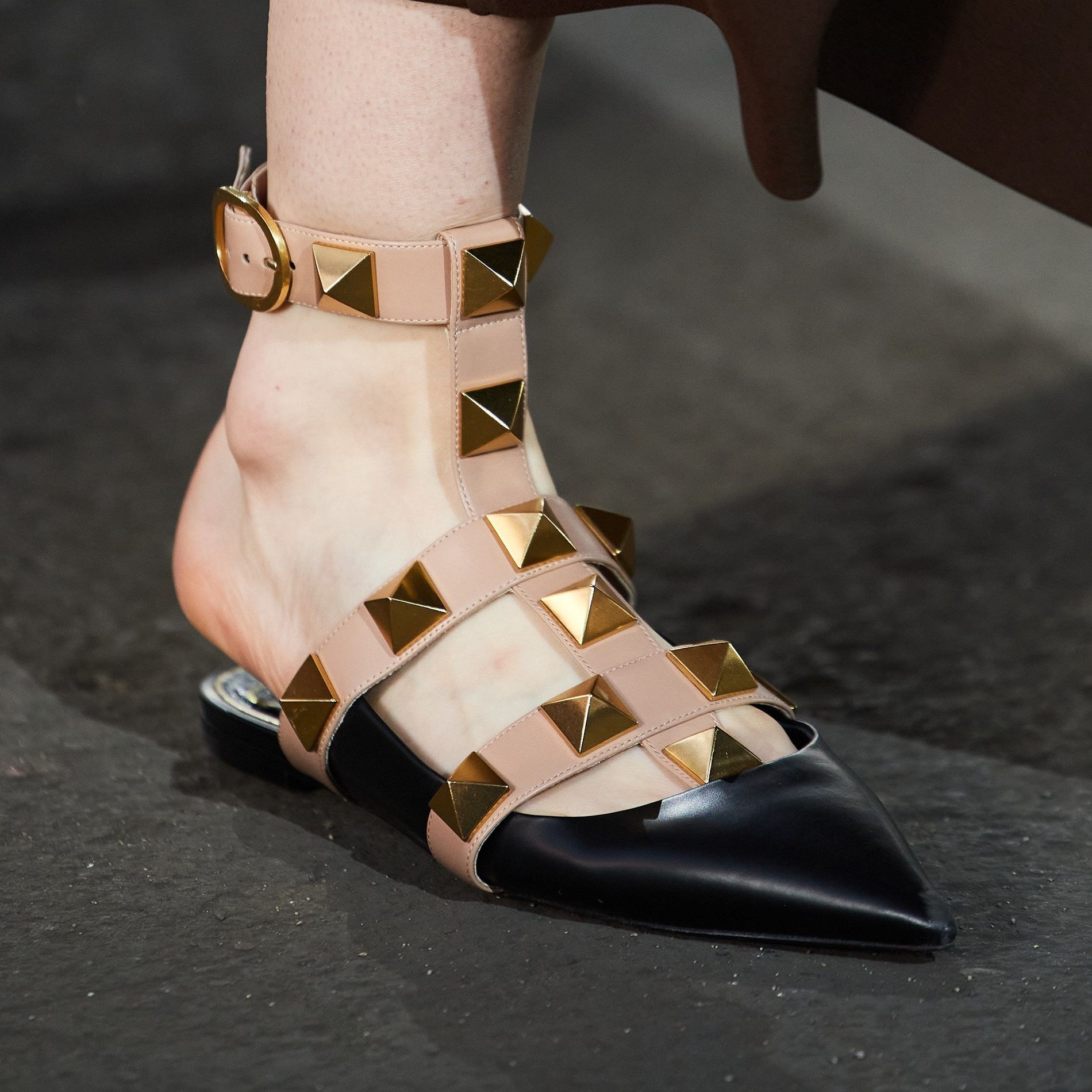 Valentino SS21 rockstud flat. Photo: Vogue Runway
Sitting on a 10.5cm high cigarette heel with the famous caged arches, the studded pumps were both comfortable and sturdy, I could have run a mile in them and I probably did.
The return of the Rockstud instantly took me back to the era of pastel coloured bandage dresses, bouncy blow-dries and fake tan but it also came with the overwhelming connotation of the comfort I so highly valued. A reminder that after a year in sweatpants easing into dressing up again might not be as daunting as we feared and that swapping those sliders for studded designer slippers has the potential to be a seamless, enjoyable transition.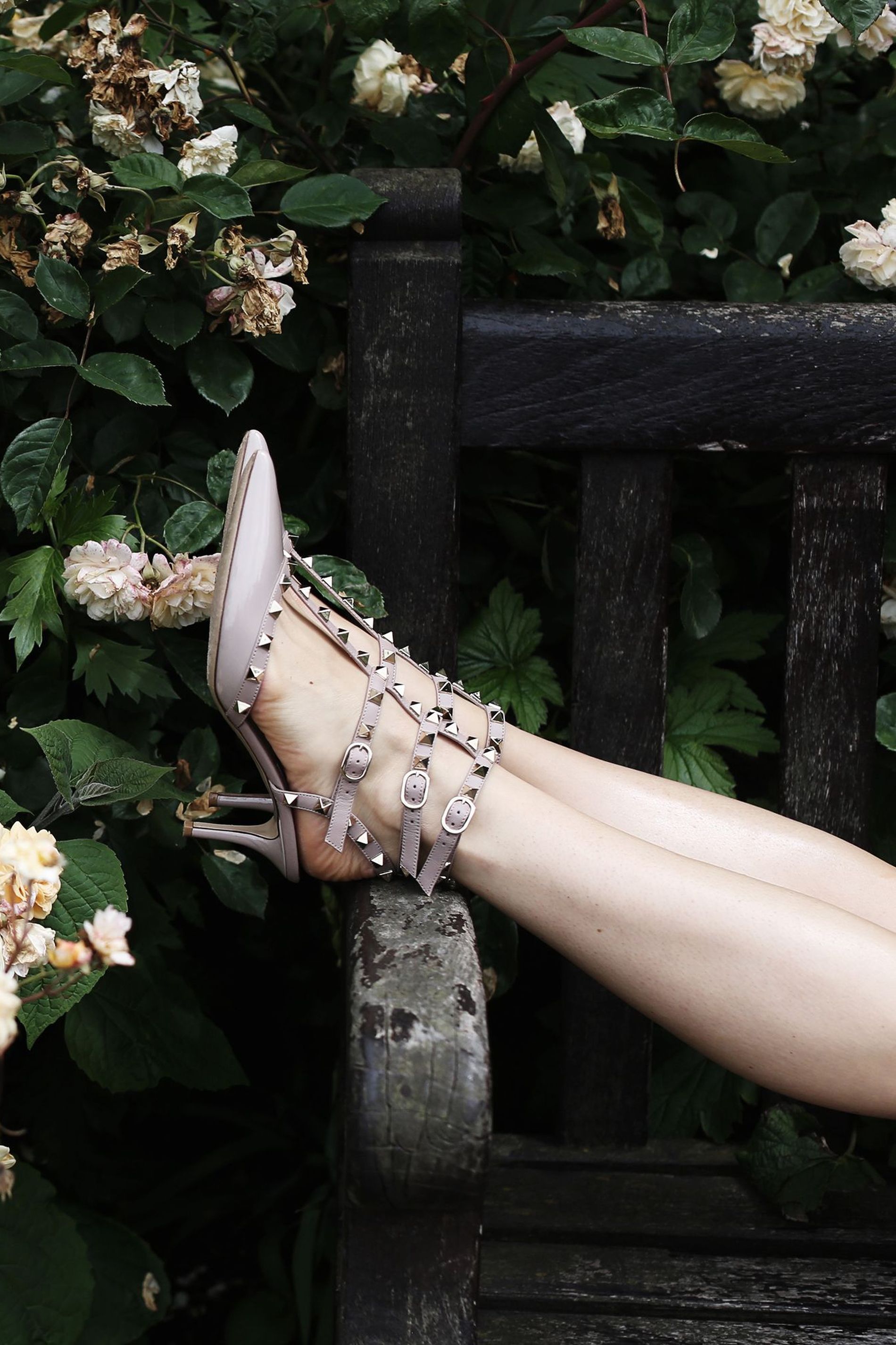 Sandra's well worn Valentino's circa 2010. Photo: Sandra Hagelstam
Of course the styling I imagine will look a lot different, skinny jeans swapped for oversized, pastel Pangaia sweater sets, not that I would necessarily fit into skinny jeans ten years and one pandemic later. The Valentino shoes I dream of this time around are the flats or possibly the kitten heel version, equipped with bigger studs and thicker straps guaranteeing the extra support we could all use right now. Who knows, I might even be alright with just one pair.