Stick to your New Year's resolutions in this sartorially savvy active wear
All products featured on Vogue are independently selected by our editors. However, when you buy something through our retail links, we may earn an affiliate commission.
It's not an exact science but we are confident that the chances of attending a gym class dramatically increases if one dons a nice outfit. This goes for more or less anything we take on in life, making an effort in the style stakes can translate into increased performance through a boost of confidence.
Seeing as one is extra vulnerable after a good sweat, it's even more important to feel powerful at the gym. We've all heard the saying "new year, new me," however, following our embrace of daily affirmations and our desire to feel good and love our bodies as they are, we say '"new year, same me, but with some extra motivation."
Luckily, high-end fashion brands including Christian Dior, Prada, and Gucci, seem to have manifested our desire to look fashionable in activewear - and have joined the ranks of Stella McCartney when it comes to designing fashionable sportswear.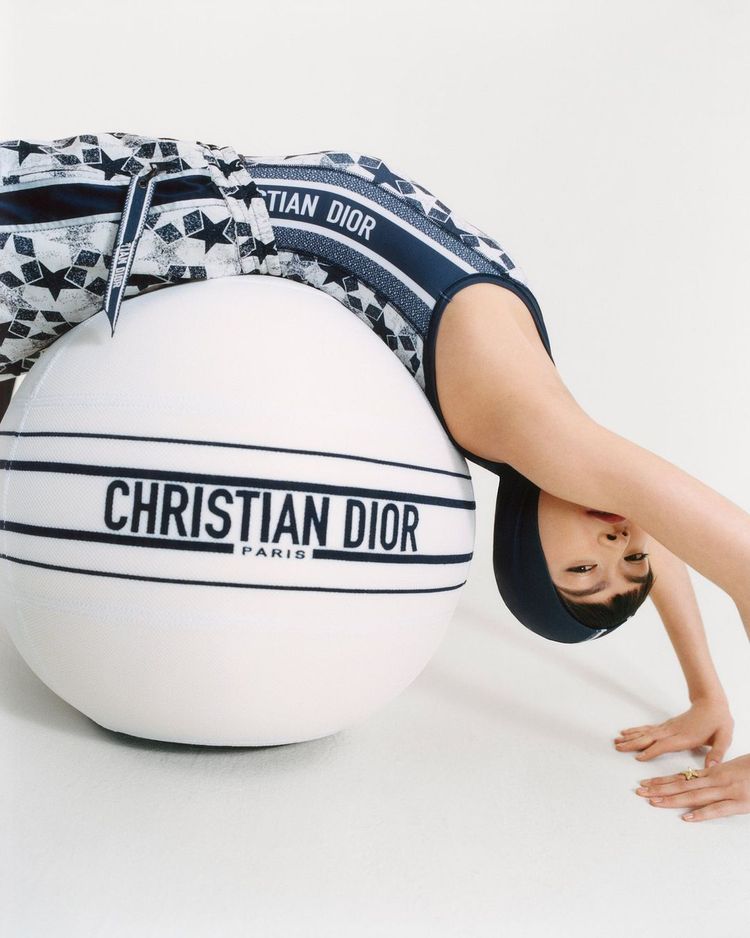 Photo: Laura Jane Coulson
So for all of you who had 'get fit' as a new year's resolution, don't stress - Vogue Scandinavia has gathered the most fashion forward activewear to sport this season. Because, if there is one thing we know for sure, it's that when designers play in activewear we know it's gonna be a fashionable workout.
Whatever the sports you're into, whether it's yoga, running or weight lifting there are several outfit options. We have gathered our favourites of the moment:
Yoga
Those who say yoga is not a sport can simply never have tried it. The amount of concentration and strength it takes to finish a one hour session is far and beyond what many think. Yoga demands you to be flexible at all times, and this goes for your looks as well. This stretchy playsuit from Tory Burch sport is therefore a perfect look to sport when doing yoga. And just recently Christian Dior launched a collaboration with Technogym, and it's safe to say they designed the fanciest balance ball ever made. The collection can be found in selected Christian Dior stores around the world.
Running
Adidas has for centuries been one the leading suppliers of activewear, so it comes as no surprise when high-end brands decided to collaborate with them. This is not the first, and surely not the last time, we fall in love with the Stella McCartney x Adidas collaboration. The result this season being stunning leopard printed clothes perfect for running. Aside from comfortable clothes, running demands a great pair of shoes, unfortunately, there is no way around it. Luckily, Balenciaga has designed a pair of killer runners.
Weight lifting
In order to build muscles we need tools, and quite unexpectedly, yet iconic, we turn our heads to Prada when finding this season's most stylish weight tools and case. As aforementioned, we need to feel powerful in order to deliver. This stretchy green set designed in a collaboration between Nike and Off-White feels like the perfect power suit. Fashion seems to never stop surprise us, the Danish couture brand Cecilie Bahnsen is what we chose to turn to when finding a great pair or shoes when getting sweaty this upcoming spring season.