Ahead of the 78th edition of the world's oldest film festival, revisit the Lido through these vintage shots, from Diana Dors riding a gondola in a mink bikini to Elizabeth Taylor sipping cocktails.
"The Venice Film Festival was like passing a final exam," director Federico Fellini said after his work was accepted by the esteemed competition. Evolving out of a recurring late 19th-century art exhibition, the festival, which was first held in 1932, is the oldest of its kind. Traditionally hosted on the Venetian island of Lido, the event sees new releases vying to win its highest accolade, the Golden Lion, recognised globally as a mark of cinematic prestige.
One of the 'Big Three' alongside Cannes Film Festival and Berlin International Film Festival, Venice Film Festival has all the star-studded appeal of the former as well as the auteurist leanings of the latter, while also distinguishing itself by championing arthouse Italian films alongside global blockbusters in one of the most beautiful cities in the world.
The event's history is peppered with significant cultural moments including the cementing of Marlon Brando as an acting great with the screening of On the Waterfront (1954) and the posthumous release of Stanley Kubrick's Eyes Wide Shut (1999). More recently, the Queer Lion award for films representing LGBTQIA+ themes was initiated in 2007, and in 2012, the organisation began online streaming of showcased movies for public viewing. This year marks its 78th edition, set to run from 1 to 11 September 2021.
Ahead of opening night, we revisit the festival through 17 glamorous vintage images featuring the likes of Elizabeth Taylor, Diana Ross, Jane Fonda, and Sophia Loren.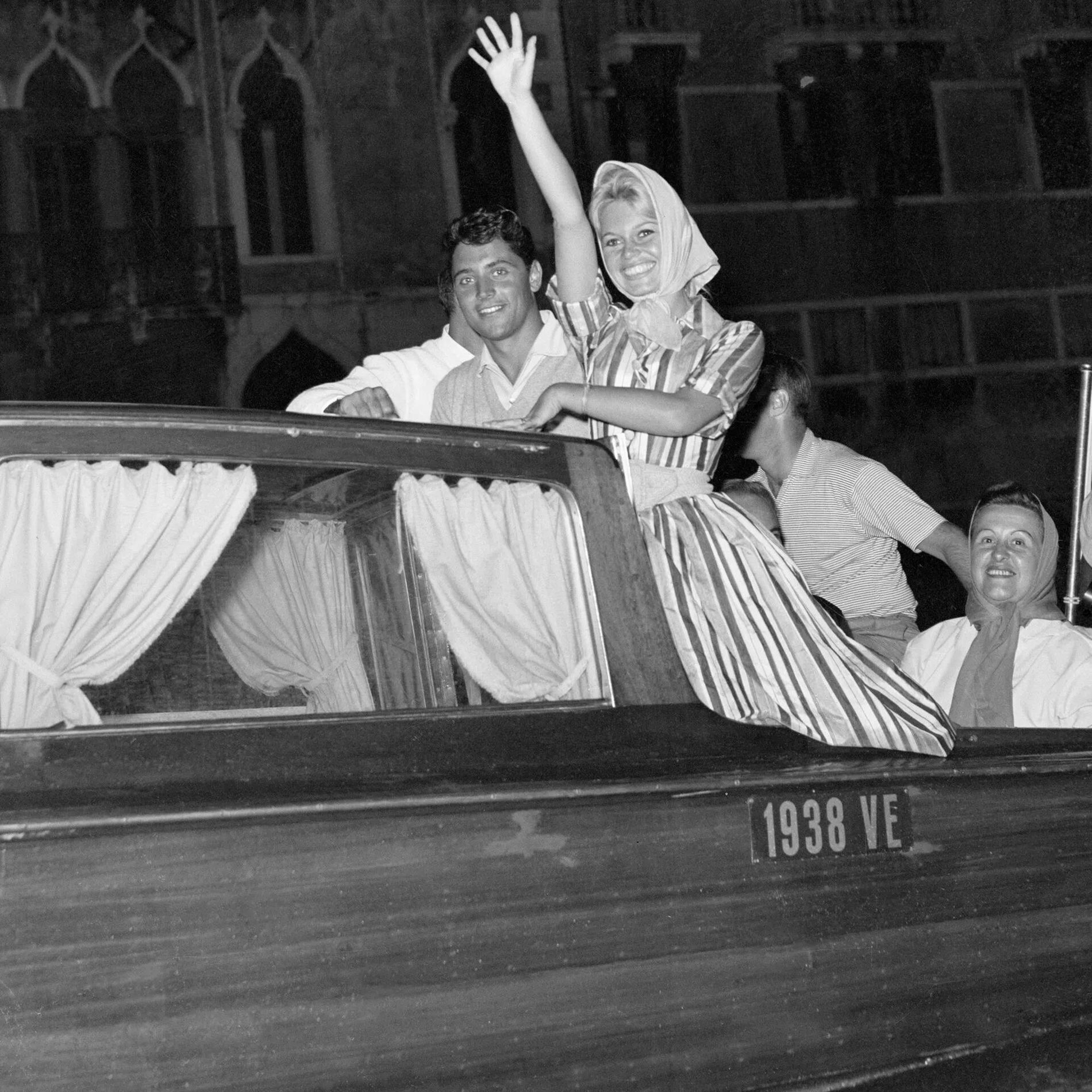 Photo: Getty
Brigitte Bardot, 1958
Brigitte Bardot waves to cheering fans as she rides a motor launch along the Grand Canal accompanied by her guitar-player friend, Sacha Distel. Bardot's arrival at the Lido allowed a host of admirers to scramble to get a view of the blonde screen idol. She attended the opening of her film, En Cas de Malheur, at the 19th Venice Film Festival.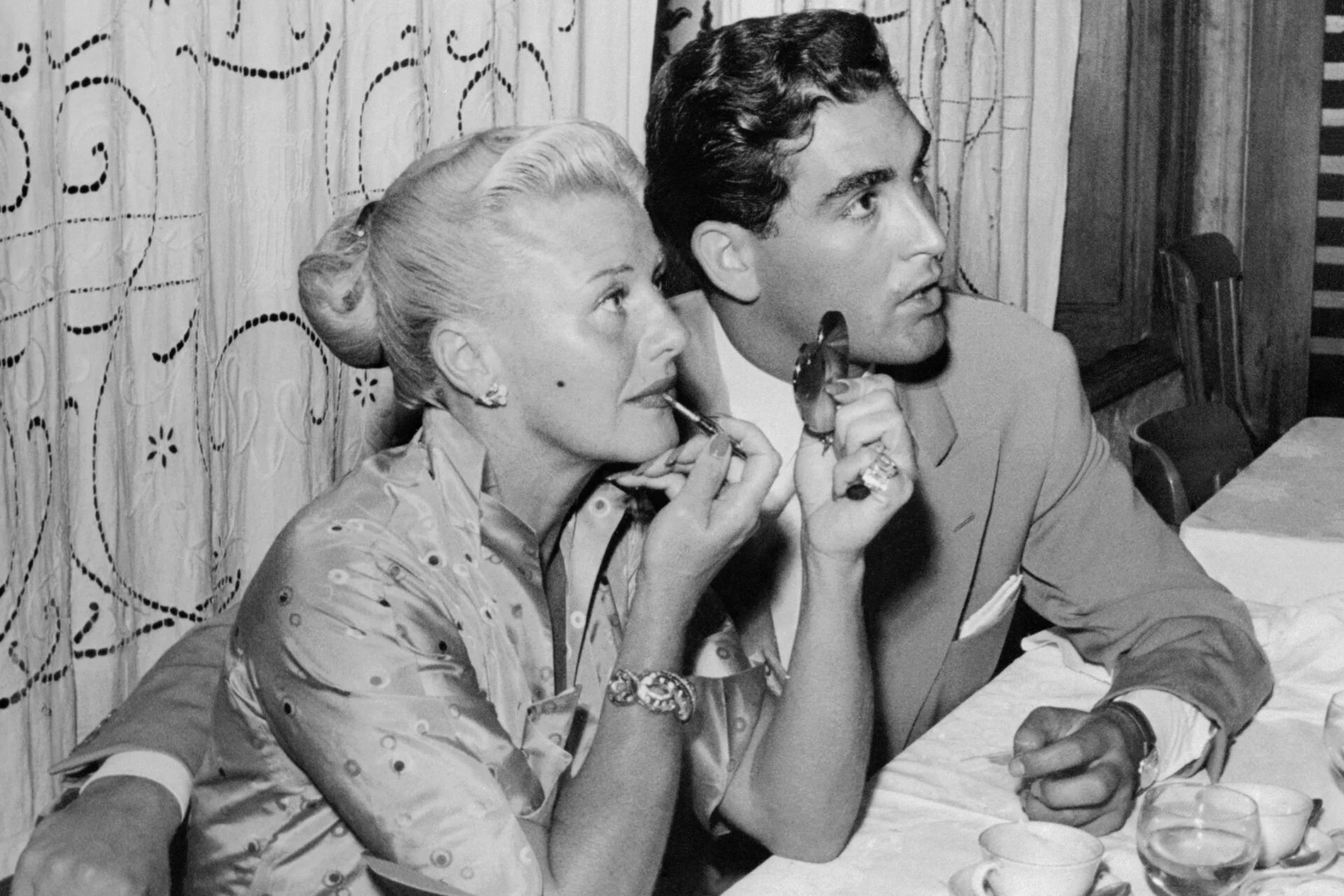 Photo: Getty
Ginger Rogers and Jacques Bergerac, 1952
With his arm around the chair of Hollywood screen star Ginger Rogers, French actor Jacques Bergerac speaks to a friend passing their table in a Venice night club during the festival.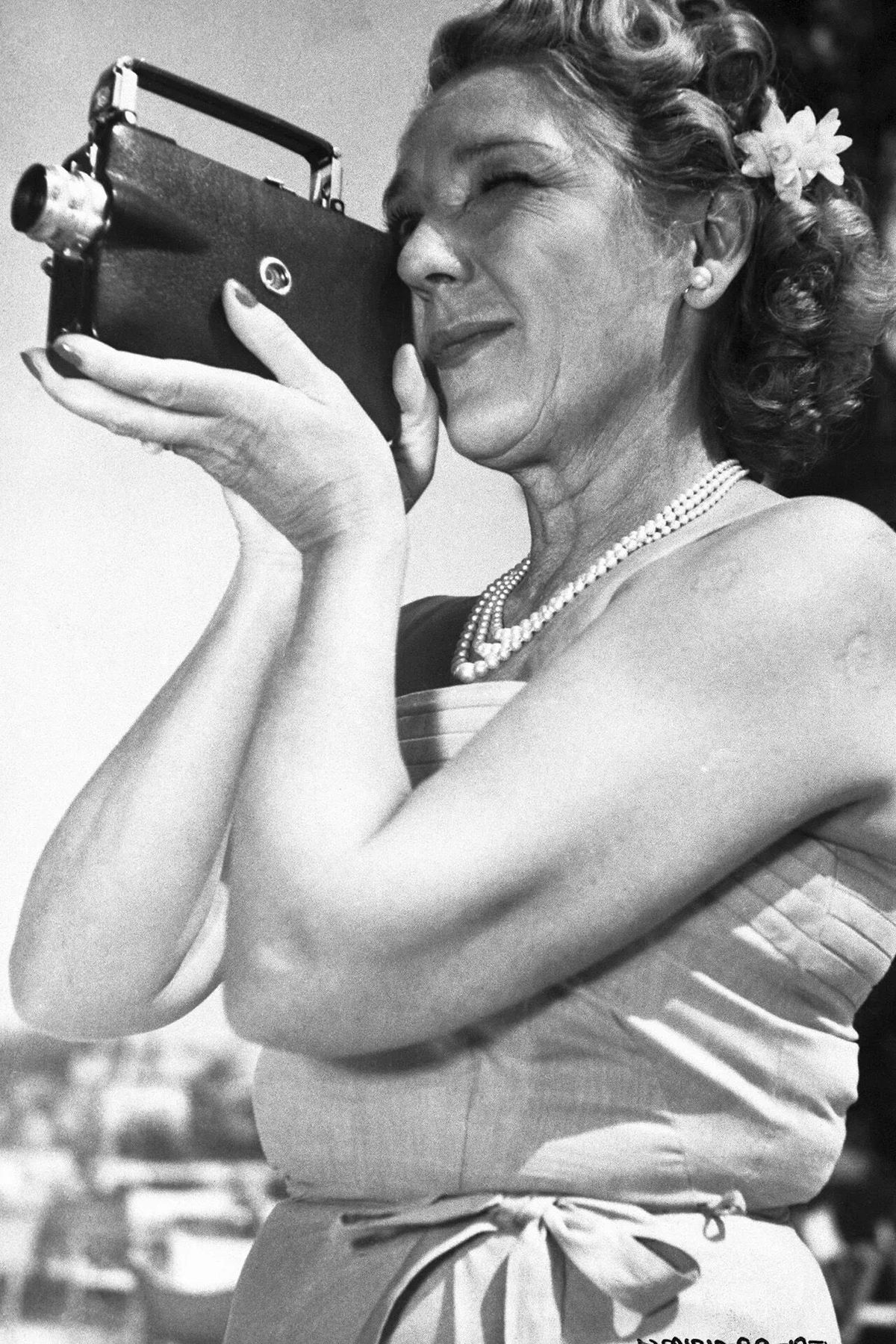 Photo: Getty
Mary Pickford, 1948
Legendary actress and director Mary Pickford holds a modern, portable little movie camera to her eye.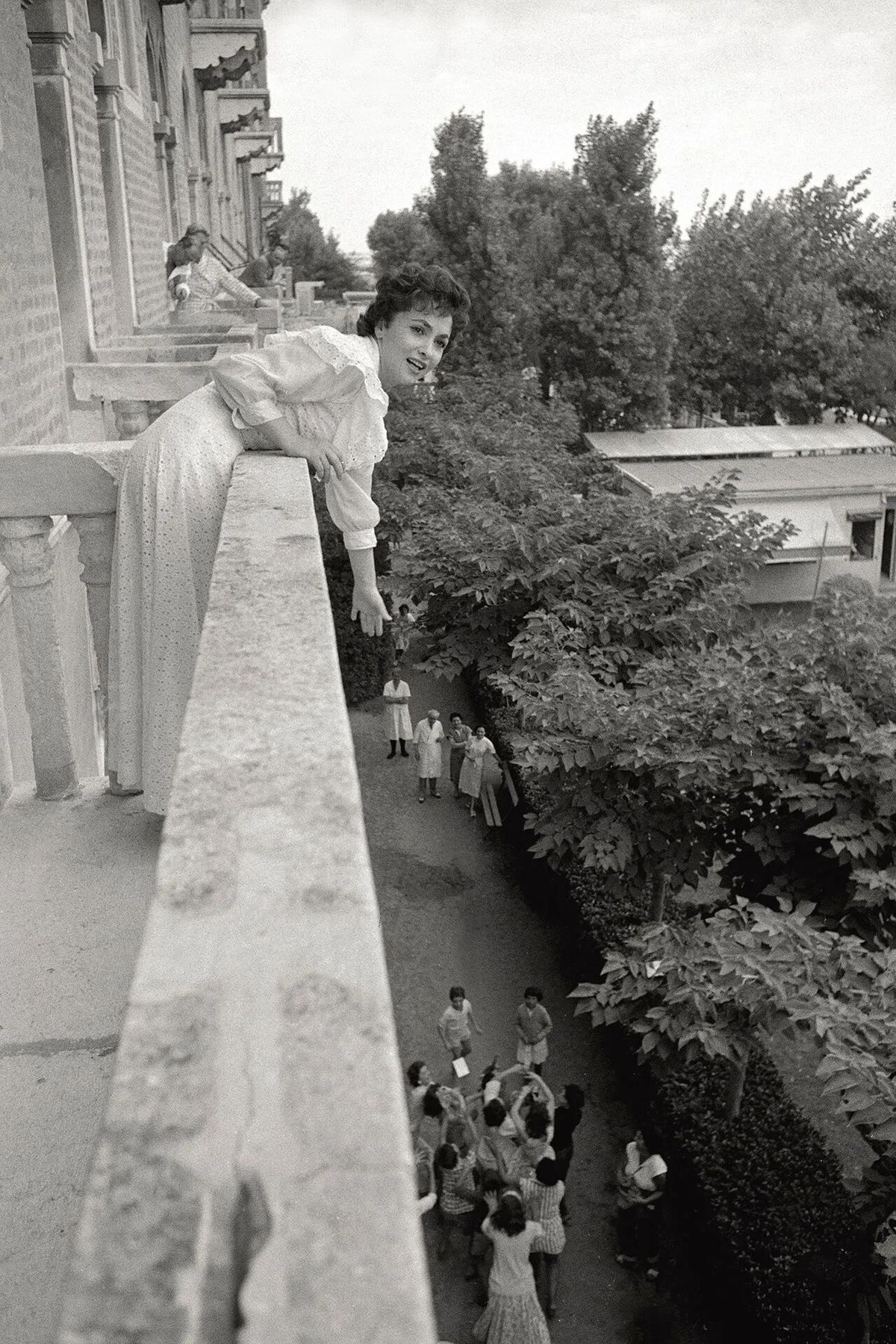 Photo: Getty
Gina Lollobrigida, 1956
Actress Gina Lollobrigida leans toward her admirers from a terrace of a hotel room, during the 17th Venice International Film Festival.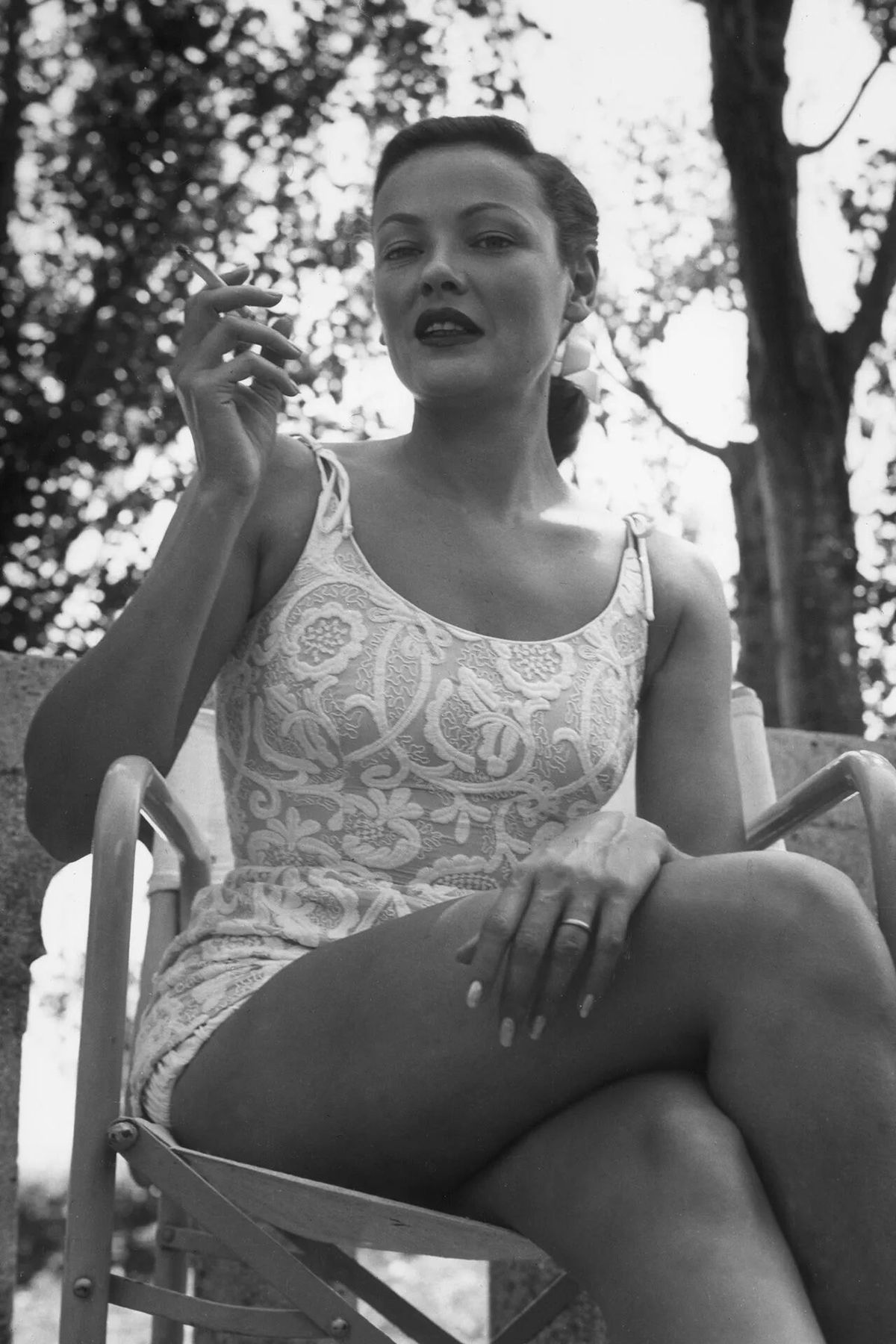 Photo: Getty
Gene Tierney, 1945
American actress Gene Tierney wearing a white lace top sitting in a folding chair smoking a cigarette at the Venice Film Festival.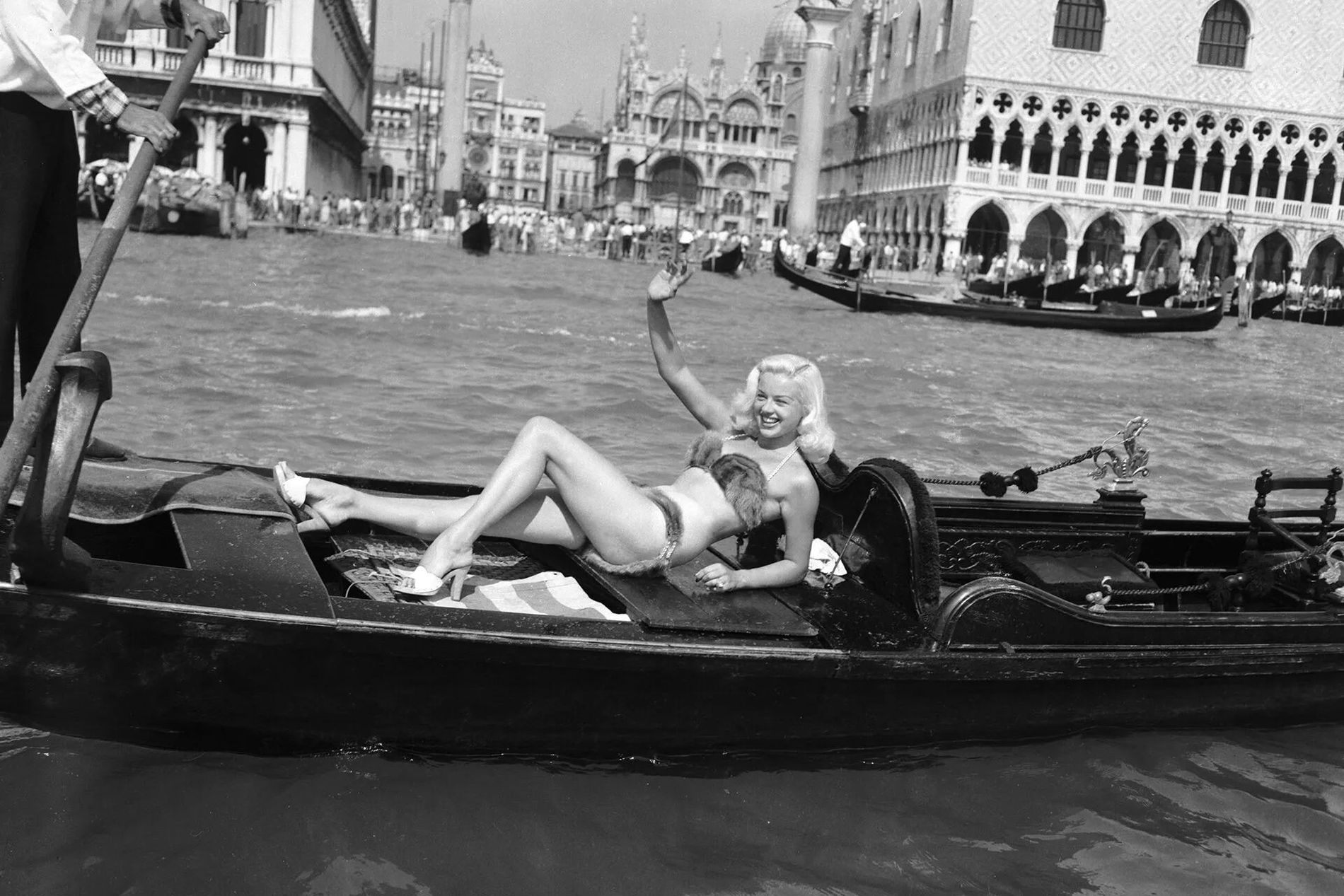 Photo: Getty
Diana Dors, 1955
British actress Diana Dors wears a mink bikini whilst riding in a Gondola by St Mark's Square.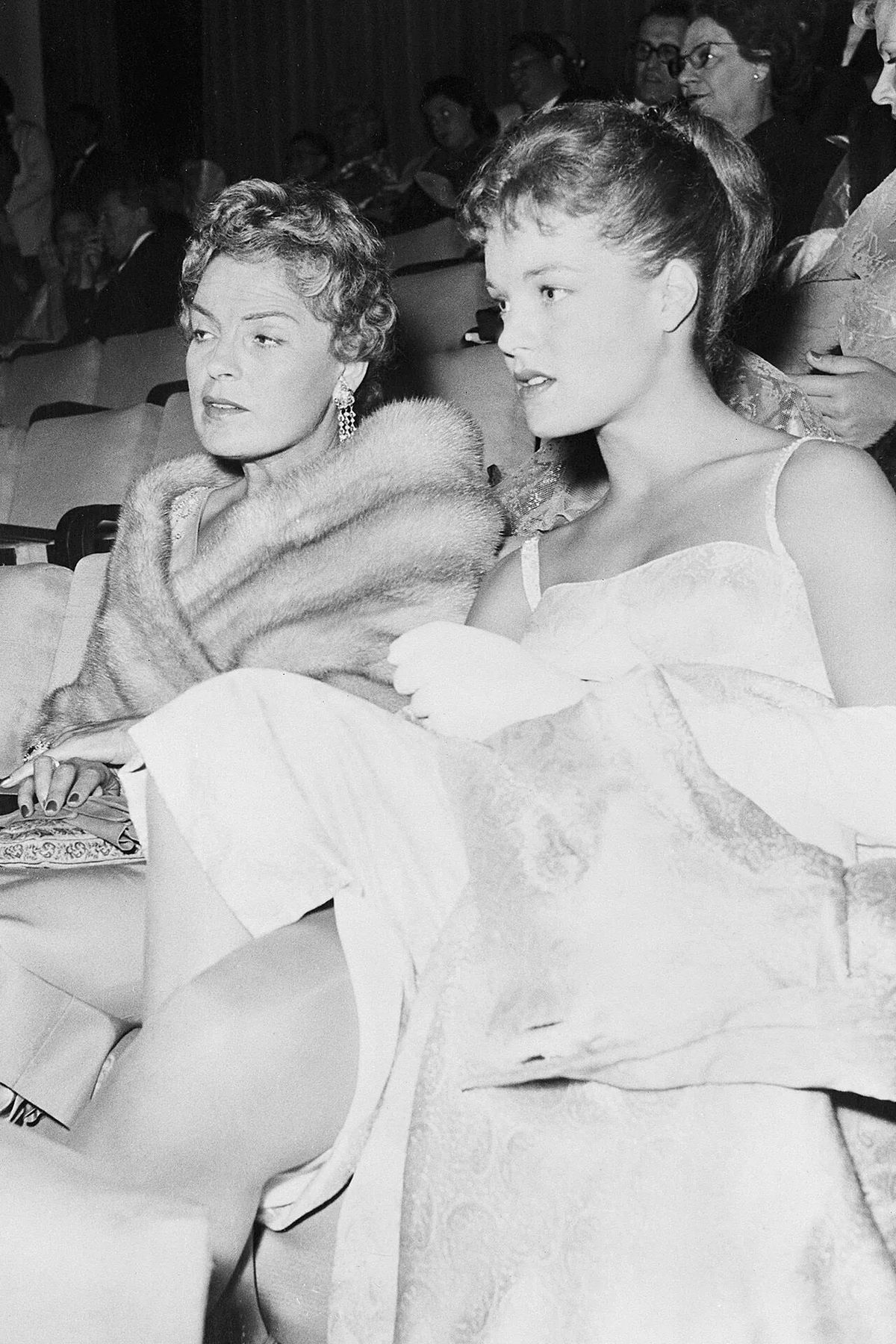 Photo: Getty
Romy and Magda Schneider, 1957
Austrian actress Romy Schneider and her mother, stage and film actress Magda Schneider, attend a showing of the film Eye for an Eye at the Mostra del Cinema.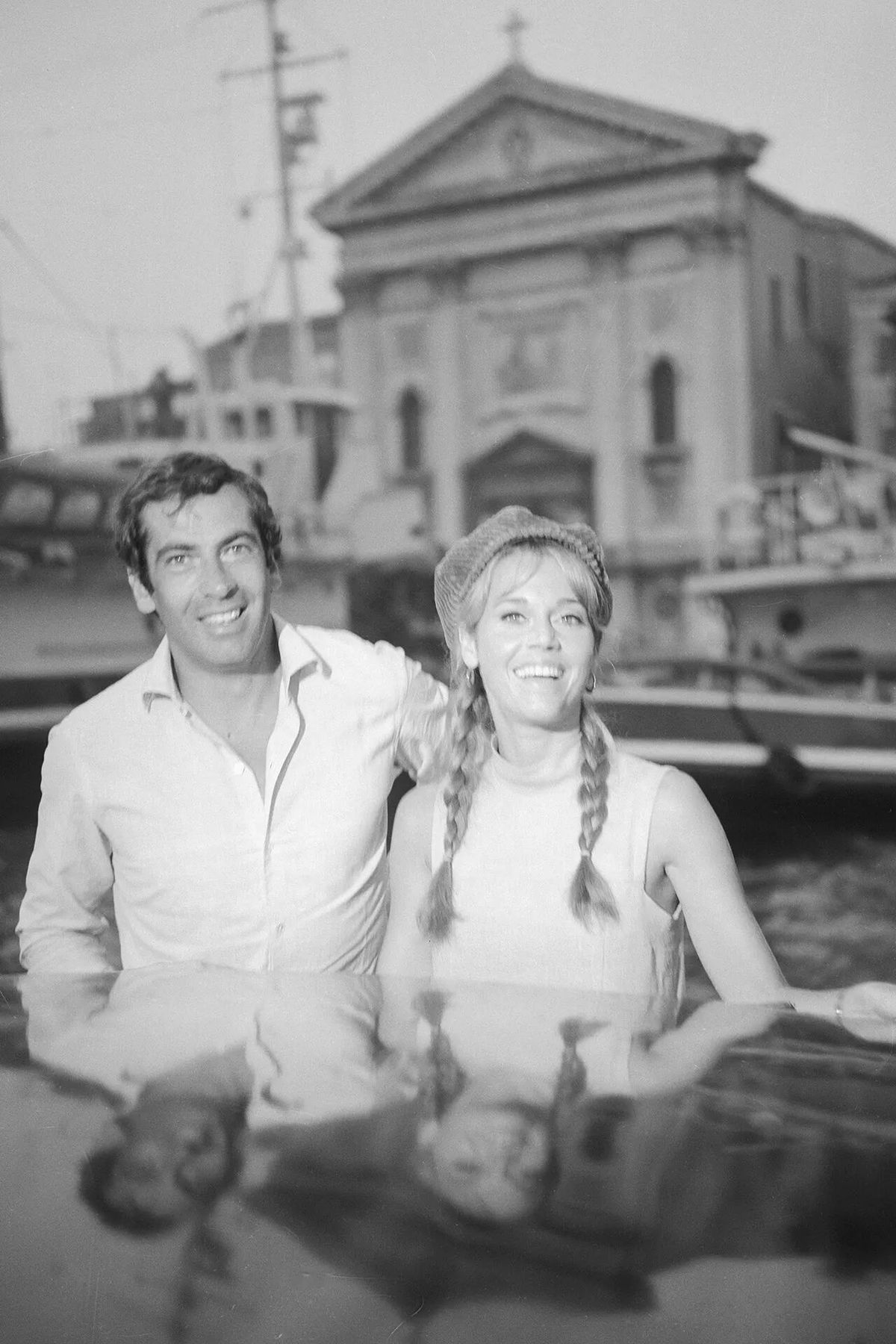 Photo: Getty
Jane Fonda and Roger Vadim, 1966
Jane Fonda and her husband, film director Roger Vadim, are all smiles as they arrive by motorboat.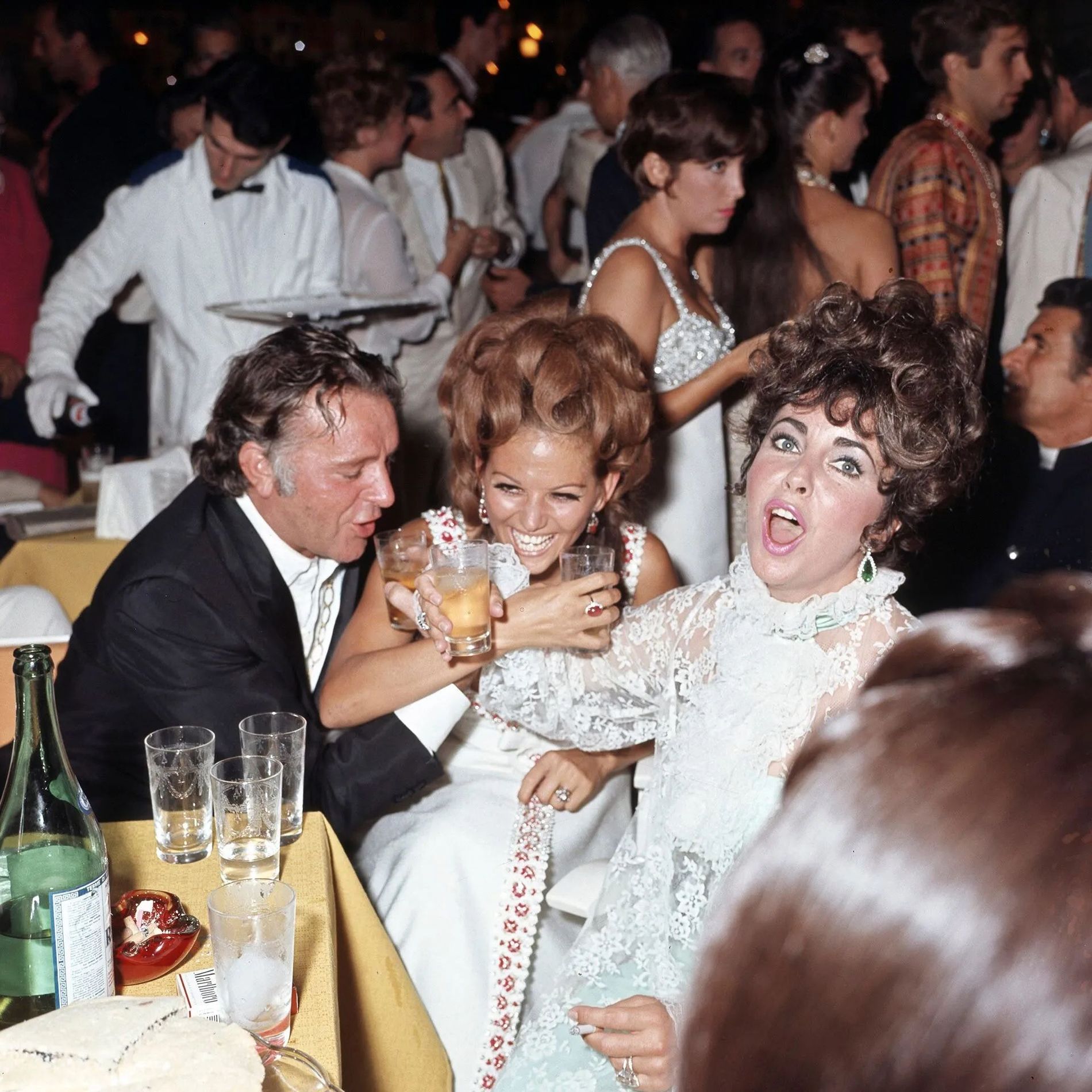 Photo: Getty
Elizabeth Taylor, Richard Burton, and Claudia Cardinale, 1967
Richard Burton and Claudia Cardinale smile while Elizabeth Taylor is caught off guard by the photographer, the three enjoying a toast during a party at Vendramin Calergi Palace at the 28th Venice Film Festival.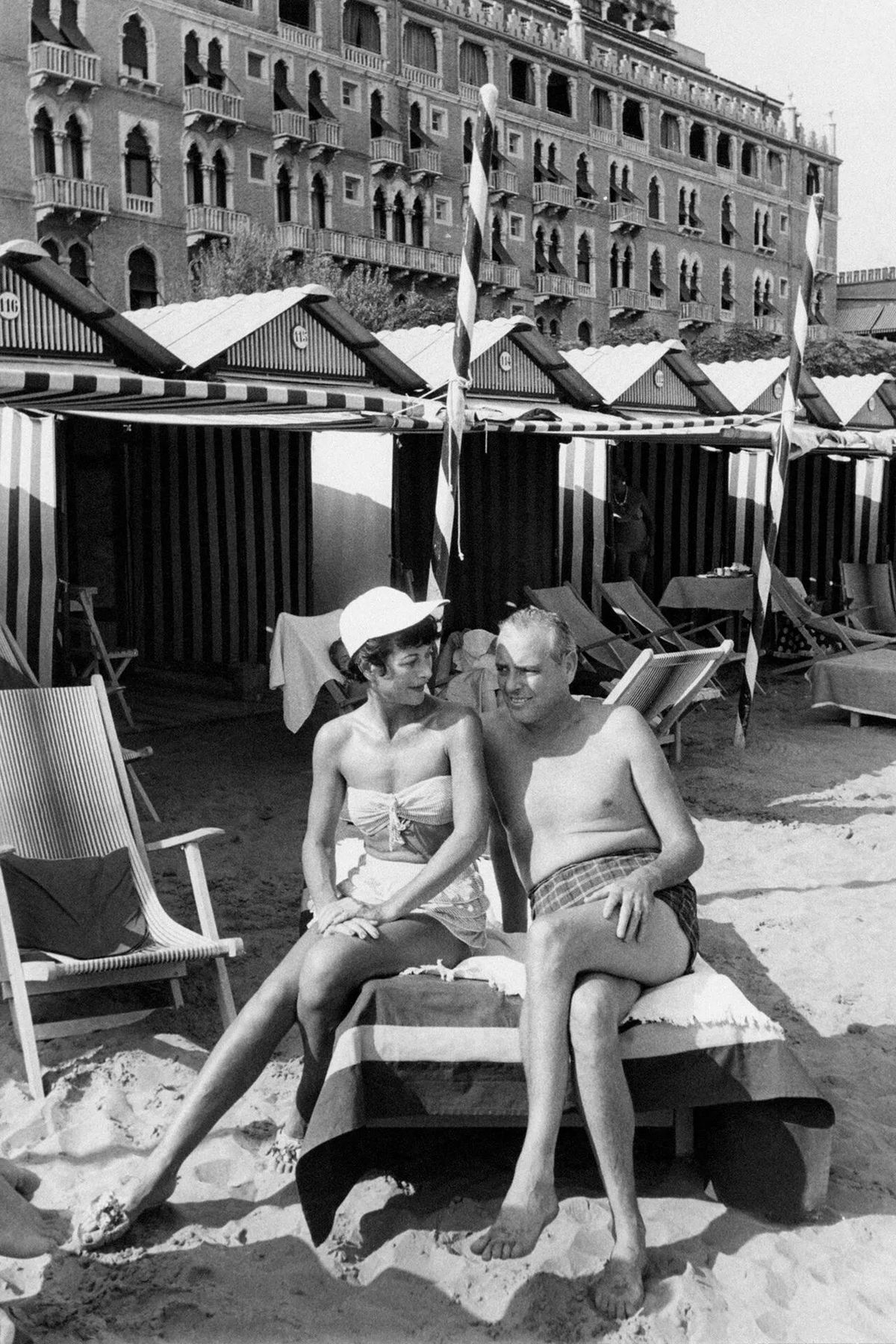 Photo: Getty
Hedy Lamarr and W. Howard Lee, 1955
Austrian-born American actress and scientist Hedy Lamarr and her second husband, American entrepreneur W Howard Lee sitting on a sunbed.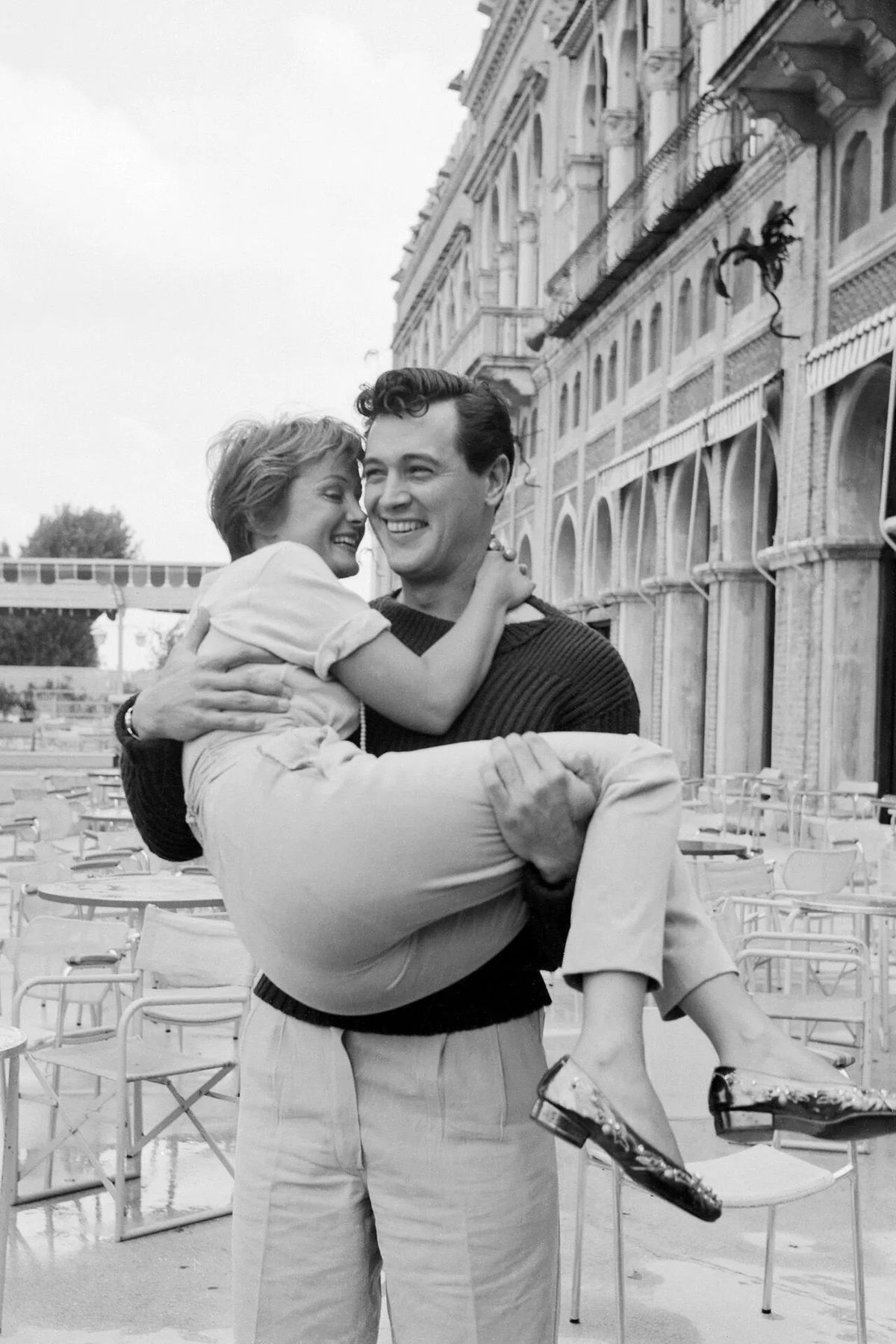 Photo: Getty
Novella Parigini and Rock Hudson, 1954
The Italian actress and sculptor is caught during a sudden downpour in by American actor Rock Hudson.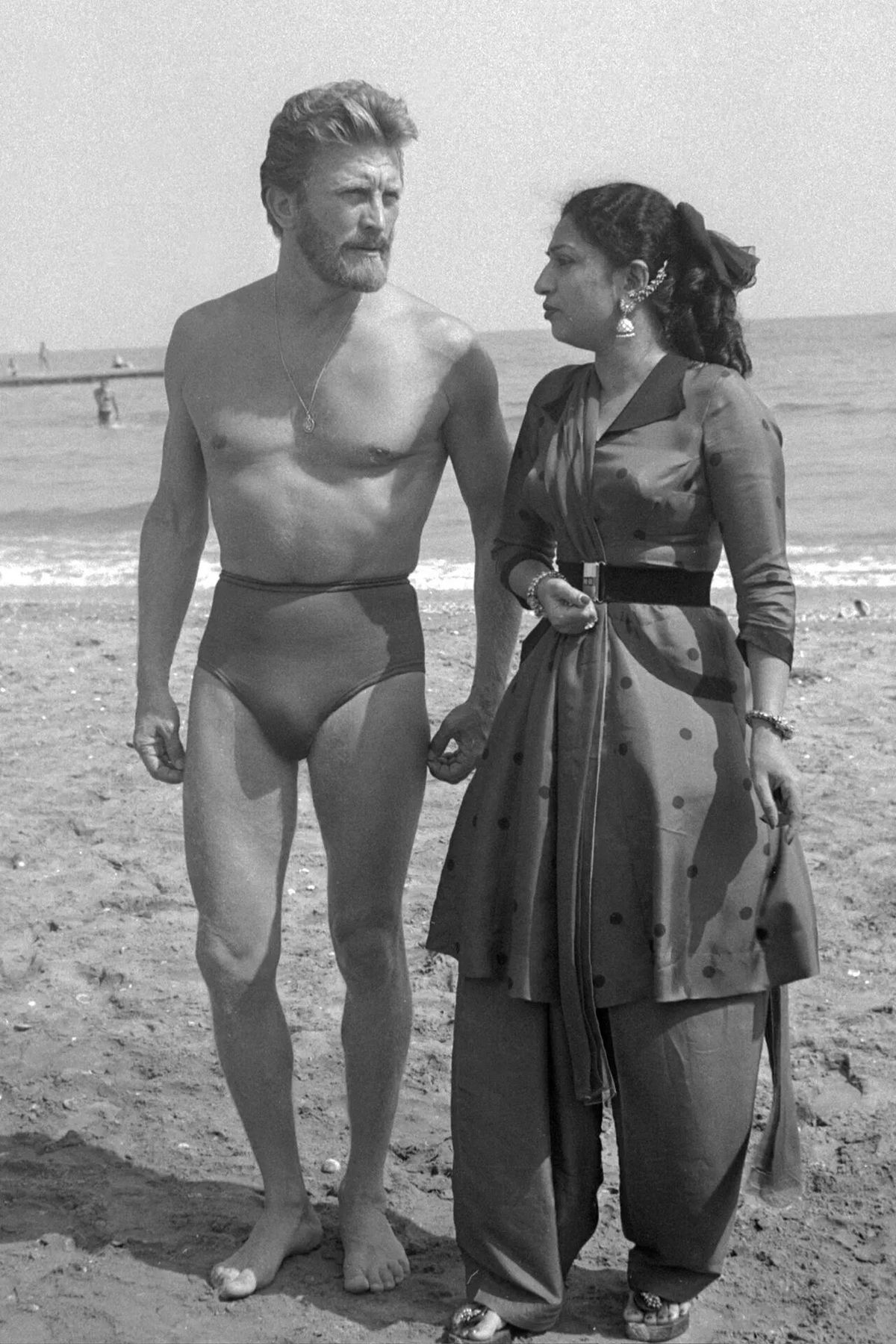 Photo: Getty
Kirk Douglas and Mehtab, 1953
Actor Kirk Douglas and Indian actress Mehtab relax at the Lido beach.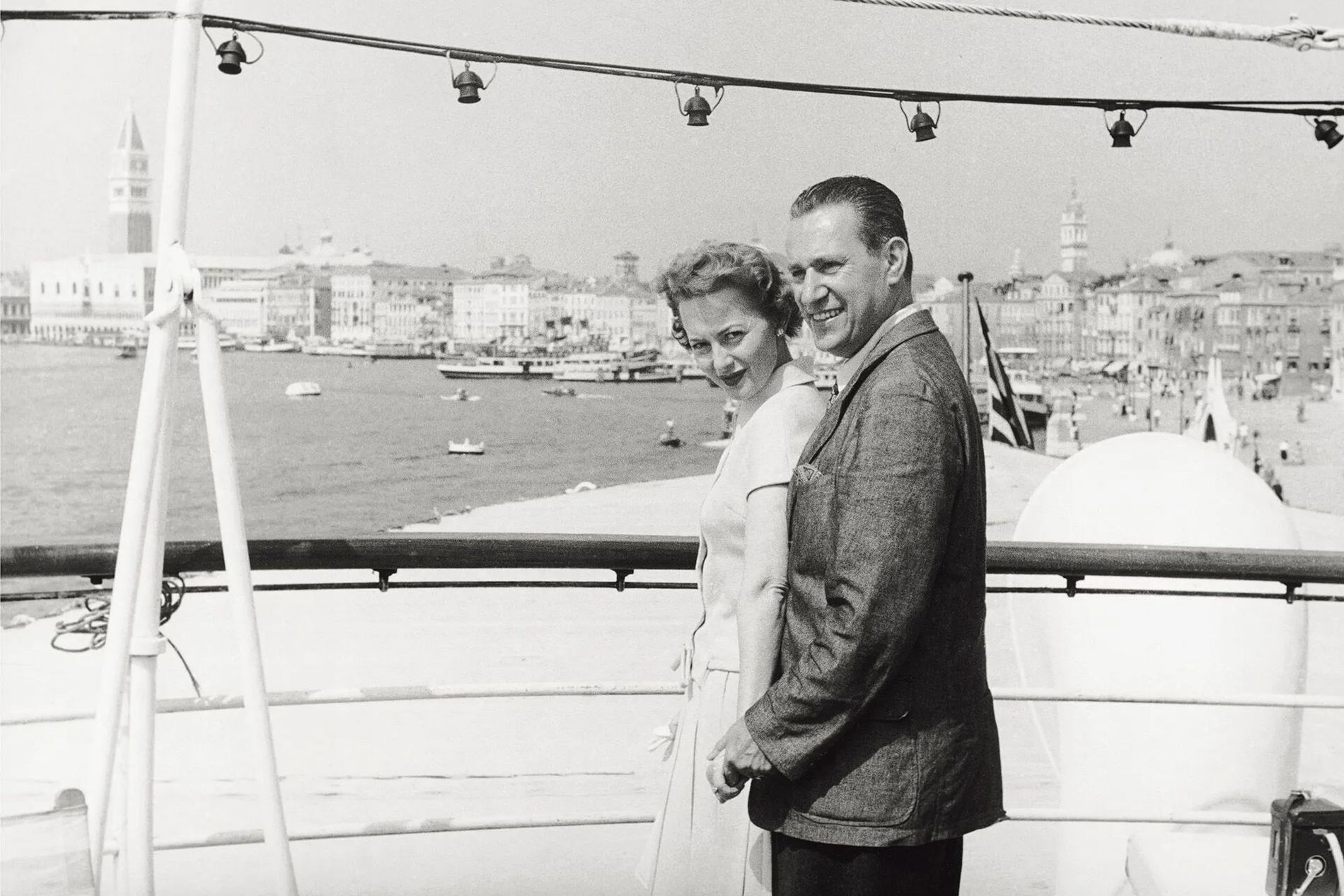 Photo: Getty
Olivia de Havilland, 1955
British actress Olivia de Havilland with her husband, French journalist Pierre Galante during the 16th Venice International Film Festival.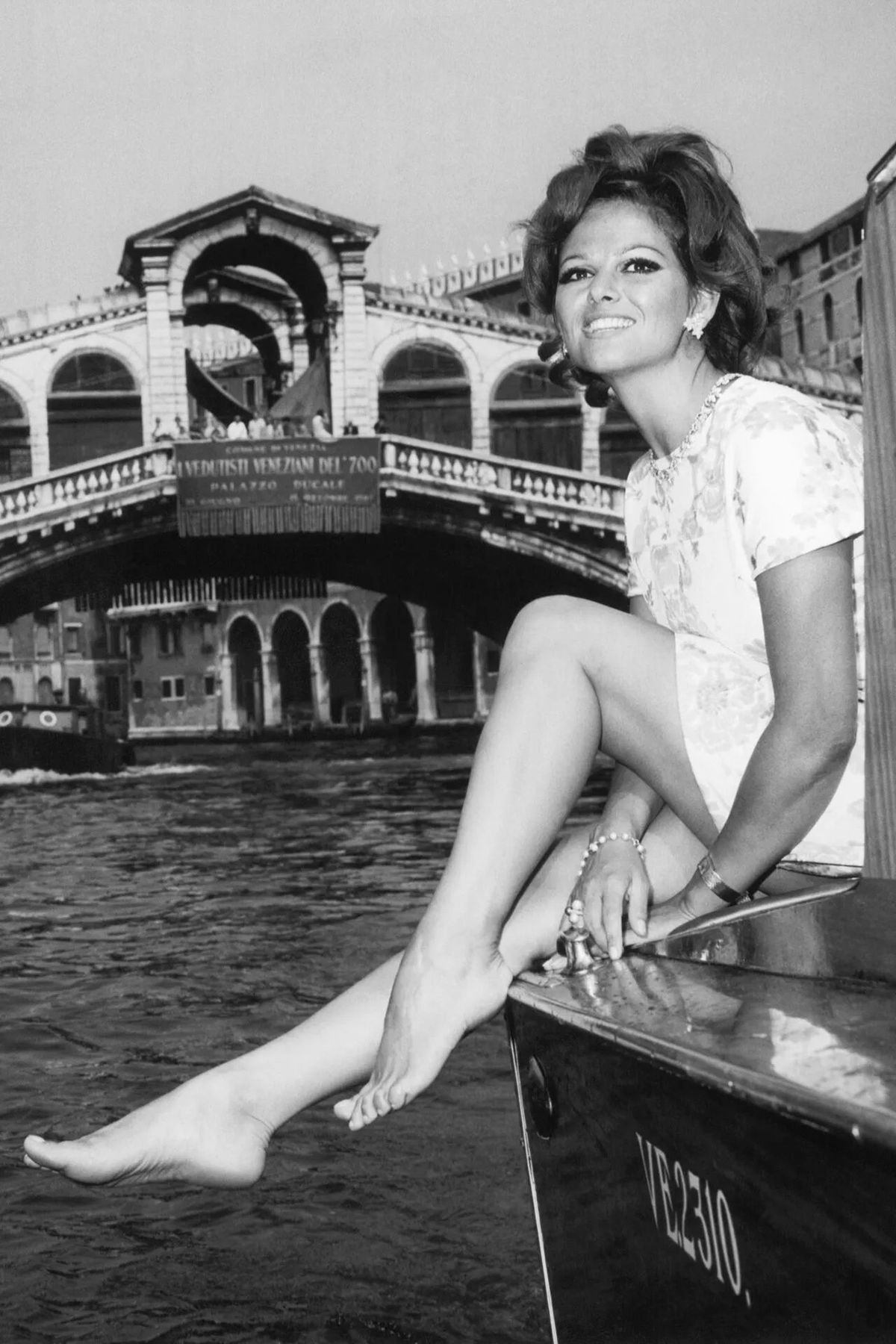 Photo: Getty
Claudia Cardinale, 1967
Claudia Cardinale makes Venice's tired old Grand Canal sparkle with her glittering smile as she poses on a motorboat for a local photographer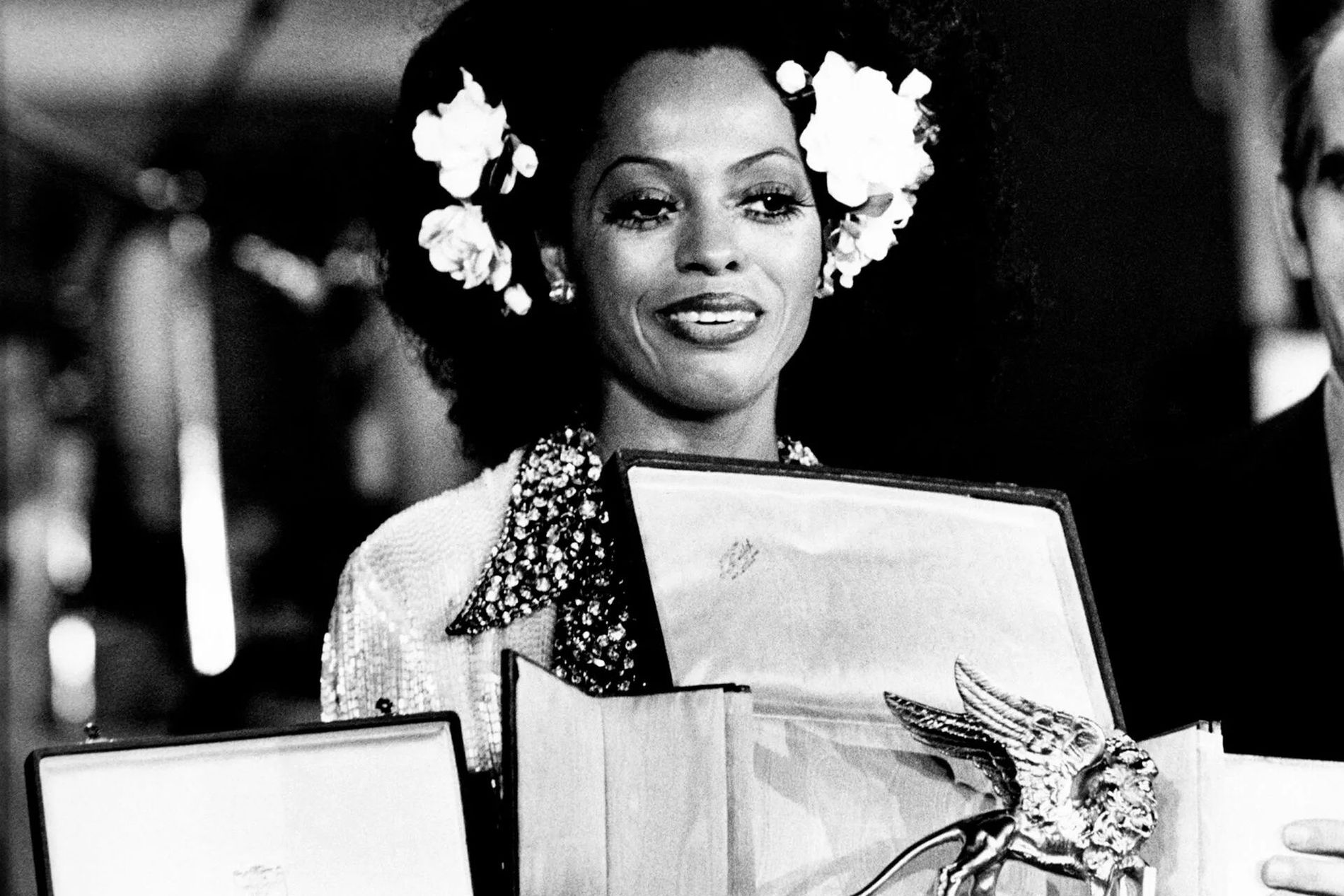 Photo: Getty
Diana Ross, 1972
Diana Ross with the statue of the 'Golden Lion' (Il Leone D'oro) at the Venice Film Festival, during the award ceremony for the film Lady Sings the Blues.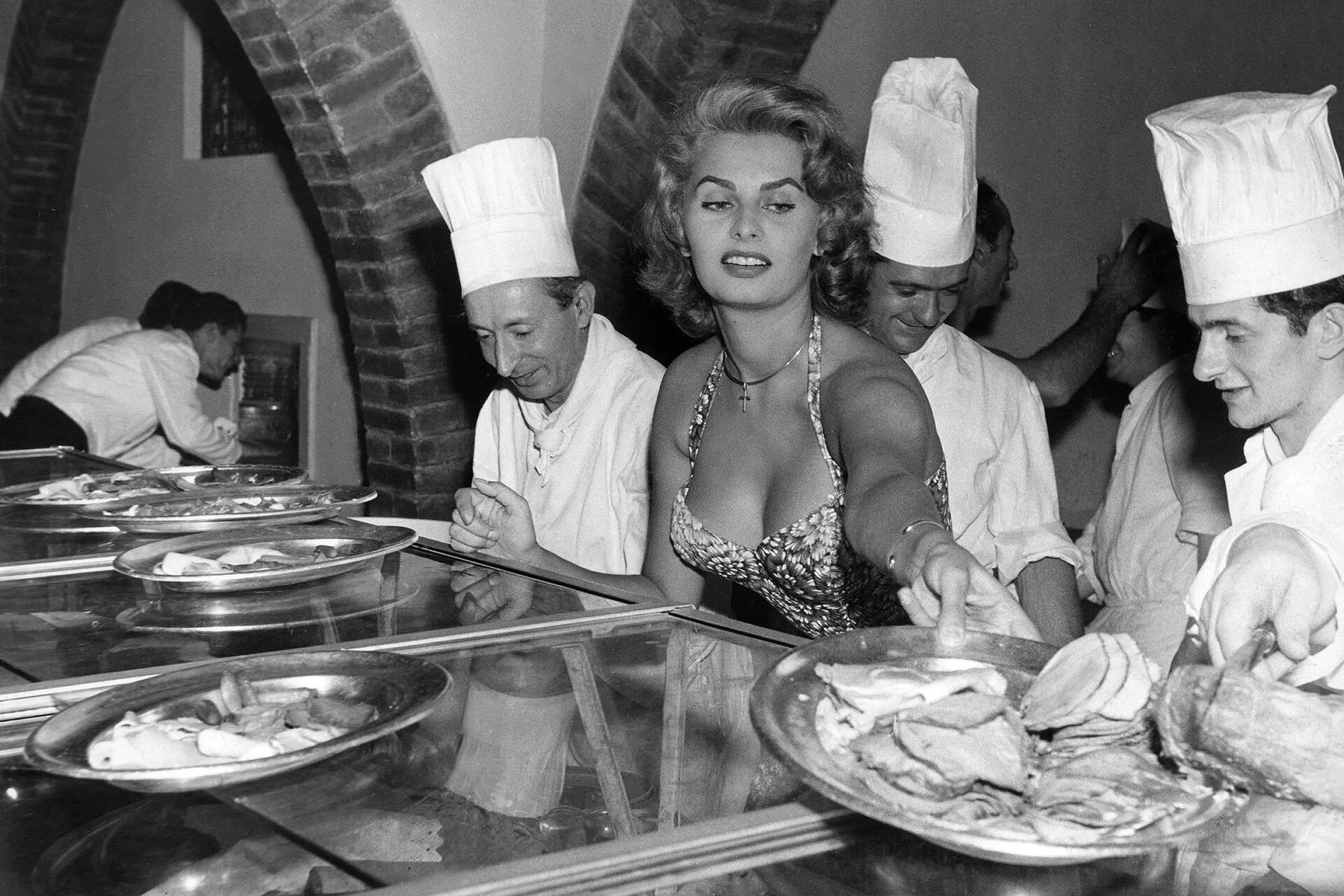 Photo: Getty
Sophia Loren, 1955
Sophia Loren is pictured in a restaurant at the Venice Film Festival, surrounded by kitchen staff.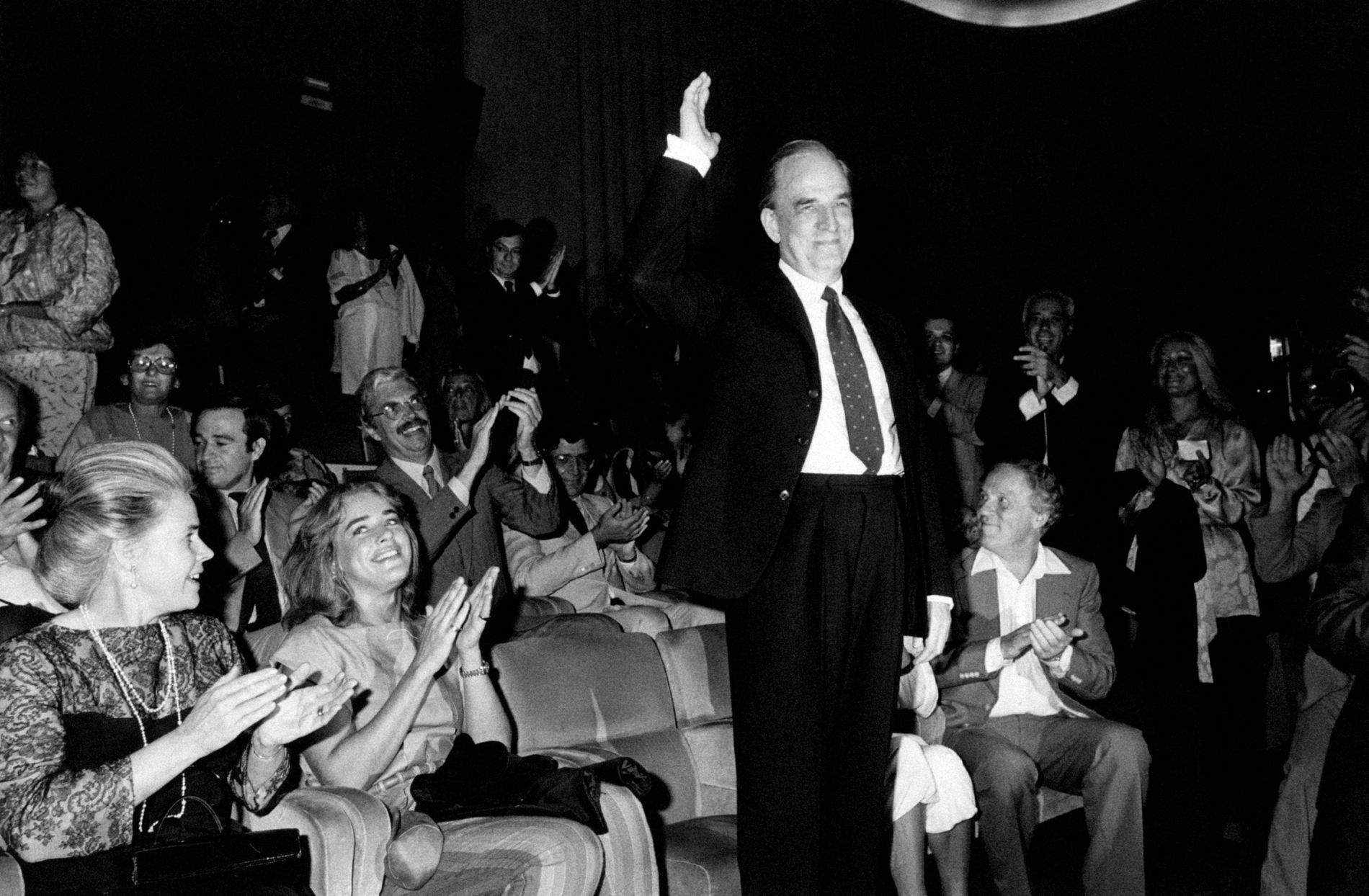 Photo: Getty
Ingmar Bergman, 1983
Swedish director Ingmar Bergman thanking for the applauses after the showing of the film Fanny and Alexander at the 40th Venice Film Festival in 1983