These fairytale destinations wouldn't look out of place in Frozen
While our approach to travel has completely changed since the pandemic, one thing that we have discovered after a year of lockdown is that there are plenty of gems to be found at home, without the need to book a flight. If you are looking ahead to planning your winter holidays, look no further than right here in the Nordics. Our frosty landscape allows for a treasure trove of ice hotels, which emerge as the weather cools.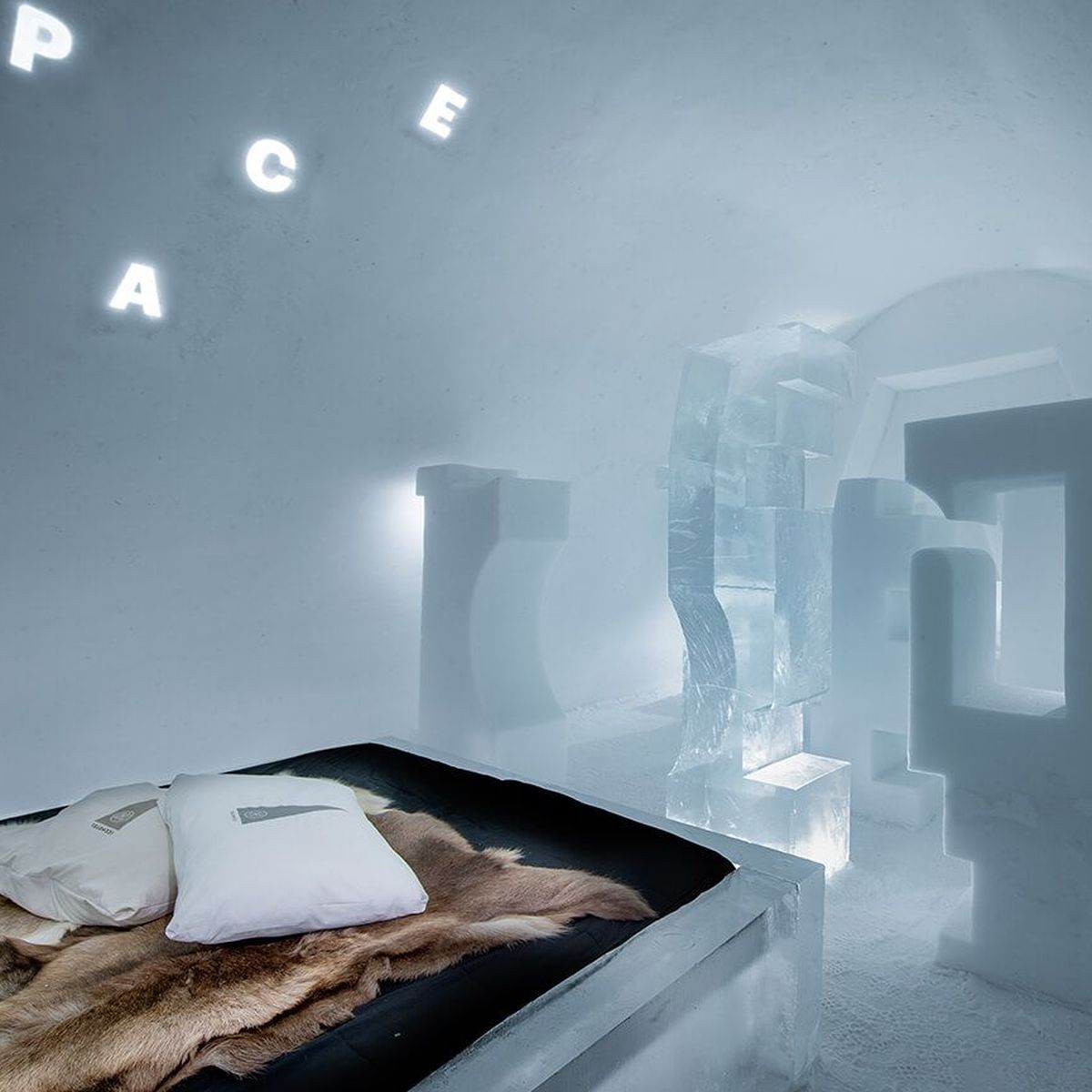 Ice Hotel - Design by John Bark & Charli Kasselback. Photo: Asaf Kliger
Carved of ice and snow, these abodes are rebuilt and given new shapes at least once a year. It may seem cliché but staying at one of these frozen castle constructions is probably the closest one can get to playing a part in an old Nordic saga.
Here are five of our top choices:
IceHotel
Taking a sip of wine out of a glass made of solid ice, is just one of the other-worldy things you can experience at the IceHotel in Jukkasjärvi in Sweden. Known by locals as 'Ishotellet' it is made out of frozen water from the river Torne which rises near the Norwegian border west of Torne Lake, the largest lake in Swedish Lapland. This hotel will always surprise you because it gets reconstructed every year. Visitors stay in poetic rooms sculpted out of ice blocks, lit up with LED lamps that give the abode a wintertide blue light. Guests are given polar-tested sleeping bags to spend the night in, because the temperature is always be around -5 celcius in the rooms. A worthy destination for gastronomes, the chefs focus on traditional dishes such as bleak roe from kalix, reindeer tartar and moose filet.
Sorrisniva Igloo Hotel
If you go even further north you'll find Sorrisniva, the world's northernmost ice hotel located in Alta, Norway. It is rebuilt every year with a special theme, this latest year's focus being the viking age. The furniture and the art are crafted by local sculptors who use only ice and snow to build incredible immersive environments. Just like at the hotel in Jukkasjärvi, the guests sleep in beds made of Ice, covered by reindeer fur. Don't skip their spectacular ice bar, and you can enjoy meals cooked by chefs using ingredients from the Norwegian artic.
Kirkenes Snow Hotel
Kirkenes Snow Hotel is perfect for the adventurous types. This hotel has been giving guests unique winter wonderland experiences since 2006 and every year there are new things to explore. People come for the ice hotel, but stay for the artic snowmobiling and dog sledding. Located eight kilometers outside of Kirkenes in northern Norway, close to a fjord where you can go fishing for the giant king crabs, the hotel also offers a unique 'king crab safari.' Welcome to the winter jungle.
The Snow Castle of Kemi
A castle of snow rises every winter in the northern Finnish town Kemi. In this icy fantasy you will find a hotel, a bar, a sculpture gallery and a chapel where people actually can get married. Drawing about 100,000 visitors each year, couples have come from as far and wide to have their nuptials here. The first Snow Castle was first built in 1996 as a gift from UNICEF, and was so popular that a new Castle has been built every year since then. The entire residence is made of ice harvested from the gulf of Bothnia - the northernmost area of the Baltic Sea.
Tromsø Ice Domes
One and a half hours drive from the town of Tromsø, one finds the magical Tromsø Ice Domes. The hotel offers a bounty of ice experiences from an 'ice cinema' to northern light adventures. A guide will be at your disposal from the moment you arrive at the Domes until you depart, with the guides guests can discover the local fjords, and the snow covered mountains on 'snowshoe tours' where the final destination is the hotel's 'nature camp' boasting food, cooked over an open fire.