These Swedish shoe designers master minimalistic comfort and timeless wearability
The Swedish fashion scene has long been celebrated for its creativity and high wearability factor, but it is also the Scandinavian hub of interesting and unique shoe brands designed to perform in the harsh weather. These brands have their DNA rooted in comfort, but elevate their designs with interesting details that could rival even the Italians.
From wearable everyday boots that stands the test of time to glittery pumps fit for a bride-to-be, these are the best Swedish shoe brands to have on your radar.
ATP Atelier
ATP's wide range of shoes and leather accessories has owned them a spot as one of Sweden's most successful brands. Specialising in sandals and everyday boots, the signature styles that are part of their icons range include flat summer sandals, chunky boots as well as top handle totes.
ATP Atelier is the love child of designers Maj-La Pizzelli and Jonas Clason that celebrate the minimalist lifestyle between Italy and Sweden, bringing together the Italian craftsmanship with Scandinavian design and values. The mission is to make it smart, timeless accessories using mainly raw materials and natural vegetable tannins. ATP also has an innovative approach to their advertising and consumption, from having the in-house team model the look books, to a newly launched rental service, to their mindful customers.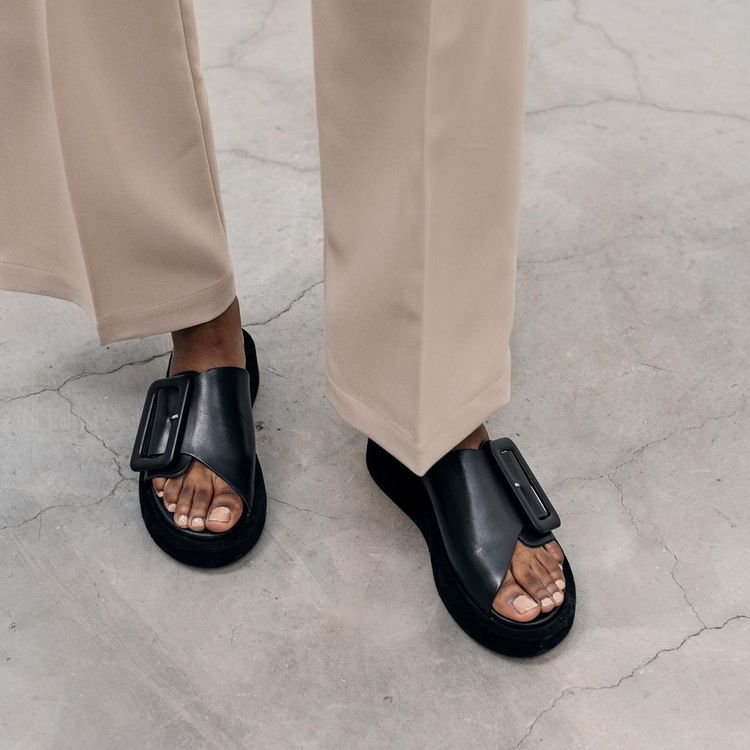 Photo: ATP Atelier
Sania D'Mina
Stockholm based designer Sania Claus Demina spent her early years as an established influencer and stylist before setting up her shoe brand Sania D'Mina. Sania focuses on making heels comfortable and has spent years perfecting the balance between the arch of the foot and heel position.
The timeless collections with a tailored-like fit includes mules and pearl-encrusted pumps that have grown popular with brides-to-be. Having recently introduced boots to her collections, Sania D'Mina's inclusive size ranges and wider-than-usual calf-fits have been praised and celebrated both amongst the designer's chic friends (that include Vogue Scandinavia's EIC Martina Bonnier and Babba Riviera to name a few).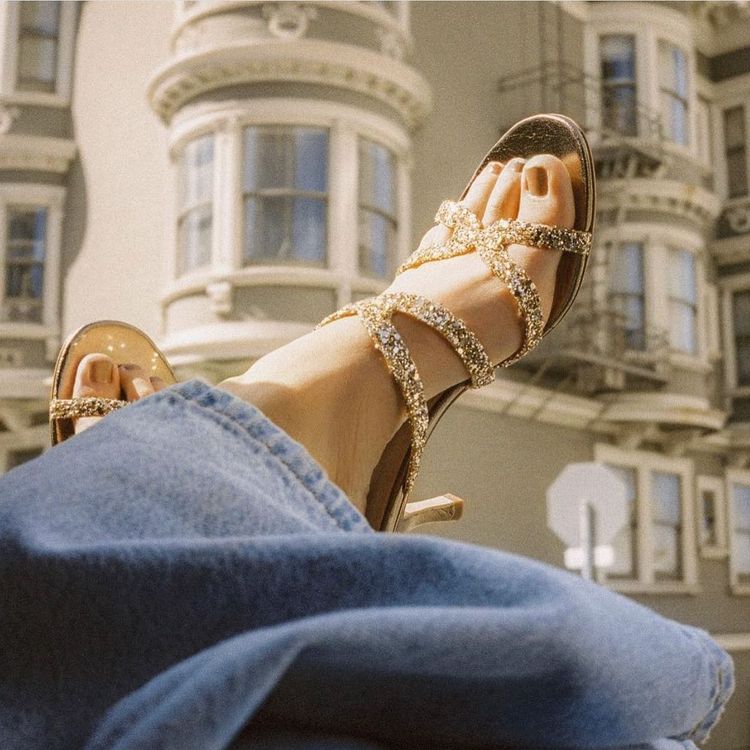 Photo: Sania D'Mina/@lisa.olssons
Anny Nord
Originating from Båstad, Sweden, Anny Nord is a modern shoe brand with a clean Scandinavian aesthetic. The minimalist designs include sleek pumps, boots and loafers created by Mia Bencker, who named the brand after her grandmother – a strong and tolerant matriarch with a big heart. Presenting two collections a year on top of restocking her classics, the shoes are made from European leather in Portugal and Spain and the production focusses on recycled materials.
Mia draws inspiration from strong women and values comfort and wearability, which is illustrated in her military-style knee-highs and signature platform boots that have been seen on singer Ariana Grande. Using mainly a muted colour palette with a few accent colours, the pointy slingback's are currently the most sought-after style and a red carpet favourite.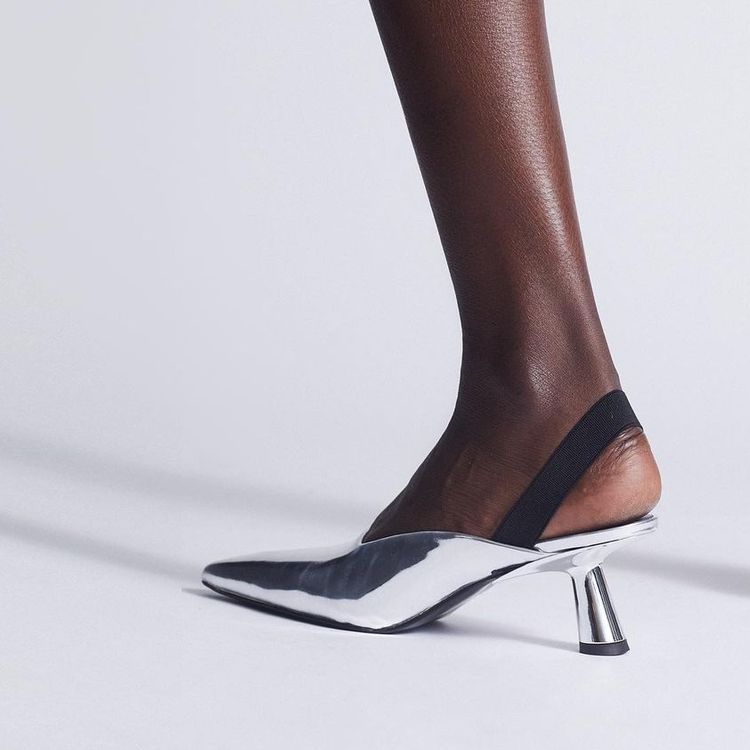 Photo: Anny Nord/@alanaocano
Stinaa J.
Founded in 2015, Stockholm based Stinaa.J is a shoe brand that is revolutionary to the shoe market, by combining orthopaedic innovation with timeless, minimalist design. The patented technology on the orthopaedic insoles are based on data from more than 1 million 3D scanned feet and 30 years of speciality experience that the CEO Peter Hedström combines with the designs of creative director Stina Andersson. The material innovations originate from space technology, ensuring the ideal position and cushioning for the foot, that has an impact on both walkability and posture.
Ranging from everyday boots, to sneakers and party shoes, the bestseller is the 'Denise' pumps that comes with either 6 or a 9 cm heel in various colour ways. Each visit to the store starts with a 3D scan of your feet, allowing the shoes to be shaped and customised to guarantee a perfect fit.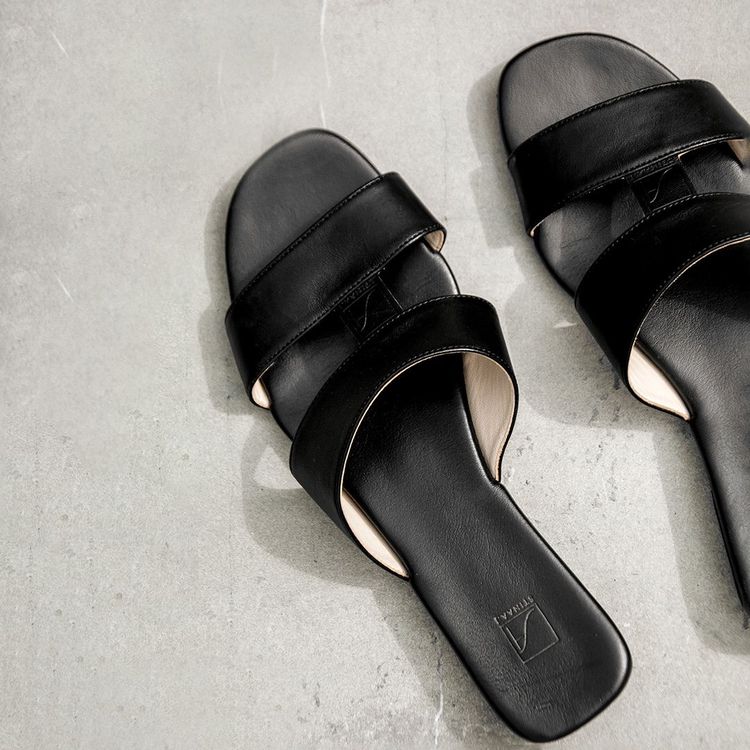 Flattered
Flattered was founded in 2013 by partners Gustav Lidén and Hanna Kwiatkowska Thisner, Pingis Hadenius and blog pioneer Isabella Löwengrip. The aim was to create the perfect indoor slipper, which gave life to the now-signature ballet that has become the brand's trademark. Soon celebrating 10 years in business, Flattered has extended its range to everyday boots, sandals, boots, sneakers as well as bags, all with a minimalist, feminine approach.
Flattered aims to make products that stand the test of time, so comfort and function is carefully considered in each design. With an inclusive approach, Flattered is available from multiple retailers, from Scandinavian department stores to the Galeries Lafayette in Paris and modaoperandi.com. The Swedish shoe brand is also known for having released numerous design collaborations to date and offers a resell and recycle service together with Sellpy.