Any major celebration in the Scandinavian royal court proves to be a master class in occasion dressing. This time, it was the celebrations for Queen Margrethe's Golden Jubilee
This weekend, there were a flurry of celebrations in the Danish capital for Her Majesty Queen Margrethe's Golden Jubilee, marking her 50th anniversary on the throne. The Royal Family attending a command performance at the Royal Danish Theatre, followed by a Gala Dinner at Christiansborg Palace. The milestone proceedings had been postponed from January due to Covid, and were considerably downsized following the passing of Queen Elizabeth II. During the celebrations, Queen Margrethe also dedicated a minute of silence to commemorate the loss of the United Kingdom's monarch.
Among the invited guests were also the Swedish and Norwegian kings and queens as well as the presidents and first ladies from Finland and Iceland, and key members of other European royal families – all were united by the breath-taking designer gowns and stylish statement jewellery. Never one to shy away from colour, Queen Margrethe opted for one of her favourite gowns, a deep pink-hued red design with an elegant square-cut neckline, which she paired with the standard regal star and sash, and the Order of the Elephant – the highest national award in Denmark.
Completing the look, Queen Margrethe chose the Danish Floral Aigrette, a tiara from the collection of Queen Ingrid which was made in the 1960s and given to Margrethe in 1985.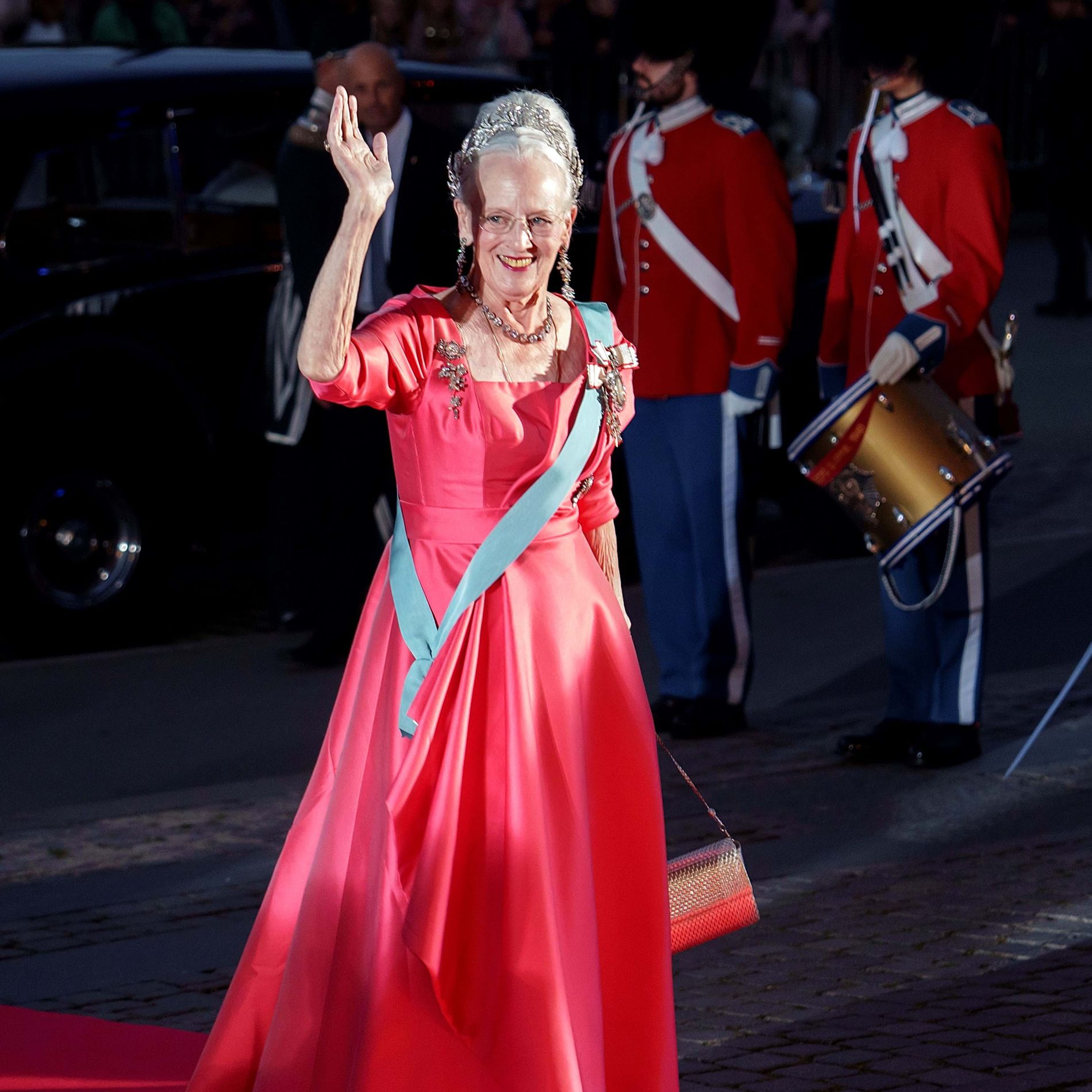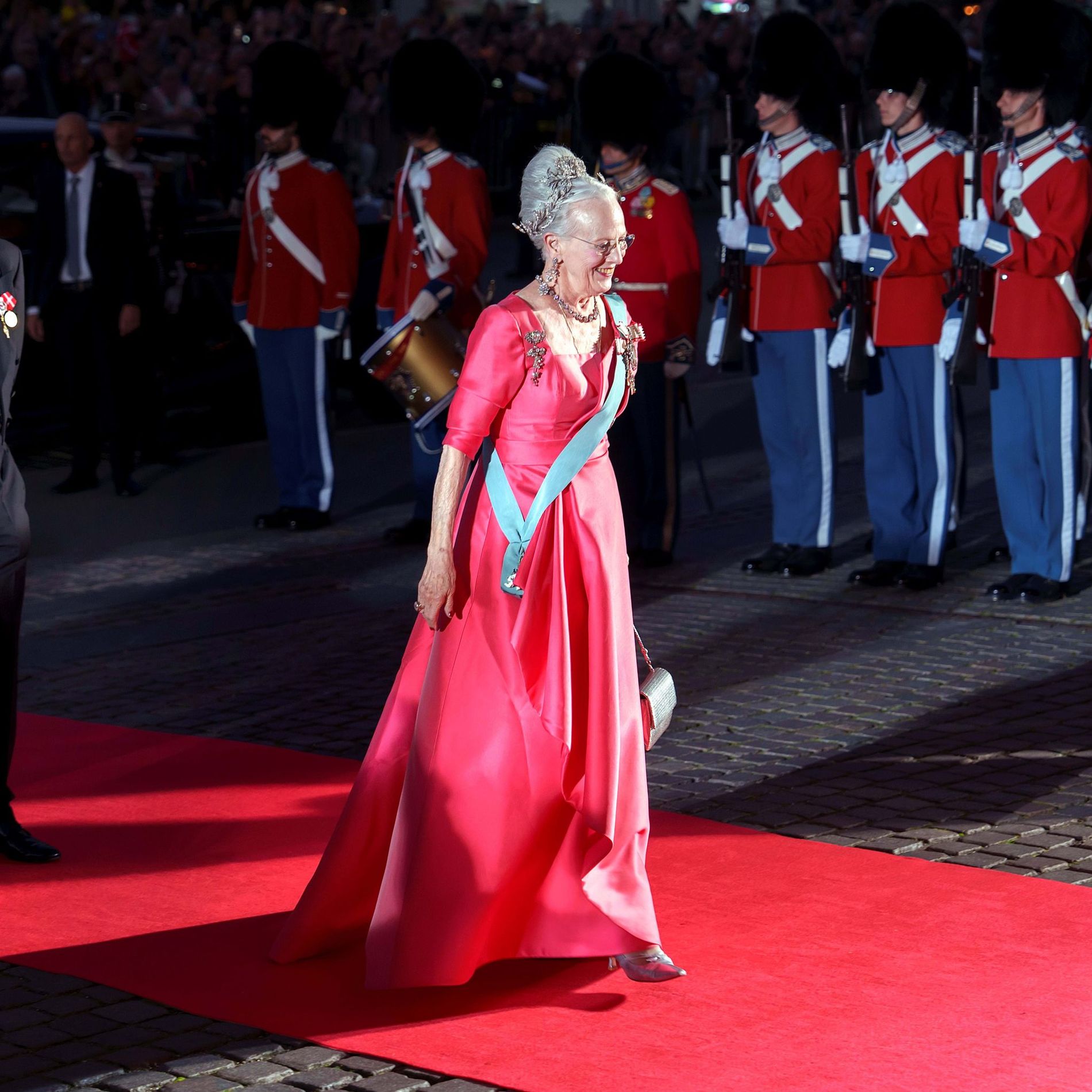 Crown Prince Frederik and Crown Princess Mary attended the Gala together with their two older children, Prince Christian and Princess Isabella. Mother and daughter both wore gowns by Danish designer Lasse Spangenberg, with Crown Princess Mary in a powder-coloured pearl-patterned ruffle dress and Princess Isabelle in a red corsage, with a draped skirt, lace top and weightless silk cape.
For the proceeding Gala, Crown Princess Mary upcycled a Jesper Hovring gown with a layer of black lace, accessorised with a Sergio Rossi sequined clutch.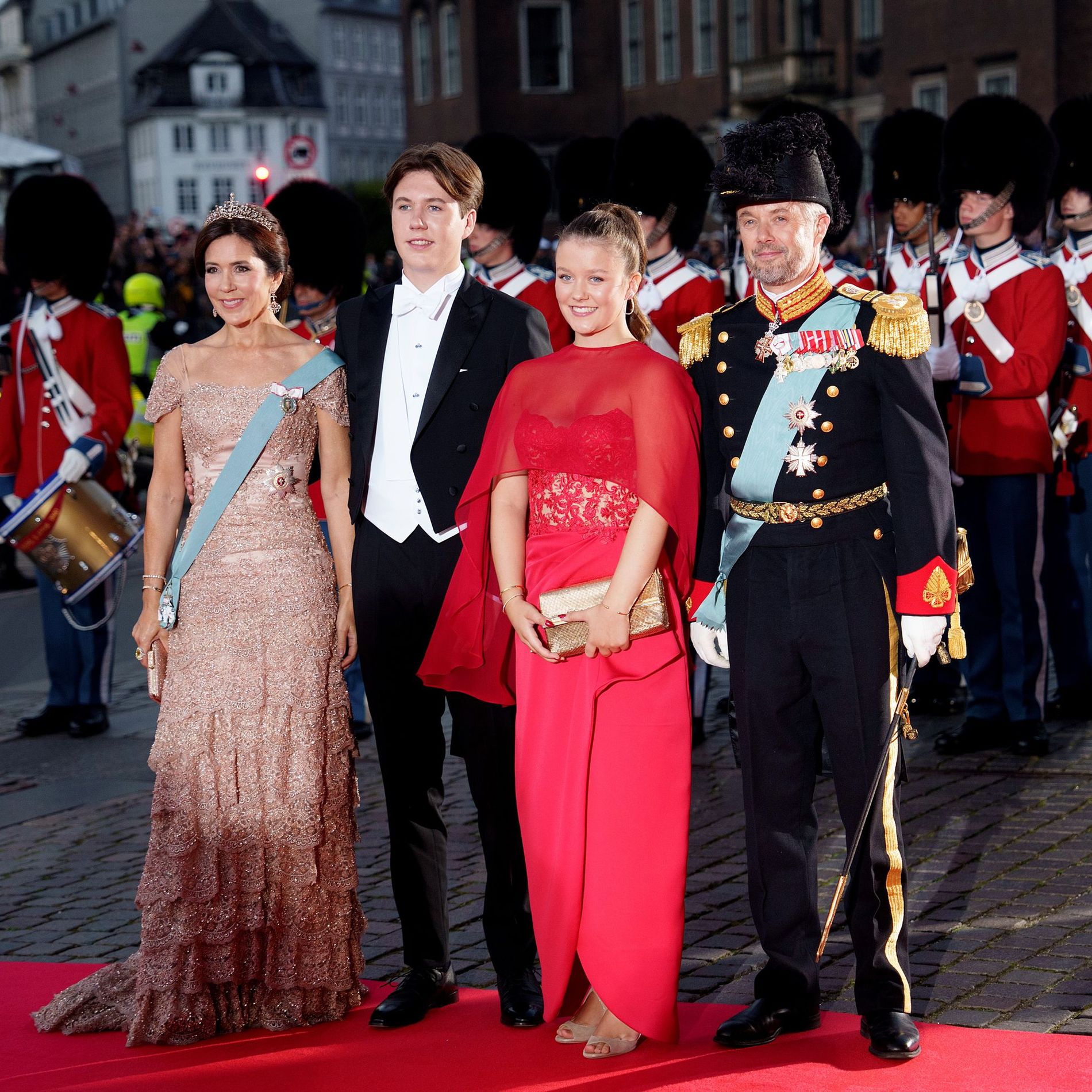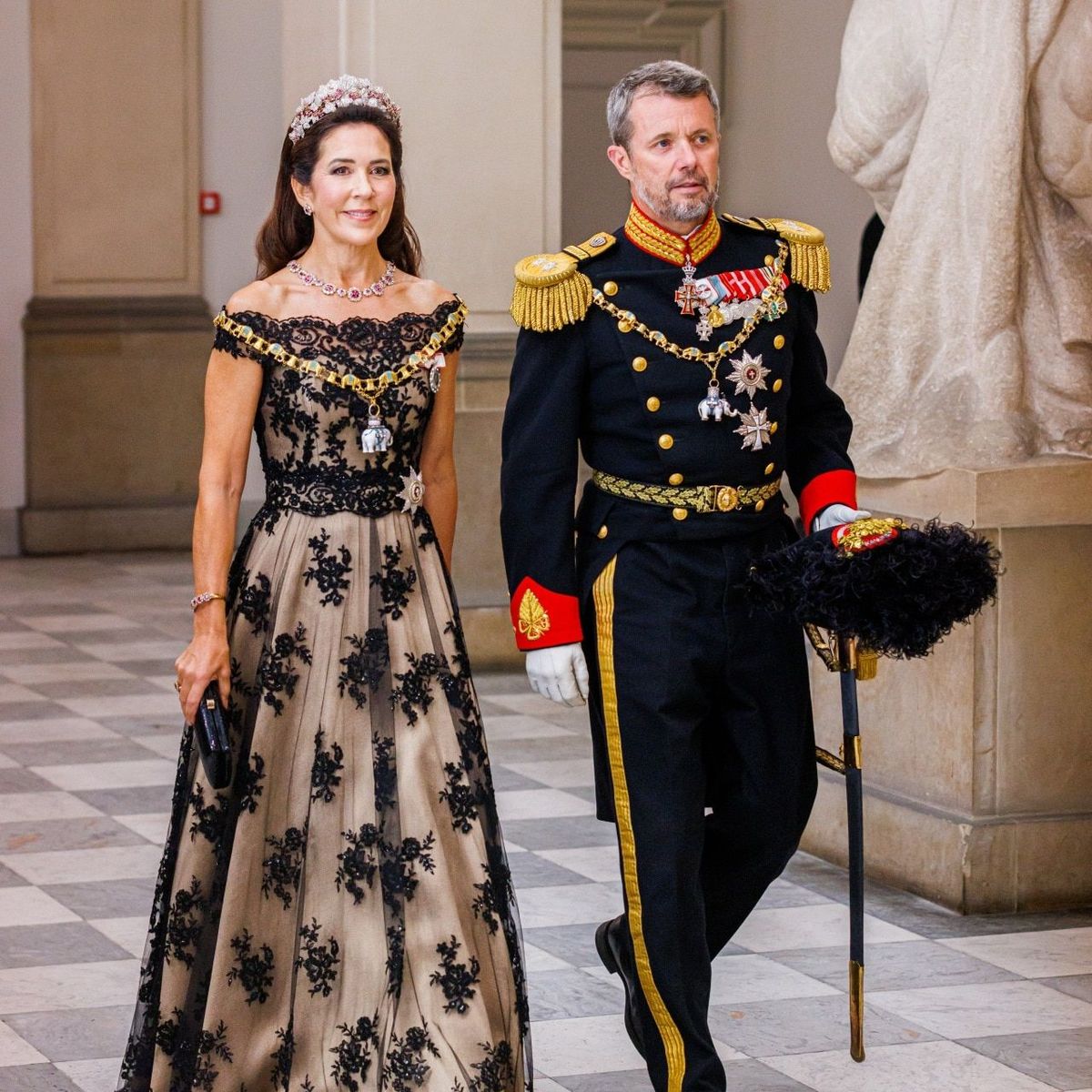 Just like Crown Princess Mary, Crown Princess Marie Chantal of Greece, revisited a favourite from her wardrobe: a baby blue Prada gown paired with black heels from the same brand. Princess Alexandra of Sayn-Wittgenstein-Berleburg also graced the Jubilee red carpet in a familiar dress – Andrew Gn decorated with printed florals and butterflies, worn previously to Prince Gustav and Carina Axelsson's wedding.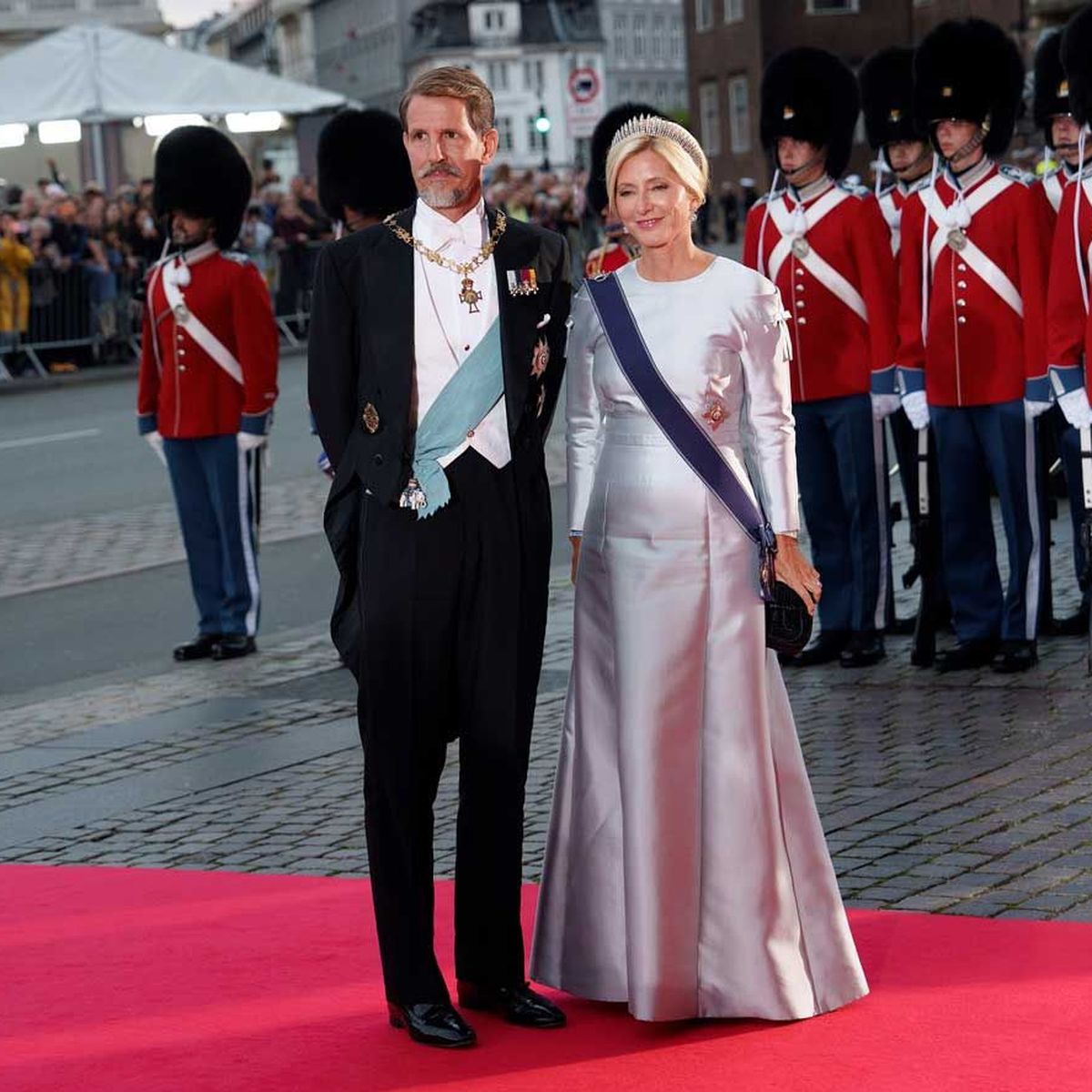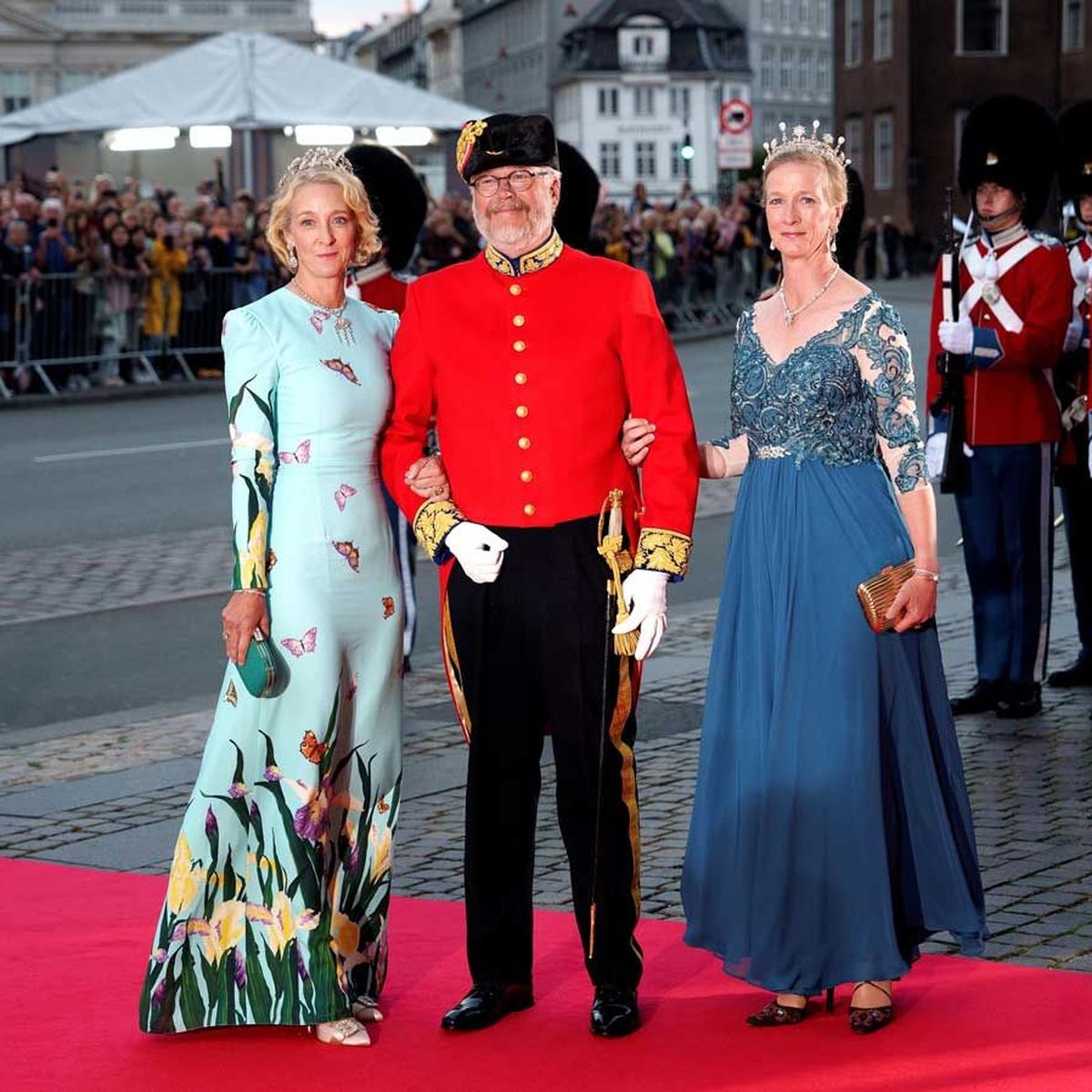 King Carl XVI Gustaf and Queen Silvia of Sweden also journeyed Denmark for the festivities. She dazzled on the red carpet with an embellished light purple evening gown, enhanced by her jewels from the Napoleonic Amethyst Parure, and the couple also included the Order of the Elephant in their decorations. Also in purple tones, Princess Theodora of Greece wore a Safiyaa crepe gown in magenta, com,pleted with Princess Alexia's diamond tiara.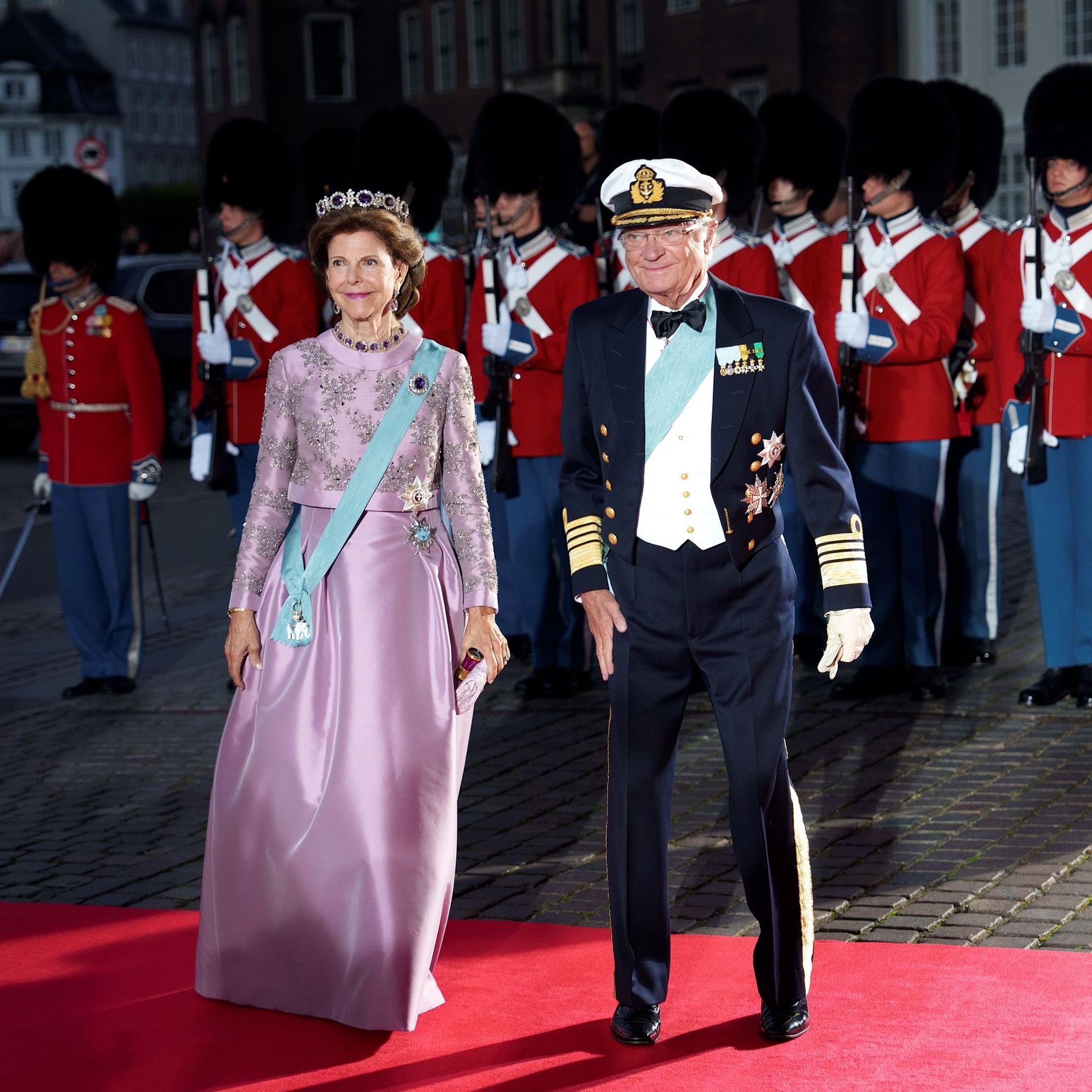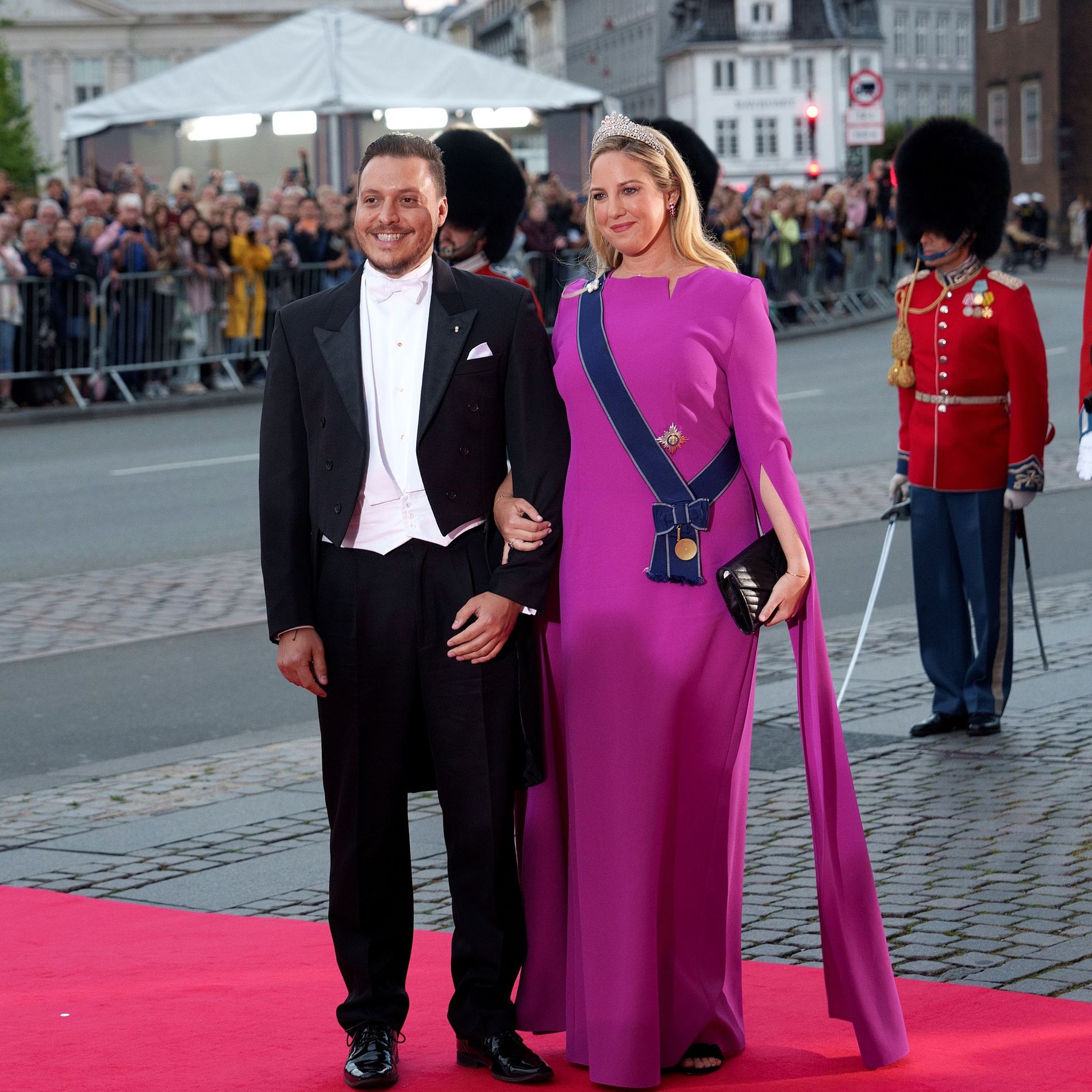 After greeting all guests, there was a procession into the Hall of the Knights, where Queen Margrethe delivered a speech:
"It has now been 50 years since I joined this long line – to the same commitment and to the same responsibility – but I have always felt a sincere joy and gratitude at my deed, supported by the entire Danish people, by the Faroese people and of the Greenlandic people.
"No nation in the world is as close to each other as the Nordics. That is why I have been looking forward to welcoming King Carl Gustaf and Queen Silvia of Sweden, to King Harald and Queen Sonja of Norway, to Finland's President Sauli Niinistö and Mrs. Jenni Haukio and to Iceland's President Guðni Jóhannesson and Mrs. Eliza Reid.
"There are many of us gathered here in the Riddersalen at Christiansborg. My welcome extends to all, both here and beyond the whole country, indeed throughout the kingdom, with my sincere thanks for the warm attention which I have experienced, not only in connection with my jubilee, but also during all these years."