The tennis-adjacent racket sport is a bona fide phenomenon, with celebrity endorsements from Caroline Winberg to Zlatan
We break down the basics of padel and how on earth it got so major...
Racket sports are amongst the most attractive of activities. There is an elegance of movement as one whacks the ball — or shuttlecock, as it may be — over the net. And don't even get us started on the corresponding wardrobe. The trouble is, racket sports are so damn hard. It takes hours, years even, to become a proficient tennis, badminton or squash player. Enter padel, a squash-tennis hybrid that can easily picked up by just about anyone and is becoming Sweden's trendiest pastime.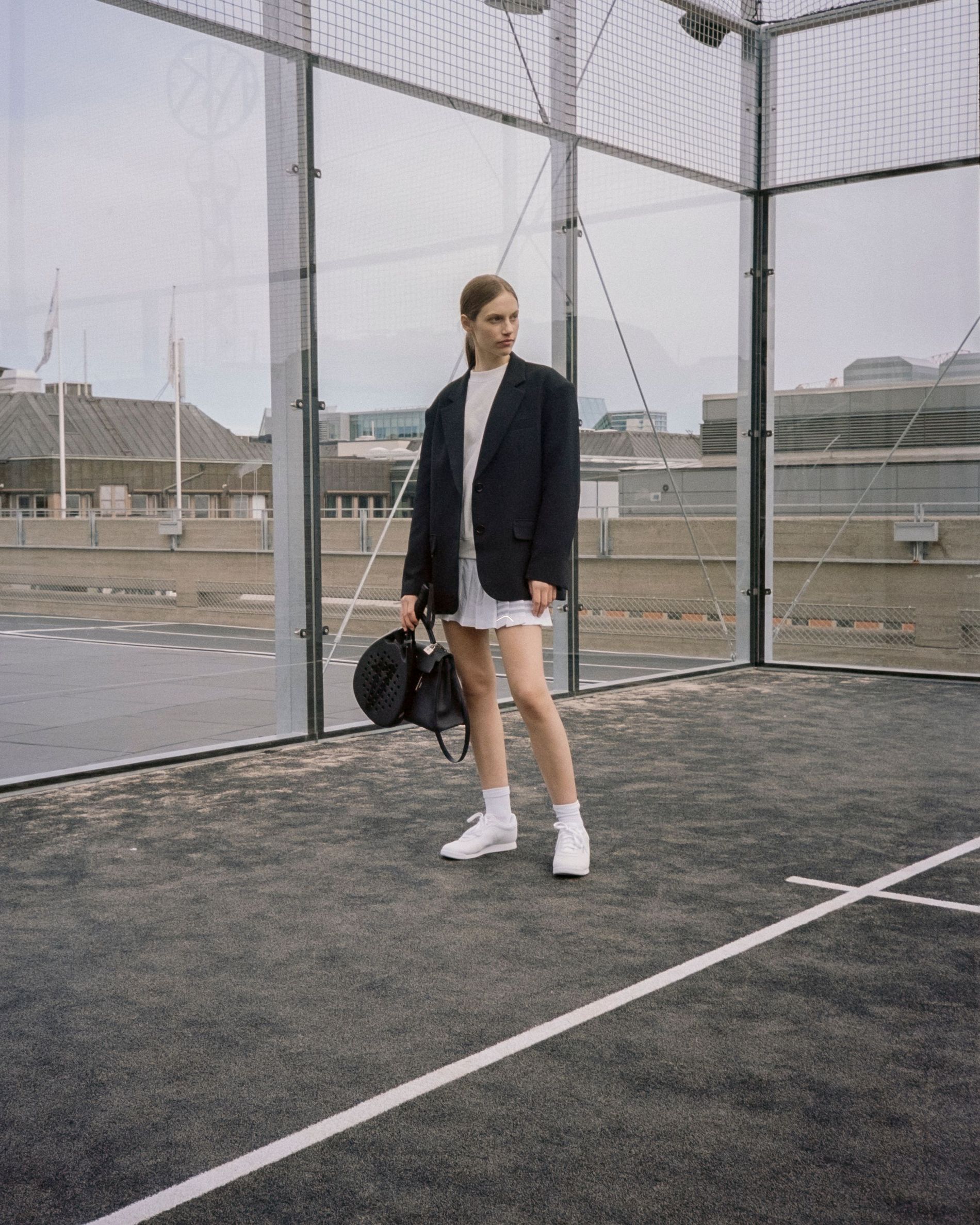 Filippa Hagg's collection shot on the Ascaro Padel courts proves the sartorial elegance of the sport. Photo: Erik Pousette
At first glance, padel appears a lot like tennis. There is a rectangular court, divided in two by a net. Players, typically in doubles, strike a ball with a racket, with the aim of getting it over to their opponent's turf. The scoring is the same as tennis and the balls are more or less identical, though tennis balls have a slightly higher internal pressure, making them bounce a little higher.
But there are a handful of key differences that make padel so infectiously playable. The ball remains in play when it bounces off the court's surrounding walls, meaning you needn't concern yourself with keeping the ball "in," so long as you manage to strike it over the net. Then there's the size of the enclosure — about 25% smaller than a tennis court — reducing the amount of running around required. And, most obviously, there's the racket itself, which, with its bulky silhouette and absence of strings, may not have the same aesthetic appeal as a tennis racket but is much easier to wield. With its low barrier to entry, athletically speaking, it's no wonder padel is purportedly the world's fastest growing sport.
Invented in Mexico in 1969, padel was brought to Sweden from Spain in the late early aughts after a fellow named Tommy Andersson from Båstad fell in love with the sport while on vacation in Marbella. It wasn't until a decade later, when Sweden's first indoor padel facilities were constructed, that the sport began to gain traction. Shortly after, padel really became a 'thing', with everyone from fashion folk to lawyers to bankers gushing about their new favorite activity. Notable Swedes from Caroline Winberg to Zlatan and Filippa Hägg (the later featured Padel in the latest campaign for her clothing line) have publicly exalted the sport and, despite there being over 700 padel courts in Stockholm, court times have to be booked well in advance.
Traditionally, padel facilities are no-fuss affairs - a few courts contained within a nondescript building in a sleepy part of town. Lately, however, padel has gotten a sexy makeover via concept spaces that embrace the social and lifestyle elements of the sport. There is no better example of this than Padel by Ascaro, the Rolls Royce of padel clubs (or shall we say Porsche, the club's sponsor).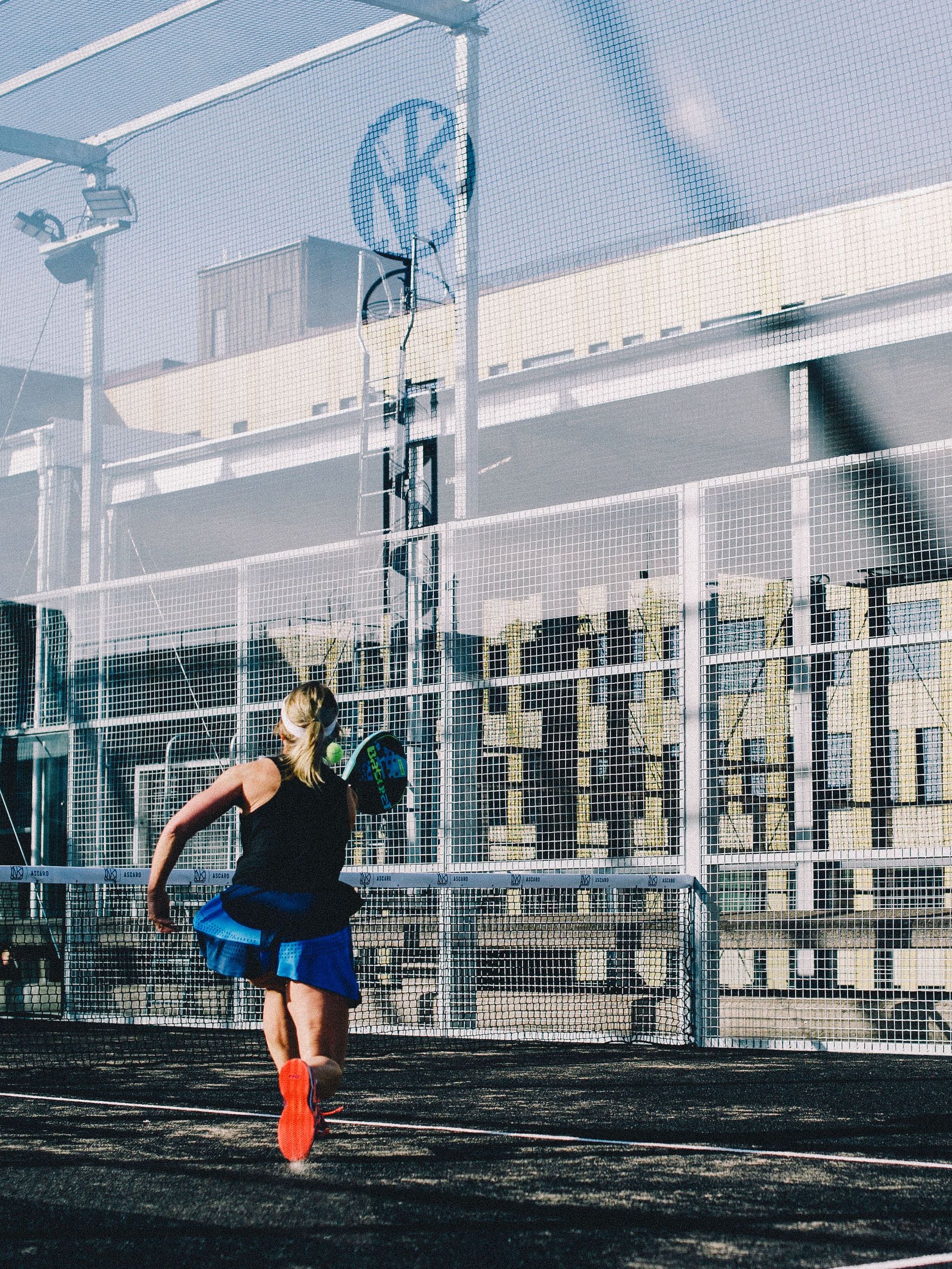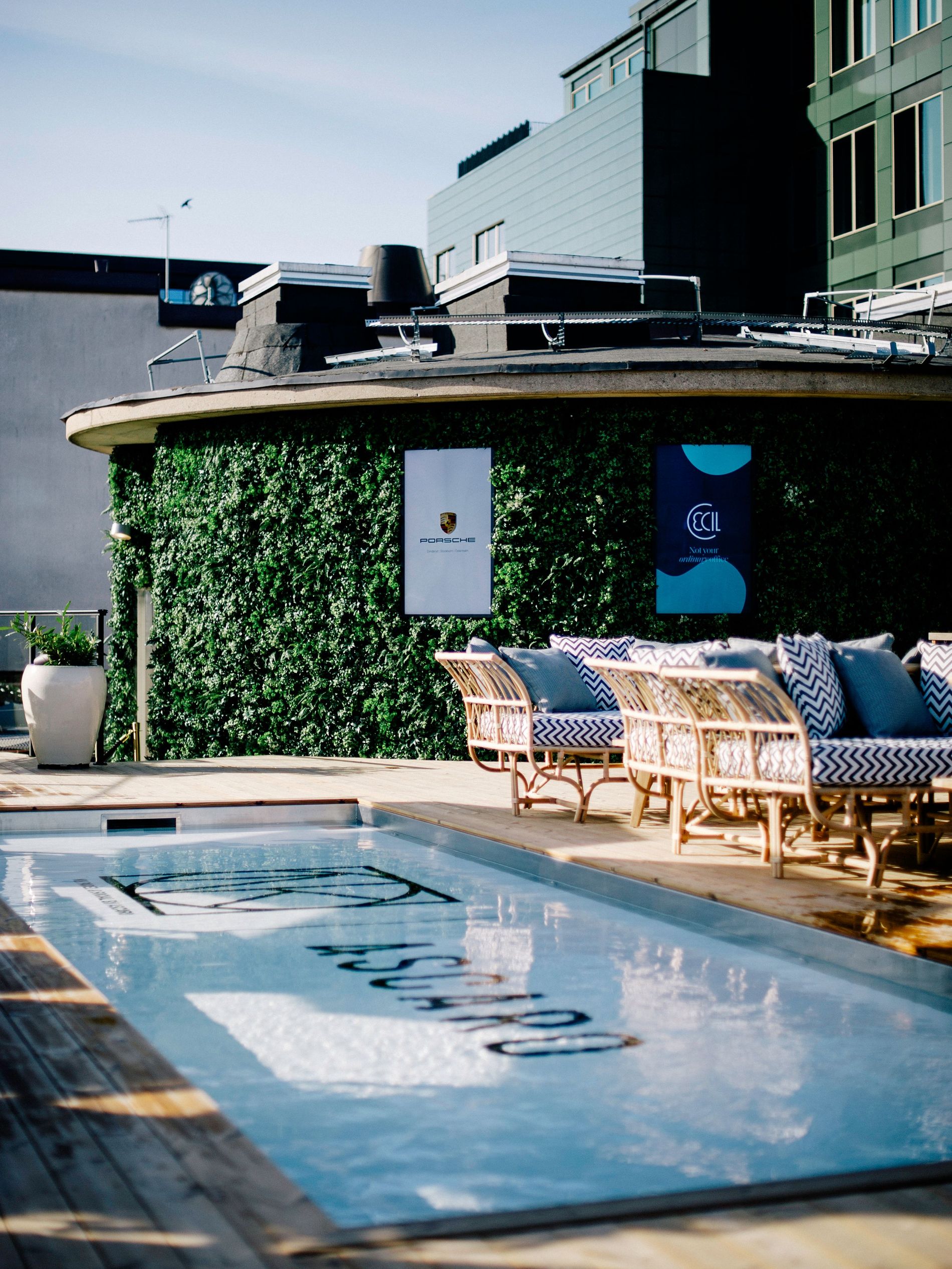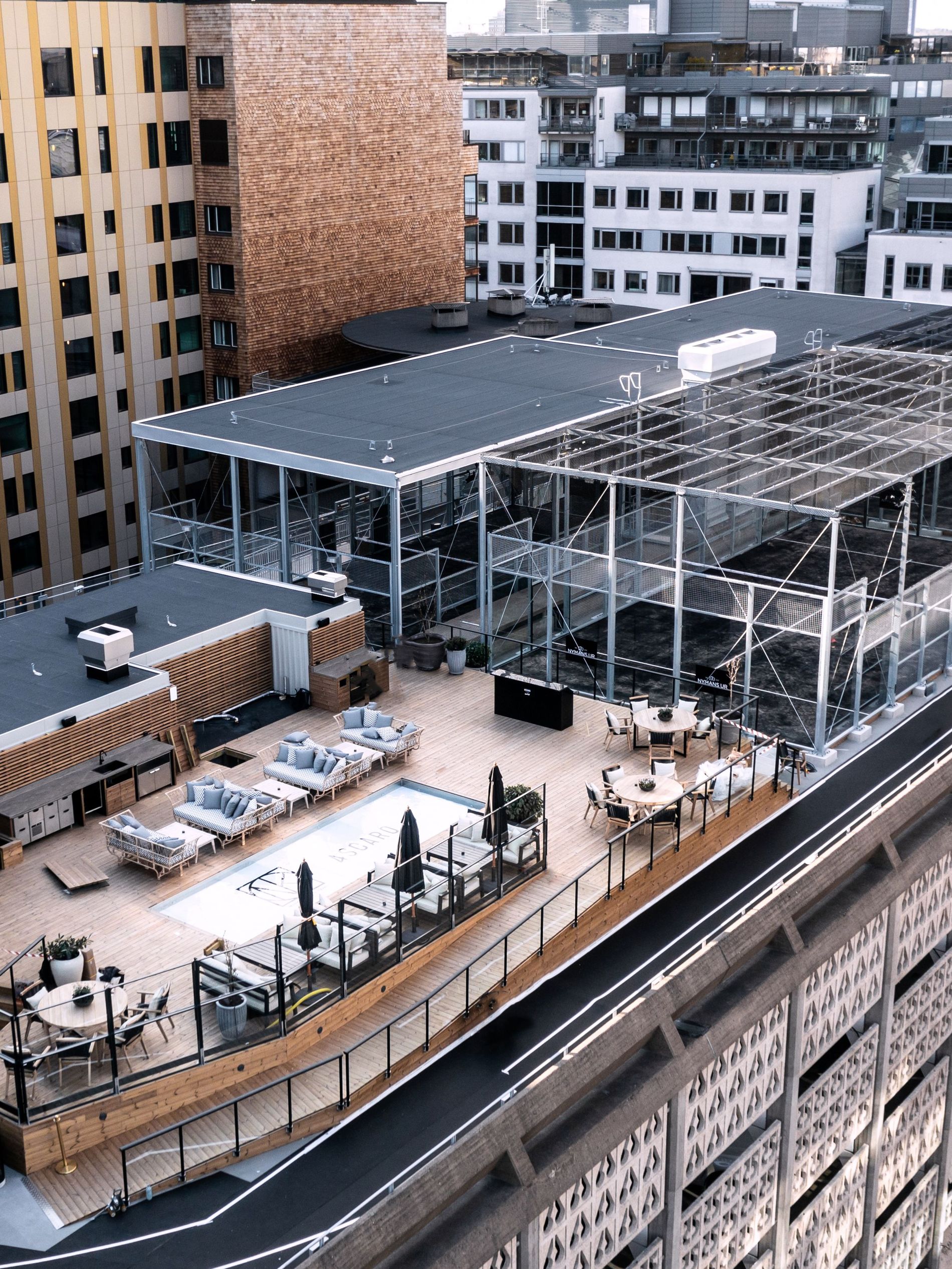 Made in collaboration with NK and nestled atop their parking building smack dab in the centre of Stockholm the rooftop space is part Miami Beach, part industrial minimalism and all things Instagram-friendly. In addition to several padel courts, Ascaro boasts a running track, outdoor gym and even a hip restaurant, where one can enjoy a glass of champagne after a match.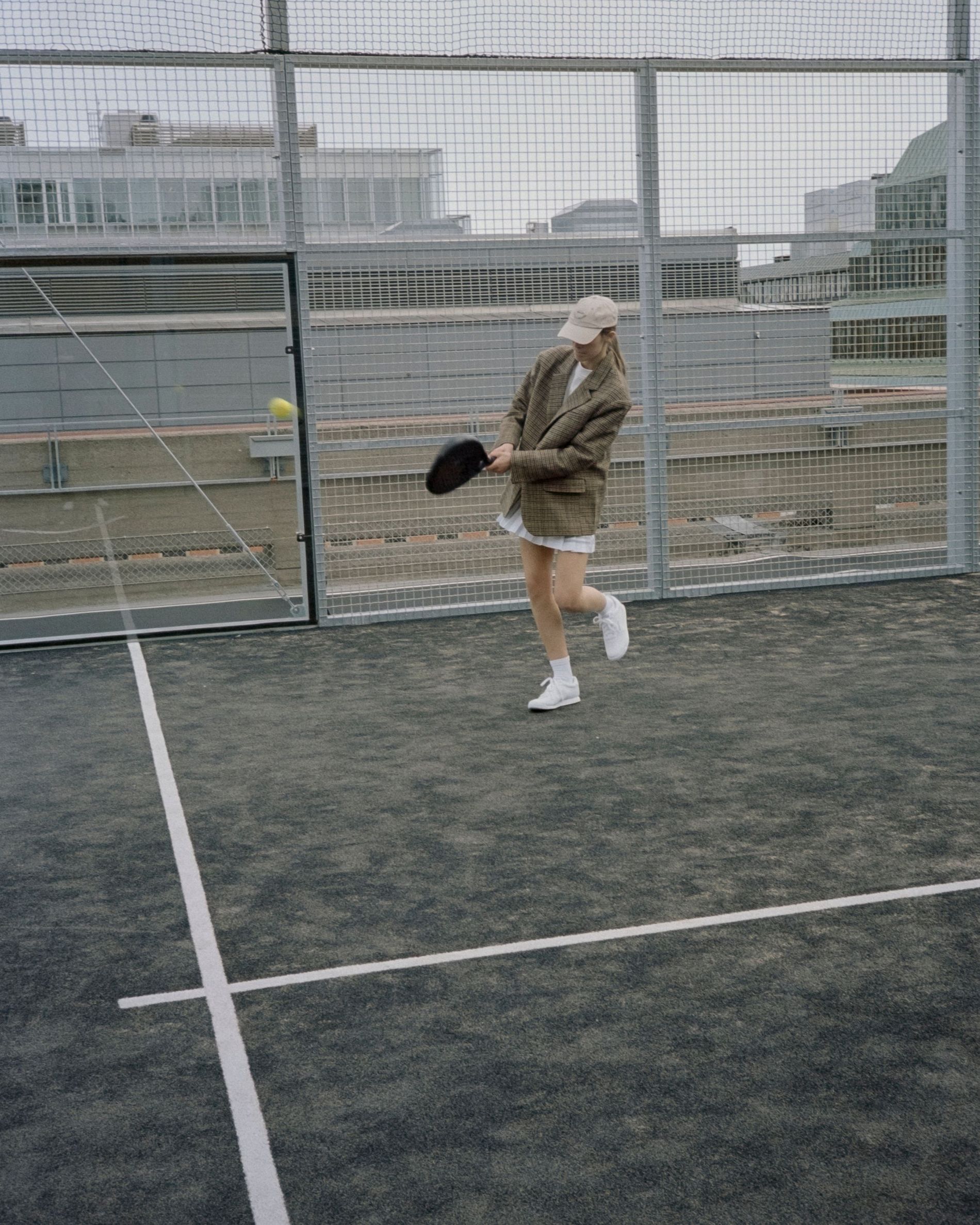 Photo: Erik Pousette
For those who have never picked up a padel racket but are ready to hop on the trend, we asked Stockholm's top-ranked padel player and Ascaro's in-house padel expert José Carlos Gaspar Campos to give us a few pointers for playing...
The top 5 padel tips for beginners:
In padel, the balance of the body is very important. You will feel a great improvement in your hits when you keep the strength in your legs. Some people lose balance by leaning back when they hit the ball. Really it should be the opposite - you should use your legs to go forwards with the ball at the moment that you hit it. This will give you more power and a straighter hit.
Try to play with short moves. In padel, there is less distance from your opponent than in other racket sports, like tennis, so it's important to make short, quick moves. If too much time is lost in preparing for a hit, you're likely to miss the ball when it comes.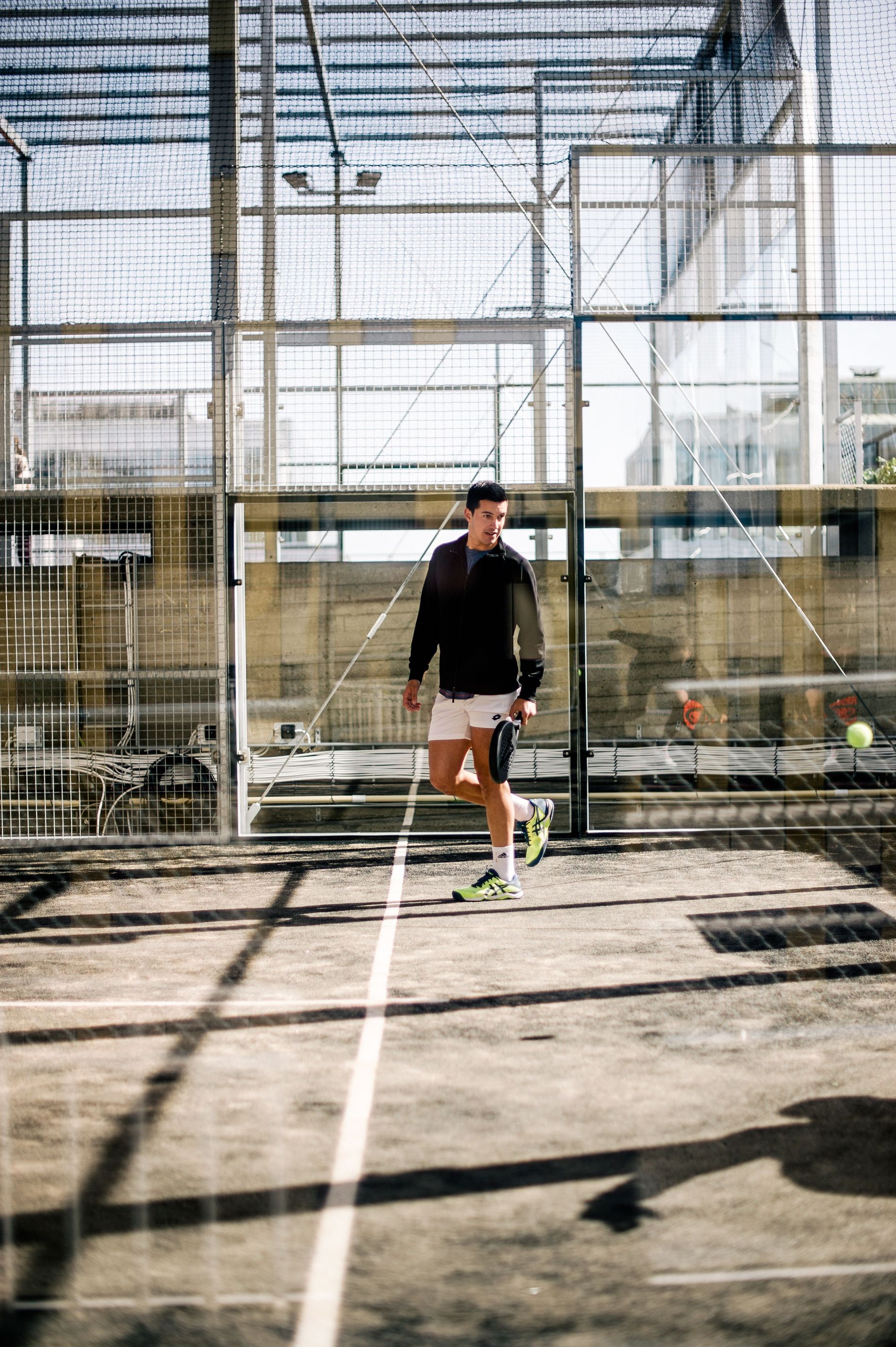 Professional padel player José Carlos Gaspar Campos.
The bandeja, in my opinion, is the most difficult hit in padel. Bandeja means tray in Spanish - the shot gets its name because the way the padel is held flat, you could nearly serve drinks on it. It looks somewhat like a tennis smash, but the technique is quite different. When you hit the ball, make sure you have enough distance to first release the arm, to give the hit some power. Also, it's important to try to make contact with the ball while it's in front of you, which will give you a stronger hit.
Padel players use too much slide, also called backspin. It's good to use it sometimes because it can make the ball more difficult for the opponent to reach, but you also lose power when you do it, so be picky about when you use it.
My last tip is to enjoy yourself. I have discovered that when you play happy without being too hard on yourself, you often play better and you and your partner can enjoy playing this beautiful sport.