Spotted on street stylers (and Nepo babies), T-shirts of the teeny tiny variety have re-entered the sartorial zeitgeist
During the mid-90s, few items held as much wardrobe gravitas as the shrunken T-shirt. During its heyday this tiny top was positively everywhere, appearing on screen in TV shows and films such as Friends and Clueless.
A pop culture phenomenon, the belly-baring style was spotted on a wide array of celebrities: spanning the wardrobe of the Spice Girls, Naomi Campbell, and Reese Witherspoon. Arguably the best of the bunch was Björk, who (when she wasn't shaking the fashion foundations of the red carpet with a Swan dress) would sport the quirky T-shirts. A personal favourite is the yellow Moomin top she wore during a 1994 MTV performance.
At the time, it functioned as a kind of antidote to the broad-shouldered silhouettes and oversized casual wear of the previous decade: figure-hugging, cropped and effortlessly glamorous.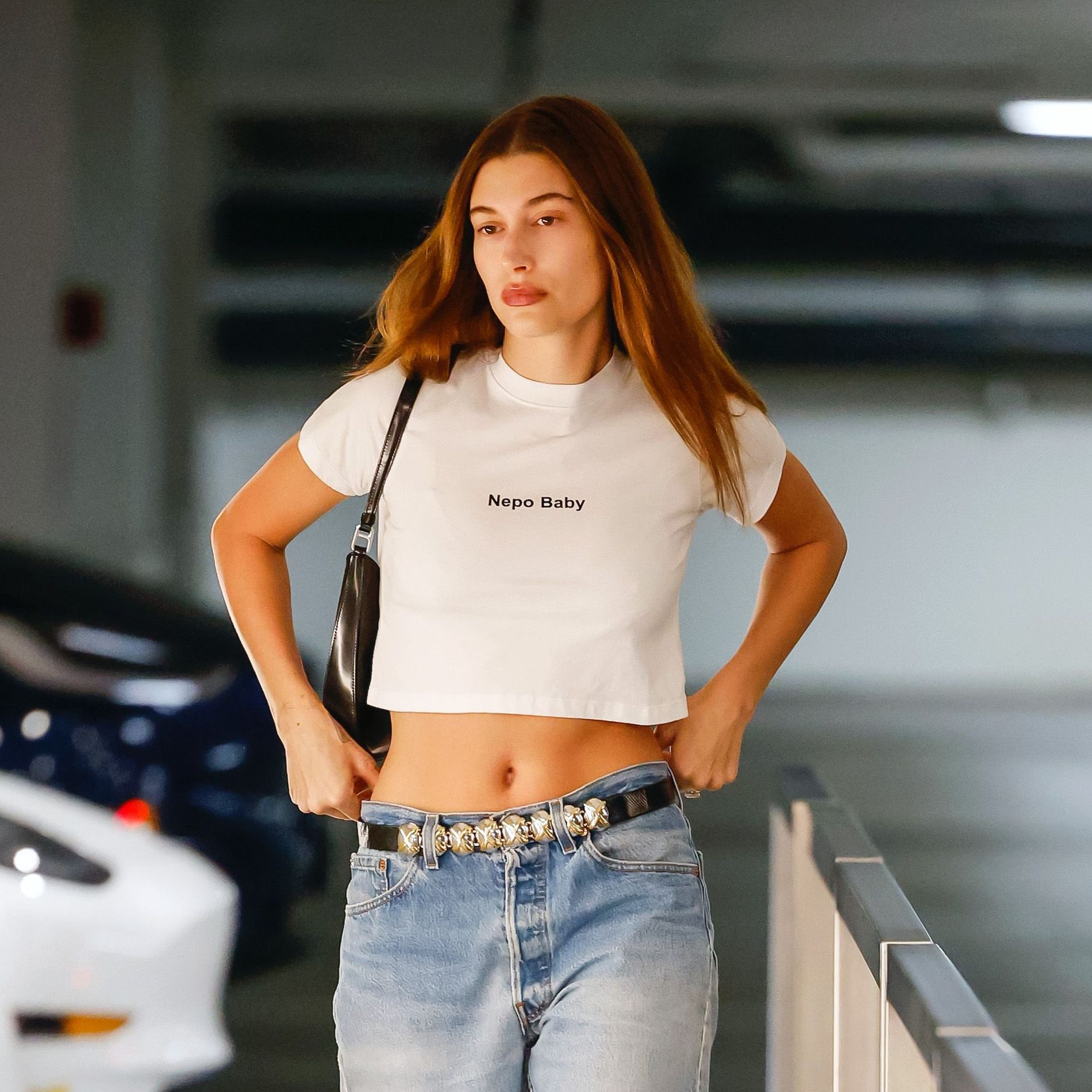 Hailey Bieber in her cropped 'Nepo Baby' T-shirt. Photo: Getty
Fast forward to the present day and our appetite for the shrunken tee has been rekindled. Belly-baring T-shirts have made a big comeback on screen (Euphoria, anyone?), the runway, and on celebrities alike. In fact, the T-shirt played a big part in the recent furore around 'Nepo babies' when Hailey Bieber was pictured proudly wearing a white tee, branded with the slogan.
Just as we swapped our oversized power suits in lieu of the shrunken silhouette when the '90s came calling, now in 2023 we're trading in oversized T's for teeny tiny crop tops. After all, no one puts this baby (T) in the corner for long…
Still not convinced? Here's some of our favourite looks from the streets of Copenhagen and Stockholm inspiring our itsy-bitsy ensembles for the coming season: