Why not slip into something more comfortable this weekend? We've found the best warming footwear to invest in this season.
All products featured on Vogue are independently selected by our editors. However, when you buy something through our retail links, we may earn an affiliate commission.
There's nothing fashionable about freezing feet. And as temperatures drop, our hardwood floors does nothing to keep us warm. This is where the house shoe comes in, the fuzzy foot warmer made for cold winter weekends.
During the pandemic, we saw a sudden surge of comfortable clothing. First, the house dress took centre stage during summer, reviving its functional glory days during the 1950s when housewives relied on the style to stay comfortable during the day. Then there was the crescendo of pyjama cut styles, equally chic on a zoom call or the rare night out as it was lounging around in bed. Finally, we saw the rise of the cardigan. The optimal at-home layer, loose and lovely and primed to cover up the fact that we were wearing the same shirt for the second day in a row.
But, the sartorial winds are changing. While the world has slowly moved on from loungewear luxe and stay-at-home staples, we refuse to leave our comfortable fuzzy slippers behind. Instead, we kick off our shoes the second we get home from work in lieu of something more comfortable. The perfect addition to a chilled-out yet chilly Friday night, who can oppose the investment of a perfect fuzzy slipper.
For those of us who have yet to invest in this retreat for our feet, Vogue Scandinavia has gathered the very best slippers to shop now.
ATP Atelier
Furlo sandals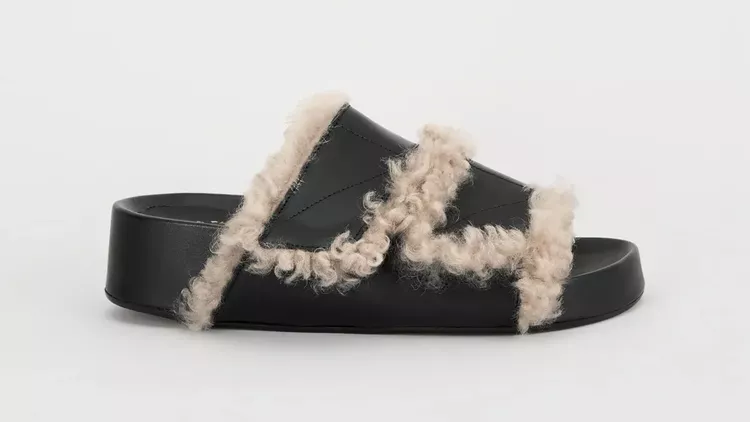 Reportedly, wearing ATP atelier's shearling sandals is like walking on clouds. Fuzzy and functional, these slippers are made in Italy out of vegetable tanned vacchetta leather and sheep fur. Not only a perfect fit for our winter weekends at home, these sandals will leave the indoors in lieu of summer adventures next year.
Kurt Geiger
Faux fur slides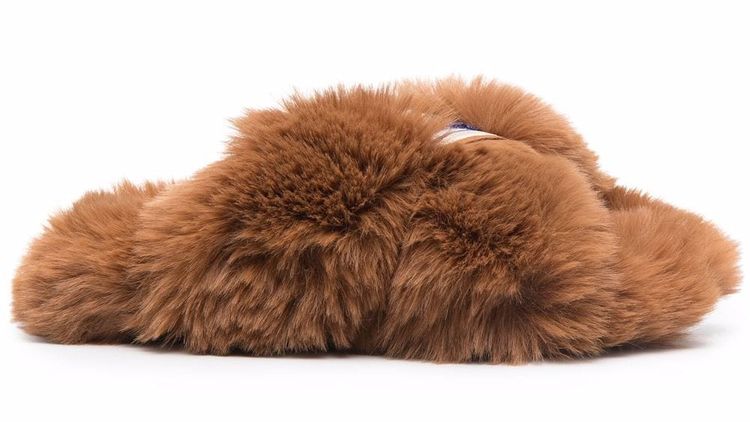 Kurt Geiger's glorious faux fur slippers fit the bill of at-home comforts. Gone are the days of stepping on cold parquet first thing in the mornings. Instead, set out these slippers before bed and slip into extra fluffy feet warmers for the best start to your day.
Mou
Open toe shearling slides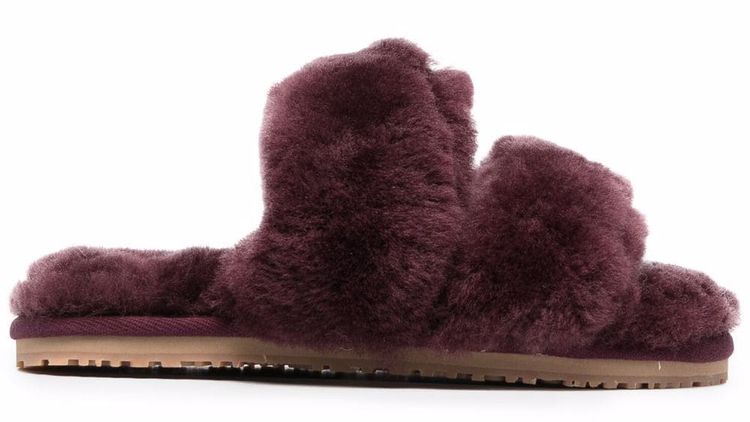 The deep purple hue of these faux fur Mou slippers merges fashion and function in just the right way. Cross-over straps keeps the slides nice and secure on our feet as we dance around the kitchen to Christmas bops, making breakfast on a cold Saturday morning.
Simone Rocha
Faux fur knot slides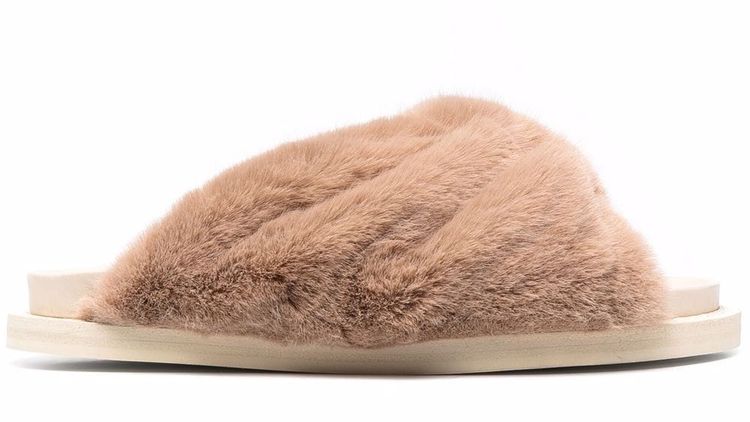 Splurge on these faux fur slides with knot details courtesy of Simone Rocha. Although the perfect fuzzy additions to any Friday night, these slides have potential to be a footwear staple with longevity in our year-round wardrobes.
H&M
Fuzzy slippers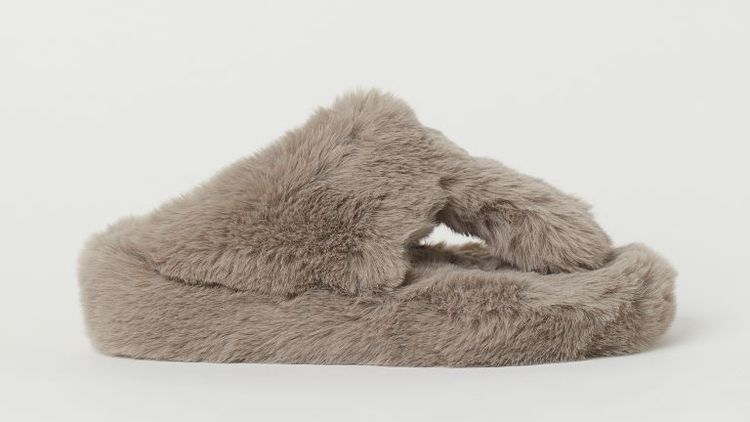 Step into the weekend in style. All around soft and cushy in one of the most popular hues of the moment, these greige faux fur slides by H&M suit our every need when it comes to comfy slippers.
Flattered
Lou Teddy Taupe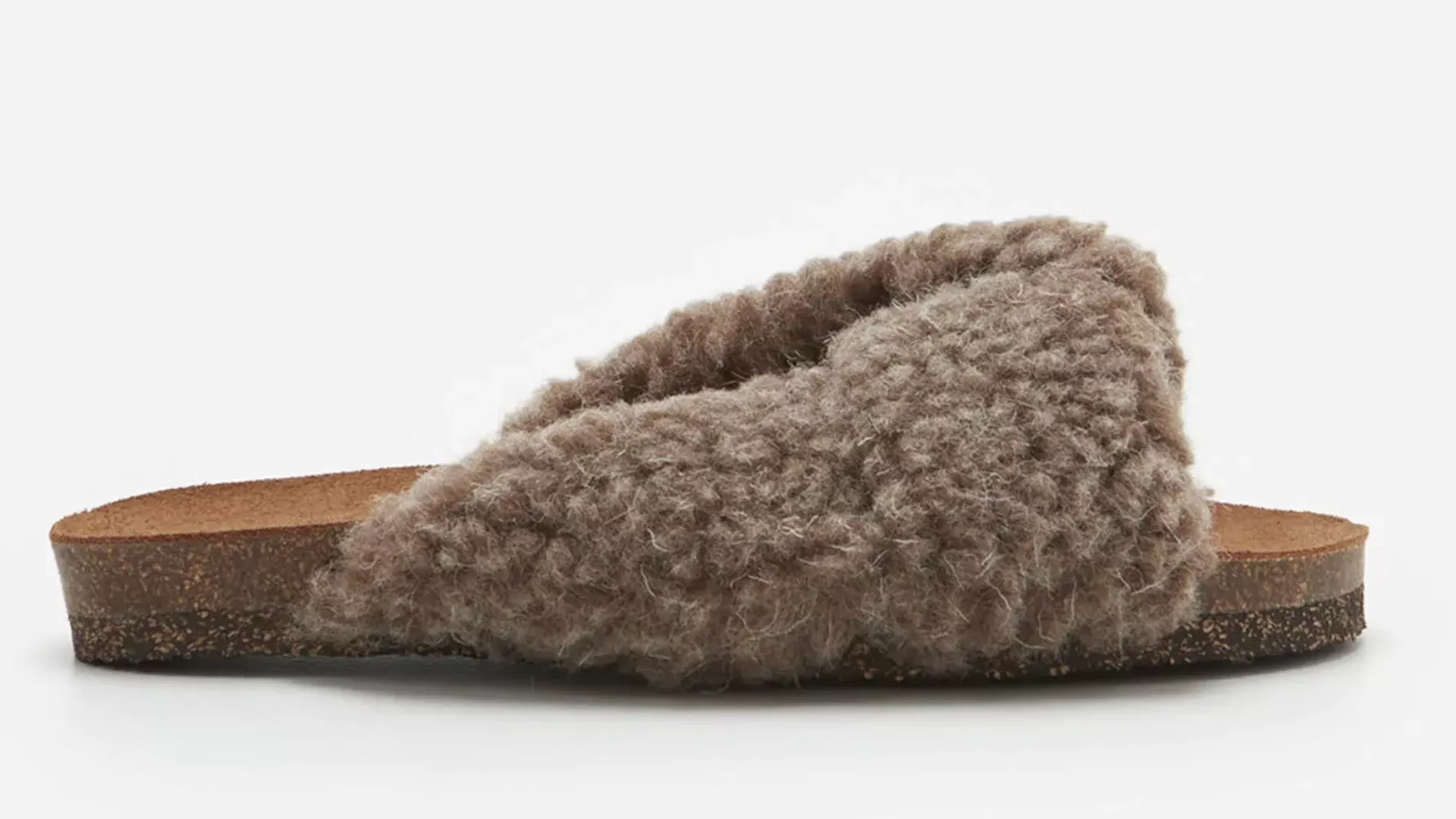 Made for both the great indoors and outdoors, these taupe teddy slippers by Swedish brand Flattered fits the bill of trans-seasonal staple. With all of the fixings of a fuzzy feet warmer, these shoes are an investment for winter and summer alike.
Rag & Bone
Eira fluffy sandals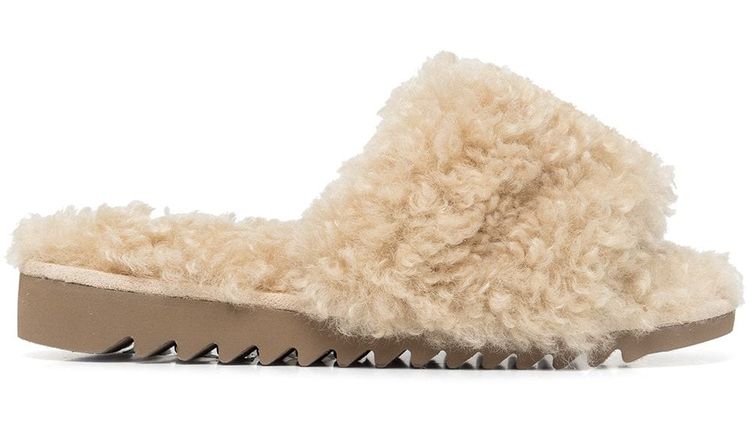 Perfectly plush, these faux fur slippers put a bounce in our step. Worn with our very best oatmeal lounge wear – preferably rib knit and textured – Rag & Bone's feet warmers top of our brunch-ready monochromatic weekend looks.
Ugg
Fuzz Sugar cross slides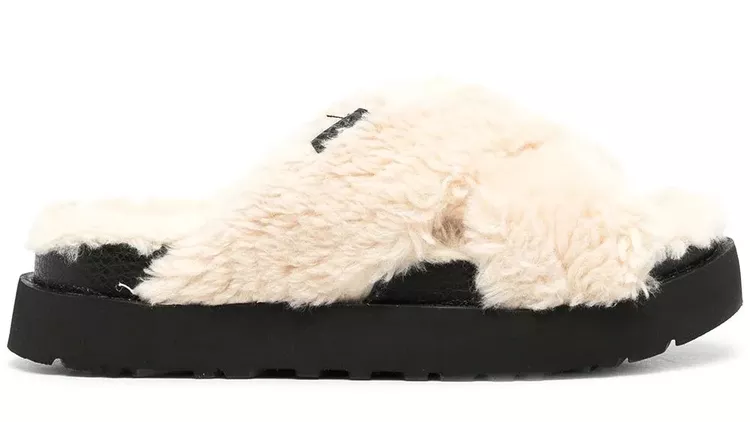 When visualising fuzzy footwear, our minds are instantly drawn to the Australian OG: Ugg. In the early aughts we were all going gaga for their boots, but today we're more inclined to slip into their fuzzy slides with cross-over straps.