We promise, the new rain boot is office appropriate
All products featured on Vogue are independently selected by our editors. However, when you buy something through our retail links, we may earn an affiliate commission.
The revival of the rain boot as fashionable footwear is one that we've embraced ever since Phoebe Philo as the creative director of 'Old Céline', gave the fashion crowd her hazmat-like iteration as a parting gift during her last season. The heavy rubber sole and wide shaft – styled over loose suit trousers or with a sliver of thigh visible under a leather dress in the brand's pre-fall 2018 lookbook – brought on a new era of waterproofing our wardrobes.
Since then, the trend has stood firm, surviving season after season, with Prada, Dior and Balenciaga fashioning their own version of the functional footwear. Especially keen are the Nordic designers who know the importance of staying dry. When we think rain boots, our minds are instantly drawn to Ganni's heavy soles topped with either ankle-grazing or knee-high rubber. And the Danish brand is just one of many pairing tailoring and poofy skirts with the shoe, rather than the usual hiking-appropriate garb.
Below we've gathered our favourite runway rain boots from AW21 and how to style the trend.
Office suit-able
Ganni styled their rain boots with tailoring for AW21. Photo: Vogue Runway
Where would we be without the modern classic that is Ganni's knee-high rain boot? With a cultish following among editors and street-style aficionados alike, the shoe is essential for any bona fide #GanniGirl. When styling the shoe, we take our cue from the brand's autumn/winter 2021 lookbook, where creative director Ditte Reffstrup paired the boots with short shorts and loose tailoring.
Staying dry yet stylish, pair your pull-on rubber knee-high with a pop of colour. We suggest an oversized lilac jacket and shorts combo. Dressing down, opt for a loose t-shirt instead of a shirt to complete the effortless look.
Measured monochromatic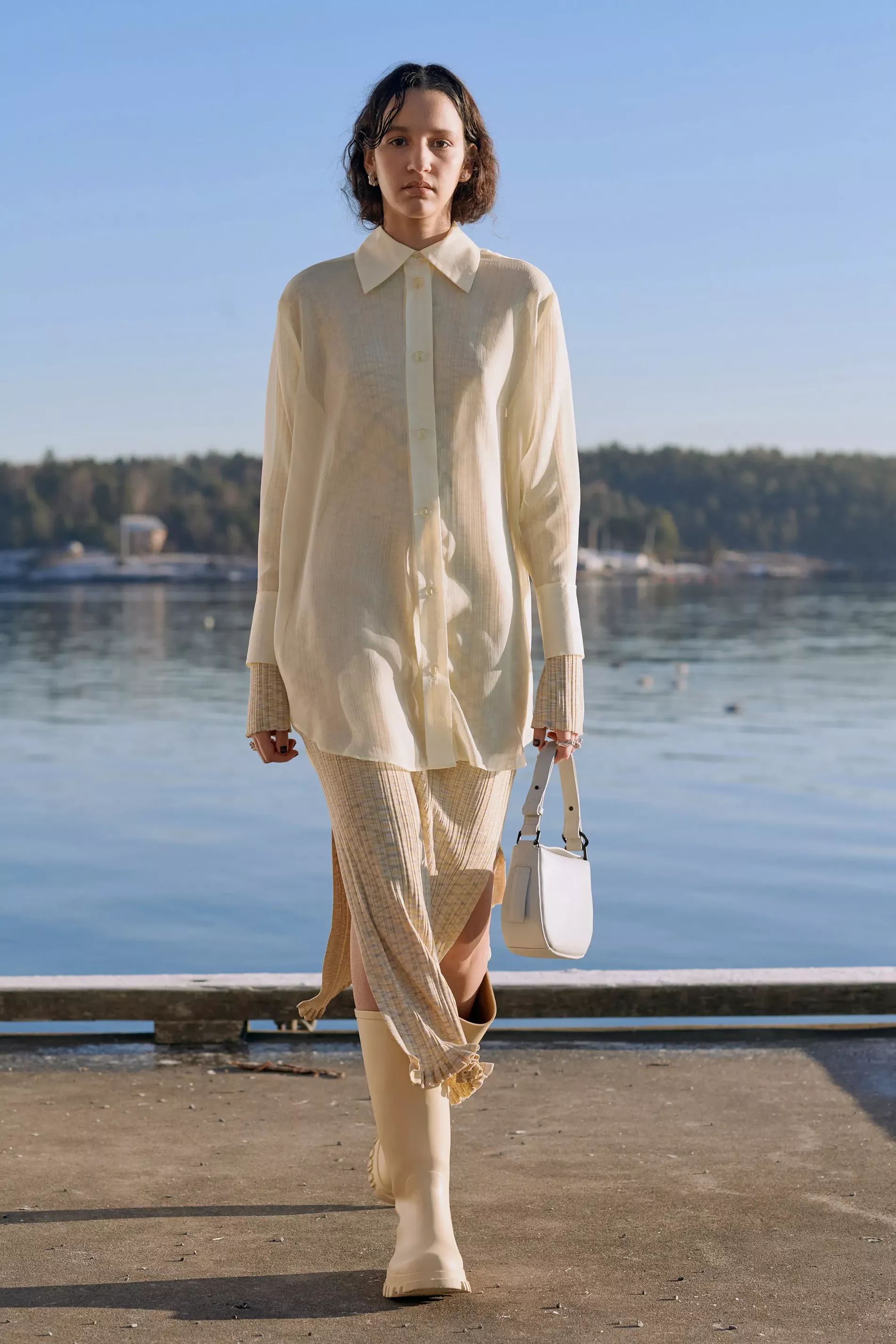 At Holzweiler, the monochromatic styling carried through head-to-toe for AW21. Photo: Vogue Runway
Our love for a monochromatic outfit comes out of our desire for ease. The simplicity of every piece going perfectly together. That's why the styling of Norwegian brand Holzweiler's autumn/winter 2021 runway had us raving for matchy-matchy neutrals. Instead of contrast in colour, the focus lay on contrasting textures. Loose silhouettes paired with ankle-grazing knit hems paired particularly well with Holzweiler's rain boot – a collaboration with shoe brand Viking.
To capture the comfortable elegance of the look, pair a fluid flowy shirt in a sheer material with a knit bottom. Trouser or skirt, the choice is entirely up to you as long as the hemline falls neatly on top of the boots.
Pop of colour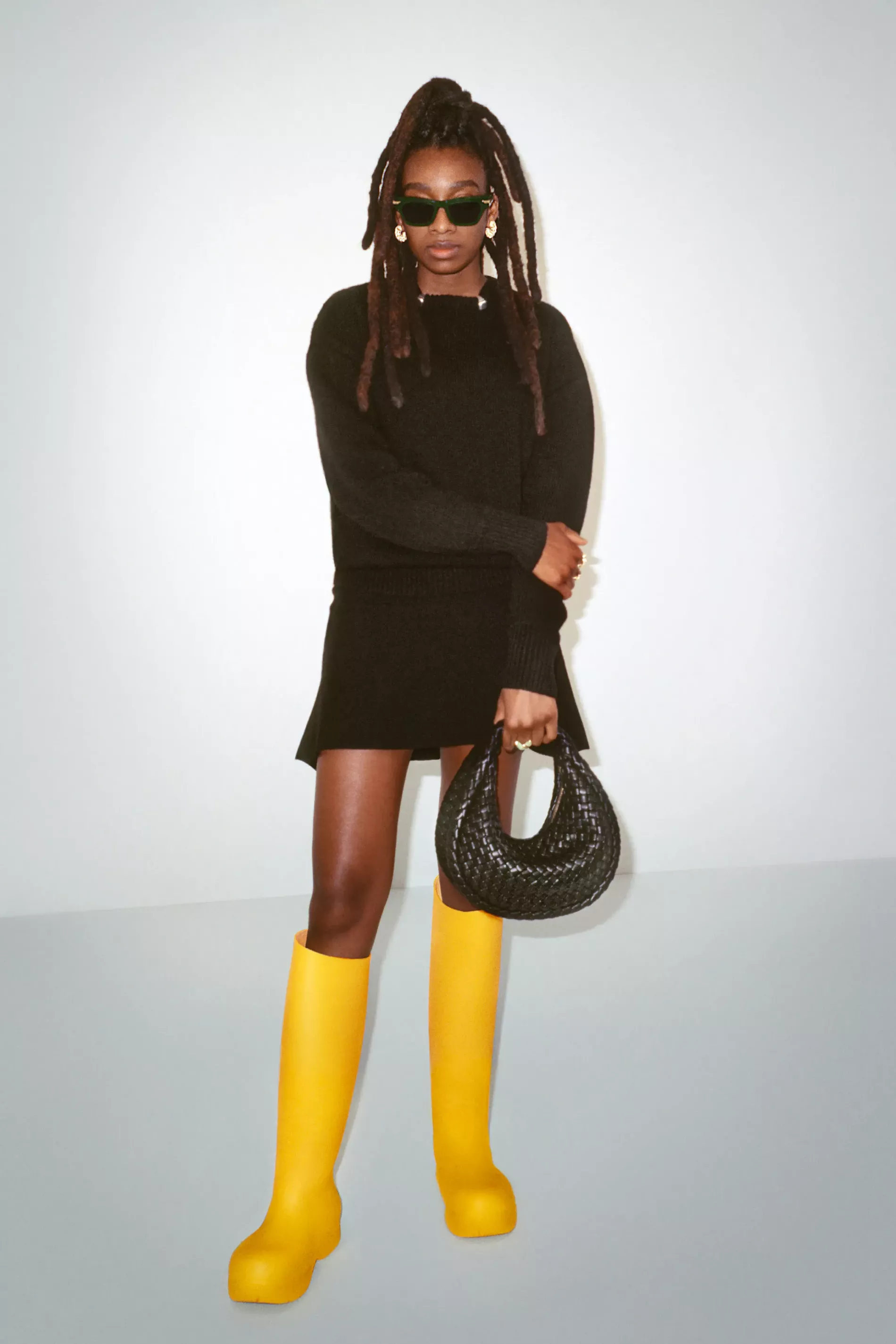 Bottega Veneta made the rain boot the centre of attention in the AW21 lookbook. Photo: Vogue Runway
An all-black ensemble is the epitome of autumn dressing. Sleek and effortless, this single shade single-handedly save us on those days when we don't know what to wear. However, Bottega Veneta's styling in its autumn/winter 2021 look book has convinced us to reconsider. Available in bright green, pink and yellow – as well as shimmery silver and gold – the aptly named puddle boot keep our feet dry as we move through the rainy season.
For maximum impact, keep the majority of the monochromatic look black – preferably in a knit to stay warm as the temperature drops. This will ensure that the brightly coloured rubber boots pop. As for silhouettes, opposites attract. Here, a loose sweater with maximum comfy coverage pairs perfectly with the mini skirt.