The holiday season is approaching, and what could be a better way to spend a cold winter day than stroll around a cosy Christmas market
It is a truth universally acknowledged that Scandinavians are particularly good at setting the mood for the holiday season. Our predisposition for making the most of the dark, never-ending winter has given us the tools which we get to create our own seasonal magic and indulge in all things cosy, atmospheric and Christmassy. While Christmas markets are said to have originated in Germany many centuries ago, here in the Nordics, each of our countries has its own special take on the wonderful seasonal highlight that is a Christmas market.
With key features including adorable wooden huts, twinkling lights, local delicacies and each country's version of mulled wine, these are some of our best markets, places so good they would even make Santa's reindeer vote for a detour. With their ability to impart some much-needed light and magic that lasts well into the New Year, these markets are a tradition that we hope never will never go out of style.
Denmark
Tivoli Christmas Market, Copenhagen, 19 November - 30 December
You may have heard about the concept of "hygge", the Danish quality of coziness, comfort and conviviality that leads to contentment. Well, luckily for us, winter is peak hygge season. So it's not surprising that when Denmark applies that concept to Christmas markets, the outcome is exceptionally atmospheric.
The Tivoli Christmas Market is an iconic feature on Copenhagen's social calendar, held in what is said to be the second oldest amusement park in the world, Tivoli Gardens. Here, wooden roller coasters shimmer under the weight of glittering fairy lights and small huts - themselves covered in pine branches and over 70, 000 decorative baubles - mingle with over 1,000 snow-covered trees to create a winter wonderland of epic proportions.
The 60 or so stalls offer an impressive array of ornaments, leather goods, crafts, clothes and sweets - and a pro tip is that one should never come to Tivoli with a full stomach. You can't visit without trying æbleskiver - a spherical, fluffy sort of pancake - or even a flæskesteg sandwich made with delicious roast pork. All washed down with a steaming hot chocolate or, of course, a glass of gløgg.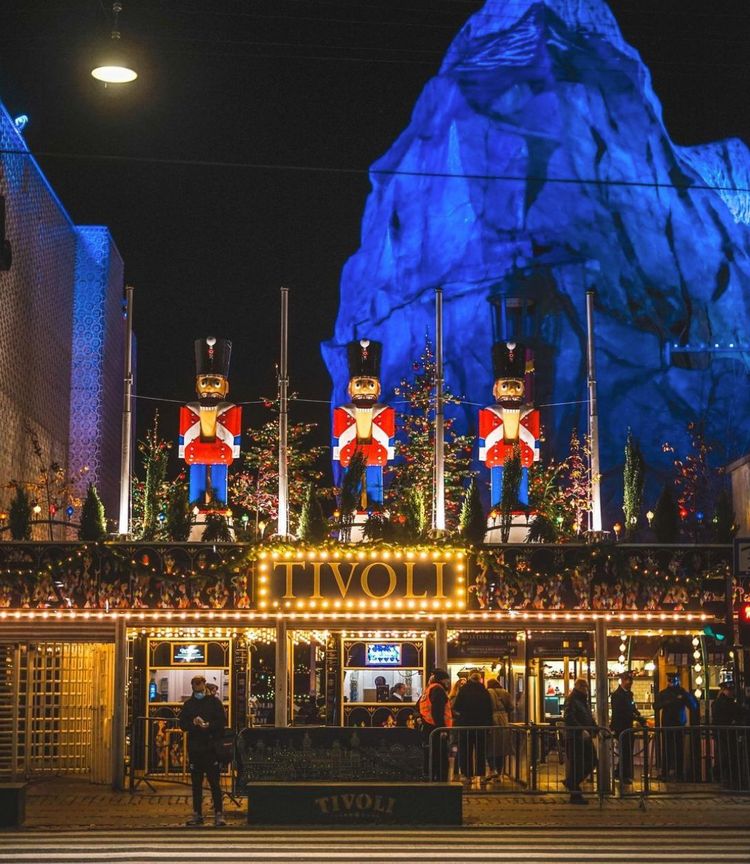 Photo: @tivolicph
HC Andersen Christmas Market, 12 November- 21 December
Tivoli is not the only Christmas market in Copenhagen, there are many more, including one in honour of Denmark's own national treasure, the writer Hans Christian Andersen.
The great storyteller and author of such Christmas classics as The Snowqueen and the heartbreaking The Little Match Girl, the H.C Andersen Christmas market is not only a bibliophile's dream but a destination for anyone wanting to combine a Christmas feeling with some nostalgic vibes. Placed in Nytorv square in the centre of Copenhagen, the market's stalls offer boundless foods, handicrafts and gifts. The stalls are each named after one of H.C Andersen's fairy tales and are decorated in a tasteful manner, creating a beautiful homage to the worlds within the man's well-known stories.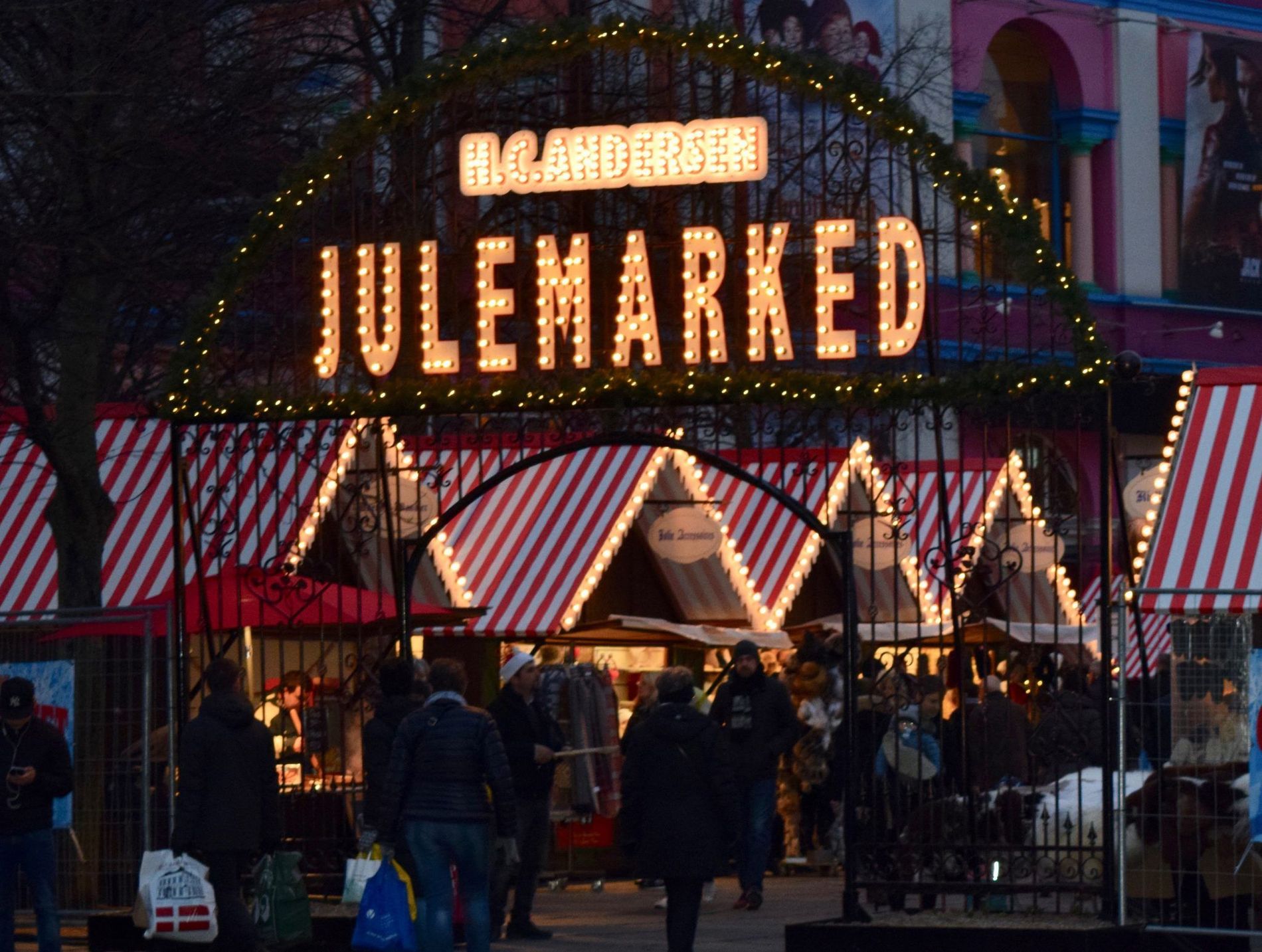 Though his own presence is a highlight, Santa has some competition here as it is possible to not only meet Mr Claus but also H.C Andersen himself. With a carousel offering fun rides for younger children and Mrs Claus welcoming children into Santa's house to make their own decorations, this is a Christmas market that will suit all, whether young or old.
And if you can't get enough of Hans Christian Andersen, there is also a Christmas market held in his hometown of Odense, Denmark. Held on the first two weekends in December and located right near the family home where he grew up, it is a beautiful traditional Christmas market, but it is also a veritable feast of 19th century-style Christmas, with vendors dressed in costumes from the era and actors putting on live performances of H.C Andersen's fairytales.
Norway
Christmas in Winterland (Jul i Vinterland), Oslo, 13 November - 02 January
As soon as you arrive at this winter wonderland, you'll be spoiled for choice. But just grab a hot chocolate and follow the smell of roasted almonds as you make your way through the stalls that offer everything your Christmas heart could desire. There are intricately carved wooden crafts, Norwegian handmade Christmas decorations and glasswork, local delicacies that will make you drool on the spot and, of course, woolen gems in the form of traditional Norwegian sweaters and cosy slippers.
The market takes place by the Spikersuppa skating rink on Oslo's main high street, Karl Johans gate, which, additionally, offers a great view of the beautiful Norwegian Royal Palace. With a ferris wheel, gingerbread- making classes, an ice skating rink and Santa's workshop open for the kids, the Winterland has plenty of activities that will undoubtedly lift your seasonal spirits.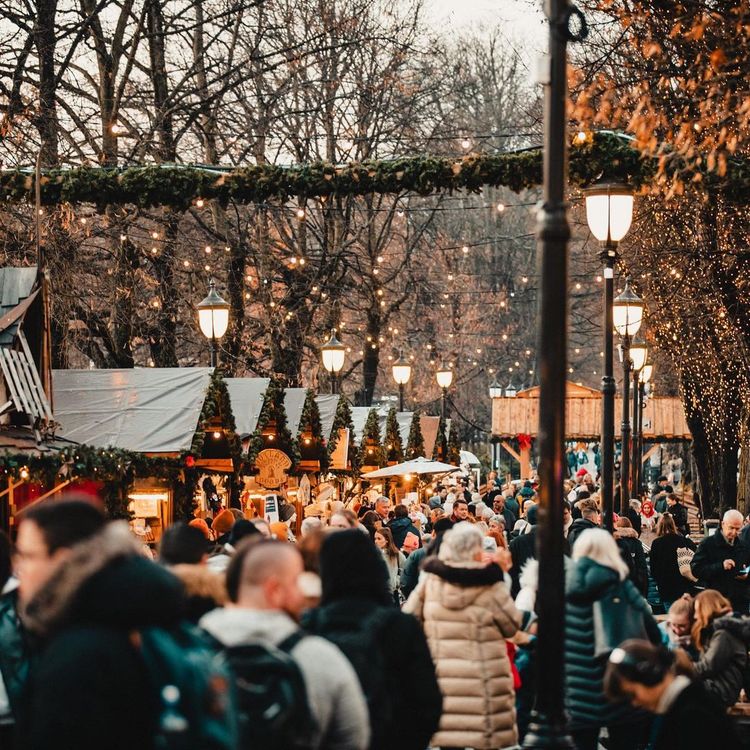 Photo: @julivinterland
Trondheim's Christmas Market, Trondheim, 1-19 December
On an iconic fjord in central Norway, you will find Trondheim, a beautiful port city that is the ancient capital of Norway, a beacon of Viking heritage and has been a trade hub for centuries. And if the Vikings had magically teamed up with Santa to make a trade of Christmas, Trondheim would have probably been their headquarters.
For the past 19 years, however, Trondheim has held its own market of the Christmas variety, at which 90 exhibitors join together to create what is undoubtedly a fabulously festive vibe. The unbelievably bright Christmas lights can be seen from miles away, creating their own bespoke variety of the Northern Lights, and the market gives visitors the opportunity to get close to farmers, craftspeople, chefs and artists who are more than willing to impart their knowledge about their local and wonderful wares.
Not only that, but huge tents with open fires and reindeer-skin covered seats are designed to help you keep warm while you take in live performances, and a special stage is set up to be the central spot for innumerable concerts. All in all, a lively, unique and truly Trondheimesque place of wonder.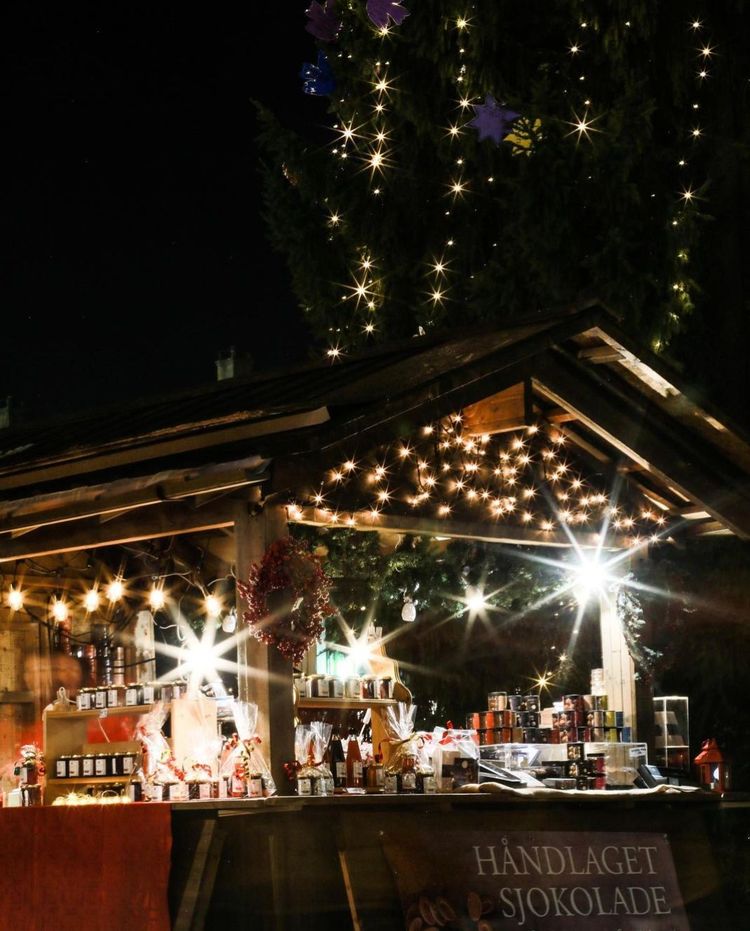 Photo: @julemarkedtrondheim
Sweden
Liseberg Christmas Market, Gothenburg, 19 November - 30 December
The biggest Christmas market in Sweden is located in the country's second-largest city, Gothenburg. Also known as the friendliest city in Sweden, it is no surprise that this West Coast gem also manages to give the market, despite its huge size, a welcoming and joyously friendly feel. The market is located in the permanent amusement park grounds of Liseberg, and the entire space is transformed into a fully festive zone, taking its atmospheric cues from a medieval village yuletide fair.
You'll lack for nothing at Liseberg as 60+ stalls create a never-ending, family-friendly experience of Swedish handicrafts, foods, traditional decorations and the most perfect waffles. Throw in 5 million (yes, million) Christmas lights, hundreds of decorated trees, an ice-skating rink, hop-on rides and even some ice and ballet performances, and it's safe to say that all you want for Christmas is a visit to Liseberg.
Photo: @lisebergab
The Stockholm Old Town Christmas Market (Stortorgets Julmarknad), Stockholm
With its origins dating back to medieval times and existing in its current form since 1837, Stortorgets Julmarknad is one of the oldest Christmas markets in Scandinavia, and offers an enchanting atmosphere that is hard to beat. It's so good that it has repeatedly been named one of the best Christmas markets in Europe, holding its own in a category that includes the much grander-scale German markets.
Organised by Stockholms-Gillet, a non-profit organisation that aims, amongst other things, to keep the city's traditions alive, the market has over 40 stalls arranged around a giant Christmas tree in the centre of the square. A foodie's delight, the market leads you from one festive wonder to the next, offering up specialities such as farm-made cheeses, caramels and chocolate-covered marzipan pigs, as well as venison and other Swedish game delicacies.
There are traditional handicrafts, delicate decorations, ceramics, leatherwork, jewellery and knitwear - in short, it's a veritable Christmas smörgåsbord. The best thing to do is to grab a hot cup of mulled wine - glögg - and a gingerbread cookie (pepparkaka), and savour the aromas of these spiced treats as you wander through the stalls, letting them fill you with enough Christmas spirit to warm even the coldest of nights.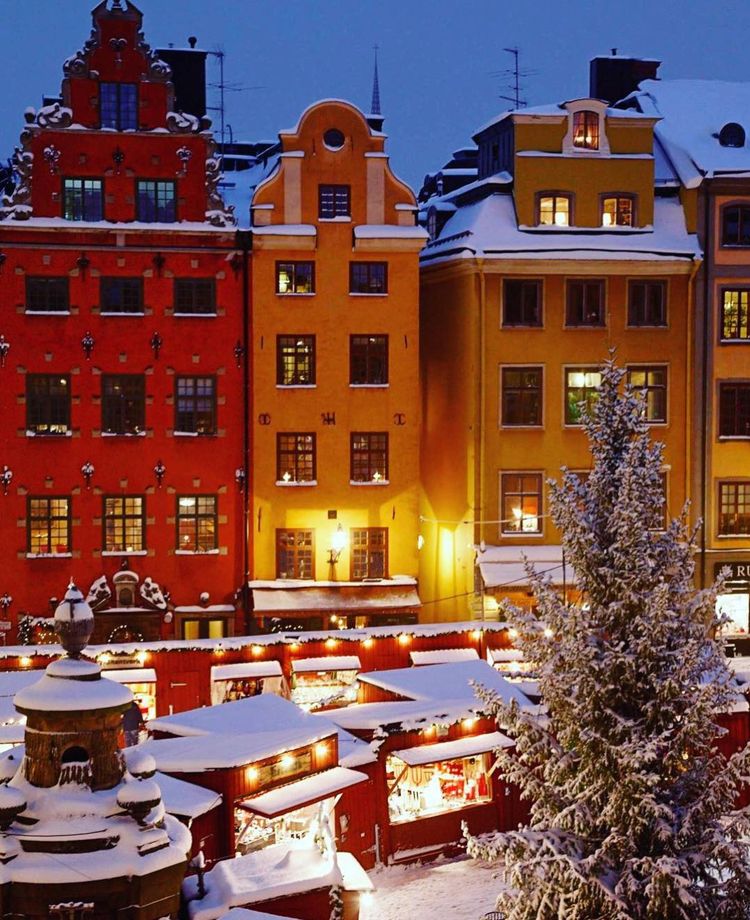 Photo: @stortorgetsjulmarknad
Skansen Julmarknad, Fridays, Saturdays and Sundays from 26 November - 19 December
The historic Skansen Christmas Market first opened in 1903, and its unique display of life from yesteryear makes it the place to which visitors continue to flock. Located on the island of Kungliga Djurgården, a royal park in central Stockholm, Skansen is the world's oldest "open-air museum" - an extraordinary place where farmsteads and buildings represent all different parts of Sweden and showcase traditions, history and customs of times gone by.
While all of Skansen is turned into a magical, festive place over November and December, the Skansen Christmas Market comes into its own on the weekends from 26 November onwards. Wooden huts created in the style of Swedish villages provide quaint places at which to learn more about Swedish history and traditions. And while the market offers traditional handicrafts and sweets, it is also a place to try your hand at making decorations, casting candles, dancing around a giant tree or simply listening to beautiful choir concerts in the Seglora Church.
Skansen aslo has live wild animals, providing the perfect opportunity to glimpse Nordic animals such as moose, lynxes, reindeer and wolverines while celebrating Christmas in a truly historical way.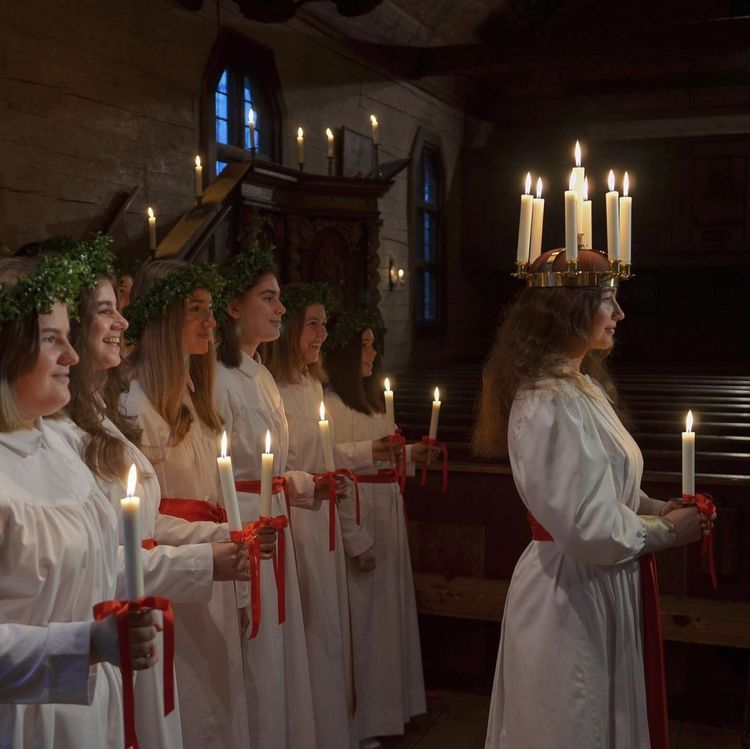 Photo: @skansen
Finland
Helsinki Christmas Market, Helsinki, 27 November - 22 December
Finns really know how to get into the Christmas spirit, and they even start the festivities early with parties called pikkujoulu (or Little Christmas). Finland even boasts the age-old tradition of having Christmas Saunas, a relaxing ritual to soothe the mind and body before the busy festivities begin. So we are delighted to share that, as expected, Finland applies the same anticipatory enthusiasm to its Christmas markets.
The Helsinki Christmas Market is the oldest and most popular Christmas market in Helsinki, usually taking place in Senate Square, under the gleaming white Helsinki Cathedral. This year, however, due to street light renovations, the market will be hosted in the appropriately named Market Square, where we have no doubt it will be as magical and bustling an event as always.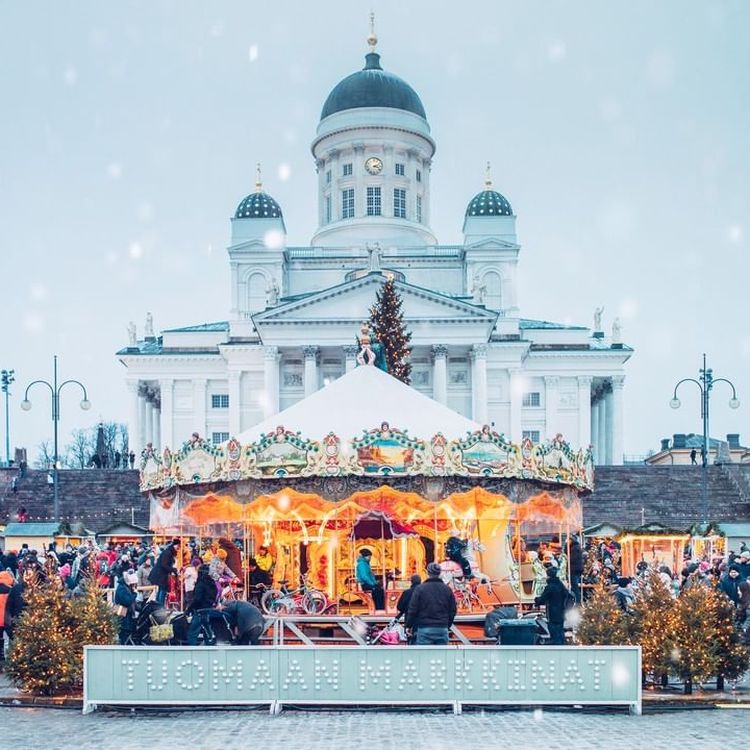 Photo: @tuomaanmarkkinat
Over 300,000 people visit the market each year, to experience the wonderful mixture of ornaments, local delicacies, Finnish crafts and gifts, as well as meet Santa Claus or take a ride on an old-fashioned merry go-round. And, of course, have a sip of that most seasonal of Scandi drinks, found here under the name glögi.
Not only does the market showcase the best of national products and artisans, there is a strong emphasis on sustainability, as part of the city's Think Sustainably campaign. Food waste is avoided at all costs, there is a real focus on locally sourced produce and there are concerted efforts to include more plant-based solutions, such as vegan rice porridge and even vegan ham. A win-win for visitors and the environment, both of whom we hope can continue to enjoy the exquisite market for many years to come.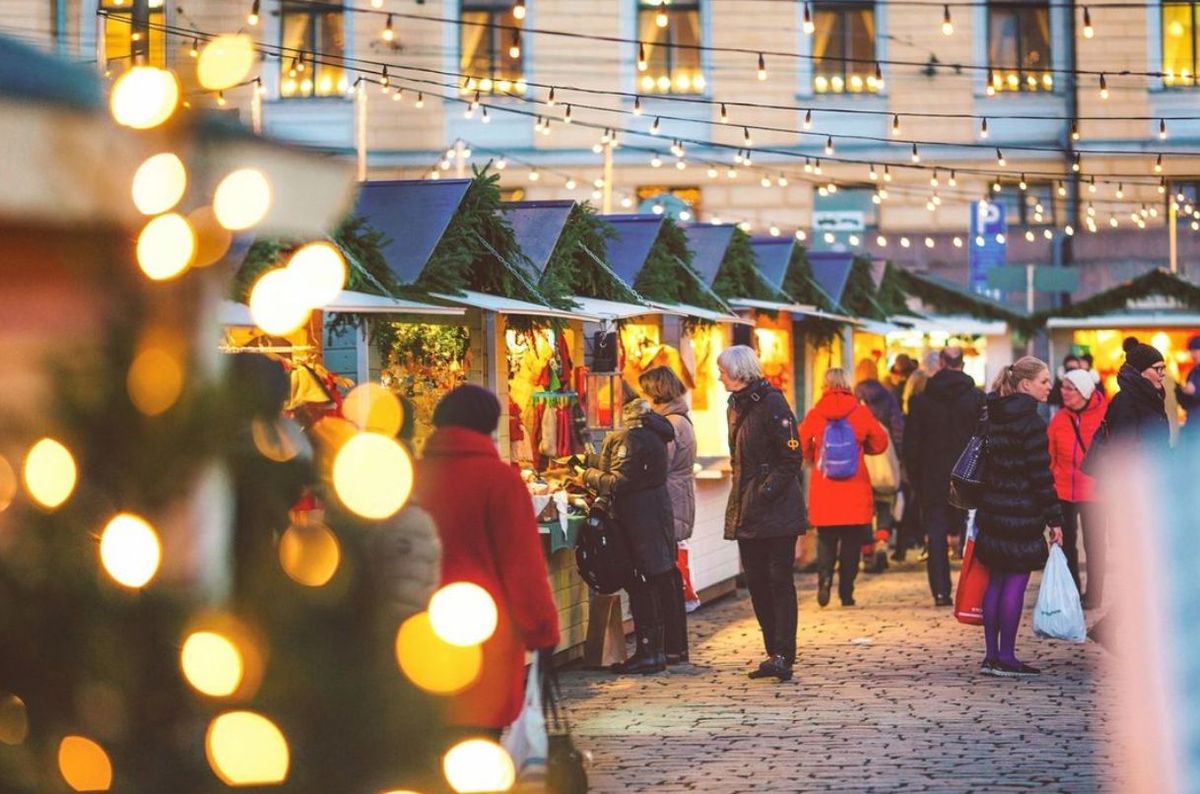 Photo: @tuomaanmarkkinat
Santa Claus Village, Rovaniemi - All Year Round - 20 November Opening Celebrations
Less Christmas market and more Christmas world, this place is as Christmassy as it gets. Located just 10 km south of the arctic circle, Rovaniemi is the capital of Lapland, and its epicenter of Christmas has the fabulous succinct address: "Santa Claus Village, Arctic Circle".
While also known as a key destination for viewing the beautiful Aurora Borealis, Rovaniemi's Santa Claus Village is the main attraction for thousands of visitors who head there to get a dose of the man in red, at any time of the year. That's right, the village is open all year-round, although the holiday season is also marked by some special events. With his reindeer entourage, the man himself will arrive at the village's central square to celebrate the Rovaniemi Christmas Opening on 20 November, when he declares the Christmas season officially open.
With traditional Finnish cuisine on offer, arts and crafts, reindeer rides and husky sleighs aplenty, plus venues such as Santa Claus's Main Post Office and Mrs Santa Claus's Christmas Cottage, it's safe to say that at this place that has been afforded the title "the official hometown of Santa Claus", you know you can find ALL the holiday cheer.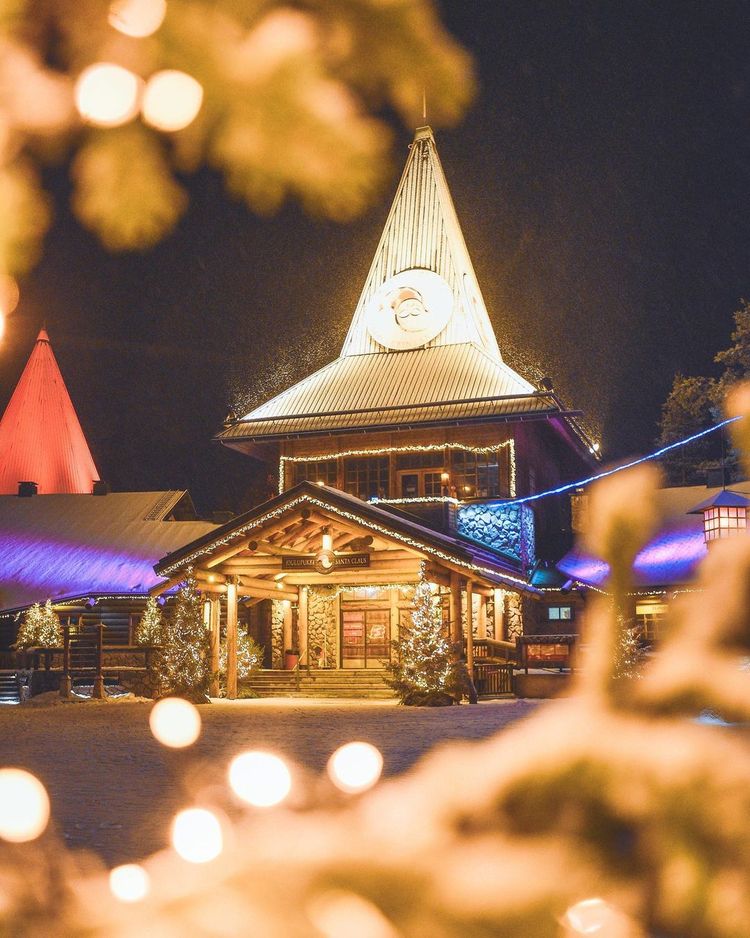 Photo: @visitrovaniemi
Iceland
The Christmas Forest Market at Heiðmörk, open on weekends from 4 December
Right on the outskirts of Iceland's capital city, Reykjavík, lies a beautiful nature reserve by the name of Heiðmörk. The site is surrounded by a small forest, which is under the care of the Reykjavík Forestry Association, who aim to preserve the exquisite nature of the area. And on December weekends, it is the place to enjoy a small and unique Christmas market.
The Christmas Forest market has grown around the custom of Icelandic families heading to Heiðmörk to cut down their own Christmas trees every year. This tradition is special not only for the joy the trees bring, but because these home-grown trees are sustainably grown, and their sale is overseen by forestry specialists. The association aims to protect the local nature and keep the yuletide tradition to the highest of sustainable standards, and this pact is proven in the fact that, for each tree sold, the Reykjavík Forestry Association plants 50 new ones.
Beyond the Christmas trees, the market now offers entertainment for all the senses in the form of live music performances, book readings by Icelandic authors, local handicrafts and strong coffee and sweet hot cocoa. As a climate-friendly celebratory location, Heiðmörk is the ultimate destination for anyone who wants to show their appreciation for nature - and be thankful for the gifts it gives us, year after year.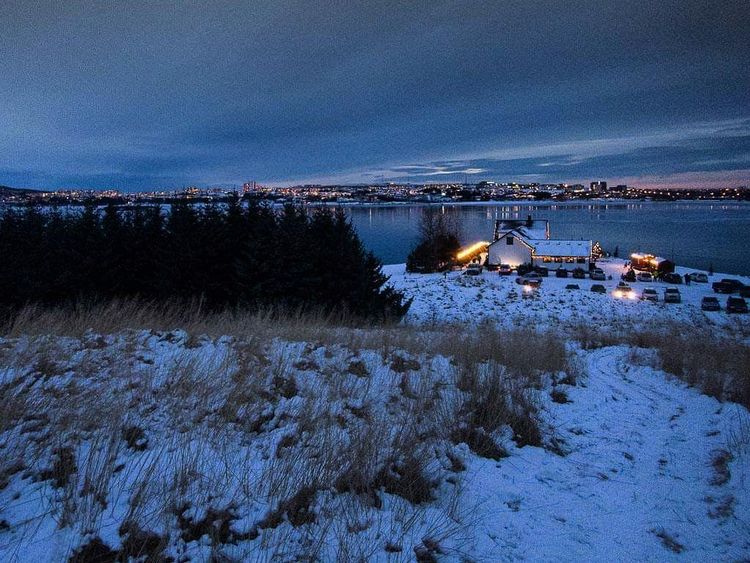 Photo: @trailingaway