Speaking to editor-in-chief Martina Bonnier straight after Chanel's Haute Couture autumn/winter 2023-2024 show, supermodel and Vikings: Valhalla actress Frida Gustavsson shares her thoughts on the collection and let's us in on what's to come for her character, Freydis Eriksdotter
Swedish actress and supermodel Frida Gustavsson has been part of the Chanel tapestry since 2010. "Mostly as a model and working with them, wearing the clothes and travelling all over the world," she says. However, to Gustavsson, this season's Haute Couture venue – a splattering of pink and purple cobble stones along Port de la Conférence – stands out among the rest.
"Putting it on the streets in Paris by the Seine, with the view of the Eiffel tower, really scaling back on the set and letting the clothes and the people wearing them come forward," says Gustavsson. "I thought that was very effective." Despite the powerful impact, her thoughts were with the models walking down the incredibly long cobble stone catwalk in high heels. "I had a lot of sympathy for them," she says.
Gustavsson's first show for Chanel featured a much more adventurous set, with a banjo band playing and hay spread across the runway. A show Martina Bonnier recalls as being "very, very cute". "I absolutely loved it," says Gustavsson. Since then Gustavsson has stepped away from her modelling past, pursuing an acting career – most notably playing Freydis Eriksdotter in Vikings: Valhalla.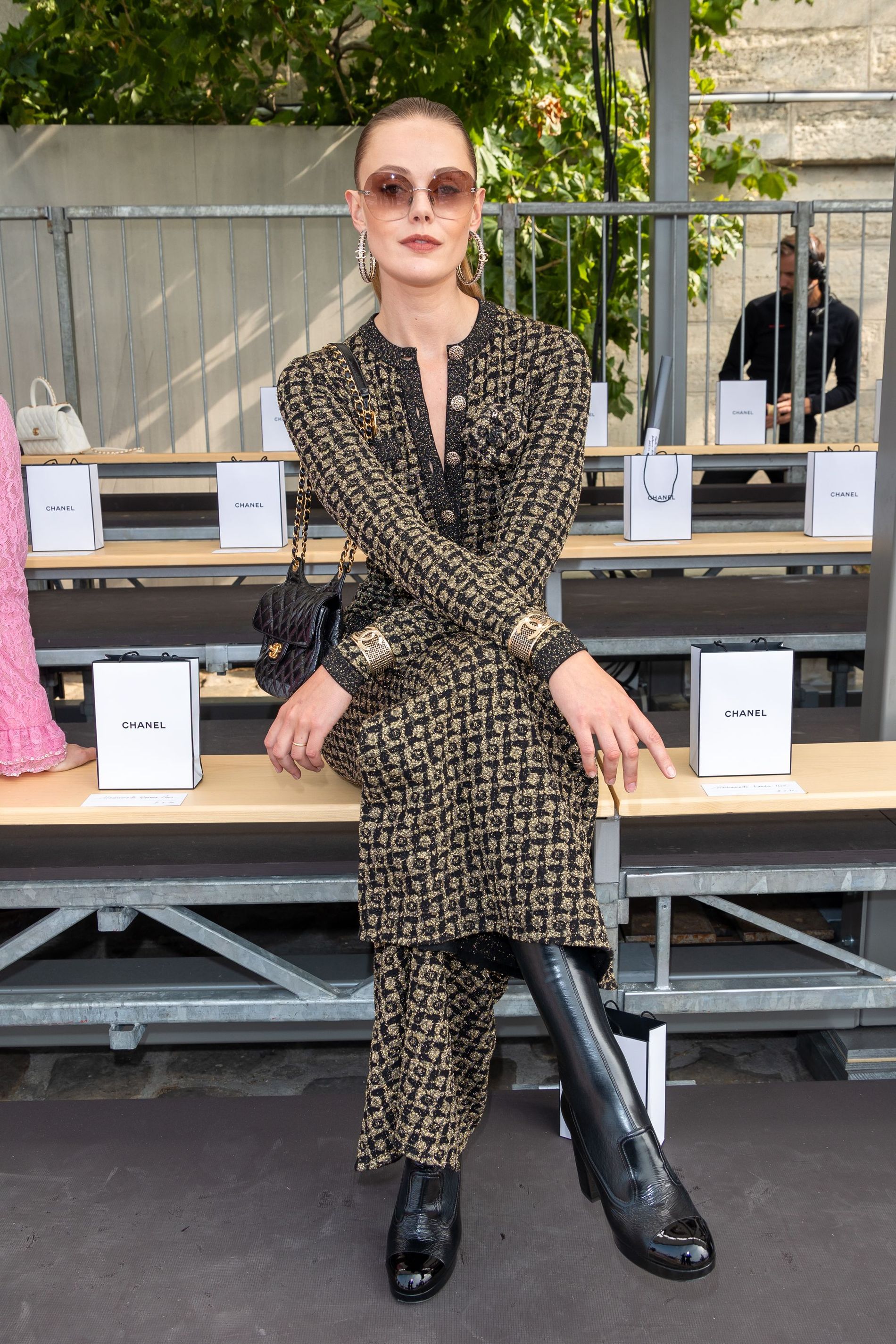 Frida Gustavsson front row at Chanel's Haute Couture autumn/winter 2023-2024 show. Photo: Getty
"I want people to recognise me and know me for my work," says Gustavsson. "Not as 'Oh, that's Frida'. I like to be quite private." As such, Chanel is a perfect match for Gustavsson. The French maison has a long history steeped in culture and literature. "They sponsor the film festivals, they make clothes for films, and have this incredible roster of talent that I am really honoured to be a part of," she says.
As for what's next for her character Eriksdotter in Vikings, Gustavsson is able to share that the cast is entering an even bigger world. "We explore new continents, new characters, new cultures, and there will be even bigger fights," she says. "And I think there'll be a character or two showing up that the audience will have really wanted to see."
Sat front row, Gustavsson wore a gold lamé jumpsuit. She explains how Chanel cues into the "spirit" of the people they dress for the show. "That's the wonderful thing with Chanel. They give you a couple of options based on spirit of you," she says. Currently working on a new film project set in the seventies, Gustavsson wonders if the team at Chanel tapped into her upcoming on-screen wardrobe. "I think they maybe just picked up on my disco vibes," she says.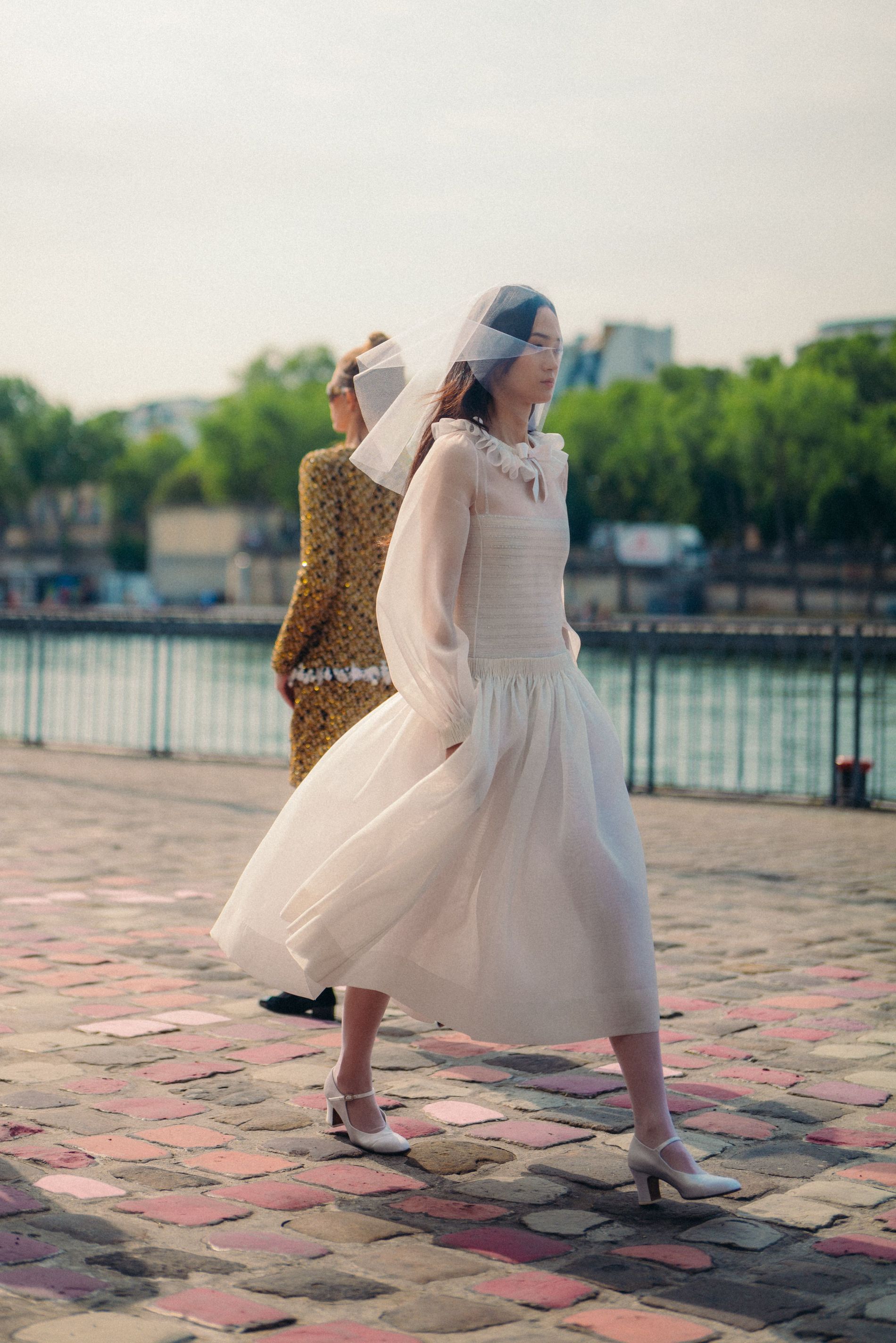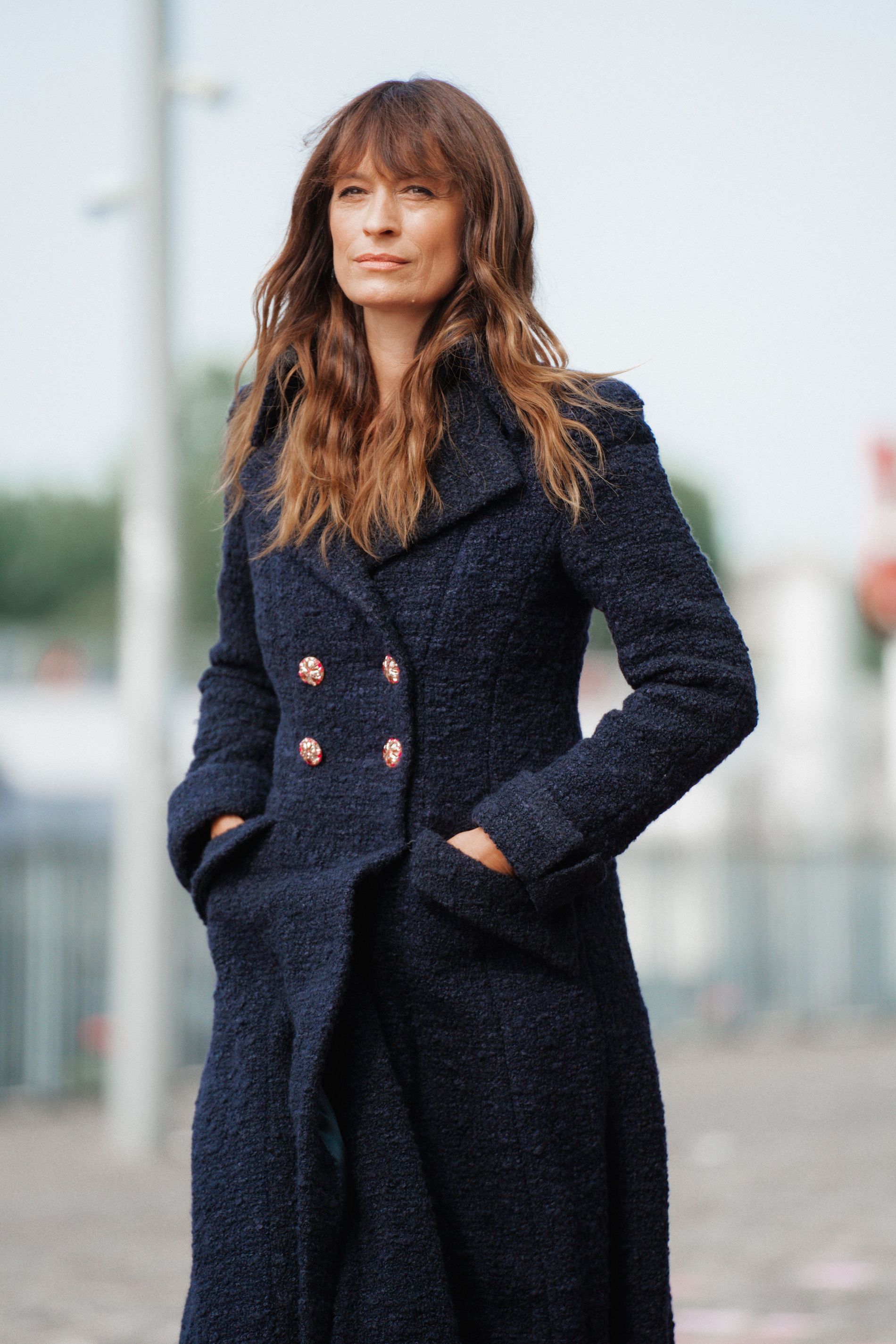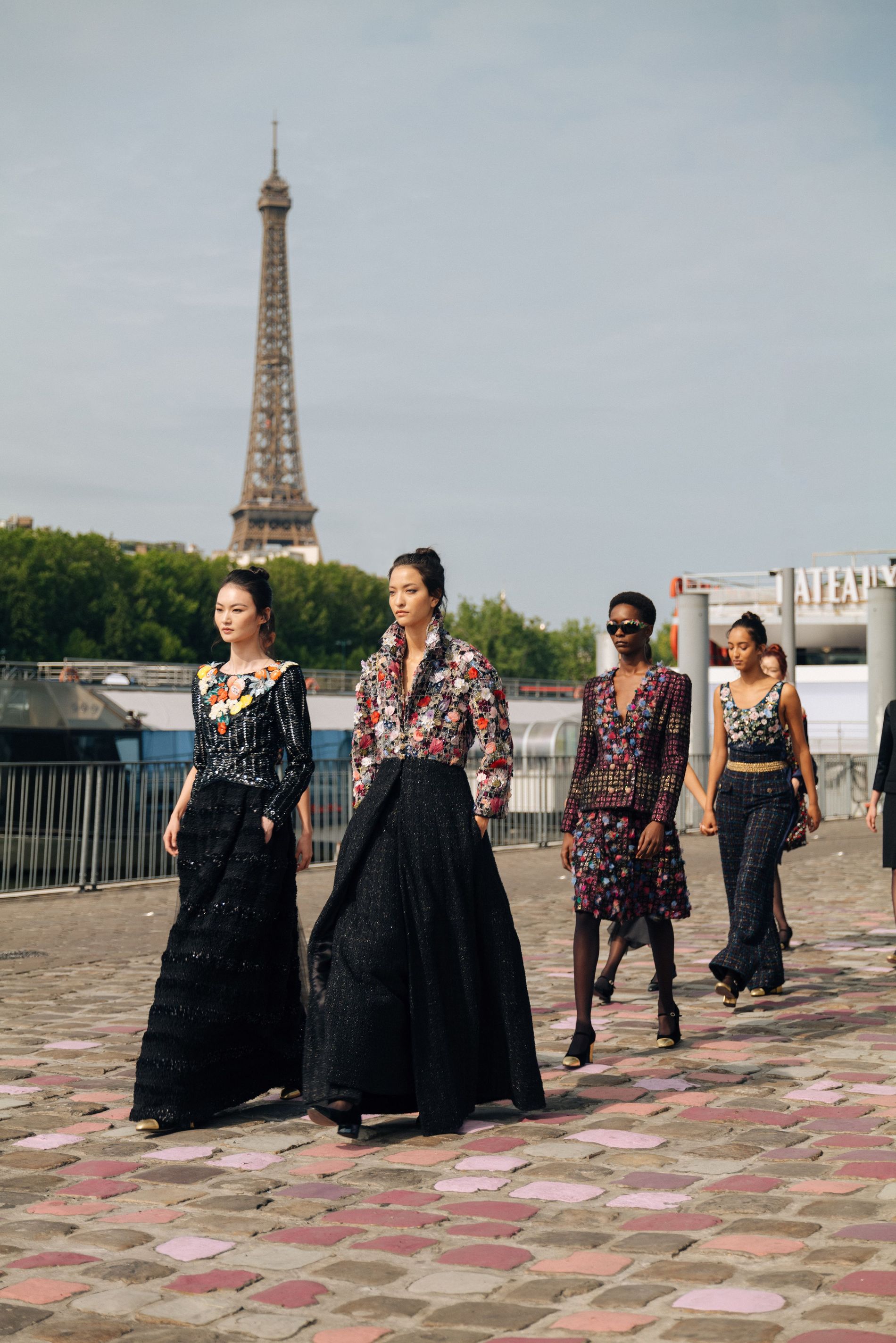 The ensemble was paired with era-apropriate accessories: Oversized hoops, extra large shades and lacquered statement boots. She also notes how she feels that the look touched on the overall spirit of the Haute Couture show. "It touched on to something. The gold, the appliqués. Very opulent, very rich, very Parisian luxury."
This season saw Virgine Viard mix pinstripes with florals and delicate lace in a "portrait of the Parisienne" Black tulle trailed across a sequinned maxi dress, while dramatic tweed skirts were paired with starched shirts sporting gilded details. "Playing with opposites and contrasts, with nonchalance and elegance, is like standing on a line between strength and delicacy, which, at Chanel, is what we call allure," Viard explains in the press release after the show.
Long, masculine overcoats, diaphanous blouses belted over flat-pleated skirts, delicate vest tops and men's waistcoats, painted eyewear and two-tone Mary-Janes: the collection plays with the familiar codes of Chanel. Towards the finale, a long strapless organza dress embellished with black velvet camellias herald a set of four sheer evening ensembles before finally introducing the Chanel bride: The drop-waist dress veiled by a sheer overlay.
See all of the looks from Chanel's Haute Couture autumn/winter 2023-2024 collection below: