"Oh, what I would have done for a handbook to help me through my moments of self-doubt," the Los Angeles-based Swede writes in Peaches: a newly-released compendium that addresses her own prior need with 400 pages of recipes, guides and interviews
From an outsider's perspective, the lifestyle of Swedish model Eddie Mitsou could appear to be summed up as 'easy breezy'. She has that lit-from-within aura, impossibly long limbs, radiant smile, and blonde tresses that clearly lap up the unending sunlight of Los Angeles: her adopted home. But like so many others, Mitsou has been riddled with periods of self-doubt and insecurity. "I was scared, downright terrified at times," she shares.
And while there is certainly no shortage of wellness books in the world, Mitsou found them to provide little solace or guidance during her testing times. She recalls finishing a book "about some new elevated version of a plant-based-superfood-healthy diet," in her West Hollywood bungalow in her mid-20s. "As much as I enjoyed it, I realised the message in most of the books I was reading was aimed at a much older audience who already had kids, family, and their life pretty much in order – and now just needed to tweak their diet," Mitsou says. "There was no book on the market that I personally connected with, one that was written to inspire someone still figuring it out, someone who didn't have all the expensive cooking equipment or the same firm, daily schedule," she goes on. "So I decided to write one myself."
Years later, Mitsou's intention has become a reality with the release of Peaches: her very own, very relatable compendium of super simple principles to living a cleaner, greener life. Within, Mitsou serves up an easy-to-follow 21-day guide with insights on veganism, sobriety, growth and self-acceptance, for anyone willing to take their own transformative leap.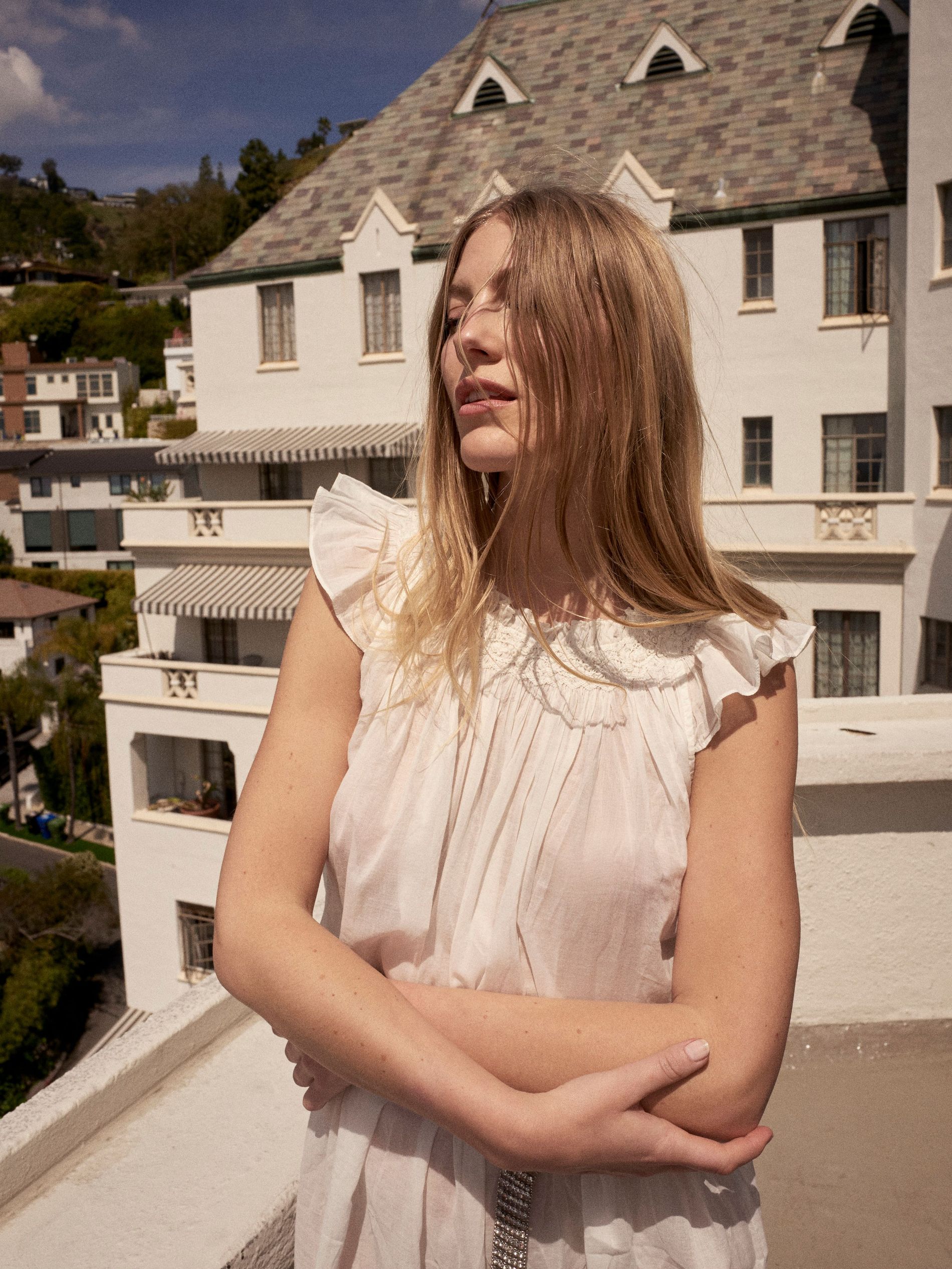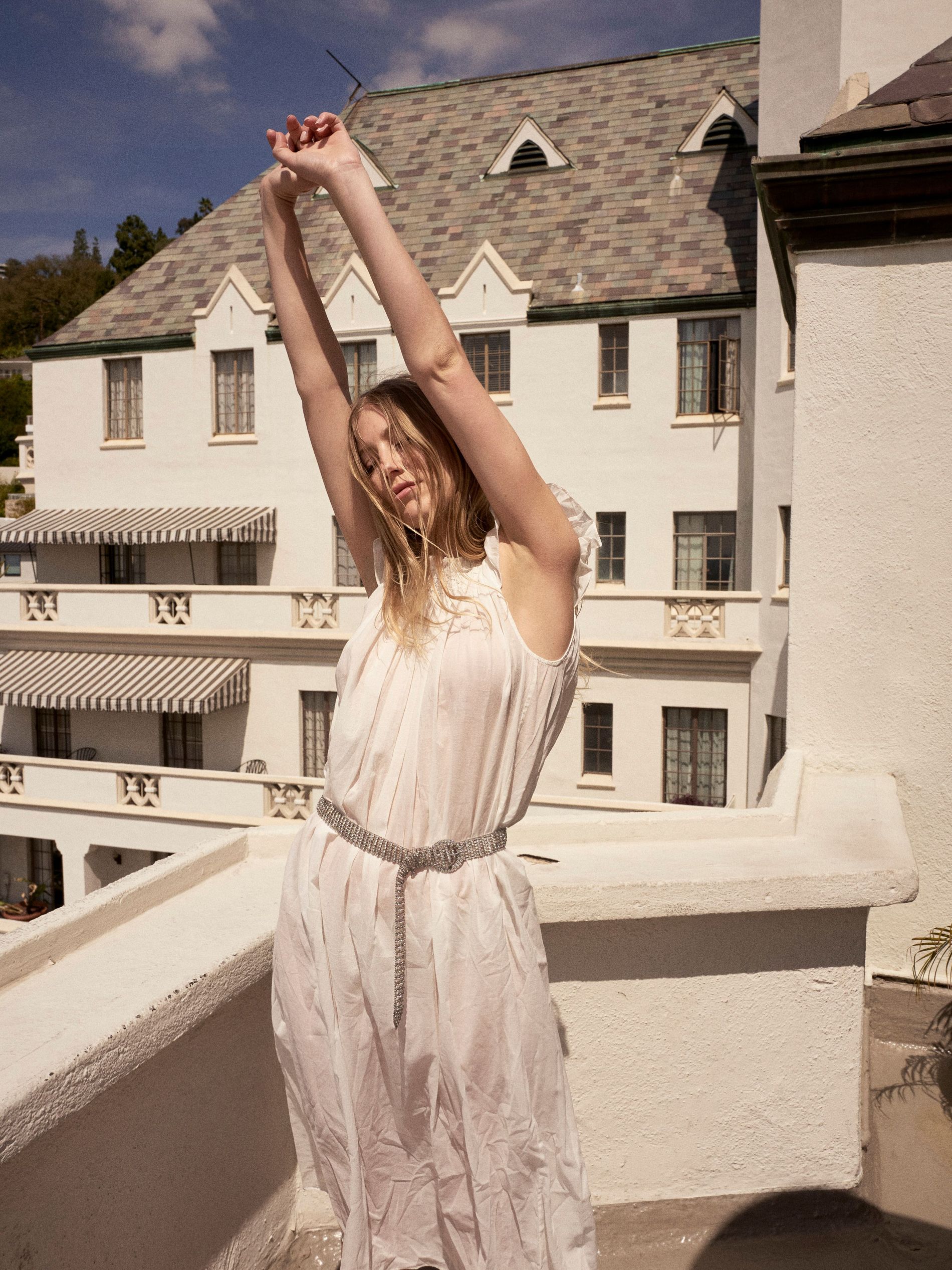 Most significant is the tone throughout Peaches: written by Mitsou to her younger self in the form of introspective essays. The book is brimming with insightful, reflective gems, but I ask the model and author if she can pull out the one piece of advice that she most needed years ago. "Life is a journey that will be inevitably difficult at times, and surrounding yourself with people you love – and that love you – really makes a huge difference," Mitsou responds. "Spend your time with people that support you, make you feel good for who you are, and push you forward to never give up on your dreams. Everyone in my life inspires me. You don't have to do it alone!" she professes.
There was no book on the market that I personally connected with, one that was written to inspire someone still figuring it out,
Eddie Mitsou
Not doing it alone is a sentiment that Peaches embodies, with the book featuring over 30 women who Mitsou cites as inspiration, responsible for making her the person she is today. "All of the individuals in this book are people that I met on my own journey," she says of the interviewees and contributors, ranging from model and DJ Ashley Smith, to film director and creative Ganna Bogdan, actor and musician Rainey Qualley, and vegan chef Porsche Thomas. "The women in it all played some part in my life and inspired me to go on. I think it's so special because everyone has such different backgrounds, stories, and life paths – but at the same time, we're all in this together. The idea behind these interviews is to show the reader that there are many different lifestyles, and versions to be 'healthy', not only my own beliefs."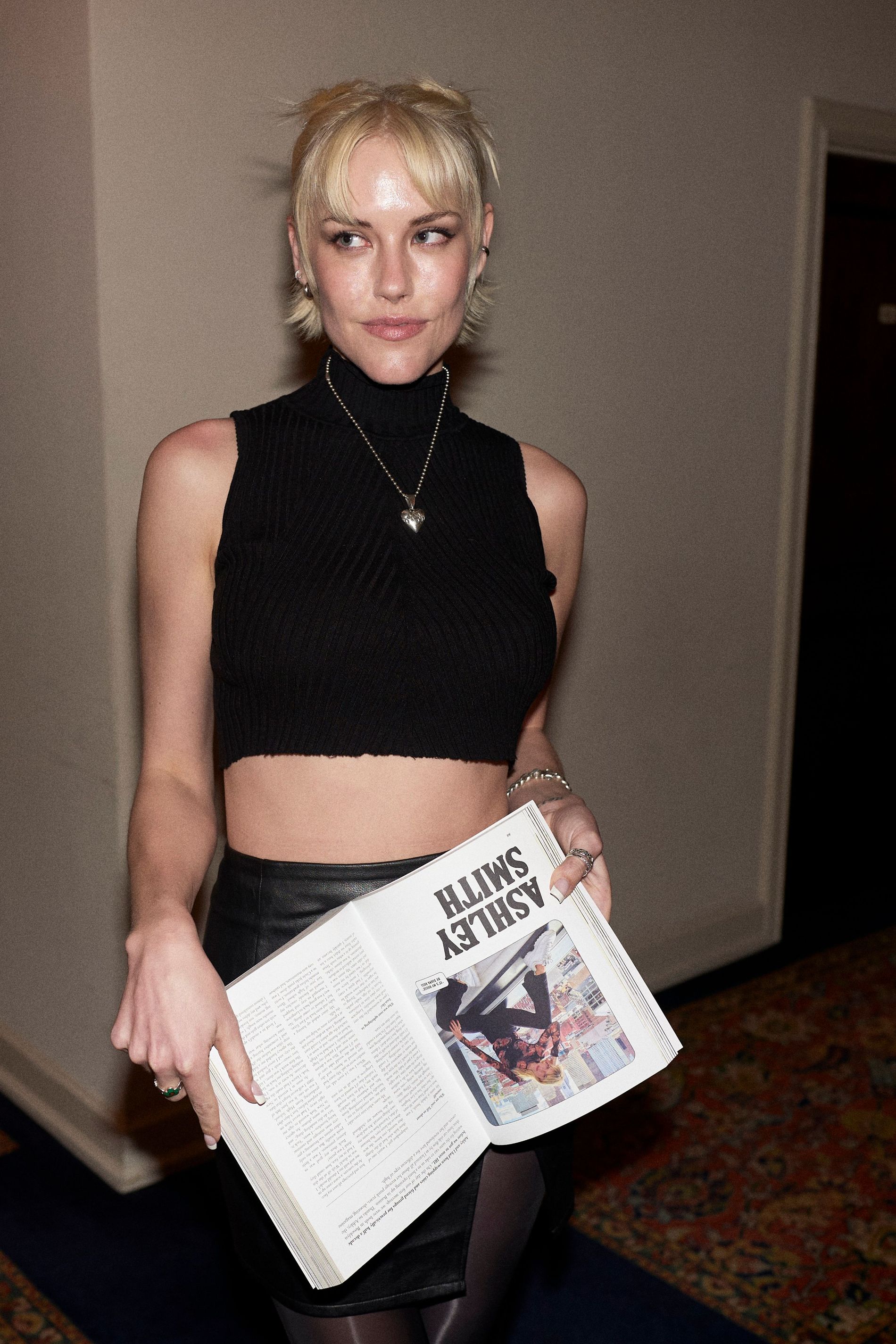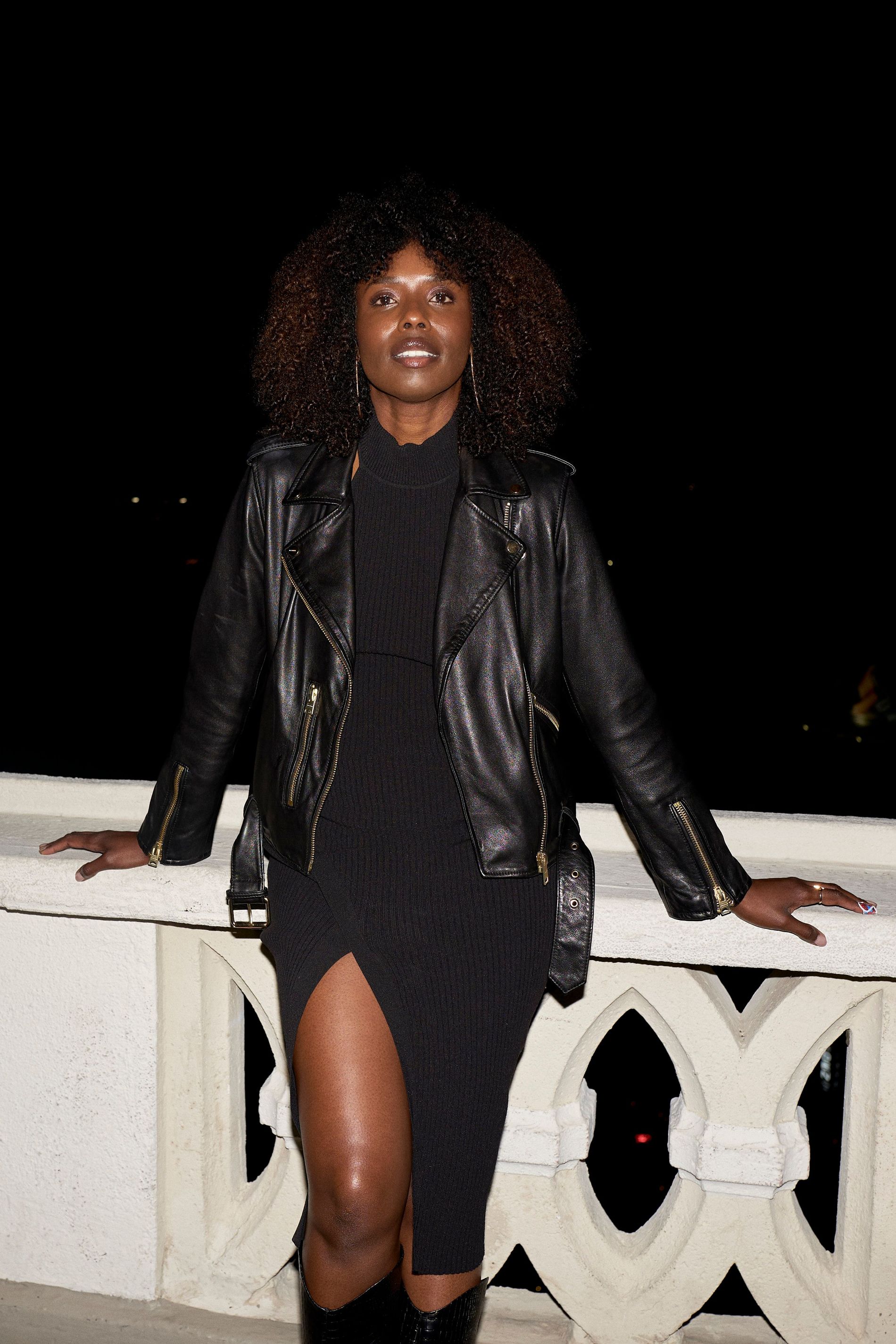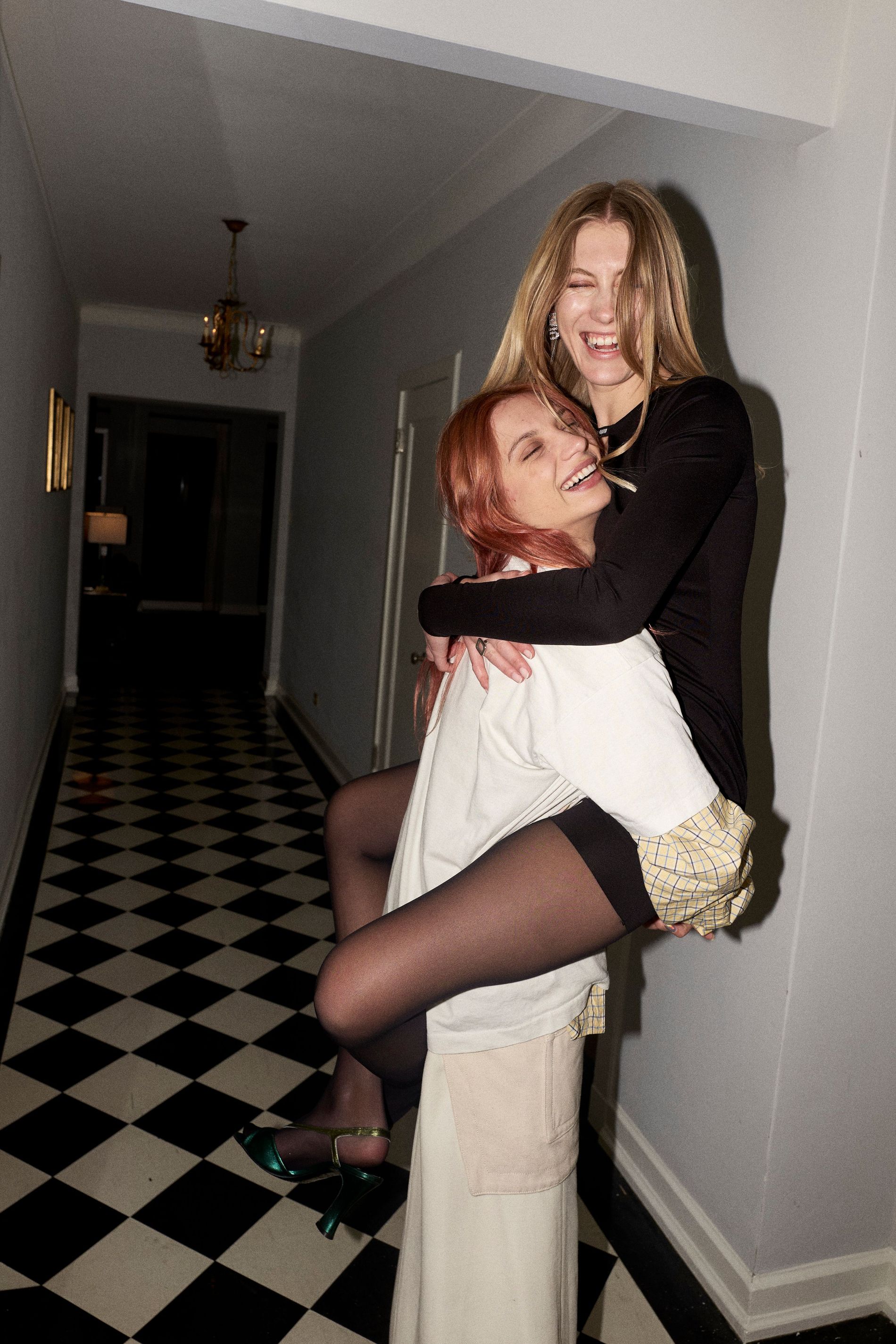 Surrounded by these influential women who are dotted throughout the pages of Peaches, Mitsou celebrated the release of the book last week at Los Angeles' iconic Chateau Marmont. A three-course vegan dinner was enjoyed under the arches – think grilled peach arugula salads, oven-roasted eggplant with artichoke chimichurri and almond fig gelato – yet Mitsou calls out the best moment as observing those who participated in Peaches seeing the book and themselves in print. "Them holding the book, made it all very real to me," she says.
Wellness and Los Angeles life certainly go hand-in-hand, but Mitsou, who grew up in Stockholm, had an interest in health from as early as her high school days, when she decided to try a raw food cleanse. "At this time, the vegan scene was not huge in Stockholm," she recounts. "Right away I felt a positive change of energy in my body." Mitsou's wellness interest took off "for real" when she was living in Istanbul, trying to cook nourishing meals on a low budget. "The vegetables, fruits and nuts at the markets were the cheapest and most appealing products, and I started experimenting." Mitsou's next move was to New York for her modelling career, during which time she chose to "add colour" to her plate with wholesome, vitamin-boosting foods rather than eating canned tuna and egg whites like her peers.
Similar to her wellness journey, authoring a book always seemed like something written in the stars for Mitsou, whose mother was a journalist. "Ever since I was a little kid, I wanted to follow in her footsteps. I always loved writing and telling stories, and my mum encouraged me to build out my vision and taught me how to play with words," Mitsou says. "Thanks to her, I had the courage to actually believe in myself and, today, hold this book in my hands." Mitsou's mother helped her a lot in the writing process for Peaches too. "In hindsight," she says, "the hours spent with her, editing the project, filing down the interviews, and shortening my sentences into something more catchy – was the most beautiful part."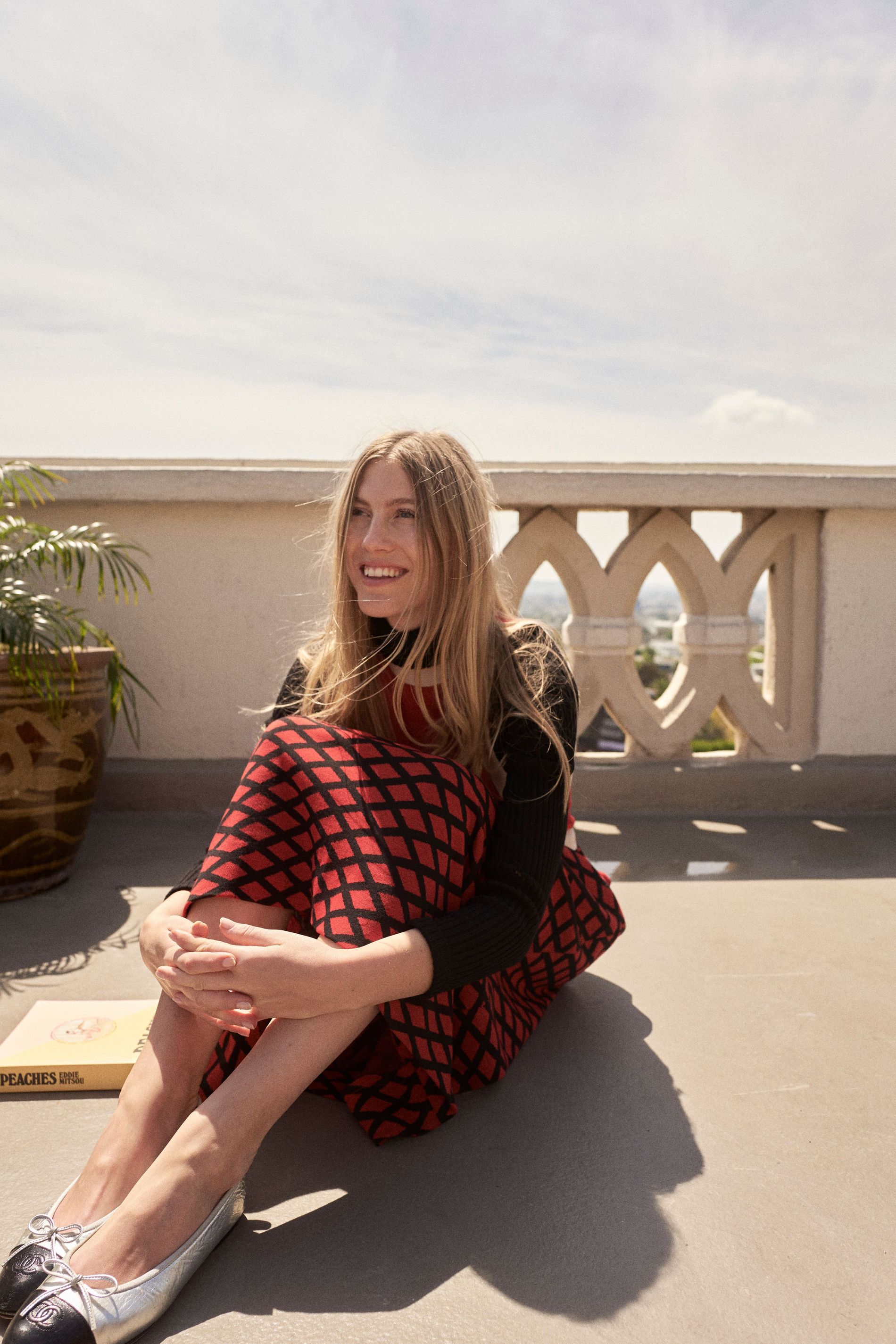 Photo: Johanna Dauphin
It's been years since Mitsou was based in Sweden, but her Scandinavian streak still runs strong, and the joys that she seeks out in the capital haven't dulled. "I have a cup of 'bryggkaffe' at Mellqvists on Rörstrandsgatan'," she says of her go-to activities as soon as she hits the ground back in Stockholm. "Then, I head to the closest convenience store and get a pack of Läkerol Salmiak and gulp down half a box within minutes," she laughs. "Apart from those two sentimental addictions, I see my family and my friends, and take a long walk in Djurgården."
As vegan, plant-based culture continues to flourish in the Nordics as it does in the United States, Mitsou encourages all to venture further into wellness in their own way. For her, it started with diet, "then came yoga, meditation, non-drinking, and just a more holistic way of life," she says. "It's a natural ladder that you start climbing, once you take one step. Try it, you'll see!". If Peaches is part of the journey, we're sold.
See all the pictures from the Peaches launch party below:
Peaches is available at getpeachesshop.com (shipping to US and Canada only). It is also stocked at JUS in Stockholm, and can be shipped throughout Scandinavia by contacting info@jus.se.