"I like makeup that is meant to make you look and feel great without hiding yourself. Why would you want to look like everybody else?"
In collaboration with YSL Beauty.
All products featured on Vogue are independently selected by our editors. However, when you buy something through our retail links, we may earn an affiliate commission.
Tom Pecheux is arguably one of the most recognised and accomplished makeup artists of his time. Having worked on countless shows, editorials and cover shoots, in 2017 he was named the Global Beauty Director for YSL Beauty. Today, he heralds the campaigns, looks and launches of the house, which are preparing for some of the most exciting launches ahead.
Amidst his jam-packed schedule, Vogue Scandinavia was lucky enough to nab a masterclass with the man himself, demonstrating his perfect makeup look in eleven easy-to-follow steps. Read on to learn more, directly from the hands of an expert.
Step 1: Pure Shots Serum
You can't do good makeup without doing great skincare. The secret to a good look is to blur and the best way to do that is to massage a good product with your fingers. I work from behind the person, in order to connect with them by looking at them through the mirror. I do this to break the tension and create trust, so then I can move in front of the person. It also helps me to find out the quality of the skin. A pro tip here is that skincare at night should be cream and emoliente-based, while skincare during the day should be water or gel-based, that way you absorb it better and get your skin ready for makeup.
Step 2: Or Rouge Anti-Aging Face Oil
This is a deeply replenishing oil for dramatic skin renewal.
Step 3: Top Secret Moisturiser
This is the glue between the skincare and the makeup – it's great to flatten pores or crevices as it has silicone that evens out the skin and allows for nice smooth base for the foundation.
Step 4: All Hours Foundation
Fingers will give you a transparent finish thanks to the warmth that your hands create when blending it onto the skin. A brush allows for a medium coverage that is ideal for skin with imperfections. If you want to completely cover up any blemish or a high-coverage finish, use a sponge.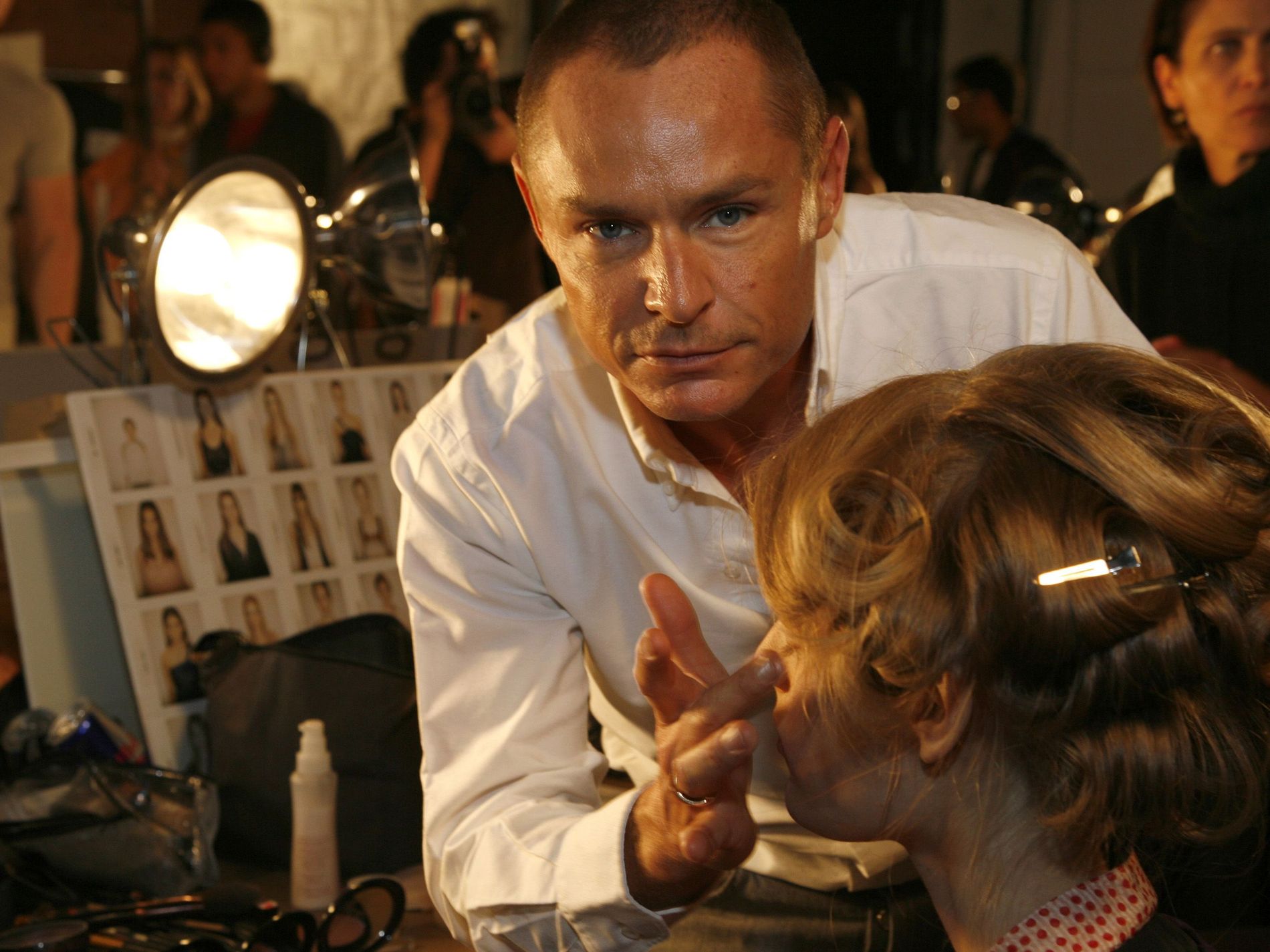 Photo: Getty Images
Step 5: All Hours Concealer
I generally finish with concealer, but there isn't a recipe for the right makeup. I usually don't know what I'm going to do exactly, it all depends on the circumstances. But I will say this: I like the concealer at the end as that way you don't pull or damage the concealer when you put on the foundation afterwards. Just dab the concealer on top, so you don't damage the foundation.
There is one rule to applying concealer: don't apply any skincare in the morning, before you put your makeup on the eye area as this will create a layer of grease which will create a sticky, runny texture.
A pro tip here is that if you think your foundation is not smooth or silky enough, you can go back and massage the skin to make it more fluid and seamless. I like makeup that is meant to make you look and feel great without hiding yourself. Why would you want to look like everybody else?
Step 6: Lash Clash Mascara
When you apply your mascara and you take out your brush, do not pump the brush back and forth into the container, as this will add air into the bottle and dry out the mascara. I put the mascara right after the foundation so I can immediately see how the shape of the eye changes before applying the shadow. It also allows for a closer application to the eye and easier fixing if smudging does happen. This also gives time for the first layer to dry, so you can build on it later. If (and when) pigment falls during the shadow application, just apply a second layer of mascara at the end. This not only re-blackens the look, but also builds on size and thickness.
Step 7: Couture Clutch Eyeshadow in Saharienne
Saharienne is the physical representation of the earthy colours that are also very YSL. Mr Saint Laurent is remembered for his bold colours, but bold colours wouldn't be without nudes and earthy colours. I use my fingers most of the time so I can feel what I'm doing. Having a tool creates a gap between me and the model. That being said, if I don't like the person I'll do everything with the brush.
I don't normally use a base colour as I like to dab and control the pigment. Base colours facilitate the application, but are not completely necessary. I prefer to begin with the strong colour to set the bold tone of the final look. My best tip is to massage all the nudes on the palette and use that combination of colour to then blend everything out.
Saharienne is a palette that applies to everyone, it's neutral enough to be approachable, but flattering for all. And you can still be creative and create powerful looks. I don't do makeup to please myself, I'm pleased to please, my pleasure comes from the person leaving my chair saying: 'thank you' and feeling good about themselves.
When it comes to makeup under the eye, I actually don't mind a little bit of an under-eye bag. I prefer that to someone with too much concealer on, it's character over perfection.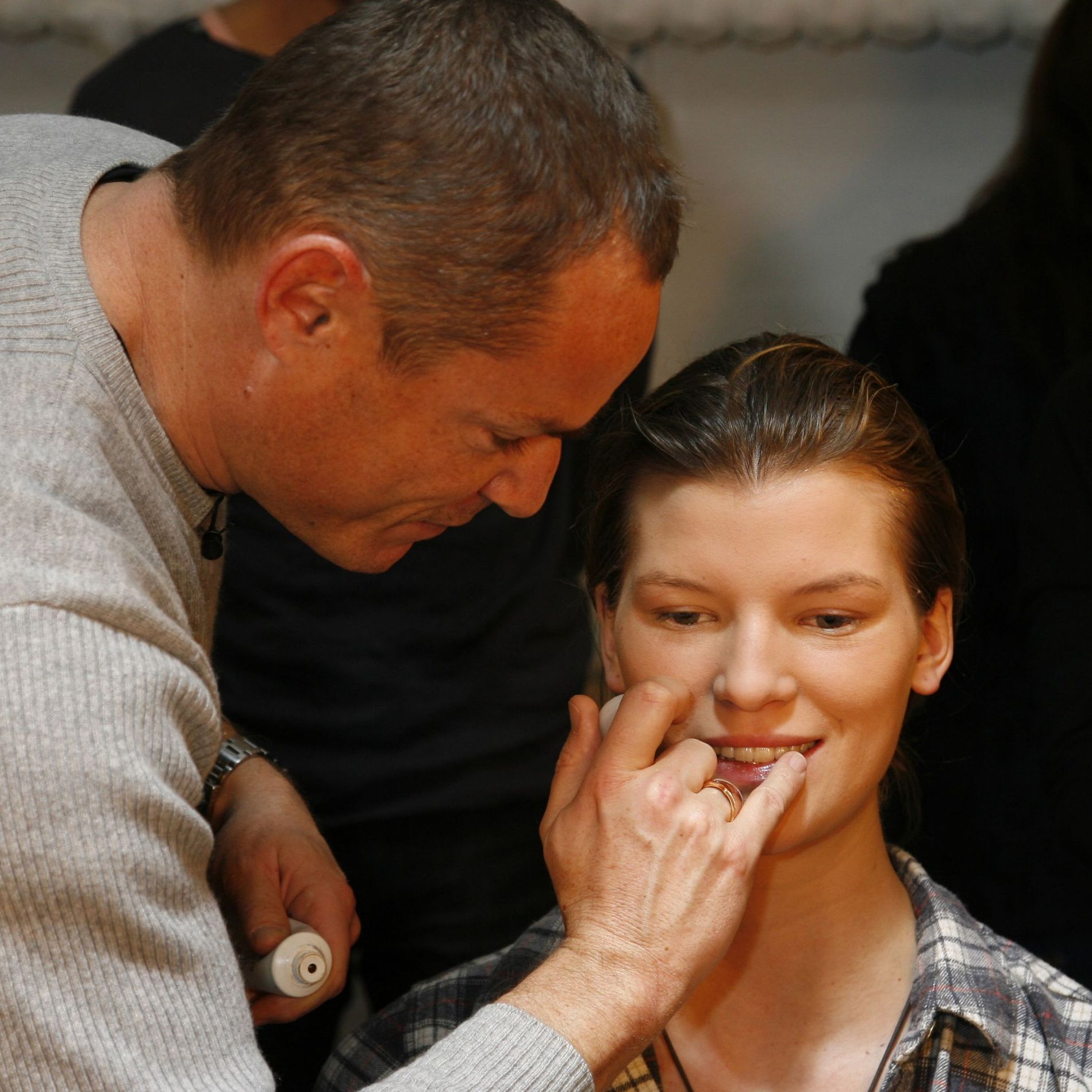 Photo: Getty Images
Step 8: Crushliner
There aren't any faux pas when it comes to makeup, the only one would be doing something just to follow what someone else wants, rather than what you want or like. Black is the tuxedo for the eyes and gold is the blood of YSL.
Step 9: Lash Clash Mascara
Step 10: Touch Eclat
I apply this just in the areas which you want to highlight with a bit of coverage.
Step 11: The final touch: Lipstick (to be released soon)
As I'm doing a red lip, I use a brush to create a perfect line which I can fill in. I then usually destroy that line with my finger when I blur them out at the end, but it gives me a nice base on which to work.