Örebro-born artist Tobias Bradford's kinetic artworks mark the inaugural show at Saskia Neuman Gallery in Stockholm. We speak with the artist about how he brings his works to life
Tobias Bradford's artworks are somewhat alive. Powered by rudimentary motors, the Swedish artist's kinetic sculptures – often dismembered limbs or bits of bodies – shave their legs, play the accordion or click through a powerpoint presentation. A plant wiggles and breathes, a taxidermy bird, sourced via a Facebook group dubbed 'Free Stuff', flaps its wings. "It's a great feeling," he says, describing the moment he brings his work to life. "I kind of role-play Frankenstein."
Bradford's funhouse of uncanny valley works make up the debut show at Saskia Neuman Gallery; a brand new space in Stockholm's swanky Östermalm neighbourhood helmed by curator (and frequent Vogue Scandinavia contributor) Saskia Neuman. Dubbed 'Big Hole', the exhibition marks the Örebro-born artist's first solo show in Sweden. "He is an incredible artist," says Neuman, simply, when I ask her why she invited Bradford to stage her gallery's inaugural exhibition. "I don't think I've ever seen a body of work, or an artistry, that's so unique and so clear and in line with the artist's own voice."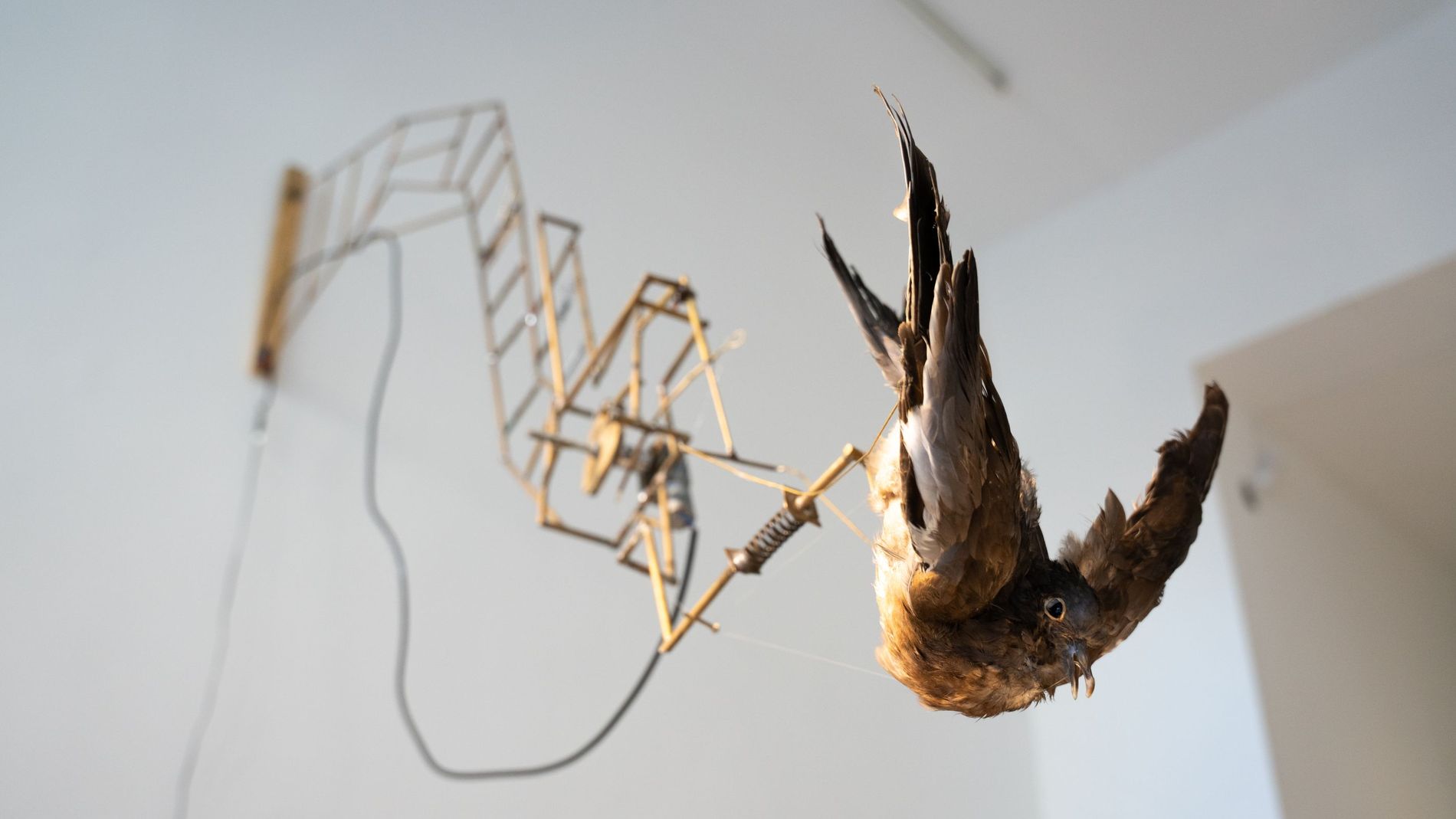 There's a reason why the sculptures look so eerily human. "I use myself in all the anthropomorphic ones" says Bradford, referring to the aforementioned body parts. "I use my own body as reference." We're sitting in the makeshift lecture hall in the gallery's back room, surrounded by various sculptures sitting on chairs, facing a powerpoint presentation being operated by a rogue arm. The artist wears a mustard turtleneck, despite the fact that it's an impossibly balmy day in Stockholm. Delicate gold hoops decorate his ears.
Limbs are made from casts of his own arms and legs. Photos of his skin are printed out and wrapped around the pieces. As for the hair? "Oh, that's my hair," he says. "Well… some of it." One pair of legs wears Nike high-top trainers – the artist found them at the lost and found at Stockholm's Royal Academy. Another, the one that's shaving, wears a pair of H&M briefs purchased by the artist a couple days prior. The impact lands somewhere between humour and horror – one doesn't know whether to laugh, take an iPhone video or run away, screaming. Who might put these creepy creations in their home? "A super cool person," says Bradford, matter-of-factly.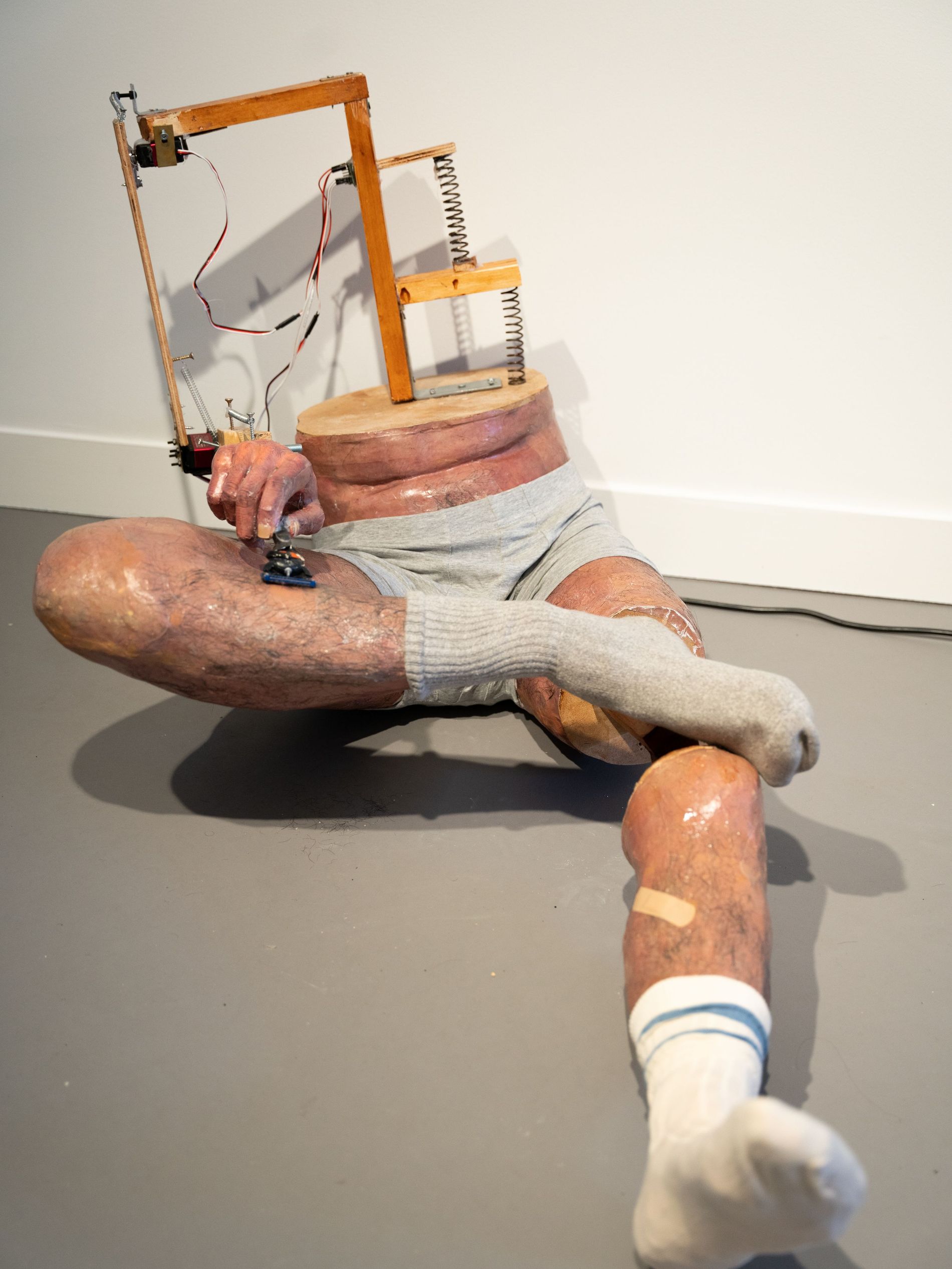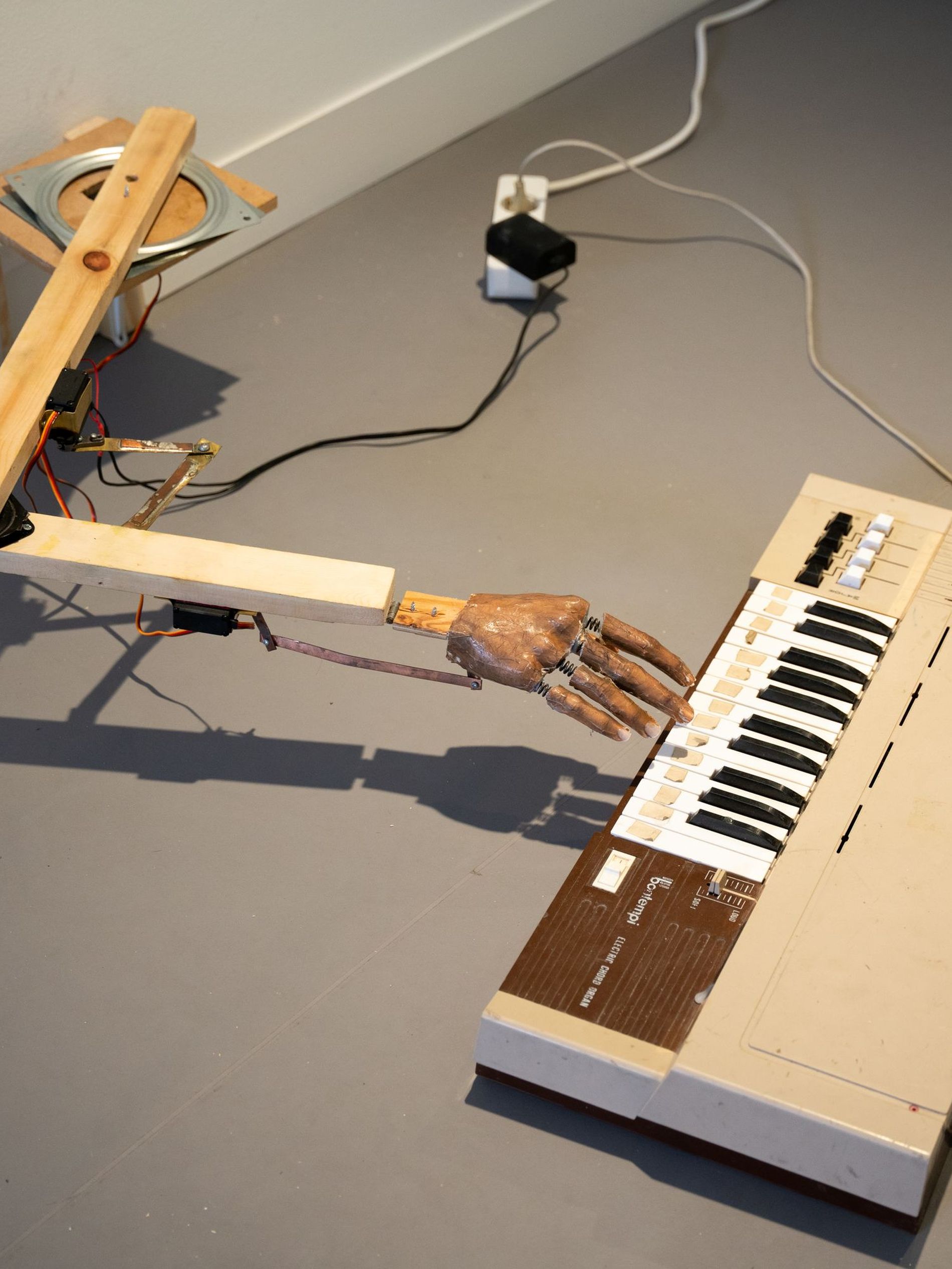 While Bradford "doesn't know" if the works are reflections of himself, there is one creation that is unmistakably made in the image of the artist. In the back corner of the lecture hall sits a horrific Bradford robot. Its eyes shift about, its movements jerky and unpredictable. Bradford muses that perhaps he's going to teach it how to eat, clarifying that the sculpture couldn't really eat because it does not have a digestive system. "The programming is the most complex because it's completely random," he says. With Bradford's works, it seems anything is possible.
As I leave the gallery, I can't help but look over my shoulder to see if this ungodly creature, Bradford's nightmare-causing doppelgänger, has broken loose and followed me down the street.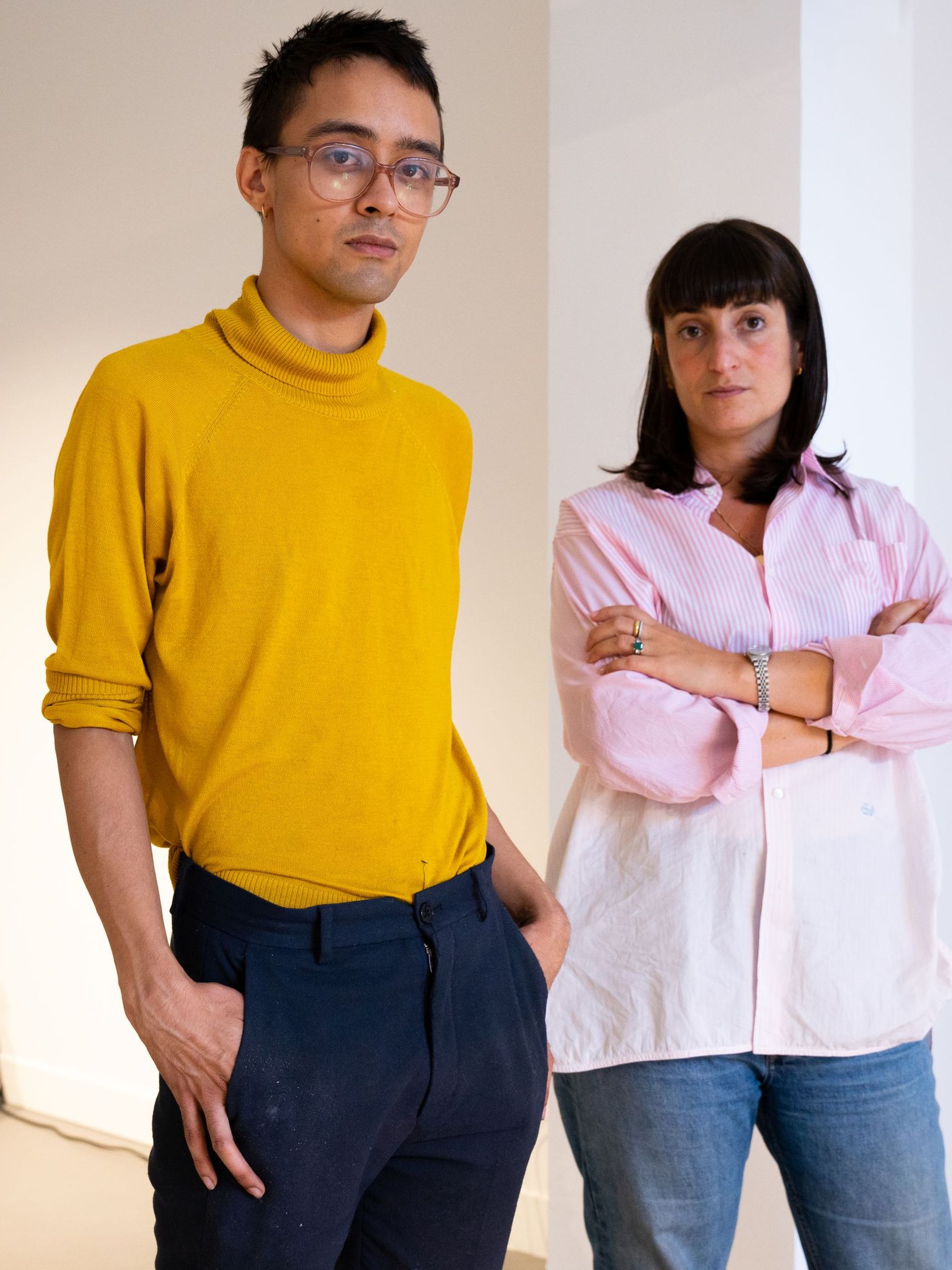 Tobias Bradford and Saskia Neuman.
Tobias Bradford's 'Big Hole' opens today, Thursday, from 17.00 to 20.00 at Saskia Neuman Gallery, Linnégatan 19, Stockholm