A game of tennis, anyone? We may not be on the court, but serving sporty styling is a new season staple
All products featured on Vogue are independently selected by our editors. However, when you buy something through our retail links, we may earn an affiliate commission.
There is something undeniably stylish about tennis. Throughout the last century, triple Wimbledon champion Fred Perry popularised the polo shirt, American tennis player Stan Smith had a pair of sneakers named after him, and our very own Björn Borg launched his eponymous brand of tennis clothing. From the tennis shoes' invention during the early decades of the 20th century to René Lacoste launching his brand of crocodile-branded cotton clothing in 1933, the sport has been intrinsically linked with fashion from the very beginning.
Those pleated skirts and preppy sweaters have certain sartorial star power, and today countless brands are reinterpreting the ever so popular sportswear. Legacy brands such as Nike and Adidas offer gear that works just as well on or off the court, while heritage brands like Tory Burch and Rowing Blazers hearken back to the nostalgic roots of the sport. With trend-forward tennis pieces, high fashion is also playing ball. Designers like Christian Dior and Bottega Veneta showed top-to-toe tennis whites in the spring/summer 2022 collections, while Miu Miu adapted the polo and pleated skirt combo into a chic retro take on the trend.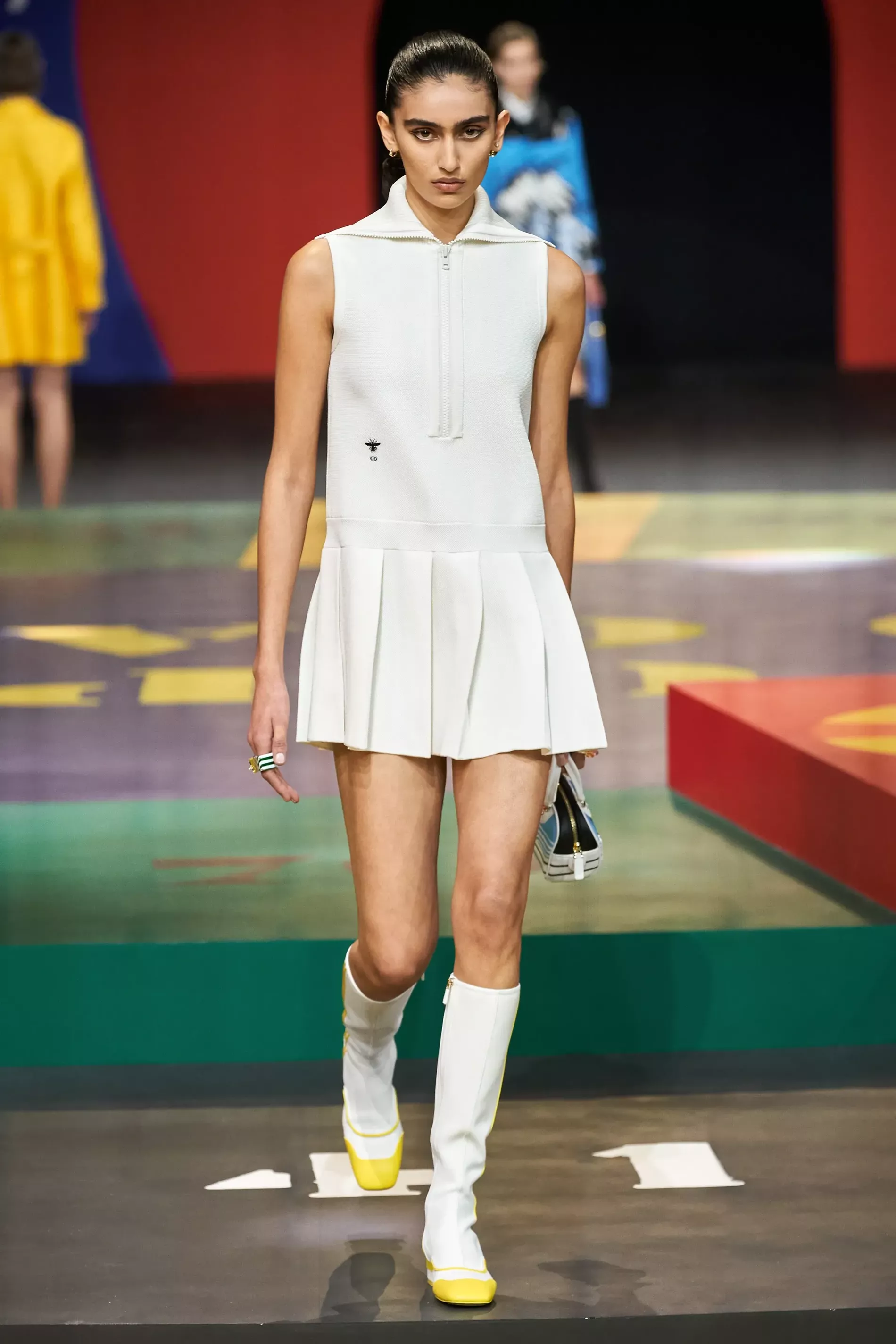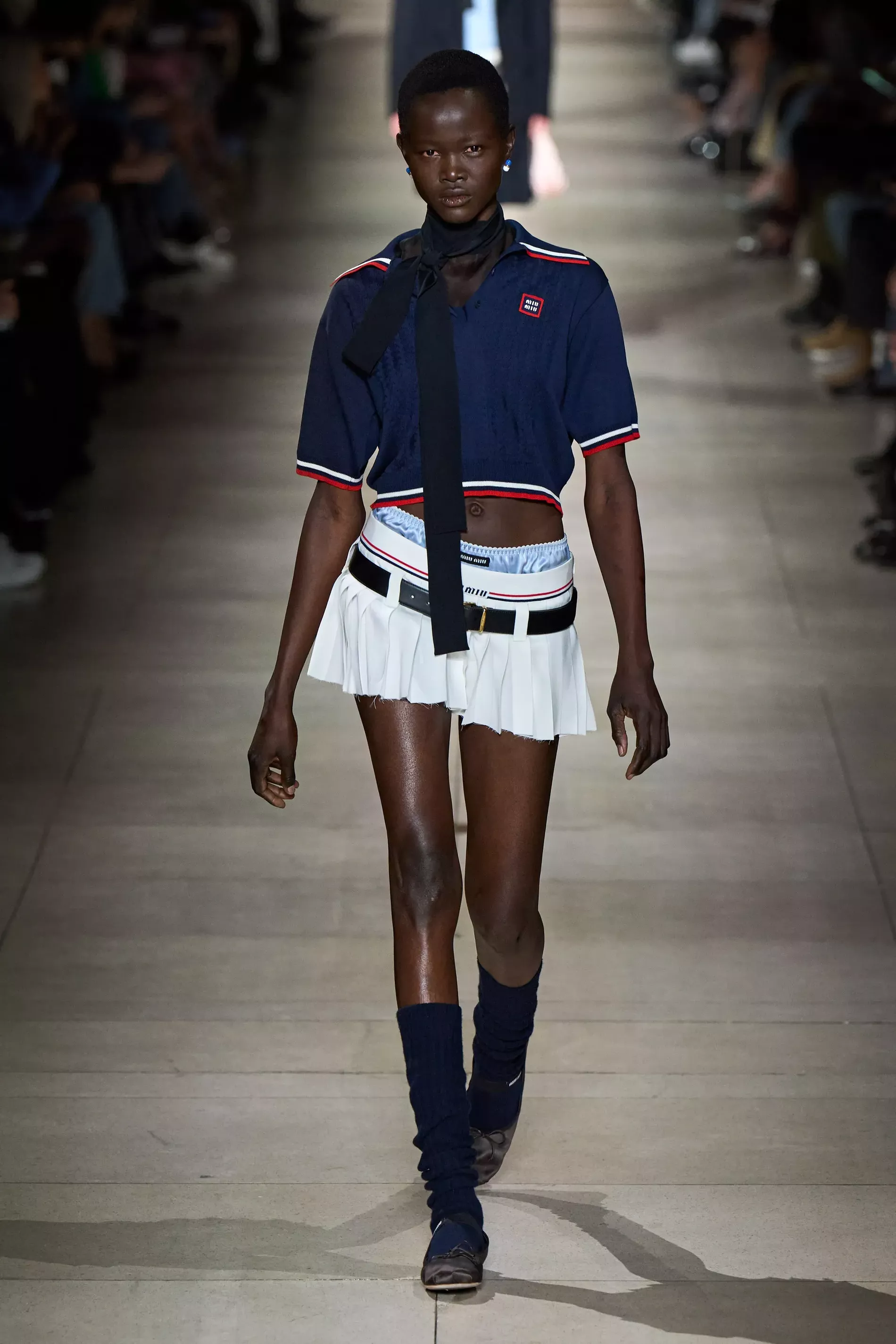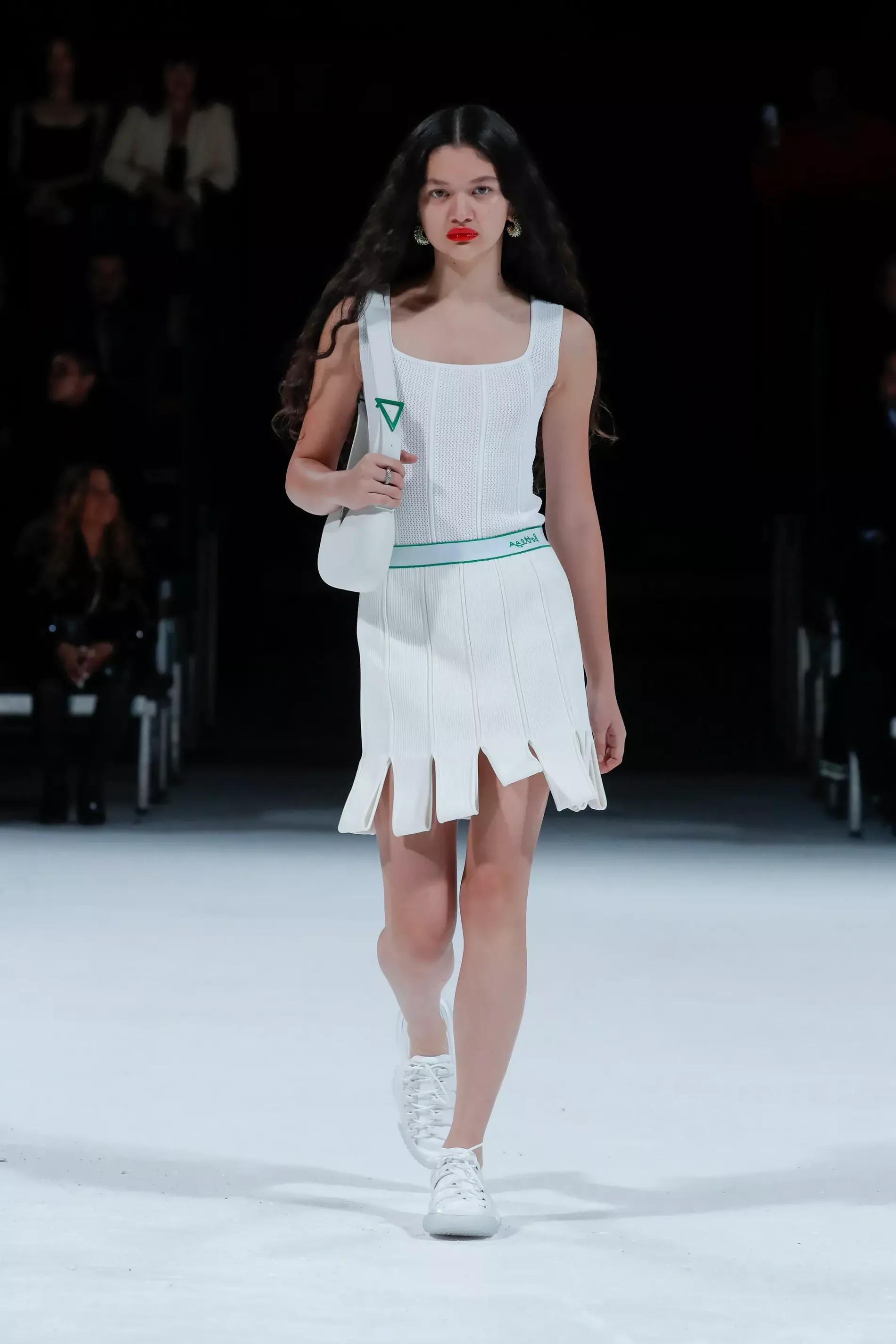 But brands aren't the only ones serving tennis-inspired fashion. As of late, the Scandi style set has put us all in the mood for a match. Picking up her racket and tennis ball, Danish content creator Josefine HJ sported a baby blue tennis dress in a terry cloth fabric on the court, pairing her sporty ensemble with a slicked-back ponytail. New York City-based Swedish Latina and founder of beauty brand Ceremonia, Babba C. Rivera, opted for the classic tennis whites with a contrasting border on her pleated skirt. At the same time, Danish-style maven Emili Sindlev took to the streets of Copenhagen in her layered tennis look, with ribbed socks and a golden Louis Vuitton tote to top off the athletic look.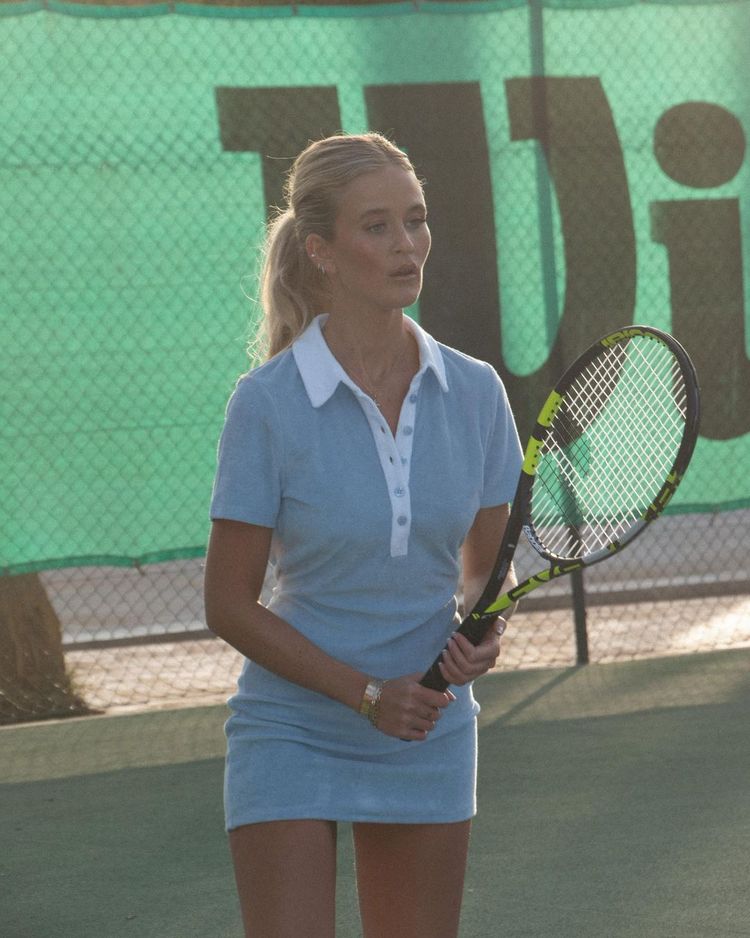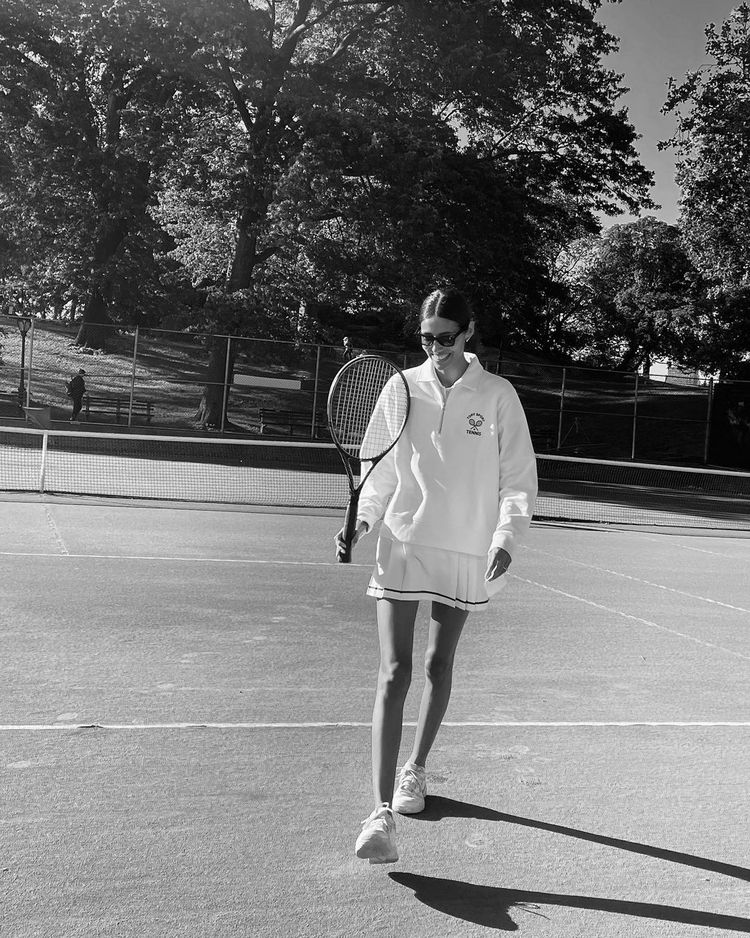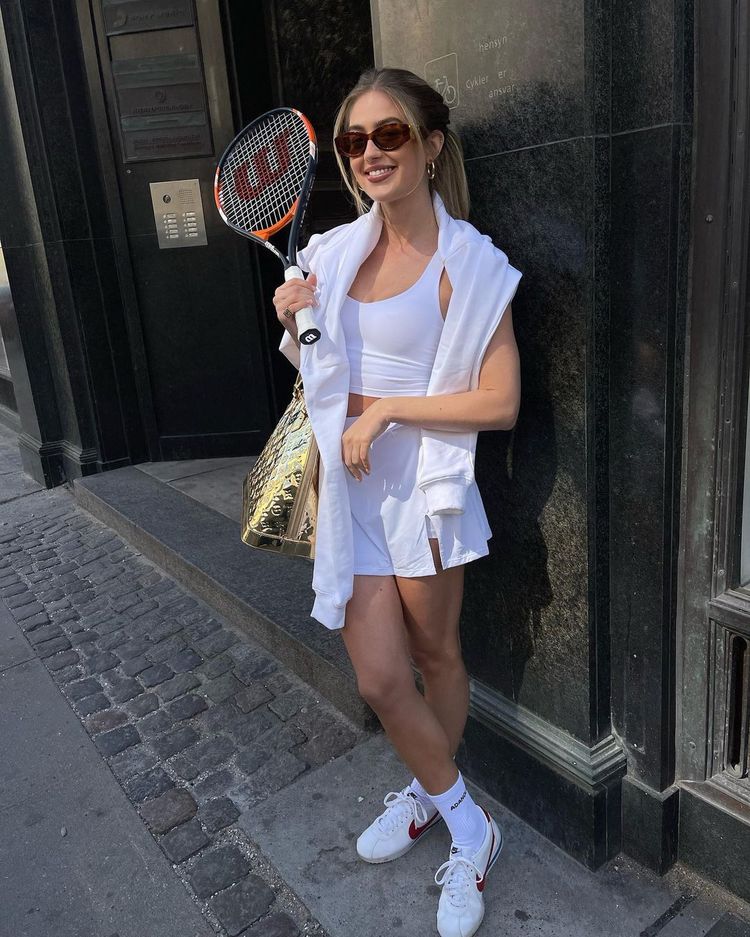 No matter the level of your tennis prowess, this sporty look travels seamlessly on and off the court. With the many versatile styles that have emerged from tennis – such as matching game-sets made from sweat-wicking fabrics to preppy après-play dresses best worn by spectators over brunch – this aesthetic subset offers both enthusiasts and non-players plenty of sartorial options. And with all of us turning our eyes to decades past, tennis' long history has ensured that there are plenty of references to draw on, whether pastel polo styles reminiscent of the early '90s or varsity stripes with a definite 1970s energy.
So set up your serve and prepare for a 'game, set, match' in these chic yet sporty looks for a summer spent in the stadium.
---
Game, set, get the look...