Long before Jeanette Madsen was known for helming the coveted, party-ready label Rotate Birger Christensen, she has been admired for her infallible sense of style. Here, the creative director, mother of three, and forever 'cool girl' shows us around her home town of Copenhagen, dropping the clues to her "casual and classic style with a twist," with picks from Tommy Hilfiger's new Classics Reborn collection
Just as her brand Rotate Birger Christensen is dismantling the concept of Scandinavian style as minimal and austere, Jeanette Madsen describes the Copenhageners as being far from the Nordic stereotype. "I think there's several types of girls in Copenhagen and that's the beauty about it, girls aren't afraid to embrace their own style and stay true to it," Madsen comments. "Very much like my own style. Casual and classic, but with a twist," she adds.
A firm fixture amongst Copenhagen's coolest crowds, and always found, of course, taking a bow following Rotate's runway shows, Madsen is one local that truly knows her way around the most stylish haunts of the Danish capital. Here, she proves just that, letting Vogue Scandinavia shadow her on a Saturday like any other.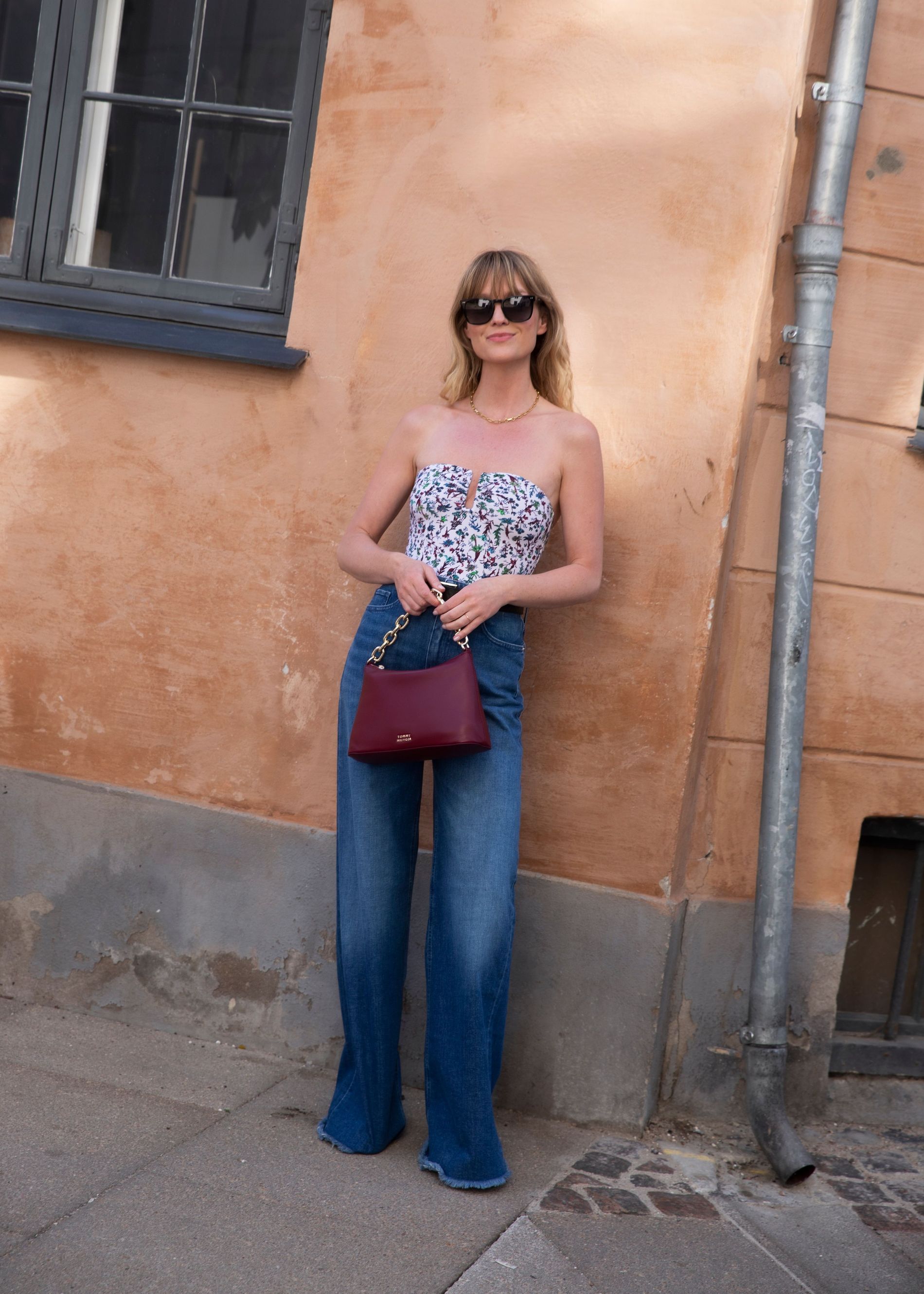 Photo: Sarah Liisborg
To start? A solid breakfast at Et Cetera. "Their egg bap on a korokke cheese bun with scrambled eggs, chilli oil and pickles is to die for," Madsen swoons. "Not to mention their Japanese-inspired French toast with maple syrup and whipped cream." This is followed by a stroll around Madsen's local neighbourhoods of Vesterbro, "buying the best kanelsnurrer from Meyers and dreaming of vintage furniture in Hvornum." And the perfect conclusion to the day is "a stop at the nearby playground in Frederiksberg, and a picnic at Skydebanehaven with pizzas from Corsa Pizza," she says.
My style is very casual, I'm classic, and I love everything oversized
Jeanette Madsen
When the weekend is behind her, and the daily grind begins again, Madsen keeps a joy-filled routine in place. "I always bike to work," she shares. "I go the office and have a really productive day, then hopefully treat myself to a lunch where I will get the famous tuna salad at Beau Marche." Inspiration is also a crucial part of Madsen's schedule on weekdays and weekends alike, and Louise Roe's studio is her personal favourite. "It's not only an incredible interior shop with Louise's own design among others, it's also the best spot for an iced matcha latte," Madsen enthuses.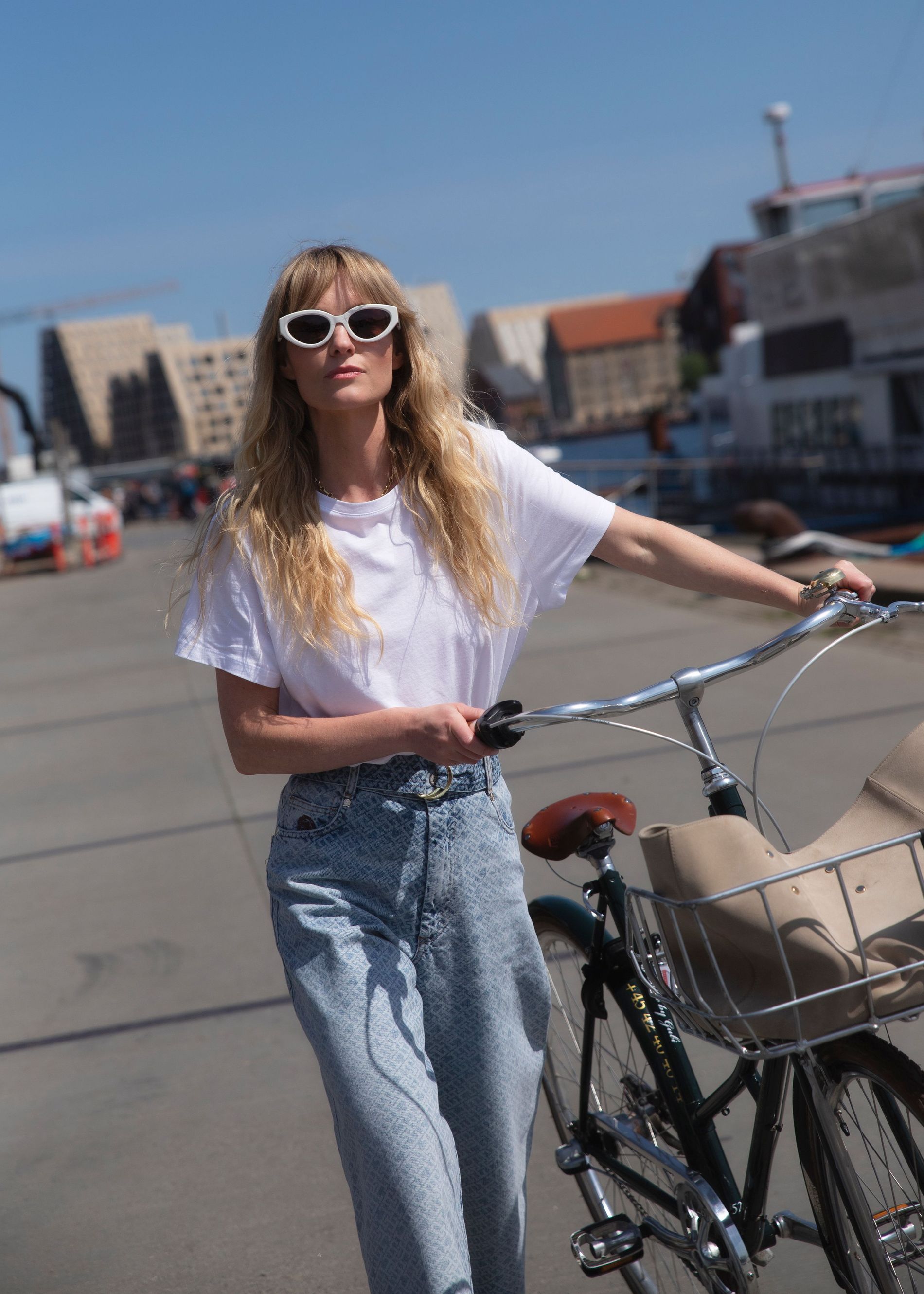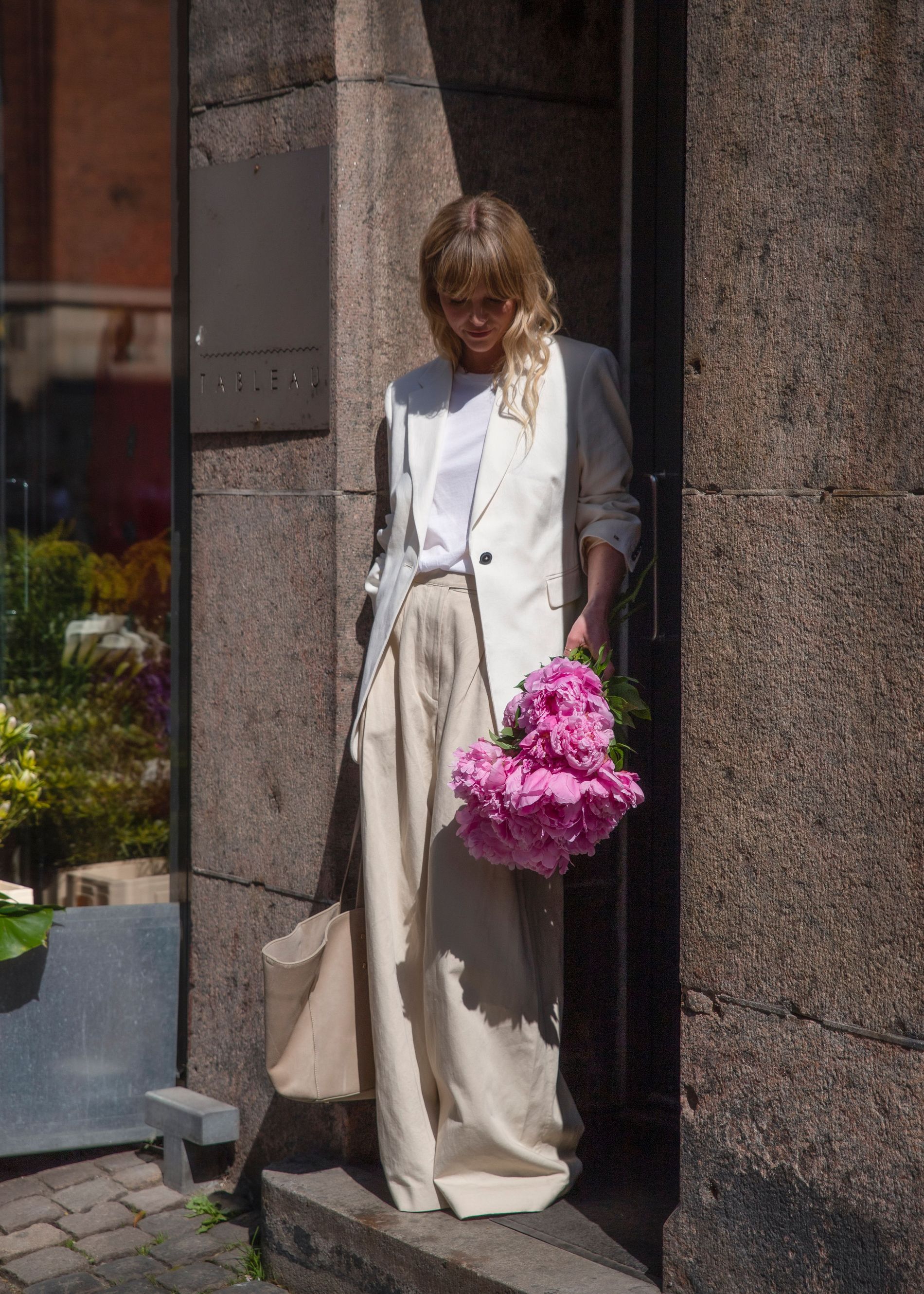 Madsen also finds inspiration – and delivers it to her 344,000 followers in spades – through everyday dressing. "My style is very casual, I'm classic, and I love everything oversized." So it's only natural that pieces from Tommy Hilfiger's '90s-inspired Classics Reborn collection, which is brimming with casual elegance, have made it into Madsen's wardrobe this season.
"For me, when putting an outfit together, it's all about feeling comfortable," Madsen says." It's about mixing. It should be tight at the top and big at the bottom, or vice versa." From the Classics Reborn collection, it's the oversized trousers that deliver the silhouette that Madsenadores. "I really like all of Tommy's pants. I love that they're oversized and have this masculine twist which makes them perfect for me."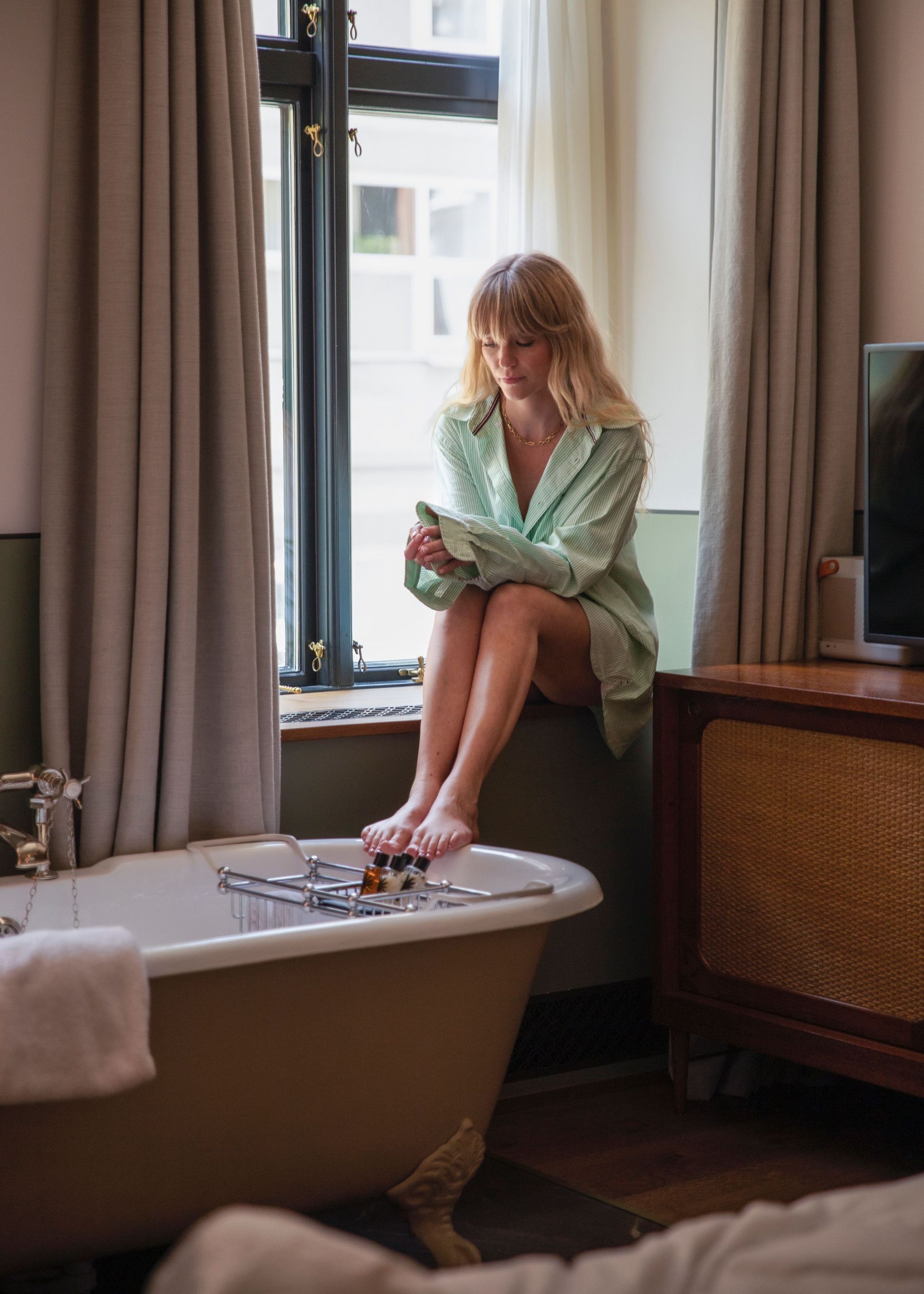 Photo: Sarah Liisborg
And like most, the '90s archival references throughout the Tommy Hilfiger collection hit a nostalgic note with Madsen. "I remember when I was young, I was mesmerised by Tommy Hilfiger's flag logo," she reminisces. "I guess I was influenced by all the big girls in the school yard." But Madsen is one doing the influencing now, and we at Vogue Scandinavia are on board.
Photographer : Sarah Liisborg
Videographer : Margarita Sheremet
Talent : Jeanette Madsen
Makeup Artist and Hair Stylist : Massimo Møller using Mac Cosmetics
Production : Amelie Langenskiöld
Special thanks to : Beau Marché, Tableau, Hotel Sanders, Louise Roe Gallery, Klassik and Ved Stranden 10