Elsa Hosk's makeup artist gave Vogue Scandinavia the insider details into how the supermodel's beauty look for the event was achieved
Elsa Hosk stepped onto the red carpet of the 2021 Fashion Awards with a mesmerising gown designed by Richard Quinn that had every photographer clamouring to capture the moment. Nonetheless, what really left us breathless was the striking black liner with perfectly laid brows and flawless skin that she sported for the event.
The mastermind behind her beat was none other than Sofia Schwarzkopf-Tilbury, London-based makeup artist (and niece of makeup mogul Charlotte Tilbury herself.)
Hosk's red carpet makeup for the event which took place in the Royal Albert Hall consisted of a clean, natural canvas that was ever-so-slightly blushed and contoured, yet paired with a wing sharper than a Damascus steel sword. When it came to inspiration behind it, we find a balance between a natural everyday with an editorial edge. "Elsa was wearing an incredible Richard Quinn ball gown covered in roses, so we wanted to create a fresh, neutral, classic look with an editorial, fashion edge," explains Schwarzkopf-Tilbury.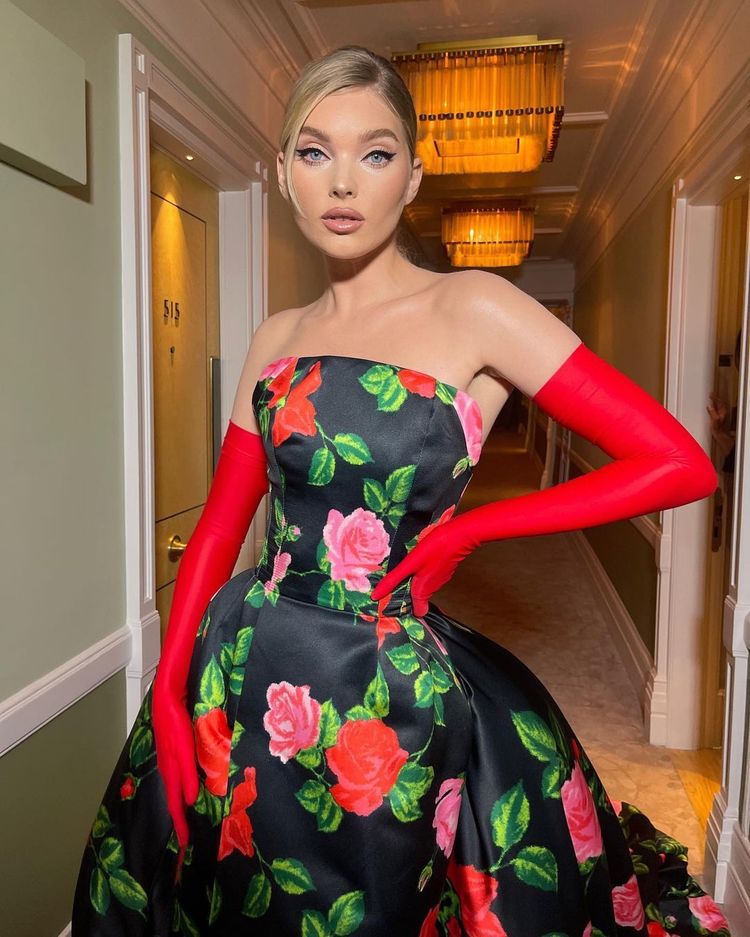 Photo: @hoskelsa
Thankfully, for those out there that want to achieve the same style, Schwarzkopf-Tilbury breaks down how to get the same cat-eye. "Elsa had a very clear idea in mind for her eye look, so we kept her lids very neutral, with a thick, statement feline flick to elongate and accentuate her natural eye shape. We really wanted the liner to be visible on the red carpet. Her look was all about the dress, so the makeup had to be clean, classic and neutral, but we created a graphic black flick to match the graphic black floral dress!" A perfect combination if you ask us.
But not everything is just about the style and artistry, using the right products is key to getting the desired finish — and even more so, starting with the right base. "Charlotte has always taught me the importance of skincare when it comes to creating the perfect makeup look on the red carpet. You can't have a beautiful painting without a beautiful canvas. I never, ever skip Charlotte's Magic Cream, as massaging a rich, hydrating moisturiser into your skin is the perfect way to get that lit-from-within glow, and it helps your makeup glide on so beautifully too!" comments Tilbury reminiscing her aunt. From there on, the steps are quite simple, yet key to the final aesthetic.
"We wanted to create a fresh, neutral, classic look with an editorial, fashion edge."
Sofia Tilbury
Start off with the liner, both the statement part of the look and also probably the most dangerous one to achieve. "To create Elsa's eye look, I used Charlotte Tilbury's Hollywood Exaggereyes Duo Liner, taking the matte black shade along her upper lash line and extending up and out, then applying the nude matte end along the waterline to widen and brighten the look of her eyes. We added lashings of Pillow Talk Push Up Lashes! mascara on the upper and lower lashes to give that wide awake, doe-eyed effect, and I used the tiniest bit of a nude-pink eyeshadow to perfect her eyelids."
When that is done, and you're happy with the symmetrical liner you've created, lips and cheeks are the following steps. "On her lips I used the Lip Cheat in Iconic Nude to create a full, heart-shaped lip, and topped it with Runway Royalty, which is a gorgeous, 90s-supermodel inspired, soft rosy peach!" continues Tilbury. "Finally, for a kiss of colour and glow, I popped the Beauty Light Wand in Pillow Talk on the apples of Elsa's cheeks. It gives the skin a stunning, lit-from-within glow and adds the perfect amount of colour to bring a nude makeup look to life!" Easy on paper, stunning in real life.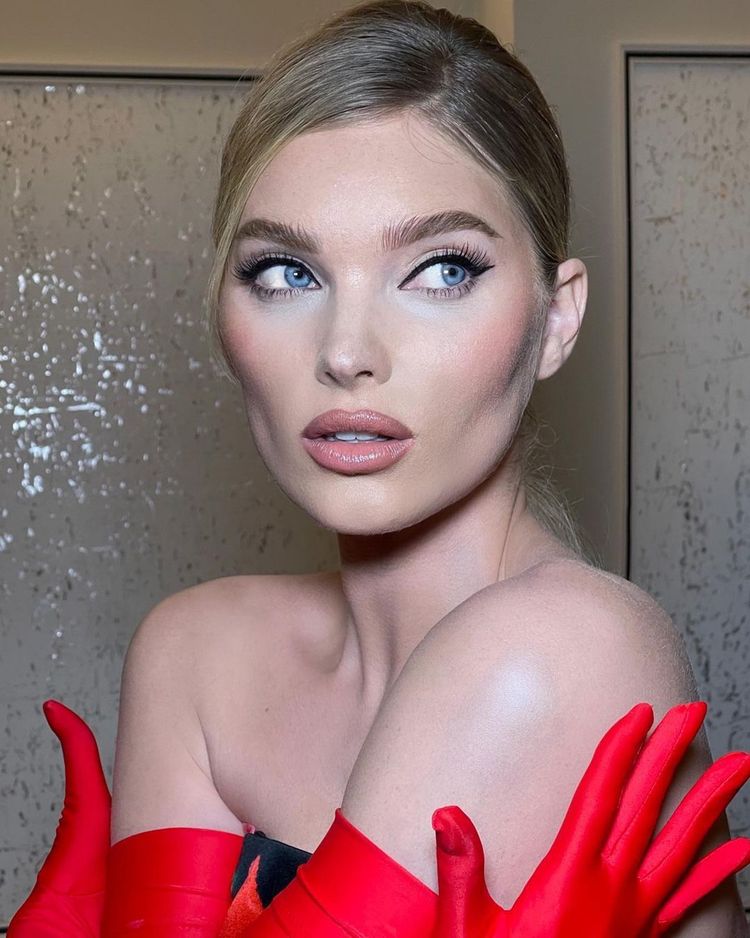 Photo: @hoskelsa
Sofia shared some tips and tricks in order for us to achieve the closest thing possible to Hosk's supermodel glamour. "When it comes to creating the perfect feline flick, I always recommend looking straight ahead in the mirror with your eyes open so that you can see your true eye shape! Create a dot in the outer corner of your eye and another where you want the feline flick to end, then follow the line of your lower lashes to join them up! I always make sure my liner pencil is as sharp as a pin so that I can be super precise, and I try to keep the line as thin as possible along the first 2/3rds of the eye in order to create that lifted, almond shape effect." she says.
And to seal the deal, as the parting gift from a fairy godmother, it all ends with a sprinkle of powder. "I also love to use my Airbrush Flawless Finish Powder as a finishing touch—applying it only on the T-Zone to blur the look of pores, soft-focus fine lines and mattify the skin whilst keeping the high points of the face glowing and gorgeous. It's the one product I always try to slip in my clients' clutch bags before a red carpet event!" And there you have it, bippity-boppity-boo, you're a princess on the way to the ball. Just don't forget to don your opera gloves (like Hosk did) for the full effect.
---
Shop Elsa Hosk's Fashion Awards makeup look