An ingredient sourced from volcanoes, then ground into a fine powder, could be the answer to year-round smoother, more radiant skin
All products featured on Vogue are independently selected by our editors. However, when you buy something through our retail links, we may earn an affiliate commission.
'Volcanic lava' aren't the first words you'd think of using in the same sentence as glowing skin. But this mildly abrasive ingredient delivers a master stroke in lifting away dead, dulling cells from the skin's surface.
Given Iceland's volcanoes are such famous Nordic landmarks, it's hardly surprising that many Scandinavian skincare brands including Blue Lagoon Iceland and Bioeffect use the local lava as a natural, non-polluting alternative to microbeads for buffing away rough skin.
But perhaps the most famous advocate of this ingredient is A-list facialist Kate Somerville, who recently created the Exfoliate Resurfacing Body Scrub, an extension of her cult facial exfoliator. She describes the volcanic pumice in the formula as a "best-in-class physical exfoliator", which is why she felt it still deserved a place alongside more high-tech chemical (AHAs) and enzymatic exfoliators.
Here's everything you need to know about this under-the-radar ingredient.
What is volcanic lava?
As the name implies, volcanic lava (also known as volcanic rock and pumice stone) is produced by volcanoes. Closer inspection reveals a framework of bubbles and holes that are formed during the rapid cooling of the volcanic rock and the release of gas from inside it.
Volcanic lava is said to be a rich source of minerals such as silicon, oxygen, magnesium and iron, all essential minerals for soft and radiant skin. When ground into an extremely light powder, lava becomes an effective exfoliant. Volcanic rhyolite is light in colour and almost glass-like in texture; others, such as Blue Lagoon lava, are a black fine-grain powder. The latter has been harvested from a sustainable geothermal source in Iceland for over two decades.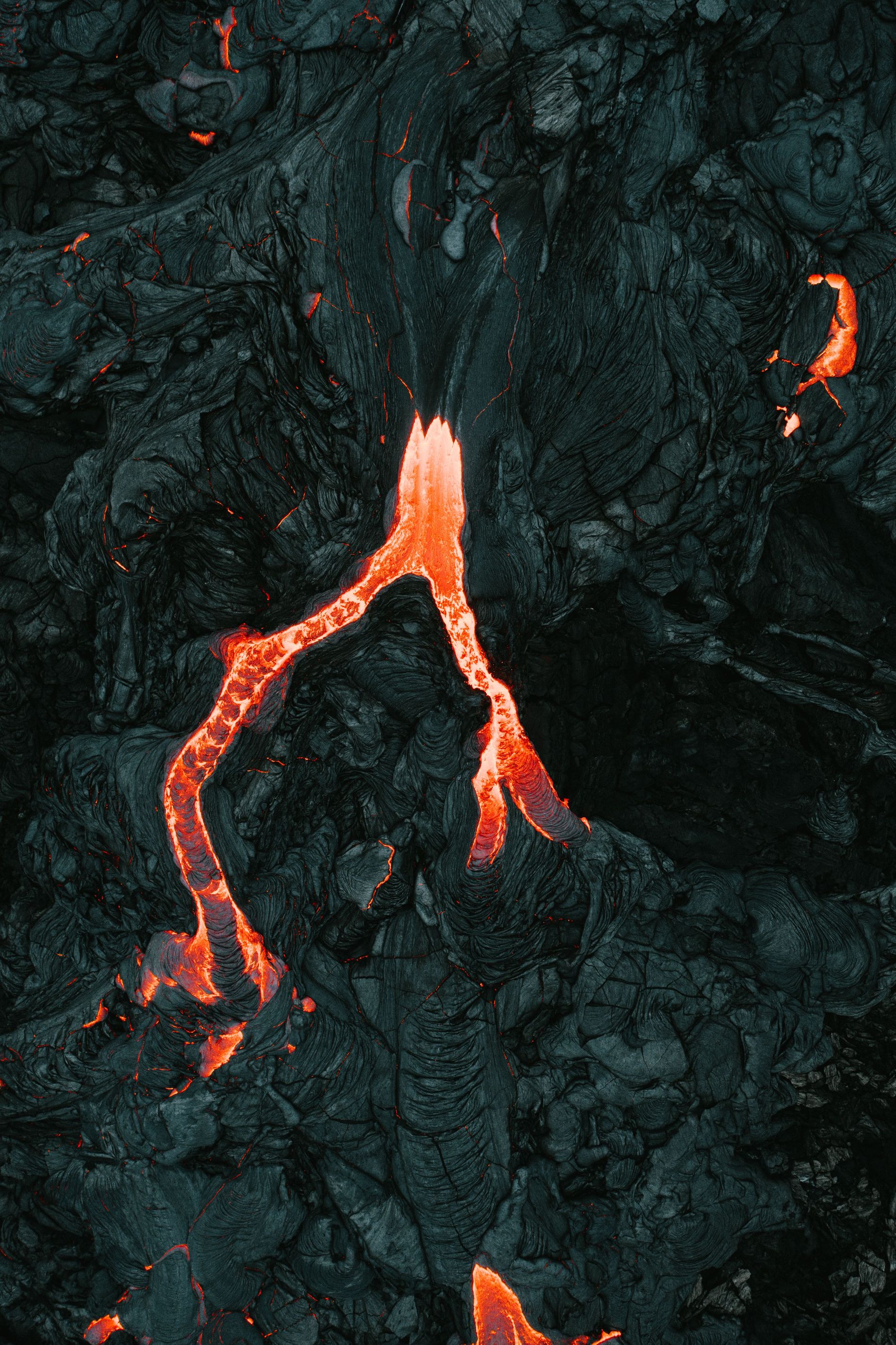 Photo: Ása Steinars
What are the benefits of volcanic lava for skin?
"Humans shed around 500 million skin cells every day," says Martin Lyne, founder of Woods Copenhagen. "This means dead skin can build up pretty quickly. Exfoliants are true skin saviours when it comes to promoting cell turnover."
This is especially true in the winter months when skin jumps from heat indoors and freezing temperatures outside. These extremes of temperature can cause dry flakes to form on the skin's surface, which are like a roadblock for the actives in your skincare. After the age of 30, natural cell renewal also slows down so it's worthwhile exfoliating twice weekly.
Lyne is a fan of using finely ground volcanic rhyolite for a deep cleanse, which is the most silica-rich of all volcanic rock and environmentally friendly when washed down the plughole. Rhyolite has just enough grit to buff debris from the skin but isn't so coarse that it creates tears in the skin barrier.
While Trice Angie, founder of Raaw by Trice, uses volcanic ash because it is rich in minerals, which she says has antiseptic, antibacterial and antioxidant properties. For this reason, she recommends the Sea Silk Exfoliating Creme Mask for acne-prone skin.
Humans shed around 500 million skin cells every day. This means dead skin can build up pretty quickly.
Martin Lyne, founder of Woods Copenhagen
How should you use volcanic lava?
Most exfoliators combine volcanic lava with AHAs, to get the dual benefit of a physical scrub and an acid that effectively dissolves the 'glue' that holds dead cells on the skin.
Like Somerville, Lyne combines volcanic rhyolite with glycolic acid in the Woods Copenhagen Deep Cleansing Scrub for the best of both worlds when massaged onto damp skin. While rhyolite smoothes the skin's top layer, "glycolic acid is made up of tiny molecules that can easily penetrate the skin to remove impurities and prevent clogged pores," says Lyne.
Bioeffect uses the crystalline lava from the Icelandic volcano Hekla to remove the build up of dead skin. Similarly, its Volcanic Exfoliator also includes azelaic acid, a naturally occurring acid in grains, to turbo-charge the lava's resurfacing powers.
Also worth mentioning: men, in particular, benefit from using a lava-based exfoliator as it prepares the skin for shaving by reducing excess oil and preventing painful ingrown hairs.
When it comes to how often to exfoliate with a volcanic lava product, Lyne advises, "no more than once a week if your skin is on the dry side, or twice a week if skin is oily and acne prone."