Winner of Best Actress at this year's Cannes Film Festival for her stunning portrayal of a woman coming of age, Norwegian actress Renate Reinsve talks to Vogue Scandinavia about how her role in The Worst Person in The World was a form of therapy
Renate Reinsve was "having a cigarette and drinking a beer" in the garden when I first reached her on the phone. For some reason, I thought that was pretty cool. Not the act of doing it necessarily, but the fact that it was the first thing she said to me – an opening line that immediately made me feel like I was calling up a buddy.
"Hey, what's up." "Ah not much, just sitting in the garden, having a cigarette and drinking a beer."' And yet, just a couple of days prior to our first call she had been on the red carpet at the Cannes Film Festival, attending the ceremony where she picked up the award for Best Actress. Quite an achievement for a Norwegian actress who had never had a major role in a movie before.
Reinsve received the accolade for her portrayal of Julie in Joachim Trier's The Worst Person in The World. Until her breakout role in this dark romantic drama, her career had been stalling. She joined theatre school as a teenager and had found success on the Norwegian stage. She'd also had TV roles but was struggling to get the parts she wanted. She decided it might be time to consider a new career. "I wanted to do something completely different [from acting] and just have a break. When I finally decided to take a break, I remember my body was relieved," she says. "And then the next day Joachim called me for this role."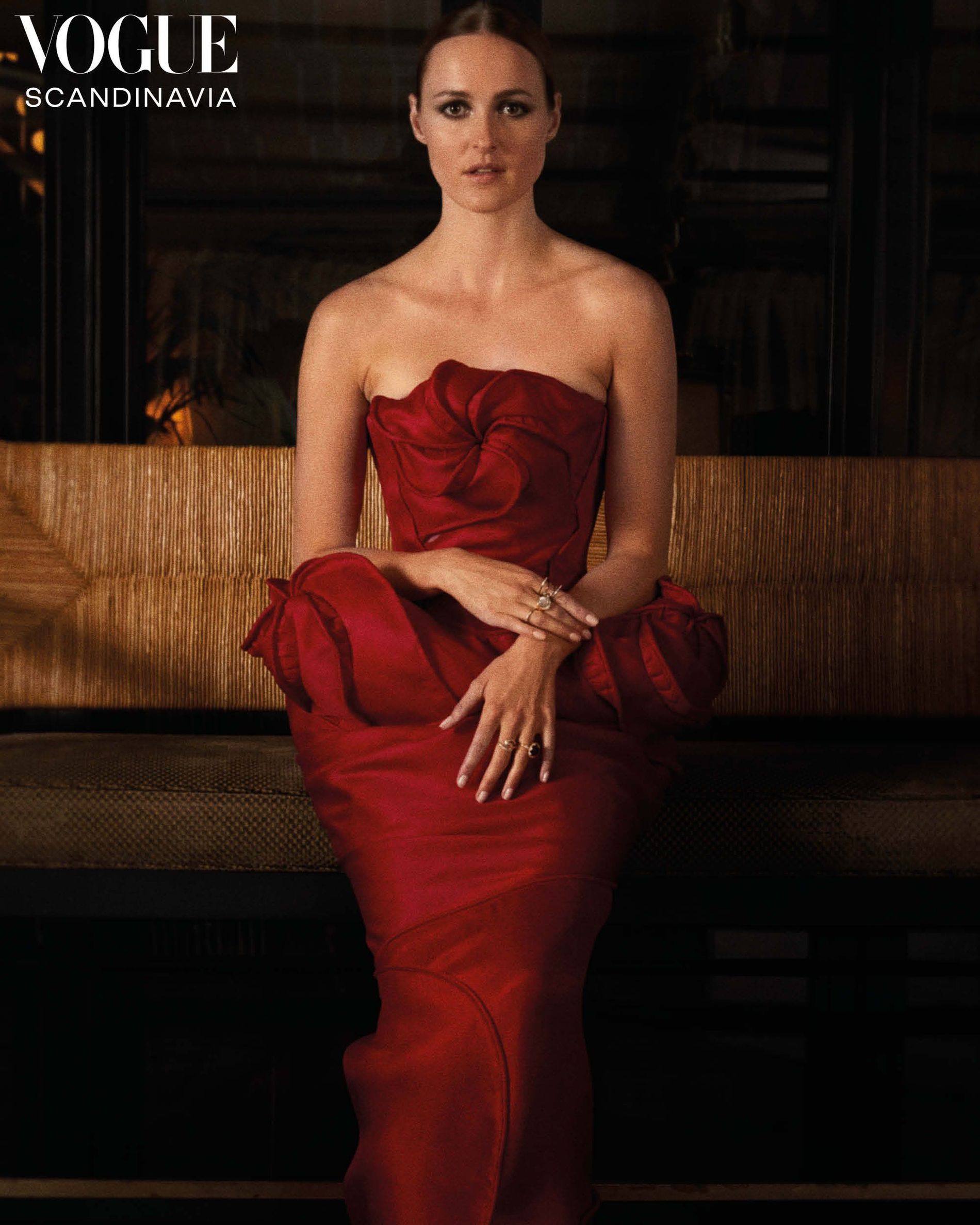 Renate: Dress, price on request. Andrea Brocca. Silver ring, left top, €150. Mugler. Diamond ring, left middle, €2,879. Noor Fares. Silver ring, left bottom, model's own. Diamond ring, right middle, €1,045. Shaun Leane. Diamond ring, right bottom, €4,235. Noor Fares. Photo: Alexi Tan
Destiny? Fate? Coincidence? Who cares, it's a great story. Trier called on Reinsve for this role because he had worked with her before on his film Oslo, August 31st all the way back in 2011. Reinsve had spent nine days with him on set, all for a mere minute on screen. But that minute had stuck with Trier for the next decade – he couldn't get her out of his head. Having spent some time talking with the actress, I begin to see why.
"I always wondered why the hell is Norwegian film so messed up that she hasn't had a star role yet?" Trier told AFP. "It's so stupid I thought, let's make a movie with her." Trier – with his long term writing partner Eskil Vogt – wrote the film specifically with her in mind.
The Worst Person in the World tells the tale of Julie. It's a coming of age story – albeit one that starts a little later in life – that delves into both age-old and modern-day questions. Am I with the right person or am I just settling? Do I want kids or is it just because my partner does? Is this really my dream career?
Vogue Scandinavia
Helena Christensen - Issue 2