Come join me in the shower...
All products featured on Vogue are independently selected by our editors. However, when you buy something through our retail links, we may earn an affiliate commission.
In between meetings, events and countless hours of TikTok scrolling, Vogue Scandinavia's beauty editor, Esteban G Villanueva, (Vogue's first and only male beauty editor worldwide) lets us in on the current products he's obsessed with. Whether they're new trendy launches or all-time beauty favourites, these offerings have caught his eye and they should catch yours too, making them a must have in your ever-expanding beauty cupboard.
Here's what he's loving this week:
Everybody loves a good shower. That being said, usually I feel that people give more credit or importance to bubble baths because with them you 'soak out' all the stress and you get to relax and all that. But at least for me, even though I love a good soak, there is nothing as relaxing and as cleanser than running, hot water taking away the stress, the pollution and the overall weight of life from the mere task of existing. This week, after an early morning to get to my flight back home, my plane being delayed and essentially spending 14 hours trying to get back to Sweden, a long, hot shower was the best thing that could possibly happen — so for this week, my favourites will be shower themed. Steamy, relaxing shower themed.
Now, writing this article I'm realising I have a very particular, set, showering order — and that usually begins with washing my hair and applying conditioner so it can properly treat the hair while I get to the other things, but for illustrative purposes, I'm going to break that order and start with products and then tools that I've made must haves while in the running water.
Molton Brown
Bath & Shower Gel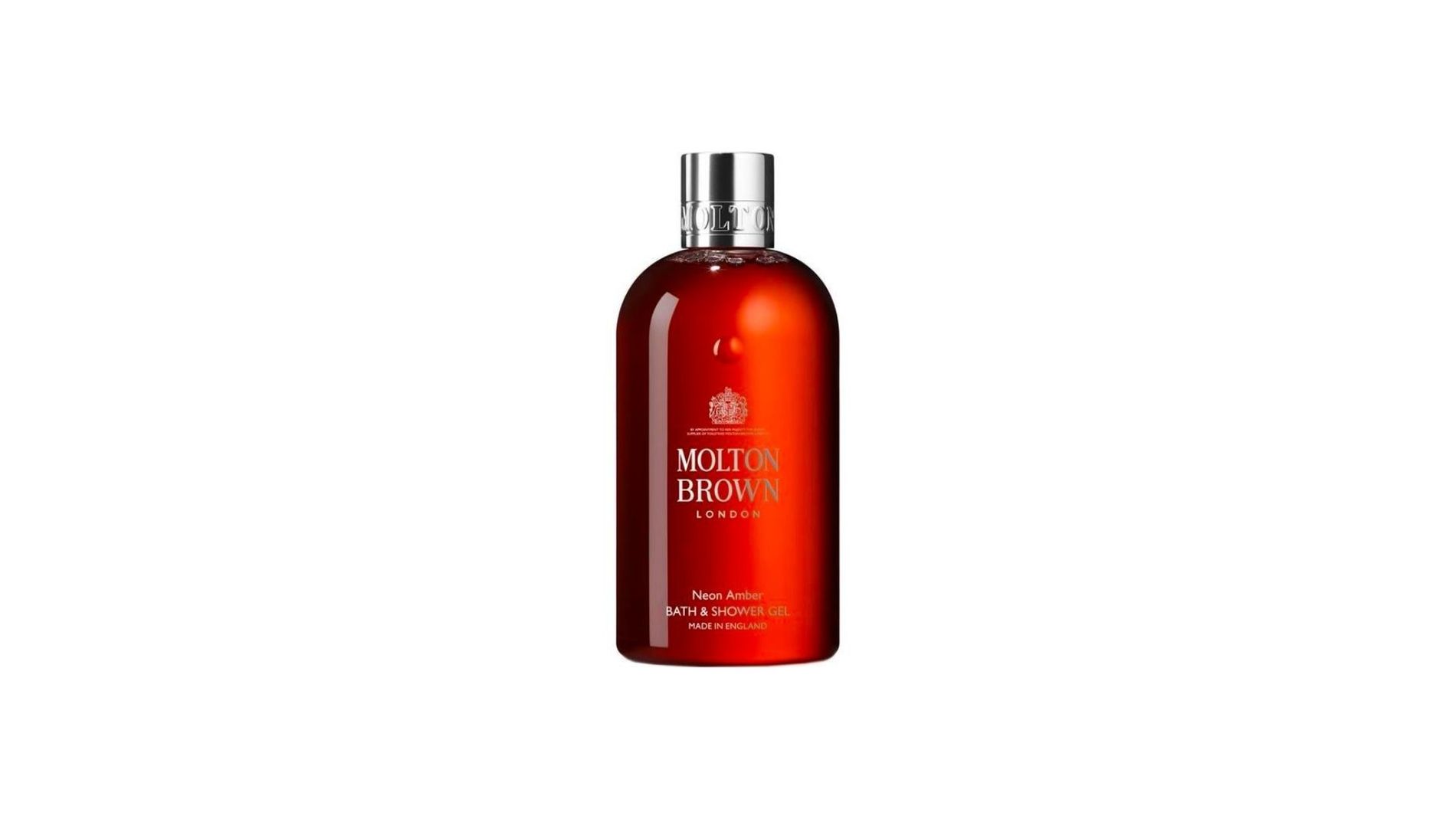 Remember that 'this is what you would smell when you hug me' trend on Tik Tok? Well, while I can't do it as I literally change fragrances every day, Molton Brown's Bath & Shower Gel in Neon Amber would definitely be a part of that video. I love most of Molton Brown's scents as for me they perfectly balance the masculine accords and manage to create aromas that are not too heavy (or toxic) when using them — few things I despise as those traditionally masculine overpowering scents that just leave you gasping for any air that hasn't been contaminated by their fragrance. Neon Amber, Flora Luminare and Heavenly Ginger are some of my favorites when it comes to Brown's selection and starting off the cleansing ritual with them is always a great choice.
Verso
Body Peel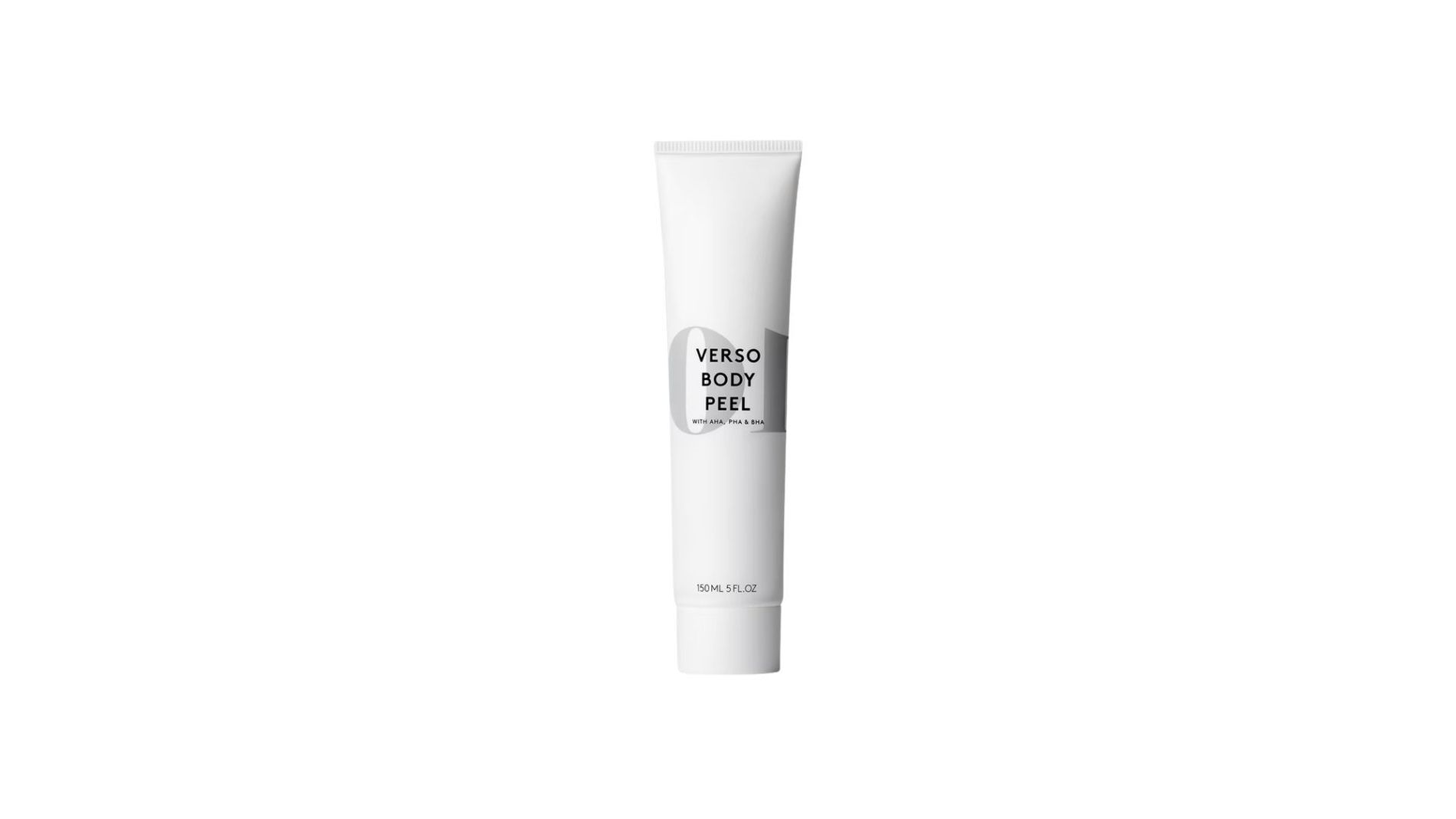 After properly cleansing my body, I follow it up with Verso's Body Peel. Especially during winter, if we don't properly exfoliate the skin, we're going to end up with dried up, flaky upper layers that will prevent us from our hydrated, glowy self. This peel combines both mechanical and chemical exfoliation for a visible effect on the skin. While it can be used throughout the body, I like to focus on my arms, neck and legs, as they tend to be the areas most exposed to the harsh cold wind that consequently are subject to dryness, dehydration and flakiness. Pro tip: leave it on for two to three minutes before rinsing so the chemicals can properly do their thing.
Lush
Scrubee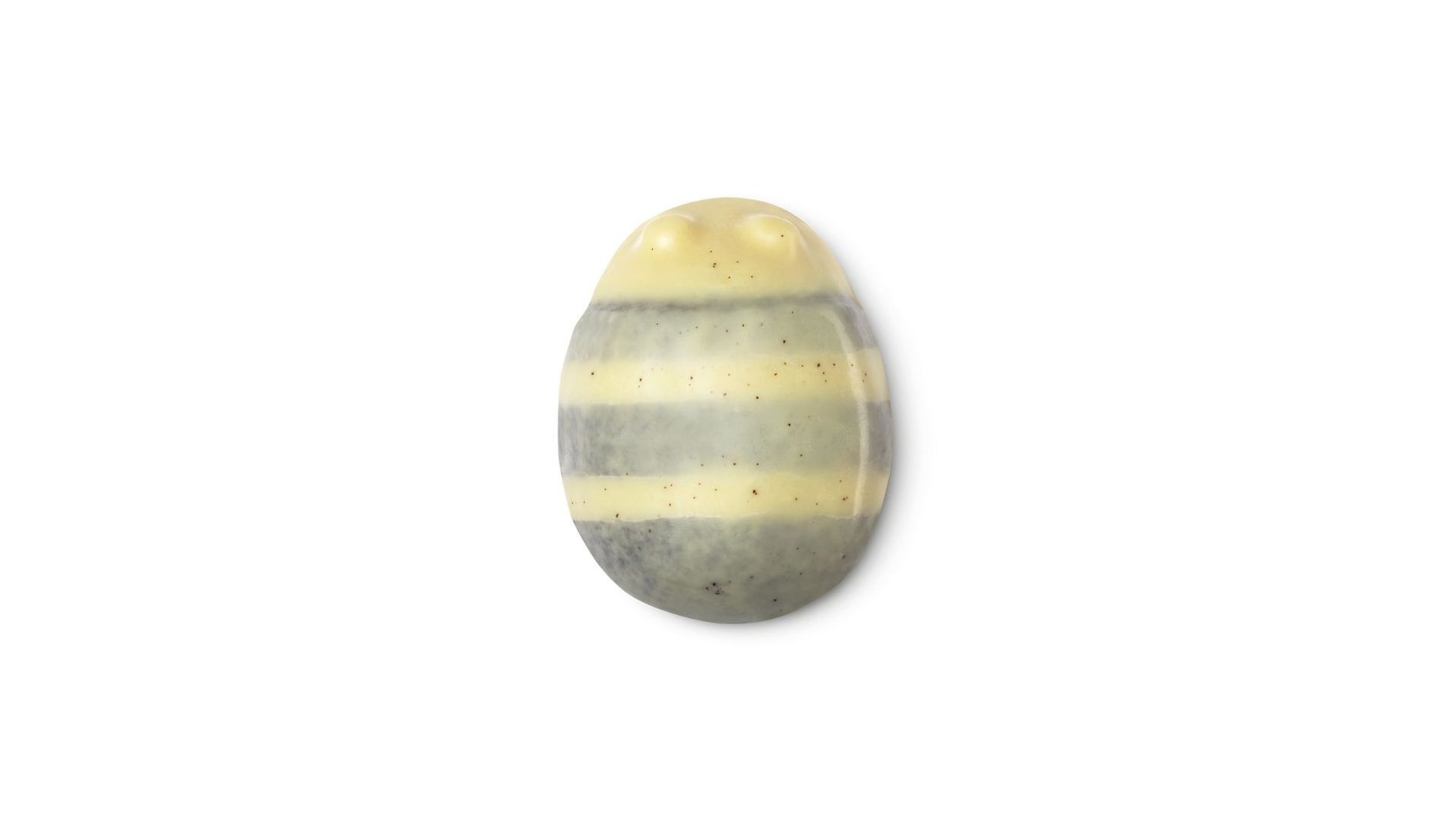 Following that up — and of course being careful to never over exfoliate — a fun addition to my shower time has been Lush's Scrubee. While designed to combine the moisture of cocoa butter, shea butter, honey, and coconut, bergamot and brazilian orange oils with the exfoliating effects of ground almonds and coconut shell, I've grown to love the buttery, smooth texture that comes after lathering up with this bumblebee. Besides, the smell is heavenly, so it's a win-win.
Kevin Murphy
Scalp Spa Scrub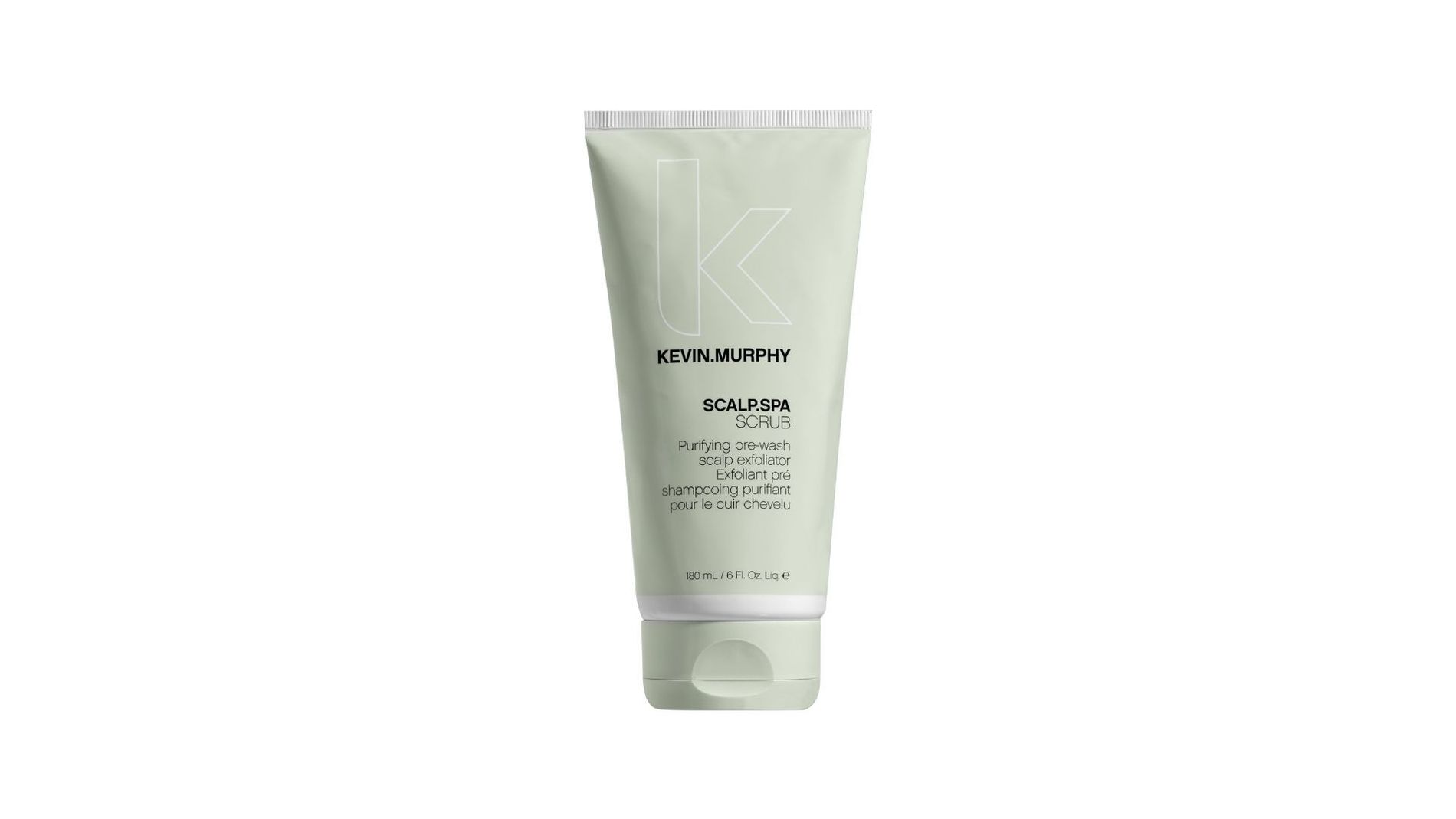 I've already recommended some shampoos and conditioners in past roundups, but for the first time I'm adding in a scalp scrub — and God wish I would've done it sooner. I have a dry scalp, that usually during summer is relatively manageable, but during winter it flares (or flakes) up and it becomes 'an issue'. I'd never been familiar with scalp scrubs as the whole system of application seemed complicated in my eyes, and while I still feel I'm in a learning curve, this scrub has really made a difference on how clean I feel my scalp and on how it's reacted to the colder temperatures. Used before shampooing and conditioning, don't be afraid to go all in and really work it with circular motions throughout the head — after that just make sure to really rinse it off and you'll be surprised with the results.
Bioeffect
EGF Body Serum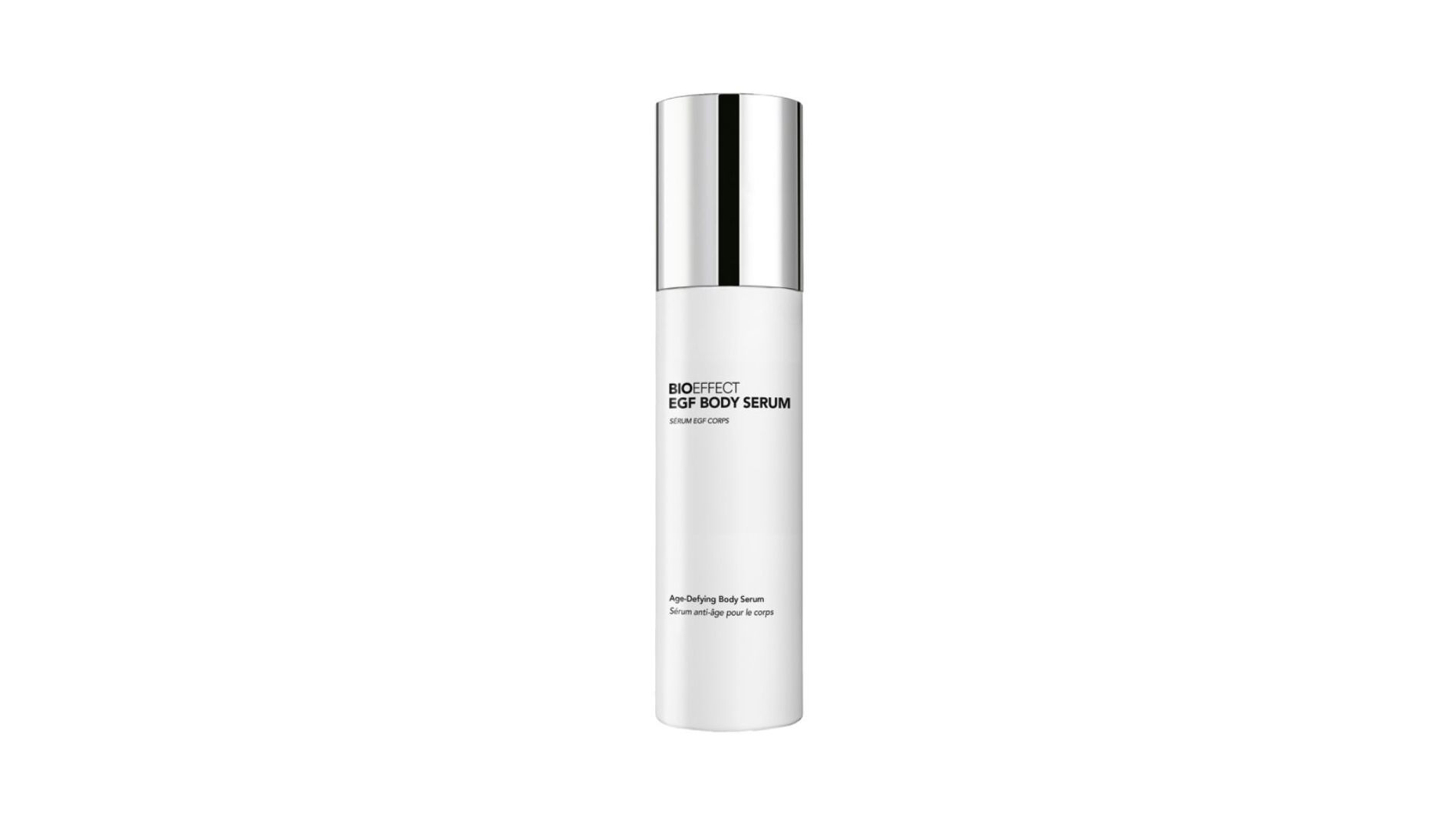 The last product I'll be recommending today is Bioeffect's EGF Body Serum. One of Bioeffect's signature products and made with a high concentration of their skin-replenishing protein, Barley EGF, I've found this serum to be a superb way to hydrate and keep the skin plump after the shower. While it provides a long-lasting hydration and visibly silky and smooth skin, my biggest win for it is it's quick absorption. I love a good body cream and sometimes even a body oil, but when I'm getting ready to go out the door or before bed, sometimes I really don't want to wait for the cream to soak up or the oil to be absorbed — with this serum the dry up time is practically non existent. My skin gulpes it up and before I'm back in my room I'm smooth and ready to go.
Tangle Teezer
Scalp Exfoliator and Massager
Now onto tools. To me, scalp exfoliators should be a must in every person's shower. It's the best (and honestly almost only) way to really work in product and make sure our scalp is getting the cleansing and relaxation it needs. Besides, it's a great way to evenly distribute product while also detangling the hair — so it's positive from any angle you analyse it from. Tangle Teezer's Scalp Exoliator and Massager is definitely my go to when it comes to under the hose action. While I've tried my fair share of scalp massagers, this one has a couple of legs up thanks to it's design and uses. First, it's one plastic piece, ergo, it doesn't keep water in. I've tried some amazing massagers that I can only use in dry scenarios as water sometimes leakes in and I'm not a fan of using something in my hair that could have water from my last shower. Second, it's designed to not only massage but also scrubs and detangles, making it a convenient all in one for bath time.
---
Dry Brushes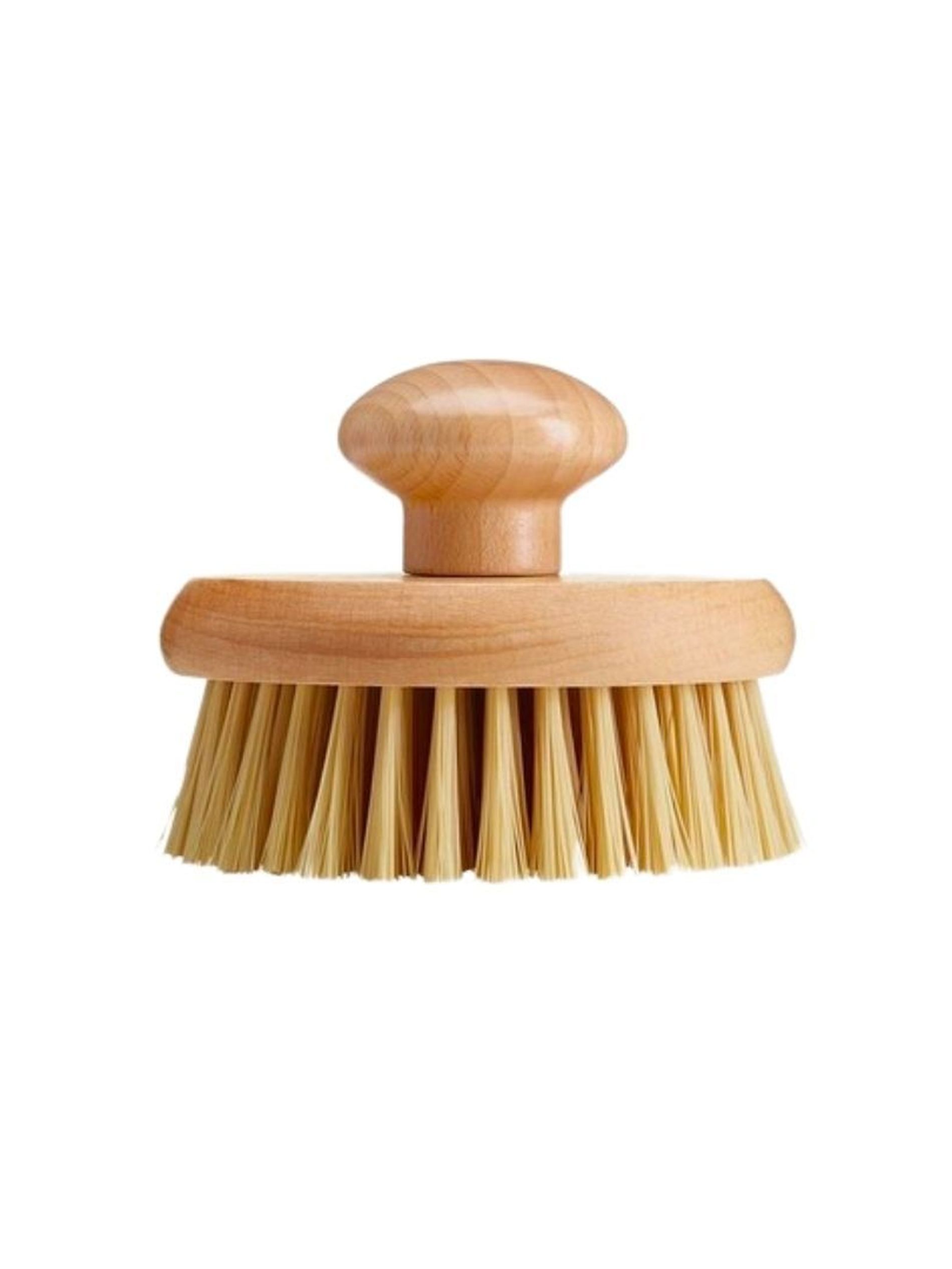 Round Body Brush
The Body Shop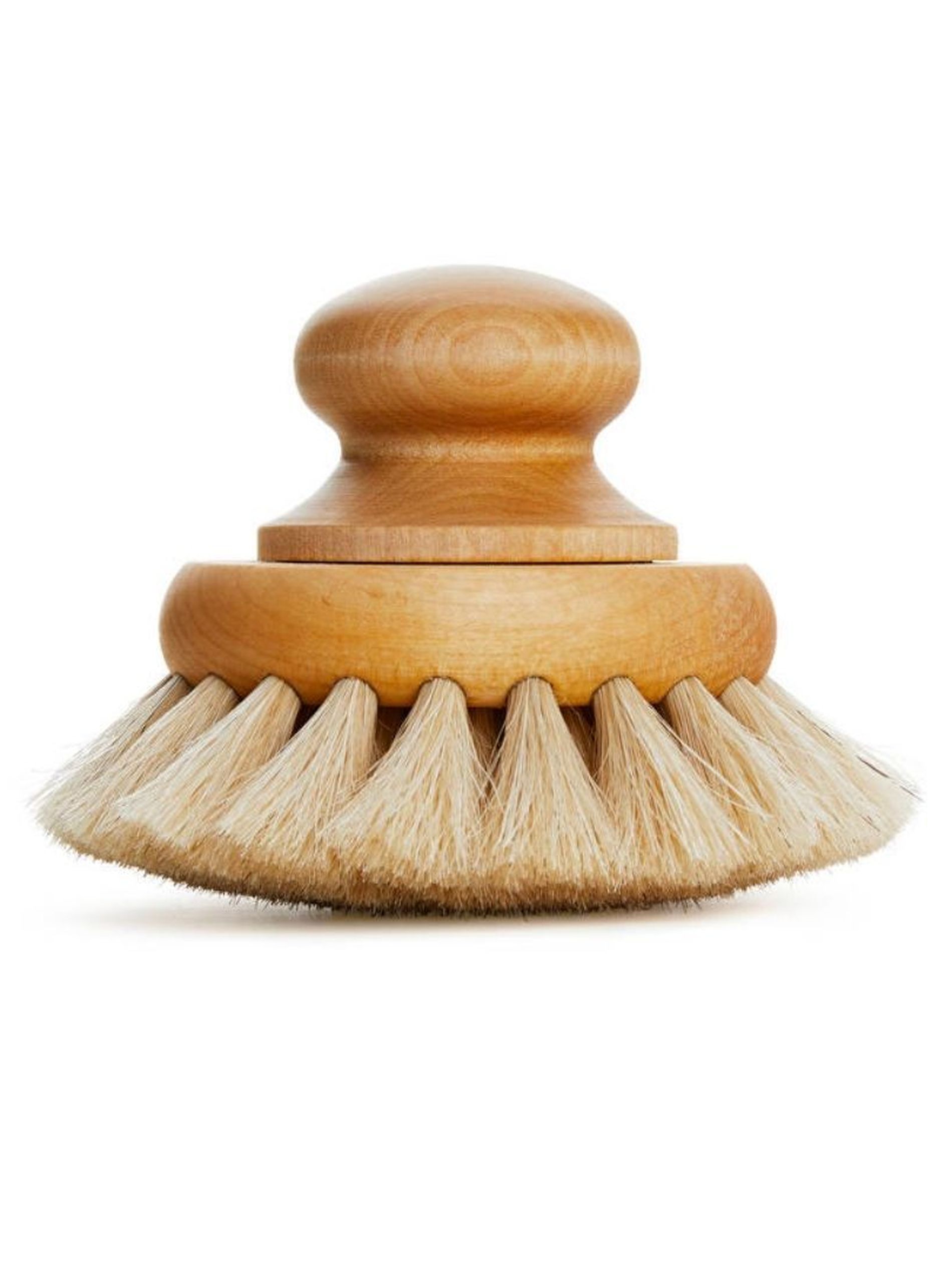 Iris Hantverk Bath Brush
Arket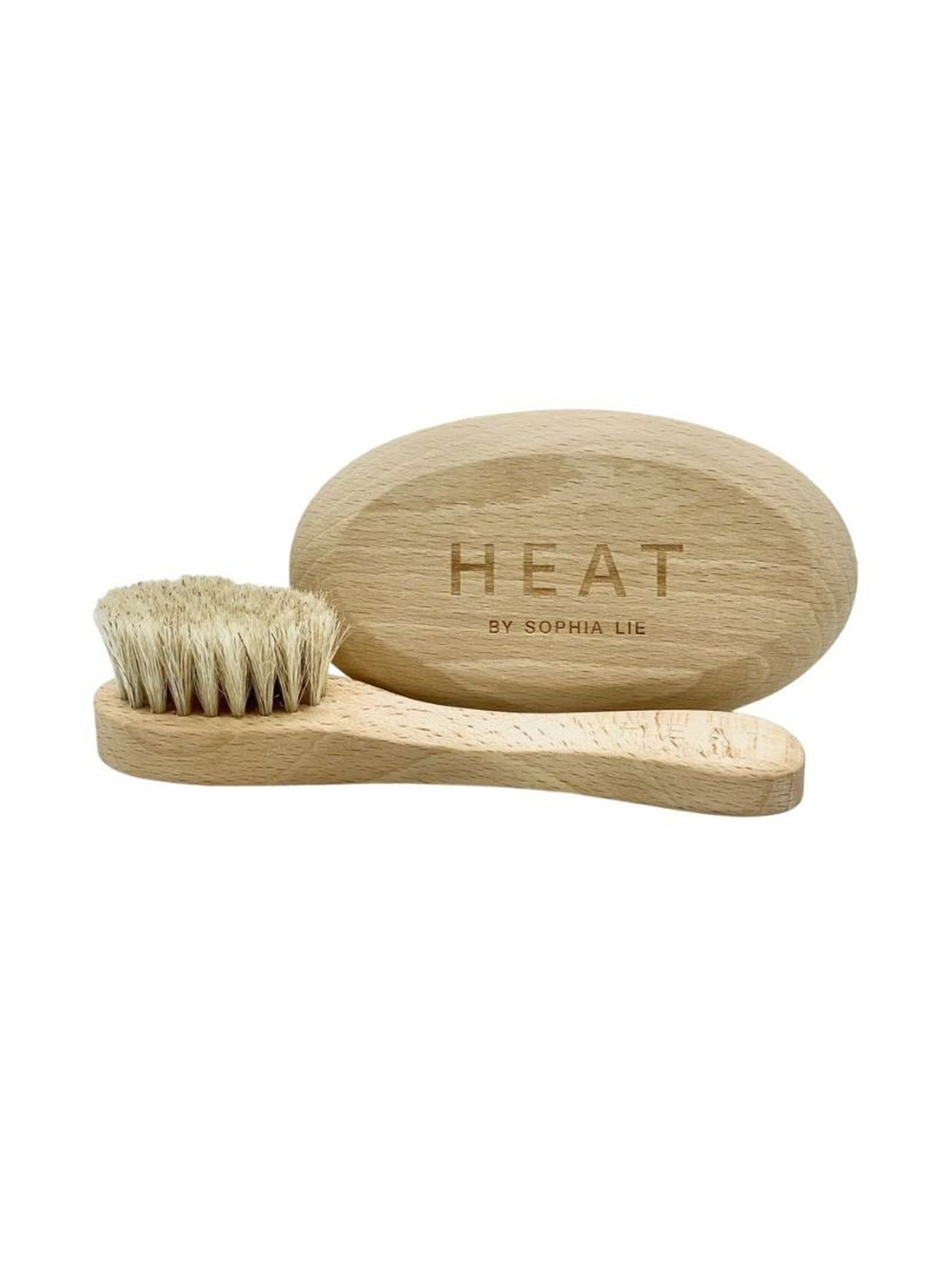 To be completely honest, I'm new to this whole dry brush trend that has been going around (if you're too, don't worry — keep an eye out for this week's beauty section, the article is coming your way) but I've been giving it a try with a brush a got a couple months ago and I'm kinda getting into it. My first apprehension came from brushing my skin with a hard brush, but after digging a bit into the science and technique behind it I was pleased to learn that it combines circulatory benefits with exfoliating properties. While I did get myself a very soft bristled one, before hopping into the shower I've been starting from the bottom of my feet up to my heart (as that's where blood goes) and I've felt more relaxed and energised after it. Besides, combining that with my in-shower exfoliating, my skin is thriving.
At the time of publication the pictured dry brush by brand MonSun was sold out and not available, suitable alternatives have been selected.
Aiayu
Hooded Terry Bathrobe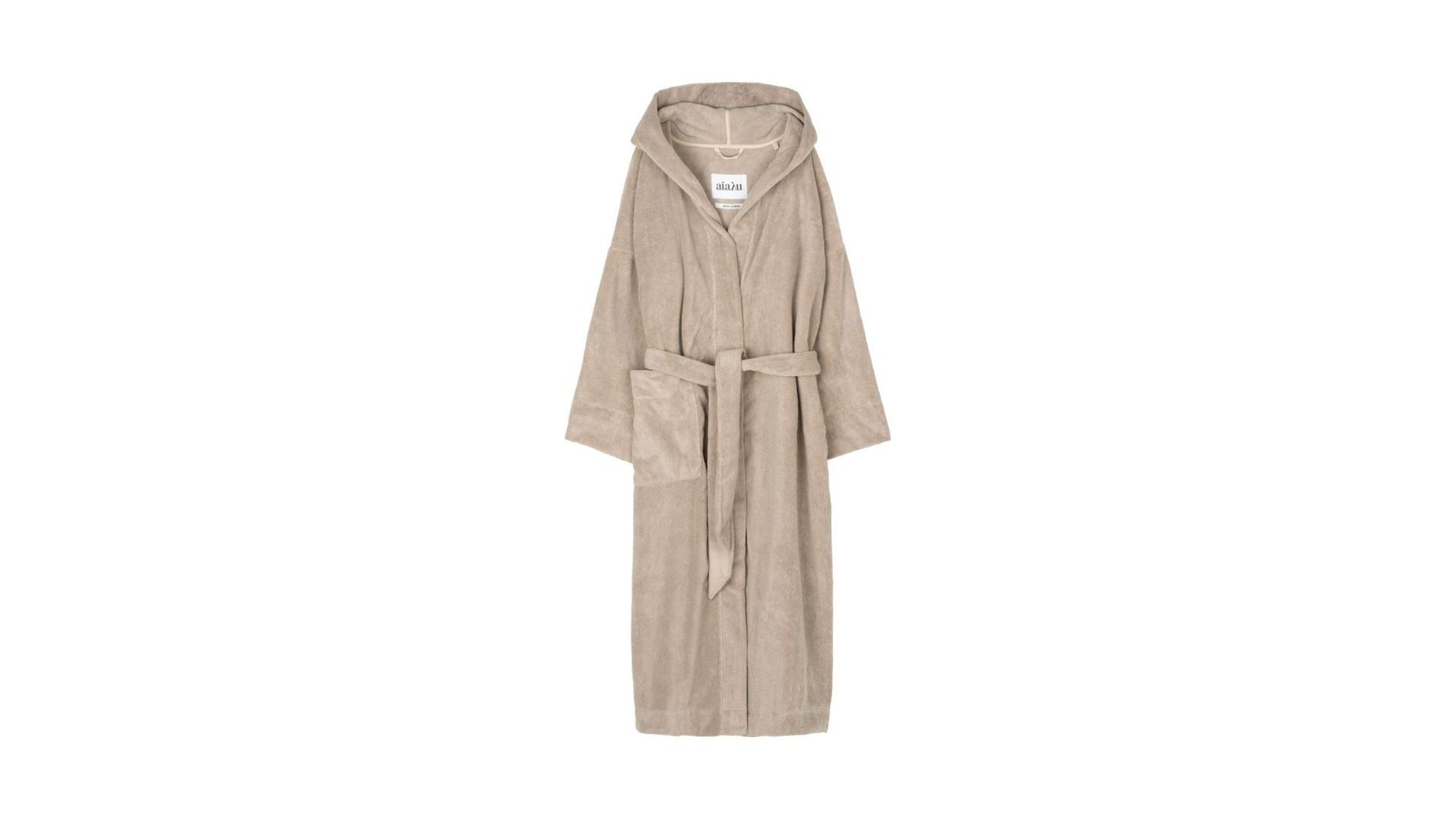 I got this robe a couple of months ago and let me tell you that now-a-days I honestly live in it. There is no skincare, haircare or bath ritual that I do that is not performed in this robe. Pre-shower scrubbing? Robe. Post-shower skincare? Robe. Doing your hair? Robe. And here's the thing, I'm a big at-home-leisure-apparel fan, and while I'm usually around in sweatpants and a hoodie, I'm not a fan of taking sweats and a jacket into the bathroom, they get humid, it gets too hot and I honestly can't handle it. Cue in the robe. I believe everyone should have a robe (or multiple) and this one has really been a good sport in my everyday life. It's made of terry cloth, which I like cause it's like a huge towel, it's heavy, which was interesting at the beginning but then it became like a safe space and it's also kinda warm, so you don't have to freeze while doing your hair or skincare before putting your clothes on. 10/10.