Indulge in the latest sartorial launches and stay au courant. Below, Vogue Scandinavia lists the releases to keep on your radar this September
Discover the dazzling new capsule collection from Aquazzura and Swarovski
For 10 years, Aquazzura has been on the dancing feet of every it-girl of note. Spotted on red carpets and royals, not to mention spotted in sartorial hits like House of Gucci and And Just Like That, the signature sparkly heels have become synonymous with Italian savoir-faire. Now, the Italian brand partners with Swarovski for a dazzling capsule collaboration.
"I've been using Swarovski crystals since the very beginning of Aquazzura and I fell in love with the idea of doing something really special together," says Aquazzura's founder and creative director, Edgardo Osorio. "For the concept behind the shoes, I wanted this style to be all about the crystals and women's legs... a woman walking in crystals and nothing else." The result was the Aura sandal: a stacked square-cut crystal heel held in place with sensual straps of satin, laminated Italian leather, or a malleable plexi material.
"We developed special colourways and stones for this collaboration," continues Osorio. "My favourite one is the fuchsia crystal in the different shades which is something that I haven't seen before; I love how it changes colour accordingly to how the light hits it."
The special capsule will be available on aquazzura.com and swarovski.com from the 30 September.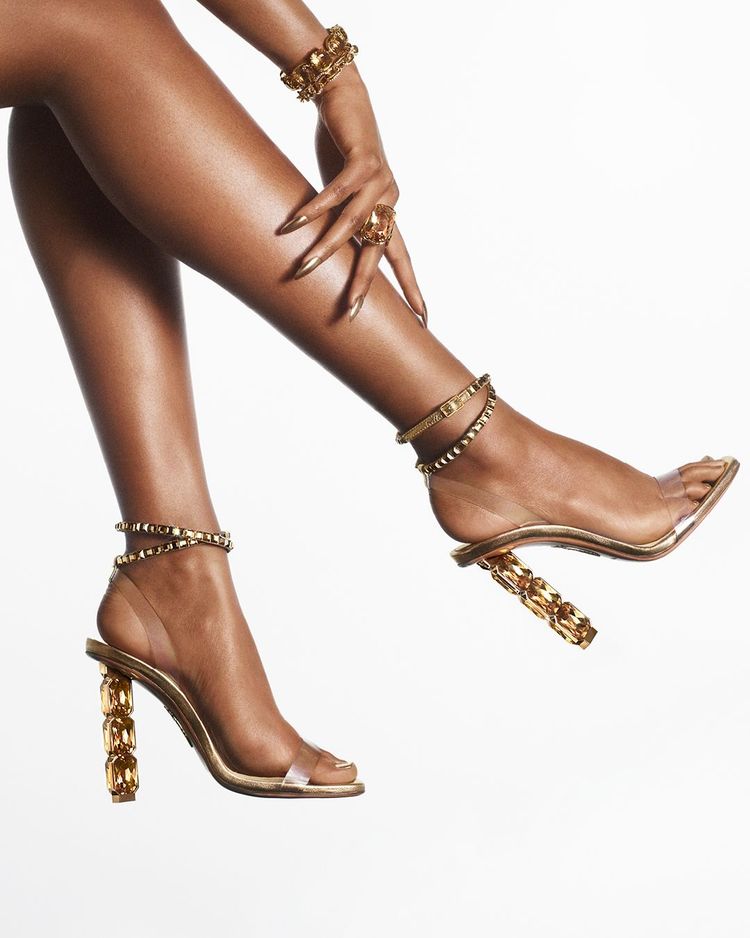 This Swedish cashmere brand goes beyond knitwear with its latest launch
Soft Goat has long been a fast favourite for their soft sweaters and comfy loungewear, now the Stockholm-based brand is going beyond these comfortable categories to introduce their very first line of outerwear. In a limited offering of five timeless pieces in five colourways, the woven and knitted coats (three for women, one for men, and one unisex style) have been a requested addition to the brand. "The idea of creating outerwear has been with us for a few years," says founder and CEO Stephanie Bergström. "Because of this we are so excited to finally share the news! These are wardrobe essentials with a timeless style that goes beyond the season and can last for years."
"My favourite from the new collection is absolutely our Signature Jacket," says Bergström. "Partly because it is unisex," she continues, noting how nice it is to be able to share your outerwear with your partner, partly because "it has the perfect fit and style" which will last "year in and year out."
The outerwear is available from the 27th September on softgoat.com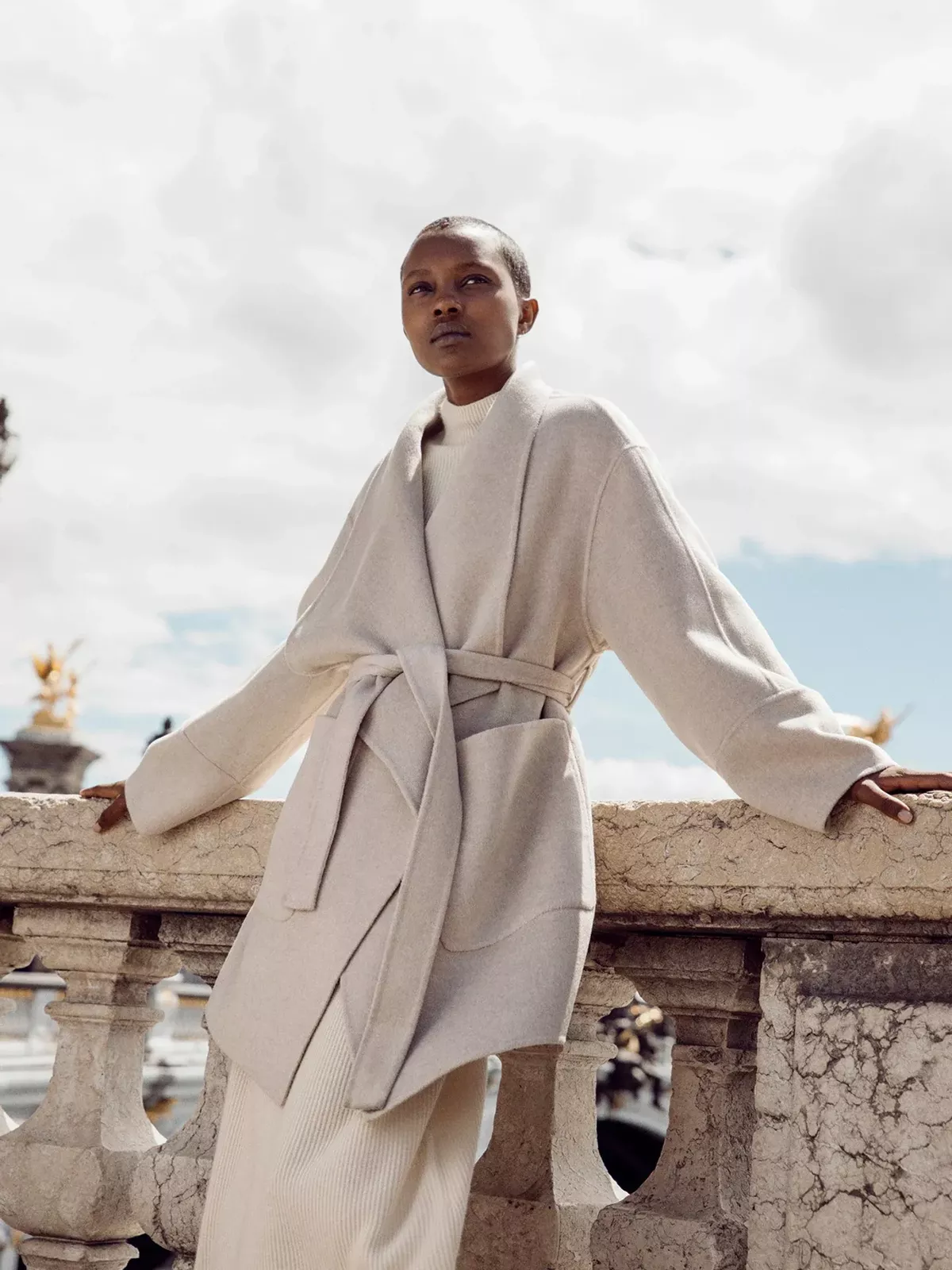 Winged pursuit: Chopard joins forces with Mariah Carey
On the 25th anniversary of the release of the album Butterfly, the singing powerhouse Mariah Carey has paired up with luxury jewellery designer Chopard for an exciting new butterfly-inspired collaboration.
Partnering with Caroline Scheufele, Chopard's co-president and artistic director, Carey has created the Happy Butterfly X Mariah Carey fine jewellery collection, centred around the butterfly symbol, which has always been an important image of pride, representing renewal and rebirth. The three piece set includes a necklace, a ring, along with an asymmetrical pair of earrings and each of the pieces from the collection are made of ethically sourced white or rose and either diamonds or carnelian.
And it seems rather fitting that the new jewellery line is centred around the butterfly given how central the creature was to the singer's career, it was the very name of Carey's 1997 album, after all.
The collection will be available here from the 15th of September.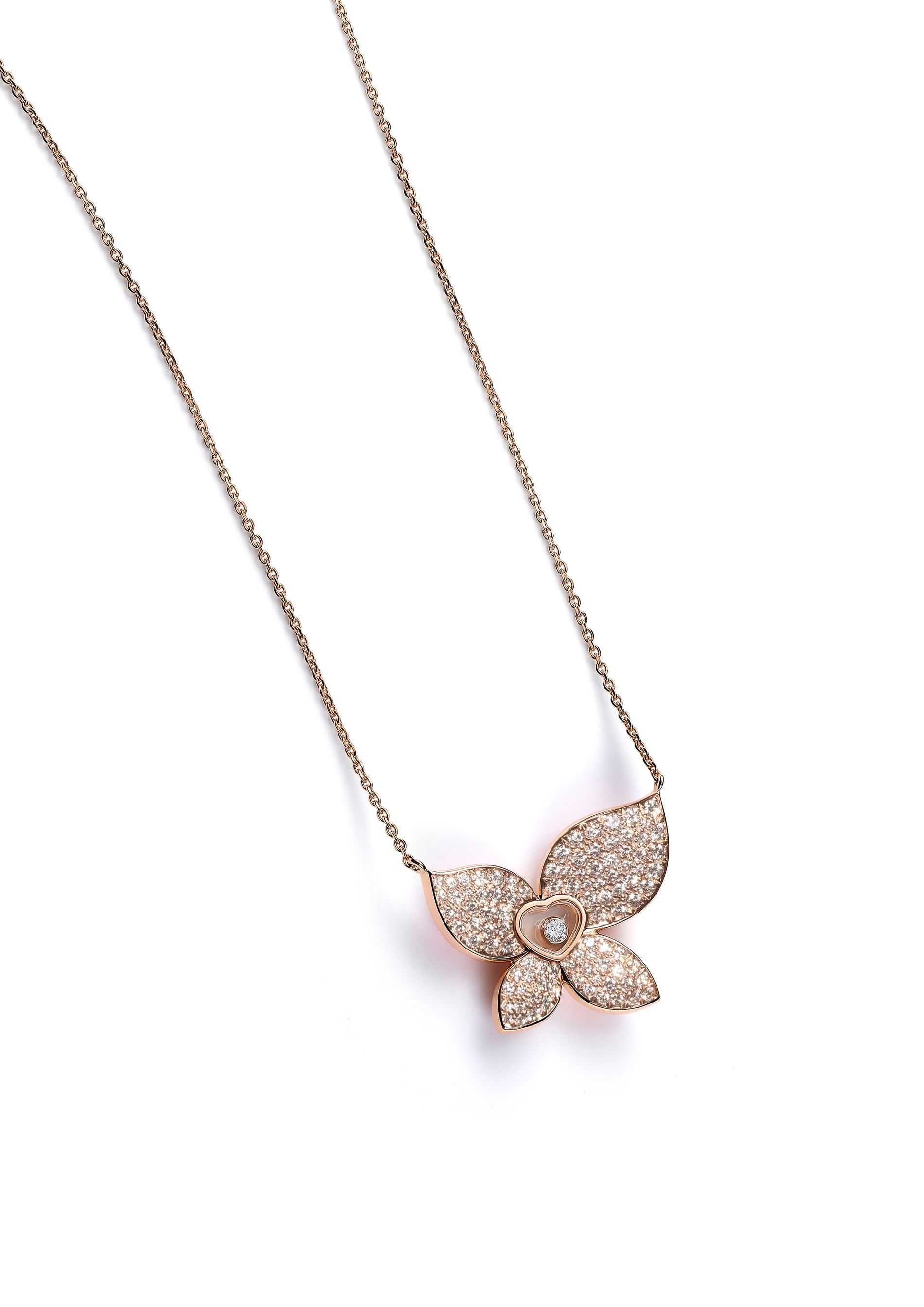 Merging Scandi tailoring with Savile Row zest, Tiger of Sweden partners with editor Ben Cobb for its latest launch
Sweden's oldest tailoring brand, Tiger of Sweden, has always had a hand in setting the sartorial tone for suiting in the region. Now the brand is teaming up with Savile Row savvy profile Ben Cobb for an exclusive capsule collection containing contemporary separates and wardrobe essentials for the modern man. "I have always had a real soft spot for Ben Cobb, his taste, style and elegance, and commitment not just to his style, but to beautifully made clothes," says Bryan Conway, Tiger of Sweden's creative director. "This is a really lovely moment to celebrate this, and of course, our mutual love of tailoring and exceptionally made garments."
Consisting of eight pieces, the collection features three superbly cut suits, four shirts and cropped v-neck patterned knitwear – not to mention a belted overcoat and a dress coat. "Each piece is based on go-to favourites from my personal wardrobe," explains Cobb. "They are designed to be worn as a full look for maximum impact (that's how I do it!) or as separates, injecting stand-out chic moments into everyday dressing. It is a collection made to function for all lifestyles and personalities."
The collection will be available on matchesfashion.com from the 15th of September and tigerofsweden.com from 29th of September.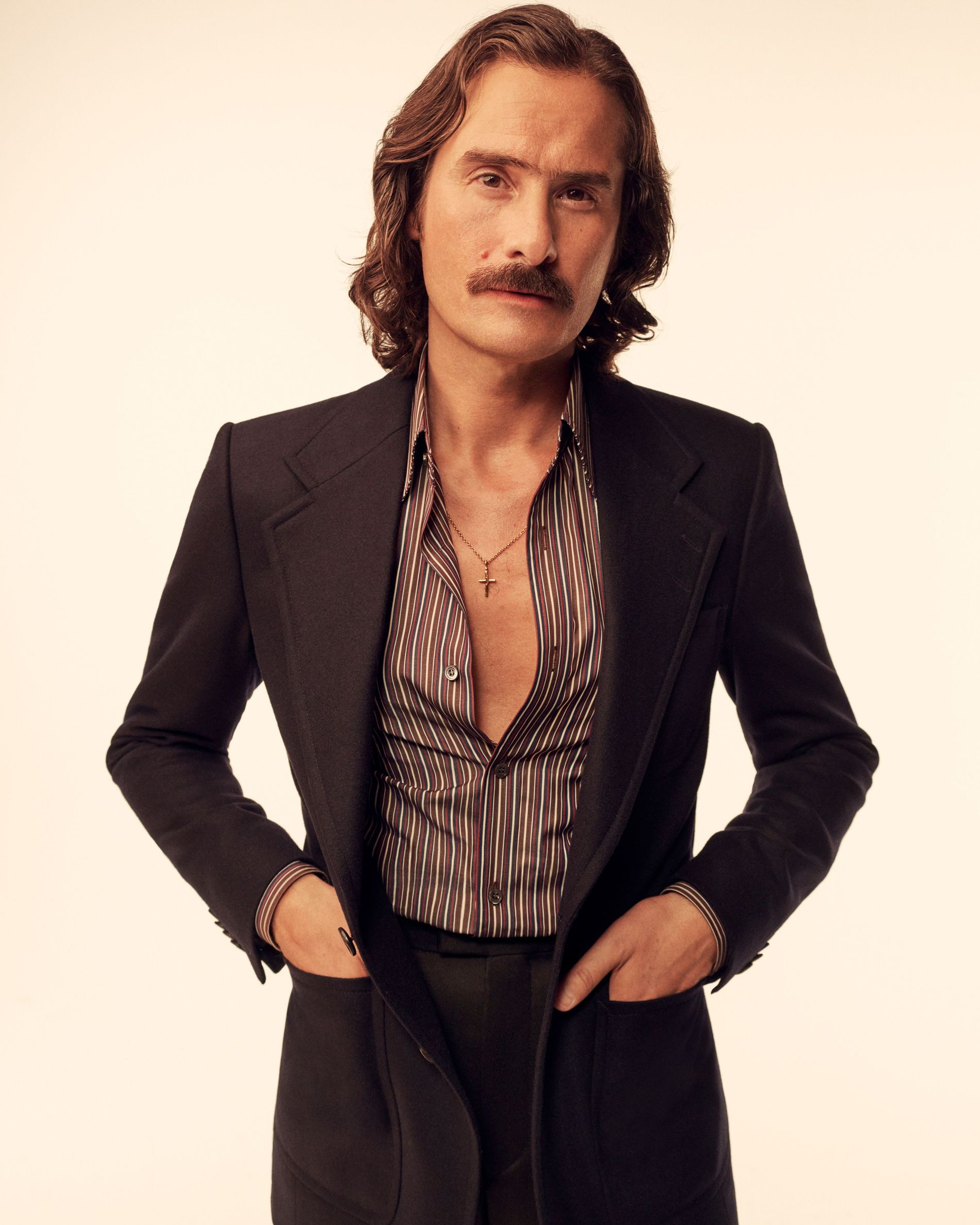 Photo: Tiger of Sweden
Skall Studio expands their universe launching limited edition ceramics
Partnering with Danish ceramic artist Franca Christophersen, Danish fashion brand Skall Studio have made their first foray into the kitchen, releasing their first ever porcelain. "As we are both tea lovers, and drinking tea is part of our daily routine, we wanted to design a cup celebrating the essence of tea drinking," the Skall sisters say. "With Stay Calm Cup & Plate we hope to inspire our followers to slow down, breathe and enjoy a cup of tea."
Handmade in Christophersen's small Copenhagen studio, the Stay Calm cups and plates are made in European-sourced grey clay and individually wheel thrown for a unique one-of-a-kind expression. As such, they're a testament to the importance of craftsmanship for the Skall sisters. "It is essential to both of us," the sisters note. "As we live in a globalised world, we think it is crucial to support craftsmanship and thus also unique design cultures – in Denmark as well as around the world."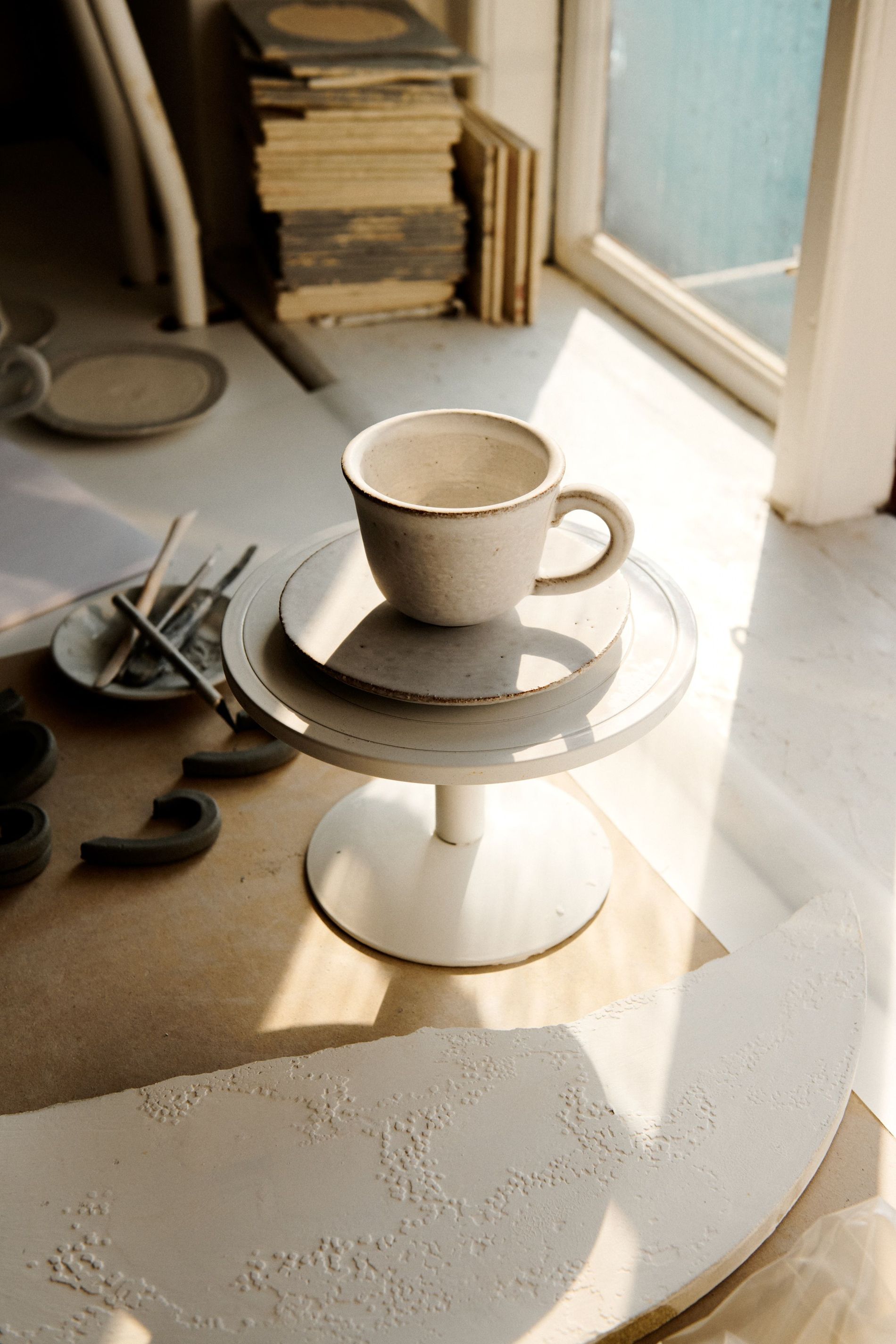 Photo: Skall Studio
Pret-A-Puppy: Match your dog with Arket's new canine coordinates collection
They say that there tends to be a resemblance between dogs and their owners, but now they can truly coordinate with Arket's new canine collection. In line with the brand's appreciation for good design, quality materials and long-lasting products, the range includes clothes, accessories and home items for precious pups. "We are so happy to be able to launch a full dog collection for our dear family members. Creating this line has been a joyous process full of love, care and attention, and the result is a collection we cannot wait to share with our customers', says Karl Johan Bogefors, Director of Brand and Communications at Arket.
The line consists of garments that match some of Arket's human-sized signatures, like a zip-up jumper knitted from responsible wool, a quilted jacket filled with Upcycled DownTM and a protective raincoat made from recycled materials. The accessories range includes a safety harness and leashes made from chrome-free leather or sporty nylon. For the home, the collection features dog beds with machine-washable covers and dog toys.
The dog collection will be available at selected physical Arket locations and at arket.com this autumn.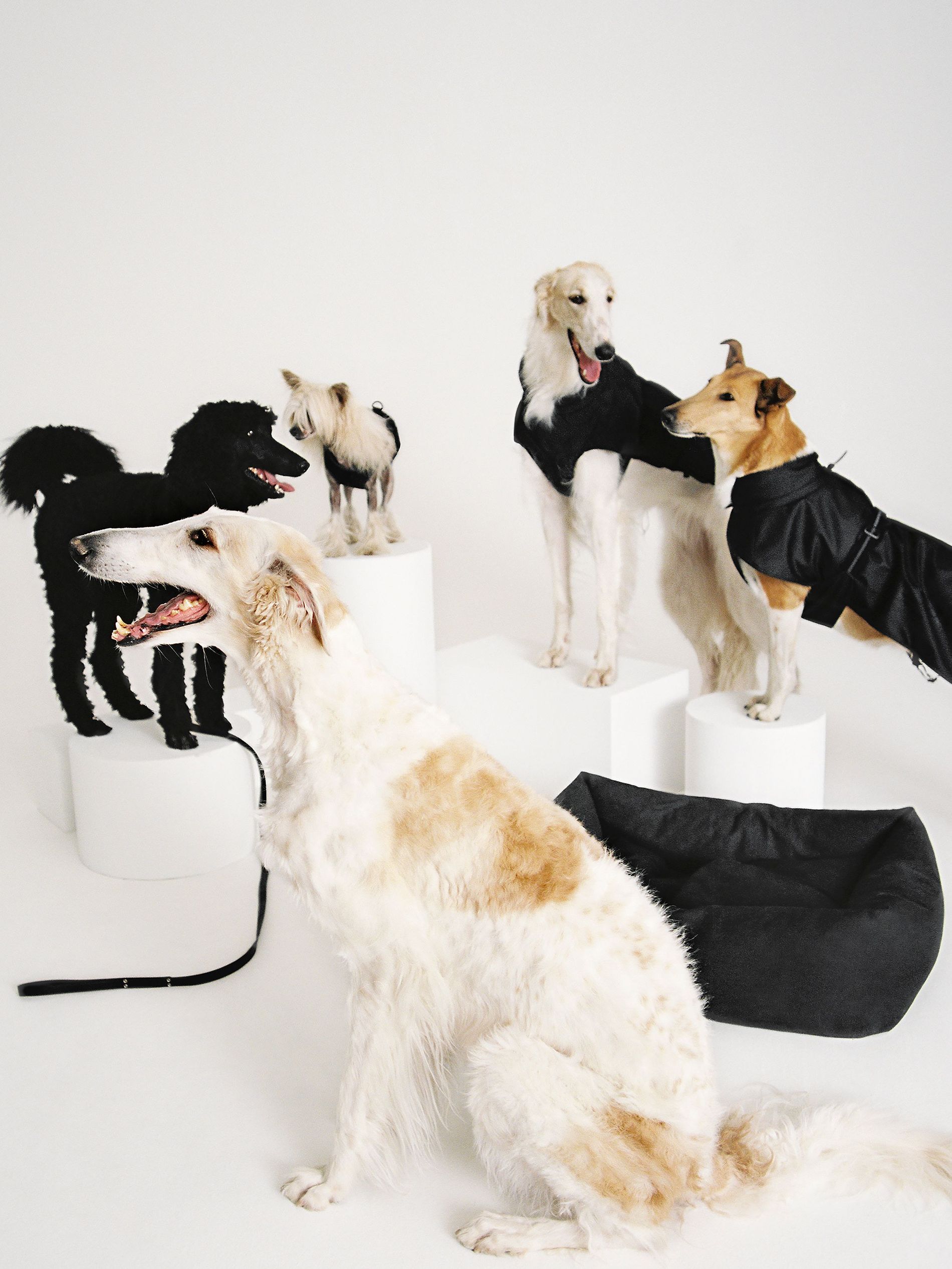 Cozy up this coming season in Tekla's red-hot collaboration with Farfetch
We're currently on red alert as Danish brand Tekla – known for its crisp bedding and sleepwear, favoured by Scandi It girls heading to the archipelago – partners with Farfetch for a fiery new capsule collection. Inspired by Trisha Brown's 1971 dance performances Roof Piece, the collection was launched with a seminal post-modern performance positioned on rooftops in New York's SoHo. Dancers, dressed in red hot Tekla sleepwear, played a game of telephone through dance. The inspiration continues online with each of the special edition sleepwear sets including a reproduction of an archival poster announcing the original performance.
Included are long-sleeved and short-sleeved shirts, pants, shorts, duvet covers, pillow shams and sheets. The sleepwear is cut with a unisex, oversized fit, made from crisp, lightweight cotton that sits gently on the body. Each of the special edition sleepwear set is embroidered with a commemorative message, and we find ourselves longing for cozy nights in spent on the couch and lazy Sunday mornings in bed – spent in bright red, of course.
Tekla
Red Collection embroidered poplin sleepwear set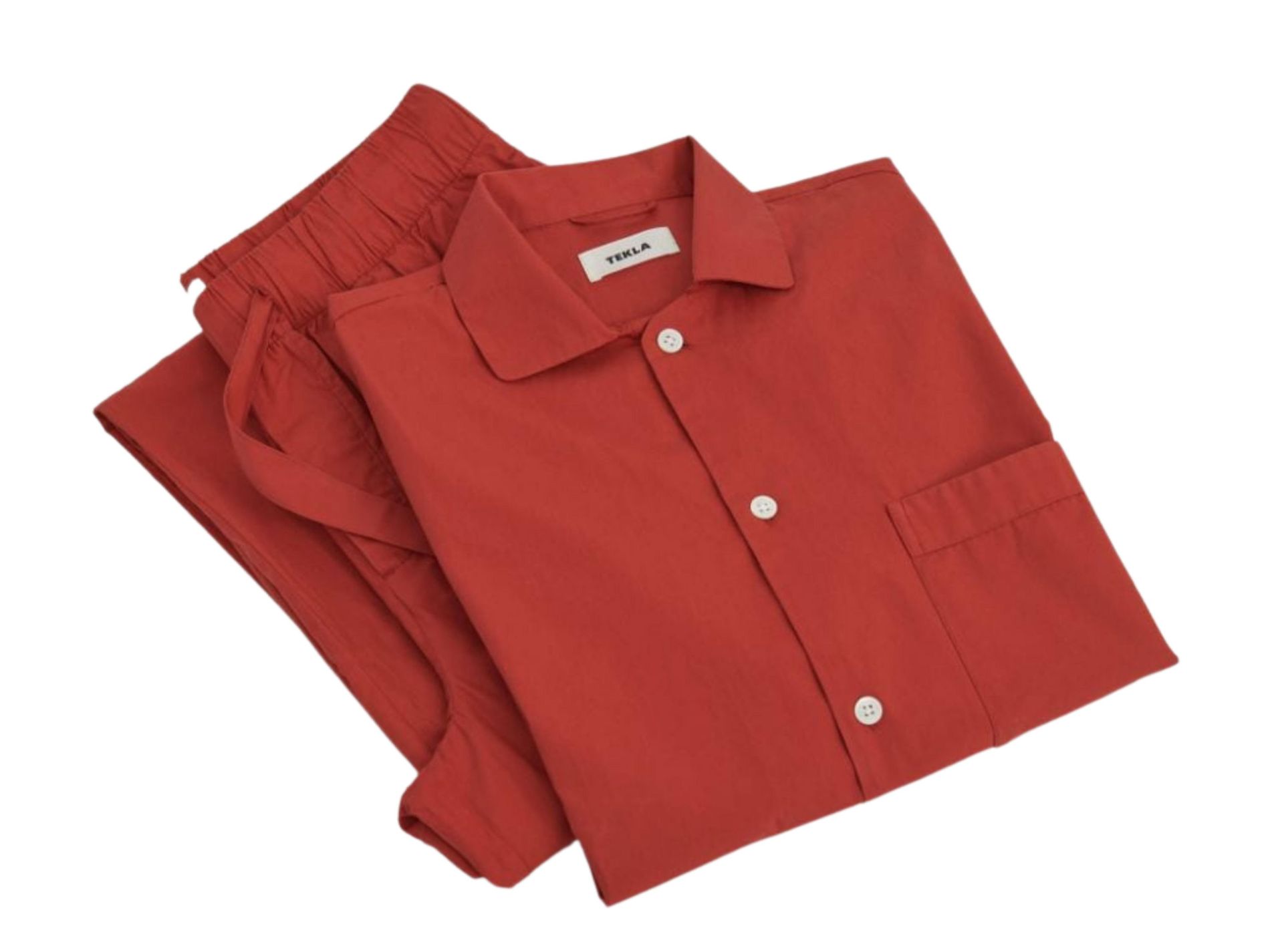 Bare legs be gone! Rodebjer's latest collaboration with Swedish Stockings has covered this coming season
It's almost redundant to point our how important layers are when combatting the cold – a moot point especially when speaking with Scandinavians. We all know a good stocking or undershirt is the best way to stay warm in winter, and with Rodebjer and Swedish Stocking releasing a particularly stylish collaboration, we consider ourselves set for the season.
Working with autumnal colours and prints, such as a plum check and green floral, the brands offer matching long sleeve tops – perfect to layer under knit sweater vests – and stockings that will ensure our minis last longer. Both female-founded and rooted in environmental values, Rodebjer and Swedish Stockings find familiar ground in creating timeless pieces that stay in our closets season after season.
The collection is available online, in Rodebjer stores and at selected retailers.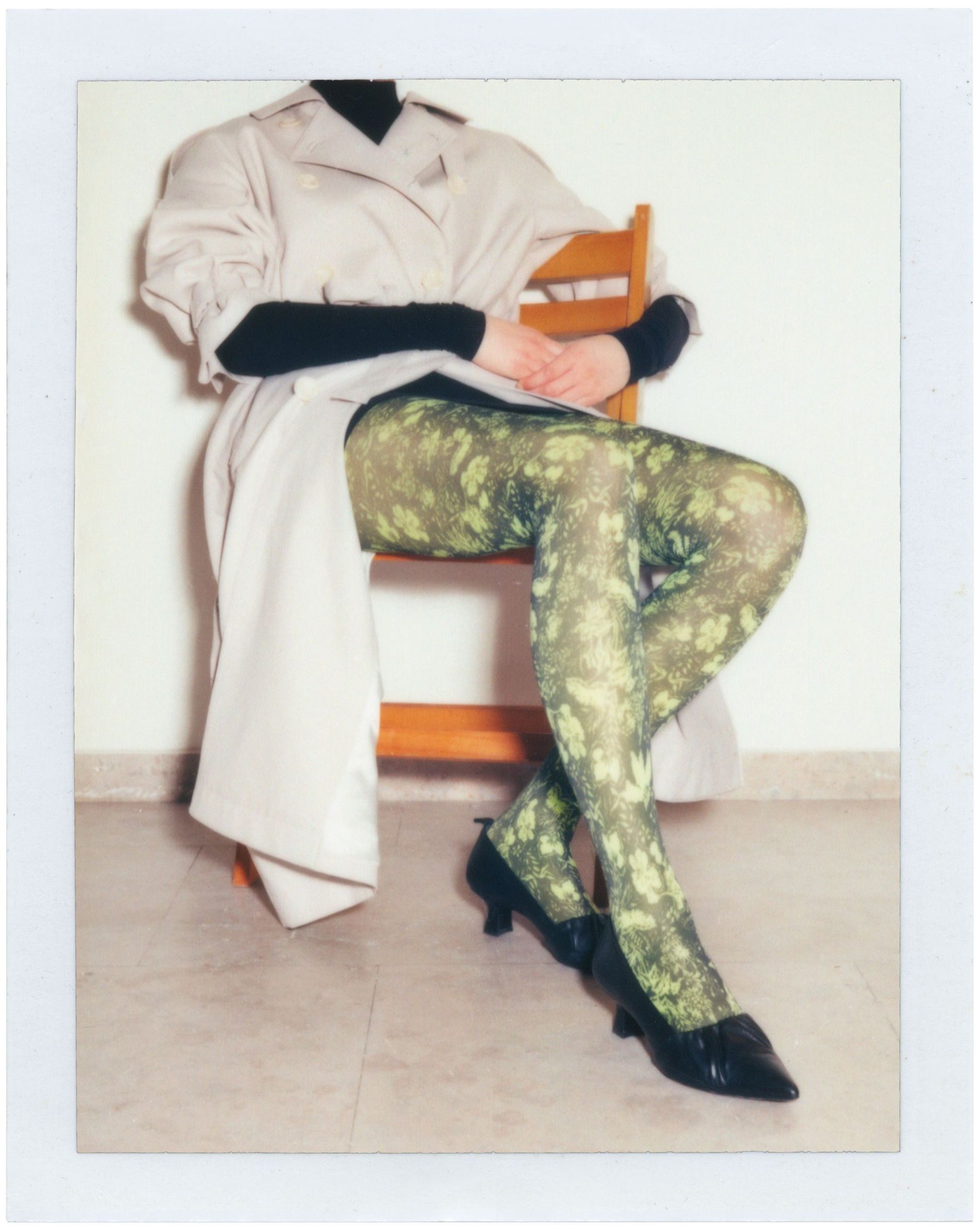 Photo: Rodebjer x Swedish Stockings
From XXS to XXL, wedding-guest dress favourite Rixo expands its sizing for the new season
Rixo is set to roll out an expanded size range. Catering to its cult online following, who frequently turn to the brand for its vintage-inspired aesthetic and flowy silhouettes, the brand has chosen 32 styles from its Autumn Winter collection to be offered in an expanded size spectrum, ranging from a European size 32 to 52. "We worked with real women of [UK] size 20 plus who helped give us honest feedback and advised us on what pieces from our collection they would want to wear," says co-founder and designer Orlagh McCloskey.
According to McCloskey, it was a very natural and informal process; "we invited a few women into our head office to help analyse the range and attend our fit sessions. Working with women who have found it difficult to shop their sizes opened our eyes also to the massive gap in the market. They gave us a real understanding of the demand as well as key points and considerations we might have overlooked." Her partner in sartorial crime, Henrietta Rix, agrees. "We want to make as many women as possible, who like the Rixo aesthetic, to feel the best version of themselves, and being able to reach even more women with our pieces means we can do this."
Featuring the brand's signature hand-painted prints, the extended curated collection of 32 pieces features bold winter florals, bright sequins, leopard print, and more muted neutral garbs in block colours. Checkerboard is seen again this season, as well as feather trims and velvet, combined to recreate the decadence of 1930s Hollywood – perfect to bookmark for upcoming autumn weddings or Christmas parties.
The extended sizes will continue to drop throughout September, October and November.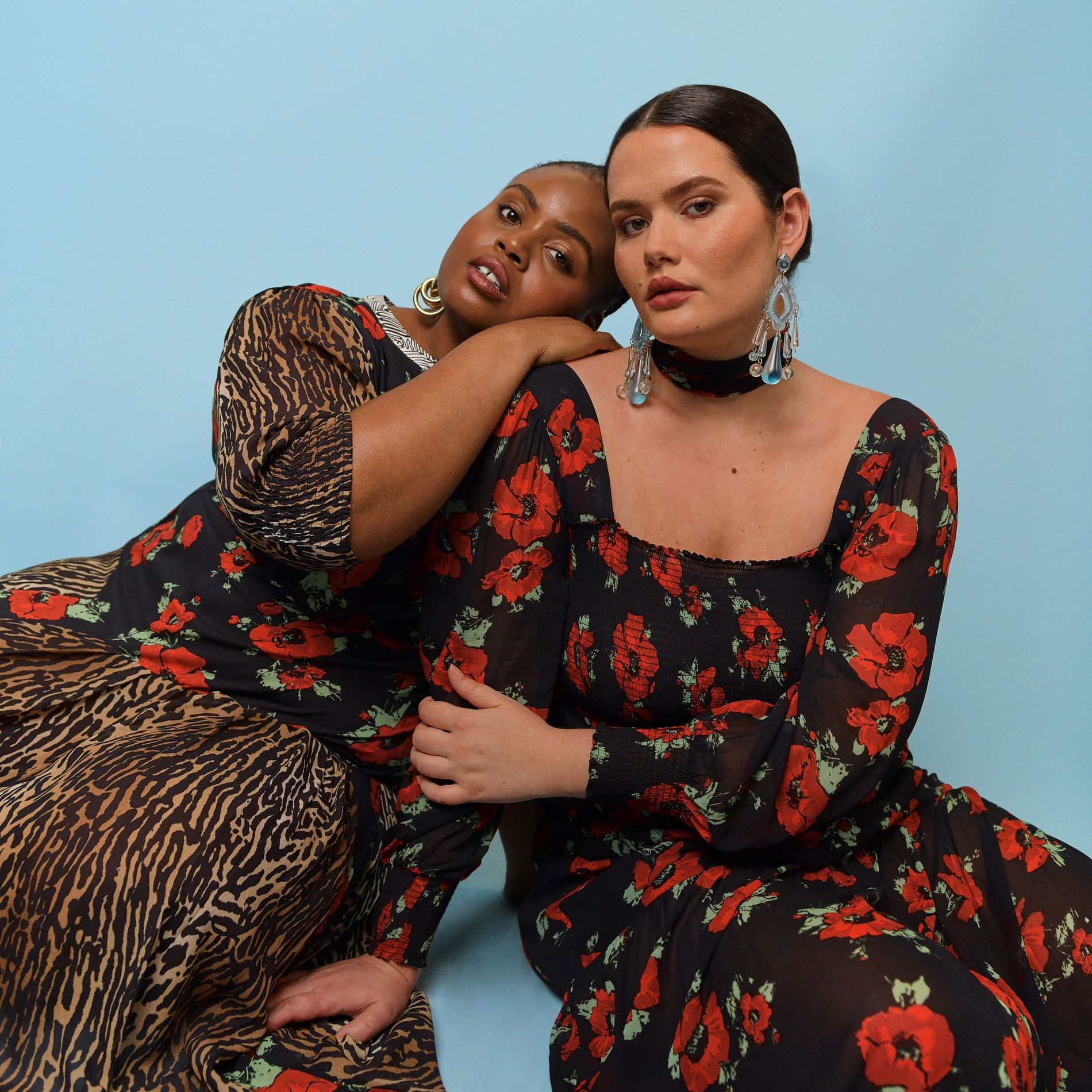 Photo: RIXO
Cartier is roaring into autumn with its new Panthère de Cartier Handbag
The panther is the emblematic animal of Cartier creations, with its paws reaching across jewellery, watches, and leather goods. First appearing in 1914 on a Cartier women's watch in the form of a spotted motif, it gradually seeped into the brand's other lust-worthy categories – and the French heritage house has now revealed its latest instalment, the Panthère de Cartier bag, uniting jewellery and leather in a softly curved, staple handbag that boasts plenty of savoir-faire for what's coming at Cartier.
What makes this latest iteration of the panther iconic is the clasp. A Cartier signature, recognisable at first glance, this panther head was created in collaboration with a High Jewellery sculptor. "It is through this jewellery clasp that this encounter between the wild and the precious takes place," Marlin Yuson, Director of Accessory and Leather Goods Design, said of the design. "It synthesises the combined expertise of jewellery and leather and, through the dialogue of the craftspeople, enables us to advance our understanding of leather goods. Like an extension of femininity, demanding and refined."
As it seems, the French Maison has only scratched the surface of what it can do with its iconic Panthère de Cartier line.
The Panthère de Cartier Handbag is available in stores from the 1st of September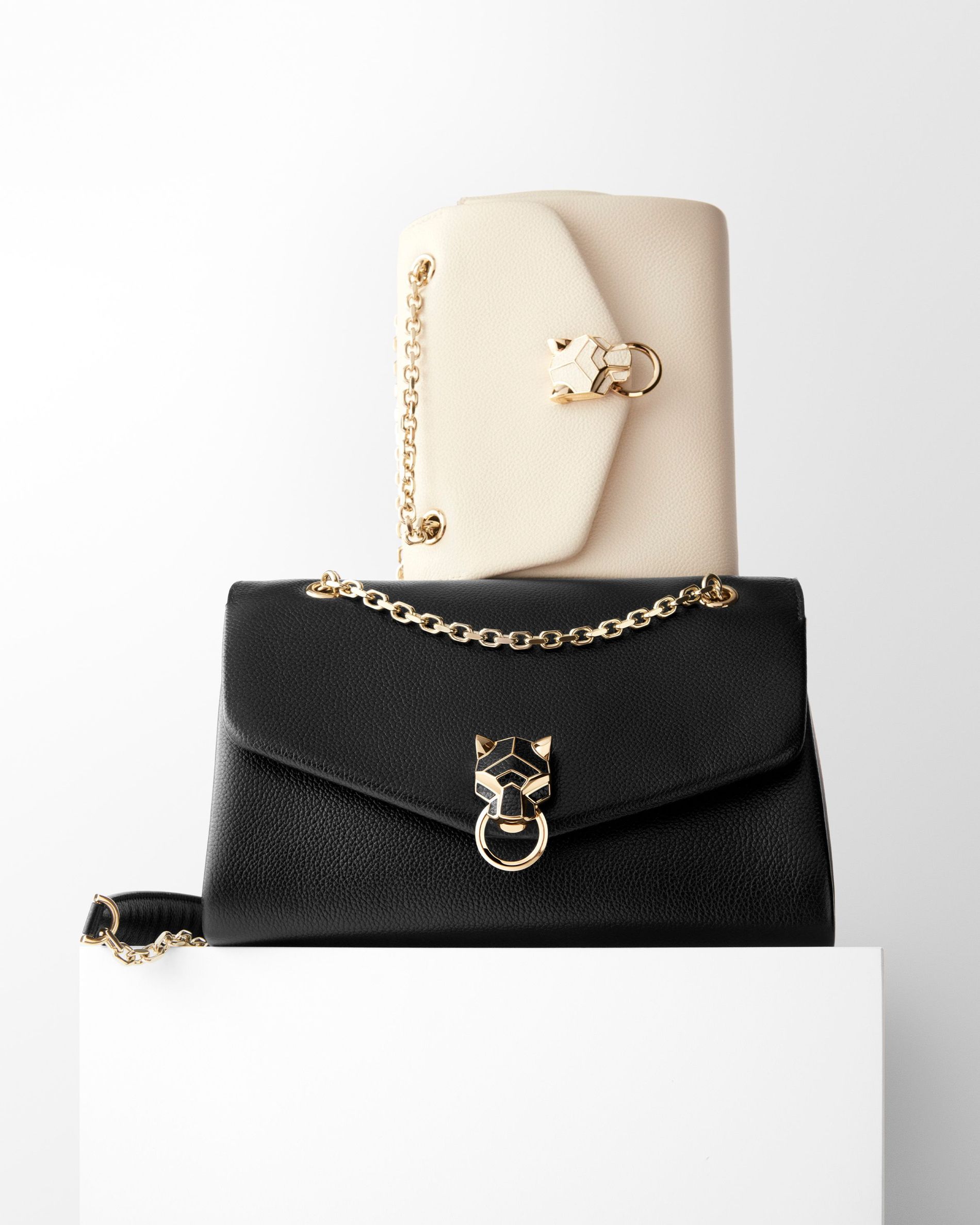 Photo: Cartier