Speaking to the Finnish fashion designers of tomorrow, Vogue Scandinavia zooms in on Aalto University's graduate collections to revel in the details during Fashion in Helsinki
When perusing the preview of Aalto University's annual fashion showcase Näytös – highlighting the work of the BA and MA graduates in Textile Design – there was a clear sense of where the future of Finnish fashion is heading.
The university has cemented itself as a power player in terms of design education, nurturing a long legacy of creativity and allowing students the space to explore their individual expressions. Yet while individuality was very much at play in the 18 collections presented this year, what truly set this years graduating class apart were the captivating design details – all demanding attention.
From heritage rich beadwork to avant-garde concepts and sustainable practices, these collections effortlessly blend traditional craftsmanship with cutting-edge techniques, resulting in ensembles that are both visually stunning and intellectually stimulating. Below, explore the exciting graduate collections and discover our five favourite design details at Aalto University's annual fashion showcase: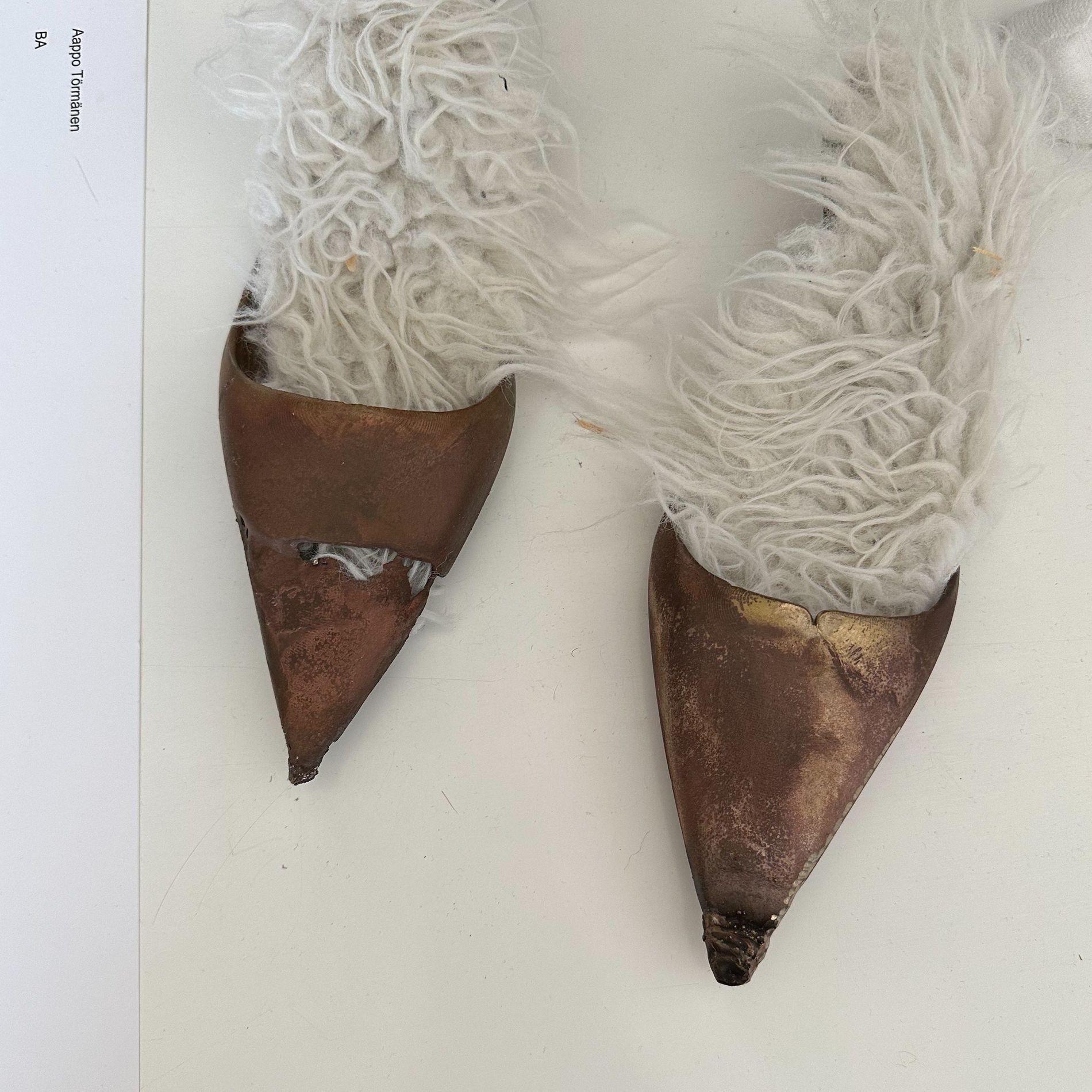 Shrimp shoes by Aappo Törmänen
"My work is very much focus on power and control," Aappo Törmänen explains, flicking through a rack of looks where worn materiality evidently takes centre stage. Passing by both buttery leathers, paper-coated Belgian linen and a "preppy hoodie" modelled after the BA graduate's ex-boyfriend, Törnmänen's fascination for materials that "possess some sense of derangement" finally leads us to the accessories: a pair of bronze coloured mules made from shrimp paste cast in a 3D-printed model. All because Törmänen "doesn't really know how to make shoes, so why be conventional about it?"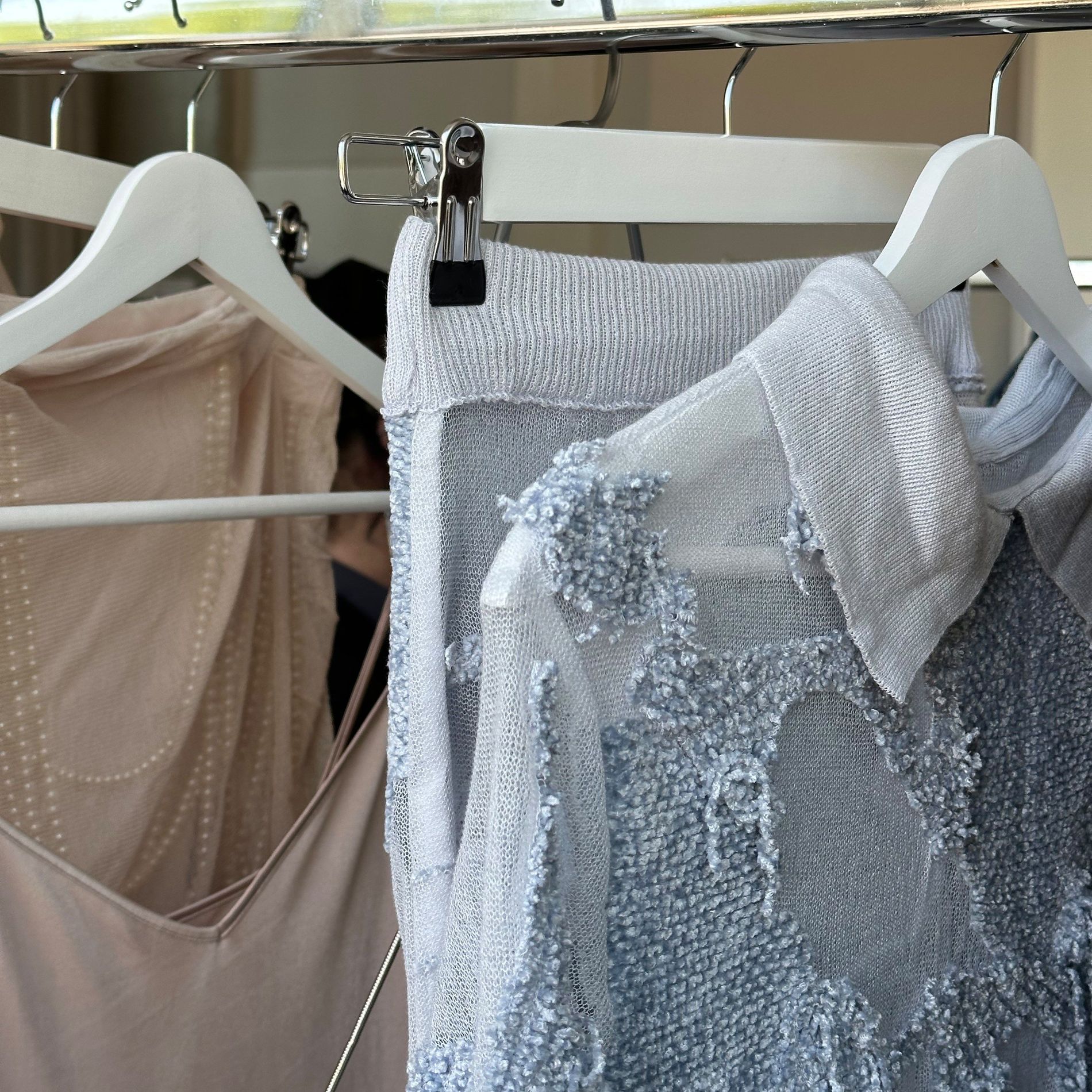 Hidden pearls by Idaliina Friman
Inspired by her grandparents' migration during the Second World War – when valuables were stitched inside the lining of clothes – Idaliina Friman was "especially inspired by the study of symbolic meanings and emotions" related to these hidden treasures. This "practice of hiding" laid the foundation of the MA graduate's experimental and experiential beadwork, stitching strings of pearls made out of recycled glass into her hand-dyed tulle garments – the weight of which "transforms the silhouettes" in unexpected ways.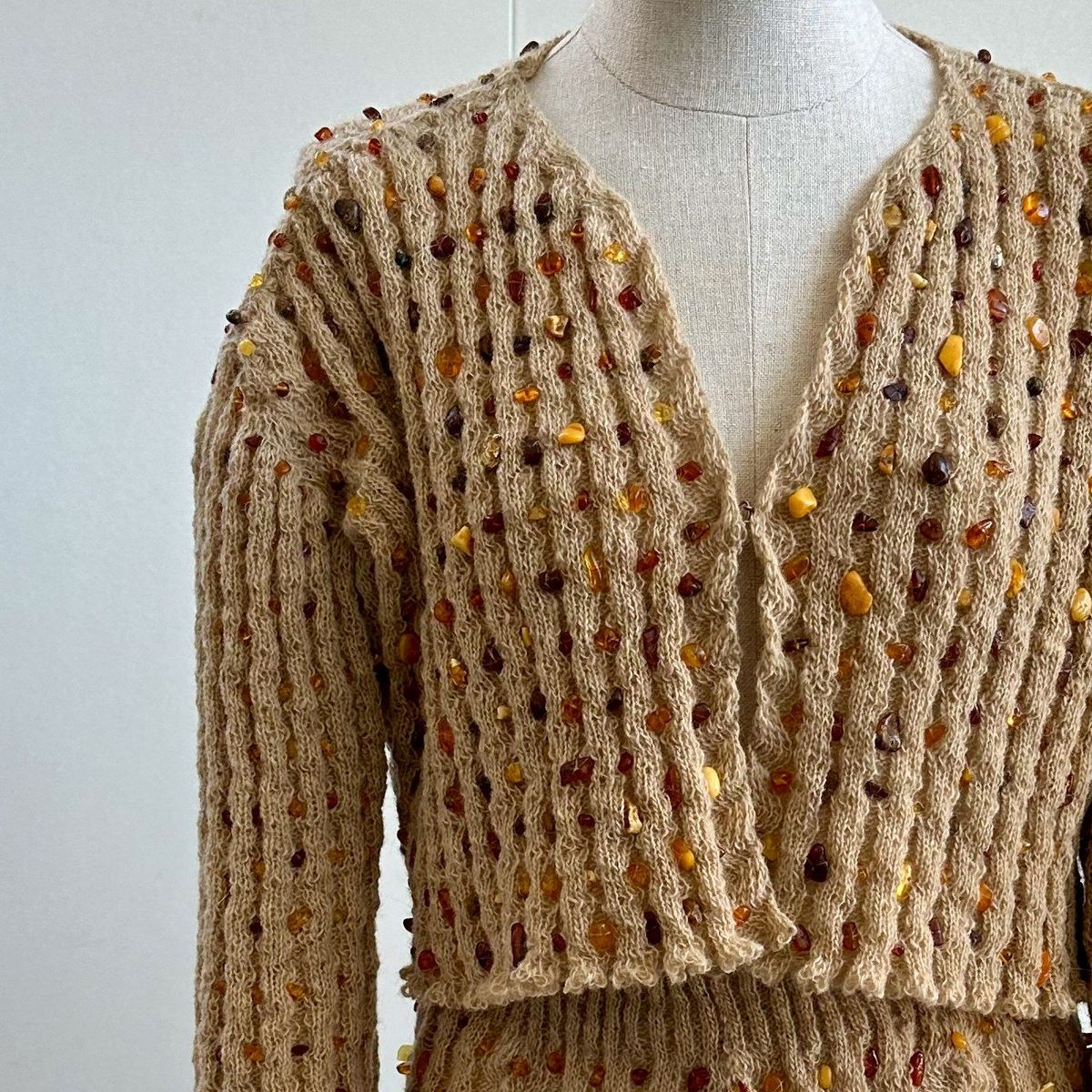 Folkloric beadwork by Elina Silina
MA graduate Elina Silina's collection is a deep dive into Latvian folk symbols. Discovering her own heritage and Latvian roots, the designer explored traditional materials and techniques with a modern twist – be it the dyed edge of a sheep skin coat or mushroom dyed raw wool. The stand-out among an avalanche of thought-through details, however, was the amber beadwork. "It's worn back home to help with teeth aches or to protect against gossip and bad thoughts," Silina explains.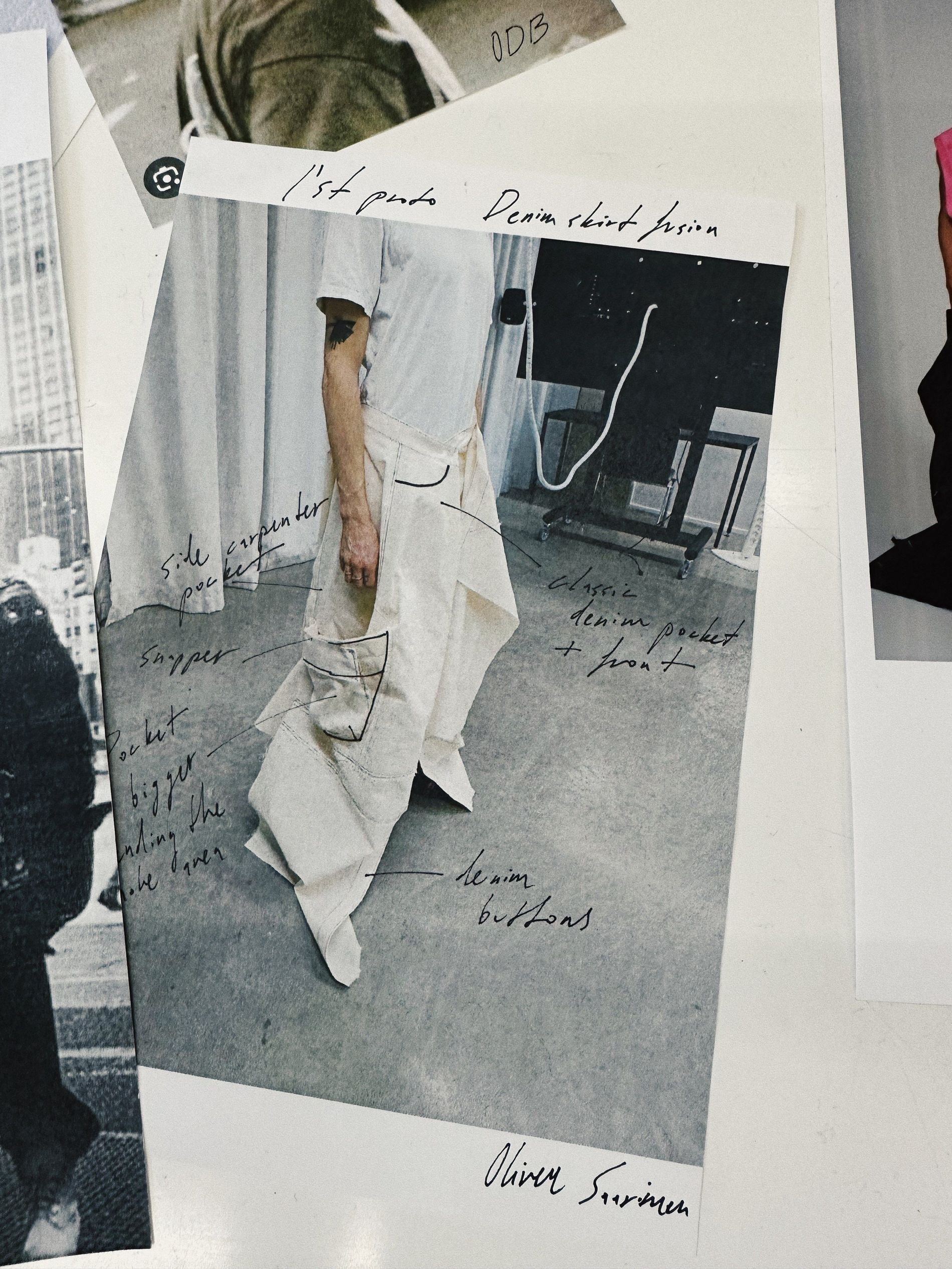 The blown-up pockets by Oliver Saarinen
Oliver Saarinen's graduate collection underwent a last-minute transformation the night before the showcase. "I dyed all the pink pieces and bleached them in a School bathroom," he says, flipping through the black and orange tie-dyed streetwear on the rail. With a background in tailoring, the playful silhouettes, while exaggerated, have a certain sense of intention. The best part? A pair of JNCO-reminiscent jeans with blown-up cargo pockets and raw-edged patches that Saarinen "nailed already at the prototype stage."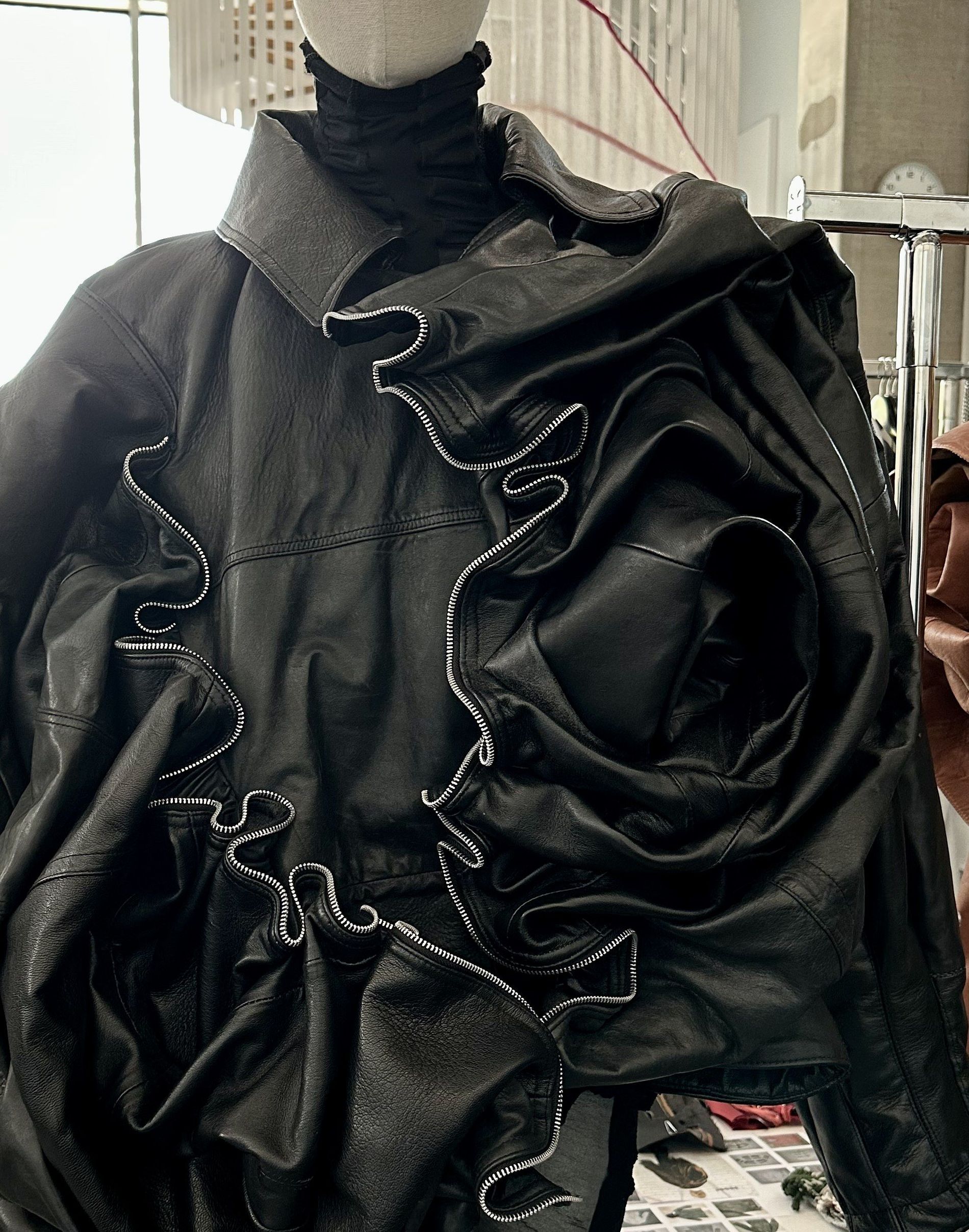 Leather sculpting by Anni Salonen
Anni Salonen's MA collection is aptly dubbed 'Not Another Sustainable Collection.' Exploring the world of upcycling, the designer spent hours sifting through recycling centres, friends wardrobes, and thrift shops on the hunt for her materials. What she found was an abundance of jeans, leather jackets, and nylon tights. While preserving the silver zippers, this piece is upcycled from nine jackets into a scrunched, sculpted floral shape – a feminine statement that transforms the classic biker material. A (leather) rose by any other name...