Enduring in both design and quality, Decadent Copenhagen is a proud Danish label built to last
In collaboration with Decadent
In terms of legacy, having a mother with great taste in handbags is certainly a style coup. Well, it was for Karina Mundt Holst, founder and creative director of Decadent Copenhagen. Add in a painter father with meticulous attention to detail, and it's little wonder that Karina is at the helm of this much-loved luxury handbag brand, coveted for its timeless style, uncompromising craftsmanship and affordability – it's in her genes.
"The way we lived and the way we viewed quality… it was definitely a focus," she says. "I'm very inspired by Danish architects from the 1950s, 1960s, 1970s; Danish design is a huge inspiration to me. When you create something that stands for so many years — like the house you live in — I would never compromise on this type of quality."
These fundamentals were so important to Karina when she started Decadent 15 years ago, "by coincidence rather than a plan," and continue to fuel the brand today. But like all good fashion stories, Karina never intended to become a handbag designer, let alone create a brand of her own.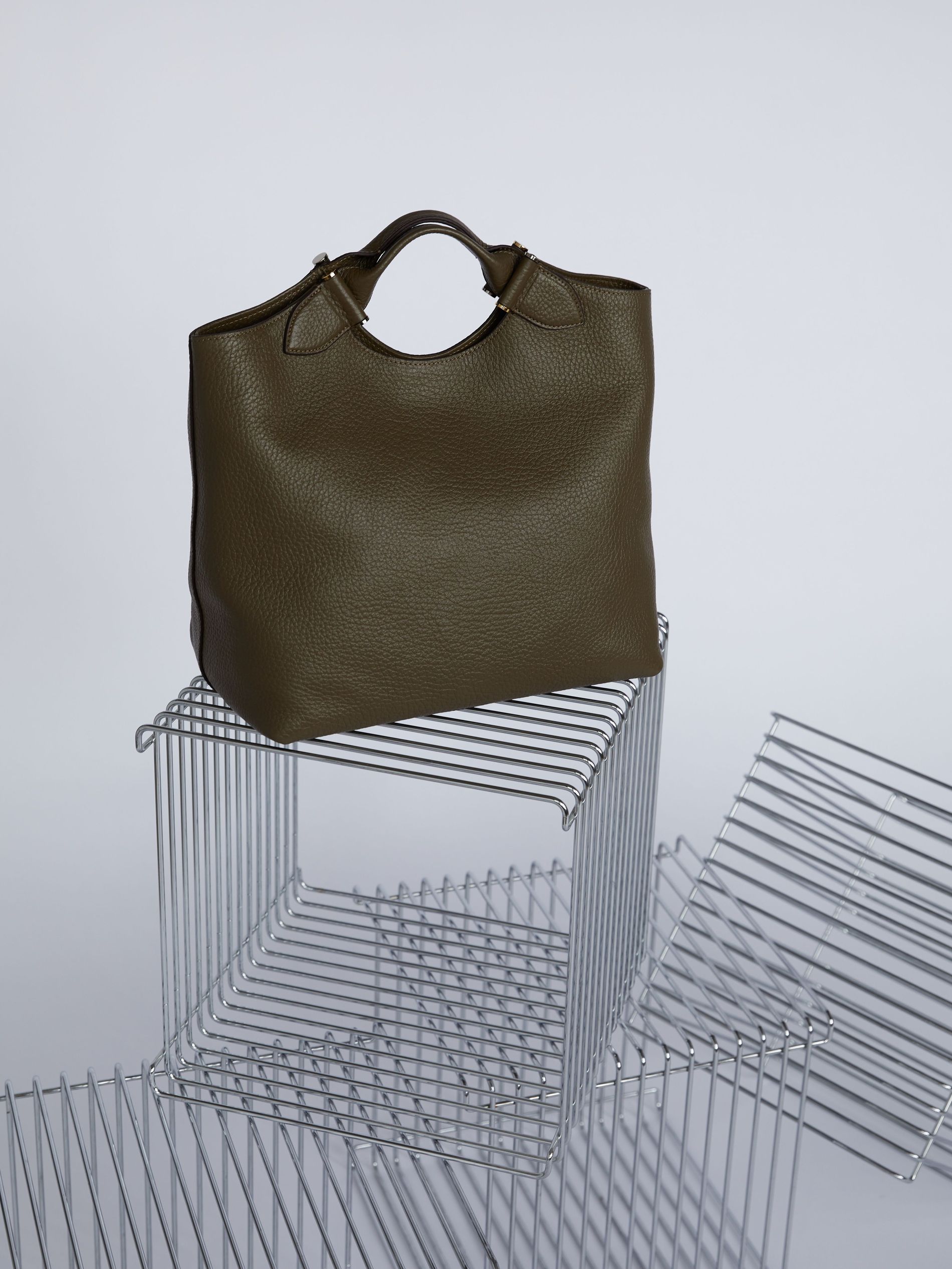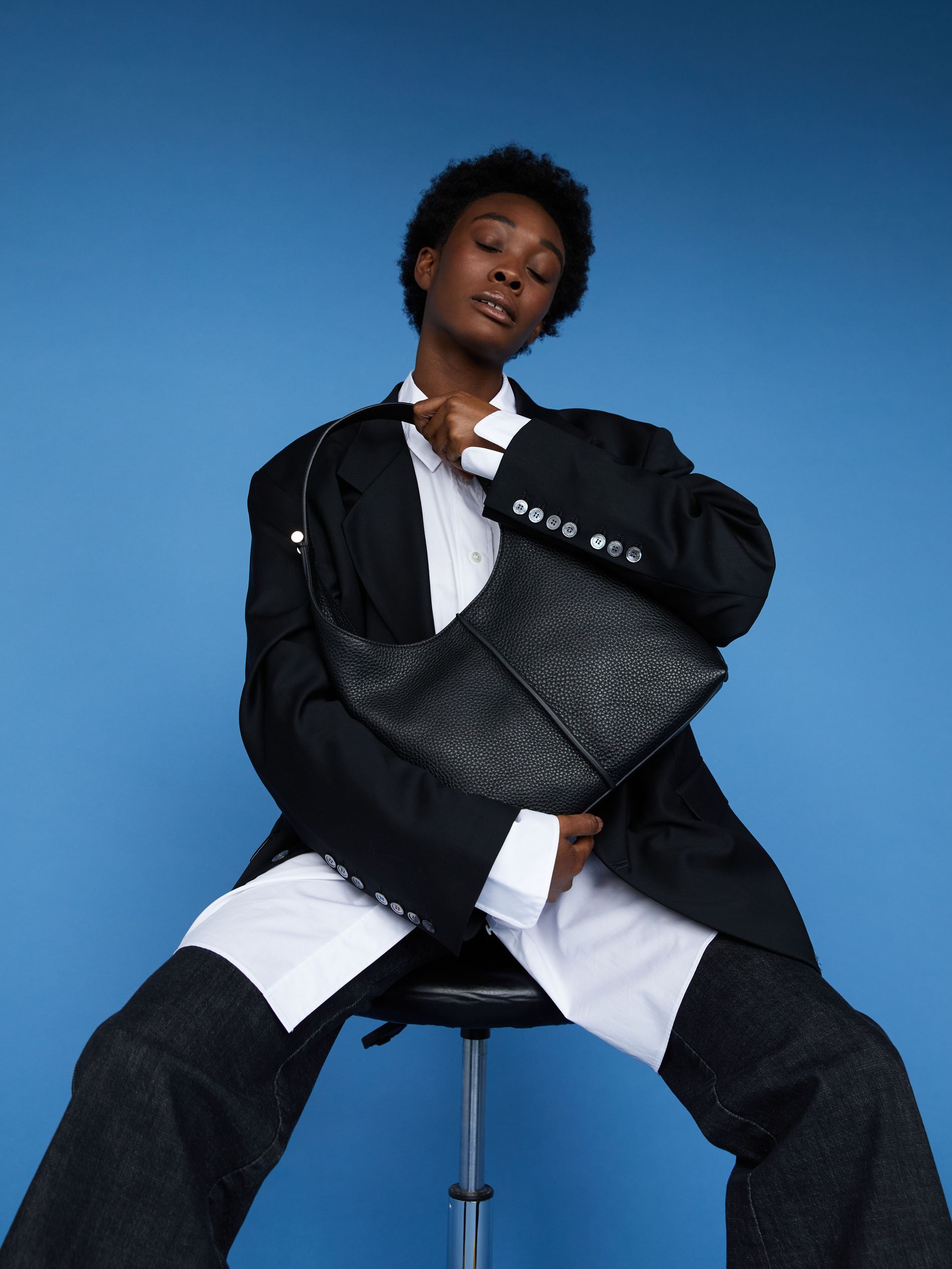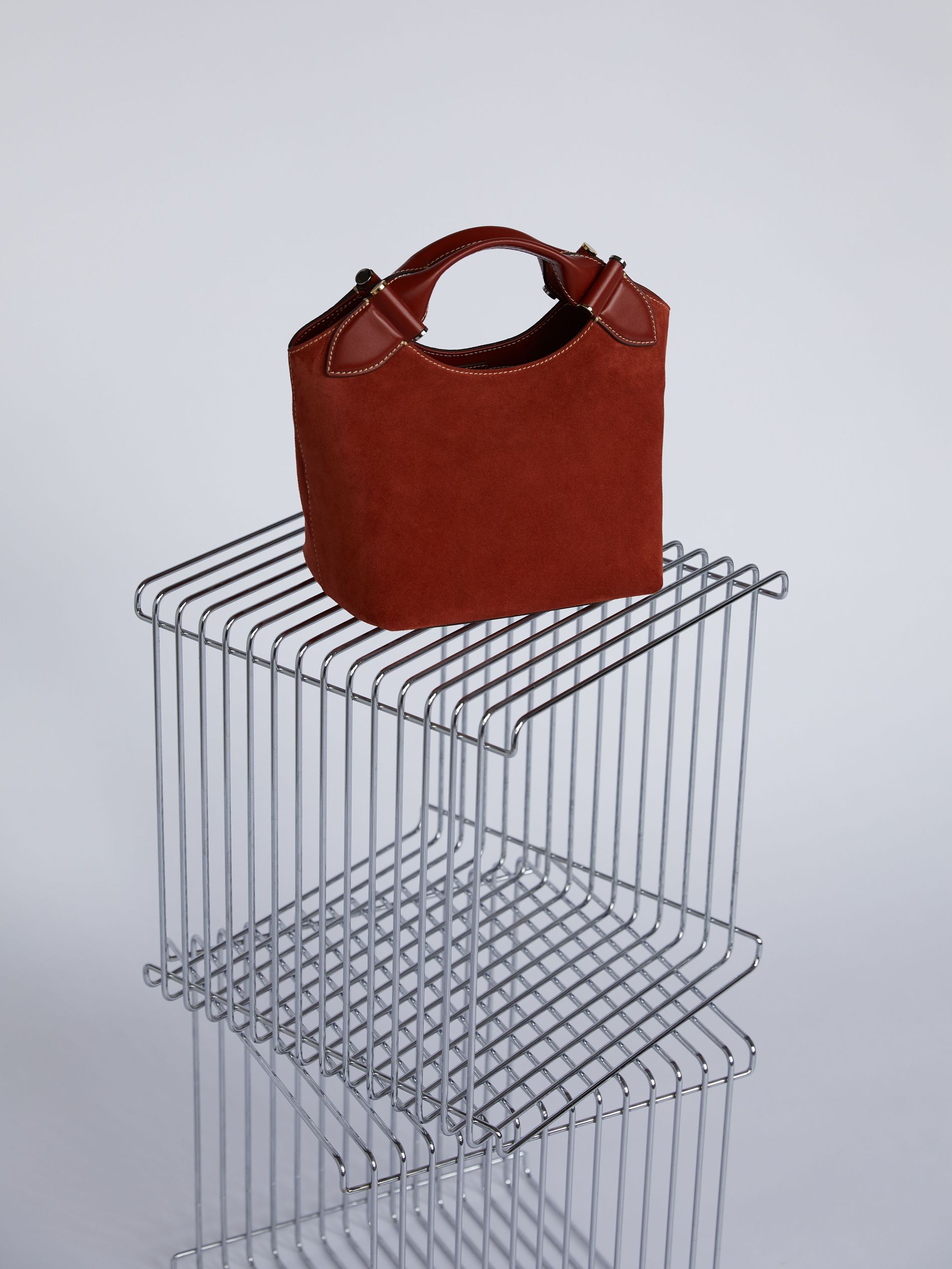 "I found my mum's old bag from the 1970s and then saw the same design everywhere in Copenhagen — they were selling them at flea markets, young girls had them in their bicycle baskets, and I just thought, 'this bag is really, really special', I saw it as an aspiring business opportunity — no business plan, no targets, it was more of a feeling… I thought let me try, you know," she says.
Karina had been working in the industry for 10 years before Decadent was born, mainly as a textile buyer, but she also dabbled as a designer, sales rep and retail manager. She says her background set the foundation for the chapters that would follow.
"I would say it gave me a lot of experience in what I didn't want to do," she says. "Working with people from different cultures, different places… when combined together, you know, I was really sure about the direction I wanted to present my brand and myself."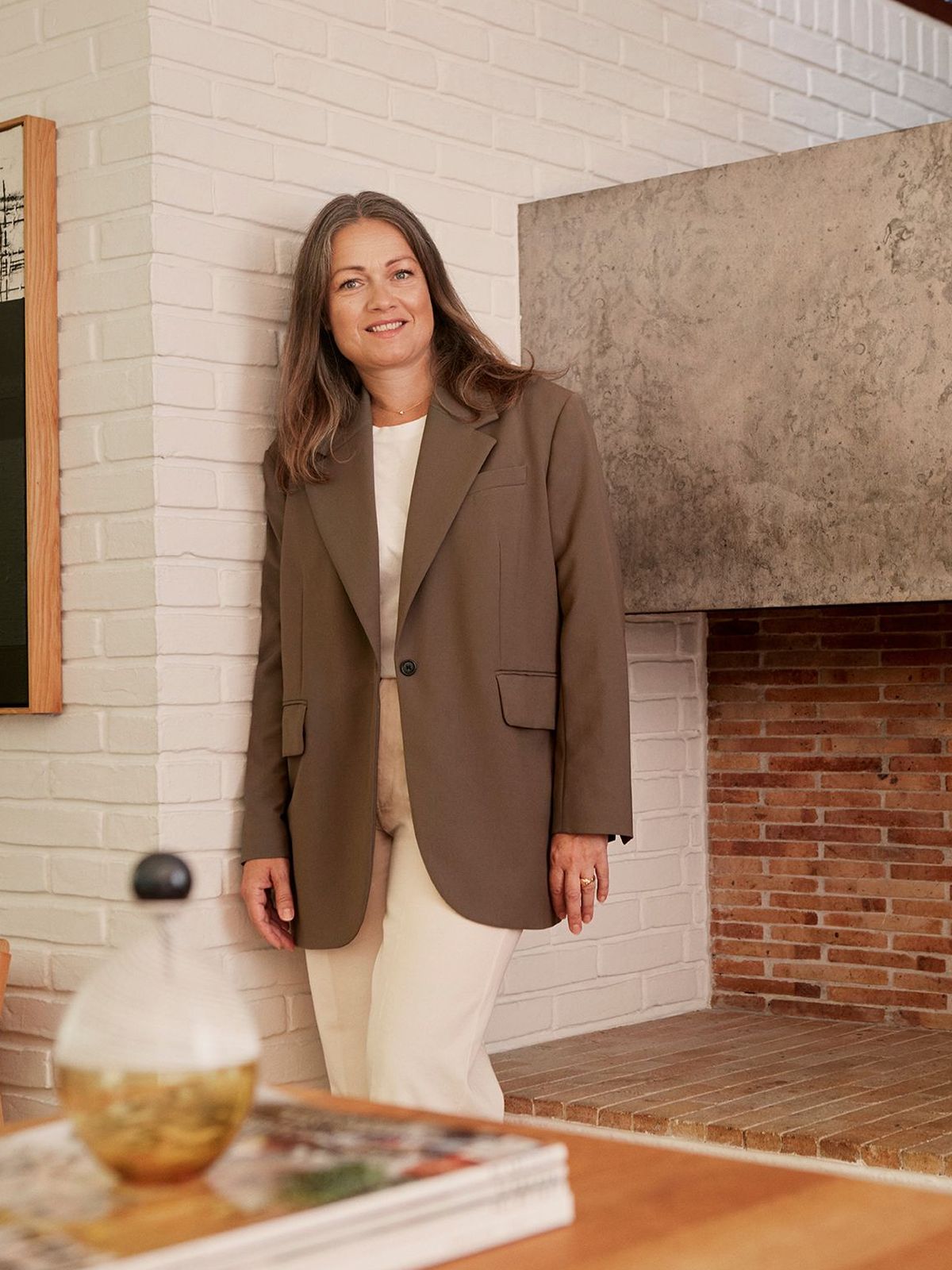 Karina Mundt Holst, founder of Decadent. Photo: Luka Roné
Once the wheels were set in motion, Karina contacted a friend and former work colleague in Istanbul and asked for help to source leather producers. She chose one (which still makes Decadent bags and accessories today) and ordered the minimum quantity — one hundred bags. "I just thought if it didn't work out, I'd work something out — I'd have a stall at that flea market in Copenhagen," she says.
Like a proud Mum cradling a new bundle of joy, Karina drove around Denmark's best-known stores and boutiques carrying 'Rina', her take on the 1970s bag inspired by her mother's and showed it off to those who asked her about it. "'Oh this? It's actually a bag I sell….' I used to say. They didn't know who I was, they didn't know I made it or anything like that. I wanted it to be all about the product and the honesty of the product – that it was well made and good quality with a retro styling but still Scandi cool and classic," says Karina.
Fifteen years on, not a lot has changed (except for writing and actioning a business plan); it was and is still "all about the product". Staying true to her roots, Karina values Danish design and incorporates this into every handbag: simplistic, minimalistic and timeless, independent from seasons and trends. The Rina bag is testament to this — its classic design (two handles and a front pocket) is still the beating heart of the collection today.
Ordinarily, there are 15 to 20 handbags in a Decadent collection, but during the pandemic, Karina says this number was narrowed down and more colour was introduced "to bring back more life" post lockdown. The next collection, to be released in December, includes all the neutral tones Decadent devotees are accustomed to, plus bright greens and oranges, soft lavenders, and gold and silver metallics.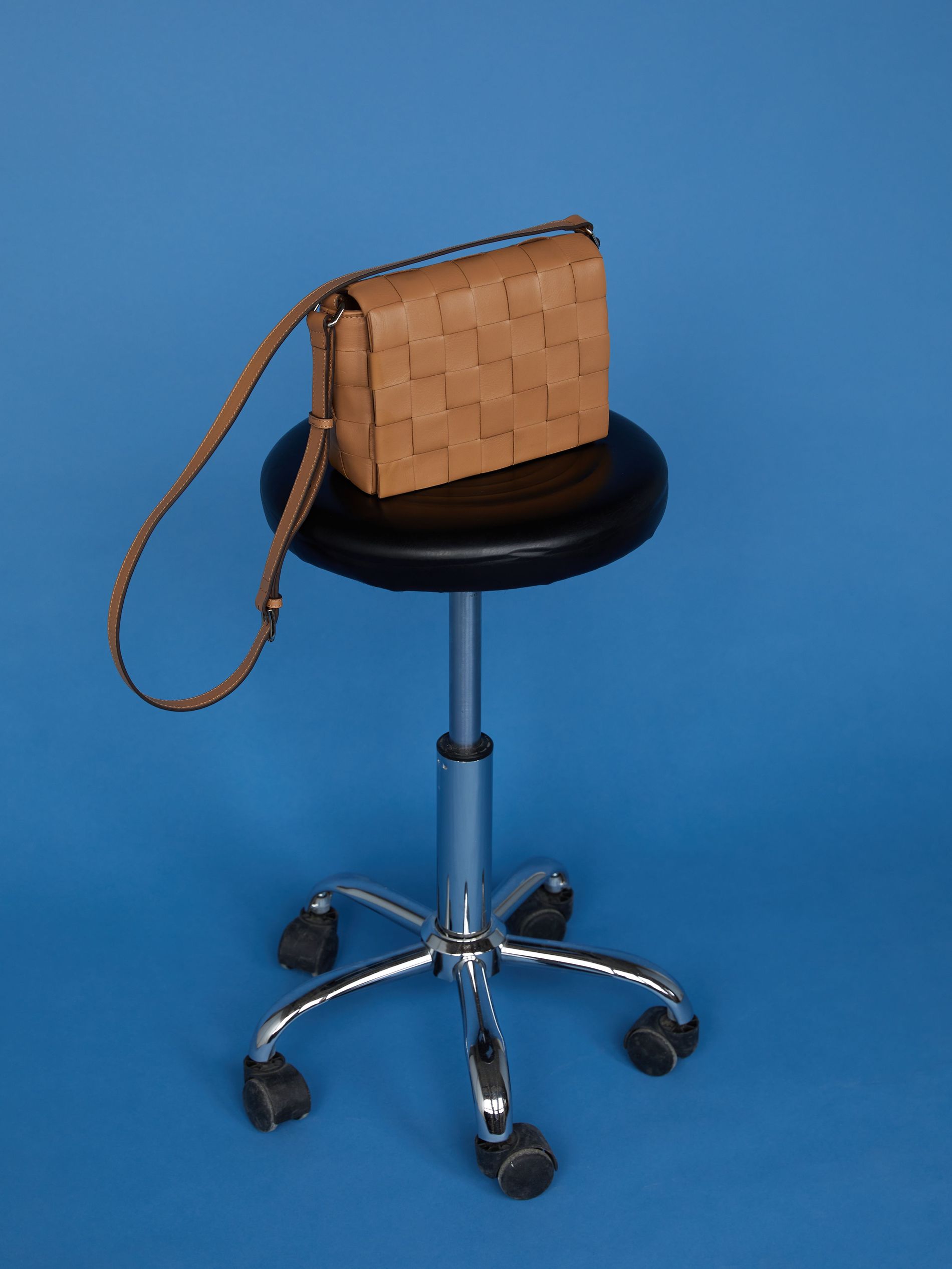 Leah woven crossbody bag. Photo: Luka Roné
Keeping in line with Decadent's classic designs and sustainability principles, the handbags — all named after females — are made to "last a lifetime", right down to the complimentary 'Life Extension' service where handbags can be repaired in stores in Copenhagen or at the factory in Turkey. This practice may go against many business plans — why create a product which never needs to be replaced — but Karina maintains that creating a lasting product "creates a good and honest business" which will lead to new and repeat customers. Besides, every handbag lover knows there is no such thing as too many.
Handmade from a high-quality, locally-bred leather, the handbags are produced on demand rather than in large quantities. The factory has a zero-waste policy; no animal is killed with the sole purpose of making a bag and no leather goes without use; cut offs are made into keyrings and other accessories.
With such staunch, uncompromising principles it's hardly surprising Decadent has become the success story it has.
"We are really, really transparent about our business. I am all about not taking shortcuts, or compromising or anything like that," says Karina. "I want to do it my way or no way."