Meet the quartet who helped make Paris' latest Menswear Fashion Week a gender-fluid, inclusive hit
The idea of masculinity and menswear being redefined was on full display in Paris at the spring/summer 2023 Menswear Fashion shows last month. Gender-fluid designs and more inclusive casting helped the event push fashion for everyone, as it should. In addition to the runways, the fashion week street style pioneers were also serving up fire and gender fluidity this season.
I had a chat with four fashion trendsetters that I met during the men's show season in Paris.
Alioune Badara Fall
I spotted Alioune Badara Fall at the Christian Louboutin party in a gorgeous long and sleeveless leather coat. I stopped him to ask where the coat was from and he told me it was by Kyle'Lyk, a brand from Fall's chosen home of New York City. We met again throughout the week and I got to know the person behind the stylish look: Alioune Badara Fall is a model and creative from Senegal who calls fashion and his style his "armour". "It reflects my background, my story, and my goals as I wear pieces that translate my current interest," he told me.
Gender fluidity to Fall means to do whatever he feels comfortable with. "I do mix men's and womenswear in my looks," he says. "As a matter of fact, I wore a Fendi women's look to the MET Gala after-party and it was fire!" Fall and his girlfriend regularly exchange jewellery pieces and his style is not restricted by gender. "I believe that a lot of garments are made to be unisex. It's truly about what fits and makes you feel the best version of yourself."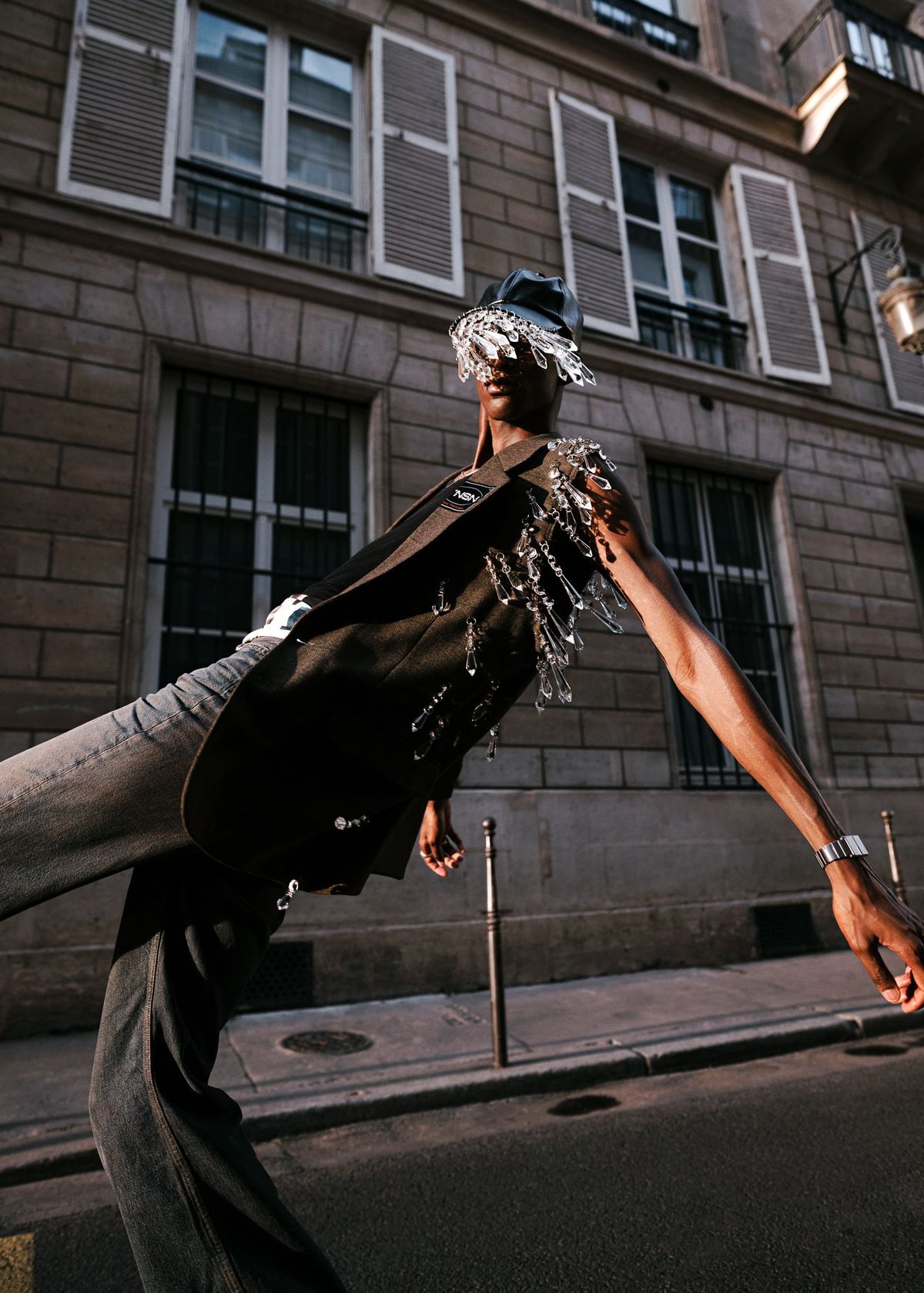 Photo: Renaud Labelle
His style at the moment is inspired by the 1970 and 1980s with a touch of African Futurism. He says he's currently very into "hoochie daddy shorts," which we saw on the runway this season in addition to his favourite piece, Abf customised Air Force 1s by his own brand. I asked Fall if there is a summer trend that he would not wear and his answer was simple: Crocs. Instead, Fall currently has his eyes on the pink Malle Mini Soft bag by Louis Vuitton.
He describes the new season's menswear shows in Paris as refreshing, innovative and aware. "A lot of brands have surprised us such as Loewe with the clothes spurting real-life plants, seeded and grown onto fabrics," he says. "I admire when designers stay creative and yet take part in the conversation of sustainability."
Everett Williams
Everett Williams is an LA-based creative and photographer originally from Columbus, Ohio. Just like with Jess, Williams and I haven't seen each other for years; one of my favourite things about Fashion Weeks is catching up with friends from all around the world.
Williams describes his style as classic with modern twists. "I love to explore how to make traditional and classic into modern and new-age style," he says, adding that he barely thinks about gender when styling a look. "I've never really seen pieces or products as a category of gender. It never made sense to me why we would separate a store based on gender when in fact women's and men's garments usually start from a very similar shape and pattern." When I ask Williams about gender fluidity he tells me he finds the term interesting as so many people have a different meaning for it. For him, gender fluidity means that there really is no gender separation and the concept of what is women's or men's doesn't really exist.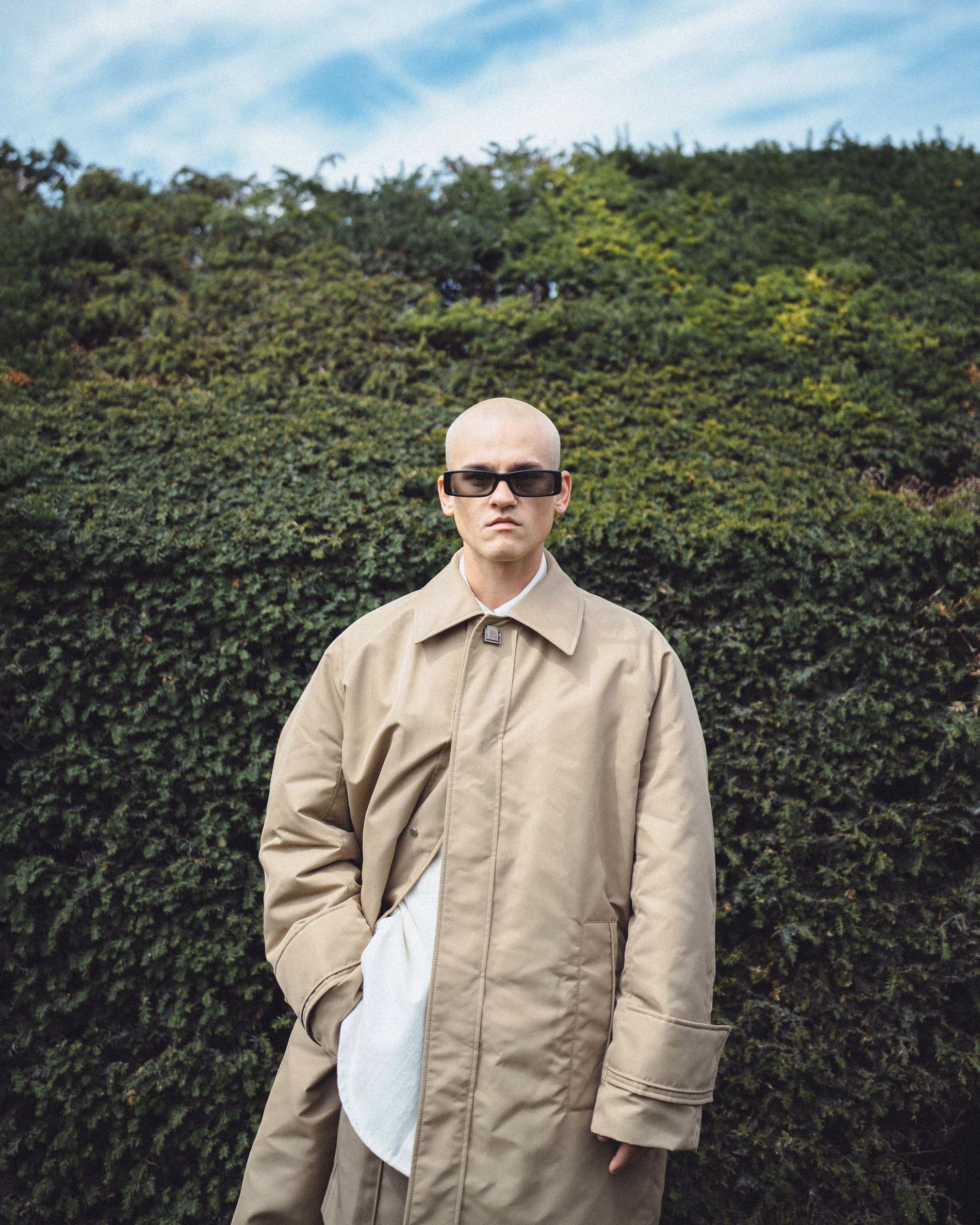 Photo: Nicholas Scarpinato
This summer Williams is into proportions and silhouettes and loves wearing big coats with short shorts and big wide trousers with a skin-hugging top. Nevertheless, there is no summer for Williams without his seasonal staples – big oversized shirts. At the moment Williams is very into layering and on his wishlist he has "anything and everything Acne Studios."
For Williams, Paris felt like a new dawn of design. "I think everyone did a really great job at coming to the table with a concept, a thought-out design and almost a sense of joy to put back into the clothing. You could really tell that many of the designers got back into their groove after the pandemic, and I think we finally got a powerful season from almost everyone that showed."
Eric Jess
Eric Jess and I have met before in Paris, but pre-pandemic so it has been years. We met at the Egonlab show this time, but ended up bumping into each other the whole week long and I even helped him and his friend get back into their apartment after forgetting their keys inside. (I have to thank my lumberjack dad for good climbing skills, which I didn't know I would need at fashion week.)
Jess, who is from LA and currently based in New York, describes his style as a combination of a 1970s rock 'n' roll pirate and a 2000s tourist gift shop. Music is always the number one inspiration for him but right now he loves wearing reworked basics and small tops with big pants. He says he doesn't really think of gender when he is getting dressed or buying clothes: "I tend to shop all sections of a store no matter if they are gender identified."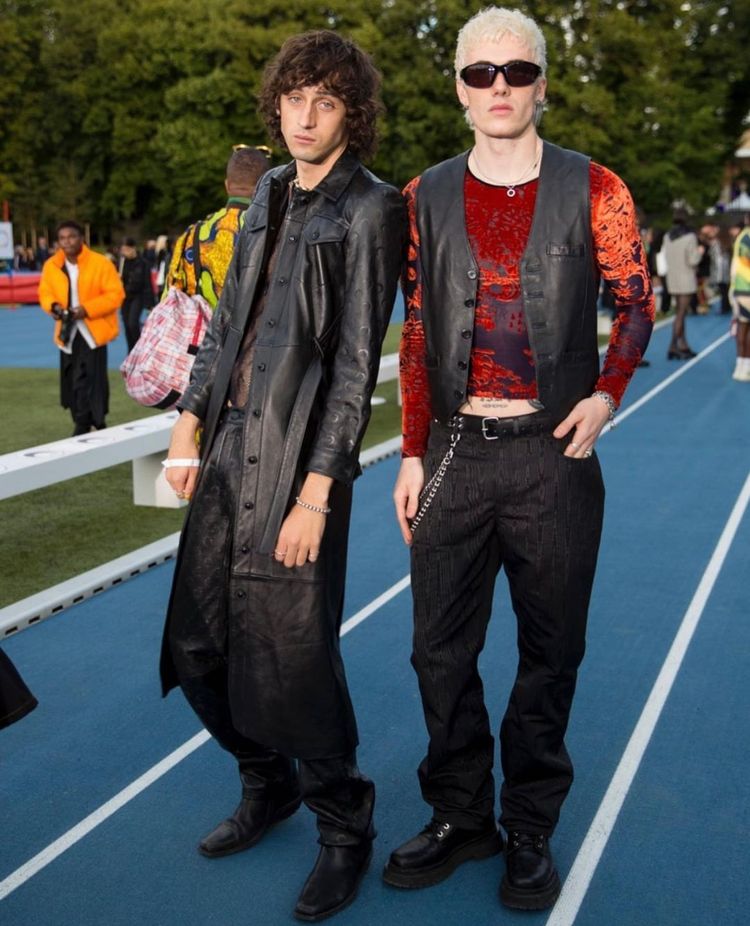 Eric Jess (right). Photo: @ericjess
Jess found the SS23 shows very inspiring. "I really think fashion is an interesting place and rules are going out the window," he says. "I probably wear more men's items just as sizing is typically more accurate but often I am drawn to womenswear."
His summer staple is a pair of Vaquera oversized shorts that he has been wearing the whole season long. He is currently looking for great basics from Edward Cumming, but one thing he doesn't believe in trying on this summer is a truckers hat.
Andreas Wijk
It was my first day in Paris when I randomly ran into Stockholm-based Swedish singer Andreas Wijk on the streets. He was wearing a bold orange-brown look from Swedish influencer Julian Hernandez's collection with Na-kd. Appropriately, given this look, Wijk describes his style as "colourful and chill". On the second day, we met again and Wijk was in a leather vest, paired with loose jeans. When I asked about his favourite summer trends, he laughed and told me that it is skin. "I've never felt so comfortable wearing a leather vest with nothing underneath, crop tops or a tank," he says. "Skin is my favourite summer 22 trend." And sure enough, showing skin was a dominating trend on the runways for SS23.
Gender fluidity and inclusion for Wijk mean feeling more comfortable in your own skin "I think that shows in my personal clothes as well." In addition to colours, Wijk likes to play with proportions and silhouettes and often opts for looser items from menswear, mixing them with tighter womenswear tops.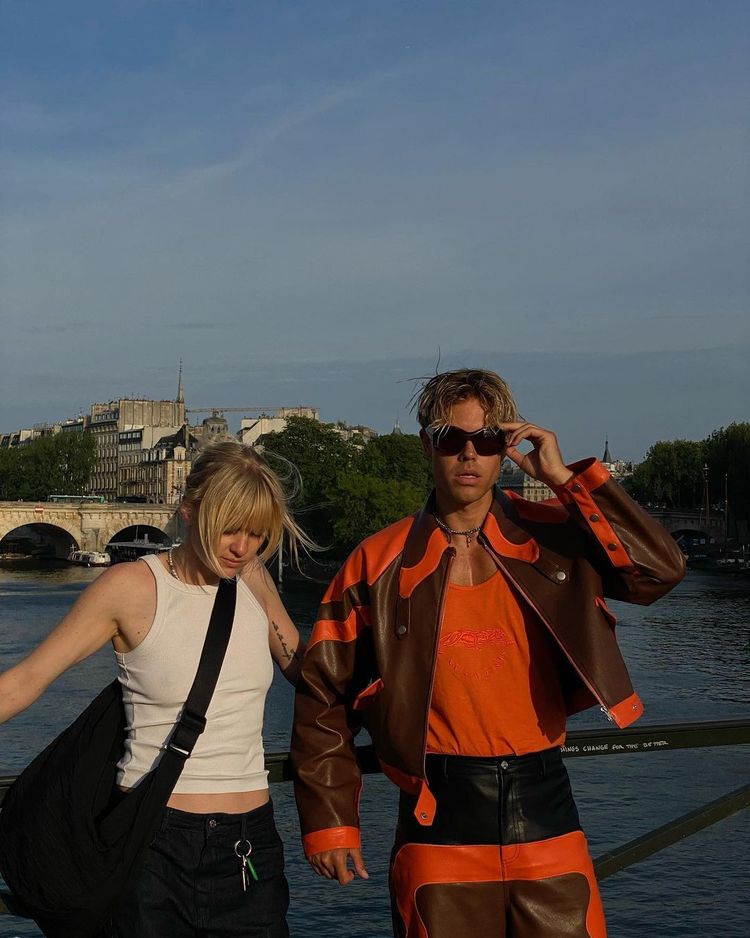 Andreas Wijk (right). Photo: @andreaswijk
He says he loves to experiment with his style and to try new things that go beyond his comfort zone. "I remember when I was 13 and I loved colourful socks, and a Swedish menswear magazine suddenly dissed them completely and I was too insecure to keep wearing them," he says. "From that day I decided that I would never diss a trend myself."
Wijk did admit that his penchant for leather ran into some difficulty in Paris. "I couldn't really wear any of my looks because of the 38+ degree heat! I'm usually a leather kind of guy. That was not easy," he says.
Leather aside, Wijk's summer go-tos include Yeezys, and he just ordered a pair of the Crocs x Salehe Bemburys to add to his seasonal wardrobe. On the Paris runways, Wijk was impressed by the colours and loose fits – which are "just my vibe," as he put it.