Introducing AADA, the grand doyenne of Scandinavian fashion and our treasured muse
One of the oldest known avatars in existence, AADA, whose name aptly means Nobel, has lived a life beyond the realms of reality. She got her start as a tenacious fashion journalist, profiling the most prolific design talents and emerging creatives in the Nordics. Her striking aesthetic — including that unwavering hairstyle — and otherworldly taste soon caught the attention of her subjects, who began to seek out her guidance. To this day, some of the biggest names in fashion namecheck AADA as the catalyst for their success.
"Oh relax, it's no big deal," she says, with a laugh. "I simply lend my opinion. Everyone has one."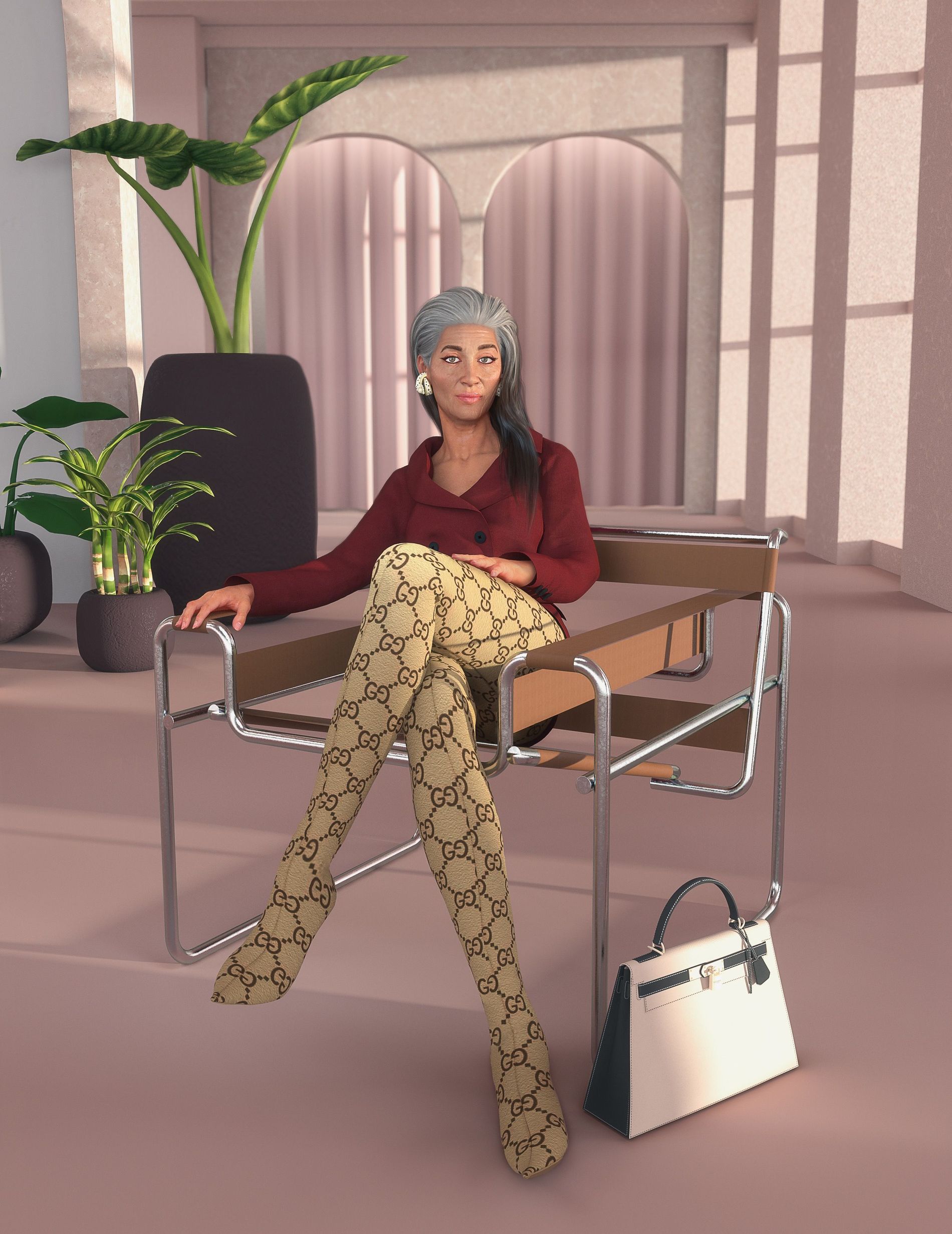 Aada is wearing Sartorial jacket, vintage. Dior. GG-printed pantashoes, €3,500. Gucci. 1980's chair, €2,500. Marcel Breuer. Panthere De Cartier earring set with emeralds, price on request. Cartier.
An obsessive autodidact — she speaks all five Nordic languages as well as English — AADA's seemingly limitless knowledge for fashion and, well, just about everything, renders her a mother-like figure in the industry. Still, it is her appearance for which she is best known. A staunch believer in embracing natural beauty, she shuns the fillers, injections and lifts that have lately become the norm. "I don't think about age, really," she says. "In my mind, I've always looked exactly the same."
Her attitude towards fashion, however, is a different story. AADA is never not turning a look, be it in vintage Yves Saint Laurent, straight-from-the-runway Acne or the custom work of a designer whose name you don't yet know (but you will in a season or two). Her obsession with the industry to which she has dedicated her life is infectious. "It may sound trite, but I live for fashion."
We are endlessly thrilled and honoured to welcome AADA to the Vogue Scandinavia family.