Returning to the Italian Riviera, where the couple were first engaged, Aasen and Tommy Chiabra celebrated their nuptials across two glorious days. Read our exclusive interview with the newlywed here
Their love story began with an epic trip to the Himalayas and culminated in a spectacular two-day Portofino wedding on July 14.
"Tommy invited me on a one-week hike to the Himalayas after we had known each other for a few months," says Frida. "It was quite intense, both physically and emotionally, and we realised in that moment that we were able to get through anything together and it brought us so close. It was there that we really fell in love."
The 27-year-old Norwegian model who was discovered at age 14 in a Kristiansand mall, has walked the runway for Victoria's Secret, Prada, Louis Vuitton and Fendi, to name a few. Her entrepreneur partner 36-year-old Tommy Chiabra hails from Genoa (a hop, skip, and jump away from Portofino), in Italy's northwest and is chairman and co-founder of Neat Burger and founder and chairman of Royal Yacht Brokers.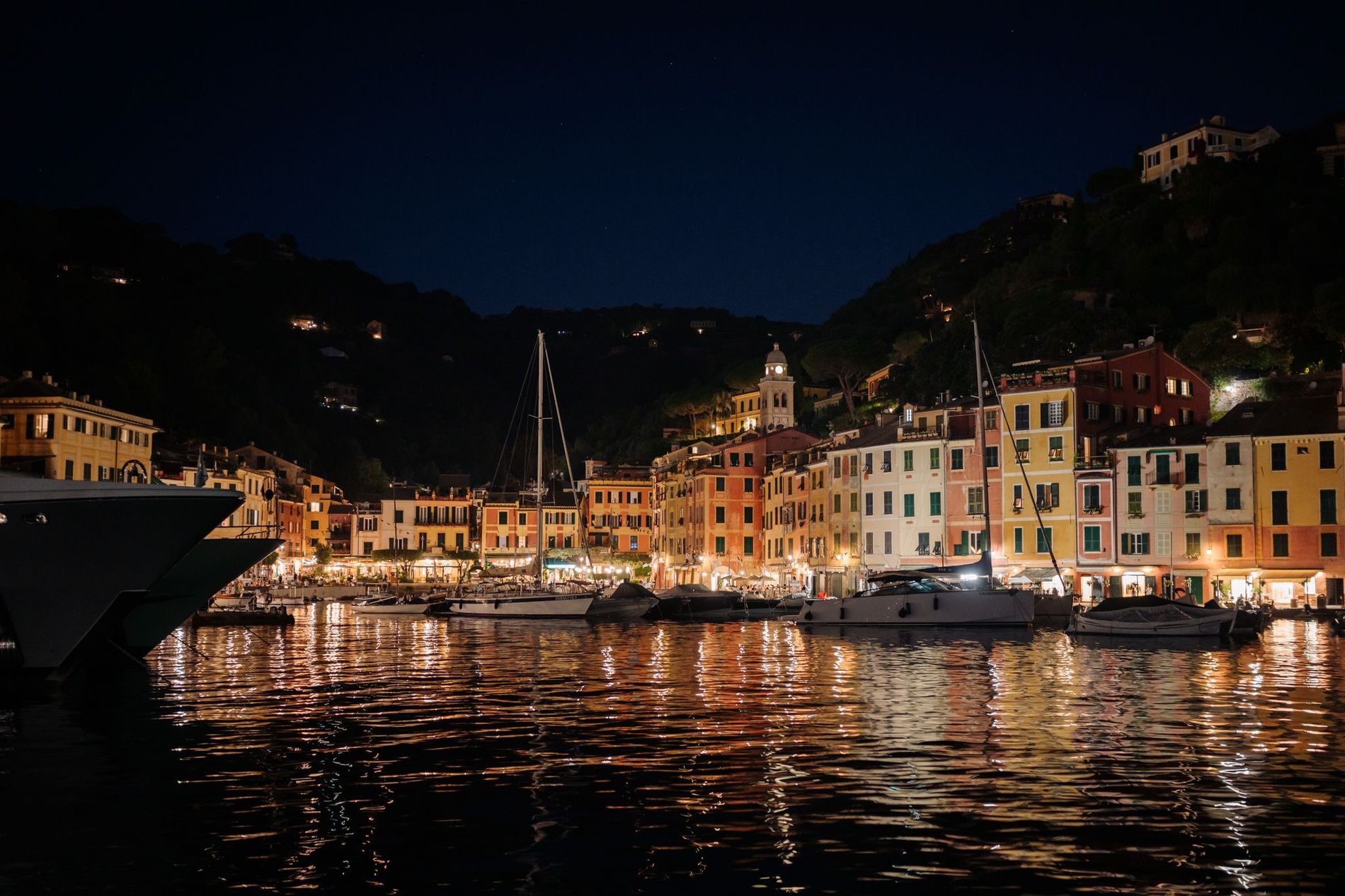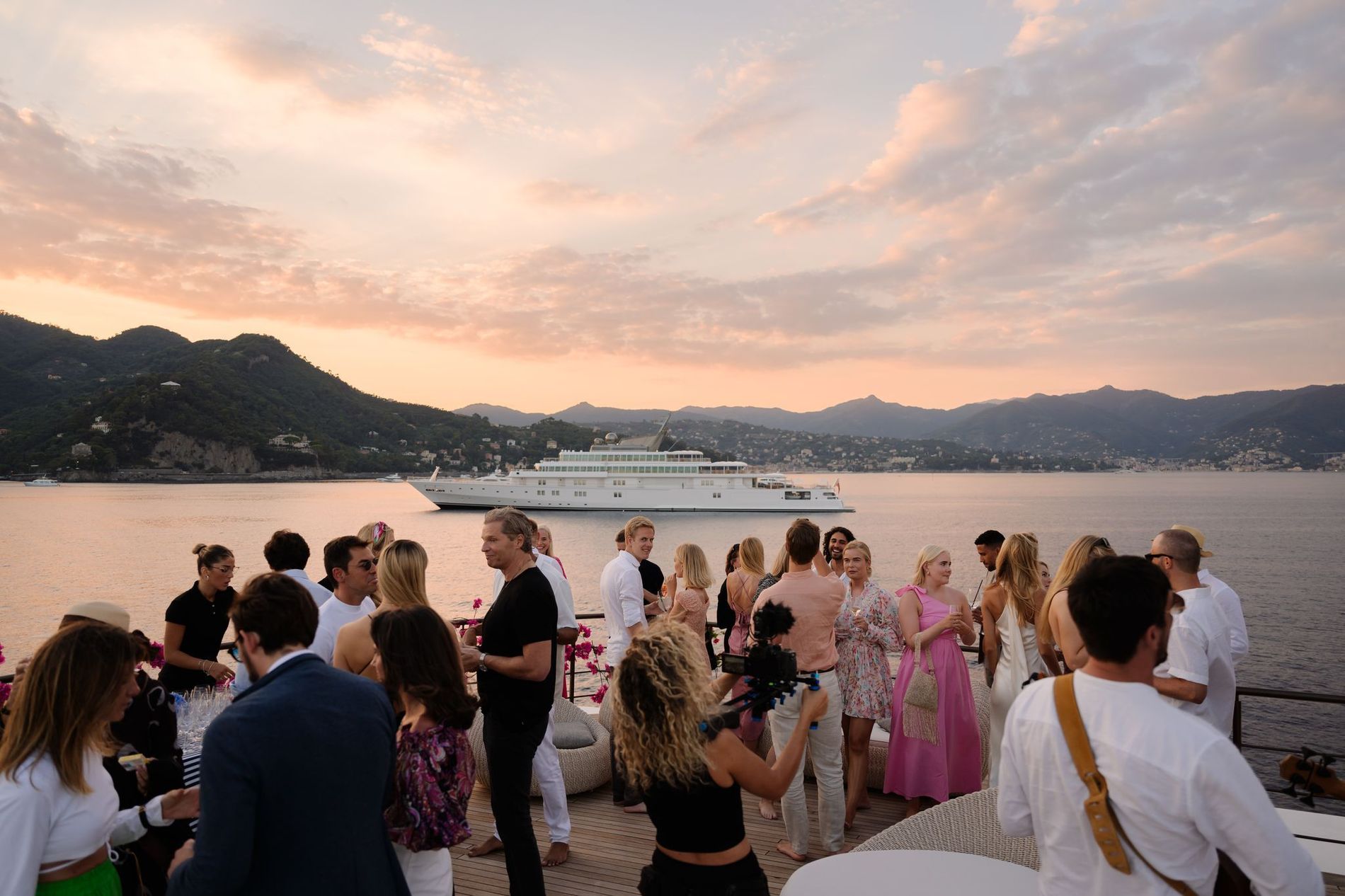 The globetrotting couple were first introduced to one other in 2019 and got in engaged in August last year in a romantic rose-filled boat proposal in Portofino.
"Tommy had arranged for our families to go on a trip together to Italy and the south of France," says Frida. "On the second day of the trip my father blind-folded me and walked me to a beautiful setting of roses and a violinist where Tommy then went down on one knee. It was such a special moment to share with our families who were all there to witness it.
"I had no idea it was happening – he tricked me into wearing matching white outfits as I thought we were going for a cute dinner with our families, and I barely had time to get ready. I didn't even blow dry my hair, but it all made it such a special memory to have forever."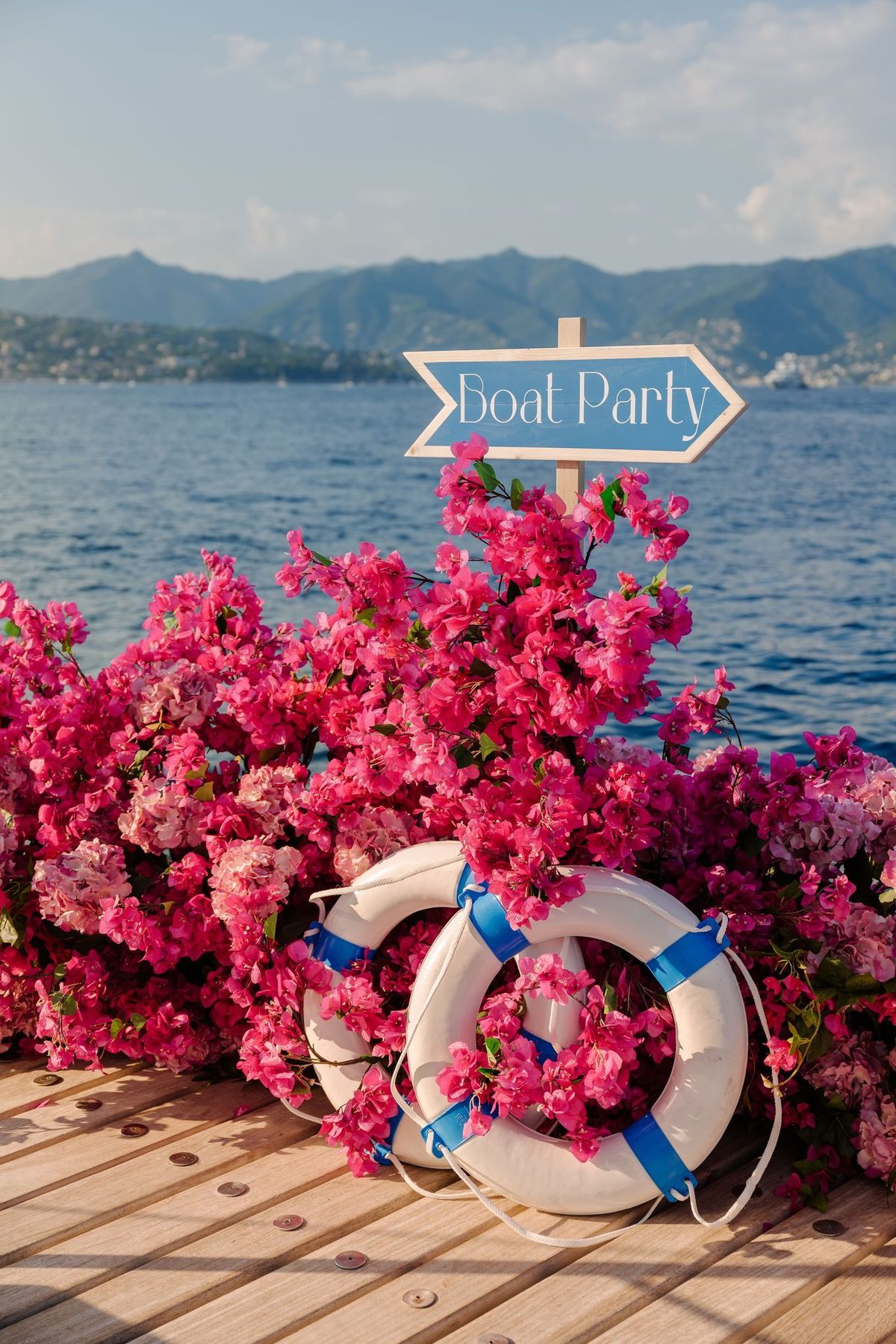 Photo: FT Foto
The decision to hold the wedding in the same idyllic Italian Riviera location as the proposal was an easy one. The fact that it has played such a big part in the couple's love story (and has a well-connected airport close by) cemented Portofino as the top choice, says Frida.
"We love the Italian coast, and the food and atmosphere was exactly what we wanted for our day," she says. "We got in engaged in Portofino and also vacation there every summer, and when we saw the venue, La Cervara, it all just felt right."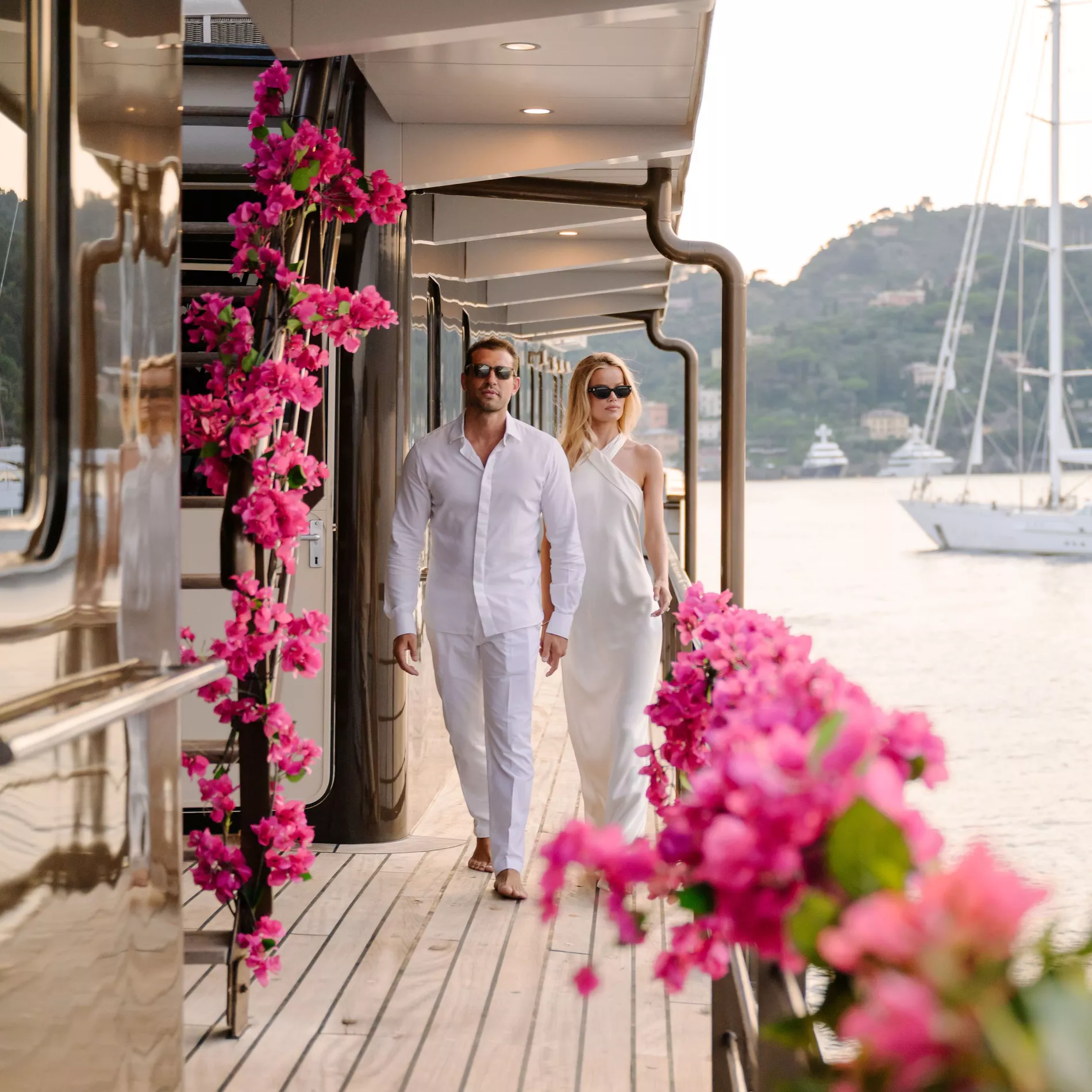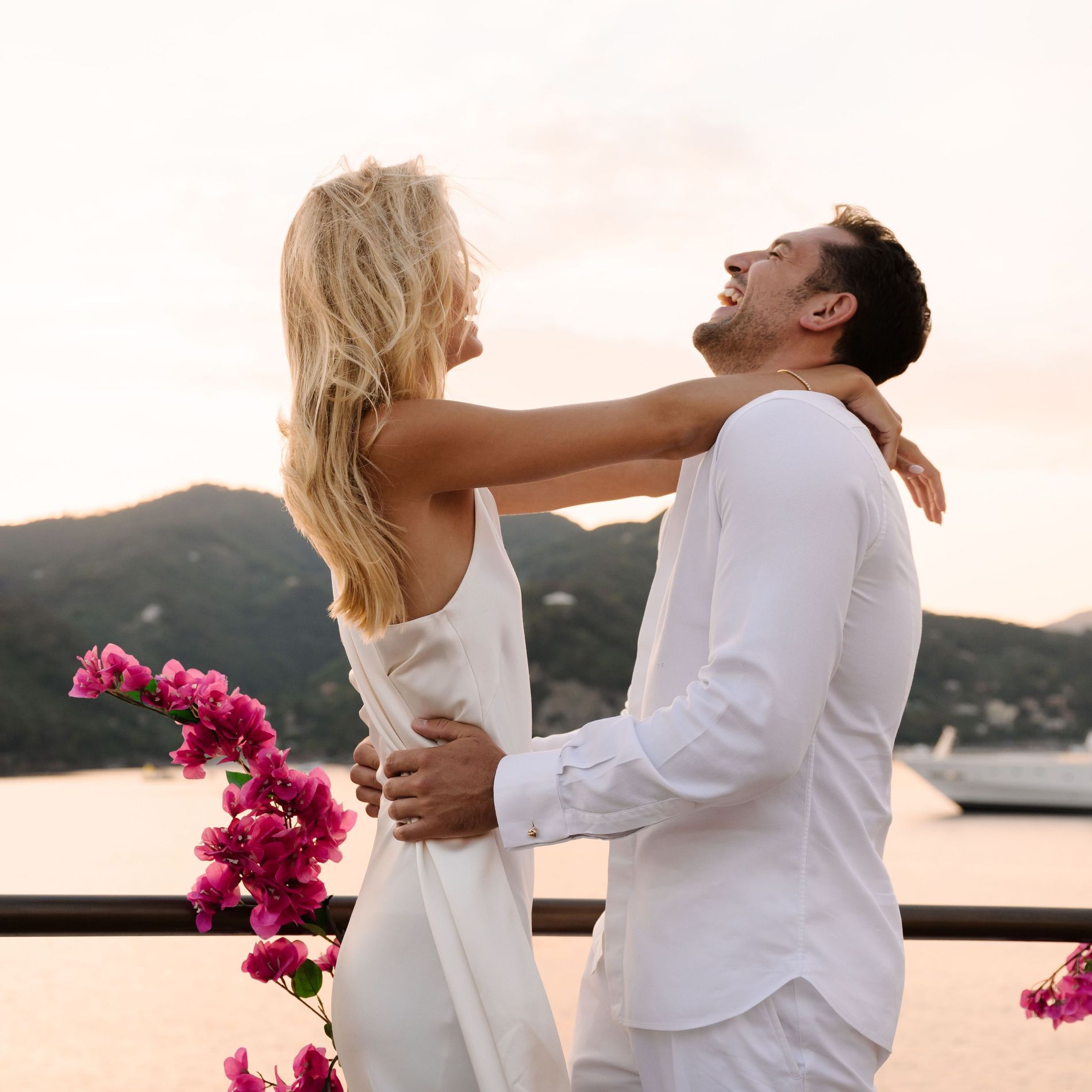 With beautiful, sprawling gardens and the Ligurian Sea serving as the backdrop, the 14th-century former abbey didn't need extravagant decorations or pops of colour to take away from the naturally picturesque setting. The couple worked with event design company Vincenzo Dascanio on the décor and flowers and opted for an overall neutral colour palette. "[Vincenzo] is truly talented and he created something we couldn't even imagine."
The couple always wanted a church wedding and their chosen location, the 12th-century Catholic church, Chiesa del Divo Martino, was a perfect fit. Their priest, Don Alessandro, was involved in discussions around readings and music. "In the end it turned out exactly how we wanted, and we got to include our family in the ceremony by having them read certain texts for us," says Frida.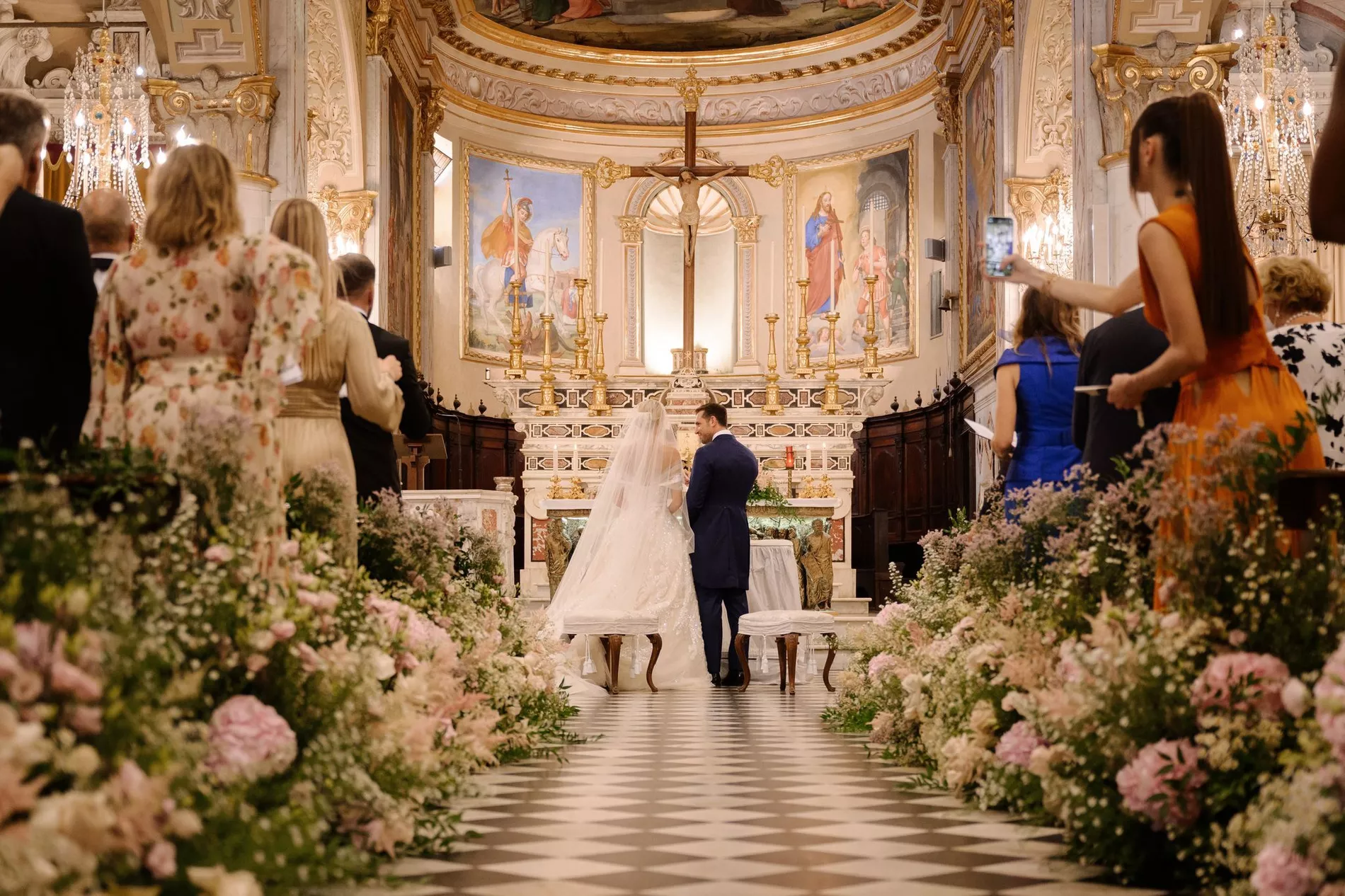 Family and friends played a huge part throughout their day – from church readings to the bridal party, which was made up of long-term friends and siblings, and of course, the Scandinavian pastime of brilliant wedding speeches.
"We had so many memorable speeches from our groomsmen and bridesmaids, that were super funny and touching," says Frida. "My father made an incredible speech, and not to mention Tommy's which had everyone teary-eyed."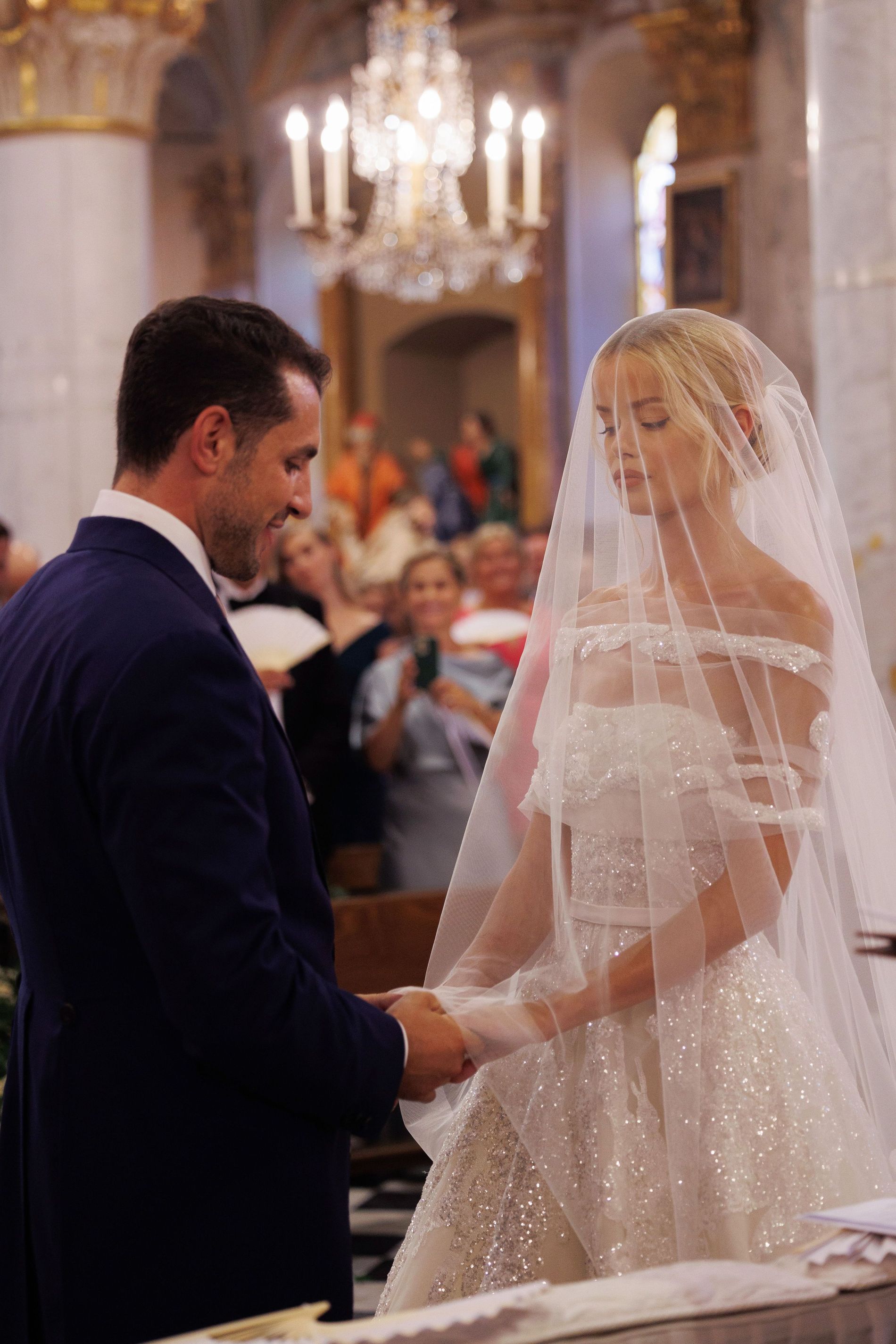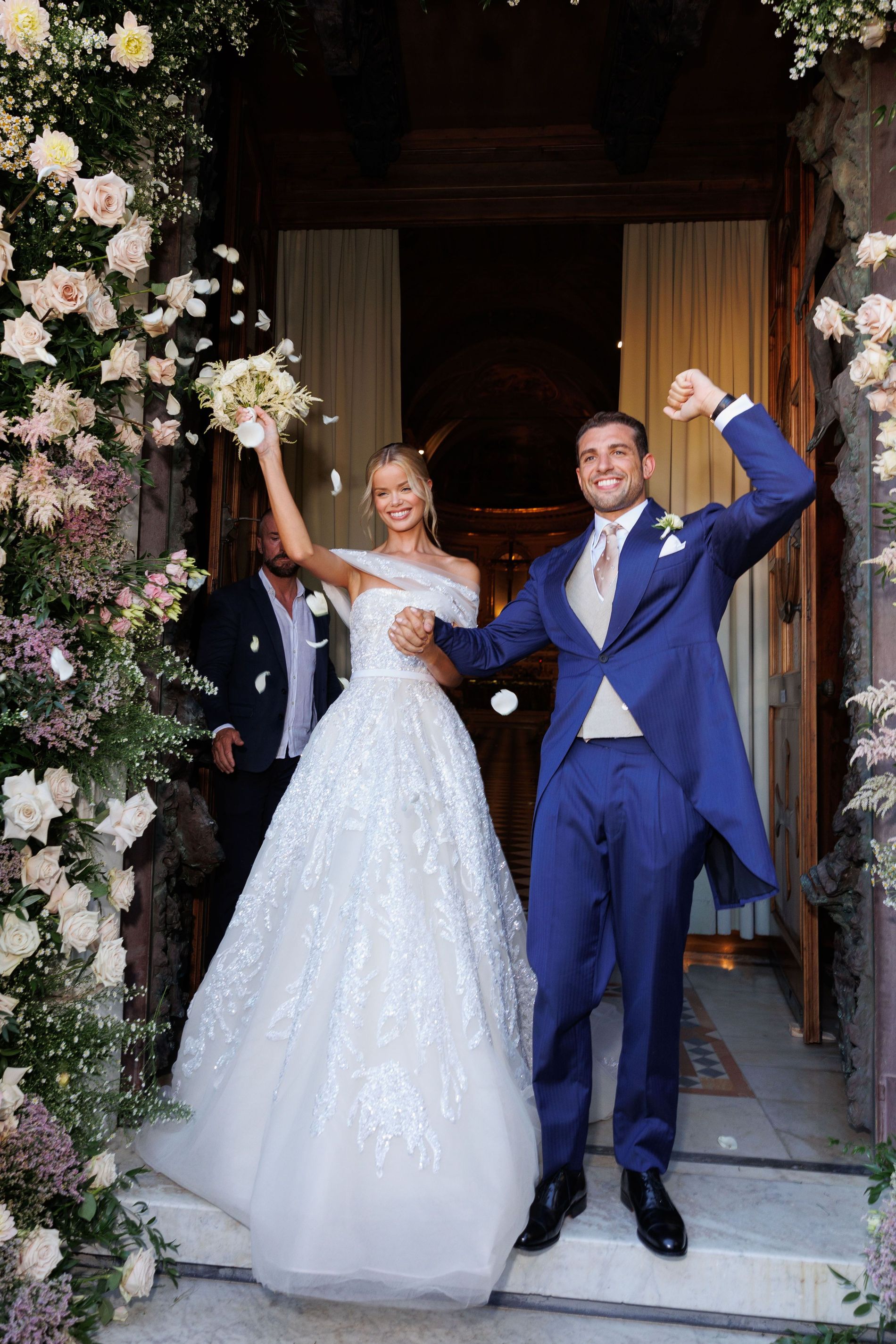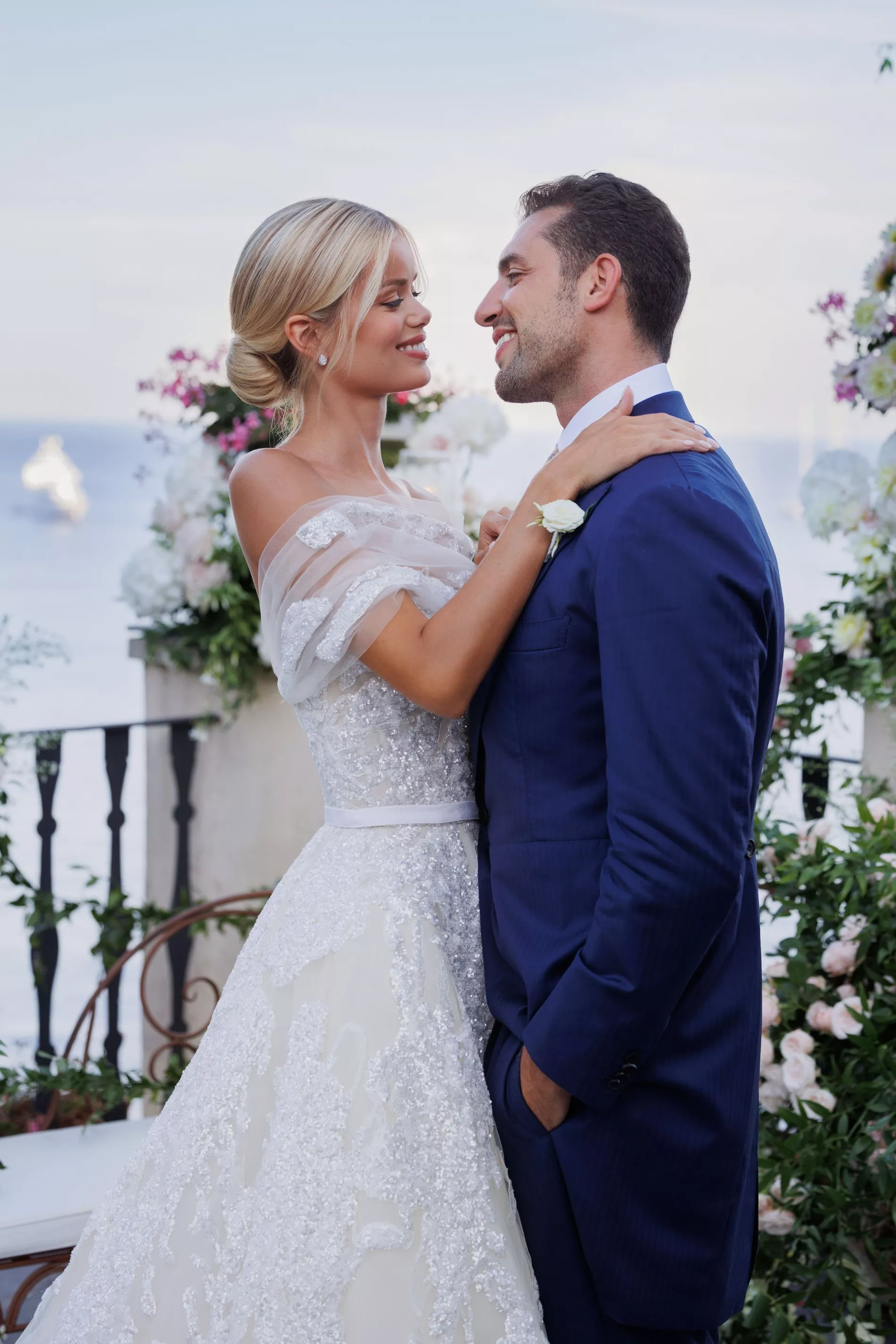 Given Frida's chosen occupation, you'd assume she'd know exactly what she wanted to wear on the most important day of her life, right? Not quite.
"I was never the girl who knew exactly what I would want to wear for my wedding," she says. "Last year, I was in Paris for fashion week and my stylist Philippe Uter and I decided to pop into Elie Saab to just check it out.
"I had a relationship with them from wearing their beautiful dresses to red carpets, and Elie Saab Jr is also a long-time friend of Tommy's. When I tried the dress [from the FW22 collection] on, I just knew instantly that it was the one – it's the perfect mix of classic and unique; romantic and feminine."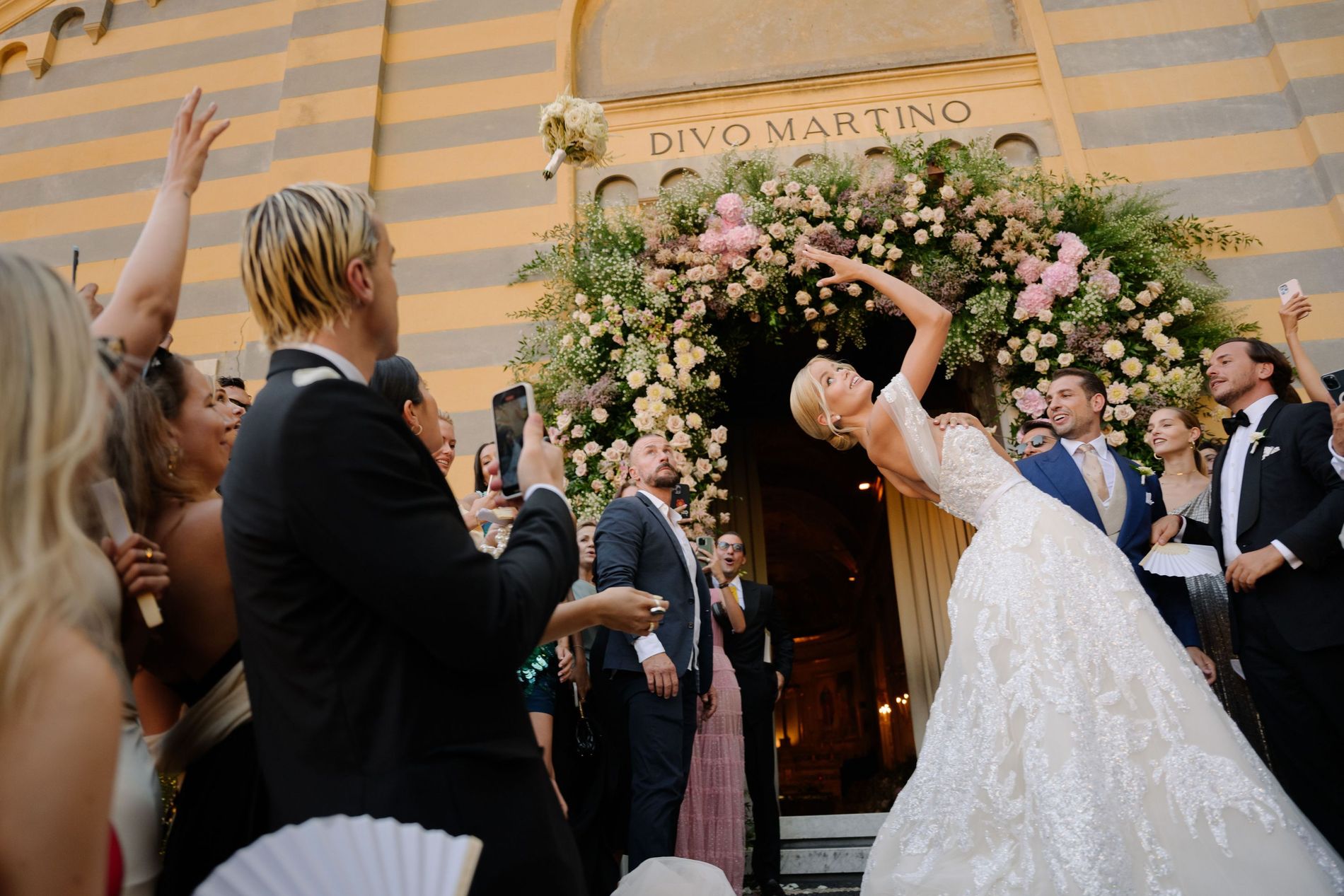 At the boat party the night before the wedding, Frida wore Galvan: "I wanted something elegant, simple and classic." For the wedding reception she wore custom Alberta Ferretti.
"The dress was so light and flowy which was amazing; I love the feminine gowns they create, and they were so kind to do it for me last minute."
"For my after-party look I went with a sparkly dress by Lee Grebenau, an Israeli bridal designer that I worked with last year," says Frida. "The party dress she created for me really was the icing on the cake that finished off a beautiful day."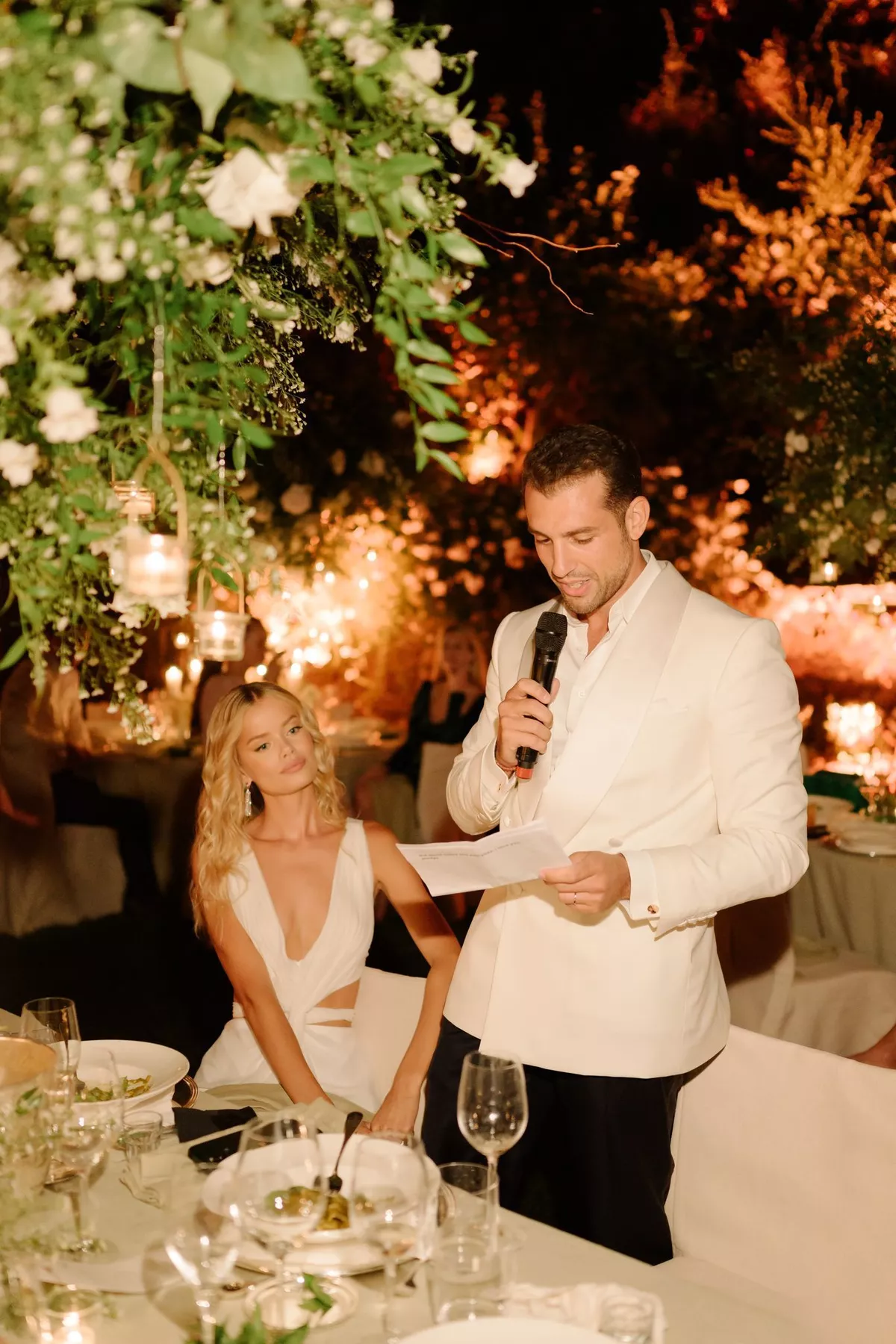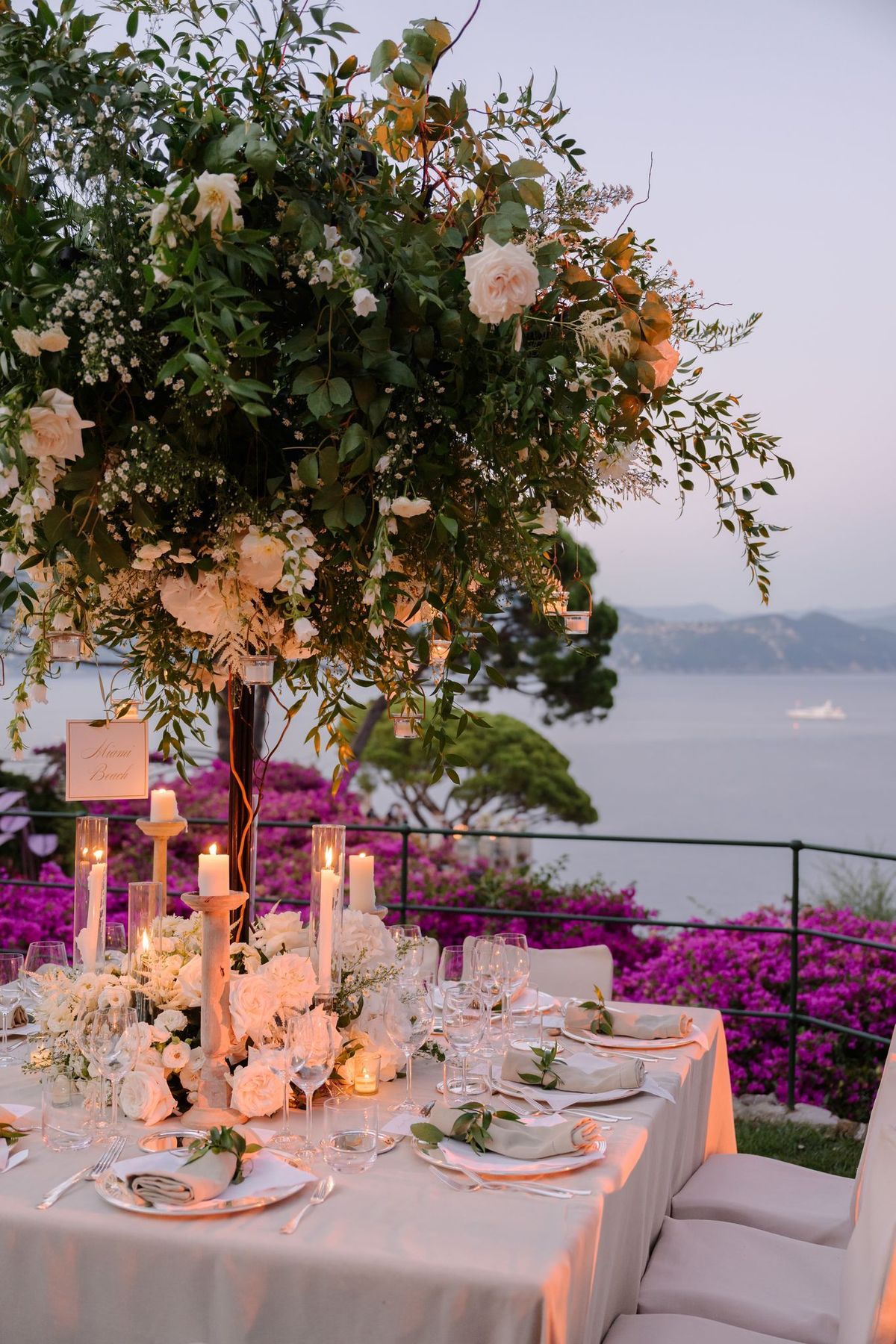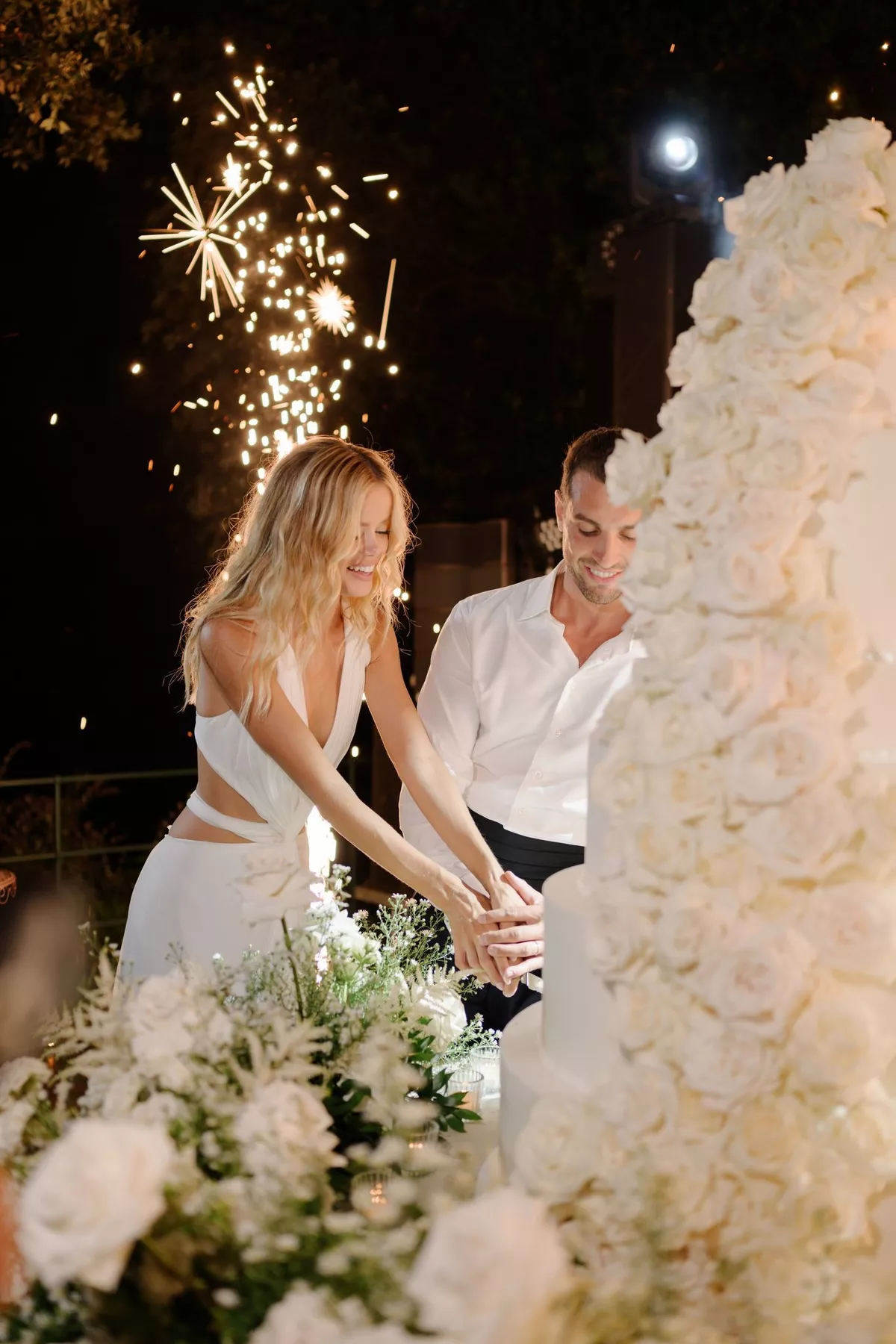 Lee Grebenau also created the bridesmaid's dresses. Frida wore shoes by Rene Caovilla with her Lee Grebenau party dress, and Gianvito Rossi with her wedding gown. Rings and jewellery from Boucheron (except her engagement ring).
Tommy's wedding suit was by Rubinacci with shoes from Church's; his white tuxedo was created by his personal tailor.
Guests enjoyed an Italian spread of focaccia, cold cuts, live mozzarella making and pizza for aperitivo, and both being big pasta lovers, pasta Portofino and fish for the main courses, before a vodka lemon sorbet to finish.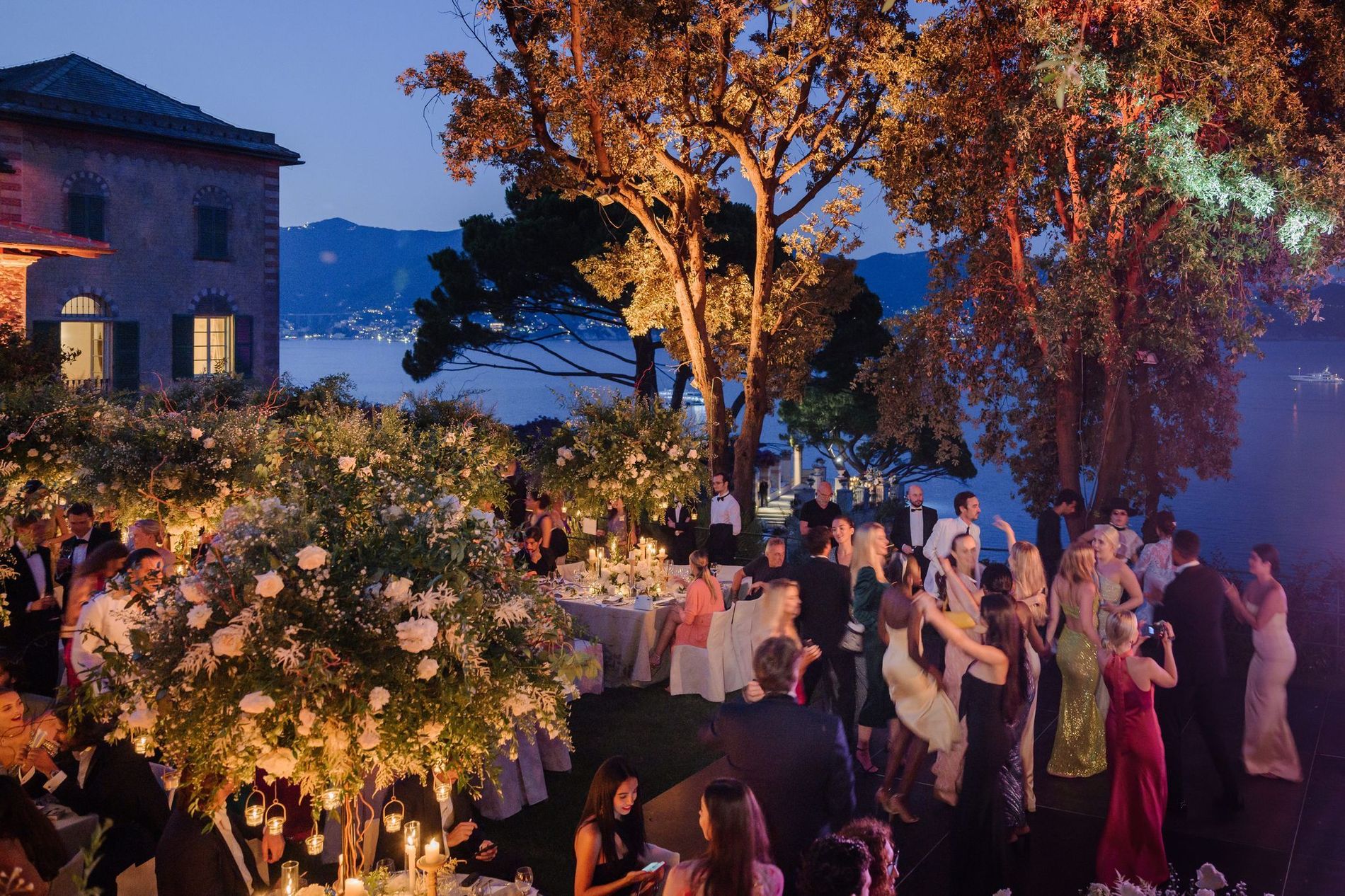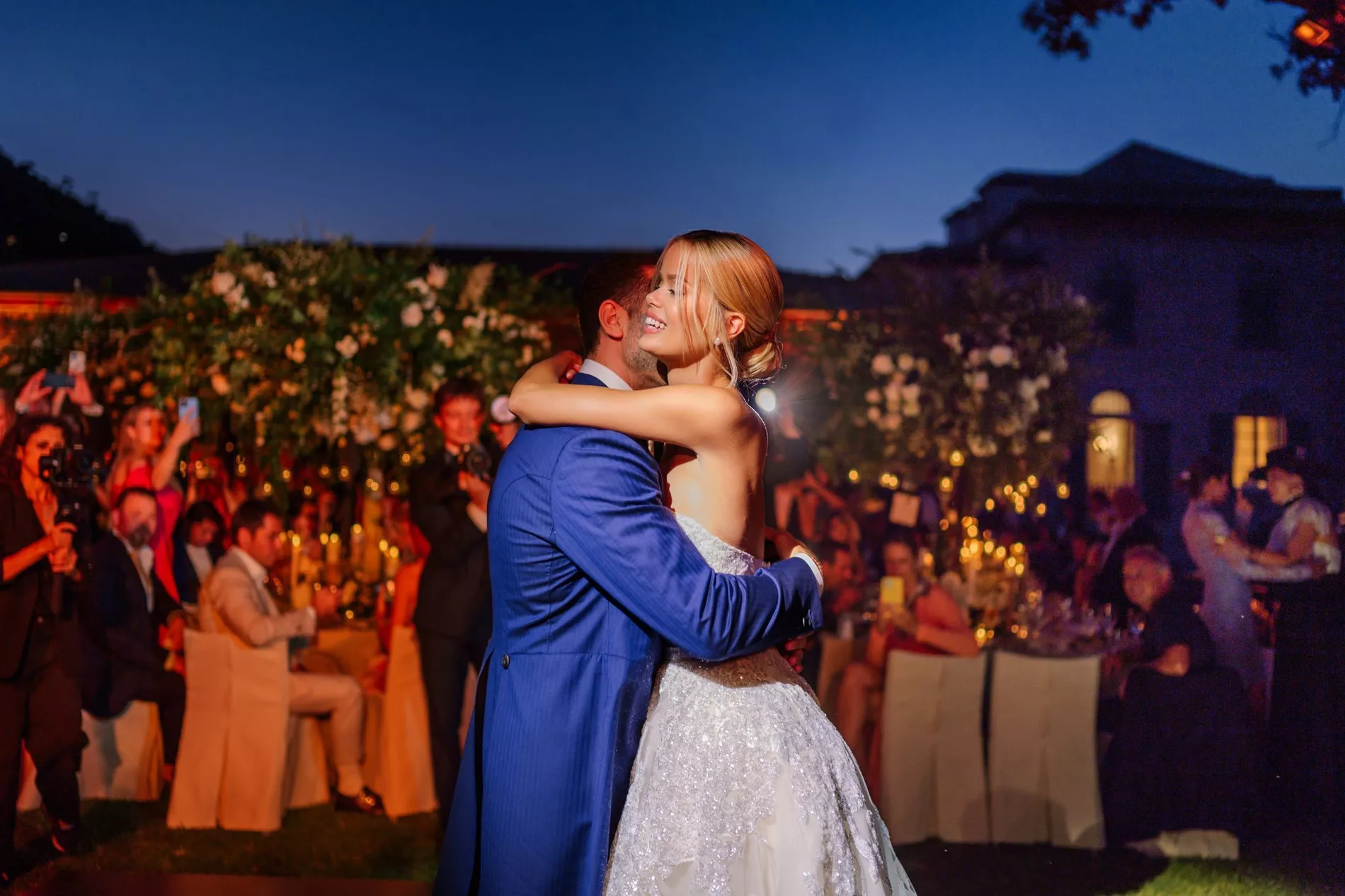 A live band and DJ Cruz set the music vibe early in the evening with a mix of pop hits, Afrobeats, RnB throwbacks and hip hop; DJ Rampa played deep house until the early morning. For their first dance, the newlyweds chose Al Green's 1972 classic, Let's Stay Together and Mariah Carey's 1995 hit Fantasy.
"We wanted a mix of a personal love song, and to also make it fun for our guests to join us on the dance floor with Mariah Carey."