Maria Nila's new Coils & Curls series has transformed model and actress Blue Lindebergs "lazy girl" curl routine. Below, discover Lindeberg's best tips on how to embrace natural texture while keeping wash-day a breeze
Fronting Maria Nila's latest campaign for the Swedish brand's new Coils & Curls series, it may come as a surprise that model and actress Blue Lindeberg – the daughter of creative directors Johan and Marcella Lindeberg – only discovered her own waves during her late teens.
"My mum has pretty curly hair, and my dad has very Swedish fine, straight hair," says Lindeberg, explaining how their genetics have mixed and merged to create her multi-layered look, sporting coils at the nape of her neck and relaxed waves at the crown. Somewhere "in-between straight and super curly, with a mind of its own," as Lindeberg puts it.
In her early teens, the model walked around with what she describes as the "fluffiest puffball" on her head. "I refused to listen to my mother," she explains. "I wouldn't add any moisture to my hair until I was in my late teens, and I accidentally left too much conditioner in my hair." The result was a "curly wave, " opening up a new world of hairstyling possibilities for Lindeberg.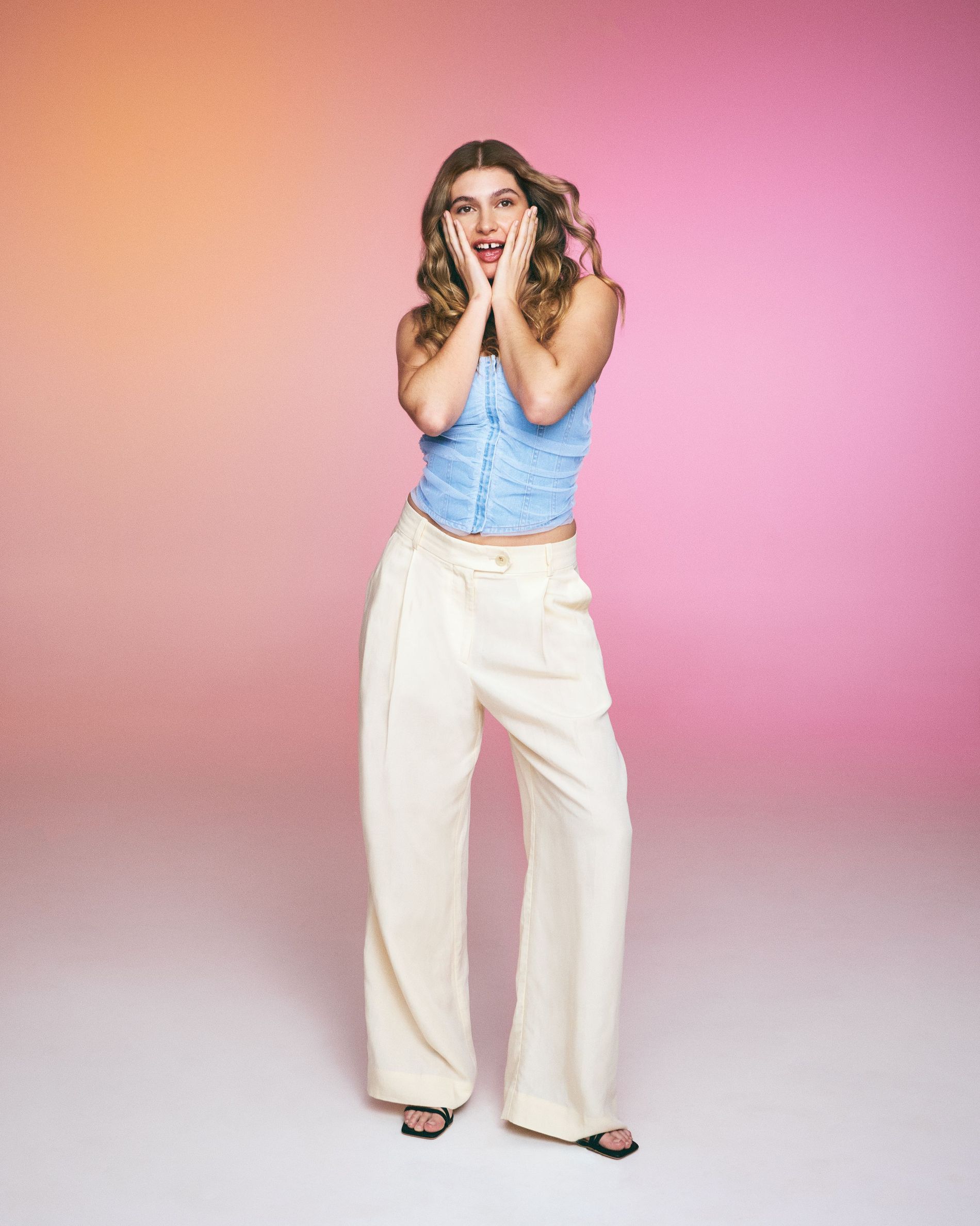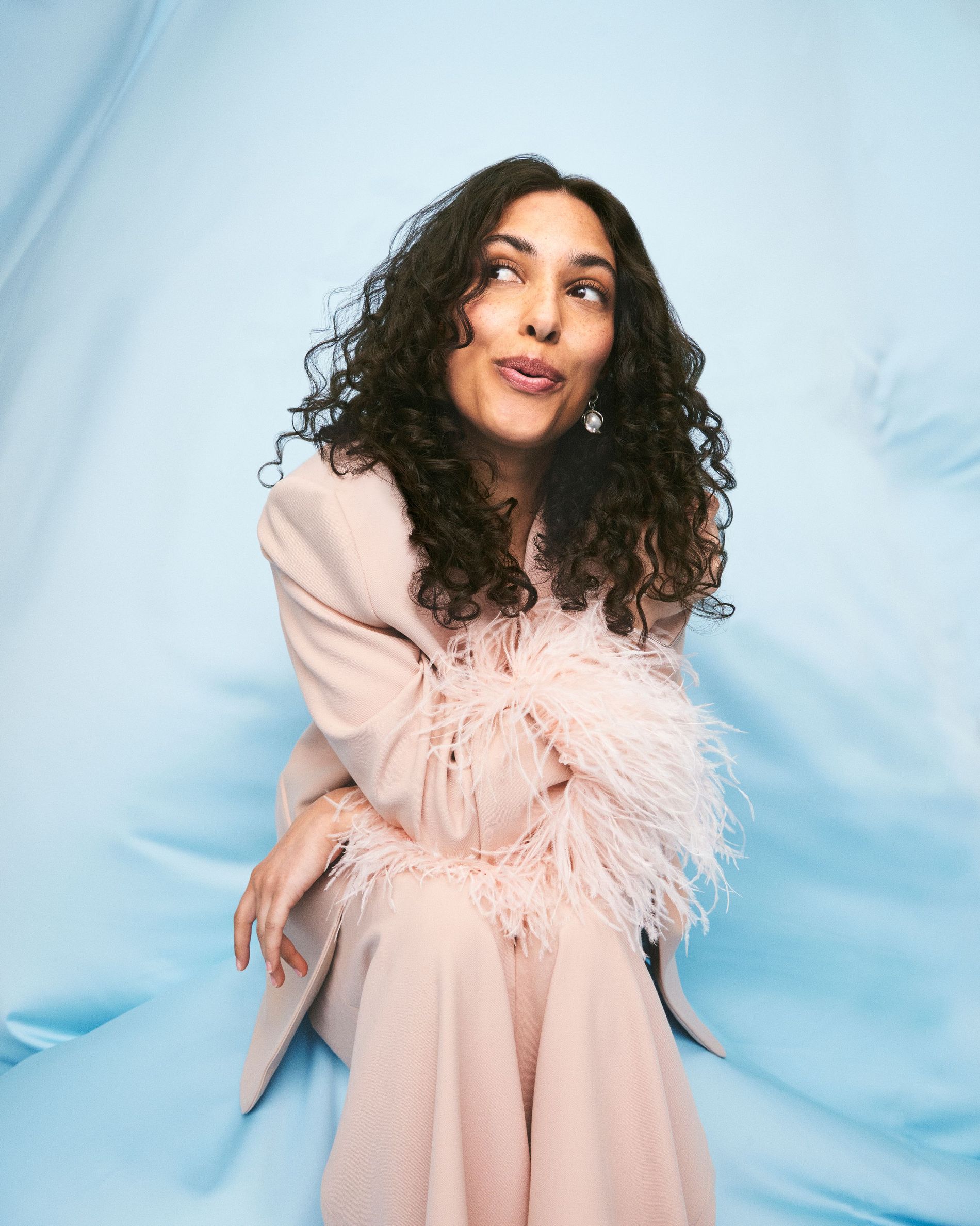 My hair pattern changes every single time I wash my hair, and I've decided not to stress too much about getting it perfect every time.
Blue Lindeberg
"Now I have so much more I can do with my hair," says Lindeberg. "I feel that in a way, some people see curly hair as the biggest task to take care of. But for me, it is like my lazy girl hack to have done up hair." All you have to do is add moisture, according to Lindeberg, for supple waves – but then there's always the "gels and the creams to make it look really amazing."
For Lindeberg, with 'curly girl methods' trending online, it is important to highlight that "each curly girl has their own method." When she moved to Sweden, a curly-haired friend took Lindeberg under her "curly wing." "I stole some of her curl cream and I never went back," she laughs. "Now I love a curl cream or gel type product for wavier hair as it makes the curl pattern stay in place."
The most impactful part of her 'curly girl' journey was the reconciliation with the fact that no day looks the same. "My hair pattern changes every single time I wash my hair," she explains. "And I've decided not to stress too much about getting it perfect every time." Embracing natural texture is an essential part of the curl renaissance, according to Lindeberg. "I have a rather relaxed curly wave naturally," she explains. "And in the beginning I tried to get my curls super bouncy and coily, but I just don't have that texture and it would look really greasy."
Beyond the bathroom, "just being at the beach" does wonders for Lindeberg who frequently reaches for a salt water spray for that dip-in-the-ocean texture. Another investment which changed up her hair quality literally overnight was the purchase of a silk bonnet and silk pillowcase. "It just stops any breakage," the model notes.
Discover the new Coils & Curls line below: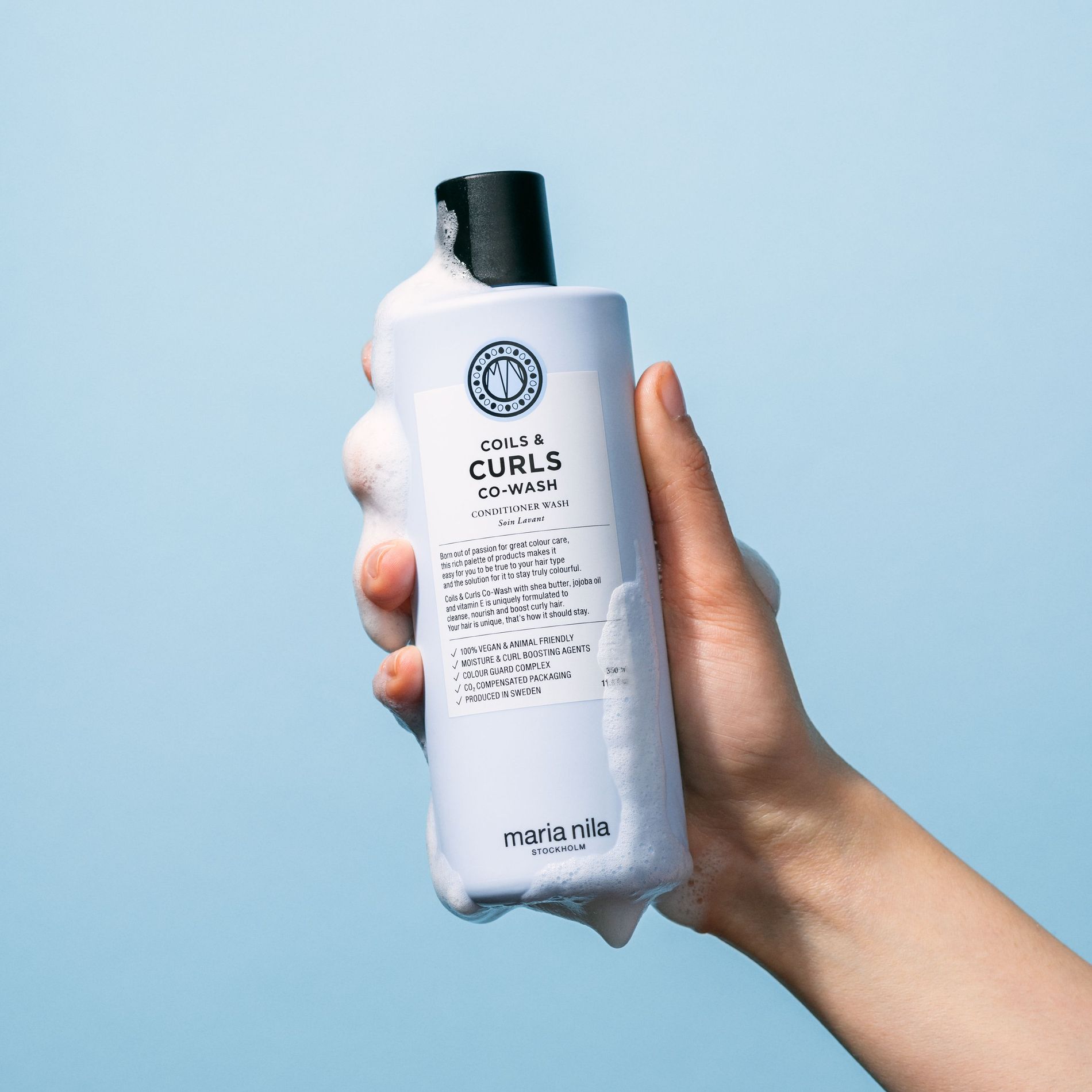 Photo: Maria Nila, Ida Blom, Lomo MGMT
The Co-Wash
The new Co-Wash from Maria Nila provides a gentle cleanse while conditioning the hair, effectively eliminating any shampoo drying out curly strands. Thanks to the lowered pH, the co-wash closes the cuticle, meaning there's also no need to finish with a traditional conditioner. The perfect product for anyone looking to cut out time spent in the shower
Cleansing needs depend on the health of the hair. Curly hair is affected by weather and climate, so how much product is needed for every wash may need adjustment depending on geography or seasonal changes. A co-wash routine also changes depending on how long you've used the product, meaning it will change over time.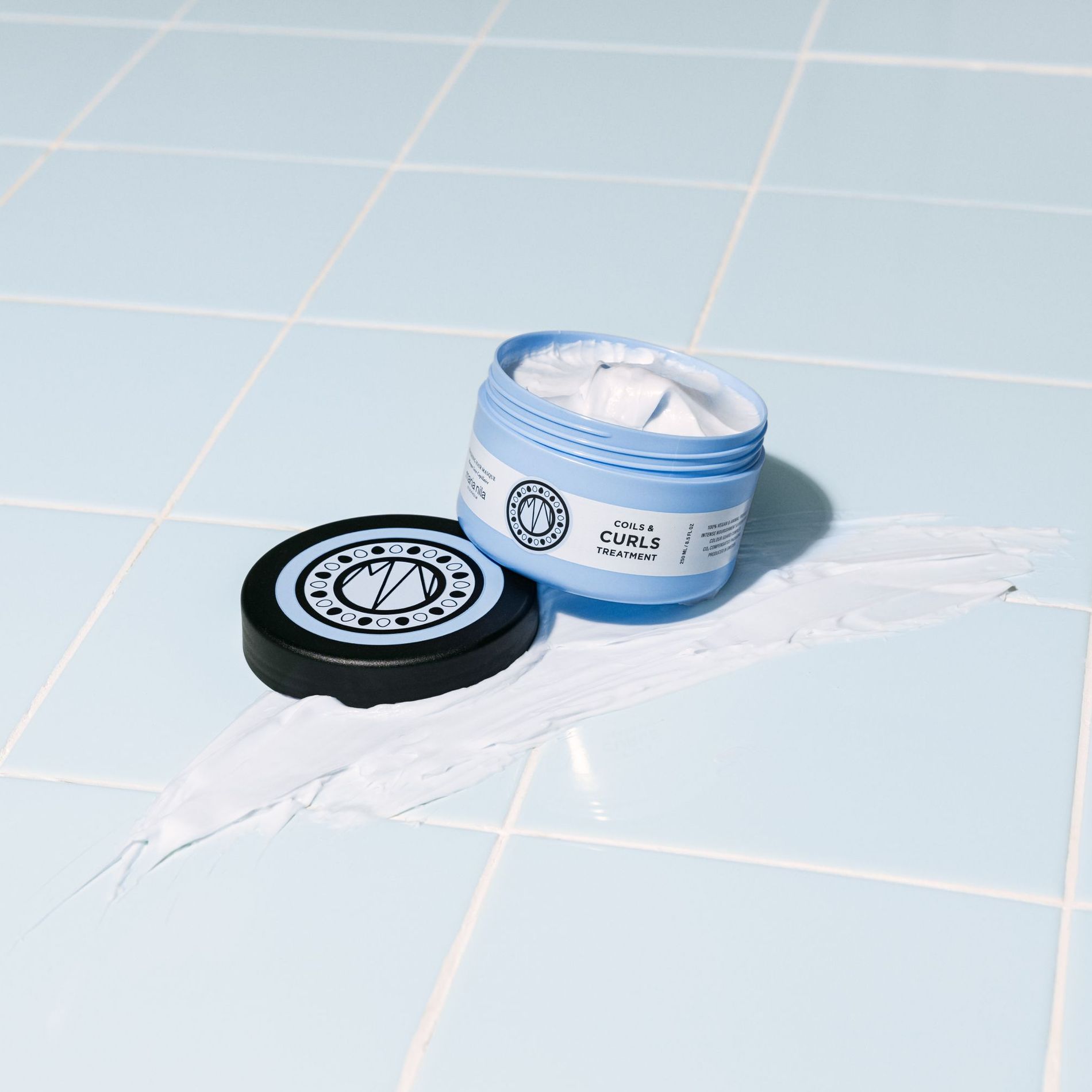 Photo: Maria Nila, Ida Blom, Lomo MGMT
The Finishing Treatment
As mentioned, "moisture is everything," according to Lindeberg. Finishing off the Co-Wash, Maria Nila introduces a rich Finishing Treatment Masque, providing deep nourishment and hydration and leaves the hair silky smooth and full of shine. Apply the products by gliding the Finishing Treatment downward through the lengths of your hair with your fingers. Follow by squeezing the hair in an upward motion toward the scalp. This will encourage and reintroduce the hair's natural curl pattern. A squishy sound and the feeling of wet seaweed is what you're looking for, as this mean "hydration penetration" has been accomplished in the strands.
At the beginning of your curly journey, more formula may be needed if your strands are dry and thirsty. Let the health of the curls be your guide and experiment with the amount of product used to figure out what's best for your curls.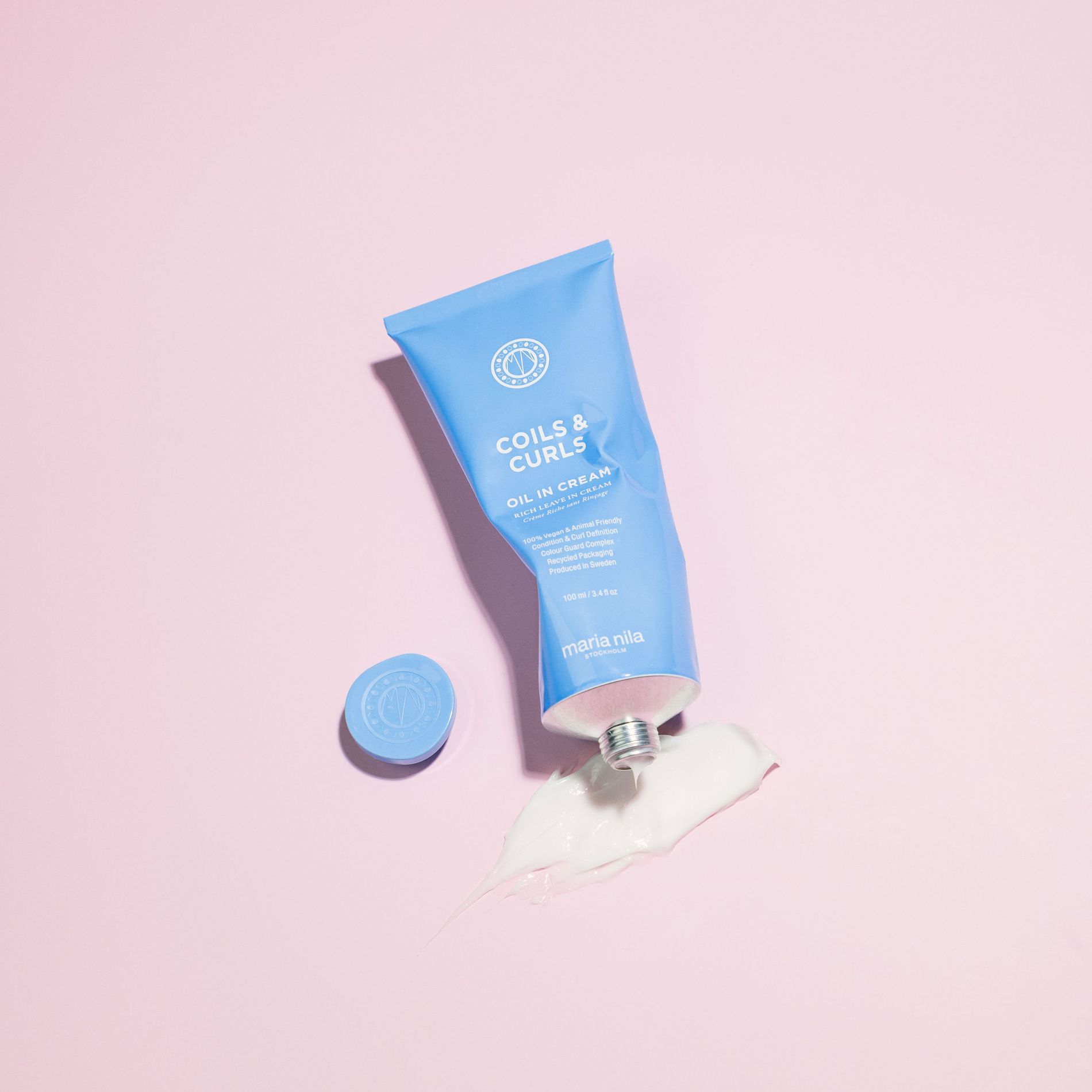 Photo: Maria Nila, Ida Blom, Lomo MGMT
The Oil-in-Cream
When curls are wet, they are at their peak, fully defined and loaded with moisture. The cuticle of the hair is open and ready to cling onto anything to help it stay in that state. The butter and oils in this thick and rich cream will soften and activate upon application, melting into the hair to provide deep nourishment and curl definition.
Closing the cuticle with products specifically made for curly hair will get better results. The curls will be less frizzy, more defined, and will have a longer hold. For a perfect bounce that lasts for days, combine with a silk pillowcase or sleeping bonnet, both will preserve gloss and voice breakage.