Sporting Ganni to her latest event, we've never been more convinced that Michelle Obama is an honorary Scandinavian style icon
Michelle Obama is a sartorial force to be reckoned with. She's had her finger on the fashion pulse consistently, both during her tenure as First Lady and after her mandate ended, managing to tread the fine line of femininity and power dressing. A job especially difficult for women in the political sphere. With her sway over editors and the style set alike, it is unsurprising that we're now all rushing to replicate her latest looks.
Case in point, my fellow Vogue staffers have set their eyes on Ganni's new denim ensembles. The eagle-eyed could spot Michelle Obama wearing the Danish brand during The Light We Carry Tour, furthering our conviction that the Canadian tuxedo is here to stay. She paired her denim suit, with contrasting seams and a nipped-in waist, with braids, sultry red PVC boots and statement silver earrings for the occasion.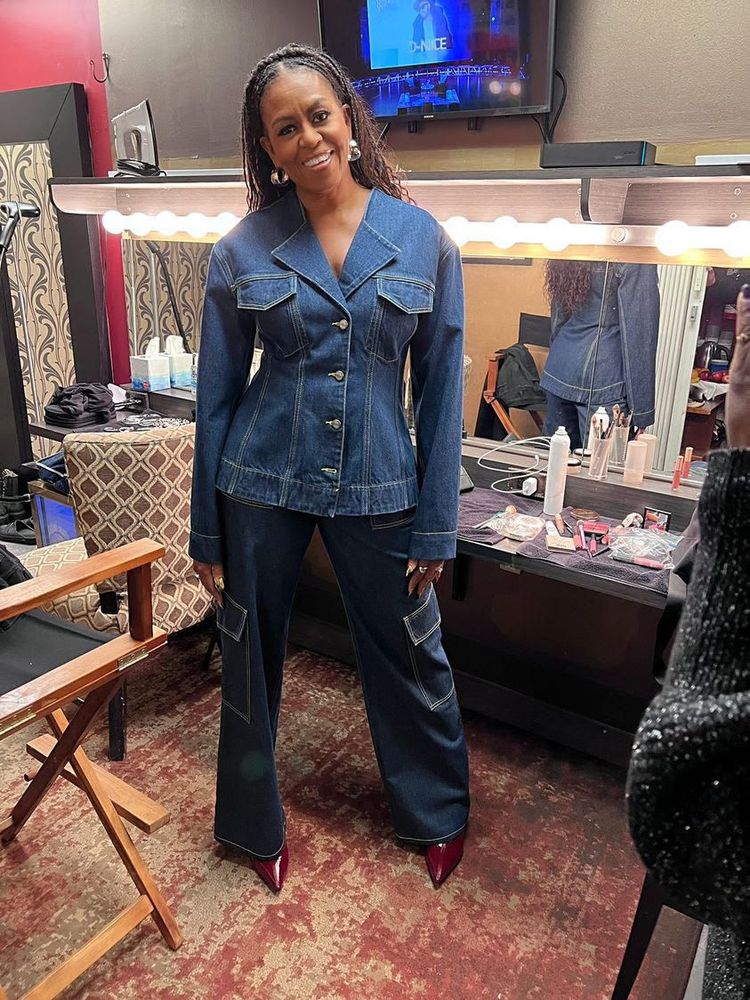 Photo: Meredith Kooper
It's a massive honour to dress the former First Lady, Michelle Obama. She is such an icon and force. Honestly, it made me tear up a bit
Ditte Reffstrup, Ganni's creative director
For Ganni's creative director Ditte Reffstrup, it was a major standout moment in the brand's 22 year history: "I think you can safely say that this is a major career highlight for me. It's a massive honour to dress the former First Lady, Michelle Obama. She is such an icon and force.
"Honestly, it made me tear up a bit. I love that our #GANNIgirls community includes everything from Michelle Obama and Bella Hadid to the girl next door. It's girls in plural because everyone is truly welcome."
This isn't the first time the former First Lady has been spotted in Nordic design. During her worldwide travels, she has often opted for local design in honour of the countries and cities she's visiting. And so it was unsurprising that she was spotted sporting some of our region's most revered designers during the Scandinavian leg of her global 2019 tour. Promoting her self-biography Becoming, the elevated suits worn during the tour was a testament to her excellent taste in tailoring and penchant for power dressing.
In Copenhagen, the choice landed on Danish designer Stine Goya. The powder-pink trouser suit sparkled on stage as the spotlights picked up on the crystal embellishment. Accented by aquamarine nails and and satin pumps, the look was completed with Obama's signature soft waves.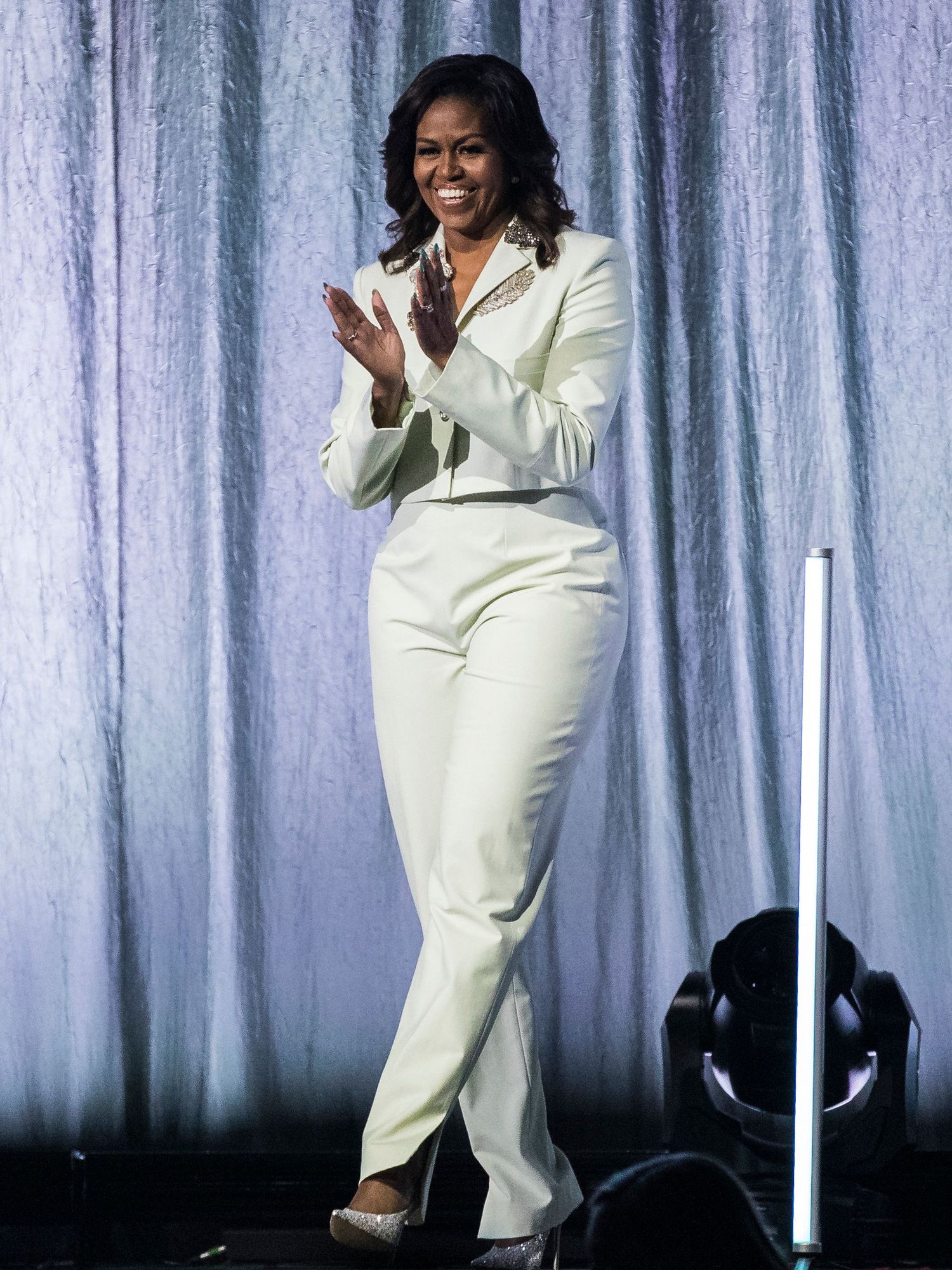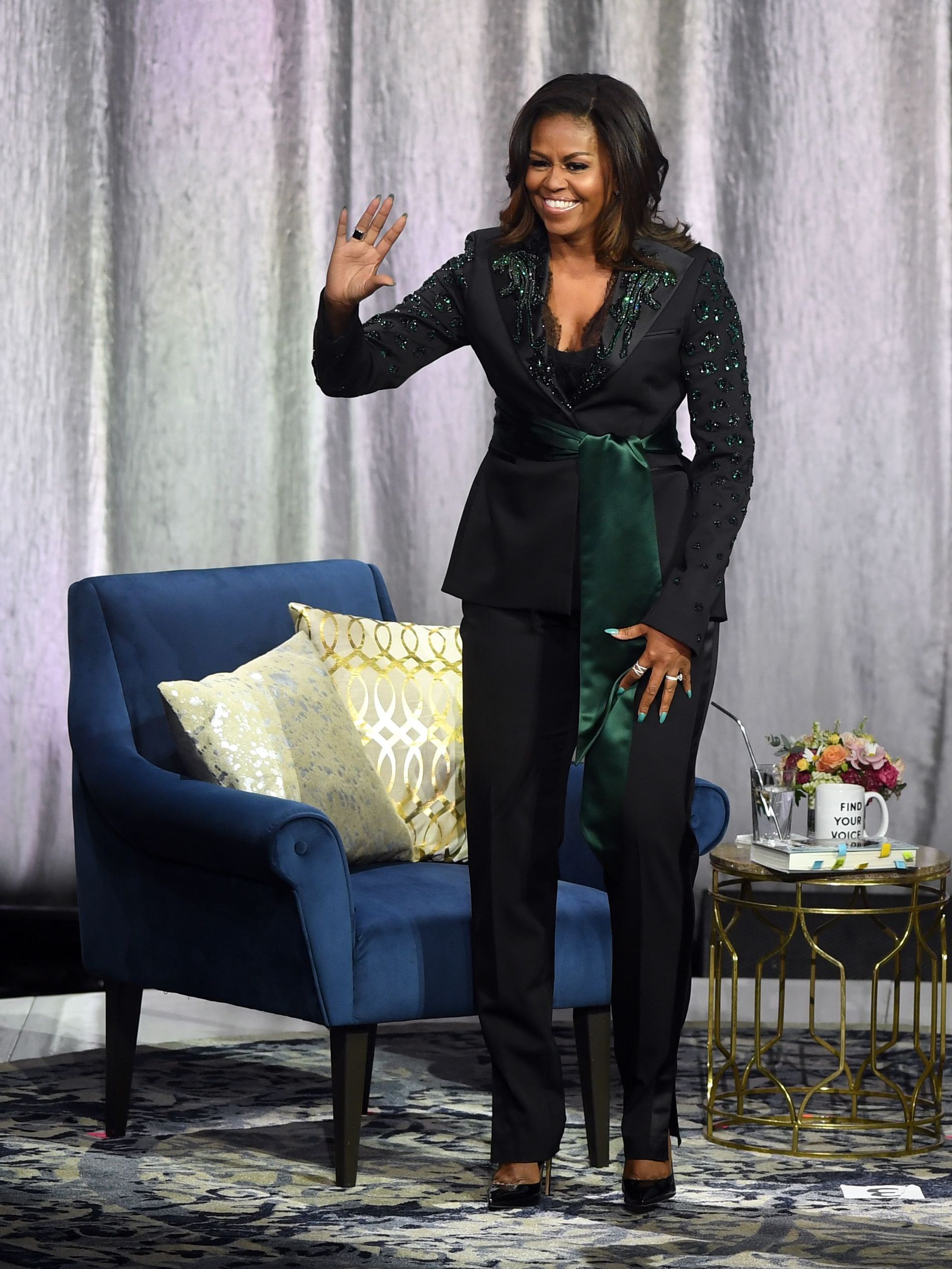 The trend continued in Stockholm where she opted to wear a winter white Acne Studios suit. The cropped blazer was, once again, bedazzled with feather-like appliqués around the lapels and crystal buttons. A sparkle picked up in the former First Lady's shoe choice: a pair of sparkly silver pumps. In Oslo, she slipped into another embellished two-piece, this time a black suit with forest green stones and a matching satin sash by Norway's Peter Dundas.
A true tastemaker, Obama's appearances in Scandinavian designers have helped them gain momentum across the pond, catching the eyes of leading Hollywood stylists. With an apparent preference for our region's sartorial super stars, we can't wait to see which Nordic designer the former First Lady opts for next.