In our series focussing on emerging talents and artists across the Nordic region, curator and writer Saskia Neuman meets Dimen Abdulla, a playwright and dramaturge
Dimen Abdulla was born 1984 in Kurdistan, during the Iran/Iraq war. Dimen, a Kurdish name meaning horizon, doesn't remember a great deal of her early years, marred by war and strife, as she and her family fled from Kurdistan to Pakistan via several national borders and refugee camps. One of her earliest memories is the flight her family; mother, father and six siblings, took from Pakistan to Sweden, closely followed by another: arriving in Sweden, in the dead of winter, surrounded by snow. She grew up in Morgongåva, a village on the outskirts of the city of Uppsala, and left home at 14.
Abdulla is an artist, playwright and dramaturge. Her earliest recollection of culture consumption was, "the library…I don't know what I would have done without access to the library," she tells me. "My sister Trifa used to borrow books by the Swedish poet Karin Boye and would recite her poetry aloud to me. I was introduced to the Lebanese American poet Khalil Gibrans book, The Prophet, which gave me a new perspective in my relationship to my own parents," she continues. Abdulla still visits Stockholm's famous Stadsbibliotek, the city library, several times a week.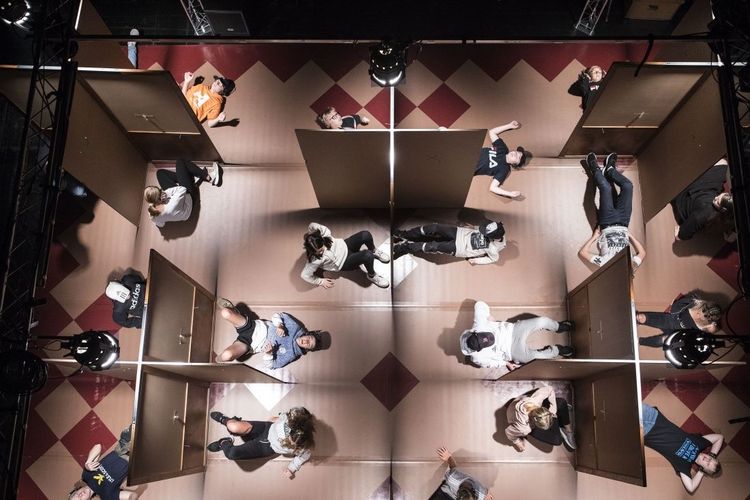 Scenes from 'Alla Katter, Alla Tromber, Alla Skogar, Alla Bomber' a play written by Dimen Abdulla and Josefina Björk. Photo: Lina Ikse
I ask Abdulla when she first knew she was an artist. She candidly shares, "it wasn't one specific incident, rather several unique moments that led to me discovering my artistry… my father bought an easel at a flea market, none of us knew what it was, and after some research we figured it out. I took a wooden board, ripped a white sheet, fastened it to the board, put it on the easel and started painting." Abdulla recalls another instance, "I shared these erotic romance novels I had written with a friend; her reaction and enthusiasm made me gain confidence in my own imagination, and lust."
The visual arts also had a huge impact on Abdulla, in high school she discovered graffiti, closely followed by more classical artists, such as "Henri Matisse, Pablo Picasso, Rothko and Torsten Andersson". Attendance at Stockholm University of the Arts soon followed. Abdulla has many points of influence to draw from, family and friends inspire her greatly, along with her foster father. Abdulla shares, "he told me there are two things you shouldn't scrimp on in life: food and education. He opened his life up for me and my sisters."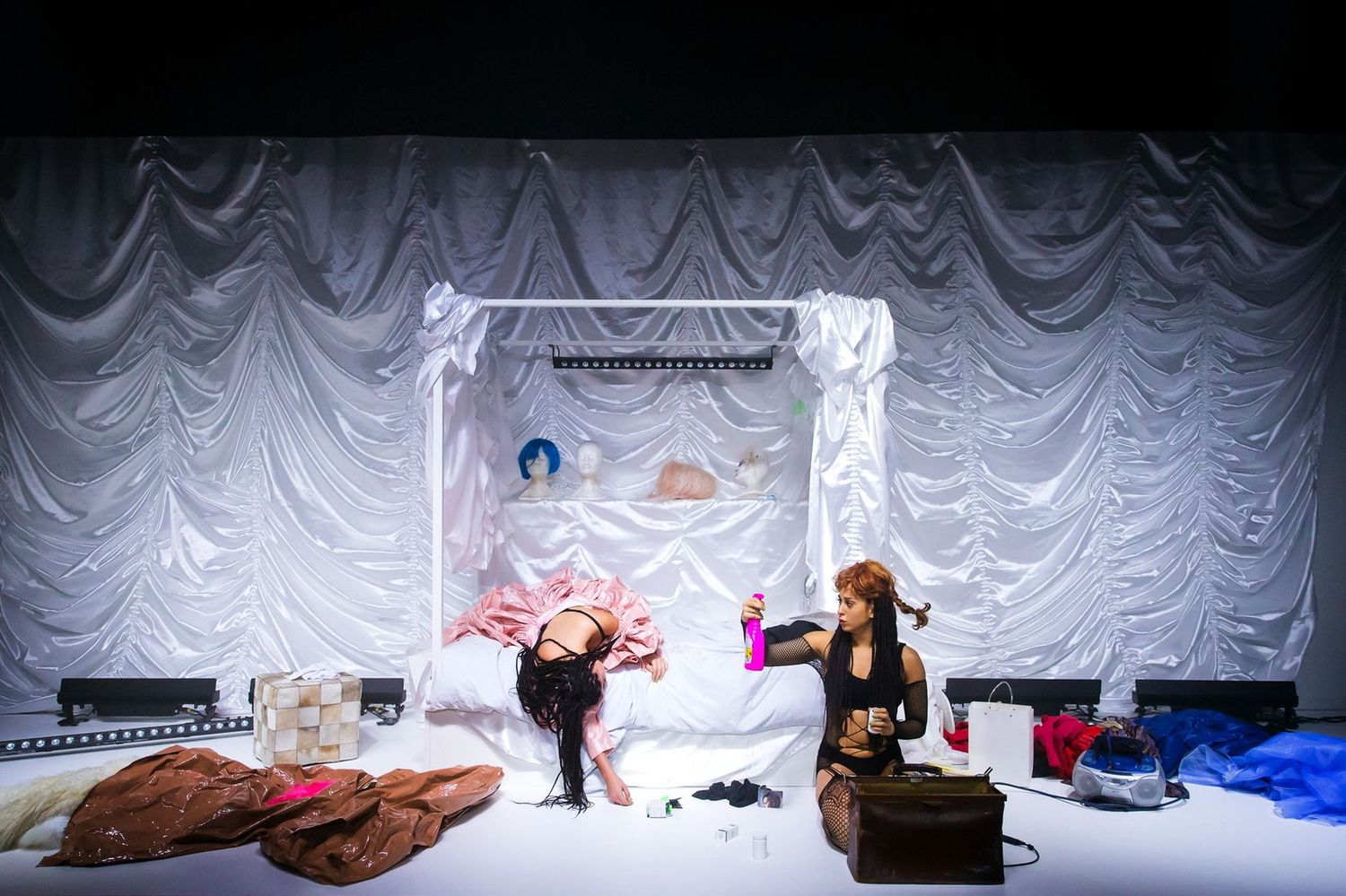 Scenes from K, a play/monologue about singer Leila K, written by Dimen Abdulla. Photo: Mathilda Rahm
Other sources of inspiration include now deceased Danish/Palestinian poet Yahya Hassan and the Swedish playwright Lars Norén, along with Justin and Hailey Bieber's Instagram account, "they're so in love", as well as the singer Zhala Rifat, "she doesn't compromise in any aspect of her music".
Dimen is most proud of her play X, which debuted at Unga Klara theatre in Stockholm, along with a tactile headphone/sound piece, Alla katter, alla tromber, alla skogar, alla bomber at Regionteater Väst, directed by artist Josefina Björk.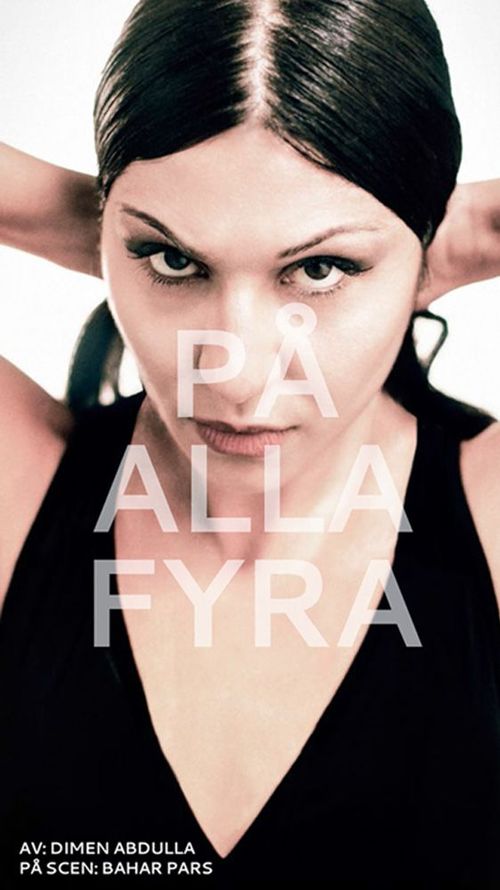 På alla fyra written by Dimen Abdulla. Photo: Christian Göran
She shares the multitude of projects she is currently working on, "the influencer, podcaster and actress Julia Lyskova has patiently answered all of my questions the past year. Her podcast is called Daddy Issues, but honestly it should be named Mummy Issues… I mean, how alarming, perverse, violent, tender, gross and deep is the mother/daughter relationship?!"
I press Abdulla on the red thread of this new theatrical work, she answers emphatically, "well, are we ever really able to free ourselves from our mother? I really wonder." The premiere of the play is in 2022 at Stockholm's City Theatre.
In addition, she is working on a literary interpretation of Danish artist Tal R's site-specific work, 'Men Who Can't Sit on Horses', exhibited at Magasin III, Museum for Contemporary Art, in Stockholm. Abdulla excitedly tells me, "I've been commissioned to write a piece, a commentary to this magnificent artwork, which will be presented later in 2021. Working with text in dialogue with art is something I have wanted to do for a very long time, the opportunity to cross-fertilise these two fields of expression."