Keep up-to-date with the latest in homeware releases and interior pieces to know here. Your lust-list will thank you...
Norwegian carpet-crafters Volver's new Sami-inspired piece is the perfect "Place for Stories"
Volver, the Norwegian design studio that marries art and traditional rug-making, has created an inclusive, hand-tufted carpet for the Norwegian Cultural School's exhibition "A Place for Stories." The exhibition is centred around the work of artists Laila Mari Brandsfjell and Ida Helene Benonisen, and will take place at the Buskerud Art Centre. These artists practice inclusive expression in different mediums, and have together created a piece of two parts. One part carpet, one part slam poetry.
Brandsfjell's carpet design is inspired by the Lavvu, a traditional Sami tent, and carries in its stitches a message of gathering. With an inner circle to symbolise the campfire, and an outer circle to symbolise where the people gather around it. Together they create a space where family and friends can meet and share stories.
Which is exactly what will occur at this exhibition, where Benonisen, a Sami slam poet whose words express her relationship with heritage, identity and queerness, will perform in the carpet's inner circle, whilst the audience sits in the outer. The exhibition, foremost created for students, will tour schools around the country (reaching around 17,000 students), and will then be open for the public at the Buskerud Art Centre. Both the piece and performance explode with life and colour, and together create a beautiful example of inclusive Nordic artistry.
The touring exhibition of "A Place for Stories" will take place during September and October of 2023, and after being open to the public, will then continue for three months starting February 2024. It will also be presented for schools later in 2024 and again in 2025.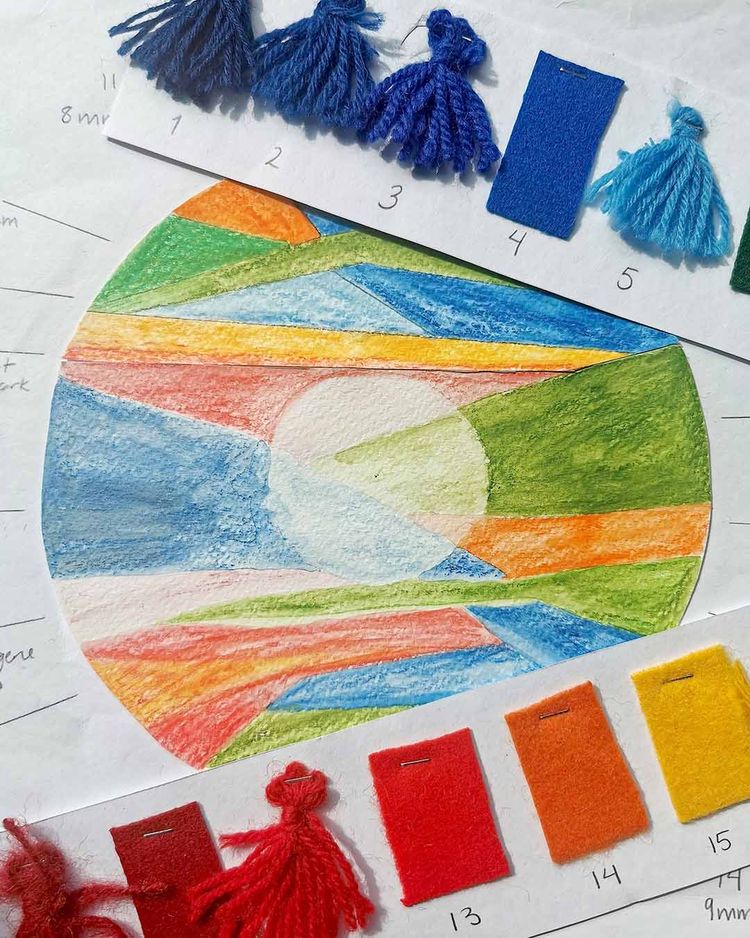 Sketch of Laila Mari Brandsfjell's design. Photo by The Buskerud Art Centre.