Two coats are better than one
Autumn is a tricky time for dressing. Yes, there is plenty to look forward to by way of cozy separates: plush wool sweaters and cashmere turtlenecks, trousers fashioned in faux leather and wide wale corduroy. But regardless of how on-point your outfit is, when you head out the door you have no choice but to completely obscure it with a big old coat. New winter-appropriate outerwear may be a thrilling investment, but come January you've likely grown tired of hitting the streets in the same 'everyday winter coat' pretty much, well, every day.
This season, instead of one coat, opt for two. It stands to reason that the same warmth of a single winter coat can be achieved by donning two fall coats (or one jacket and one coat, as it may be) — it's simple arithmetic. Doubling up on mid-weight outerwear — motorcycle jackets, sherpa-lined denim, wool overcoats, bombers — allows for countless sub-zero-friendly outfit permutations.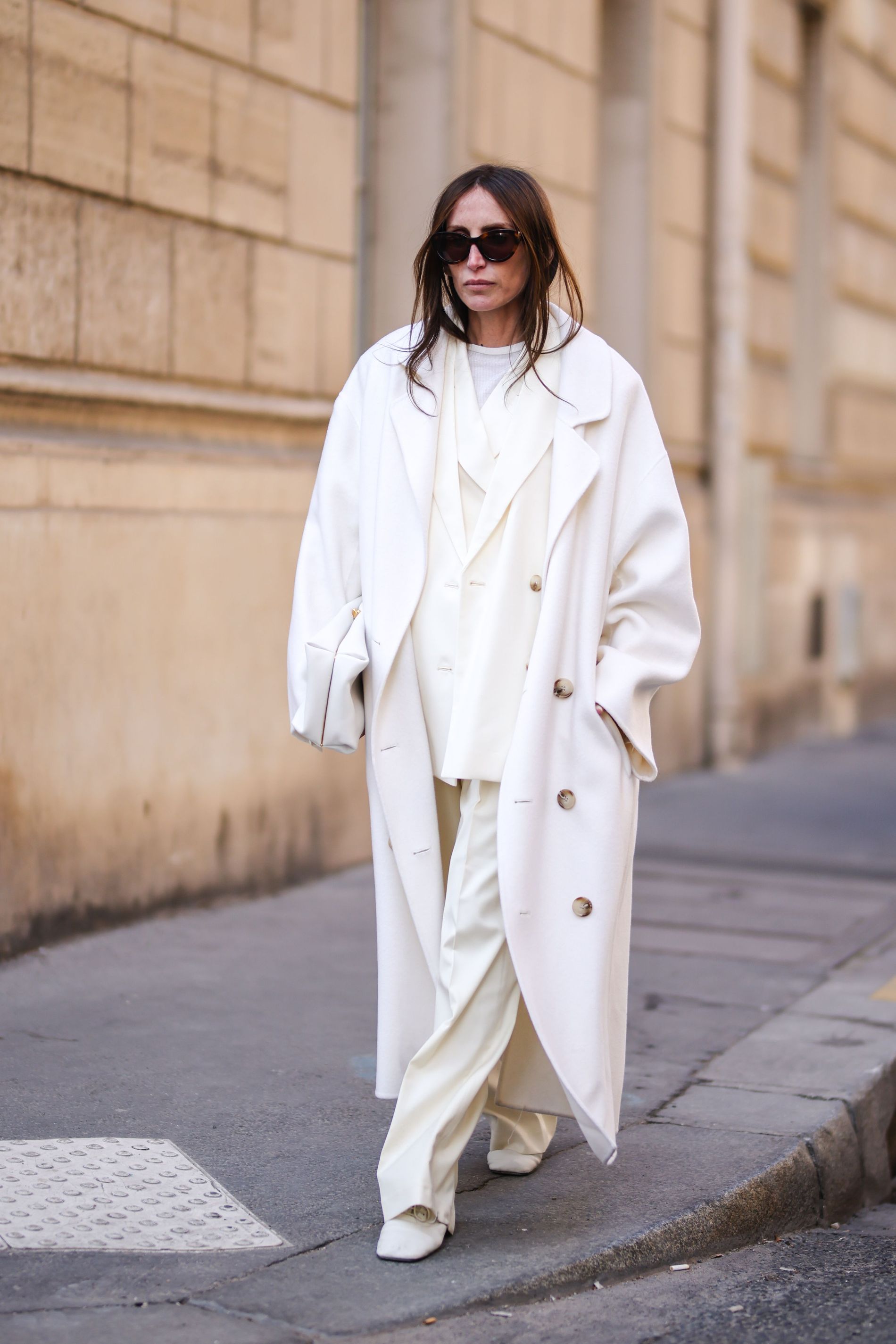 Chloe Harrouche teams a white oversize wool long coat layered over an oversize blazer. Photo: Getty
There is a subtle art to wearing two pieces of outerwear simultaneously. One misstep and you'll invite comparisons to the seven-layer Balenciaga parka from FW18 (not that we don't stan). When you reside in a region where winter has the tendency to stretch on for over half the year, there's plenty of time to get creative with the outerwear you have on-hand.
Here, some things to keep in mind when wearing two coats at once:
Touchable Texture
The best layered outerwear offers a textural contrast. Think a faux fur cropped jacket over a long leather trench or a boxy wool overcoat over a classic denim jacket. A variation in texture draws attention to the very fact that you're doubling up on outerwear, not just wearing a single extra bulky coat. Besides, we've been keeping our distance long enough - create a combo that begs to be touched.
Shape Shifting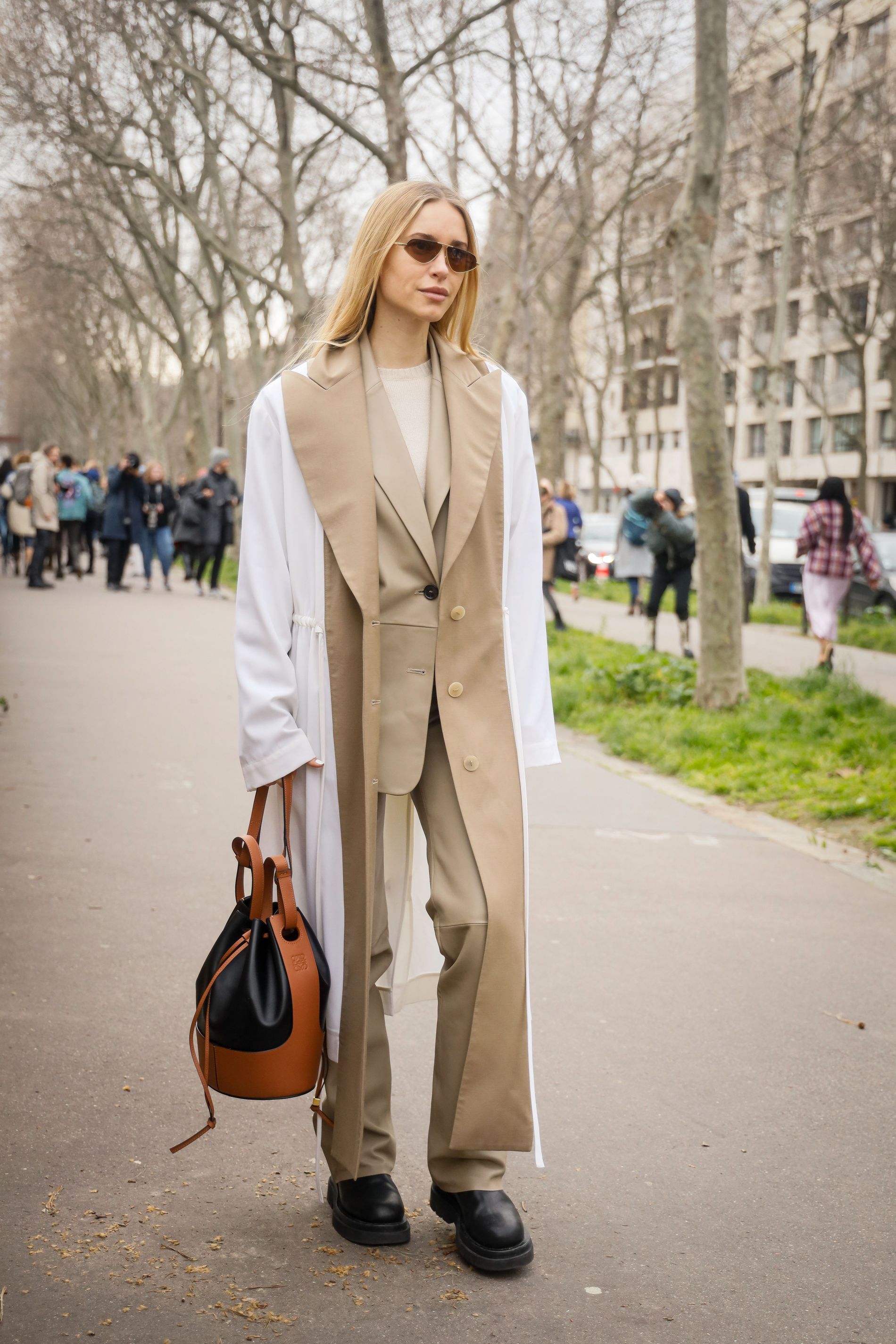 Pernille Teisbaek wears a Loewe coat over a two piece suit. Photo: Getty
When doubling up on outerwear, choose pieces with varying shapes. Cleverly layered coats and jackets can create an unexpectedly pleasing silhouette. Take, for example, one of this season's voluminous round-shouldered toppers courtesy of Louis Vuitton or Prada over a slick trench. Selecting outwear with varied lengths creates a stronger impact. Similarly, choose a base layer with longer sleeves than the topper (this effect can also be achieved by a simple roll of the cuff).
Most importantly, your first layer should sit closer to the body while the second offers a more generous shape. It should never feel awkward or uncomfortable to wear both of your coats at once.
Open Season
Create movement and further emphasize a surprising silhouette by wearing the outer layer open (or half-buttoned, on especially chilly days). This is especially vital when layering a coat over a jacket, lest the latter get swallowed up. The swing of an open overcoat over a tailored jacket is particularly pleasing on the go. And if you're prone to catching a chill, wear a turtleneck underneath as your base layer.