Keep up-to-date with the latest in homeware releases and interior pieces to know here. Your lust-list will thank you...
Elsa Billgren gives us a tour of Carl Larsson's estate in new book
New book Ett hem: Carl & Karin Larssons värld gives readers a unique insight into one of Sweden's most famous homes and an opportunity to browse the intimate Dalarna interiors of iconic painters Carl and Karin Larsson.
The quaint cottage of the pair, once given to them by Karin's father, became a joint art project complete with bright and colourful interior design. Through the pages of Ett hem writer Lilla Hyttnäs sets the space within its historical context, while Elsa Billgren's styling creates a vivid image of the home, truly bringing it to life.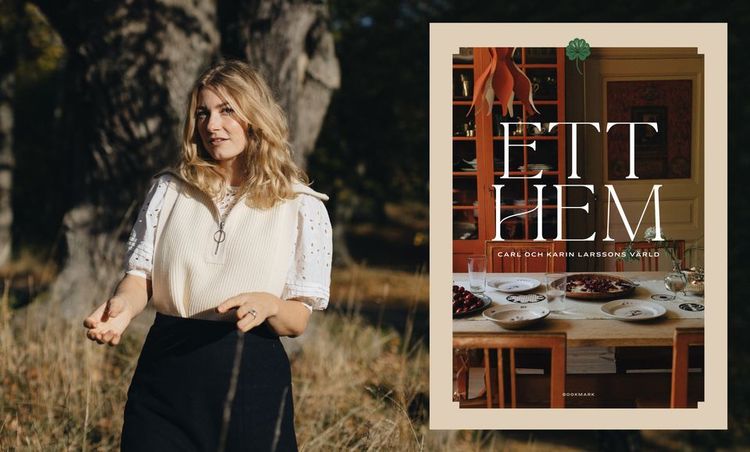 Tekla opens its very first store in Copenhagen
Danish brand Tekla, known for its crisp pyjamas and comfy bedding, has opened its first-ever flagship store in what is thought by many to be the capital of Scandinavian design: Copenhagen. Nestled on Vognmagergade, right next to the historic Rosenborg Castle gardens, visitors will now be able to peruse its fabrics in-person.
"After launching with a digital-first approach, we are beyond excited to launch our first store," says Kristoffer Juhl, co-founder and managing director at Tekla.
Since its inception in 2017, the brand has been a favourite go-to for all things sleepwear, including sleep masks, along with other life essentials such as boxers, t-shirts and towels. With ornate architectural details, custom soundscapes and a signature room scent, this new space is bound to elevate your shopping experience.
"This milestone marks six years of experience, which we've drawn upon to create a concept that we believe will delight our community," says Juhl.
By Rebecca Hyde-Price Aggestam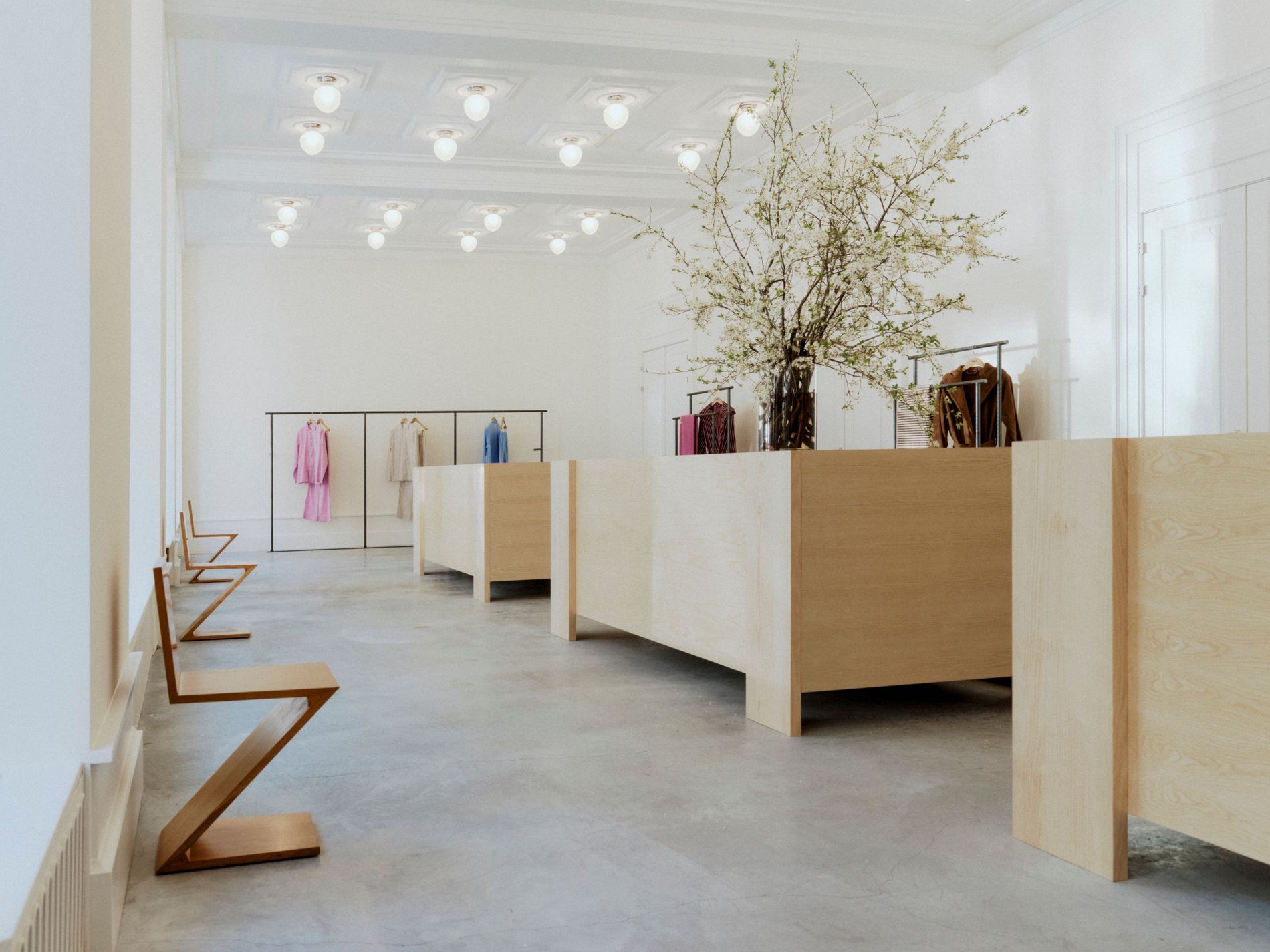 This lamp from Secto is going straight on our wishlist
A new addition to the Secto family has been released, a smaller version of the highly versatile Kuulto ceiling lamp. The lamp, originally designed by Seppo Koho, is crafted from hand and made with local birch wood sourced from the tiny town of Heinola. It works just as well solo as it does styled in a cluster, creating larger pockets of light and warmth in any room, while its architectural design, with pressed birch slats, make it a great addition to any ceiling or indeed wall.
Kosta Boda and Hanna Hansdotter collab on new brutalist candlestick
Kosta Boda has teamed up with award-winning Swedish designer Hanna Hansdotter on a series of jewel-coloured candlesticks: Rocky Baroque. The candlesticks, which come in three different colourways including Lilac Haze, Kryptonite (an acid green) and Amber Haze, look as if they have been carved out straight from a rocky crevice and arrived directly on your dining table.
But it isn't the first time the pair have teamed up together on a new release, having first collaborated together in 2016. Hansdotter says she creates in the space between brutal and decorative – a sentiment which is so evident in her beautifully raw creations.
"Rocky Baroque personifies the Kosta Boda brand, as does Hanna Hansdotter," says David Carlson, creative director at Orrefors & Kosta Boda. "Progressive, bold and contemporary, Rocky Baroque is an instant design icon that challenges conventions, techniques and norms. Just like Hanna."
View the collaboration here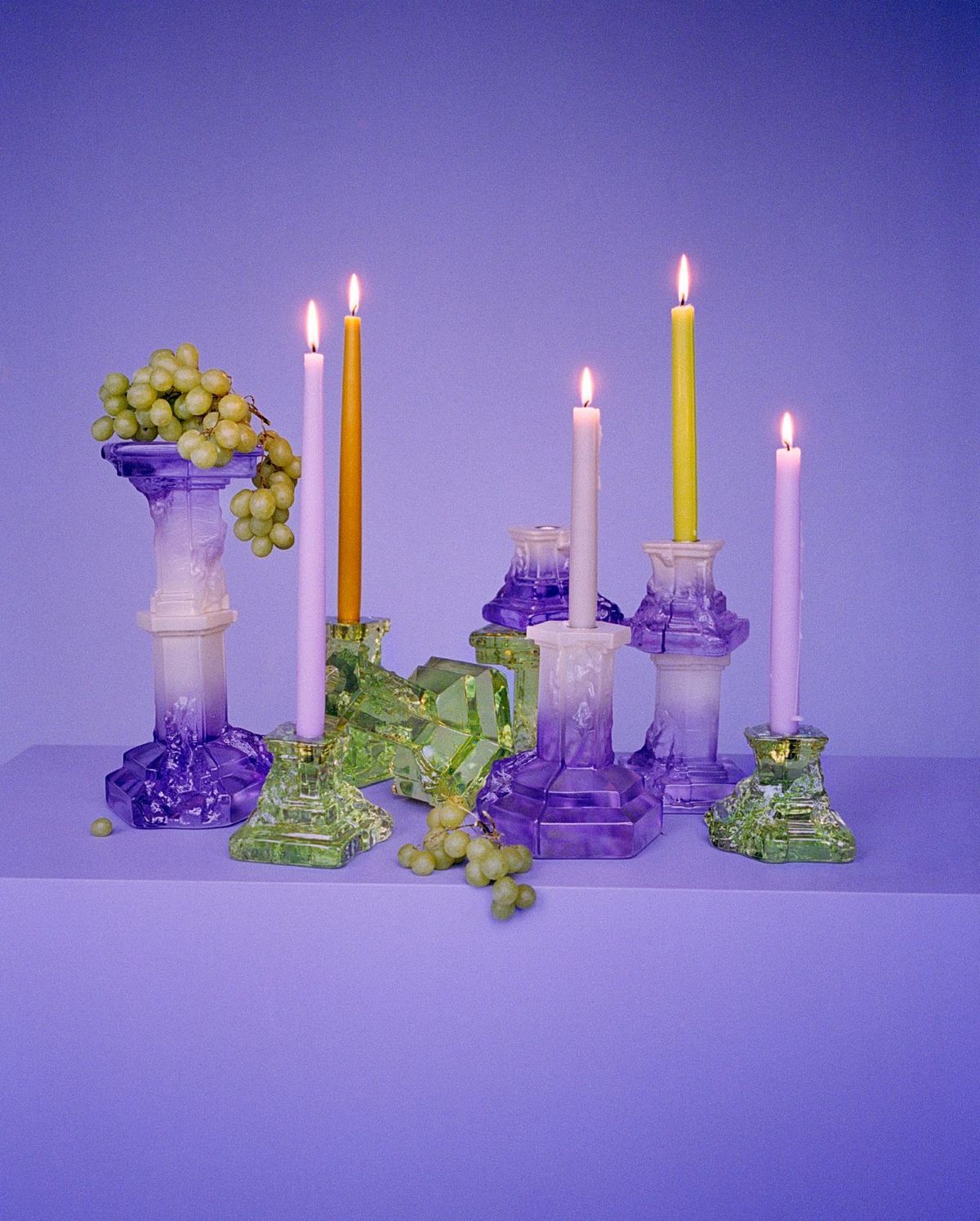 Photo: Petra Kleis
Svenskt Tenn and Lars Nilsson take us on a summer holiday to Capri
The iconic and much-loved Swedish interior design brand Svenskt Tenn first teamed up with Fashion designer Lars Nilsson back in 2018, and now the two are back together again for an exciting collaboration. This season, the duo are launching a new print design: Wisteria, named after the blooming violet flower commonly found on the island of Capri. Featuring vibrant hues of cobalt blue and green, this collection is just the spring reset that your interiors ordered.
"It is always a big honour to have my work presented at Svenskt Tenn in Stockholm and to be a part of their wonderful world," details Nilsson.
The collection, which draws on a summer-infused stripe palette of green and blues includes cushions, trays, placemats, along with metre-long print textiles.
"Flowers and nature are often my starting point for new designs for products," says Nilsson. "My inspiration for the Wisteria print came from a wonderful time spent in the town Anacapri at the Villa San Michele."
Having spent decades of his working in the fashion industry, with time spent at Chanel, Ralph Lauren as well as Dior, Nilsson has had an illustrious career, with his expressive designs and graphical motifs – all sketched by hand – fitting in perfectly with Svenskt Tenn's heritage design.
The collection is available here now
By Rebecca Hyde-Price Aggestam