Discover Vogue Scandinavia's dispatch with all of the latest sartorial news, launches and releases to keep on your radar this March
Michael Kors brings back Y2K style in full force with this heritage '00s icon
Amongst the many icons throughout Michael Kors' archives is the 'Astor' bag. Designed as an homage to its namesake to Astor Place in New York City, the heritage style is now being reissued and returning to the sartorial spotlight after nearly 20 years. "The sporty glamour that exemplified the early Aughties seems incredibly relevant to the way we are all living and dressing today," says founder and designer Michael Kors.
Perfectly timed for the current Y2K style resurgence, the Astor bag's reincarnation still maintains uncanny resemblance to the original version released in 2004 – while exuding enduring appeal in 2004. Featuring studded gold hardware, soft brown leather and a slightly elongated strap, Kors' Astor bag is a design that is "truly one of those things in your wardrobe, like a great pair of jeans, that gets better and better with time." Carried seamlessly from the office to after-hours, the Astor embodies those sought-out sensibilities of Michael Kors' that make the Astor as timeless as it is covetable, proving that some side-kicks definitely deserve a second go-around.
The Astor bag is available via michaelkors.com
By Rebecca Hyde-Price Aggestam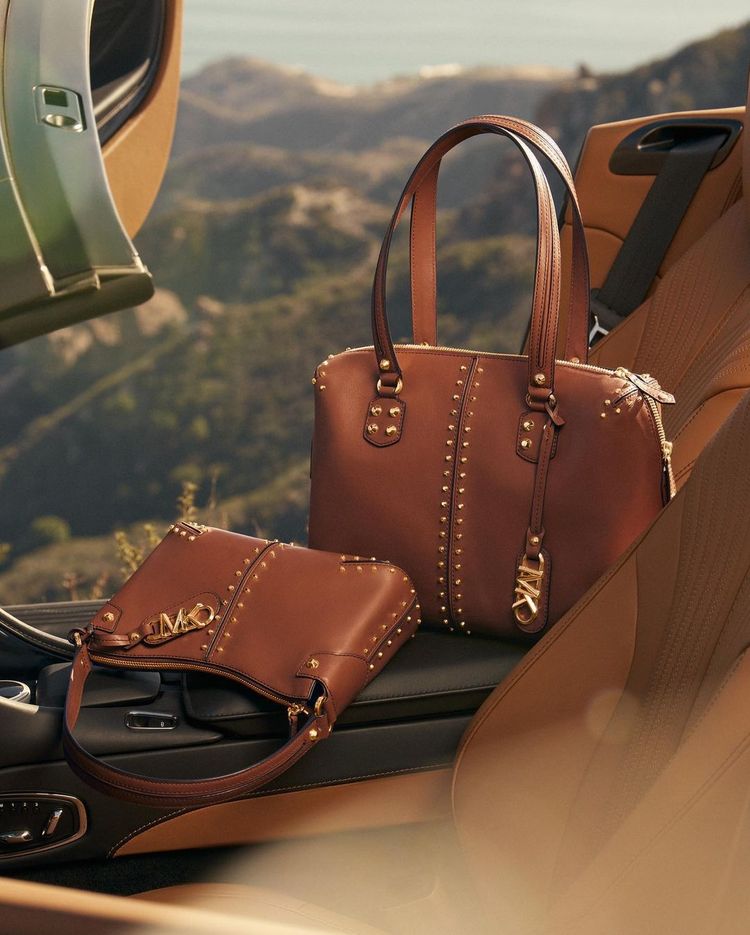 Julia Roberts is the leading lady of Chopard's new feel-good jewellery campaign
From causing a scene at a polo game in Pretty Woman, to the legendary bookshop banter of Notting Hill, Julia Roberts' radiant, million-dollar smile has lit up some of the world's most feel-good cinematic moments of all time. Now, Roberts teams up with Chopard to take us behind-the-scenes of a Hollywood movie, to glimpse the unseen backstage moments that are an integral part of a film set's charm.
The Chopard Loves Cinema campaign positions Roberts as not only the brand's iconic global ambassador, but as the muse for its exquisite jewellery and timepiece collection. The shared love of cinema between Chopard and Roberts plays out in 12 video clips by acclaimed director James Gray, that explores the maison's joyful creations, with pieces hand-selected by the actress herself.
The first episode of Chopard Loves Cinema starring Julia Roberts premieres on 19th March on Chopard's Youtube channel, and you can view the trailer below.
No need to scour your partner's closet: Skall Studios limited-edition unisex coat has landed
"Last summer, we noticed that several men started to wear our styles – especially our coats – and we got inspired by that," says Skall Studios co-founder Julie Skall. The observation sparked an intention from the Danish brand to master the art of unisex dressing.The result? The refined London coat, hand-tailored with logo-engraved buttons in an earthy greige hue, designed to cater to all genders. The outerwear – available in a limited edition drop of only 90 pieces – ensures you no longer need to scour your partner's wardrobe for that perfect coat. "We love the fact that you can minimise your wardrobe by sharing," comments co-founder and sister to Marie, Julie Skall.
You can wear the coat with good conscience too, as it's produced by the small sewing company Malmö Industries in the south of Sweden. "We are grateful for our collaboration with Malmö Industries as it enables us to support local production and craftsmanship," the Skall sisters say. Based on a design originally sported by automobile drivers in the early 1900s, the heavy cotton twill coat is built to last and has already proven to stylishly stand the test of time – only getting better with age.
By Rebecca Hyde-Price Aggestam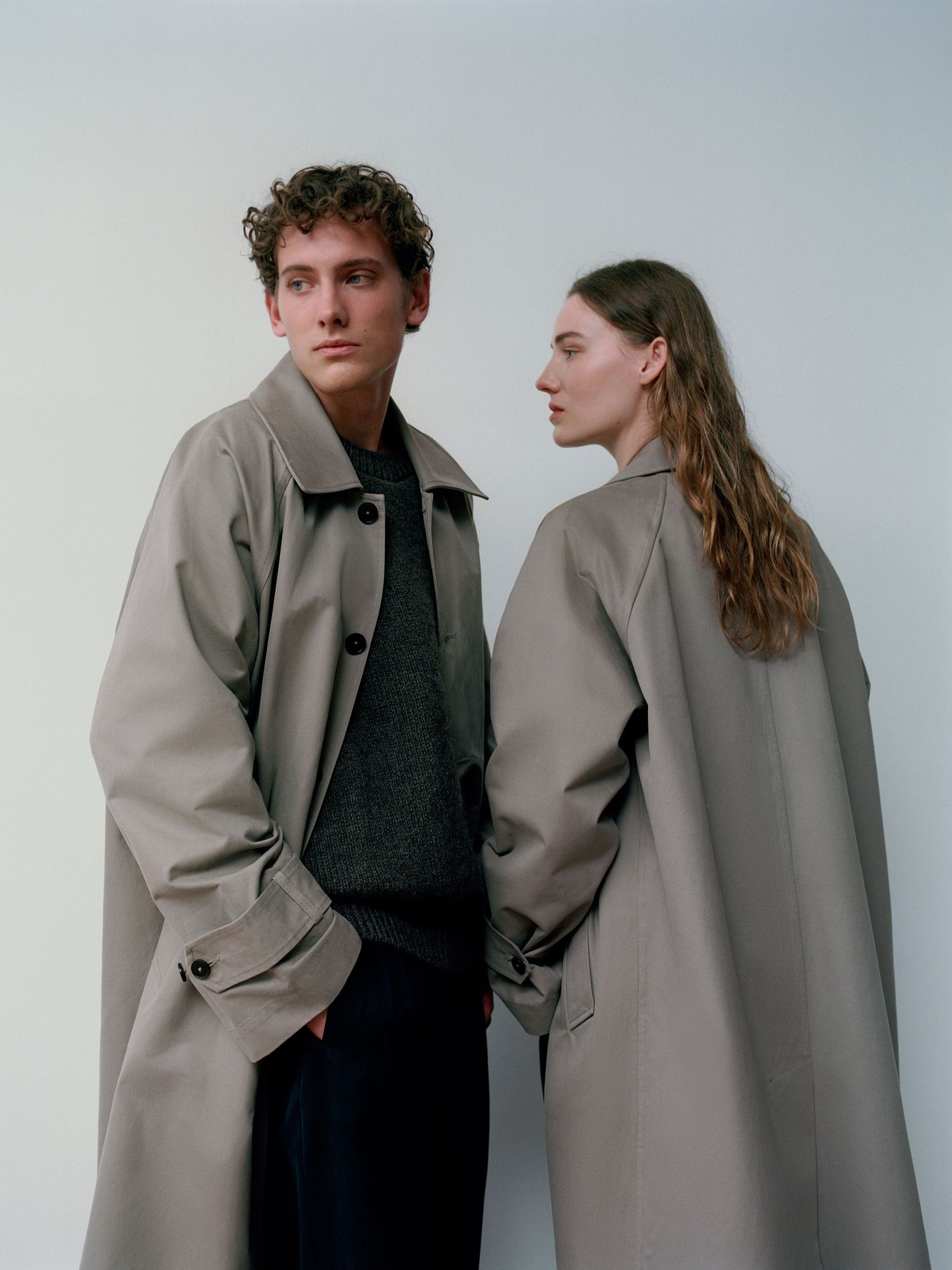 Romance yourself with By Malina's new collection
"I always feel like going [that little bit] extra when attending a special occasion. Somehow, I dare to get out of my comfort zone even more," explains Malin Ek Andrén, By Malina's founder and creative director. Drawing on that very notion, the brand showcased its spring/summer 2023 collection, 'The Modern Explorer', under the blazing Italian sun in Puglia.
The Swedish brand is known for dreamy, floral occasion wear, and their latest offering certainly didn't disappoint. The collection honed in on the label's signature hyper-feminine silhouettes, featuring ultra-romantic dresses, ideal for any spring wedding or garden party, decked out in vibrant colours and floral prints. Puff sleeves, floor-sweeping hems and pared back slip dresses were all on the agenda, introducing a variety of styles fit for any spring soirée. "​I want to believe the customers think a lot like me. If not for this wedding or party, where else would I wear this super-statement piece?" ponders Andrén.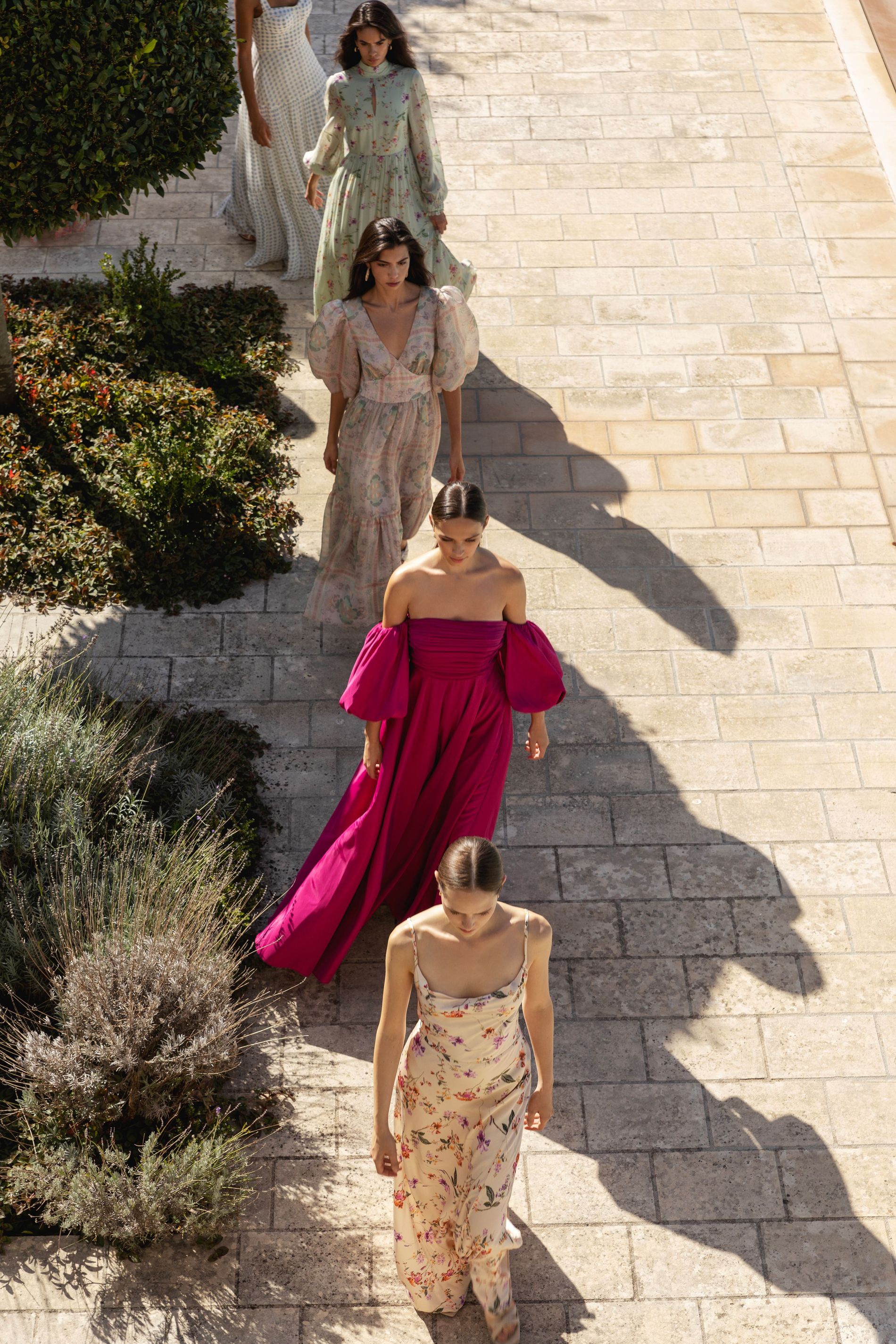 Photo: By Malina
JW Anderson and Uniqlo again team up on a preppy new spring drop
Marking the sixth year together of the coveted collaboration between JW Anderson and Uniqlo, this time round, the labels leave behind the usual cottage-core staples – instead turning to the scoreboard for a collection of vintage-tinged athleisure pieces ."For this season, we were really looking at heritage sportswear and how to reinterpret it," says designer Jonathan Anderson. "Blending it more with modern sportswear and the technical materials that UNIQLO has incredible capabilities in," he continues.
Taking its cues from British university rowing sportswear from the early 1900s, the spring/summer range reaches new preppy heights. Colour block cardigans, tennis dresses, pinstriped shirts, cardigans and blazers are on the roster, many doubling as sportswear owing to technical fabrics such as the lightweight and quick-drying AirSense fabric.
The collection will be available from the 24th of March via Uniqlo.com
By Rebecca Hyde-Price Aggestam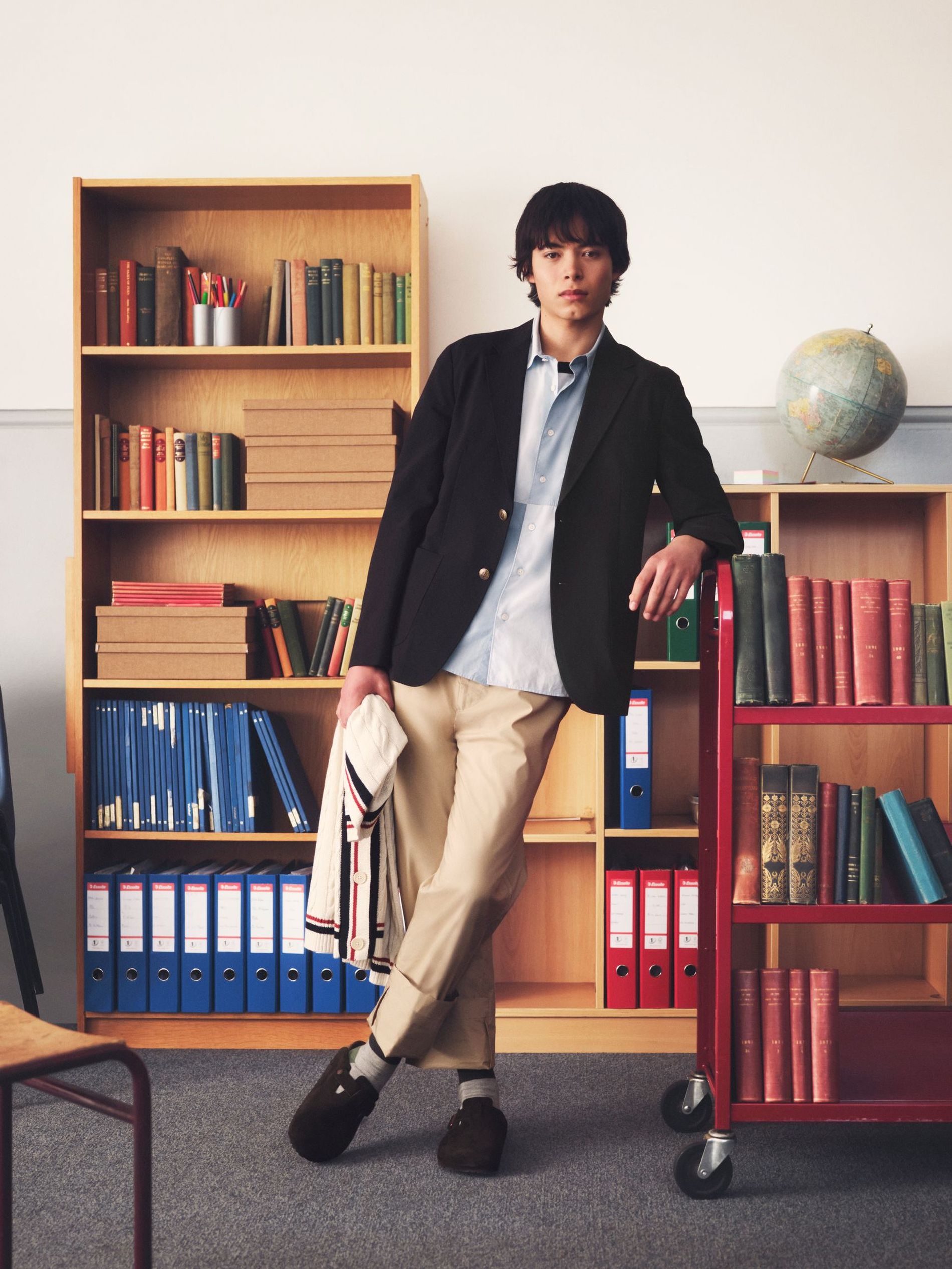 Beckmans graduate Saveja Awzel nabs the NK Young Talent Award
The talent that passes through the halls of Sweden's eminent Beckmans School of Design is something to keep a close eye on – a fact that Stockholm department store NK knows well. As such, the two institutions have joined forces to present an award that promotes, supports and celebrates the school's newly graduated students.
For 2023, the NK Young Talent Award by Beckmans has been deservedly bestowed upon Saveja Awzel, who impressed the jury with her graduation collection 'Lost on Silk Road'. "This collection is a timeline that is stuck in encounters of textures and colours, modernity and tradition," says Awzel. "It is also where tales about the Silk Road that I was told as a child meet my everyday life as a Scandinavian. At the centre of the Silk Road, the meeting point of history and worlds, is my home. I am Uyghur, Chinese born, and a Swedish citizen. This cross-cultural collection is an inner journey that reunites me with my origins, at the same time as it is a tool for forming a new identity that includes all the cultures I represent."
Awzel's winning collection is currently on display to the public at NK's display window in Stockholm and via the department store's online platforms.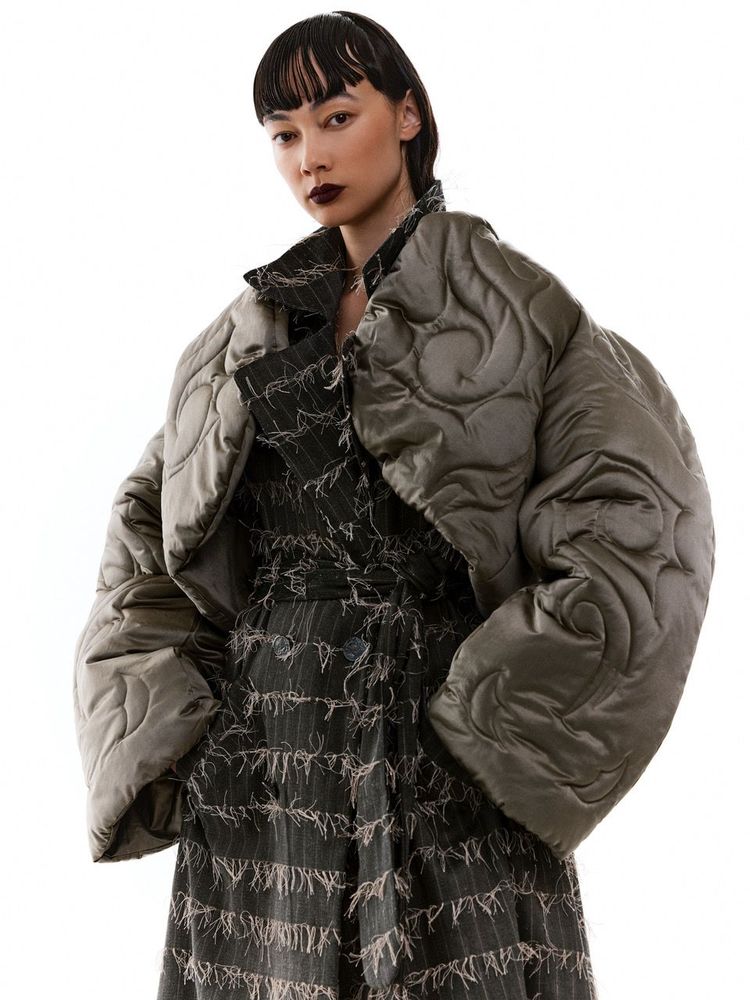 Rodebjer launches handcrafted knitwear, made exclusively by women in Peru
Swedish brand Rodebjer has joined forces with the women-led cooperative 'Las Hormiguita' in Lima, Peru on a line up of pieces hand-crafted through macramé knitting techniques. The collaboration was formed with the intent to give independence to the women in Peru, enabling them to work and support their families. "I'm so proud to have worked together with these amazing Peruvian artisans to co-create this piece", says founder and designer Carin Rodebjer. "The skill these women demonstrate is a true gift and I'm humbled to be able to continue this tradition of craftsmanship."
Taking roughly a week to make due to its intricate weaving pattern, the breezy Ravenna sweater comes adorned with fringe trim and an easy boat-neck silhouette – making it the perfect layer for the humid summer evenings ahead.
By Rebecca Hyde-Price Aggestam
Rodebjer
Ravenna Macramé Knit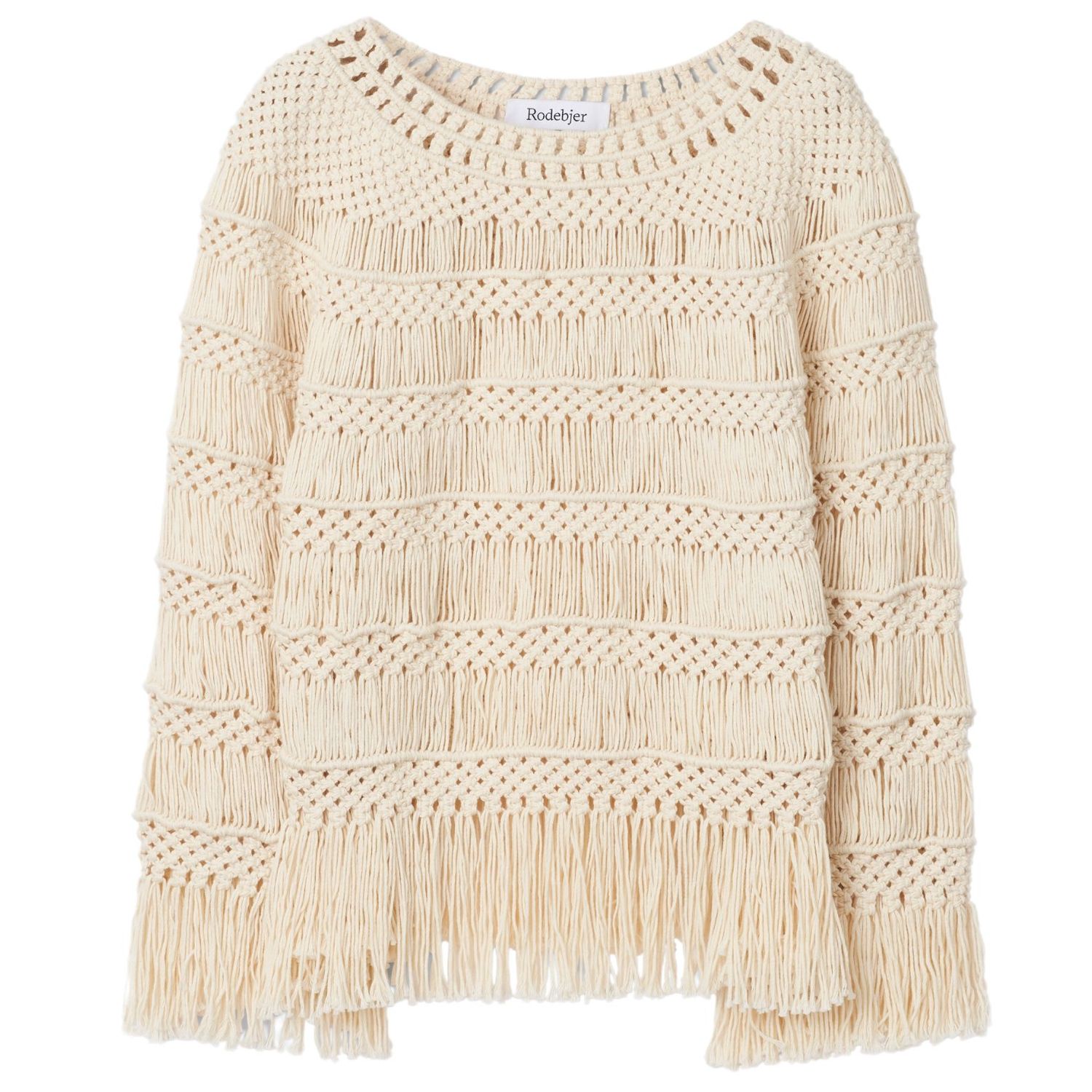 Planning an eclectic night in? These artist-inspired slippers make for the perfect addition
Swedish footwear brand Hums and Siri Carlén's latest collaboration, comprising an ensemble of art-like, iridescent slippers, revisits the prismatic era of the 1920s and puts Scandinavian maximalism back on the radar. "We fell head over heels for Carléns organic patterns and colourways," says Hums creative director Henrietta Nyvang. "If you look closely, they almost look like they've been embroidered."
With designs stemming from artist Siri Carlén's signature patterns of zig-zag prints in vibrant hues, the collection traverses lazy Sunday mornings and hosting friends for dinner – exactly how Carlén intended. "Comfort and cosiness are always a priority for me, whether I'm at home or in my studio," explains Carlén. "Slippers are a key factor [to Carlén's creativity], just like coffee and music".
By Rebecca Hyde-Price Aggestam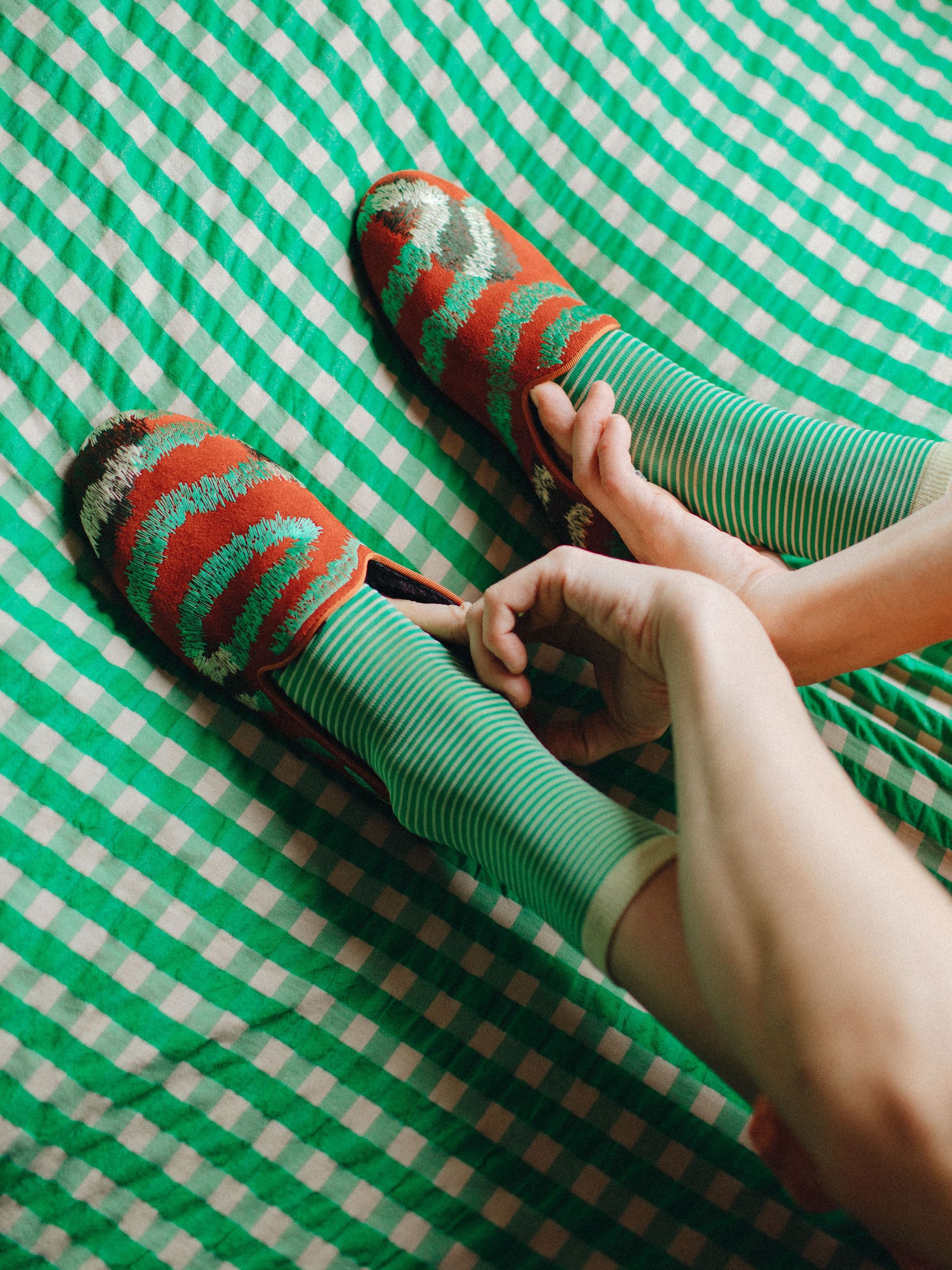 Athleisure stays 'au courant' with Adidas and Marimekko's latest collaboration
Adidas and Marimekko join forces once again to give athleisure a well-needed revamp – this time comprising a capsule for all ages and genders. "We are proud that this collection embodies the expressive, varied and conscious lifestyle of our Gen Z community", says Aimee Arana, global sportswear manager at adidas.
Marking the duo's fifth collaboration, the collection breathes new life into two iconic prints from the Finnish label's archive – the Linssi and Lokki – both of whom dominated the 60s'. "To see our patterns come alive through movement and supported by adidas world class performance technology is incredible", says Rebekka Bay, creative director at Marimekko.
Featuring form-fitting tops, boxy shorts and knee-length dresses in soothing hues and polkadot prints, the eye-catching collection of enviable garments provides an elevated sporty look that can be worn seamlessly both in and out of the gym. And, as always, sustainability is at the top of the list, with the majority of the collection made from recycled materials and Parley Ocean plastic. So there's no need to feel guilty about making room in your closet for a couple of new sport sets.
The collection will be available from the 15th of March via adidas.com
By Rebecca Hyde-Price Aggestam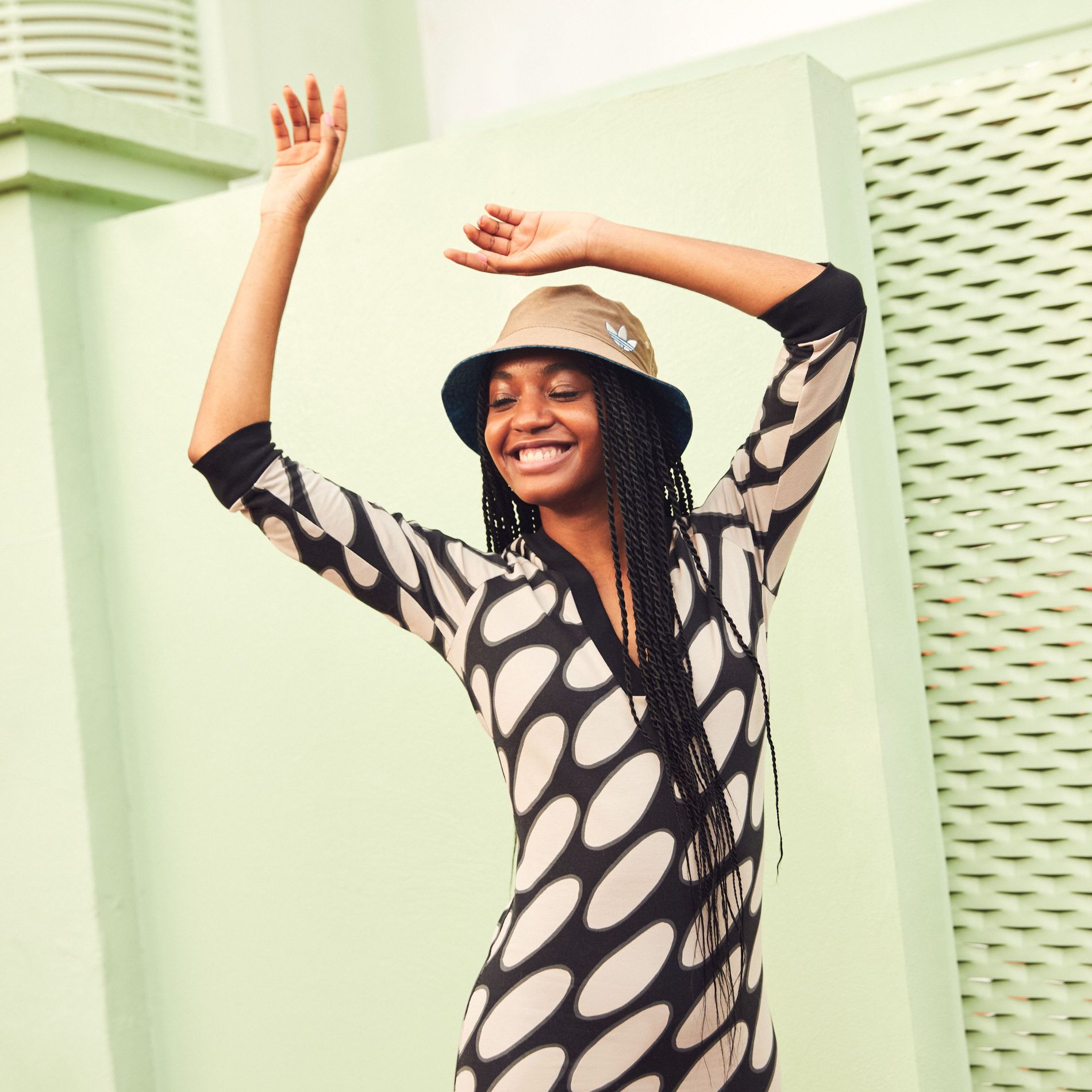 FWSS is honing in on heritage with its new Norwegian fisherman knit
Nautical stripes were the North star for Norwegian FWSS' new coastal capsule collection. Inspired by the traditional fisherman knit, the new zip-up sweater made from chunky merino wool is "reflecting a history of hard-wearing utility," says designer Elizabeth Romanin. "Garments are intended to withstand the elements, providing warmth and comfort in a quintessentially Scandinavian approach to seasonal layering", says Romanin.
Working within the muted palette of the Norwegian coast, spanning cream and navy, FWSS' sweater carries on a legacy of versatile layering and weather-defying styling – be it in the comfort of your own home or traversing the archipelago.
The collection is now available at FWSS.com
By Rebecca Hyde-Price Aggestam
FWSS
Marine Fisherman Zip Up Navy Stripe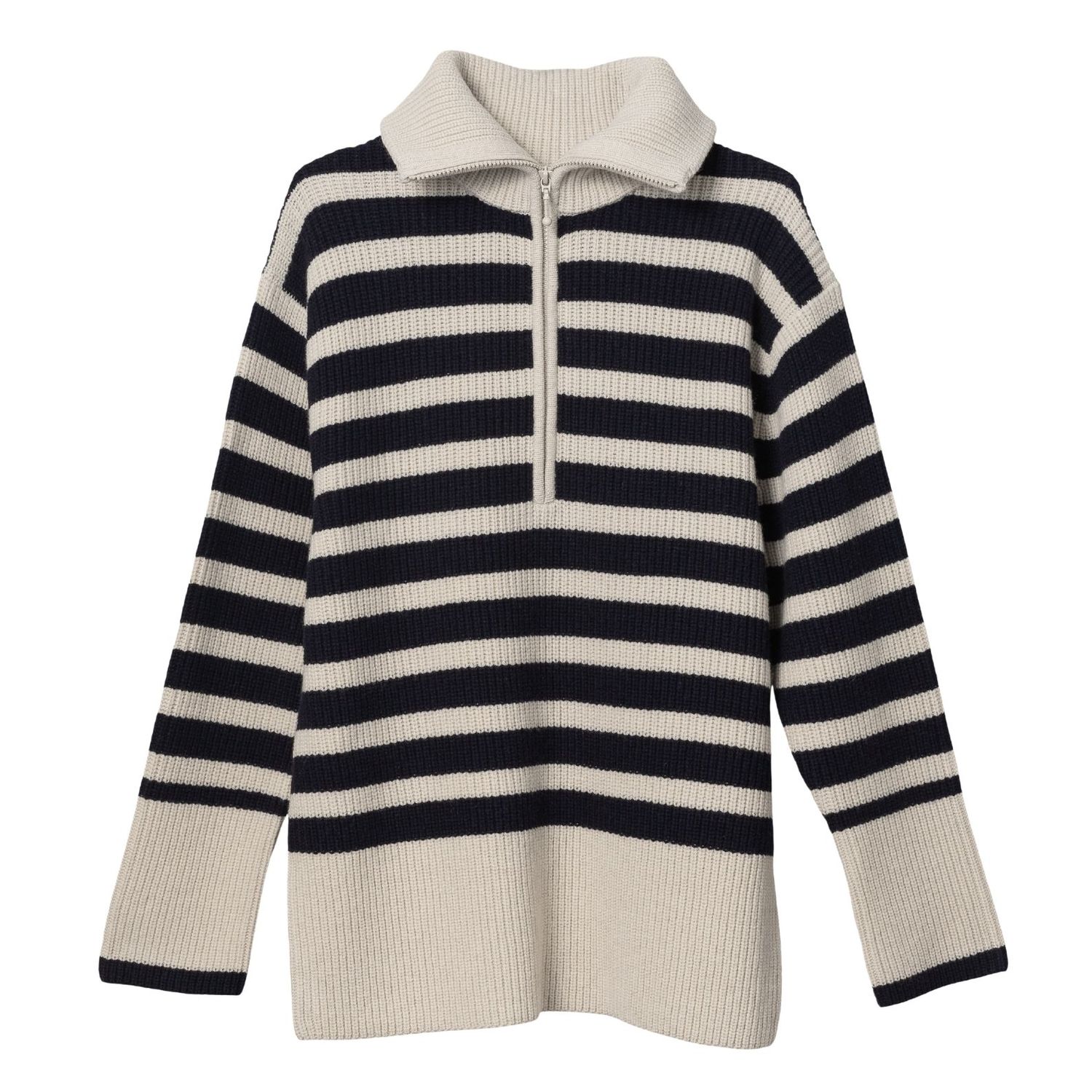 Find your footing this spring with Vagabond's updated ballerina
First popularised by icons like Audrey Hepburn and Birgitte Bardot in the '60s, the classic ballerina has made an impressive comeback. Reverberating through the fashion industry, on runways and street stylers alike, now Swedish shoe brand Vagabond has honed in on this humble flat – releasing a revamped version of the perennial classic just in time for spring "Although ballerina shoes are trendy right now, we see them as a timeless investment", says Marie Nilsson Peterzén, creative director and co-founder of Vagabond.
Originally renowned for its muted and minimalist features, the new Jolin ballerina is reenvisioned in a wide range of intoxicating colours and design details – spanning midnight black, a two-toned combination, and eye-catching hues of tangerine and cobalt blue.
By Rebecca Hyde-Price Aggestam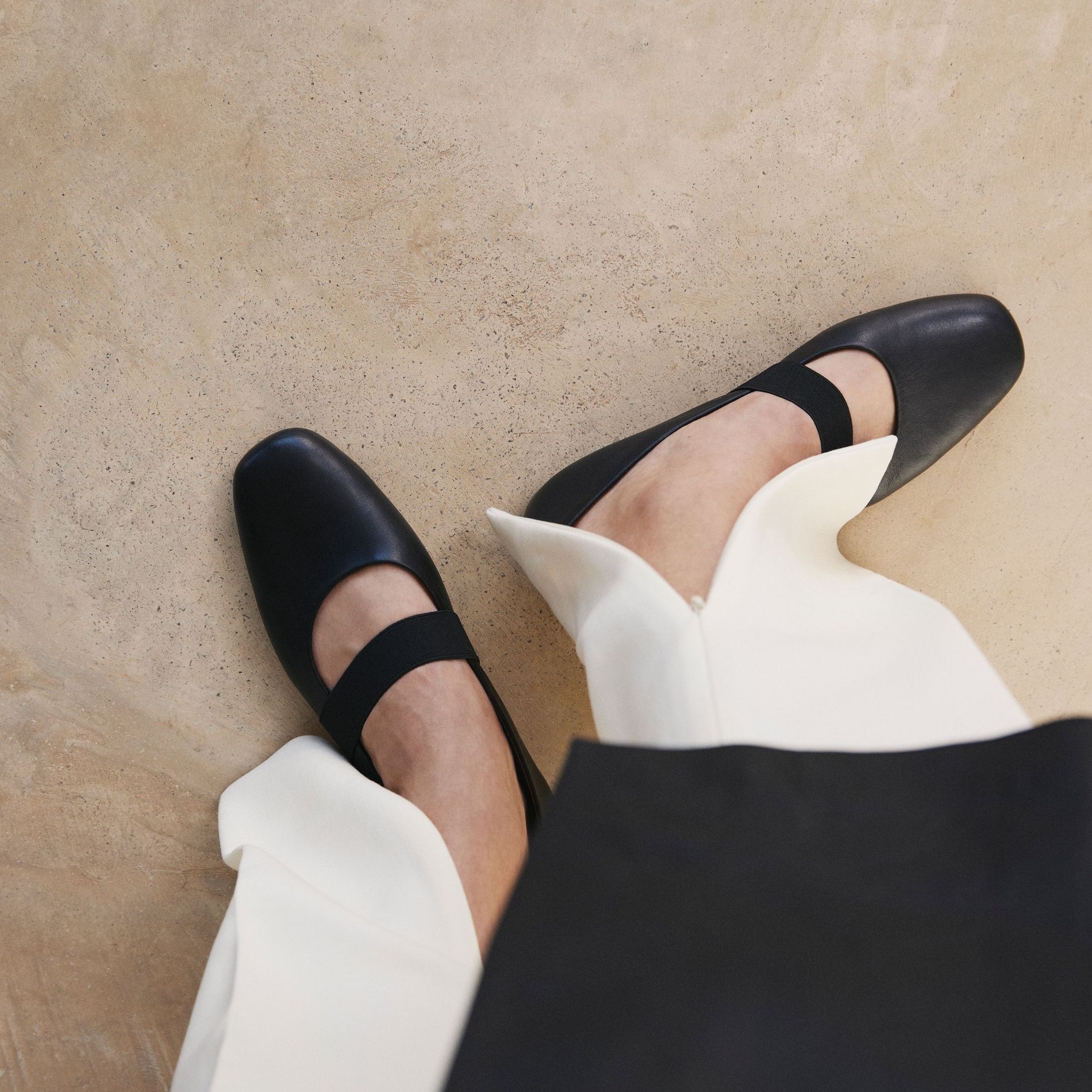 Photo: Vagabond
Eytys celebrates unconventional love with this '90s inspired denim capsule
According to Eytys, you only need one pair of jeans: the 'Benz'. This loose-fit, five-pocket unisex classic has been an integral part of the streetwear brand since 2017 "with inspiration drawn from the 1993 movie 'Mi Vida Loca," according to creative director Max Schiller.
Now, the model is introduced in 12 nostalgic washes for Spring ranging from a softly rinsed raw denim to a classic stone wash and a subtly bleached over-dyed indigo. Creating exciting washes requires "good ingredients, creativity and a tad of luck", explains Schiller. "It's very much like cooking, which is a big passion of mine."
Shot by American multidisciplinary artist Alyssa Kazew in the artist's remote villa in the Texan desert, the accompanying campaign follows "the stylish love triangle between Justine Frischmann, Damon Albarn and Brett Anderson."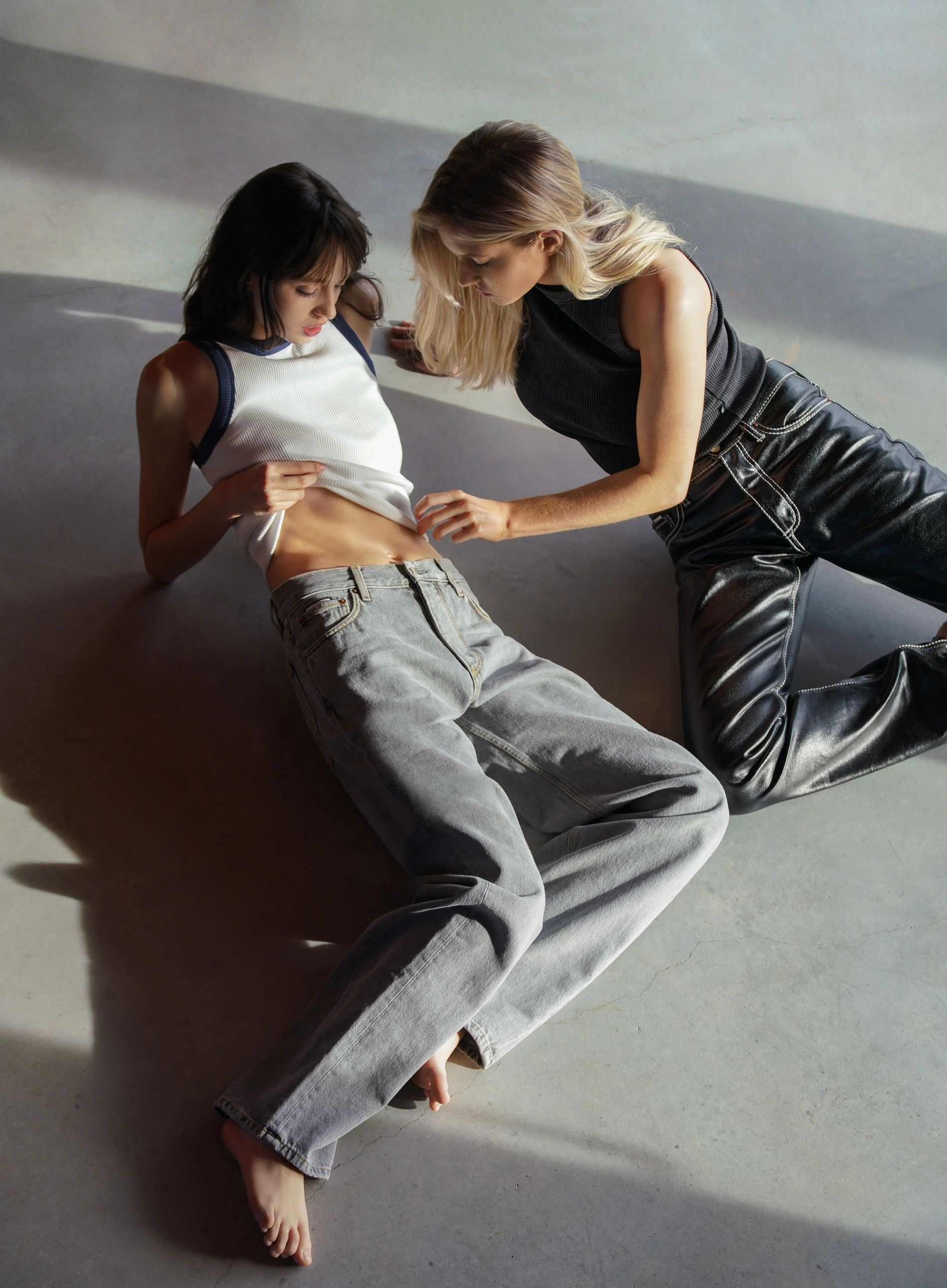 Photo: Alyssa Kazew for Eytys