In a world where art is often pursued as an escape from a machine-driven world, Anton Alvarez is doing the opposite. Join us as we step into the universe of visionary Swedish-Chilean artist with Vogue Scandinavia's latest documentary
Wandering through Millesgården, formerly home to Swedish sculptor Carl Milles and now an idyllic cultural destination just outside of Stockholm, weird and wonderful figures are dotted throughout Milles' own collection of antique bronzes and marbles. The eye-catching sculptures, unexpected in their shape and saturated colour, are the works of Anton Alvarez.
This surprising contrast of hand-sculpted antiquities and machine-made sculptures is at the core of Alvarez's exhibition at Millesgården, titled 'Honey'. Running until the end of the month, 'Honey' is a milestone for Alvarez in several ways – one of which goes without saying: to be spotlighted within the world of Sweden's most illustrious sculptors. "They are all around in Sweden and the world, in parks, outside of the concert hall, visible in so many places," says Alvarez of Milles' distinctive, mythology-inspired works. "So I'm guessing that, as I grew up in Stockholm, even before I knew that I wanted to be an artist, I had probably seen these sculptures."
Every piece in the 'Honey' exhibition has been created through Alvarez's own self-made machine, named 'The Extruder'. The crudely elegant piece of industrial equipment churns out Alvarez's creations, symbolising his oscillating role as both artist and engineer. It's a piece of equipment that Alvarez has worked with for many years, in many different iterations and scales, but 'Honey' marks the entrance of a new approach with the machinery. Working with The Battaglia Fine Art Foundry in Milan, Alvarez developed his own technique based on ancient 'cire perdue' (lost-wax casting) in which he presses beeswax in cold water.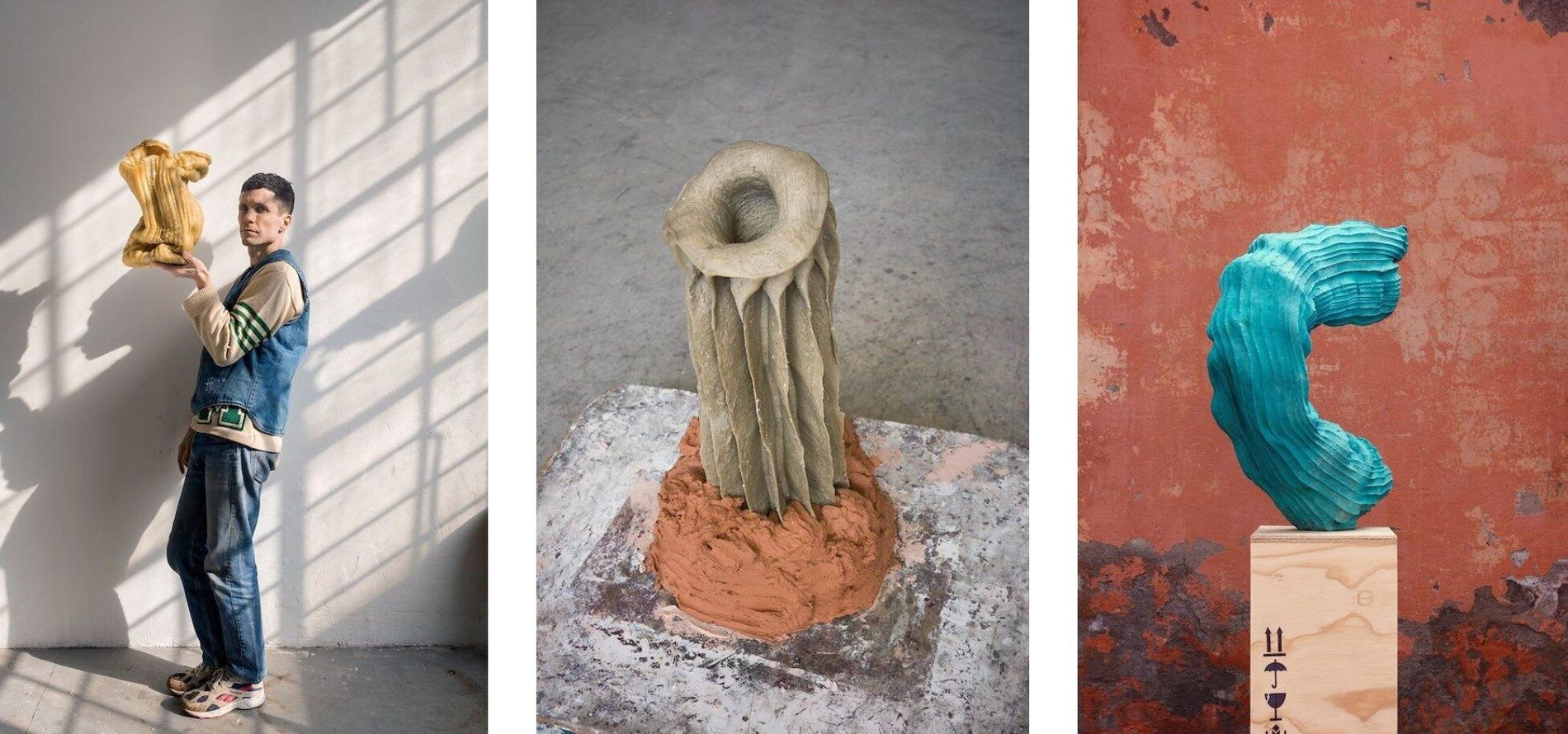 Alvarez was born in Sweden to a Swedish mother and Chilean father, and his youth was spent bouncing between his parents' home countries. Now, the Royal College of Art graduate, who has also trained in carpentry and is a largely self-taught mechanic, sees the world beyond its geography. "I see it almost like islands. There are different kinds of movements, in terms or aesthetics, but ways of thinking that are spread out but connect people." But when asked about his personal Swedish identity, he does add, "I'm pretty organised, I have a tidy studio. Planning ahead, being on time, maybe that's Scandinavian."
Initially, I felt there was a sense of acceptance, or surrender to the machine, on Alvarez's part as he talks of finding inspiration in processes that are "not touched by the human hand". "Sometimes I might manipulate the outcome a little bit," Alvarez says, "but still I don't want any human decision-making to be visible." But in speaking further with the artist, I realised it was more an act of capturing something entirely unseen before, even in his own mind. "If there is something that I can almost imagine, like if I can close my eyes and think about a specific shape, it's almost like it already exists. There is no need for me to make it because I have already seen it when I closed my eyes. I want it to be a bit unpredictable."
I like the uncertain outcome
Anton Alvarez
As Alvarez reflects in our documentary, nature also shares in this unpredictability – unlike cities which are "more open to chance, like how a tree grows, how a branch becomes two branches and so on. I like the uncertain outcome." His momentum in the art world is certainly not something left to chance, though. Alongside 'Honey', Alvarez has also recently shown a series of ceramic pieces at Copenhagen's recent Enter Art Fair with Ruttkowski;68 Gallery, and is also preparing for an upcoming show with Swedish Leo Park in November at Berntson Bhattacharjee Gallery in November.
When it comes to treasuring the unexpected, it becomes hard to differentiate between the artist and the art - speakig of his own identity much like The Extruder itself. "I don't like being labelled this or that. If I have a label on me, people will expect what comes out of me, and then I'm stuck somehow. I'm just making the thing that everyone thinks I should."
Watch Vogue Scandinavia's documentary in full below.