The Chinese-Swedish designer caused a buzz this week when she sent models down the runway with signs calling the end of genocide in Uyghur. So what's next the fashion activist?
Louise Xin and I have been playing phone tag. Ever since her SS22 Stockholm Fashion Week digital presentation - which saw models in couture gowns protest for human rights went live on Tuesday - her phone, simply put, has been blowing up. So how does a self-taught designer who only just launched her rental-only label last year become one of the buzziest names in Scandinavia?
While Louise Xin clearly has a talent for creating exquisite, over-the-top couture dresses, it's her passion to do things differently and her determination to use her voice for good that has garnered her fans from sartorialists and activists alike.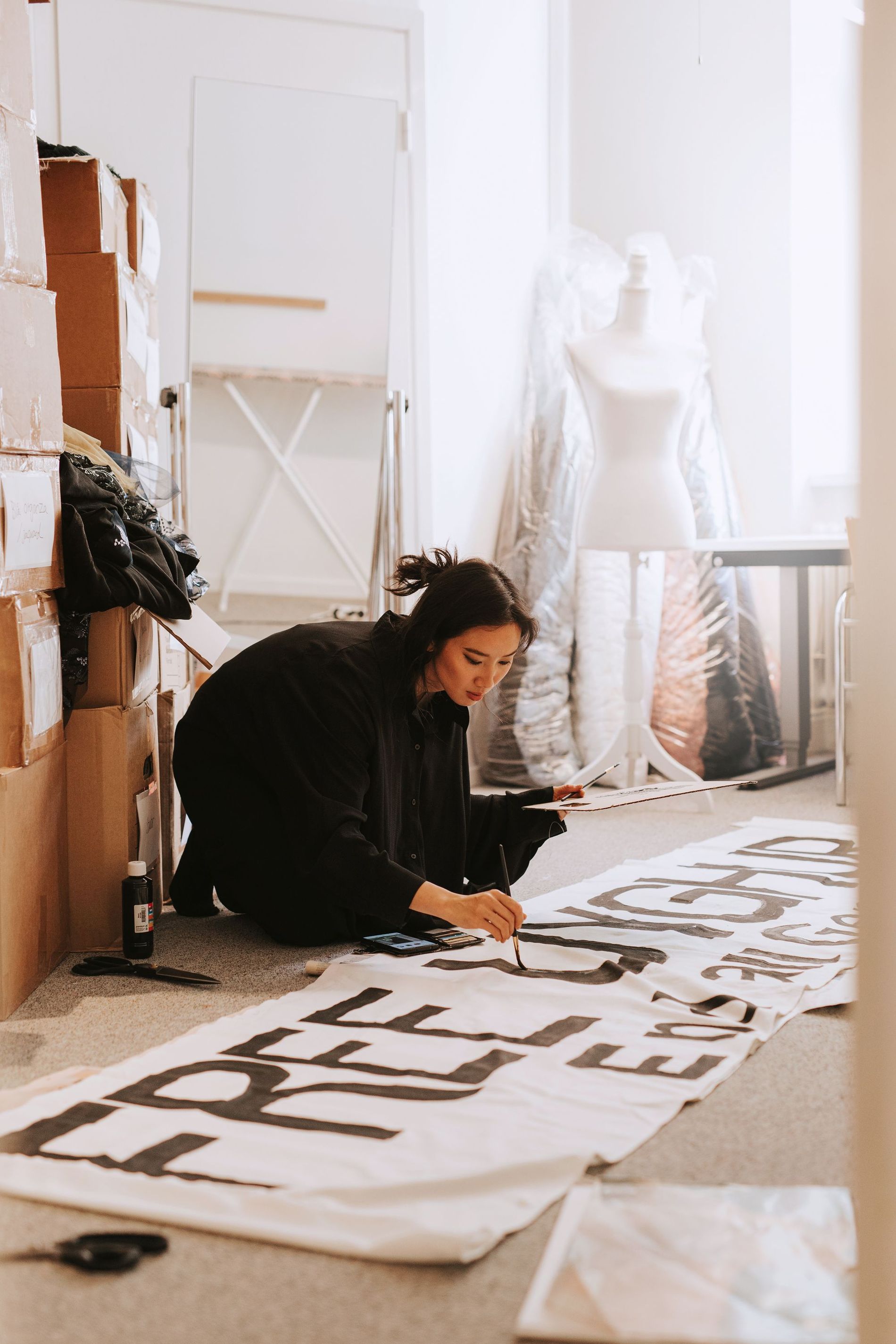 Louise Xin hand painting placards in her studio. Photo: Emma Grann
"I knew I wanted to work in fashion but it took me a while to find my thing," Xin tells me. "But then I made a big dress for a music video and I thought 'this is fun to make these crazy dresses'. This opened me to this whole new world of couture and I instantly fell in love."
But making dresses is only the first step. Like many of us, last year was an awakening of sorts for Xin, she was stuck in Japan for six months of the year giving her time to rethink everything. "It was a really huge wake up call for me. I just looked around and realised that what we were doing with nature, with animals, with each other. I just couldn't live that way anymore and I started educating myself."
That's why her label focuses on the circular economy - you can't buy anything she creates. It is rental only. The dresses are also an art in upcycling. Sustainable luxe fabrics are upcycled and waste is turned into new. "For me it's more about creating art than creating clothing. I'm learning more and more everyday."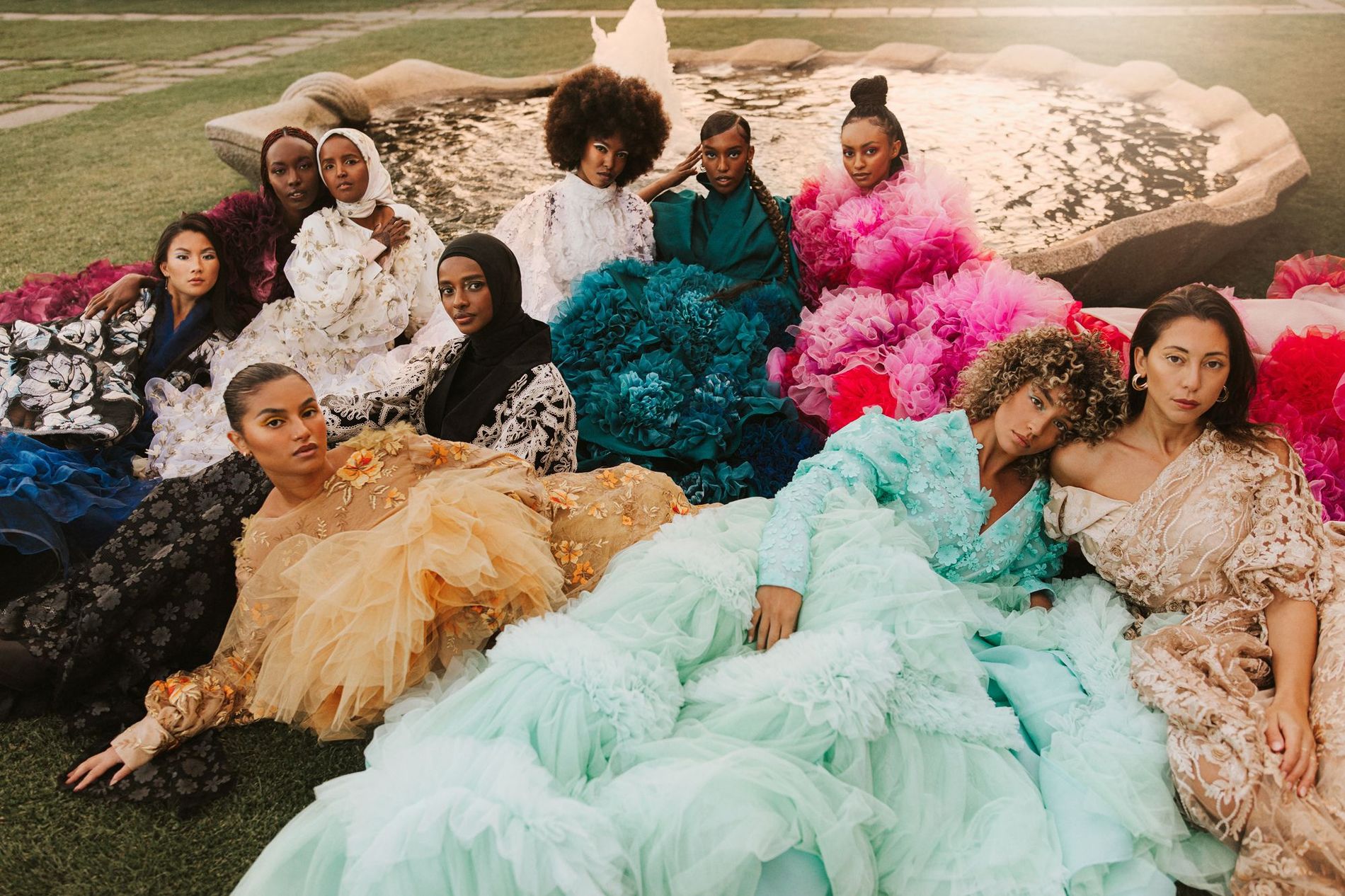 As well as a pandemic, 2020 saw the rise of Black Lives Matter, a bevvy of Asian hate born from Covid-19 and the tragic conflict in Gaza - and these issues are something that Xin is hyper aware of. "The brand was born during this time," she explains. "It was important to me that I was not going to create another mass production brand. I was actually going to use this platform to contribute to something."
Xin's concept is that sustainability isn't separate from the human condition. "For me, working with sustainability, diversity and human's rights are actually the same thing. We all have responsibilities within our society."
At the same time as Xin was starting the brand she saw all these articles about what was going on in Uyghur. "In short, about 1.8 million Uyghur people and other minority groups are in concentration camps in this area of China and it has been this way for a few years now," Xin explains.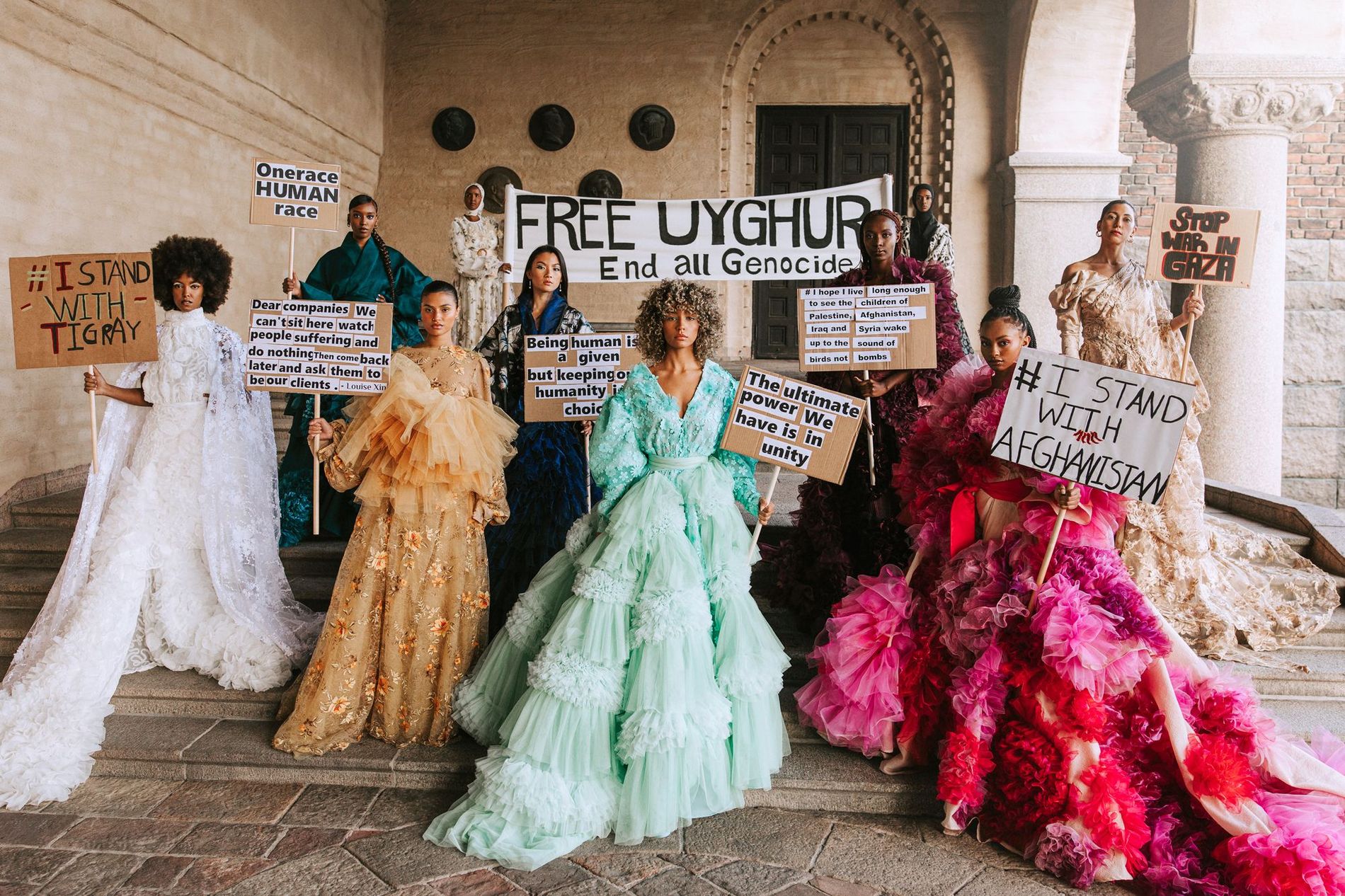 "It seems that society is so quiet about it. When I found out I was shocked. I'm Chinese myself and it's against everything I believe in. I love the Chinese people and the culture, so I was shocked. For me, this isn't about politics, it's about basic human rights and every single person should have the freedom of speech, people should have the freedoms in life regardless of the differences we have."
She continues, "It was never my point to become an activist, I just wanted to educate myself about what's going on in the world and see how I could help. And I got so frustrated, I didn't know how I could help. I'm not a politician but I'm a designer so I came up with the idea that I can use my designs to bring about change."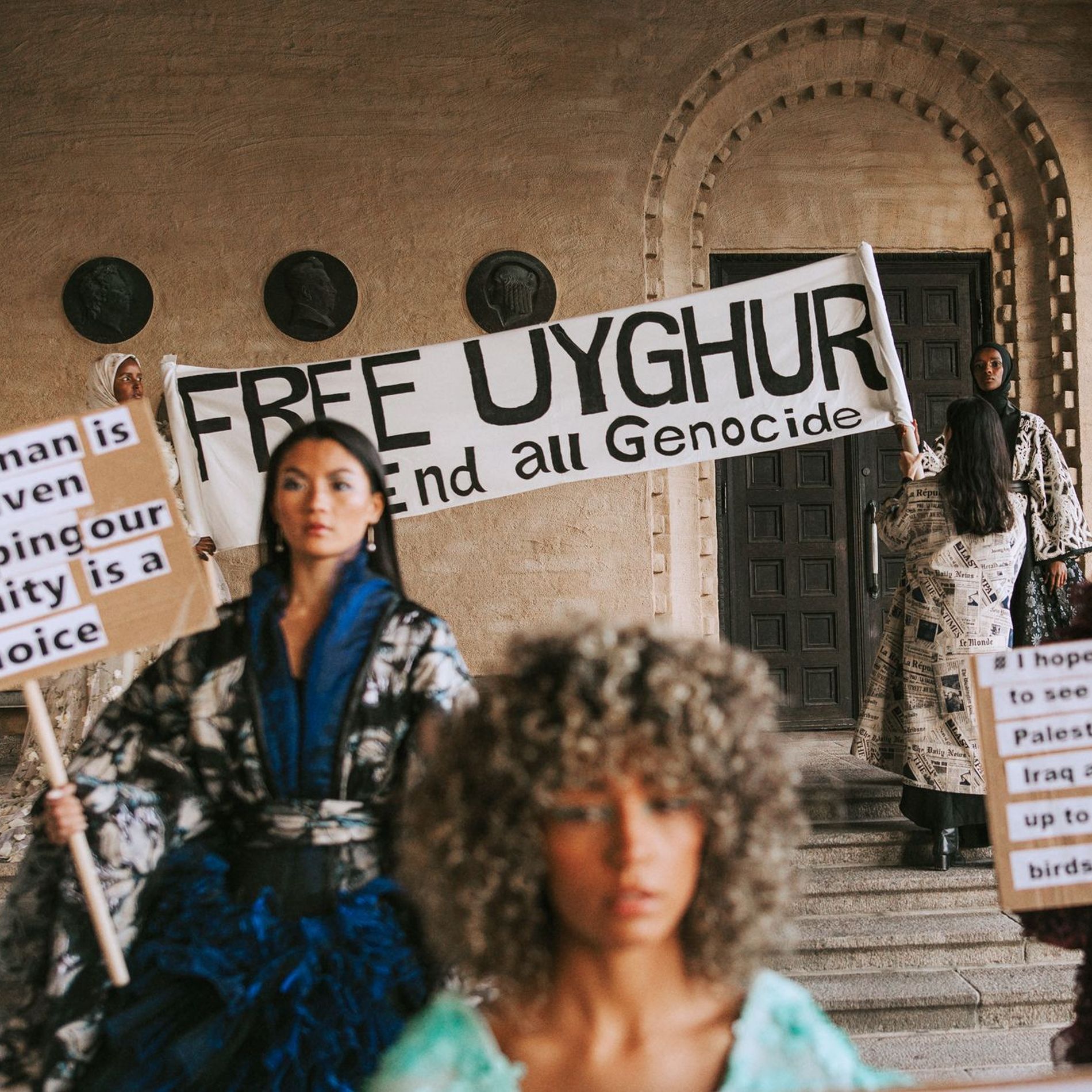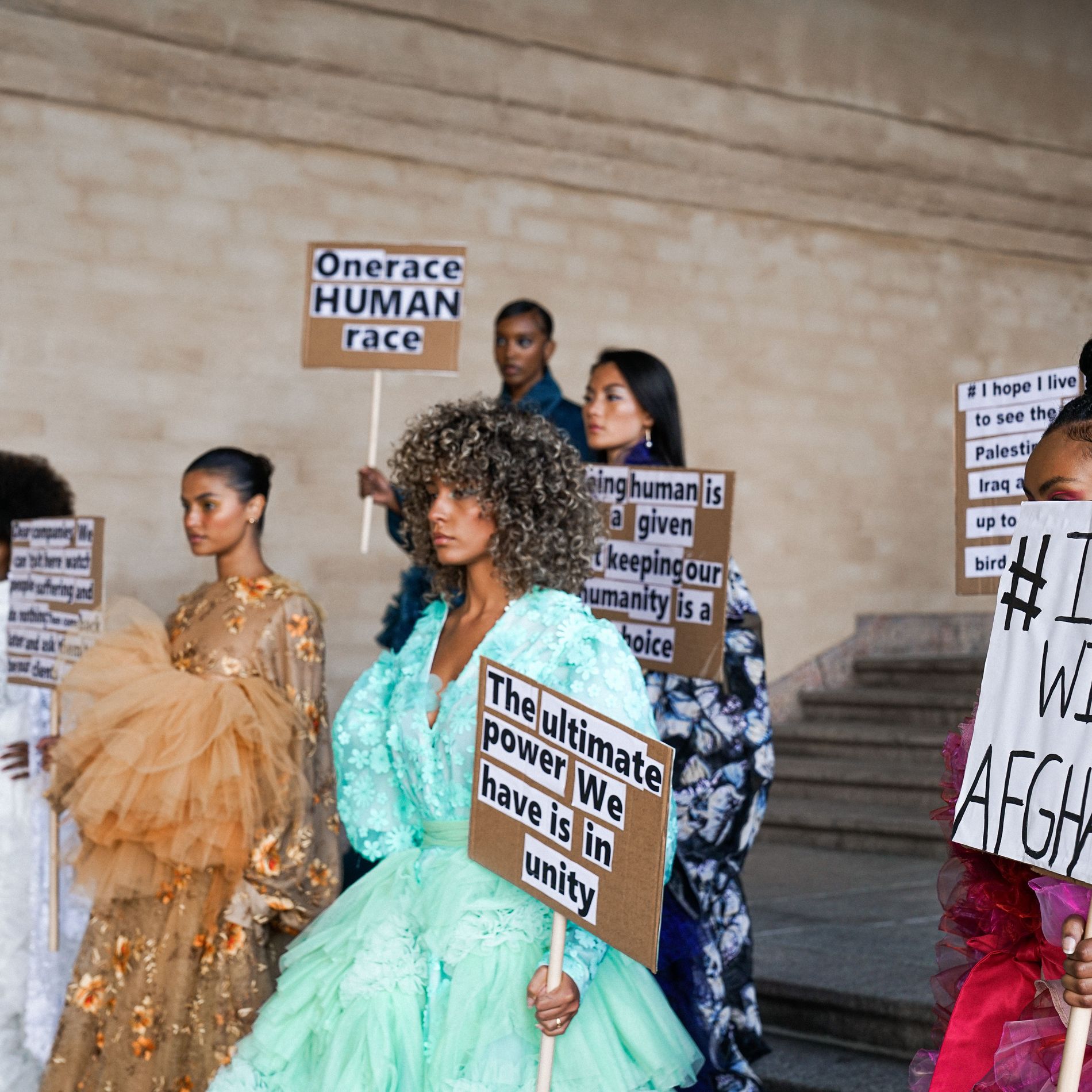 Fast-forward to Tuesday when during her presentation models held placards, "I stand with Afghanistan" and "I stand with Tigray". It culminated with a Xin herself, in a loosely tailored, newspaper print coat unveiling a sign with the words "Free Uyghur: end all genocide".
The aim of the presentation was to raise awareness for the cause, to start a conversation and to show the people of Uyghur that they are supported. But Xin is acutely aware that the action can't just stop there. Girls in pretty dresses with protest signs can bring about awareness (and instagram likes) but the next step is change - and that change has to happen within the fashion industry and within consumers themselves. We all need to read and learn.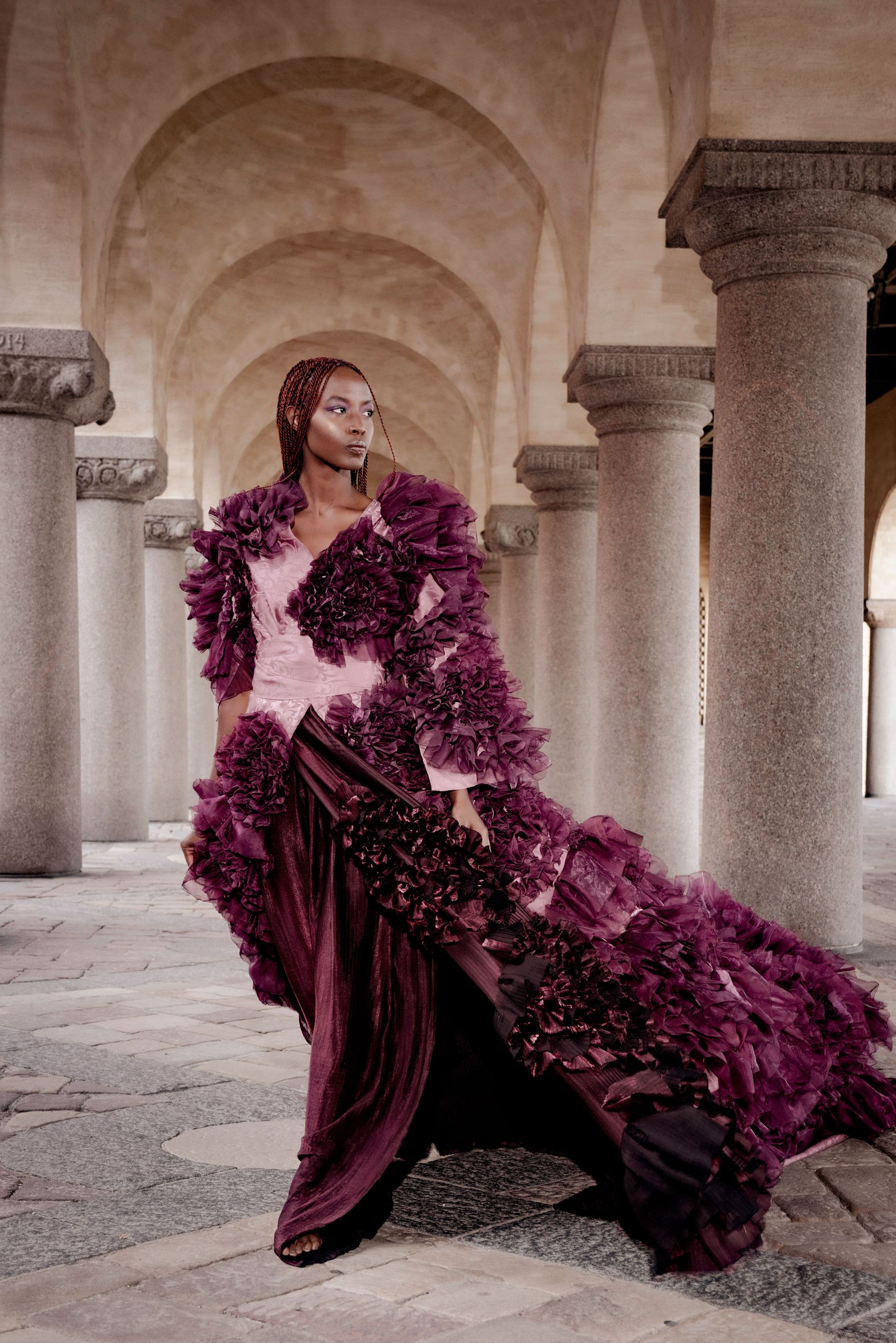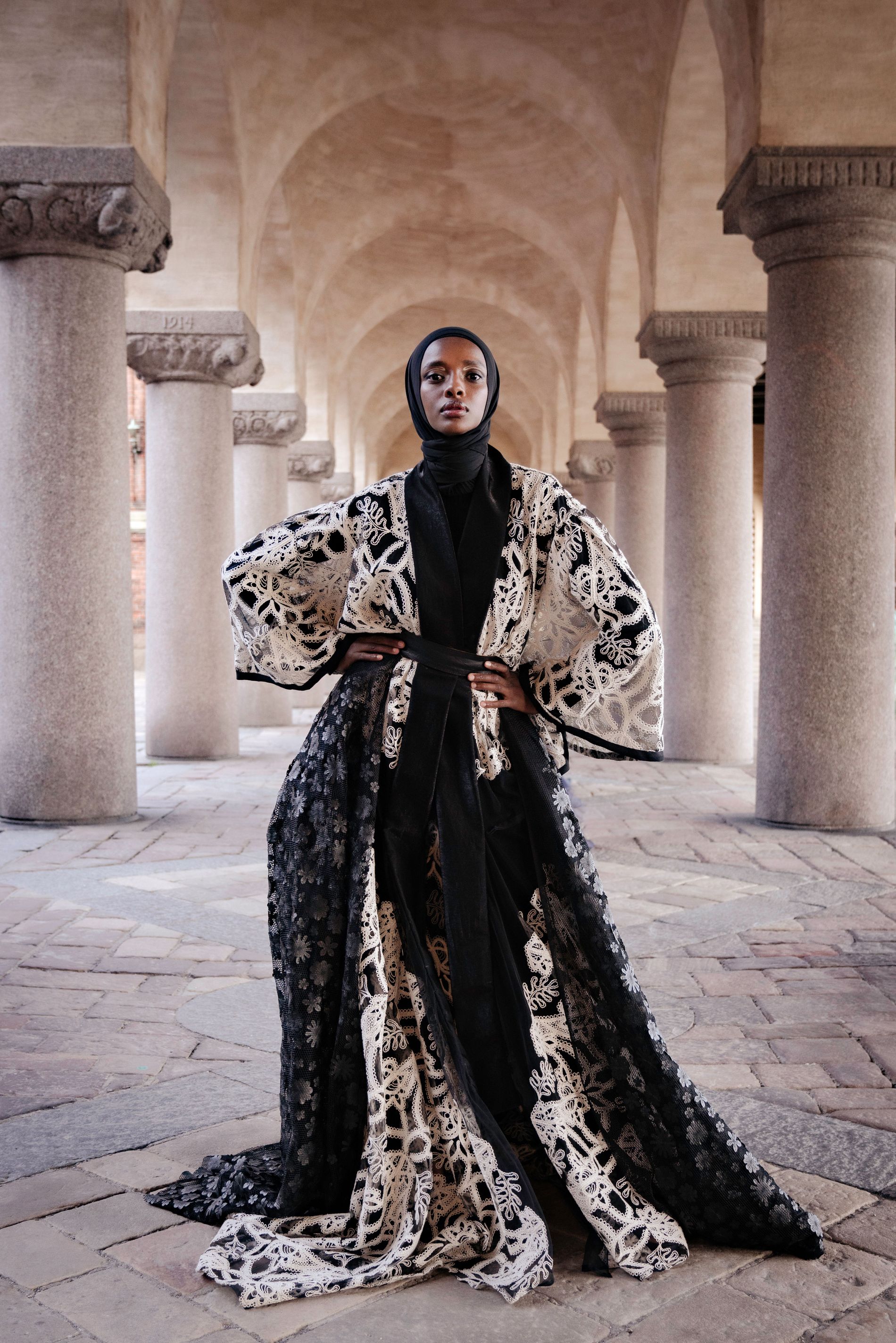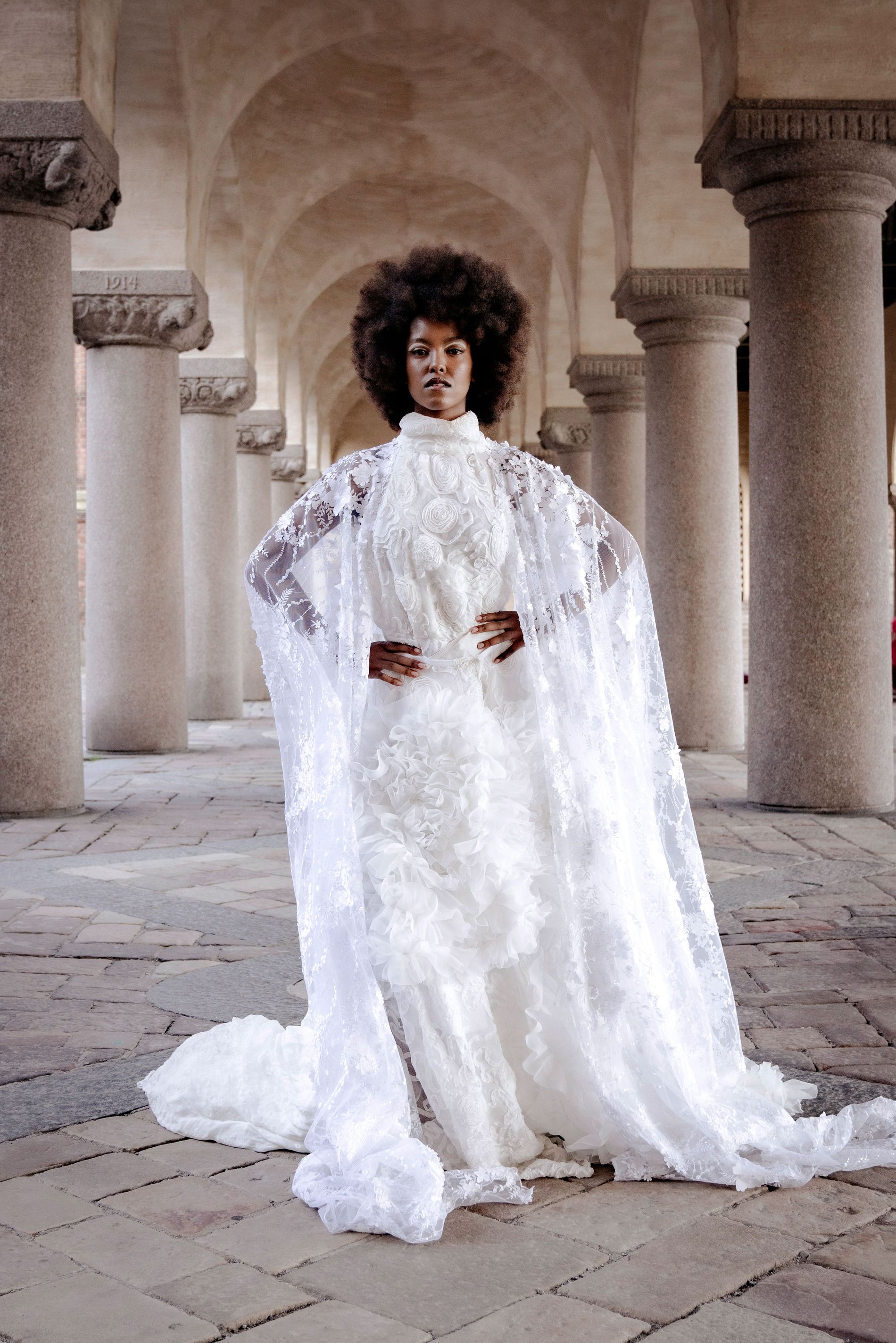 Xin endorses the call to action of End Uyghur Forced Labour, which is a coalition of civil society organisations and trade unions united to end state-sponsored forced labour and other human rights abuses against people from the Uyghur Region. They help companies no matter branch or size to make sure their supply chains don't use forced labour. She says that consumers also need to demand change. "At the moment there are probably clothes in your and my wardrobe that have had some touchpoint in forced labour. One in five cotton garments in the global apparel market are tainted by forced labour from Uyghur," she says to me. "We need to ask in shops, go online and find out exactly where materials are coming from." We need to be more curious - ask, challenge and learn.
The phone wasn't only buzzing because of her humanitarian work, but also a demand for her wares. When I ask what's next, she humbly says she'll be looking to take her rental couture concept global, launching showrooms in various cities. And we couldn't think of anything better.