Vogue Scandinavia's watch expert, Kristian Haagen, shares the best ways to care and store our invaluable timepieces
All products featured on Vogue are independently selected by our editors. However, when you buy something through our retail links, we may earn an affiliate commission.
As a long-time watch collector I own several timepieces. Since wearing them all at once would make me look ridiculous, I keep the ones I do not wear in what can only be described as jewellery boxes for watches. Now, these boxes are small containers that are especially designed for storing your valuables and are definitely much better than rolling them into your socks for protection—yes, stashing watches with socks is a common, yet not very safe, way to store them.
In regards to the storage box, you'd probably expect a somewhat flat box that you can throw your watches into. However, said containers should not only store the watches but also protect them from scratching against each other. This means that the watches have to sit snugly and tight with a certain distance from each other to avoid "kissing" and damaging. This has been taken into consideration by many watch box and watch rolls manufacturers; however, some do a better job than others.
What to consider when choosing storage for your watches
Make sure the watch box or roll has enough room to store all your pieces.
If choosing a roller, be careful not to clash a watch against another, as this could risk scratching them. To avoid this, choose a watch roll or box with dividers or make sure you give them enough space in between them and that they sit tight in the roller.
When traveling, opt for boxes that are easy to pack and not too bulky.
Never put your watch roll or box in your checked-in luggage, for obvious reasons.
When choosing a watch box, avoid at all costs ones with magnets, as they can affect the performance of mechanical watches; opt for zippers or buttons instead.
Know what type of watch you will be storing, as some of them—depending on their design, strap and mechanics— cannot lay flat. Most of the time a watch roll or padded pillows are the best choice.
If you keep your watch collection in a bank vault, make sure you take this into account when choosing the size of your watch box.
All this being said, what are our choices when it comes to the best boxes for our watches? Read ahead
Bennett Winch
Watch Box in Brown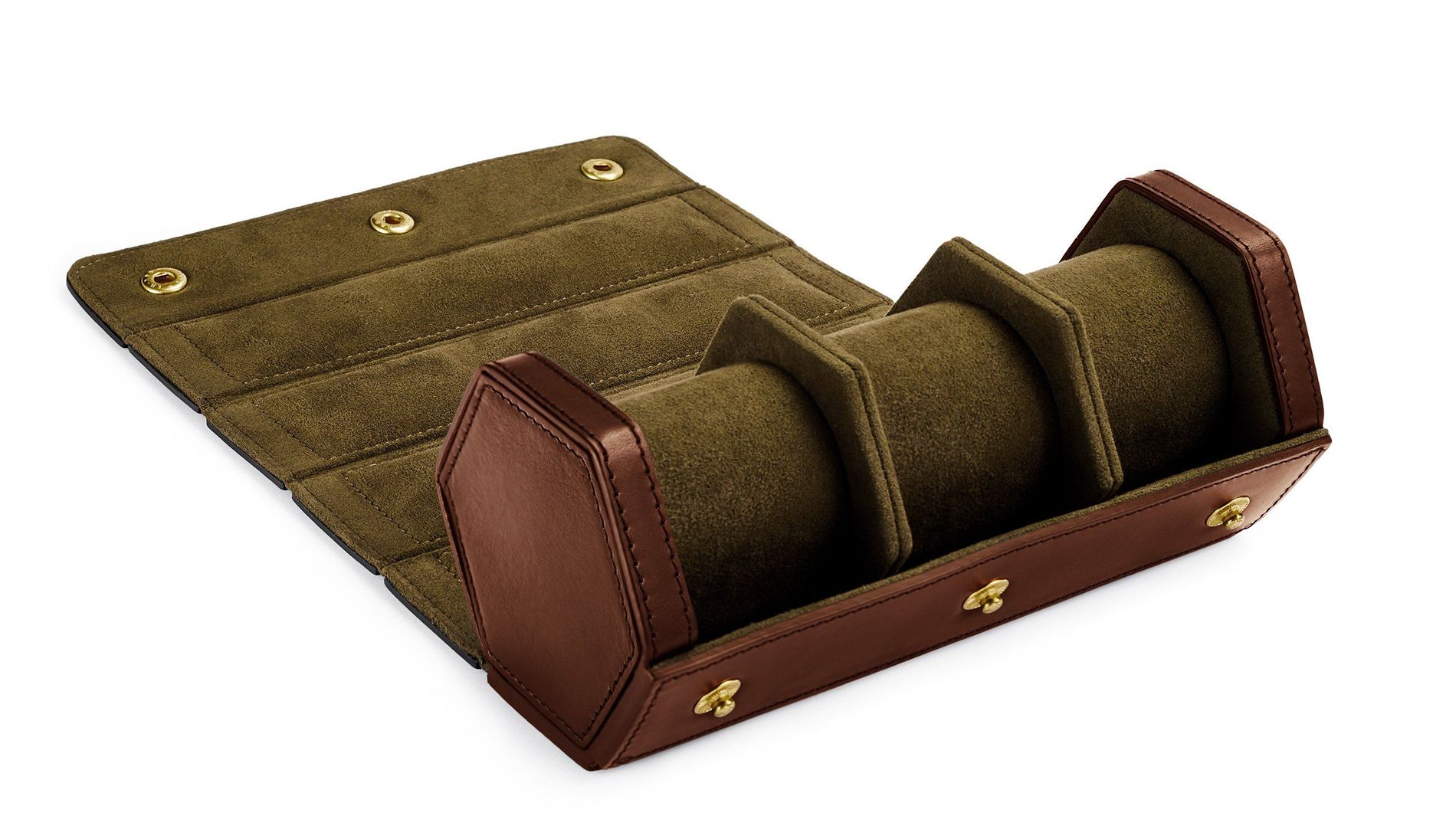 The Bennett Winch Watch Roll was designed in collaboration with The Rake and Revolution founder Wei Koh. Koh, a watch lover extraordinaire, helped create one of the best watch rolls in the market, one that doesn't roll. "The usual watch roll creates an imbalance as the watches are usually top-heavy. When you put the roll down, it rolls forward. So like Prometheus shining light into the miasma of the watch rolls, the Bennett Winch is the solution" says Koh.
The hexagon shape of the Bennett Winch watch rolls allows it to stay in its static position, which in turn allows for a great display when needed. The dividers of the roll are also hexagon-shaped, which means the watches stand upright even during transport.
When opened, the watch box also fulfils a second function, serving as a watch tray for one to lay out your watches and avoid scratches from gnarly surfaces. Bennett Winch themselves tell Vogue Scandinavia how the roll—that is made from Tuscan leather panels cut from hand-select hides that surround a flexible Kevlar core cushioned by Alcantara suede lining— "not only ensures a very luxurious design but also a well thought out way to store your watches at home or in one's vault".
Rapport
Kensington Six Watch Box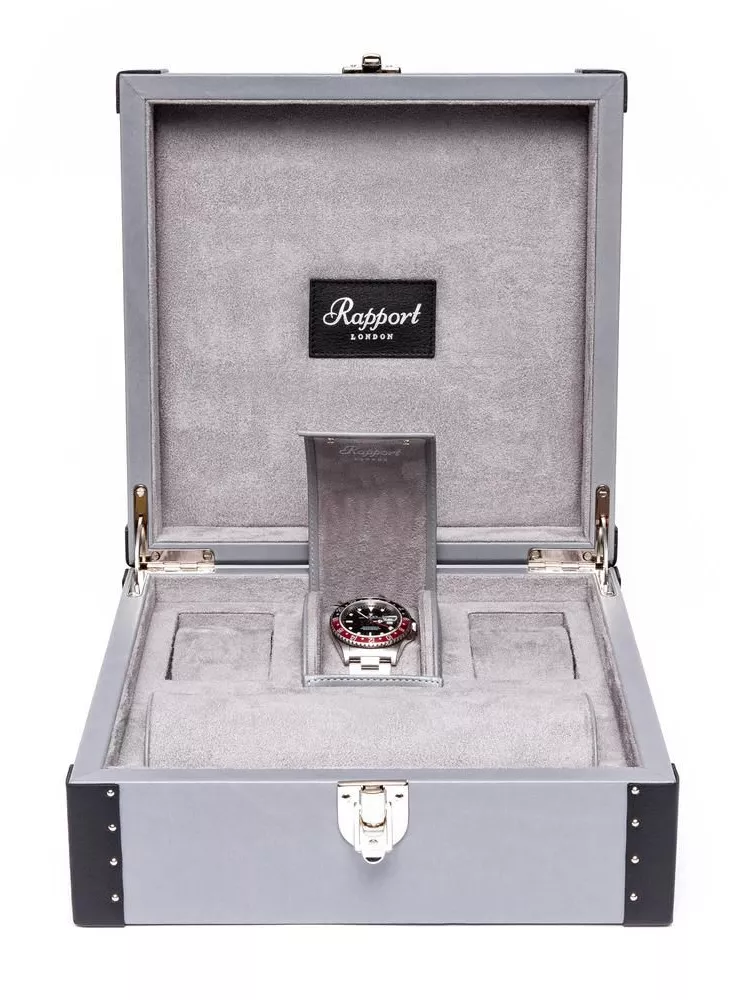 Via https://www.rapportlondon.com/
If a more traditional flat box to store your watches is preferred, Rapport London offers the Kensington Six Watch Box, which as the name suggests, stores up to six watches. That being said, the clever design also provides a compartment that serves as a removable watch roll for travel.
So if you want to wear your Rolex GMT-Master II while flying from Stockholm to Toykio and your Patek Phillippe Calatrava upon arrival, this box is your best choice of storage.
August Sandgren
The Watch Box in Light Brown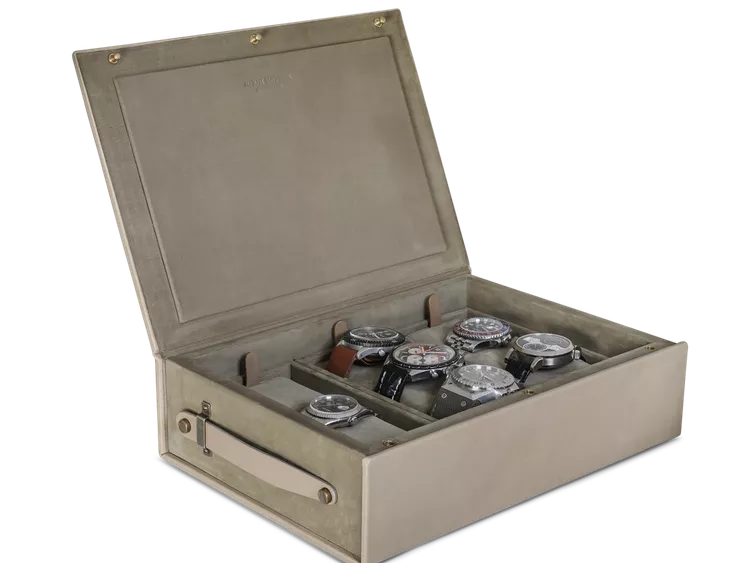 For one moment, allow me to shamelessly promote myself here by presenting as a third option a watch box I myself created with Danish box maker August Sandgren in 2020. Inspired by my own needs as a watch collector, I desired a box that looks good and sits well on a bookshelf while still laying flat in the bank vault.
The Watch Box is made from Aniline leather on the exterior and nubuck on the inside. It has three rows of padded pillows fitting a total of nine watches. As the padded pillows sit tight, the watches will not be loose and bang into each other when carrying them by the cleverly placed leather handle.
Finally, the non-magnetic closing mechanism ensures no interference with the mechanical movements in the watches, proving that the Watch Box from August Sandgren has gone through a lot of detailed thinking pre-production, making this a lovely way to store your precious timepieces.