Discover Vogue Scandinavia's dispatch with all of the latest sartorial news, launches and releases to keep on your radar this June
All products featured on Vogue are independently selected by our editors. However, when you buy something through our retail links, we may earn an affiliate commission.
New Burberry flagship opens in the heart of Copenhagen
For the first time, iconic English heritage brand Burberry invites Copenhageners to shop all of its collections – ranging from women's and men's clothing to children's clothing – together under one roof.
Accessories in Burberry's signatures, Burberry Check and Equestrian Knight, are among the available products, while more classic designs can be explored against the backdrop of elegant interiors. Checkerboard tile floors, mirrored plinths, and high gloss beige walls make the space especially bright and intriguing. Another win for the luxury brand, this flagship will add to the hundreds of stores already in place worldwide.
The store is located in the heart of the Danish capital's fashion district at Østergade 38, 1100, Copenhagen, Denmark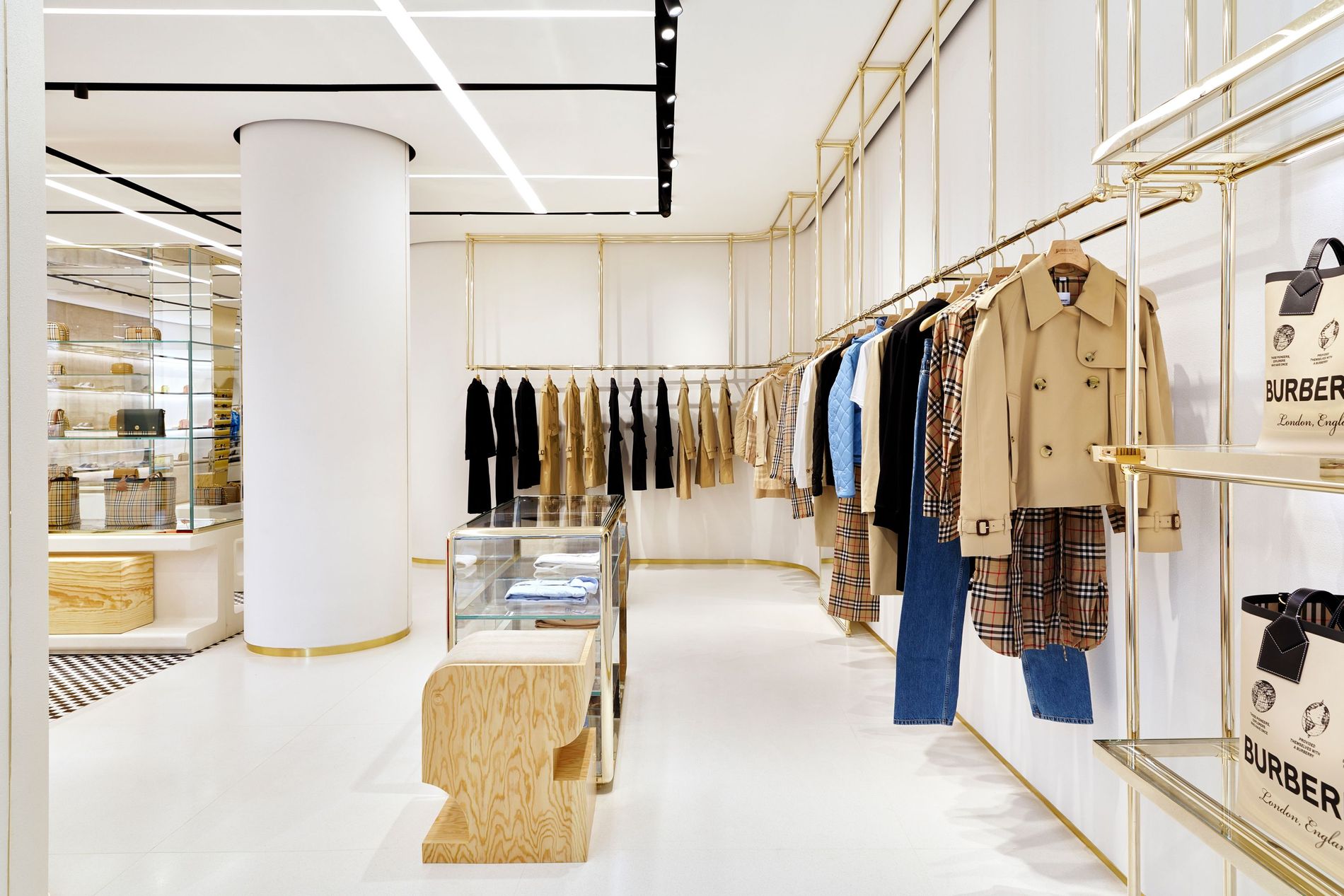 Photo: Burberry
Cartier brings back everyone's favourite '70s watch – the iconic Baignoire
Its distinctive features, voluminous design, and signature detail made the Baignoire a timeless and incomparable Cartier classic. Now, the French jeweller brings back the timepiece first launched in 1973 in not one but two new distinct designs.
While the first new model embraces a "less is more" approach and makes its presence felt through delicate proportions (the yellow gold shine of its bezel contrasts with a black patent leather strap), the second design is particularly exciting because the iconic oval is transformed into a bangle, a circle of solar gold to be slipped around the wrist. Thereby merging two separate pieces of jewellery into one.
"As Cartier was a jeweller before being a watchmaker, a Cartier watch blurs the boundaries between these two founding crafts and makes it possible to capture the best of both," says Marie-Laure Cerède, Creative director of jewellery. This combination has resulted in the sleek and sophisticated design of the mini Baignoire. "The combination of a beaded bracelet with a pure line and a miniature dial without any attributes gives this aesthetic reference to our heritage a sublime touch," concludes Cerède. "The mini Baignoire becomes a piece of jewellery,"
The Baignoire watch launches in July 2023.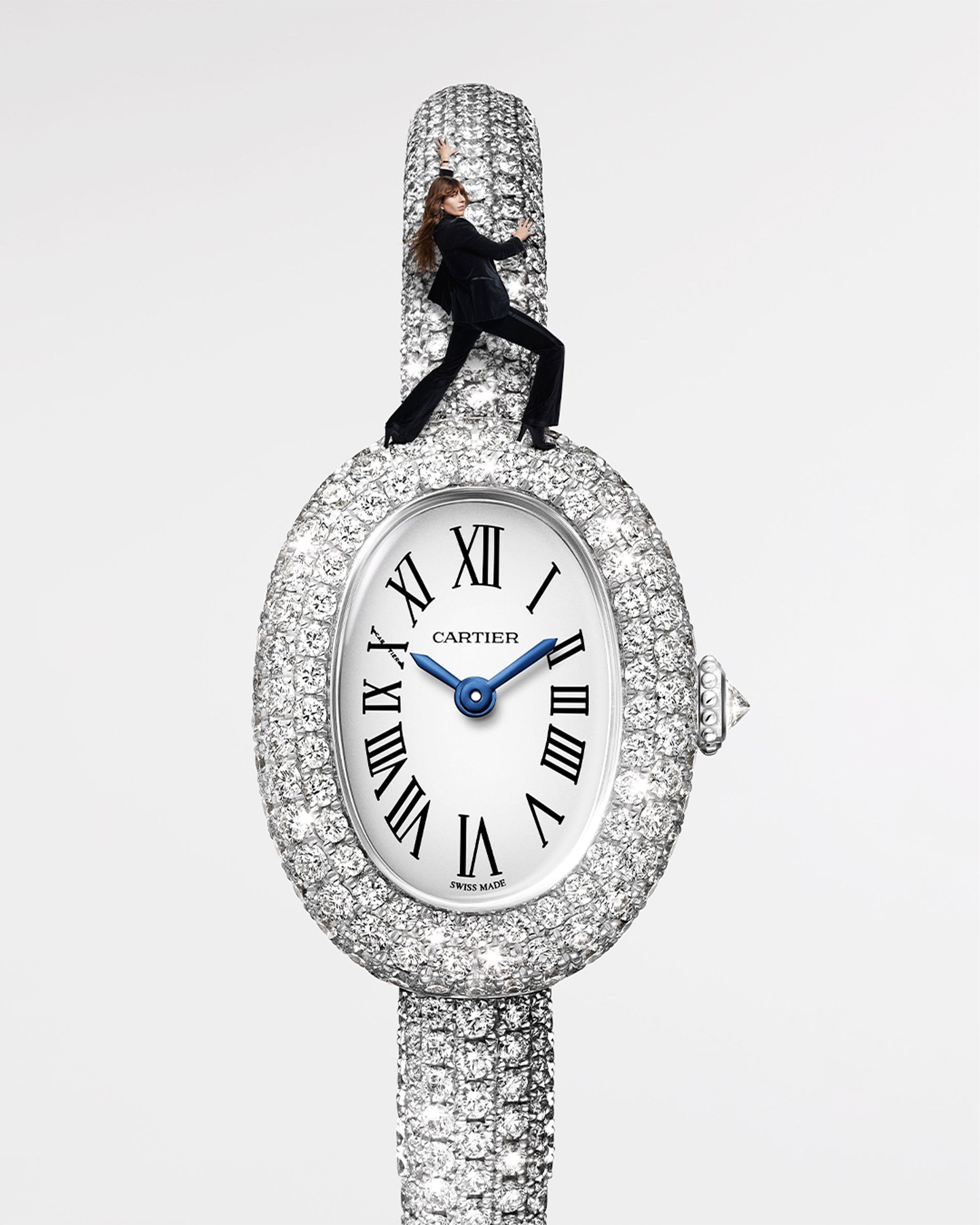 Photo: Cartier
Tailor make your festival-friendly jewellery with Maanesten's new up-cycled collection
Longing to put a personal spin on your festival-friendly jewellery this summer? No need to look further than Danish Maanesten's ephemeral new collection made entirely from repurposed and reinvented materials. Spanning from glistening stones, pendants, and pearls sourced from past collections, Maanesten's designers "are splitting previous styles, deadstock, and reused materials into pieces and transforming them into new," according to Lotte Callesen, Maanesten's founder.
The unique pieces help Maanesten contribute towards "taking responsibility" in the brand's ever-evolving process to do better according to Callesen. "By transforming existing materials and giving them new life, we are a step closer," she emphasises. Ahead of launching online, the collection will be exclusively available to festival goers at Roskilde, where they will be able to design tailor made pieces.
Maanesten's up-cycled recycled collection will be available from June 28 - July 1 at Roskilde Festival in the BAZAR area and in stores and on Maanesten.com from the 3rd of July.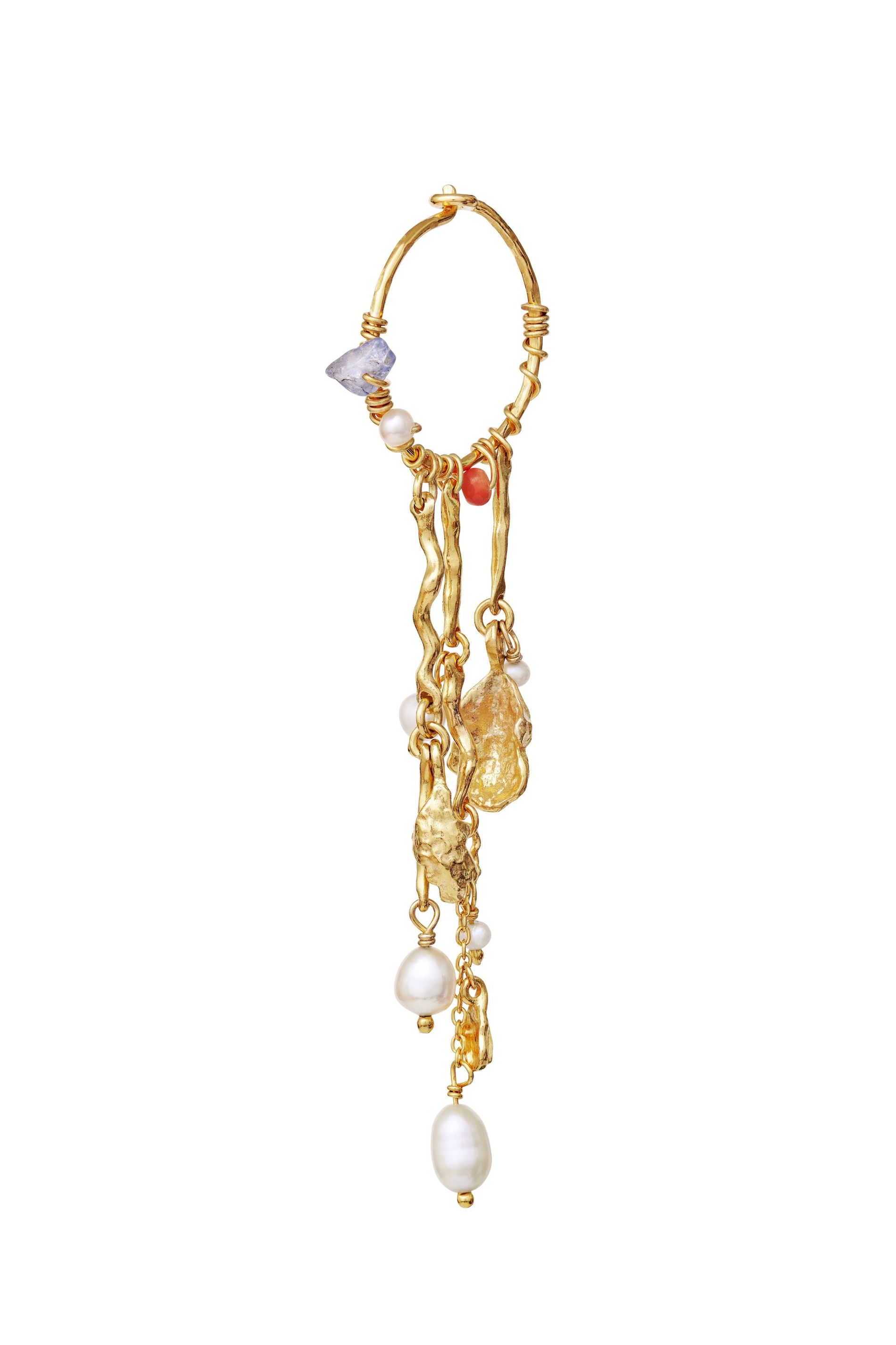 This newly launched Scandi swimwear brand is one to keep on your radar for summer
There's a new Scandinavian swimwear brand on the market: Agda Studios. Having just dropped the consciously crafted and versatile swimwear line we need to include in our suitcases this summer, founder and creative director Caroline Beckman explains that her wish is "to create garments that inspire and last over seasons; of premium sustainable qualities that stand the test of time." And that is precisely what she did.
Designed in Sweden and ethically produced in Portugal, this 16-piece series is made of premium recycled fabrics and features wrap, bandeau, and triangle bikini tops as well as five different fit bottoms; cheeky Brazilian; 90's high leg, classy low bikini briefs, and a cheeky high waist retro style. To top it all off, you can look forward to another three staple swimsuits featuring cutouts and twist details in July.
Agda Studios
Sienna triangle bikini top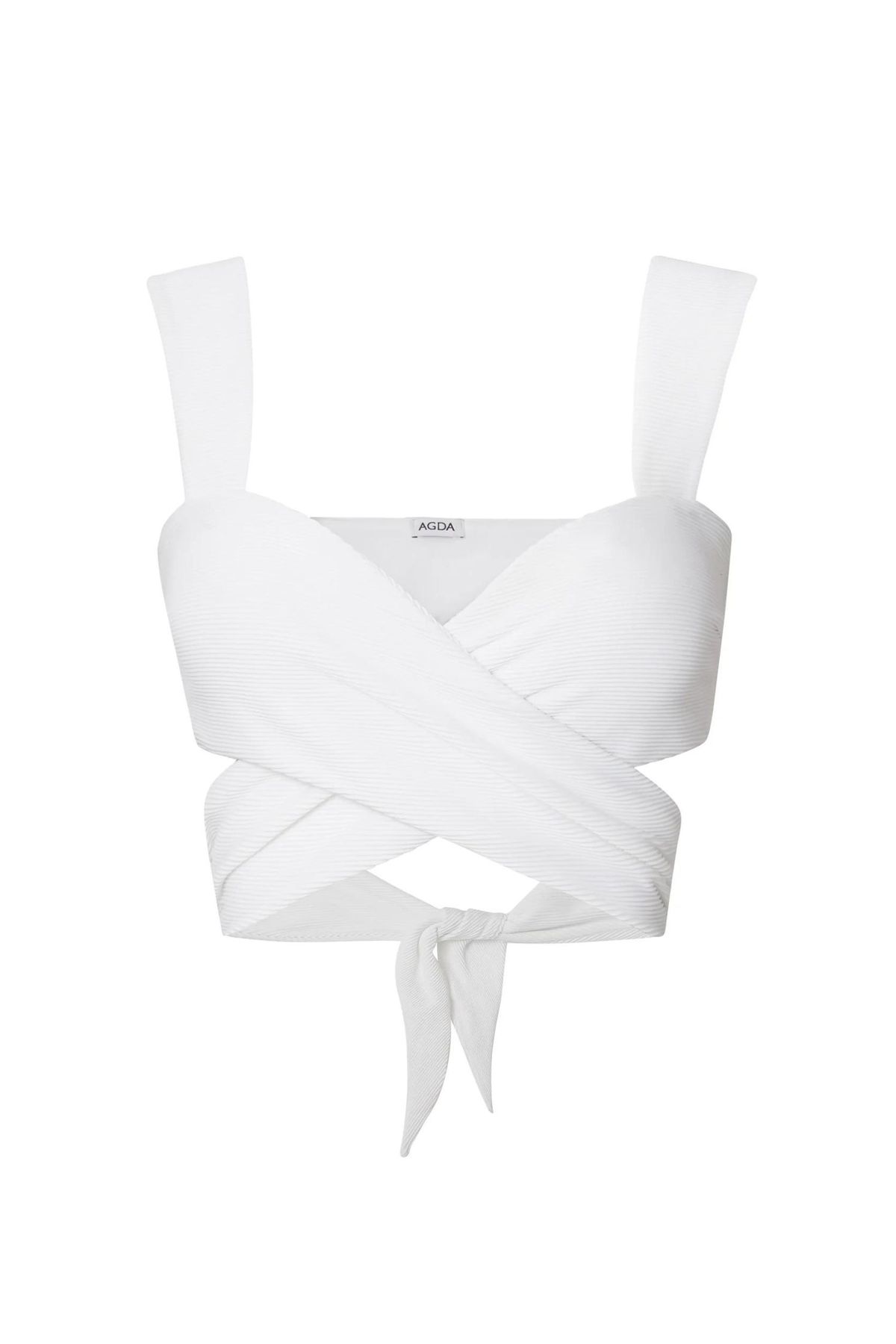 Calling all NFT and fashion enthusiasts: This new collab is serving up zero-waste 'phygital' sweaters
Those with a keen interest in both fashion and digital art, this one's for you. A new collaboration between Waste Yarn Project, Tribute Brand and Art Block's Chromie Squiggle has resulted in a line of revolutionary, new generative sweaters called ODDS.
Derived from the code of Chromie Squiggle, an NFT art project that has recently pioneered new ways for people to interact with digital art, determines the look of each vibrant and colourful sweater in this collaboration, making each one a unique piece that is ultimately connected to its owner.
But there's more: the 100% zero-waste sweaters, made from surplus yarn, also include an NFC chip that links directly to the Tribute App, which will share the complete list of materials, care guidelines, and the ability to alter the sweater's digital appearance using augmented reality technology.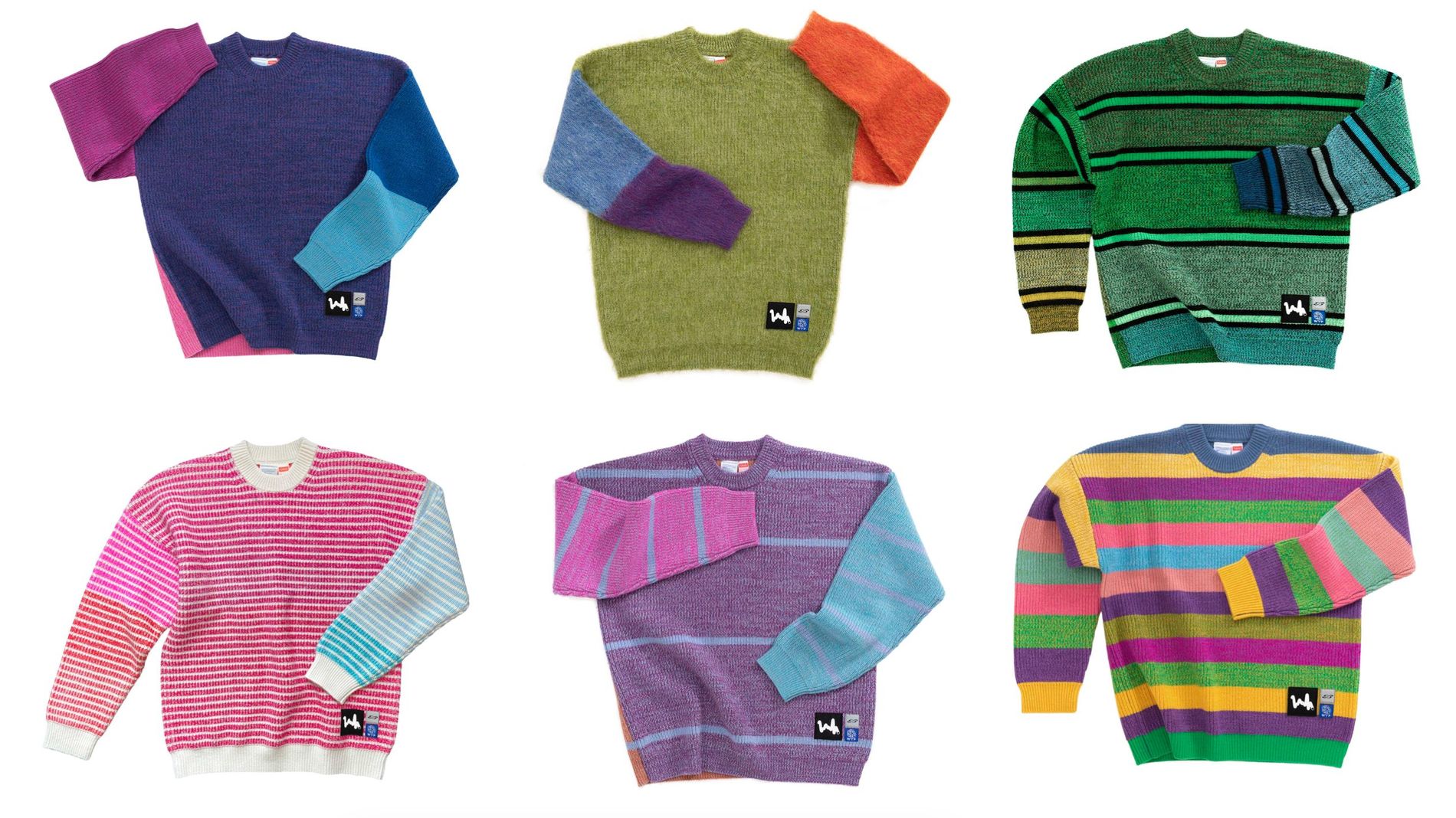 K-pop sensation Taeyong takes fashion's centre stage as Loewe's new global ambassador
With the unveiling of K-pop sensation Taeyong as its new Global Brand Ambassador, Loewe has once again surpassed all expectations. A long-time supporter of the brand and its innovative designs, Taeyong is renowned not only as an all-rounder artist with unmatched performance skills, but also for his one-of-a-kind personal sense of style.
"It's a real honour to be a Loewe Global Brand Ambassador," the 27-year-old sensation comments on the news. "I've been a huge fan of Loewe, not only for the designs, but also for the brand's philosophy and unique way of communicating. I truly appreciate the opportunity to go on this voyage with Loewe," he says. Often seen mixing Loewe's signature runway pieces with his casual pieces from his wardrobe, this fashion-forward icon has marked his new role at house's spring/summer '24 men's runway show in Paris.
Watch the Loewe Spring Summer men's runway show here.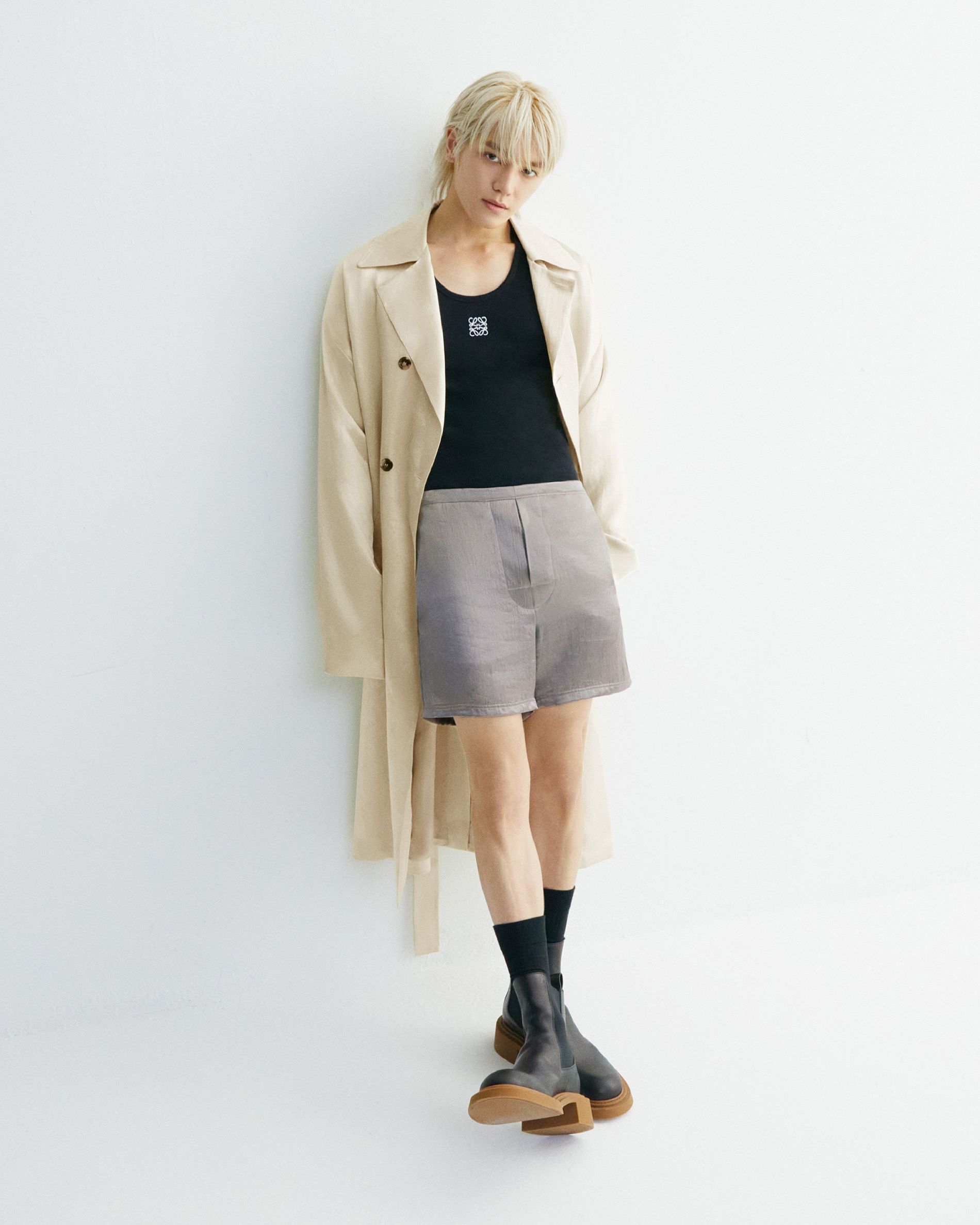 Photo: Loewe
Rodebjer proposes a 'Rendez-svous' with the '70s, releasing a capsule collection in collaboration with artist Carl Johan De Geer
Swedish label Rodebjer joins forces with iconic artist Carl Johan De Geer to unveil a capsule collection showcasing De Geer's distinctive artwork. Focusing on the ''Rendez-vous' print, originally created in the early 1960s, Rodebjer skillfully reimagines the graphic print, infusing it into its signature silhouettes, voluminous cotton pieces, and luxurious knitwear.
Carin Rodebjer, the founder and creative director of the brand, drew inspiration from the bold ideas and progressivism of 1970s Sweden. Reflecting on the collection, Rodebjer expresses her vision, stating, "I began this collection with a question; what if minimalism hadn't become the aesthetic paradigm in Sweden? What if, instead, we continued on the journey of loud, colourful, unshrinking expression?" The capsule is, as such, a tribute to the vast and eccentric body of work of Carl Johan De Geer and the energy and zest of 1970s Sweden, "reinterpreted for the Rodebjer strict hippie," as the designer points out.
The exclusive Rodebjer x Carl Johan De Geer capsule collection will be available for purchase starting from June 15th in store and online.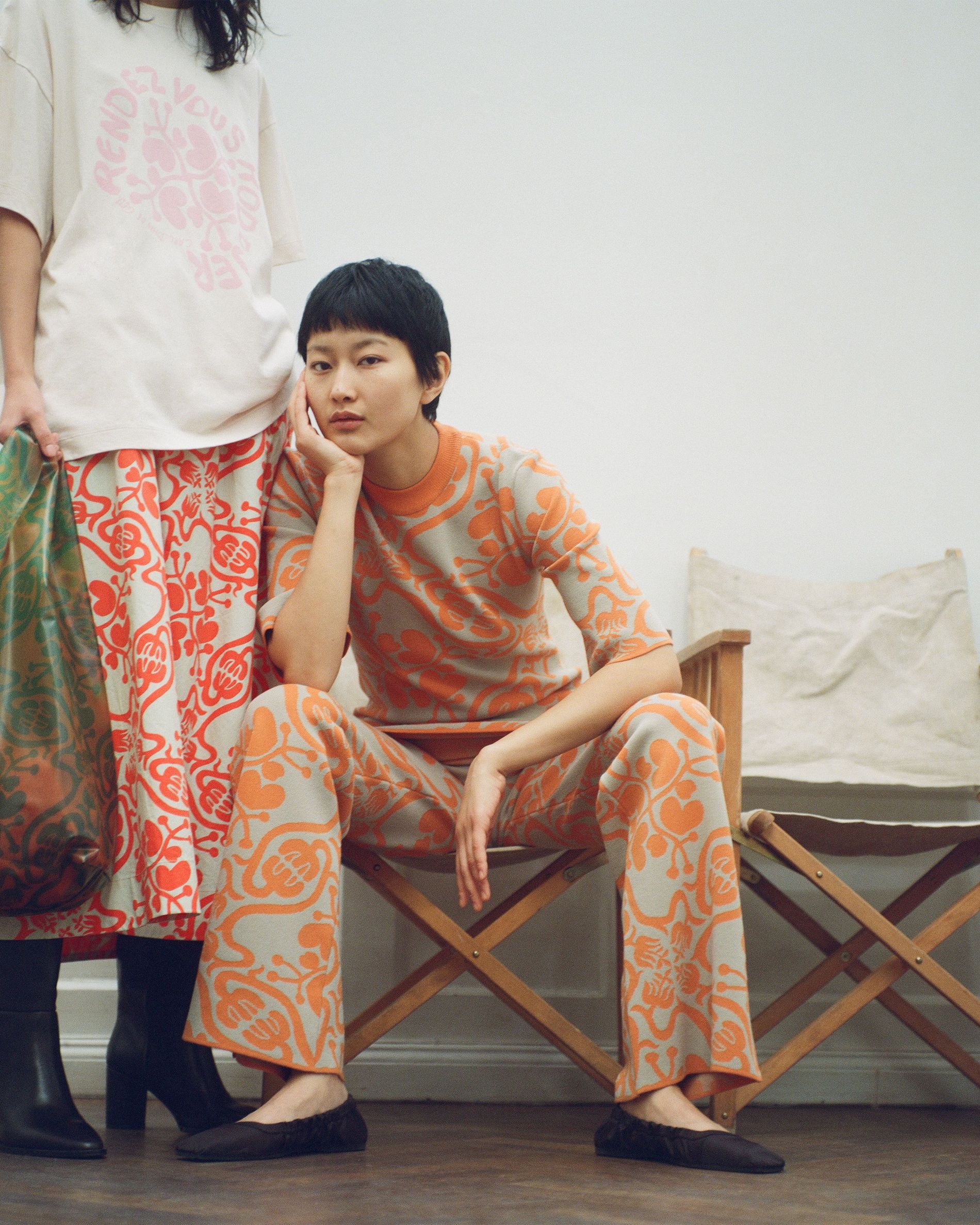 Photo: Rodebjer
House of Dagmar launches footwear with the perfect slip-in summer shoe
Stepping into summer, House of Dagmar has launched slip-ins as the first style of its new footwear category. The new square-toe shoes feature durable chrome-free leather soles, made to soften and acquire a patina with age. The textured upper raffia weave makes the shoes synonymous with a summer season spent by the beachside. Available in natural beige and black, the slides are hand-made in Italy and feature leather lining detailing, a v-shaped topline and a slight heel for lift.
"We have long planned to extend our product offering to create the total look for the Dagmar woman," says co-founder and brand director Sofia Wallenstam on the brand's expansion into footwear. With the design process started more than a year and a half ago, the brand has looked into every detail, as Wallenstam explains. "When we felt satisfied, we realised the launch would be in time for summer, so we decided to create a Raffia version of the perfect slip-in," notes Wallenstam. "Longevity is important to us, so we will continue to offer this style but update and adapt it for the season."
House of Dagmar
Square toe slip ins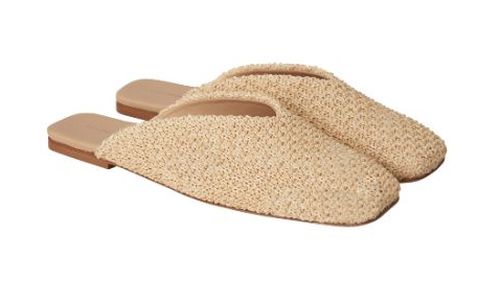 Carpentry and clothing intersect for Kay Bojesen Denmark x Mads Nørgaard new cult collaboration
Just in time for summer, carpentry brand Kay Bojesen Denmark has launched a collaboration with fellow Danish design innovator, Mads Nørgaard. The new collaboration sees Mads Nørgaad bring a timely fashion dimension to Bojesen's world-renowned Monkey Figurine, merging it with his classic #101T-shirt which features stripes and red neck edging.
According to designer Mads Nørgaard the collaboration "was a great match and an interesting way to give new life to the classics." He continues by saying that it adds "humour to the design as well," which the designer "appreciates very much," Nørgaard continues, "I like when design is at eye level. Although they are design classics – they must not be unapproachable' says designer Mads Nørgaard.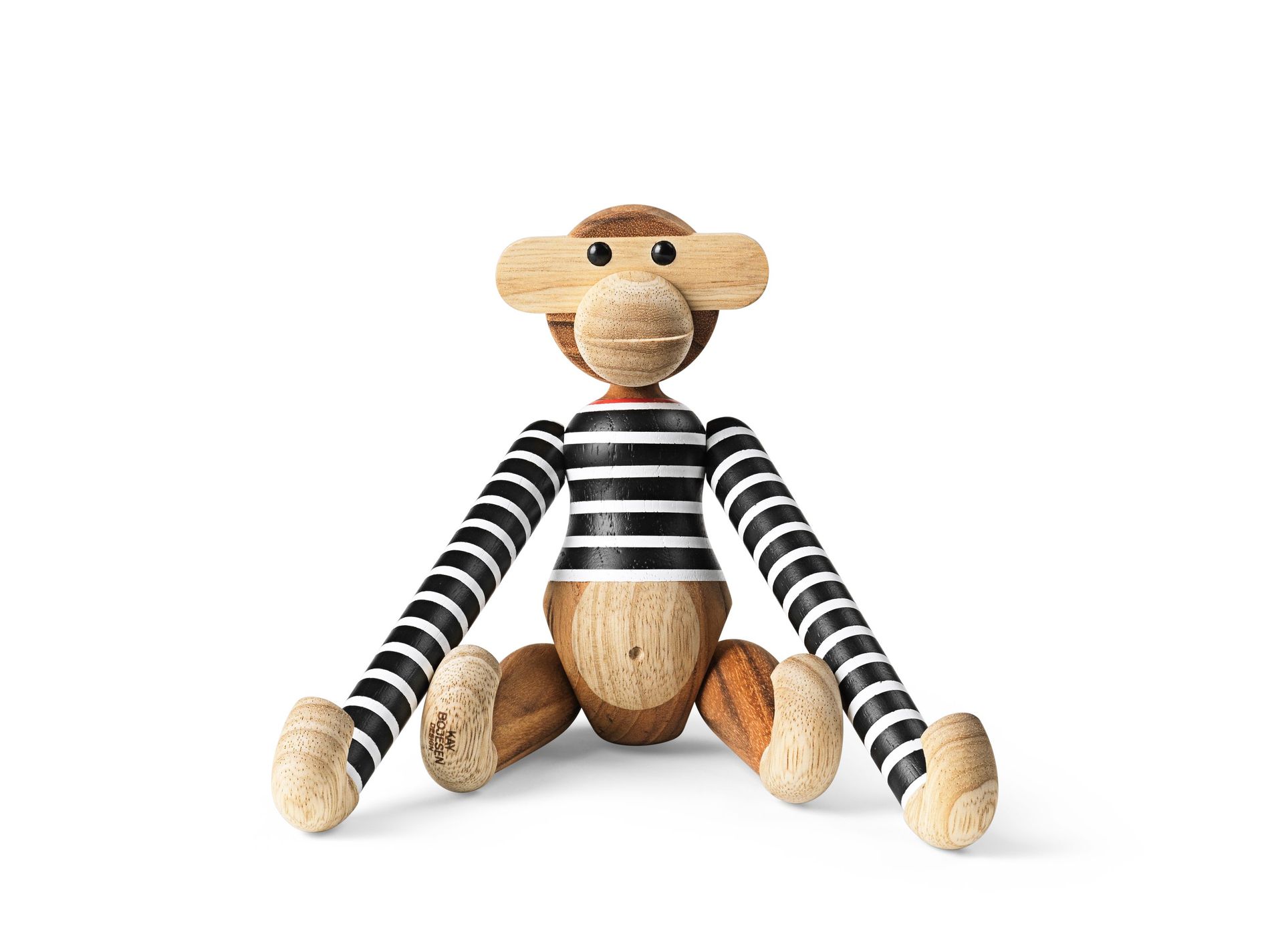 Ganni's latest collaboration is set to be a #GanniGirl staple this summer
With the searing summer sun finally here, sunglasses have shifted from a mere accessory to an essential. Now, just in the nick of time, Ganni and Ace & Tate have joined forces to create an exclusive eyewear capsule inspired by the Y2K aesthetic. "We had a lot of fun with all three shapes," says Ganni founder and creative director Ditte Reffstrup, "particularly the Trixie Shape which drew inspiration from Y2K with its oversized wraparound silhouette." The collection muses were "millenial dream girls like Paris Hilton, Pamela Anderson and Destiny's Child", according to Reffstrup, making this the perfect capsule to sport when channelling the early 'aughts.
Reffstrup was excited to announce the drop, calling the collaboration "a force for change in fashion." In the spirit of this, the collection is sourced from waste and offcuts, ensuring a circular approach and features Ace & Tate's "latest material innovation, Acetate Renew Bio," Reffstrup explains. "Both Ganni and Ace & Tate approached this collaboration with the same spirit; a refusal to compromise on responsibility or style," says Gregory Peron, vice president of marketing and brand, Ace & Tate, about the 10-piece-collection.
Ganni x Ace & Tate sunglasses collaboration is now available in select stores across and on ganni.com and aceandtate.com
Ganni x Ace & Tate
Xena sunglasses