This bride hit all the right notes with her chic and modern wedding
What started out as a Christmas Eve tradition – lunch at Stockholm's Opera Källaren and a round table discussion of the best and worst moments of the year – ended up being the very, very best moment of the year for Kajsa Schuterman: a wedding proposal.
"Marcus [Schuterman, co-founder and creative director of premium private room karaoke concept Moyagi], was first up and while speaking about his year, his godmother Titti showed up at the table and said, 'Let's recap this game again later at our place,' and invited us for drinks at her apartment," says Kajsa, communication and creative content lead at fine jeweller Engelbert Stockholm, and creative director of clothing line KAJSA by Nathalie Schuterman.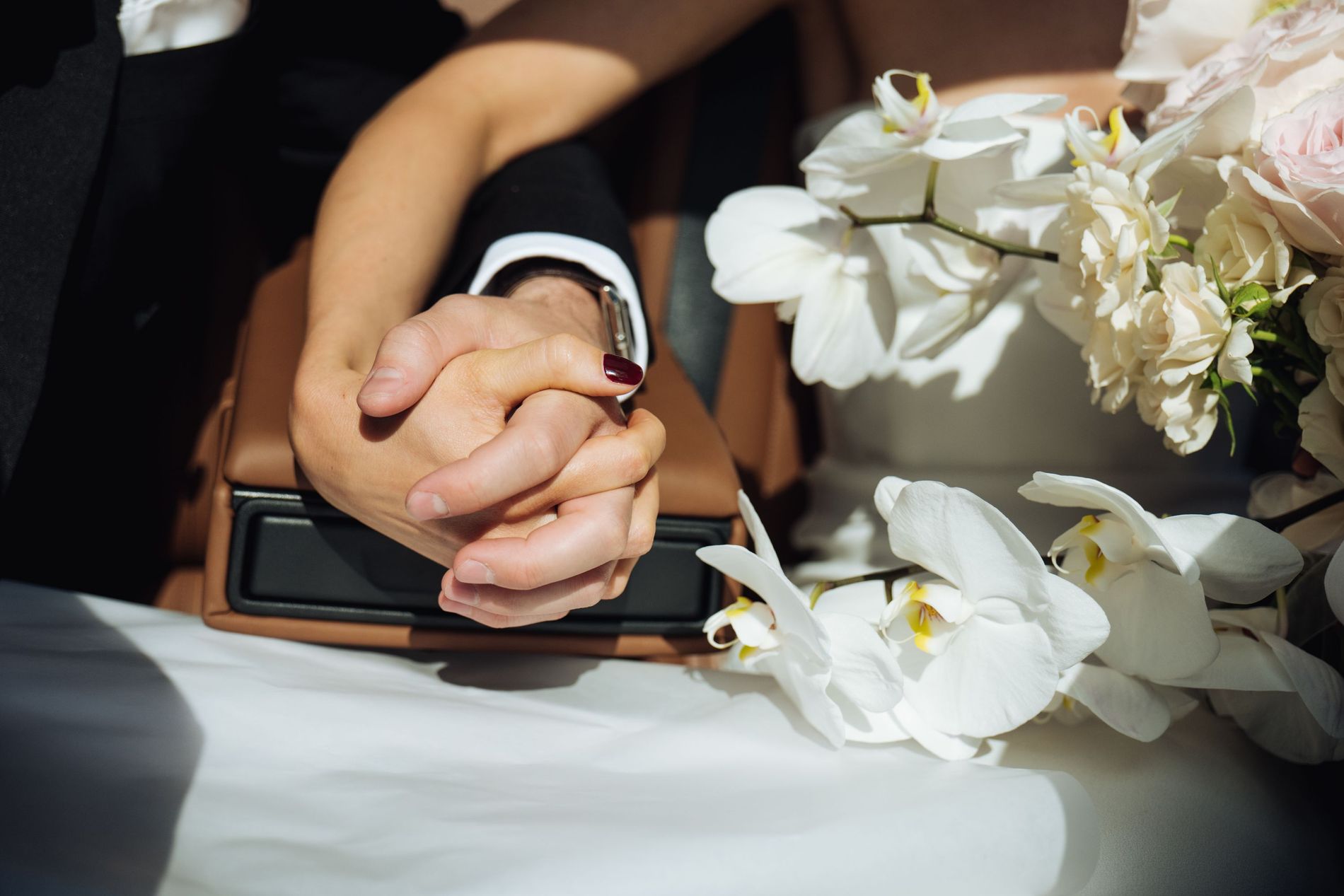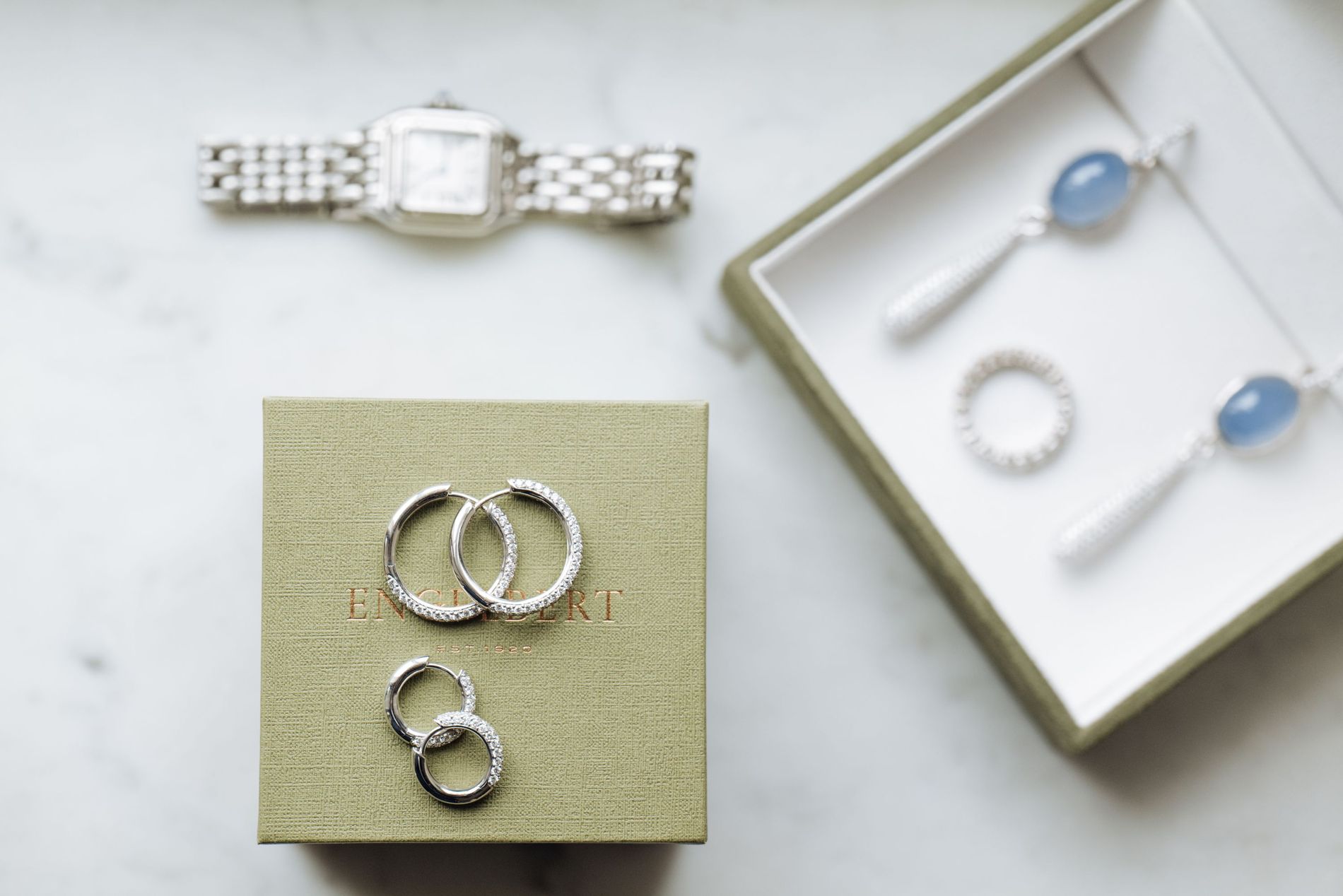 "The second time round playing the game, Marcus went last, telling everyone about his year and while everyone thinks they know the story, he stands up and walks towards me. He goes down on one knee and asks me to marry him," says Kajsa. "It was completely unexpected, yet the easiest answer in the world; we spent the rest of the night celebrating."
The couple who met and started dating just before Kajsa was due to leave for her studies in Milan in 2017 (which the couple refer to as "perfectly terrible timing"), married in June this year.
"We contemplated for a long time what type of wedding to have, and what would be 'us,'" says Kajsa. "With a lot going on in our lives, we decided we wanted something intimate with our closest family, and end it with a bang," she says.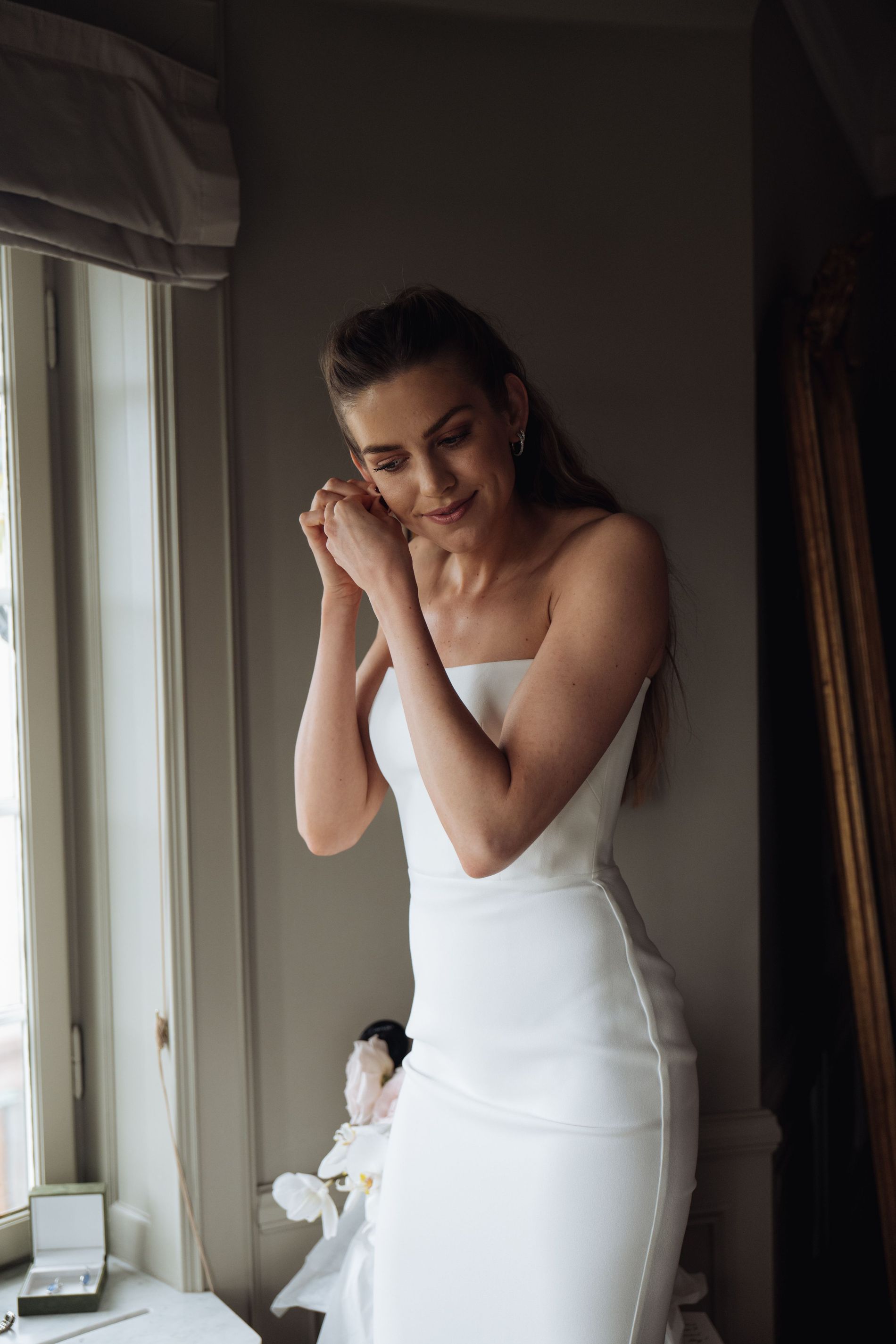 Photo: Abraham Engelmark
The couple began their wedding day with a civil ceremony at Stockholm City Hall, followed by a celebratory dinner and ended the evening with a cocktail party.
Kajsa says she knew immediately what look she wanted for the civil ceremony: chic and modern, with a classic touch. The result was an ultra-minimalistic strapless corseted dress, with a clean silhouette from Australian designer, Alex Perry, and a single layer chapel-length veil from By Malina. Her earrings were classic diamond creoles from Engelbert, and white patent cage sandals from Francesco Russo.
"For the bridal bouquet I asked Liza Langen to create something to bring a little bit of drama, and she delivered a large asymmetrical bouquet of white orchids, cream, and pink roses – it was absolutely stunning. When the final look came together it felt like it had exact edge I wanted."
Quite surprisingly to many, Kajsa did not change into a second dress for the cocktail party – a very conscience decision she made from the beginning. "I felt comfortable, sexy, beautiful and very 'me' in the Alex Perry, so I decided I would just switch all the accessories for the party. Shoes for the dance floor were a pair of glistening crystal mules from D'Accori, accompanied with beaded satin pouch from Danish brand Hvisk, and long diamond earrings from Engelbert."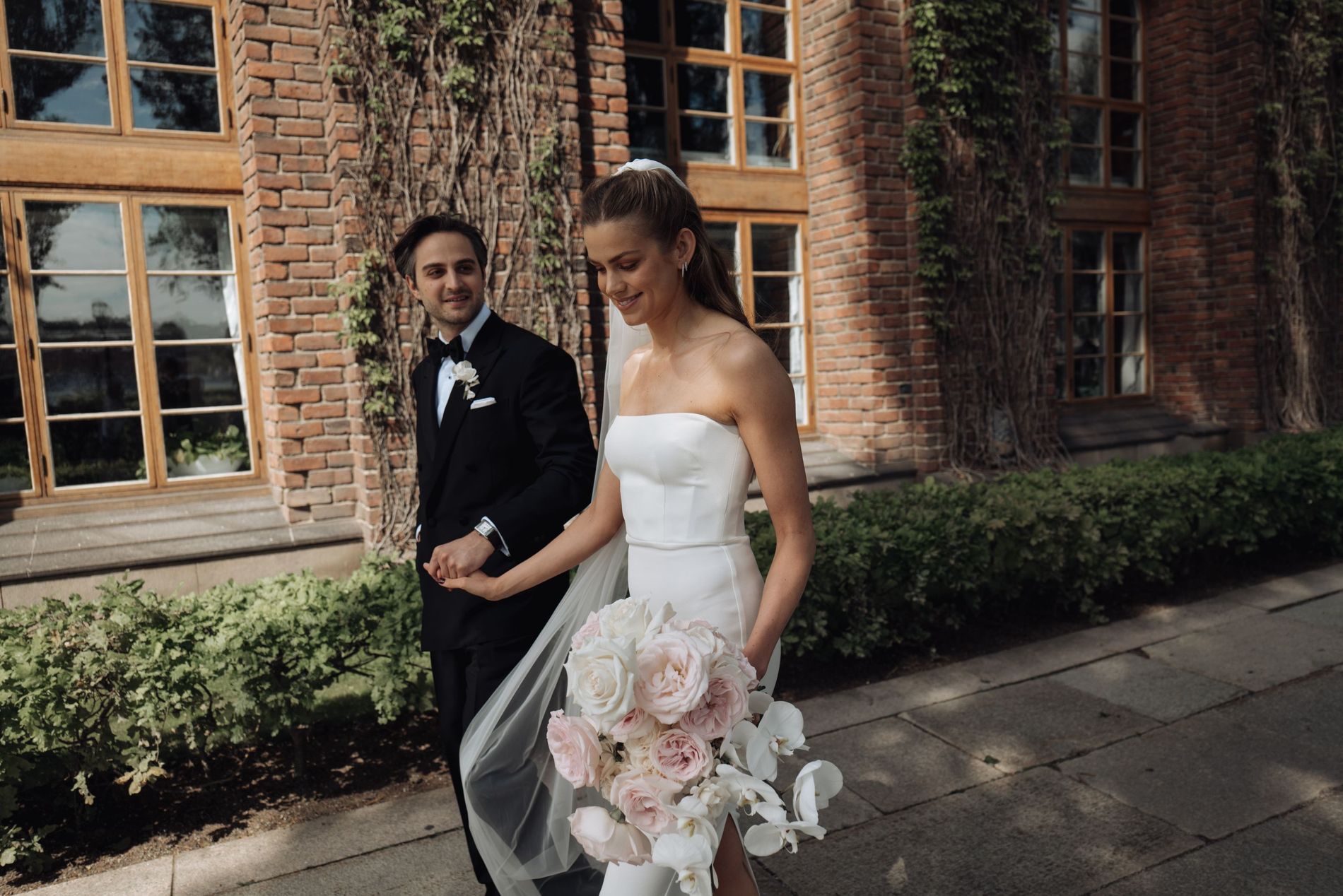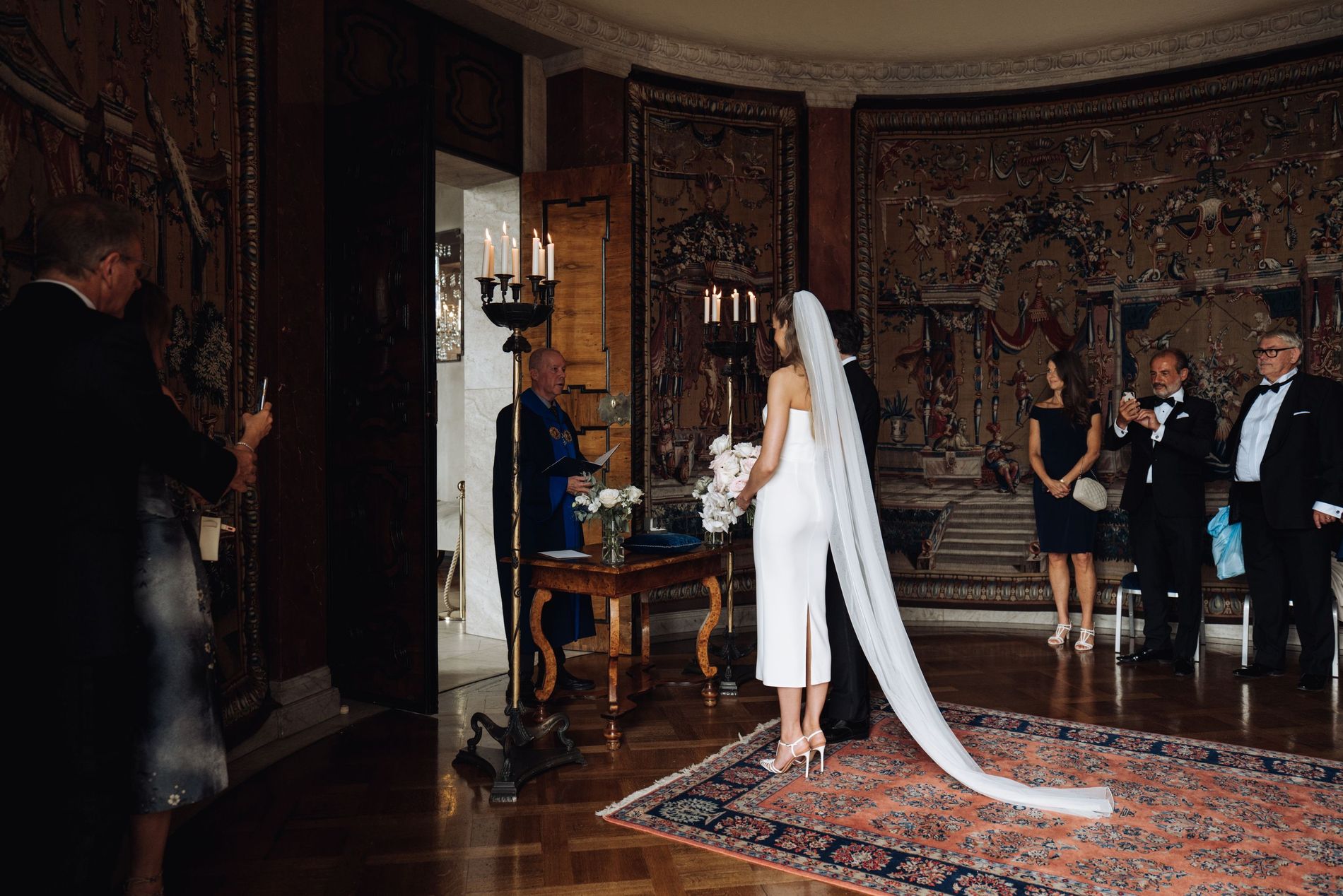 Stockholm's Ett Hem was the dinner venue and a no-brainer for the couple who first visited for Kajsa's birthday five years ago.
"That was my first time experiencing this luxury boutique hotel with only 12 rooms, beautiful and serene, hidden in the heart of Stockholm," says Kajsa. "We wanted an intimate, relaxed, and beautiful setting for our 23 dinner guests, and we knew that Ett Hem was just that," she says. "We stayed at the hotel the entire weekend, and when checking in we realised they had given us the exact same room as we stayed in five years ago. It felt so special. The venue is already so beautiful with its green courtyard and orangery, I had asked for pastel garden flowers, such as peonies and sweet peas in cream and lilac, and it turned out wonderful."
While it is on its way to becoming the dream home of Marcus' mother Nathalie Schuterman and her partner Mikael Gottschlisch, the couple took the opportunity to use this beautiful private apartment overlooking Stockholm harbour as their cocktail party venue.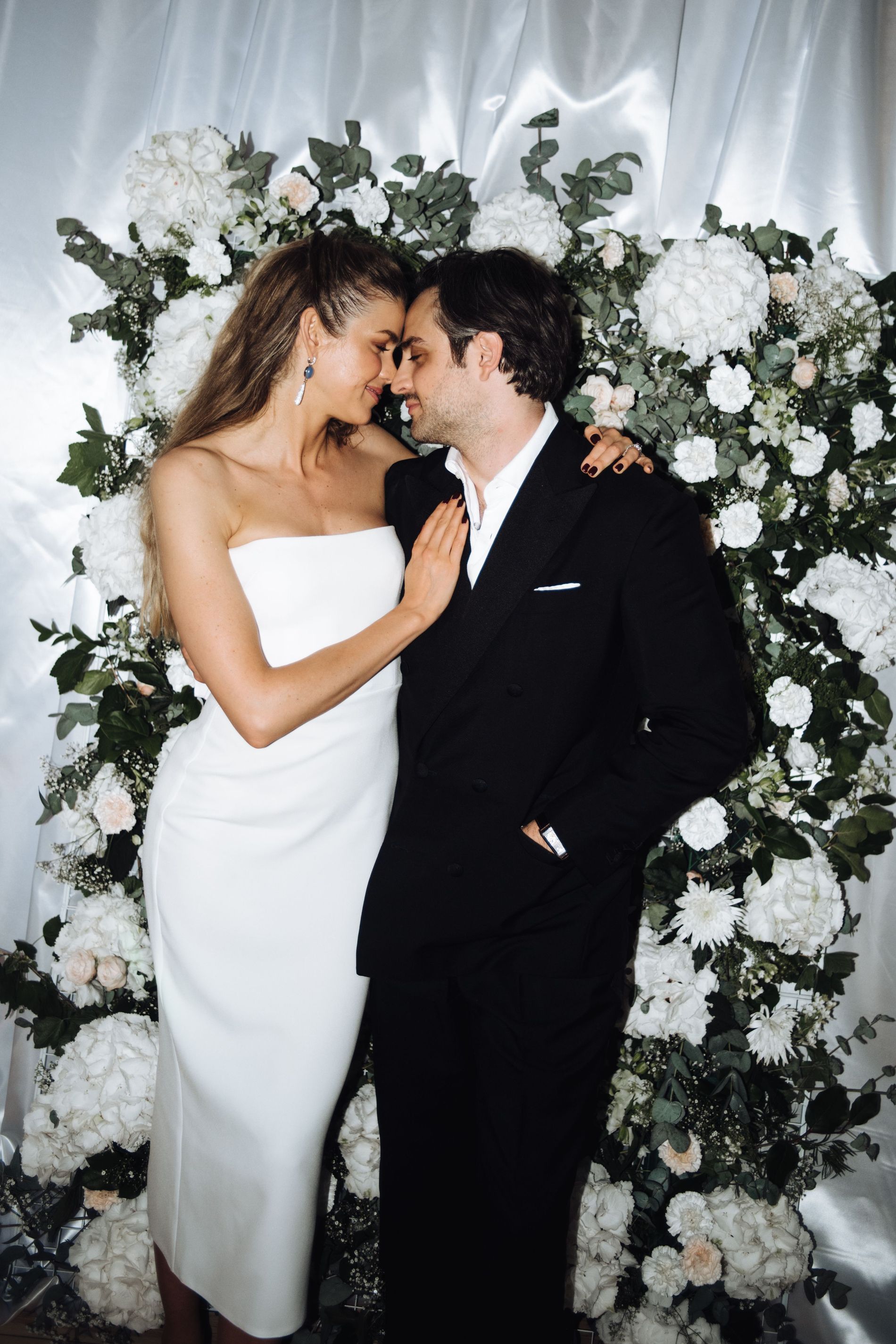 Photo: Abraham Engelmark
"This grand apartment housed a bar serving our favourite cocktails, and a dancefloor with DJ. Everything was beautifully decorated with dramatic lights, white flower-vaults, a flower-wall by Lilla Blomsterateljén; the result was so cool, contrasting with the raw walls and torn down stucco," she says.
For the dinner menu, the couple wanted to share their passion for good food and wine, and for them this meant Italian.
"The appetiser focussed on tomatoes and asparagus; the primi was goat's cheese filled ravioli, and secondi was an amazing halibut served with fresh cherries, roasted tomatoes, and buttered potatoes," says Kajsa. The wedding cake was millefoglie, an Italian custard and puff pastry cake, with fresh red berries and sabayon sauce.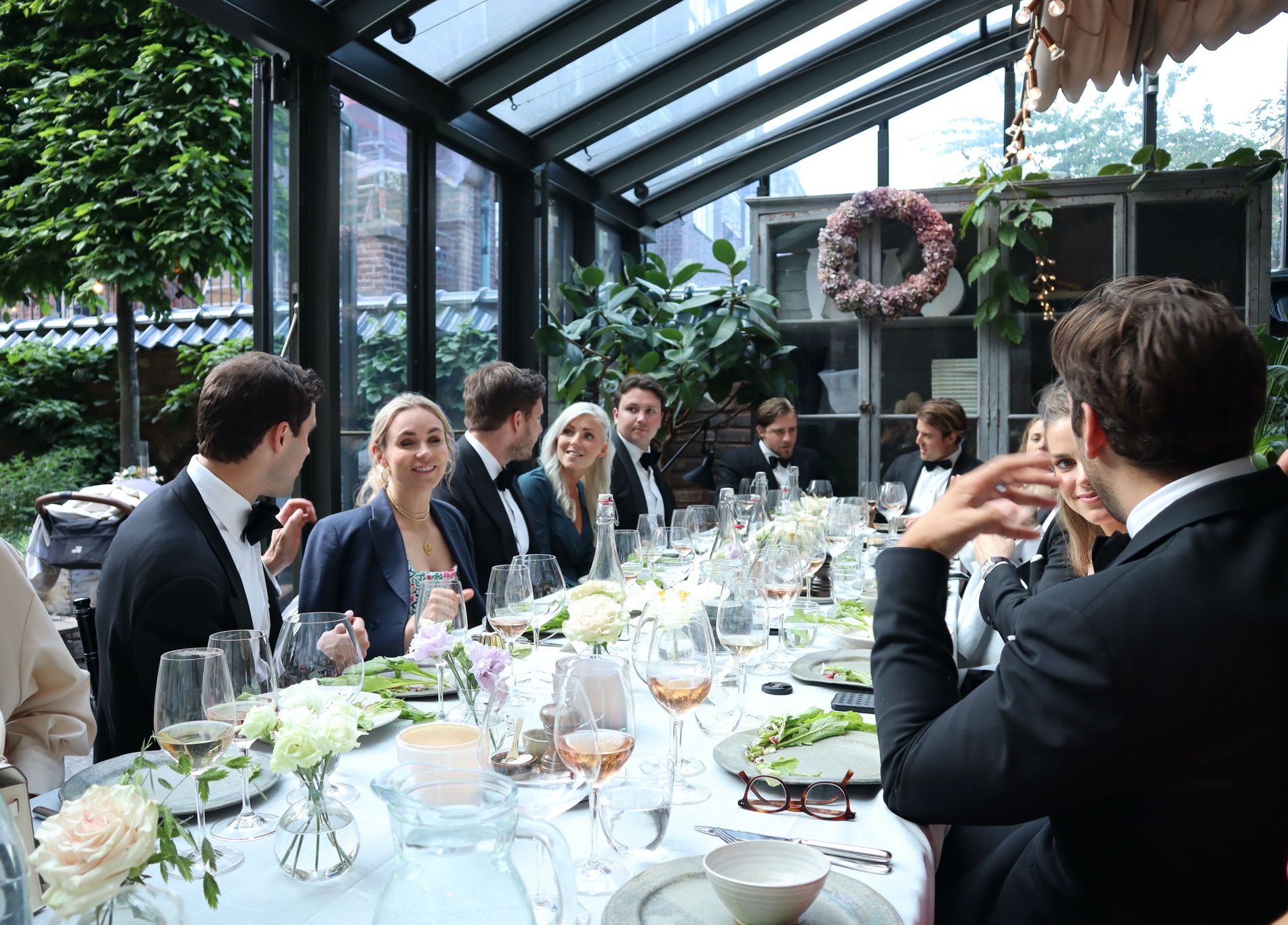 Photo: Kajsa Schuterman
When it came to music, DJ John Örvell kept guests on the dance floor and the vibe was upbeat and fun. "Marcus and I love to dance and, luckily, we enjoy each other's taste in music," says Kajsa. "Our first dance was to ILYSB (I Love You So Bad) by LANY. It's one of many songs special to us, but we listened to it on repeat the summer we met so it felt like an easy choice," says Kajsa.
Later that night, burgers from MAX Hamburger were delivered to hungry guests. While the sun rose over Stockholm, the last song on the dance floor played: the Dirty Dancing classic, (I've Had) The Time of My Life. And they did.