Swedish start-ups Gemme Collective and Re:Leased, along with the region's most popular brands are going cyclical when it comes to clothing
Among friends and family members, borrowing clothes is practically a right. Growing up, I treated my mother's closet as my own — often to her chagrin. In high school, Friday nights were spent pillaging friend's wardrobes for low slung jeans and "going out tops." To this day, I occasionally come across a blouse or T-shirt in my closet that did not originally belong to me (apologies, I swear I meant to return them).
But these are my nearest and dearest; it is their duty to lend me clothes and it is my duty to lend them right back. The thought of letting even a very responsible stranger into my closet feels like a violation. And borrowing from a random? What if I damage or ruin something? My friends and family have to forgive me, but a stranger would hate me forever. I can't have that on my conscience.
As it turns out, this line of thinking is quite archaic. In Stockholm, a slew of businesses extolling borrowing as 'the future' are thriving. Previously a practice for special occasions — a gown or tux for a wedding or gala — renting a handbag or sweater is now becoming commonplace for every day.
"As soon as people get a taste of it, they always come back" says Sara Boork, the Creative Director of Gemme Collective, the peer-to-peer Stockholm-based rental service frequented by models, influencers and even one or two of my Vogue Scandinavia colleagues. Think of it as AirBnB for clothes; users can both rent others' items and list their own items for rent. Once an item has been booked, it can either be exchanged in-person via meet-up, delivered by courier or dropped off and picked up at Gemme's showroom in central Stockholm. All garments and accessories on offer are approved by Gemme prior to listing to ensure a curated mix of covetable pieces from both Scandinavian and international brands. This is most evident on their Instagram feed, which is populated by put together Swedes wearing Stand Studio faux fur coats, Bottega Veneta net pumps and Acne Musubi bags, all available to rent for about 150 - 600 SEK per day.
Founder Emelie Gustafsson Maistedt came up with the concept for Gemme while studying fashion in London. As a financially strapped student from Sweden living in Shoreditch, she envied the effortlessly cool wardrobes of her neighbors, specifically her three roommates. "We were four girls living in this tiny apartment and I'd try on all their clothes. I wanted to have the Balenciaga, the Chanel, but of course I couldn't afford it," she says. This spurred the 'aha moment', "Wouldn't it be amazing if I could just open up my phone and pop into anyone's closet in Shoreditch and borrow something for the night? I would give her 30 or 40 pounds and give it back tomorrow."
Miraculously, Maistedt's rental revelation came pre-Airbnb, so it took about five years for consumer behaviour and technology to catch up. Once she saw that people were willing to let total strangers sleep in their beds, she figured surely people would be up for lending out a handbag. She beta-launched Gemme with a small community of Stockholm friends and industry insiders in early 2020 and opened the doors to all users a few months later. As it turns out, the lending of clothes is just as addictive as the borrowing. "After they get their first rental and get that cash into their account, they're immediately like, ´Oh, I have to list more things,'" she says, adding, "I've gotten 50% back on my Chanel bag."
It's all about shifting from ownership to usership and circularity, and that's one behaviour Gen Z are already totally on board with
Nicolaj Reffstrup, GANNI
But there's more than a financial incentive — both in terms of money saved for borrowers and money earned for lenders — to clothing rentals. "It's always more sustainable to wear something that is already produced than to buy something new," says Maistedt. The logic is that if two girls share one item, let's say a purse from a luxury brand, rather than buying two purses, the overall environmental impact is reduced by 50%. However, this is only true if the brand in question does not produce the second purse to begin with. But as rental services grow in popularity and less and less items are purchased new, brands are sure to react accordingly. In fact, some already have — Stand Studio, By Malina and even Weekday have partnered with Gemme to lend out items from their collections, and Maistedt hints that more brand partnerships will be announced in the coming months.
While Gemme caters to the label-conscious woman dressing for a big night out or, frankly, Instagram, Re:Leased appeals to those who simply want a little more variation in their day-to-day wardrobe. A subscription-based offering also based in Stockholm, Re:Leased allows its users to book three garments to rent per month, to be delivered and picked up via courier. They'll give you a heads up when it's time to select a new batch of items, but if you've rented something you're particularly fond of, you're welcome to hold onto it for a while longer. Rather than cull from the closets of individuals, Re:Leased stocks directly from beloved Scandinavian brands like Dagmar, Hope, Baum und Pferdgarten and Stine Goya. "In any role, there's an expectation on women to represent and look the part, but also be varied in their look," says Re:Leased Founder and CEO Johanna Norrman. "That's the key thing that we're helping her with."
With Re:Leased, Norrman says she isn't changing consumer behavior, but rather "reaching the consumer where she's at." Many women were already rounding out their wardrobe with fast-fashion items — a blazer here, a blouse there — intended to be worn just once or twice. With Re:Leased, they can continuously rotate their looks without accumulating unnecessary garments in their closet. Besides, the cost to rent an ethereal bell-sleeved Maline Birger blouse for the month is notably less — a monthly subscription is 750 SEK which shakes out to 250 SEK per piece — than picking up a comparable blouse from a fashion-fashion retailer.
As clothing rentals move towards becoming as normalized as film streaming and ride sharing, some brands have already begun to cut out the middle man. Unsurprisingly, one of the first Scandinavian brands to dabble in rentals is Danish juggernaut Ganni, a fearless innovator in the sustainability space. In 2019, the brand launched Ganni Repeat, a platform which allows customers to rent a selection of current and previous collections. Though it was only introduced as a trial in the brand's native Denmark, it showed promise. "The appetite is there," says Ganni co-founder and CEO Nicolaj Reffstrup, noting that those who showed interest skewed young. "It's all about shifting from ownership to usership and circularity, and that's one behaviour Gen Z are already totally on board with. Using sharing economy sites like Spotify, Depop and AirBnB is their second nature — now it's time for the fashion industry to wake up to outsourcing clothes."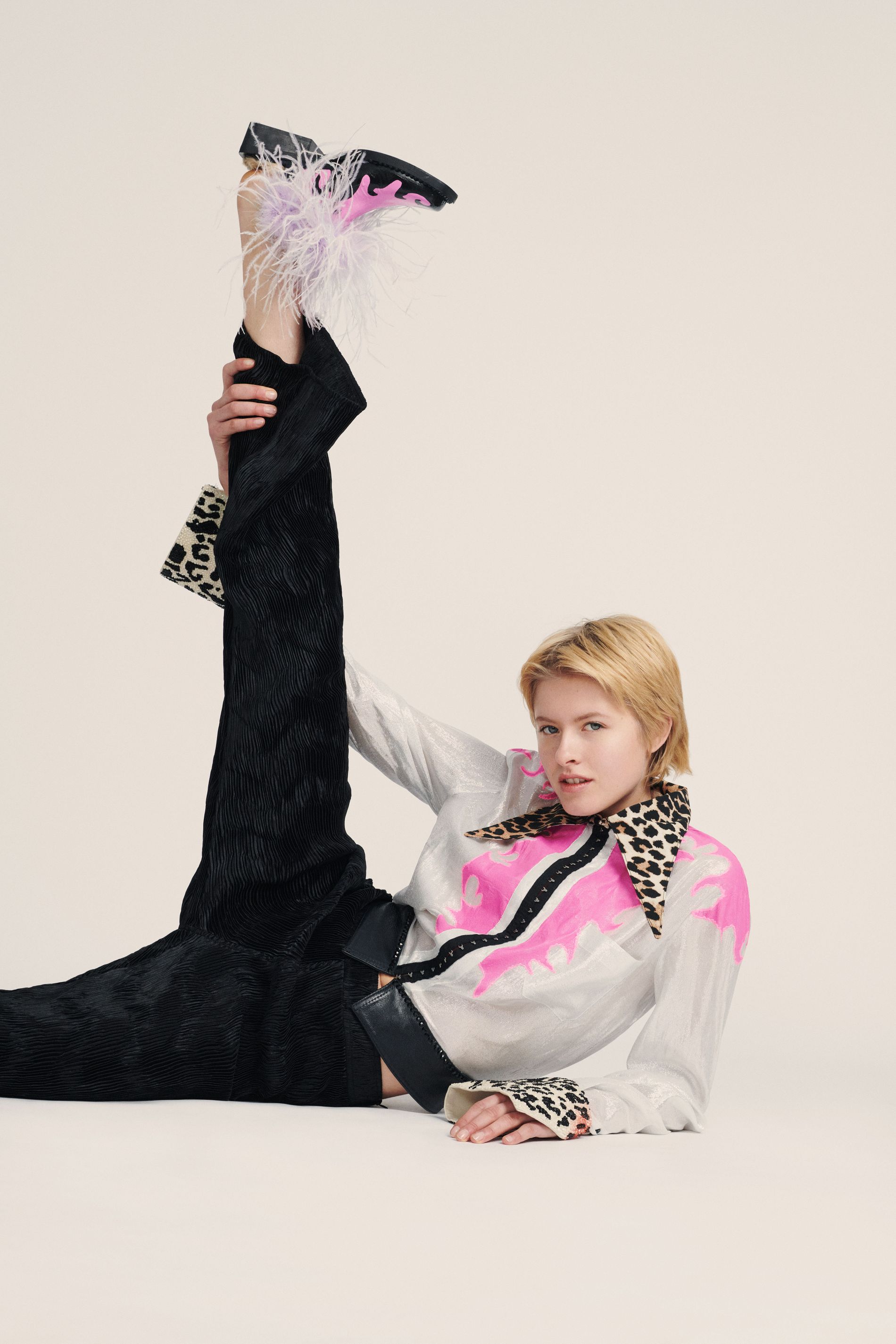 Ganni Repeat allows customers to rent garments from the label. Photo: Ganni
Still, Ganni Repeat wasn't without its issues. "It's really helped us rethink how we do things but it's not been an easy market to crack, especially with the pandemic happening, which meant people were not renting for events as much as they may have done," he says. Plus, there's the issue of the additional packaging, cleaning and shipping associated with rentals, which adversely effect the positive environmental figures cited by those in the rental space. Not to mention the astronomical logistical costs, including introducing reusable packaging, associated with setting up rental operations in markets beyond Denmark. But there is some good news: this Fall Ganni plans to further explore re-selling platforms in order to continue on its crusade to reduce fashion's carbon footprint.
Reffstrup will be the first to admit that Ganni Repeat won't solve the industry's waste issue, and neither will any other rental platform. But the rise in rentals is advancing the sustainability conversation while moving the needle in the right direction, at least a little bit. And there's no denying the joy of gaining access to items beyond the confines of one's own closet. "To anyone who is skeptical, I would say, first of all, try it," says Norrman. "But my real response would be, why is the owning more important than the access?"