From producing the best all-round running shoe to supporting Scandinavian runners, New Balance is here to make a runner of everyone
"I'm not a runner." It's a universal phrase most of us have uttered at some point in our lives, whether during an enforced sprint during P.E. class or when discussing healthy habits with friends. A dominant subset of runners (and run culture) dictates the norm, a stereotype enforced by impossibly long treks and/or competitive kilometre-per-hour averages. Because of this, a majority of people who run either don't feel like they belong. They don't consider themselves 'runners'.
New Balance has made it its mission to crush the norm because, as one of the brand's most prolific slogans boasts: 'Runners aren't normal'. "To many, running is an individual sport built around elite competitors," says Erica Tappin, head of global marketing, running at New Balance. New Balance plans on changing this narrative for good. "Our new global initiative called Run Your Way flips the narrative that you have to look a certain way or run a certain speed or distance to be considered a runner," says Tappin. "When you are free from the burden of what others think running should be, then we believe that you can truly enjoy what running can do for you."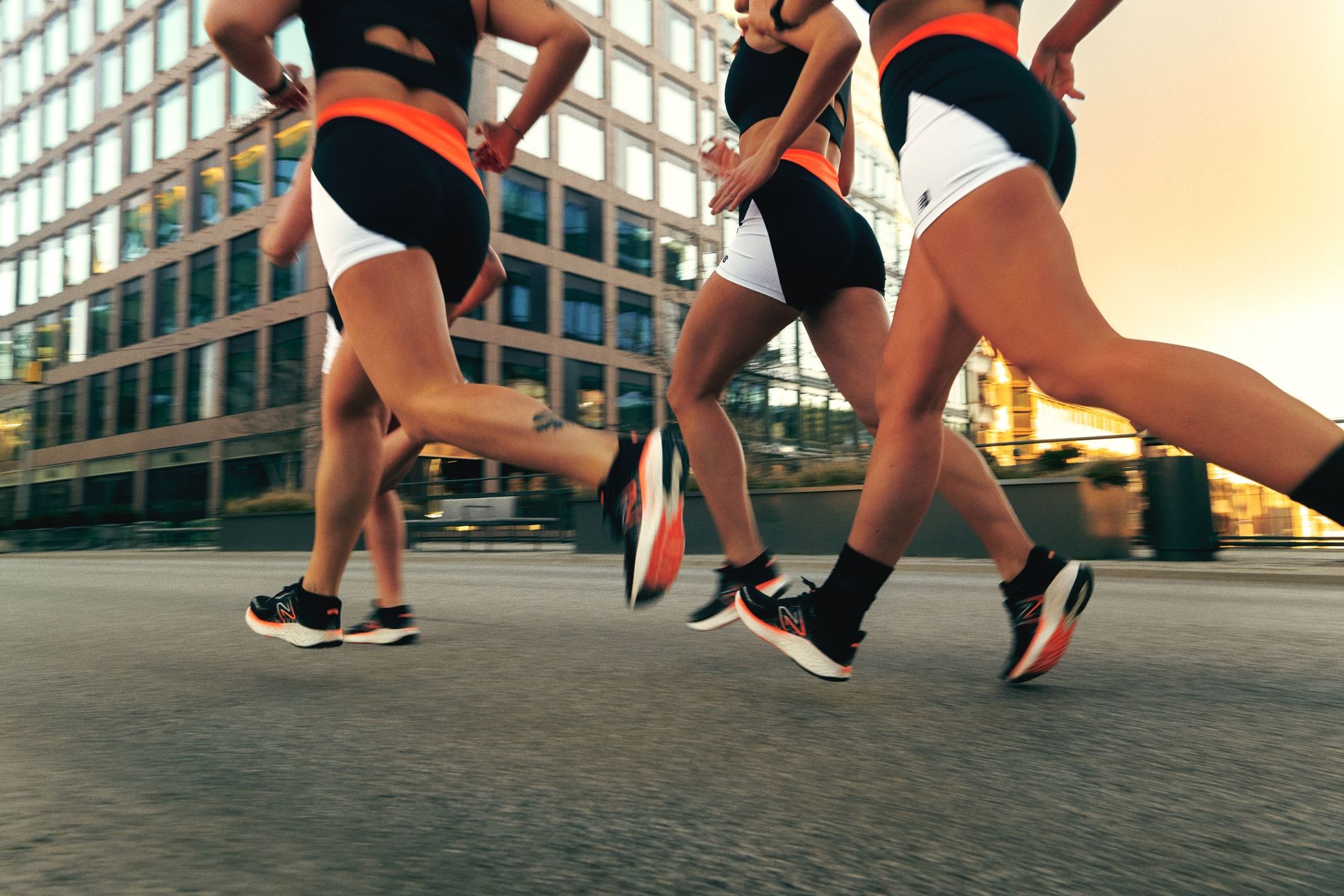 It's simple; If you run, you are a runner. According to New Balance, there's no such thing as 'normal' in running. "We are focused on opening doors to running culture to everyone," says Tappin. From elite athletes to weekend road racers, to busy parents sneaking in a run after drop-off, and anyone – no, everyone – in between. "If you run, you are a runner," Tappin continues. "This approach invites all to the world of running and legitimises however you choose to do it."
To celebrate the casual runner, New Balance's 'Run Your Way' initiative also sets out to empower local initiatives that encourage individuals who usually wouldn't call themselves runners. "Female collectives in Sweden and the Nordics are underserved," says New Balance's Nordic marketing manager Hanna Löfberg. Instead, the brand wants to create a less intimidating, more inclusive, and more relevant culture that all who run want to be a part of. "Running will take you exactly as you are, and we aim to drive meaningful change within the run communities," she notes. "This is what we share with the girls in the newly started Stockholm-based community YRG – YouRunGirl."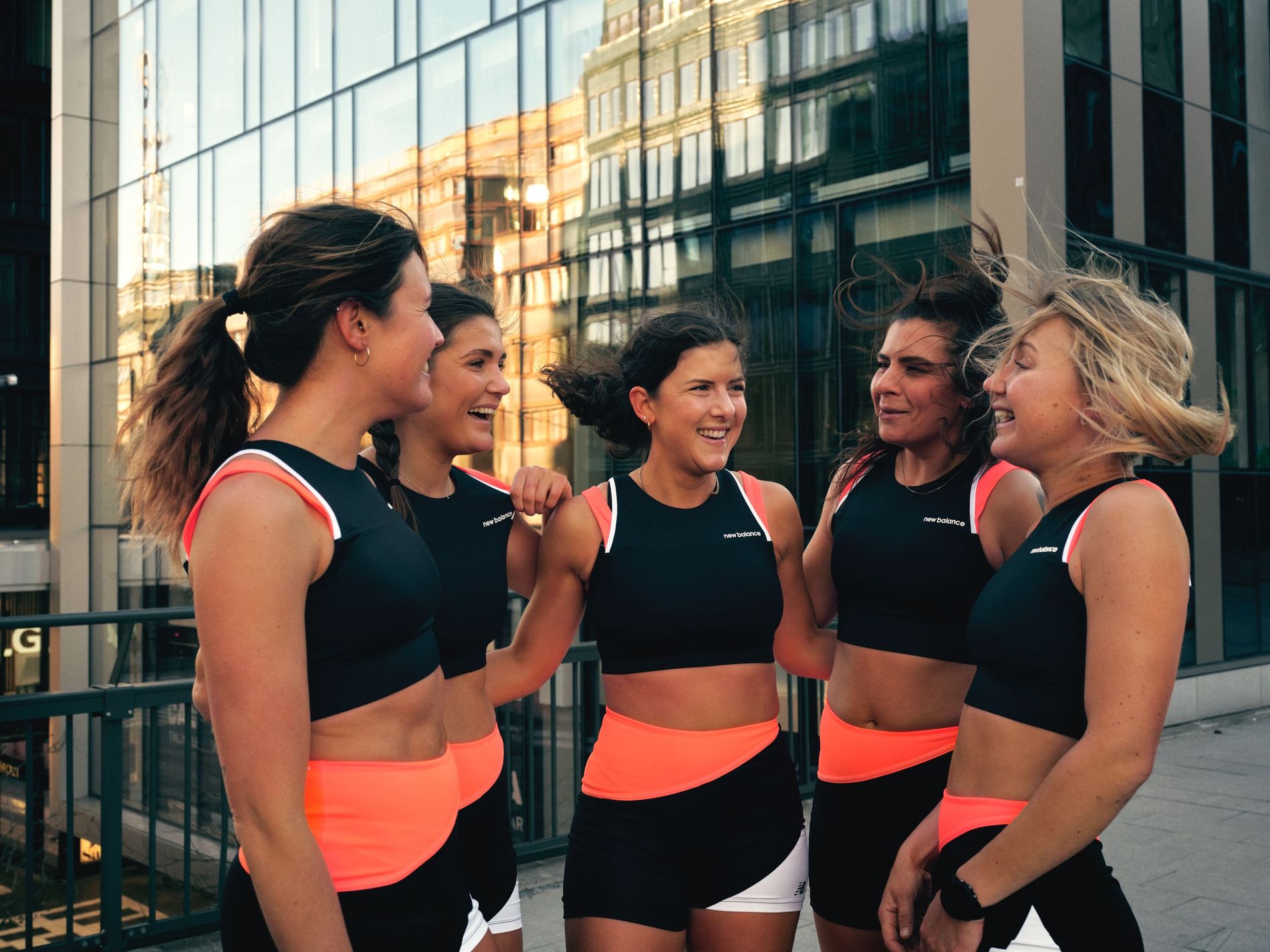 The Stockholm-based running collective YRG .
Running will take you exactly as you are, and we aim to drive meaningful change within the run communities
Hanna Löfberg
Supported by New Balance, YRG's aim is to help women wanting to get into running. "We met through another running community, but in most running groups, the large majority has always consisted of guys," says Jenny Hedblom, one of the founding members of YRG. As Hedblom explains, the whole idea was to lower the bar for women to see themselves as runners. "We believe that a fun and safe space where you can come as you are and drop in or out as you feel creates a good foundation to build confidence in running and create long-lasting habits."
The recently founded group was a "complete game changer" for Hedblom. "I have met some of my best friends through running communities, and I really can't imagine my life without running in groups," she explains, pin-pointing how "when you run and sweat together with others, you tend to get really close to each other fast, and that bond is hard to break."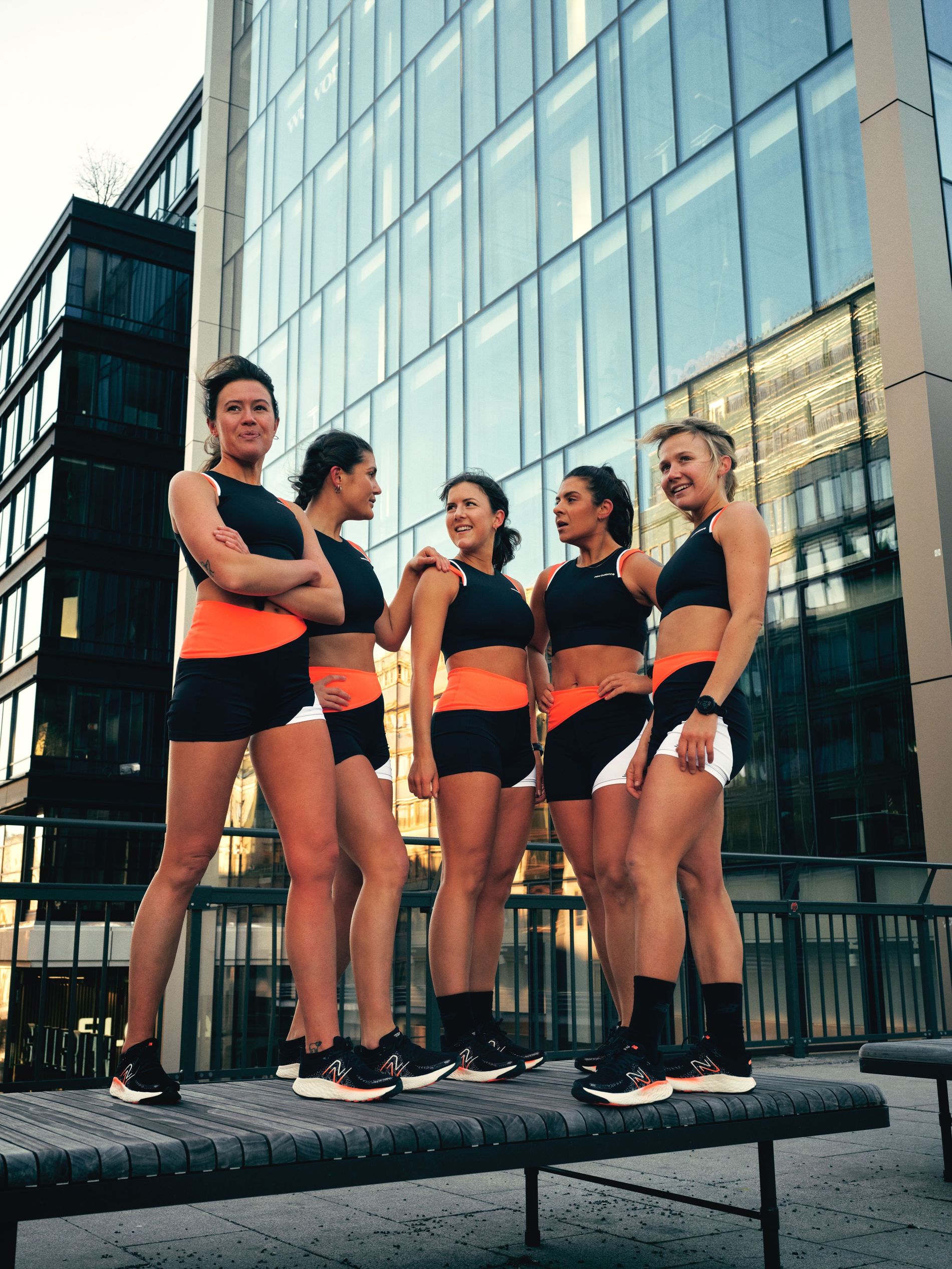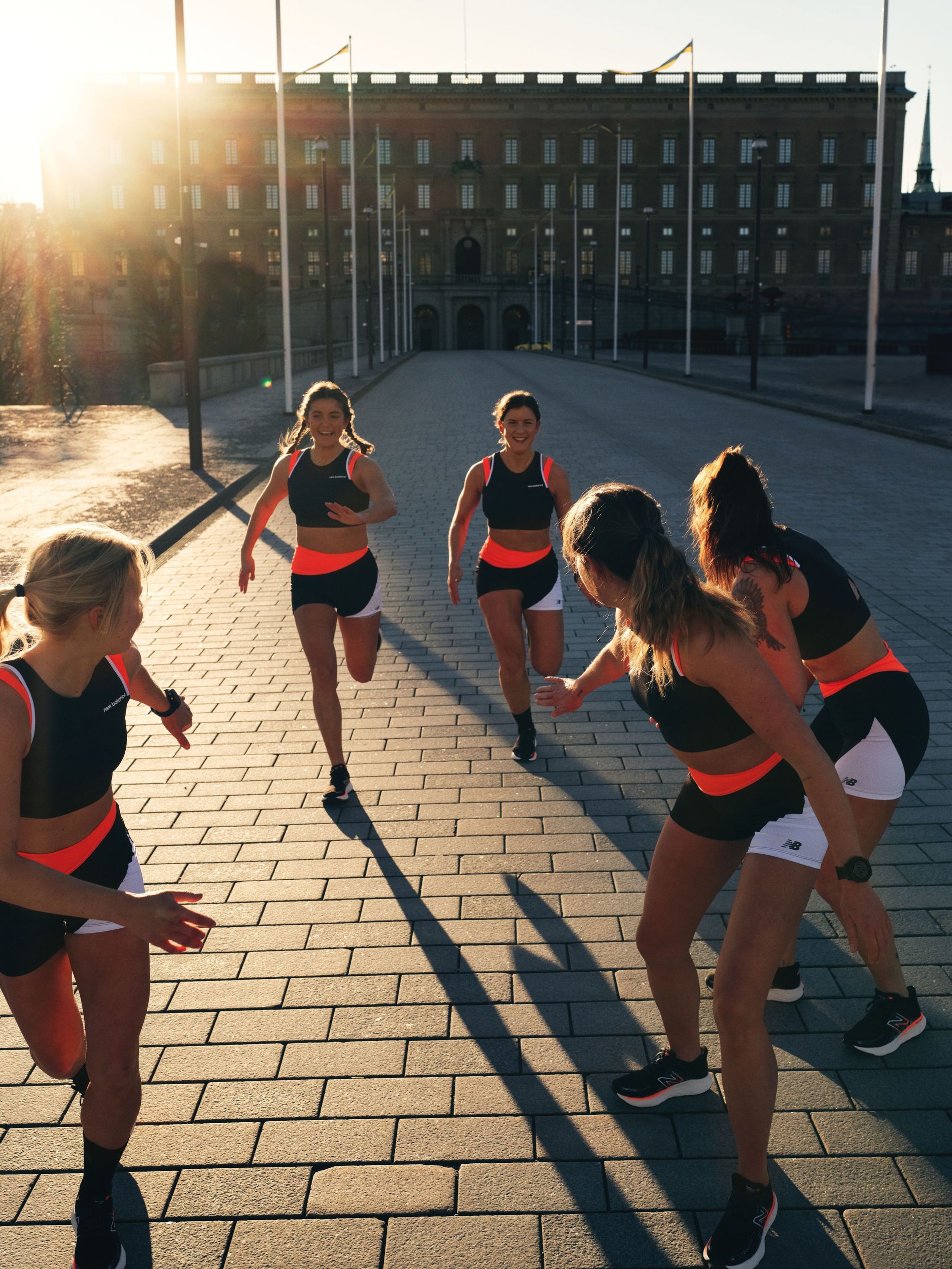 Hedblom believes that one of the best things about running is how accessible it is, saying, "the only gear you need is pretty much a pair of shoes." But the right shoes can make or break your first run, and to help alleviate the hurdles, New Balance introduces the latest version of its Fresh Foam x 1080 sneaker. "As this shoe is our best and most versatile running shoe, it only makes sense that it covers all ends of the spectrum in terms of colour, styling and wearing occasion," says Meredith Nash, strategic business unit manager of New Balance's Performance Running and Performance Collabs.
A true all-rounder, this sneaker works just as well on the track as the street – whether you're training for your next marathon or running for the bus. Shelby Aubin, Associate Marketing Manager Running at New Balance, notes the model's versatility as the main attraction. "If you were to pack one shoe in your suitcase for a trip, the 1080v12 is the go-to shoe for running, comfort and all-day wearability," she says.
The new Fresh Foam 1080v12.
Hedblom likens the feeling of your first pair of good runners to "having sugar for the first time." Describing the new Fresh Foam model, a popular choice for the girls in the group, Hedblom says that "it is insanely comfortable while giving great support and energy back in each step." It makes it the perfect shoe on your journey from a beginner to being able to go out on longer runs, according to the founding YRG member. "It has definitely been a couple of light-bulb moments of 'so this is how it's supposed to feel!'"
"Also, I love the clean look," Hedblom exclaims. The look, a black hypno-knit offset by neon orange details, reverberates through the accompanying capsule collection, including matching shorts, tights, and a high-support sports bra. "This juxtaposition between dark and light neutrals and bold orange and soft pink conveys strength and beauty," says Nash. And it does make you feel both beautiful and strong when you run. "Everyone knows that the outfit makes 50 percent of your performance, right," jokes Hedblom.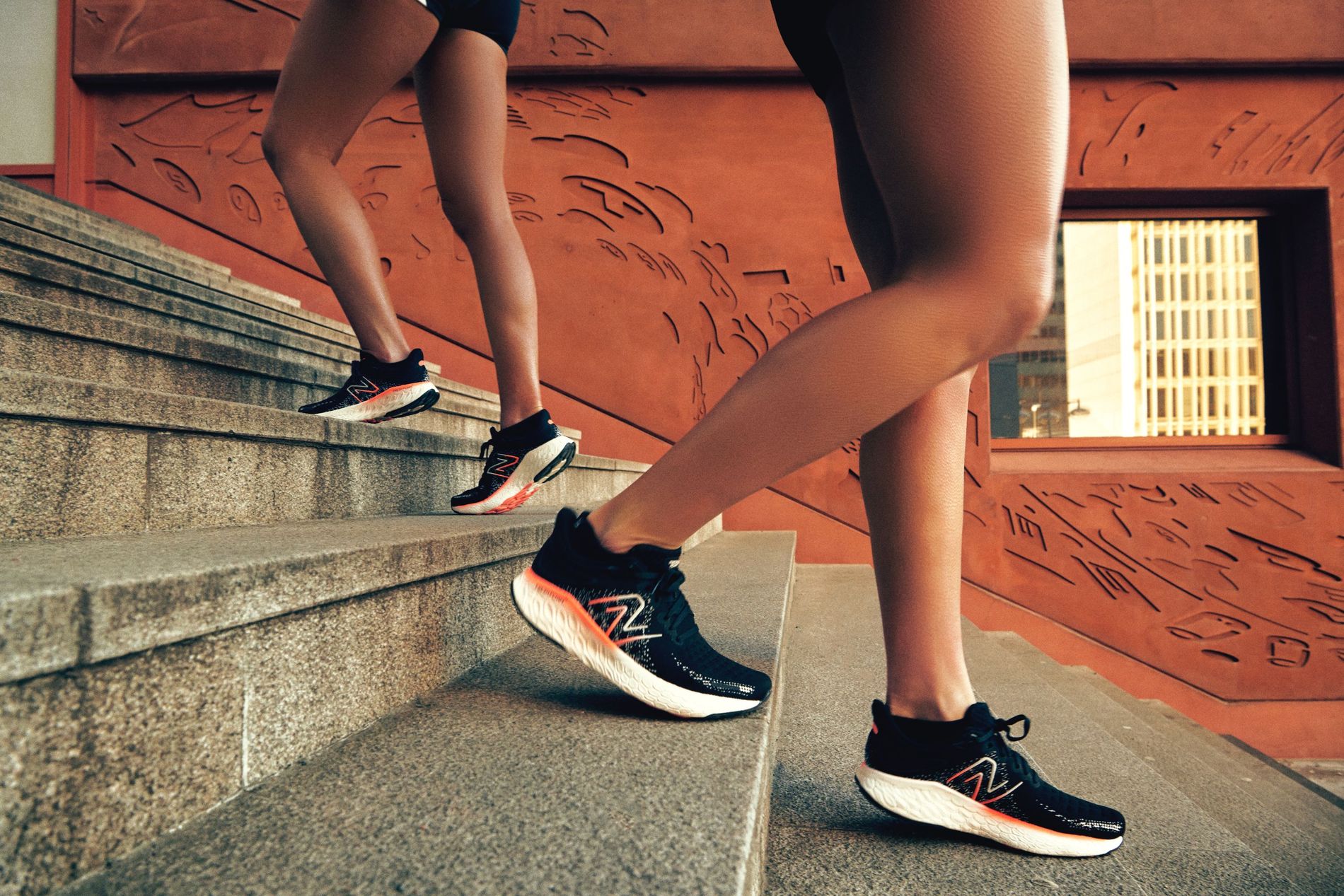 As for hands-on tips on how to get into running, Hedblom advises setting habits instead of goals. "Start easy, do not compare yourself to others," she says. "Find a friend and commit to each other to get out no matter the weather." And if there is a local running community, contact them and see if you can join the first half of a session. "From there, it's a slippery slope into the 10k subs and split times lingo. "
Hedblom's best advice of all, however, is to "get yourself a proper pair of running shoes." Preferably the 1080v12. After all, "there is no typical runner for the 1080v12," as Aubin explains. But if you do want to get into running, and if you want a "super comfy pair of running shoes" (which we all do) the 1080v12 is for you.