We speak to three locals for insider tips on Iceland's latest volcanic eruption and how to make the most of a once-in-a-lifetime trip
Iceland is consistently capturing the attention of the rest of the world – and not just because Björk has a new album on the way. During April of last year, the Fagradalsfjall volcano, located between the international airport and the capital of Reykjavík, erupted in the midst of the pandemic and travel bans.
And just last month, Iceland stole the spotlight again with a new volcanic eruption named the Reykjanes Fires. It seems the region is entering a period of volcanic activity, so it's high time to prepare the trip of a lifetime to witness the next flare up. Standing next to a glowing red lava flow is an experience that is very hard to describe. With precautions in place, the eruption of the Reykjanes Fires volcano has become quite literally the hottest tourist attraction in Iceland.
As such, we spoke with three locals about the latest eruption and how best to enjoy the ones to come.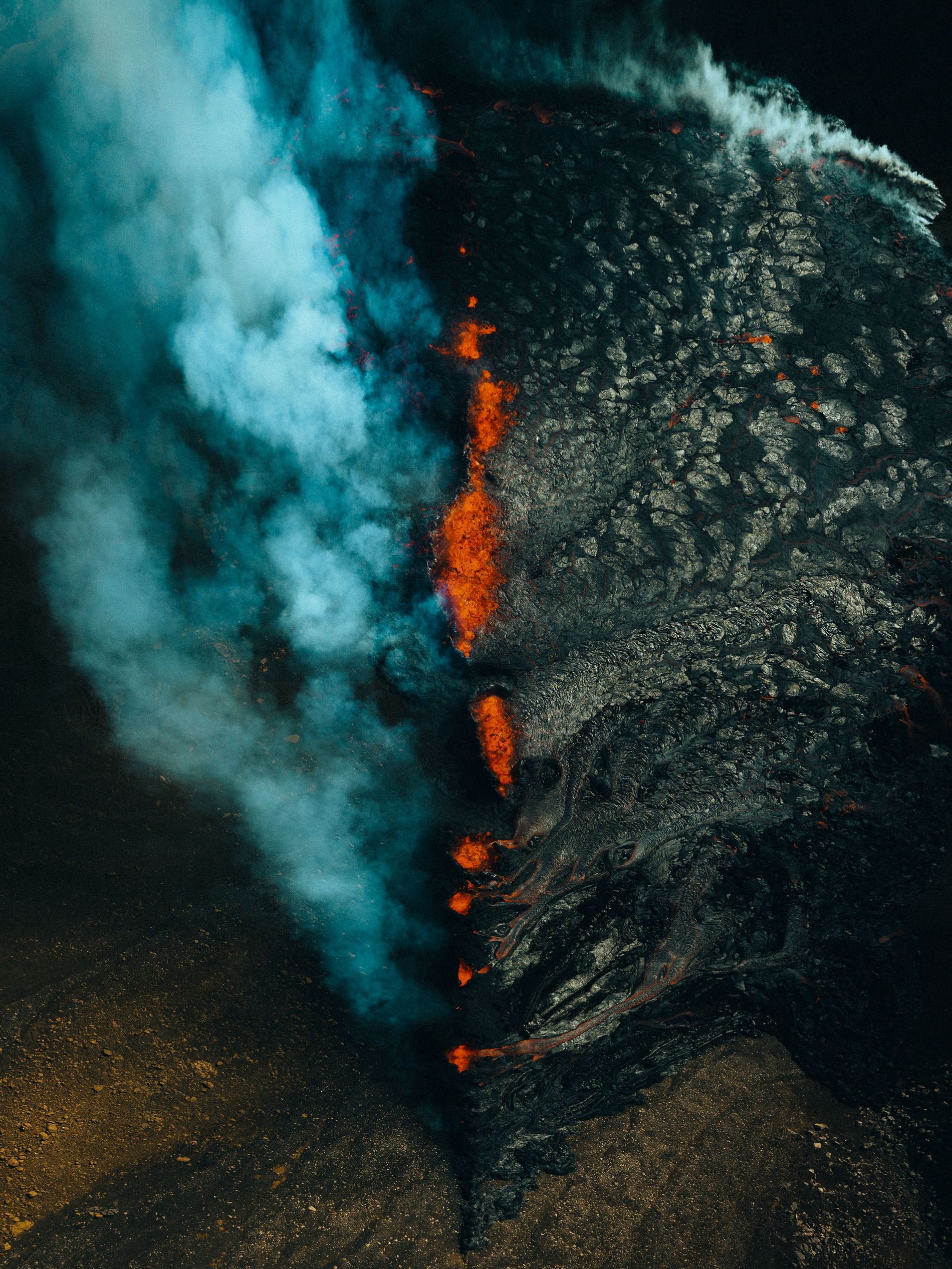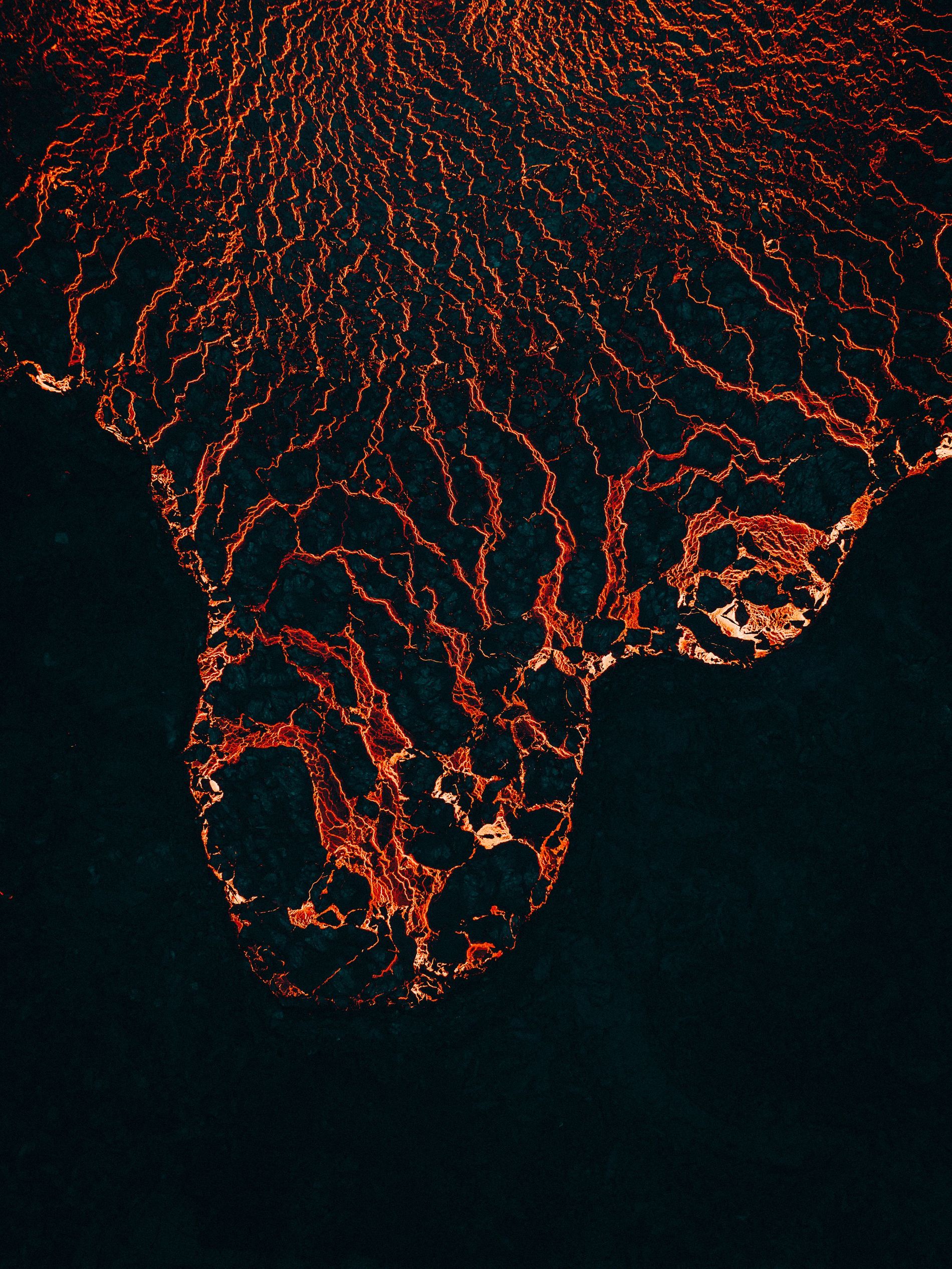 The photographer: Gunnar Freyr Gunnarsson
Gunnar Freyr Gunnarson is a photographer from Iceland, living in Reykjavík, who quit his corporate job to satisfy his desire for adventure. With a camera in hand, his passion for exploration led him out into the wilderness as a freelance photographer.
What's the best way to experience a volcano?
There are many ways to experience a volcano, including by helicopter, small airplane or on foot. I have tried all options, and personally, I think the best is to experience it from the ground. For the Fagradalsfjall volcano, it it just a 45 minute drive, before you embark on this beautiful hike up the mountain towards the Meradalir site. The two hour hike (each way) is relatively demanding and much of it is done in rugged terrain that is both muddy and features large rocks. But it's also very rewarding and while walking, you really build up this anticipation of finally reaching the volcano.
What advice would you give people going there?
My main advice relates to safety. Both connected to the hike and when you reach the volcano itself. I would not recommend going to the volcano when the weather is bad. It's just not going to be an enjoyable experience spending the whole day wet and cold. Make sure to check the weather forecast in advance and check www.safetravel.is for local guidance on the conditions.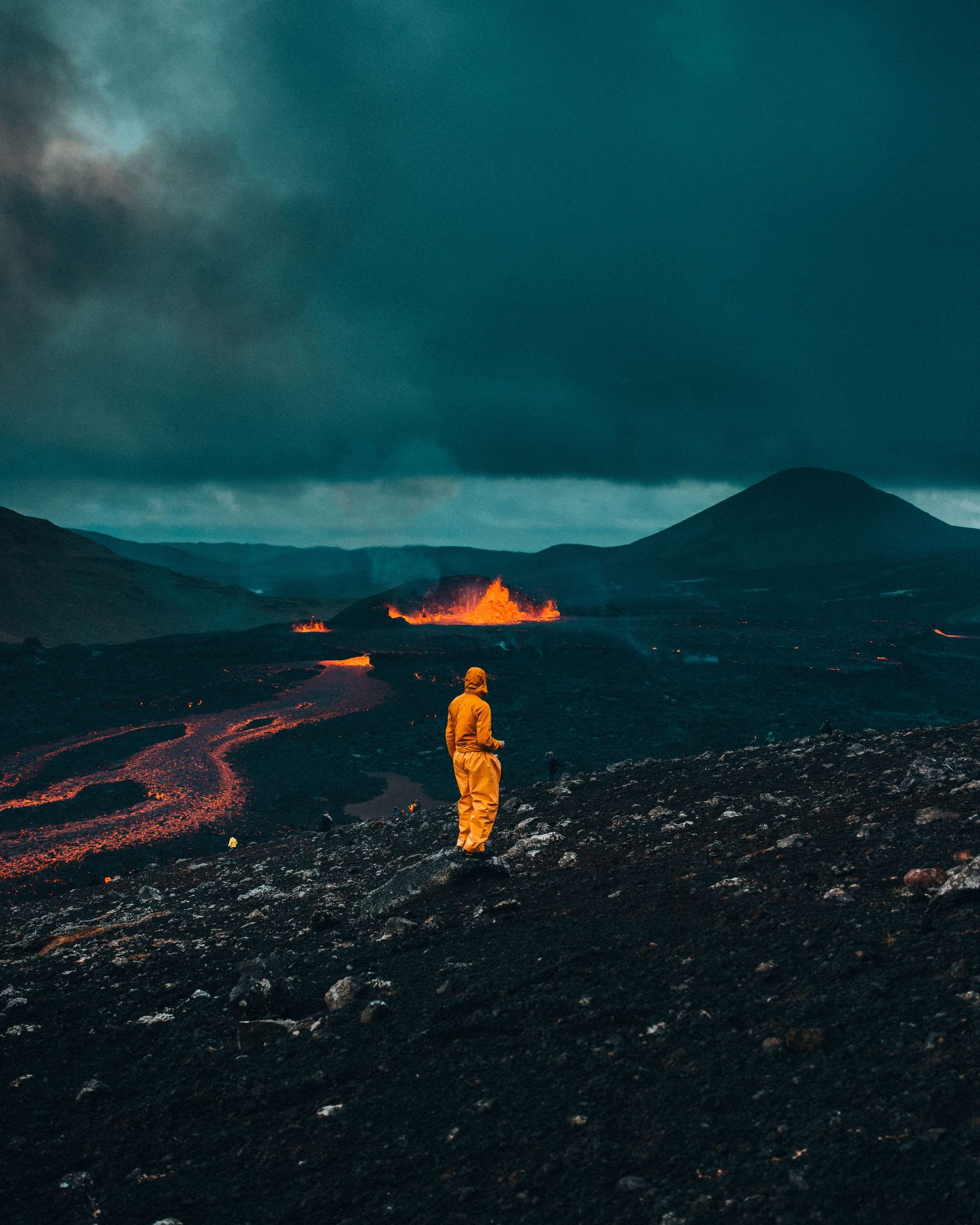 Photo: Gunnar Freyr Gunnarsson
For the hike it self, here are a few things to consider:
Wear boots that have ankle support as the path is rugged and you could risk twisting your ankle
Bring items such as a head lamp, multiple layers of clothing and a power bank
Bring plenty of water and food as you're going to need it after all the hiking. Don't forget that you have a long walk ahead of you before getting back to your car.
My experience is that exploring the area by the volcano is relatively safe. However, keep the following in mind:
Always try to place yourself in a direction so that the wind is blowing away from the volcano. Having the wind blow from the volcano in your direction could lead to exposure to poisonous gasses. Often this is quite straightforward once you get there
Try to avoid small valleys and pockets where gas could build up in a higher concentration. You won't always smell the gas and some of these pockets could be deprived of oxygen. Even a gas mask won't help you if there is no air to breathe.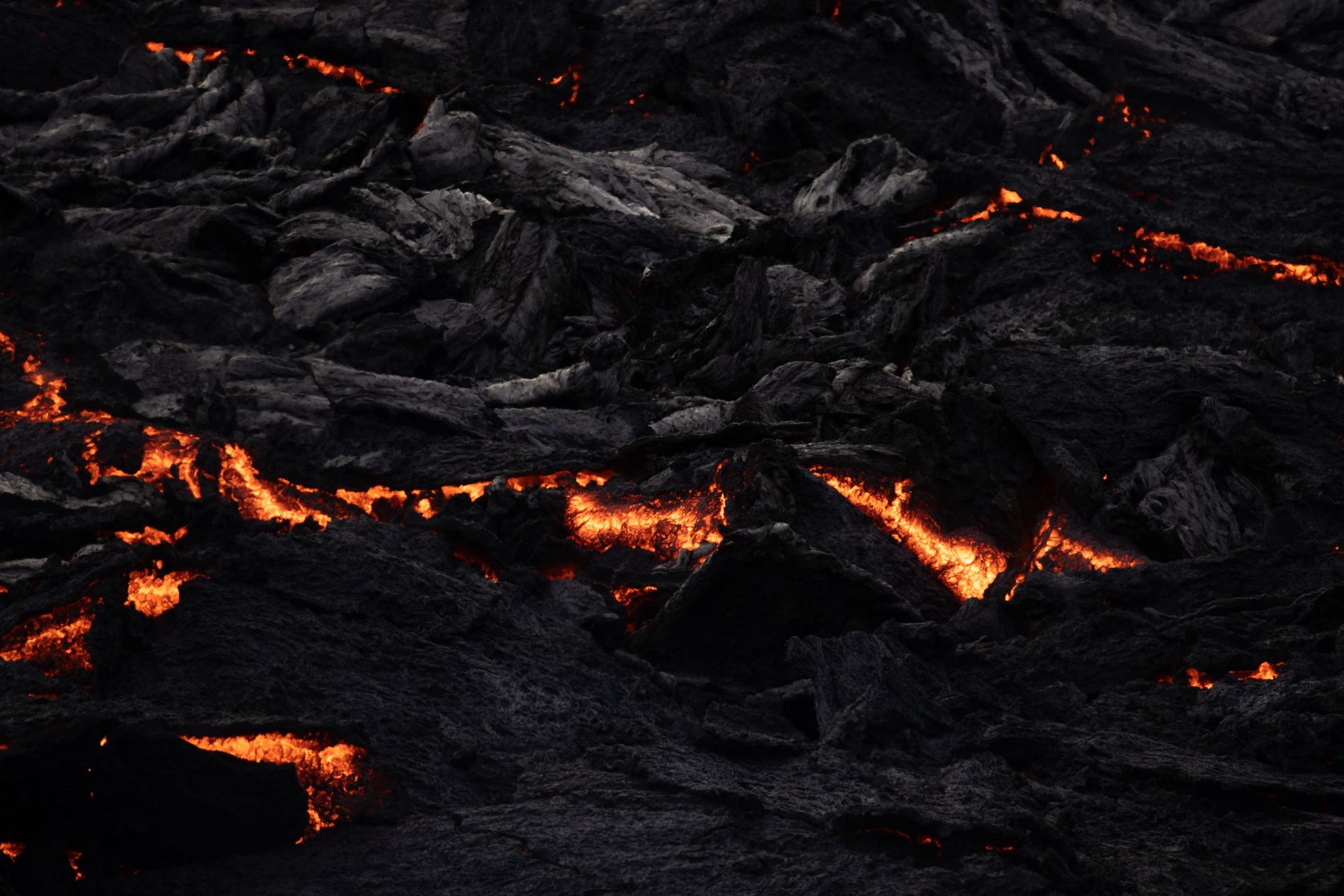 It can sound a bit complicated, but if you just follow good common sense, are well-equipped and keep to the local guidelines I would say that it is really safe to go see the volcano. Also note that kids under the age of 12 are not allowed to do the volcano hike – and for good reason since it's quite demanding.
Something I highly recommend is to experience the different types of light. The feeling is completely different during the day versus the night and sunset or sunrise is incredibly beautiful. Consider embarking either before sunset so you get the darkness and sunrise, or late afternoon so you get the daylight turning into night. It's really special to see everything turn red at night when the volcano is the only source of light around.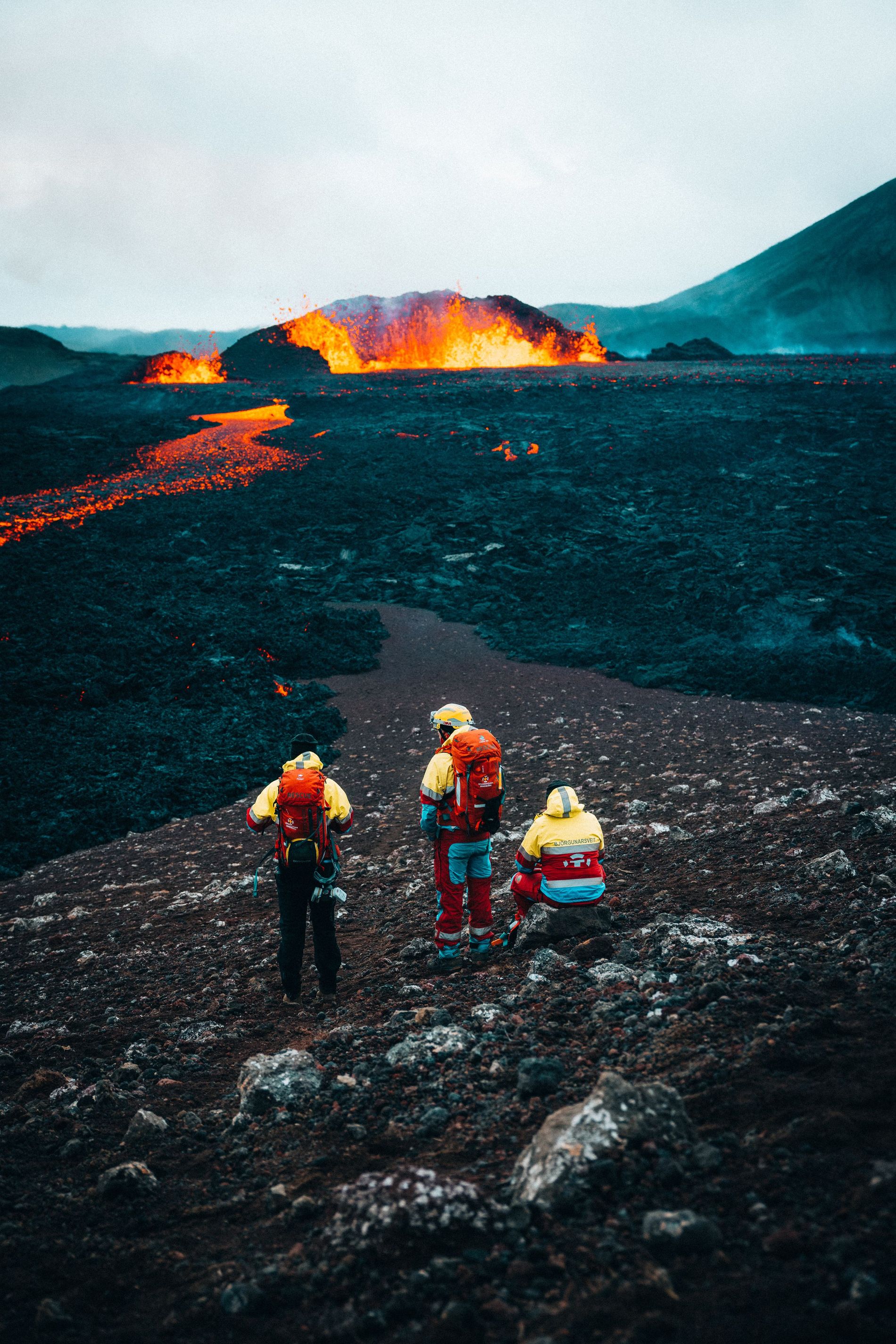 Photo: Gunnar Freyr Gunnarsson
What's your advice for taking fantastic photos of the volcano?
The first time I photographed the volcano and used a telephoto lens, I initially thought that there was something wrong with the autofocus on my camera, because almost all of my photos turned out blurry. Then I realised it was from all the heat rising from the hot lava.
Photographing the volcano can be a bit tricky, so here are my tips:
Consider flying a drone. Higher angle or top down reduces heat wave distortion
Heat distortion is worse when using a telephoto lens - especially from ground level. Get close to the lava momentarily if conditions allow for some cool closeups
Consider adding people and aircrafts in some of your photos for a feeling of scale
Try to capture different types of light; day, night, sunset/sunrise etc.
Don't forget about all the other amazing things going on, such as the people around you, the hike and storytelling aspect connected to your journey. Everyone can take the same photo of the volcano itself, but only you can capture your own journey and the moments that arise during your adventure.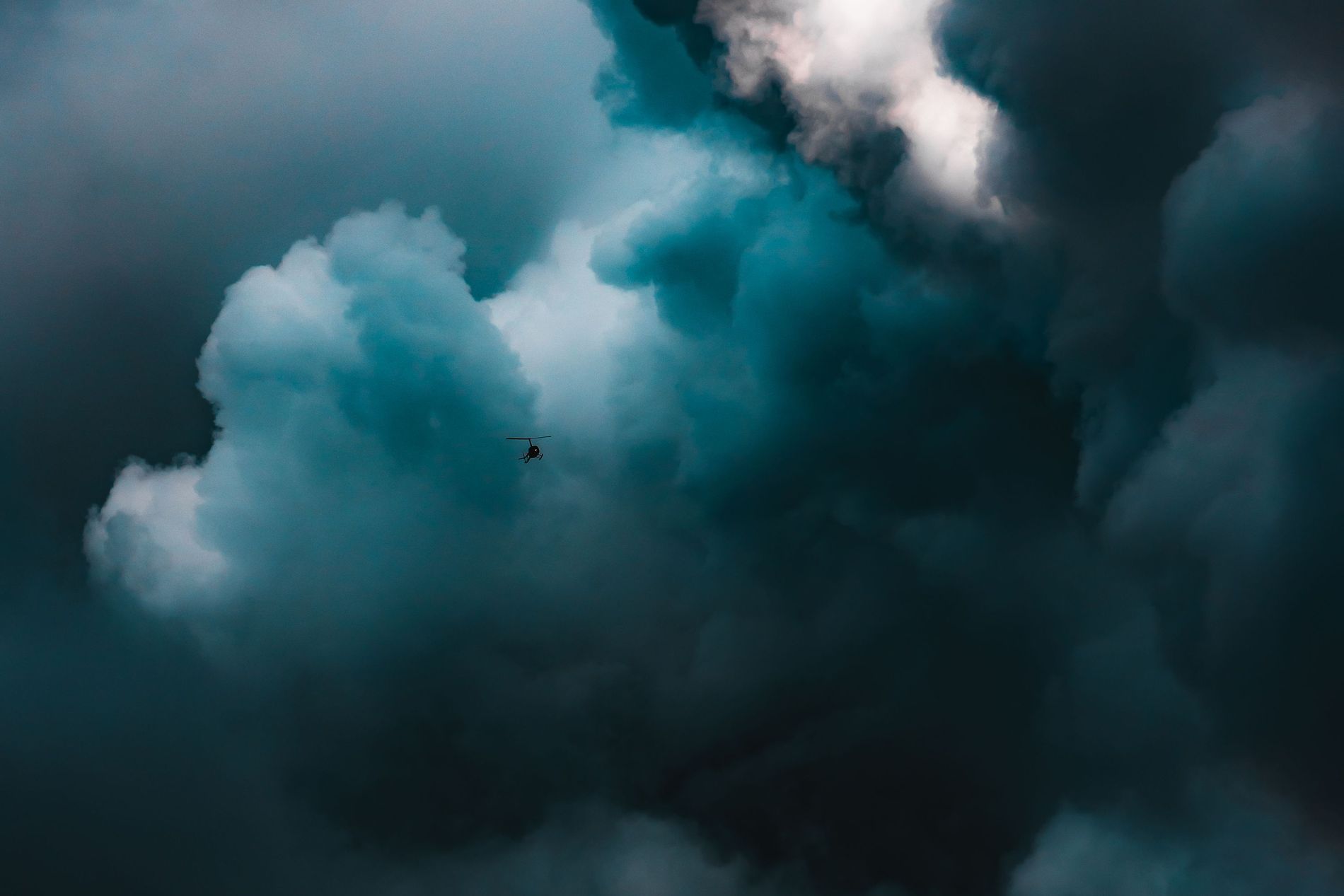 How would you describe witnessing an erupting volcano?
I was quite lucky to experience the 2021 eruption at Fagradalsfjall as well, so I now regard this as having encountered a once-in-a-lifetime moment twice. Hearing the sound of the flowing lava is really something I had never thought I would witness and is just such a surreal experience. It's a very primal feeling, witnessing an erupting volcano, almost like staring into a giant bonfire and you can just sit for hours and take it all in. There is also this communal feeling around the volcanic site, almost as if you're attending a giant celebration of fire and the birth of nature. It's definitely an experience not to be missed!
The volcanologist: Helga Kristín Torfadóttir
Helga Kristín Torfadóttir is a volcanologist and PhD candidate at the University of Iceland and she also keeps her Instagram updated with latest volcano news from Iceland, explaining all the science behind each eruption: @geology_with_helga. When a new eruption begins, she's one of the first to show up on site to analyse and study what is happening.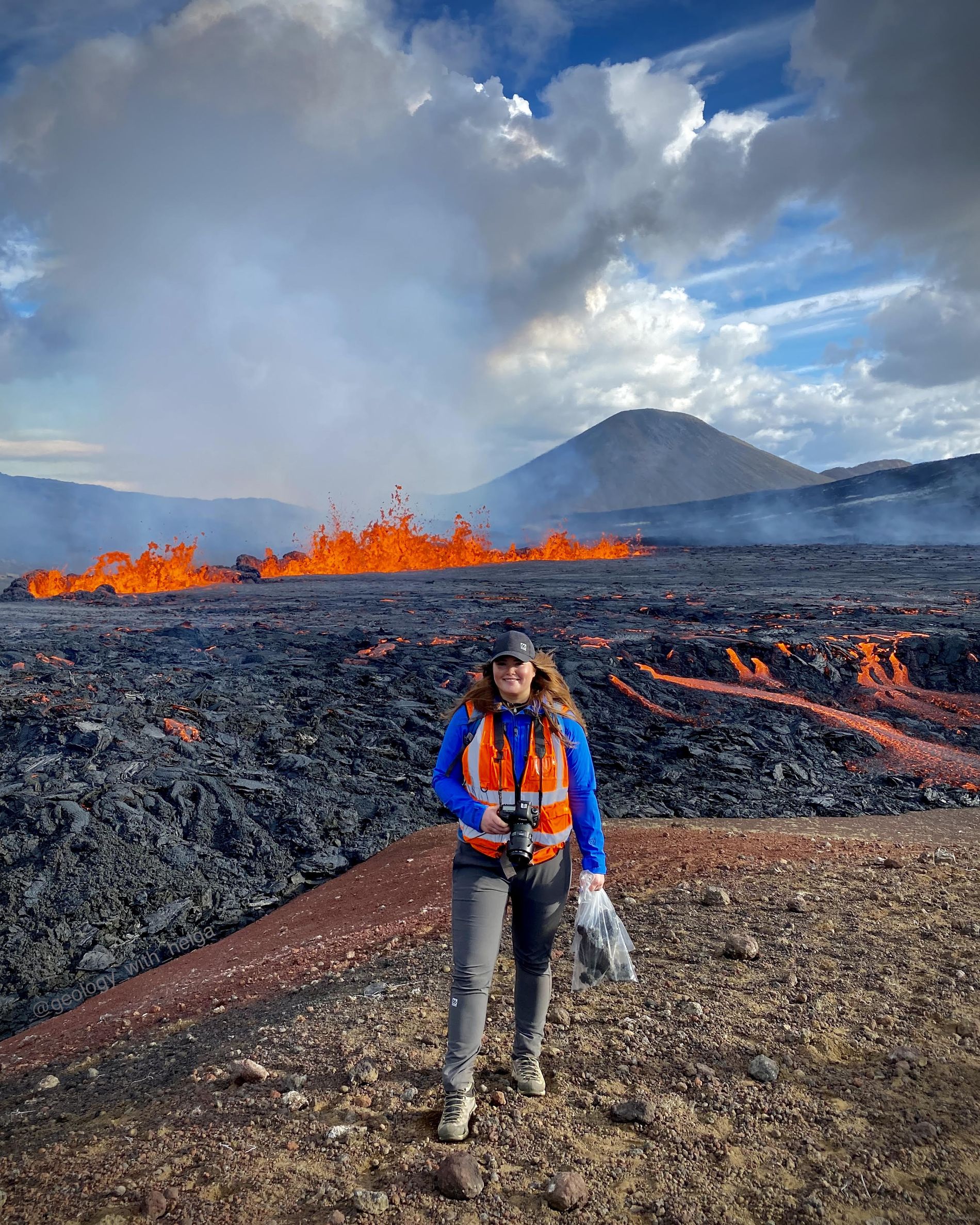 Helga Kristín Torfadóttir. Photo: Helga Kristín Torfadóttir
What can you tell us about the latest eruption?
The current eruption on Reykjanes began on 3 August, 2022. Before that, we had an eruption that began on 19 March, 2021 and lasted for approximately six months. This current one is a bit of a 'follow-up' from the previous one and is in a very similar location. I can imagine that the results from the chemical compositions will tell us that the ongoing eruption is using leftover magma from the previous one with a bit of help from hotter and newer magma from below that was 'stirring the pot' of the previous magma that was sitting in the crust.
The escalation to this eruption happened much quicker than the other, like 'the seal was broken' in the first one. It is a classic fissure eruption, and we see these very frequently in Iceland. They are usually harmless, meaning you could walk or run away from them, but the gasses and the hot lava are, of course, dangerous. These events will happen repeatedly in the future because we have entered a new eruption period on the Reykjanes peninsula that can last for hundreds of years. Therefore, this is a new reality we must now live with, that is, to live with the Reykjanes Fires.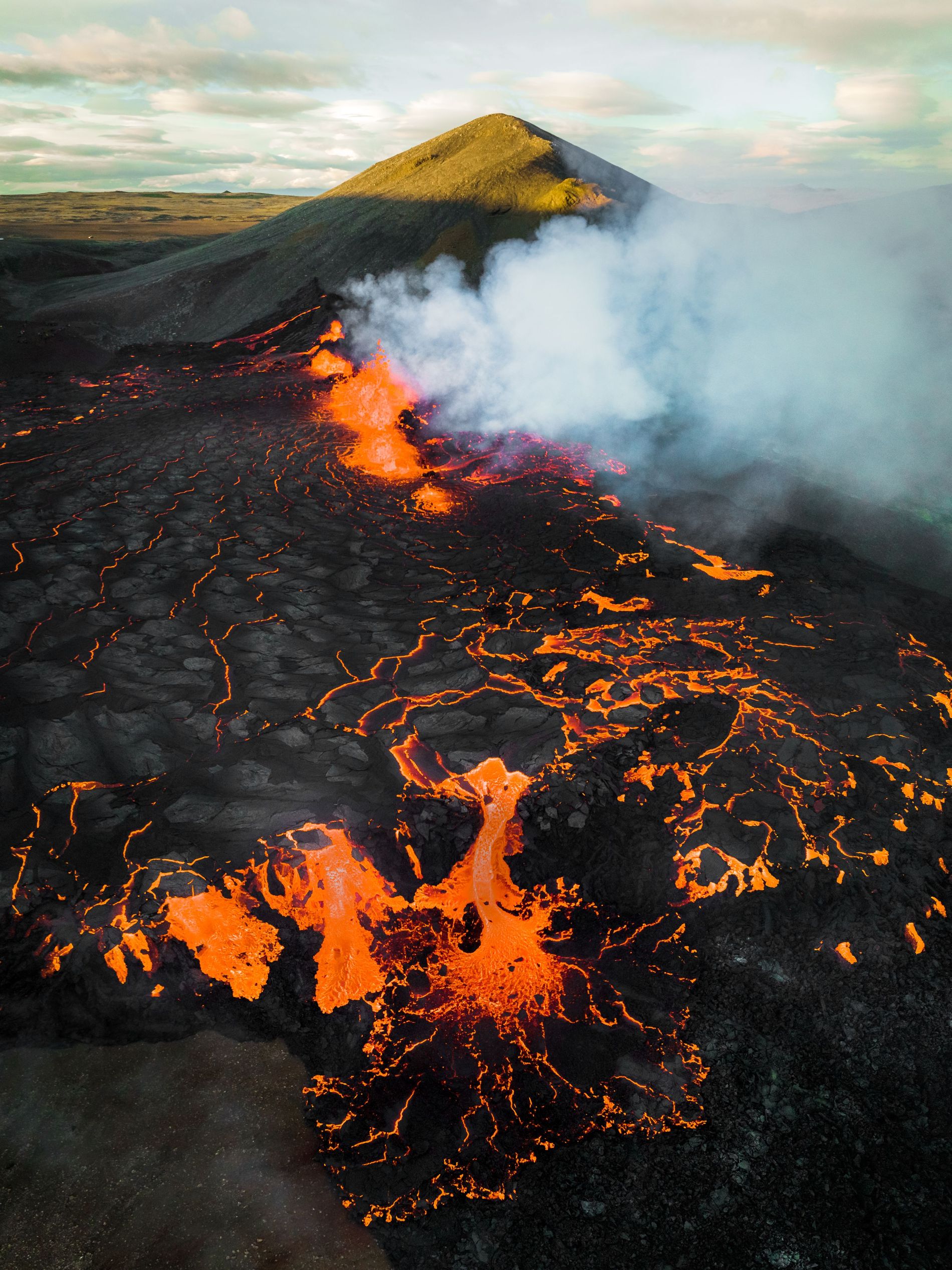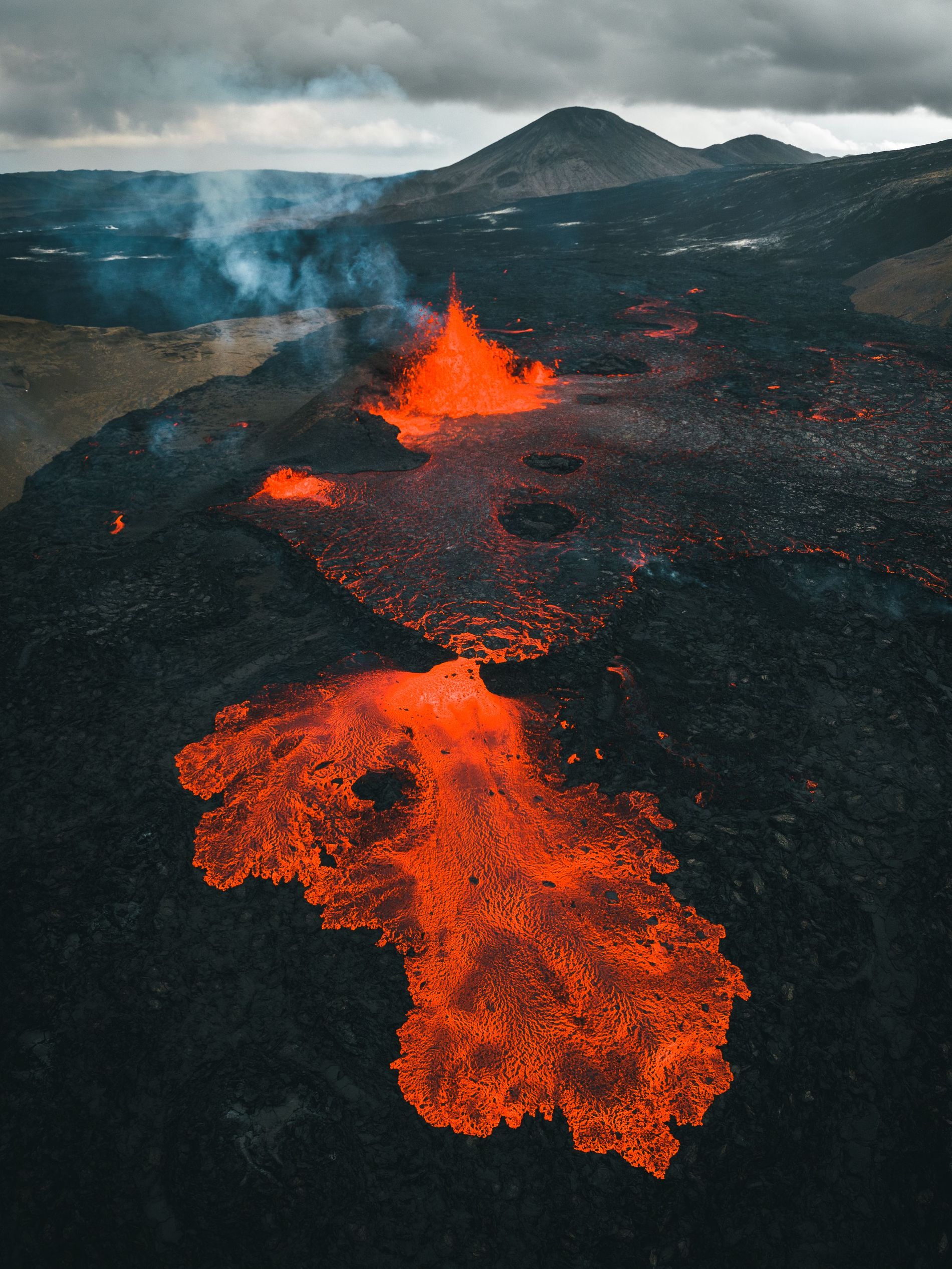 What's the procedure when a new eruption starts?
When a new eruption starts, it is usually not unexpected, and some activity at a particular volcano or volcanic system has been monitored. For that, it all depends on how to get to the eruption site. Most often, the Icelandic coast guard responds quickly and brings us to the place as soon as possible. After that, it is more manageable to study roads and to get in as many modified cars as possible, depending on funding and availability.
But not only does the location in Iceland play a role in the field planning, but the expected type of eruption is also the most important factor. Eruptions are categorised into two groups: effusive and explosive eruptions. You need different gear and different approaches to these two categories. The effusive eruptions are just these pretty lava-producing eruptions and are technically only harmful if they are close to infrastructure. You can avoid them by simply walking away from them, but the danger is the hot lava and gasses that settle into depressions.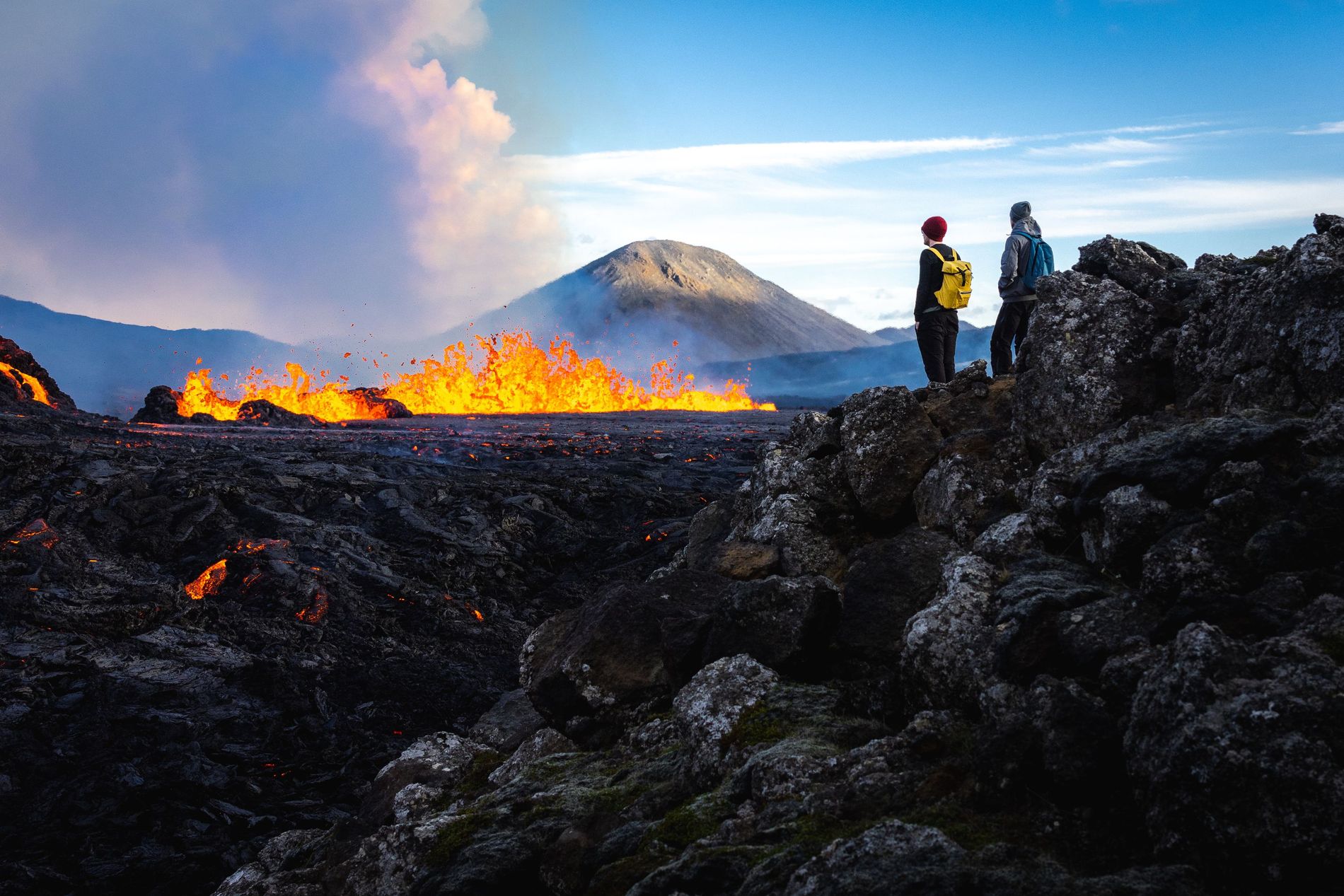 We will always get this kind of eruption on the Reykjanes peninsula like the two recent eruptions (at least for the next hundreds of thousand years). It is basically the crust ripping open, and magma is forced to the surface. The effusive eruptions can vary in intensity and get more aggressive, but as far as the two recent eruptions on Reykjanes, they have been relatively mild. This eruption's location can be tricky to pinpoint, and thus roads and accessibility can be hard to determine.
The other type of eruption is far more dangerous, the explosive kind. These ones are only seen in central volcanoes where you have a big storage underneath where the magma can wait and change in composition. In that eruption, a lot of ash is produced and often no lava. Therefore, you need to keep a distance to not get large grains in the head. Ash also destroys equipment and engines and is generally very difficult to deal with.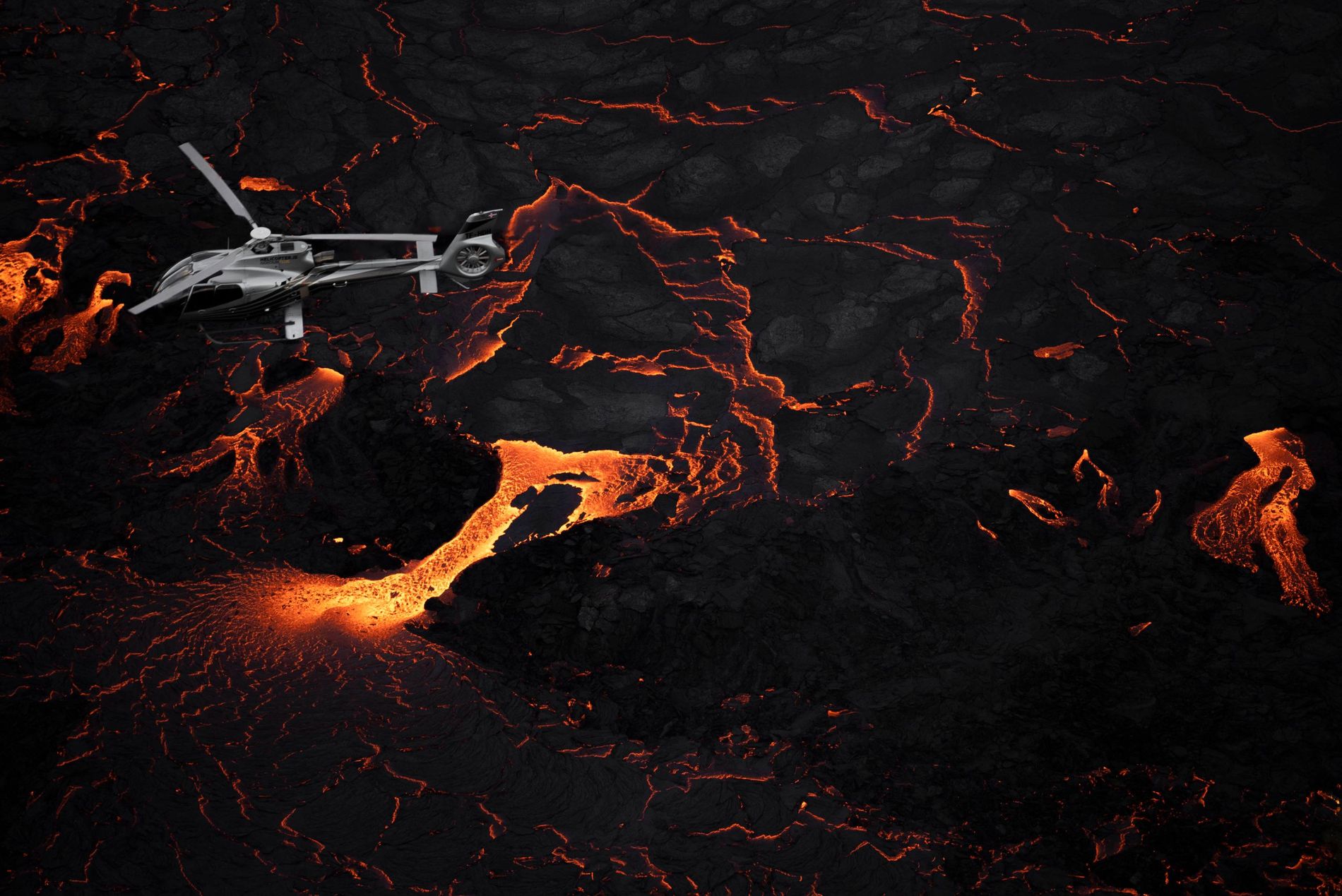 All these aspects must be considered before an eruption starts and we have to have all gear ready and charged. It's often a bit chaotic the same day an eruption starts, but I guess with every new eruption on Reykjanes, it will be smoother. However, with every eruption occurring on Reykjanes, the danger of lava affecting infrastructure is more imminent. Another important procedure leading to an eruption is meetings with Civil Defense and all scientists and institutes that play a role in the imminent eruption, where data is shared and likelihoods are established.
On 3 August, 2022, a meeting of this kind was held, confirming that every science group should be prepared for an eruption expected within a day or two. Fifteen minutes after the meeting was closed, the eruption started in the Meradalir valley by Fagradalsfjall, very close to the eruption site from last year.
The tour guide: Helen María Björnsdóttir
Helen María Björnsdóttir is an experienced ice cave and glacier guide who lives in Öræfi, at the roots of the largest glacier in Europe, Vatnajökull. She's also a volcano enthusiast who has experienced all the local volcanic eruptions of the last 12 years, often being one of the first ones on-site to capture and document these interesting events.
How many volcanic eruptions have you experienced?
I experienced my first volcano visit back in 2010 when there was an eruption in Fimmvörðuháls; since then there have been six other volcano eruptions in Iceland, all that I got the chance to witness first hand and photograph. Each and every one of them is unique in their own way.
My most memorable and unexpected volcanic experience was in 2011 when I was hiking down from the highest summit of Iceland, Hvannadalshúkur. I was almost down to the car when a part of the group higher up saw a volcanic cloud rise from the ground in Grímsvötn around 55km away. At first we thought they were joking but the ash cloud coming our way slowly proved otherwise. Soon after when we got back to the camping ground the ash had reached us and everything was covered with black volcanic ash as we packed up our equipment ready to evacuate the area, but before leaving we had to enjoy a barbecue after a big summit day. I can say with experience that a steak layered with volcanic ash is not the best combination.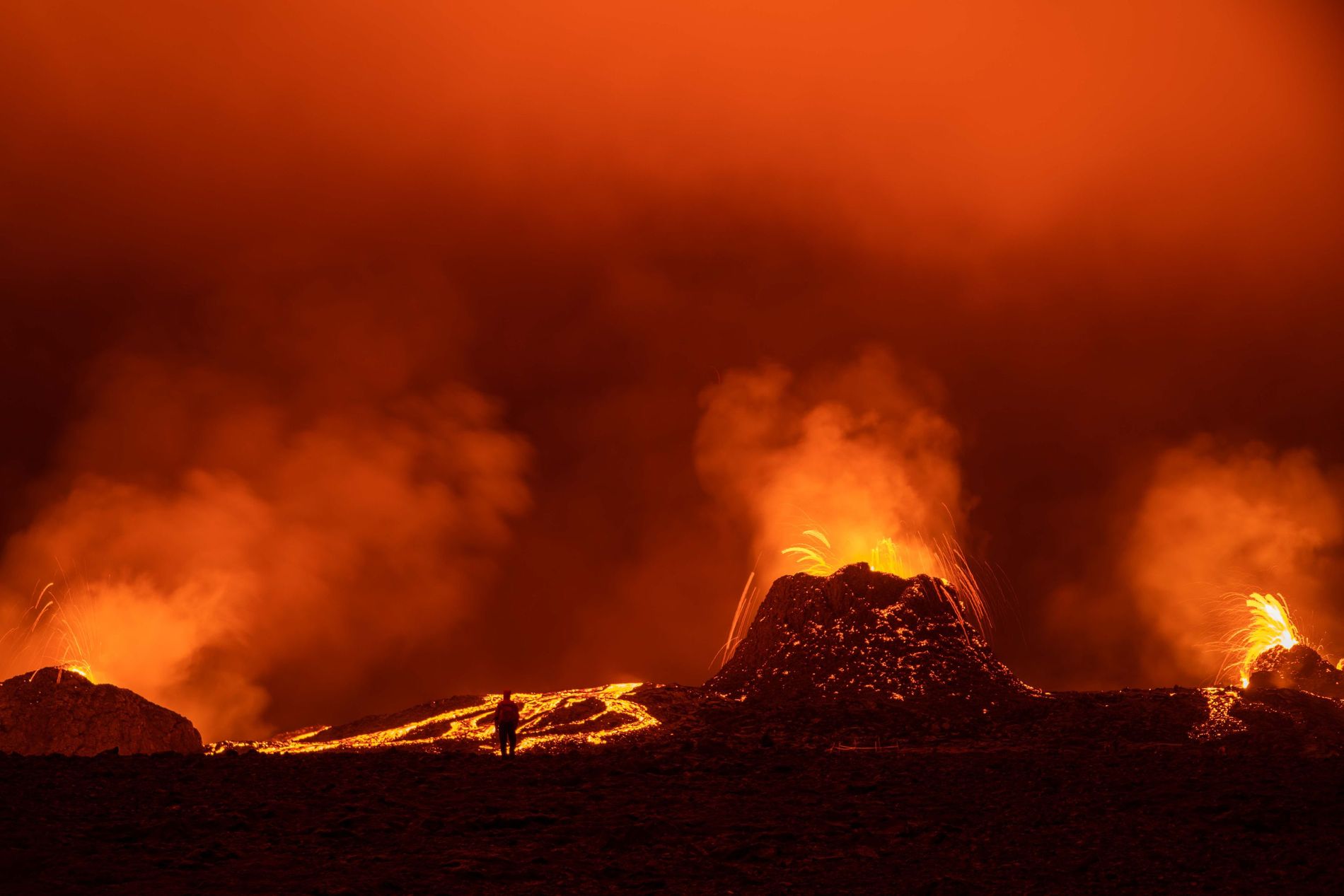 How do you manage to experience so many eruptions?
With the last two volcanic eruptions I have been privileged with knowing a person that owns a helicopter service and reserved with him in advance the first flight out for new volcanic eruptions. Iceland has regular volcanic eruptions so I have been lucky to explore seven of them in the last 12 years and it is guaranteed that more will happen in the future. For the past eruptions, I have reached them by all means of transportation: helicopter flights, hiking, mountain biking, snowmobile and superjeep - with Iceland being a vast wilderness and the volcanoes often happening in remote places, you have to be ready to explore them in different ways.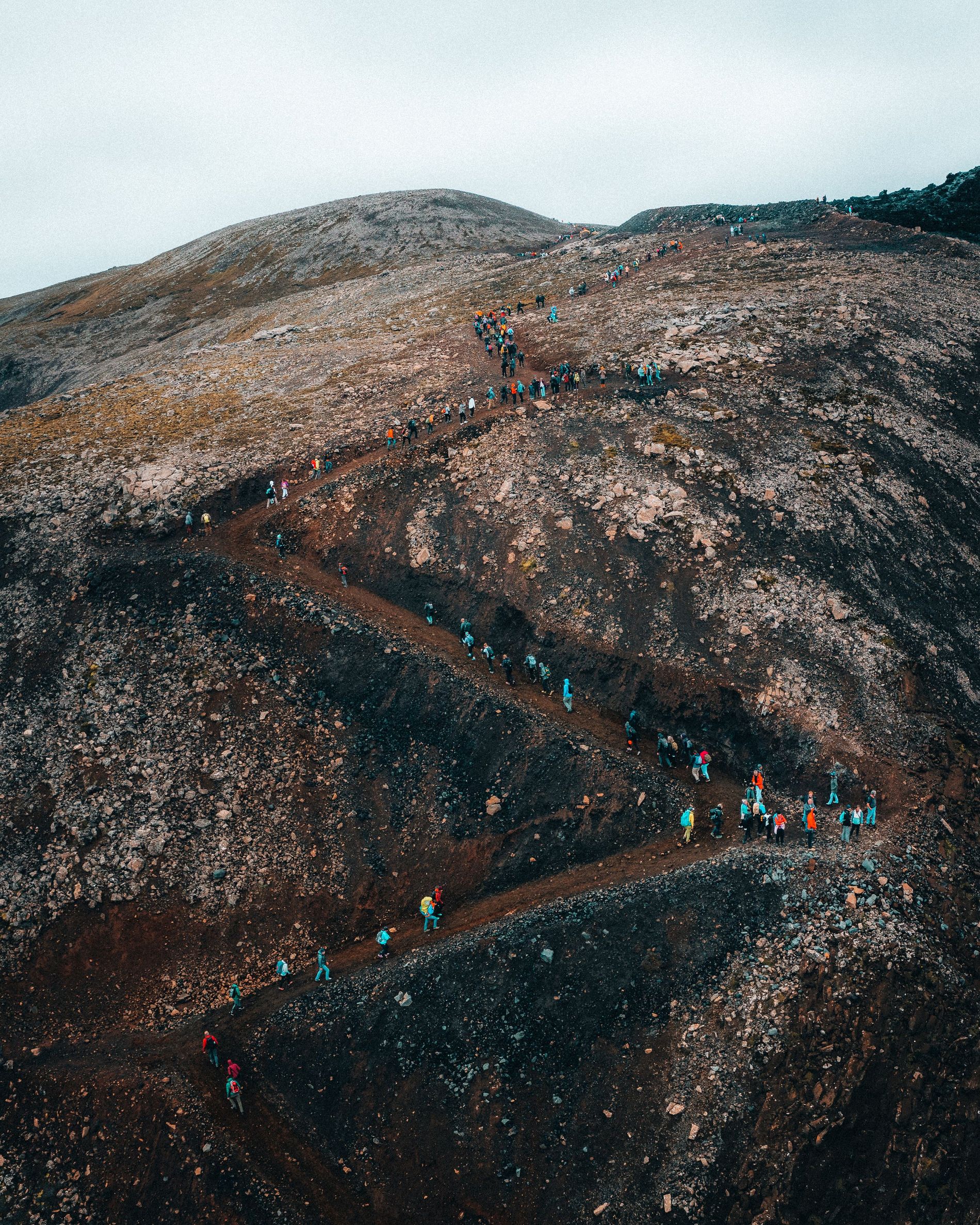 Photo: Gunnar Freyr Gunnarsson
For the volcano in Meradalir, I was up in the air as soon as the airspace opened up again, so six hours after the start of the volcano I was there to witness it first hand. Since then, I have visited five times by foot and it's been an amazing journey to see how quickly the volcano is developing since it started.
What's it like witnessing an erupting volcano?
Seeing a volcano erupt in person is an experience so unique and powerful, a moment that will always stay with you. It's not the same seeing a picture of it as of being there, feeling the heat of the lava and the intense sounds coming from the volcano and seeing the movement of the lava.
Volcanoes have given me a lot incredible experiences but also they come with some levels of stress, living under the second largest stratovolcano in Europe and working in tourism where we have possible eruptions that can have big affects on our lives and work. Not all are as harmless as they have been in the past years, but that is just a part of living on a very active volcanic island.