Give your wardrobe a makeover by creating new outfits and styles in just a few minutes
Upcycling has been a huge part of spring/summer 21, with leading designers such as Balenciaga and Miu Miu showing one-of-a-kind garments made of deadstock and leftover fabrics. Is this the beginning of a new movement in the fashion industry?
With more than 90 million tonnes of textile waste created globally every year (the majority of it coming from the fast fashion), here's hoping. But with a little creativity, a pair of scissors and needle and thread, we can do better than just hope. Buying less not only reduces your carbon footprint — you'll also save money and have fun breathing new life into an old favourite skirt or top along the way.
How well do you know your wardrobe?
Open your wardrobe and take a deep breath — it's time to get honest. Sort out the pieces you wear frequently from the unloved garments you haven't worn for years (or completely forgot you had) and rinse and repeat. After checking care labels and eliminating garments that don't fit or are made from synthetic fibres, you can start on your makeover.
But like all good projects, you'll need a plan, otherwise you may end up with 10 half-finished pieces you'll never wear. Here are some quick-fire tips to help you get started:
Quick and easy upcycling fixes:
Switch up an old silk scarf
Scarves are very versatile and therefore the perfect item to start with. With a few simple tweaks, the right scarf can be transformed into a skirt or make the perfect halterneck top for summer. To add your own special touch, buy a fringe and sew this around the entire scarf or make two triangle scarfs out of one and add fringes on two of the sides.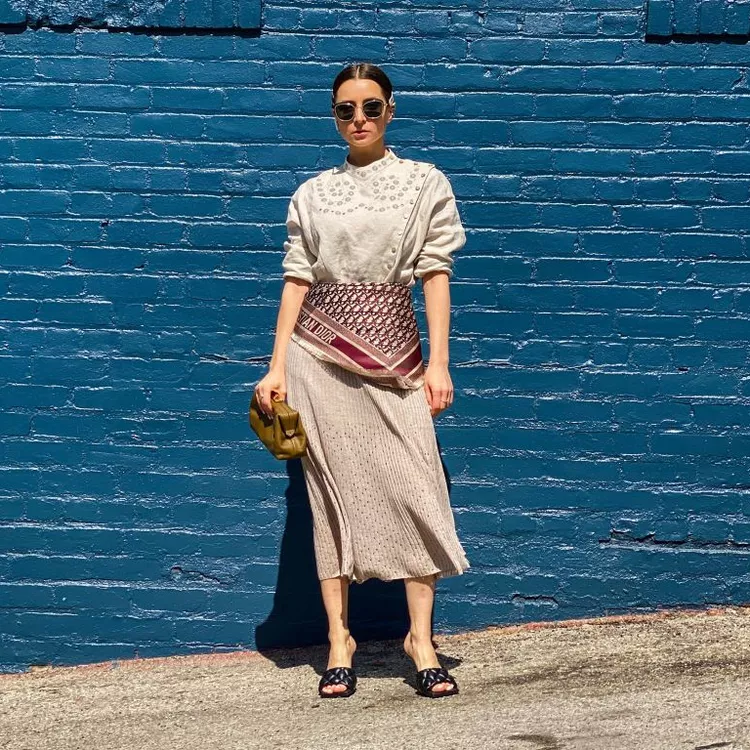 Styling a silk scarf instantly elevates an outfit. Photo: Getty
Midi-fy a dress
Update a dress simply by making it shorter. Pin it before you cut it, and make sure to use ultra-sharp scissors. Wear it with denim, or a matching pair of trousers.
Transform trousers into chic shorts
Customise your trousers into a pair of elegant shorts, or an asymmetric skirt. Pair with knee high boots during the cooler months.
Revamp an oversized blazer
Give new life to an oversized blazer by making it shorter with just a cut. Don't be afraid of the raw edges — these can make for a cool finish. Another option is to transform a long blazer into a dress by adding a statement belt or corset and removable shoulderpads.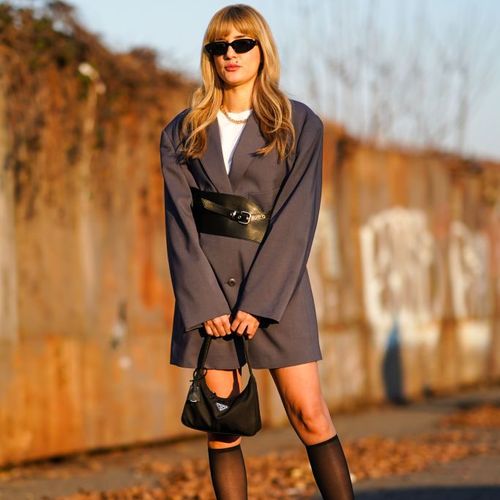 Spin an oversized blazer into a dress by pairing with a corset. Photo: Getty
Bring some upcycled magic to old carpet
Old rugs, throws, or carpets can be transformed into a cape or a skirt without adding any seams. Layer this during autumn and wear it casually over a jacket with a brooch.
Salvage fabric scraps to put a new spin on old garments
An old fabric with a pattern you love can be the key detailing used on denim pockets. If you have fabric leftover, make patches and add them to an old denim shirt for a simple and fun upgrade.
Bleach, dye or tie dye
Instantly refresh casual favourites — tees, trousers, shirts — by dying them a new colour or by tie dying them at home.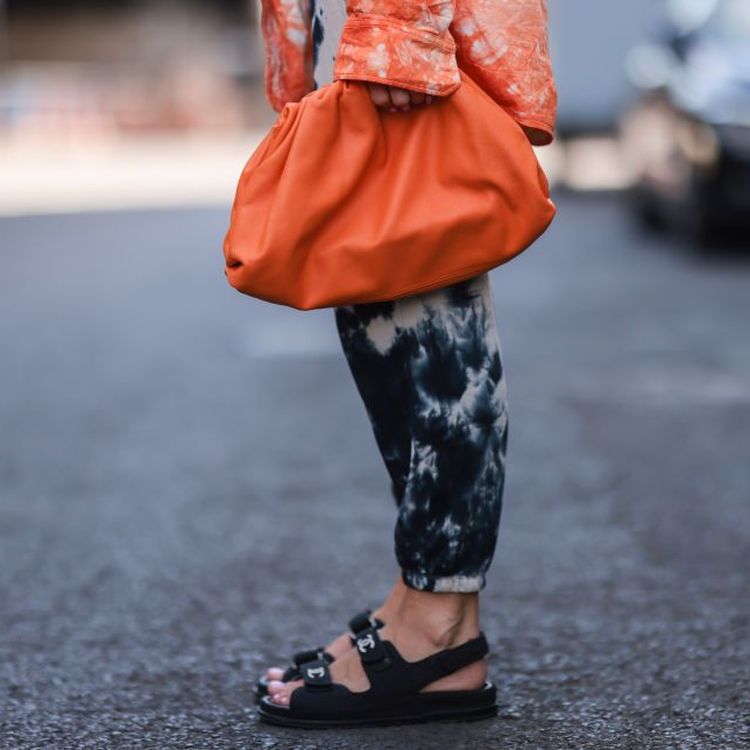 Instantly uplift favourites with an at-home dye job. Photo: Jeremy Moeller Getty
Lose the sleeves to give an old tee new life
Give a comfy T-shirt an overhaul with the addition of an embroidery detail or by simply cutting the sleeves off.
Explore the power of patchwork
Make a blanket out of leftover fabrics, or splice lots of fabrics together to create a patchwork throw. The same technique can be used to conjure up a unique jacket.