Greenery and nature can really do us good. It helps to boost our mood and bring about a feeling of calm, even in the stormiest of days. There's a reason why so many of us in Scandinavia escape city living and take to the hiking trails and forests every summer for a bit of rest and respite.
As part of our new green campaign, The Vogue Square, we're encouraging you – our readers – to take over just one metre square of the earth (or more!) for soil, seeds or sowing. We've done just that and brought our own little slice of greenery into our Vogue Scandinavia HQ here in Stockholm and want to show you how easy it is for you to do the same.
"If you don't have any green space around you, worry not. Grab a pallkrage from shops such as Nelson Garden or Plantagen, which you can plant directly into. I would recommend stacking them on top of one another, so you can create depth. Place one pallet on top of another and on the bottom, place a ground cloth."
"Then start to fill up your box with soil. The quantity depends on how big your pallkrage is, but we used a mixture of peat free soil, which is a recycled soil with less climate impact, and biochar compost mixture, which helps keep in moisture and nutrients, as well as capture CO2. For our square, we used six bags of 40 litres of peat free soil and four bags of biochar – a total amount of soil 400 litres.
"You can use your hands to spread it out, or grab a spade, such as this one from Fiskars (a Scandinavian brand which I love) or a small trowell. Plus, if it's wet, a good pair of gloves is always nice too, but it's also wonderful just to put your hands into the soil. I would really recommend you try it with your hands, that way you get more connected to the soil, and get to really feel and touch the soil and plants.
"So where is best to place your Vogue Square? I would recommend putting a square in both a shady and a sunnier spot on your plot of land as this gives you the possibility of growing lots of different kinds of flowers with different needs which will help to attract a large number of insects. Annual flowers and vegetables, for example, prefer a sunnier spot to grow in."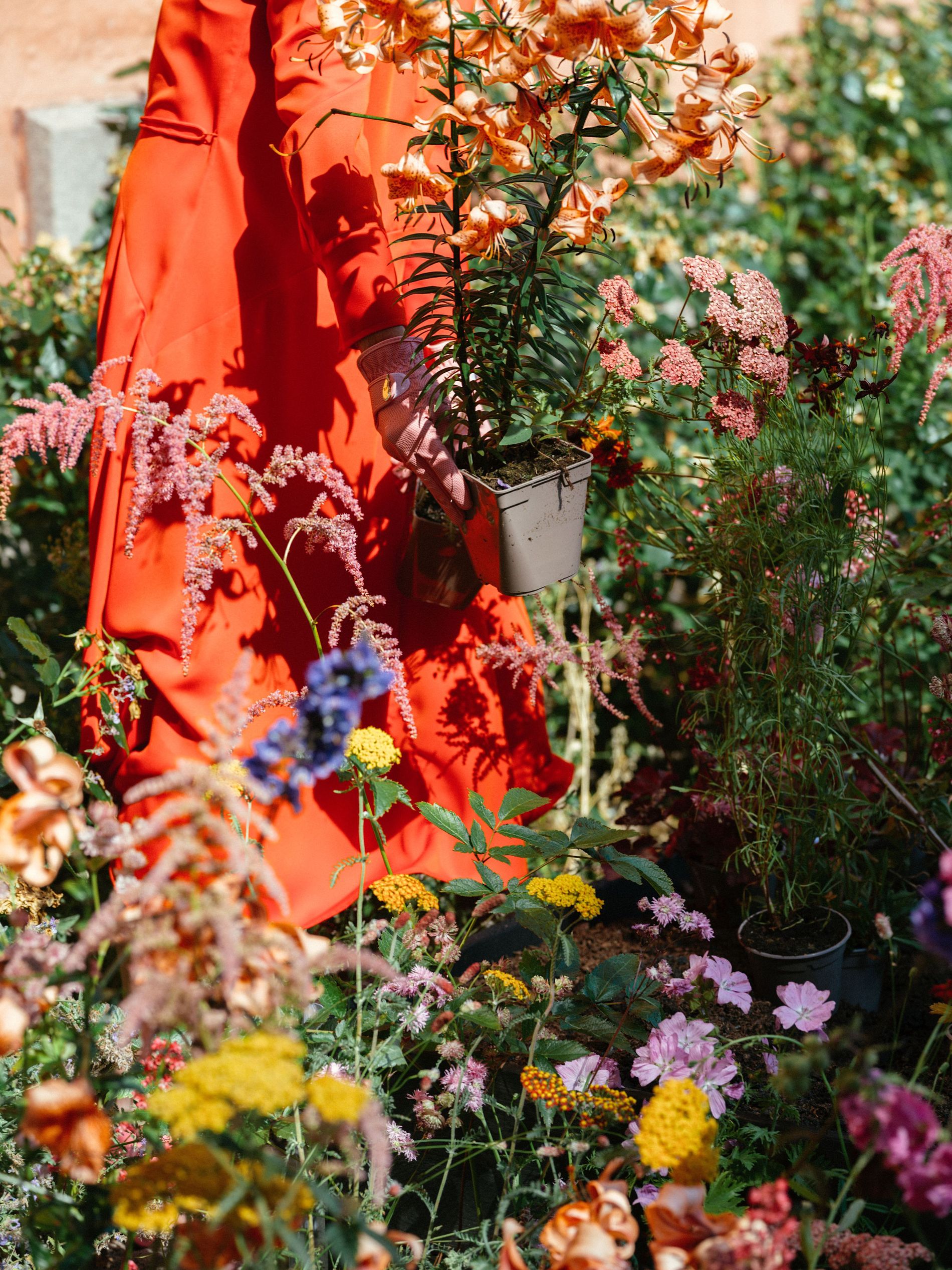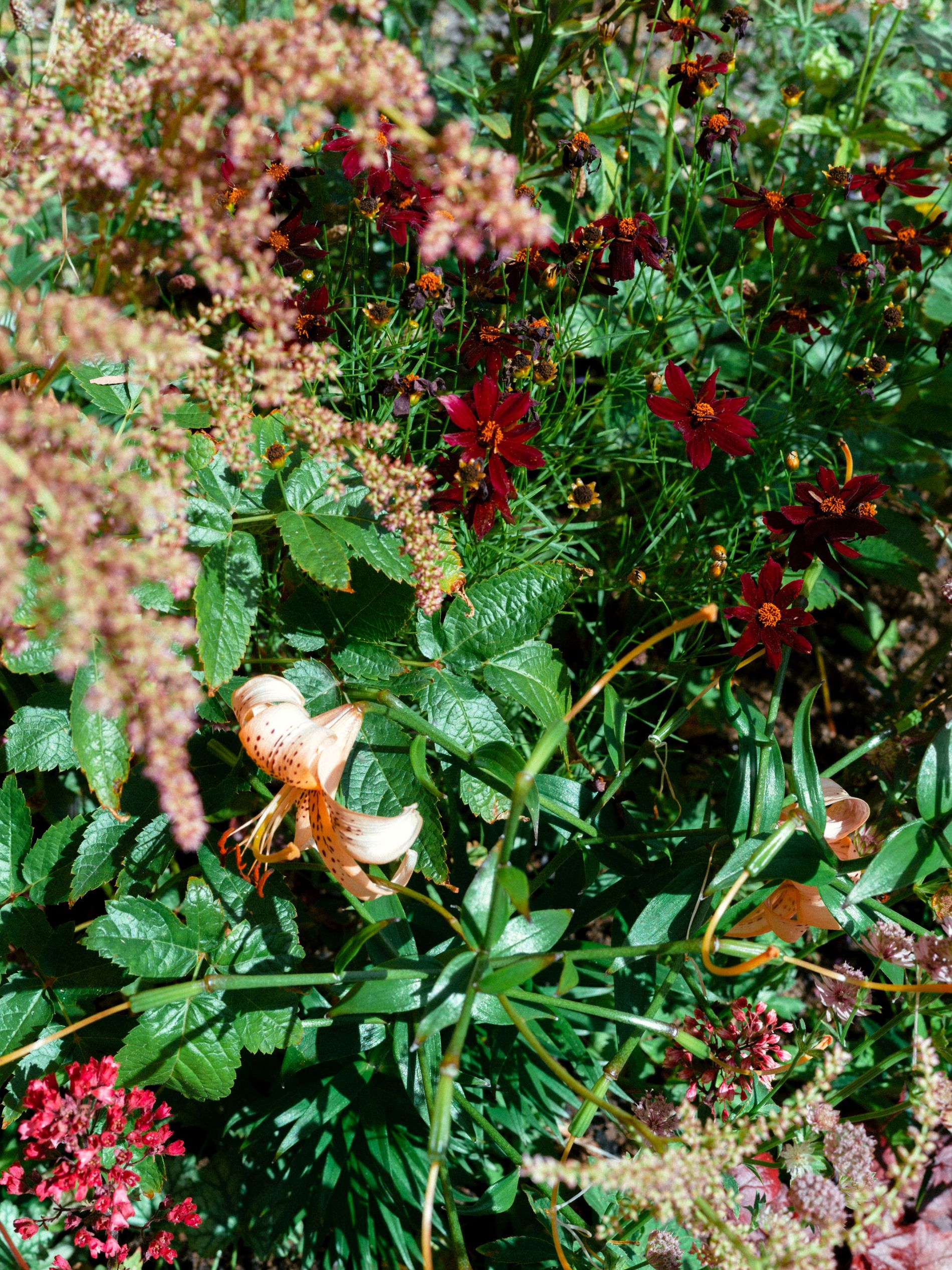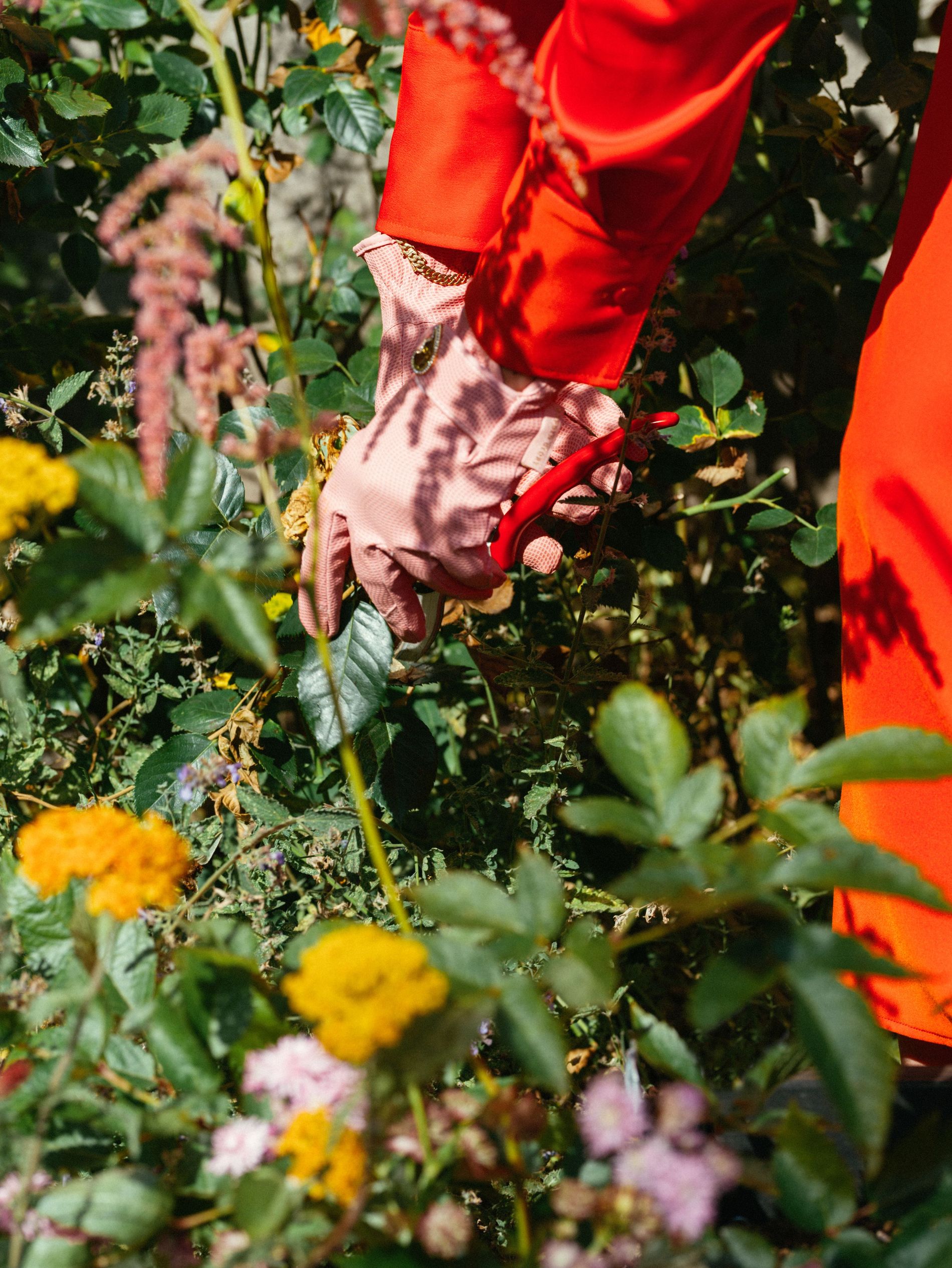 "It was important for me to use as many different kinds of flower varieties as possible, but still ensure they look good together. The flowers I have selected also work well as cut flowers, so you can grow your own cut flowers and display them in a vase at home. And the beauty is: they regrow year after year. For the Vogue Square, I wanted to create the feeling of a colourful meadow, much like a rainbow or a bag of candy where all varieties are represented and important. And everyone has a role to play.
"When designing a garden, it's good to first look at the kinds of wildflowers that grow in that specific area in order to determine what sorts of plants grow well there. I used plants such as ​​the wonderful Achillea millefolium 'Terracotta', which is a warm soft orange and reminds me of harvest and hay, as well as the ​​Achillea millefolium 'Apricot Delight' which is really nice too. You can also dry these and use them as dried flowers. We also planted a candy pink coloured Straussenfeder which gives our square some height as it is one of the tallest perennials in the group, and we need different heights to create some movement in it. We want a natural meadow look.
"We then used three different kinds of pink Astrantia: 'Moulin Rouge', 'Roma' and 'Star of Love', which have a 'shabby chic' look of a paper flower. They all have different heights and different shades of pink so it really brings the square alive. I also added some gorgeous Coreopsis verticillata 'Red Satin' with its deep, rich red as it goes perfectly with the tiger lillies – the true queens of the square – that were in there too. For added depth to the piece, I added some Gaillardia aristata 'Arizona Red Shades' which is one of the shortest plants used – it's nice to have different heights."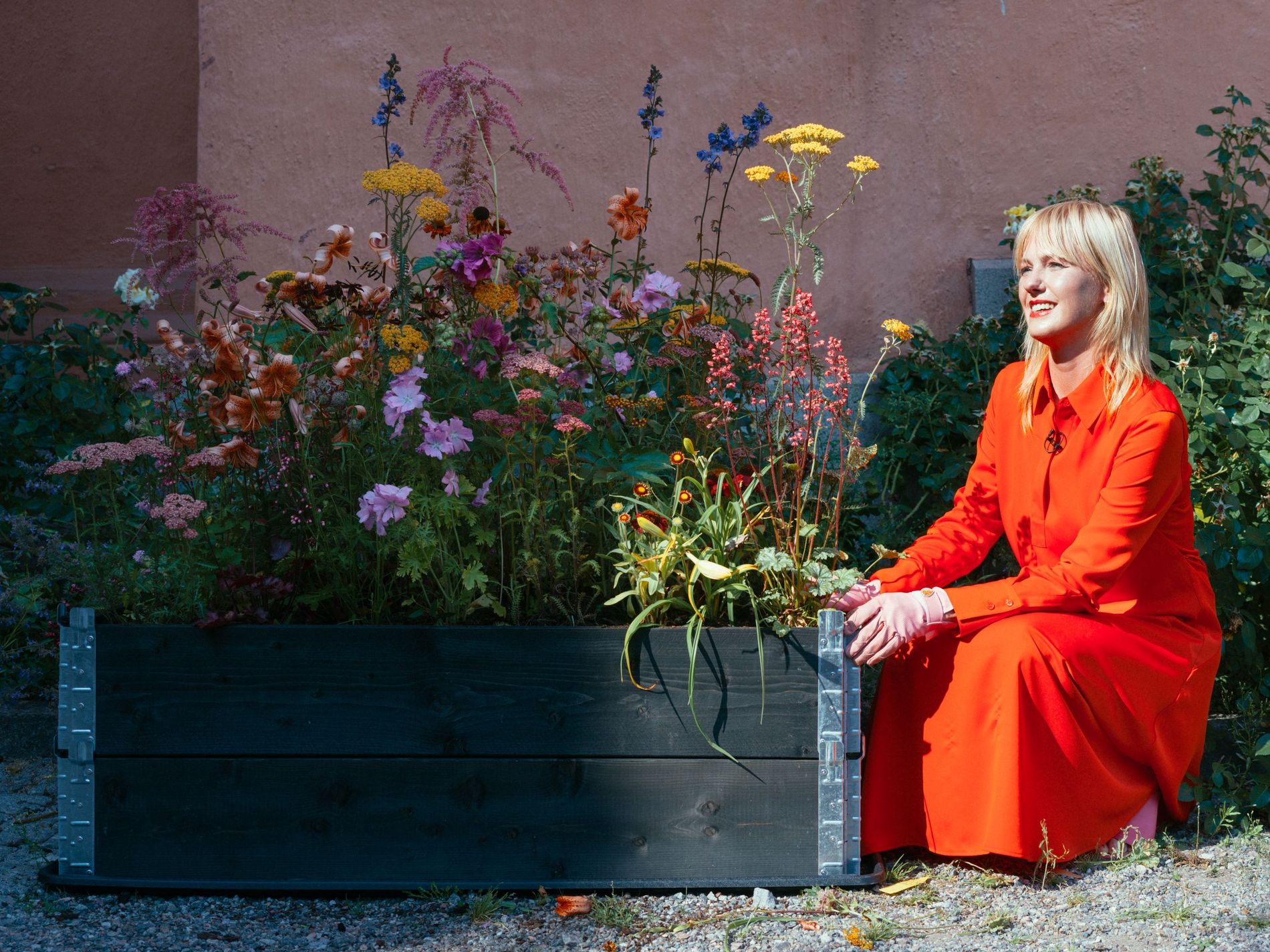 "Here's the full list of flowers used in our square here:
​​Achillea millefolium 'Apricot Delight'
Achillea millefolium 'Terracotta'
Achillea millefolium 'Walther Funcke'
Astilbe thunbergii 'Straussenfeder'
Astrantia major 'Moulin Rouge'
Astrantia major 'Roma'
Astrantia major 'Star of Love'
Coreopsis verticillata 'Red Satin'
Gaillardia aristata 'Arizona Red Shades'
Geum 'Totally Tangerine'
Heuchera 'Paris'
Heuchera 'Fire Chief'
Hemerocallis
Tiger lily
Lychnis flos-cuculi 'Petite Jenny'
Malva x clementii 'Burgundy Wine'
Malva moschata
Polemonium yezoense 'Bressingham Purple'
Sanguisorba officinalis 'Pink Tanna'
"When it comes to how deep you should place your plant in the soil and how much berth to give them, you can use online guides such as this one here to determine the depth and breadth to give your plant. It's also important to make sure you regularly feed all your plants – what and when you feed them really depends on which plants you have chosen for your particular square. But for perennials, like ours, it's best to give them some nitrogen-rich food, once in spring and one more time in mid-summer."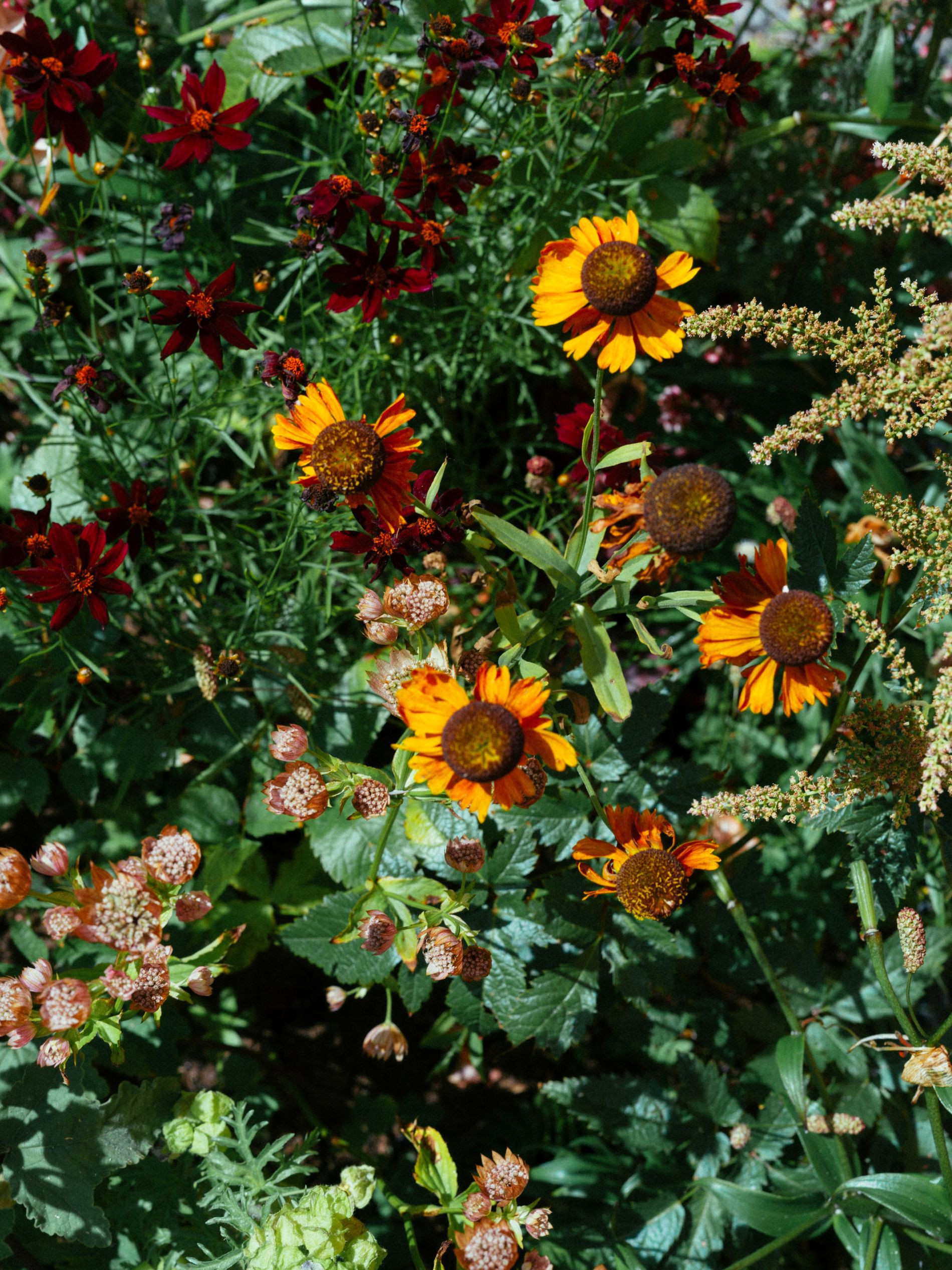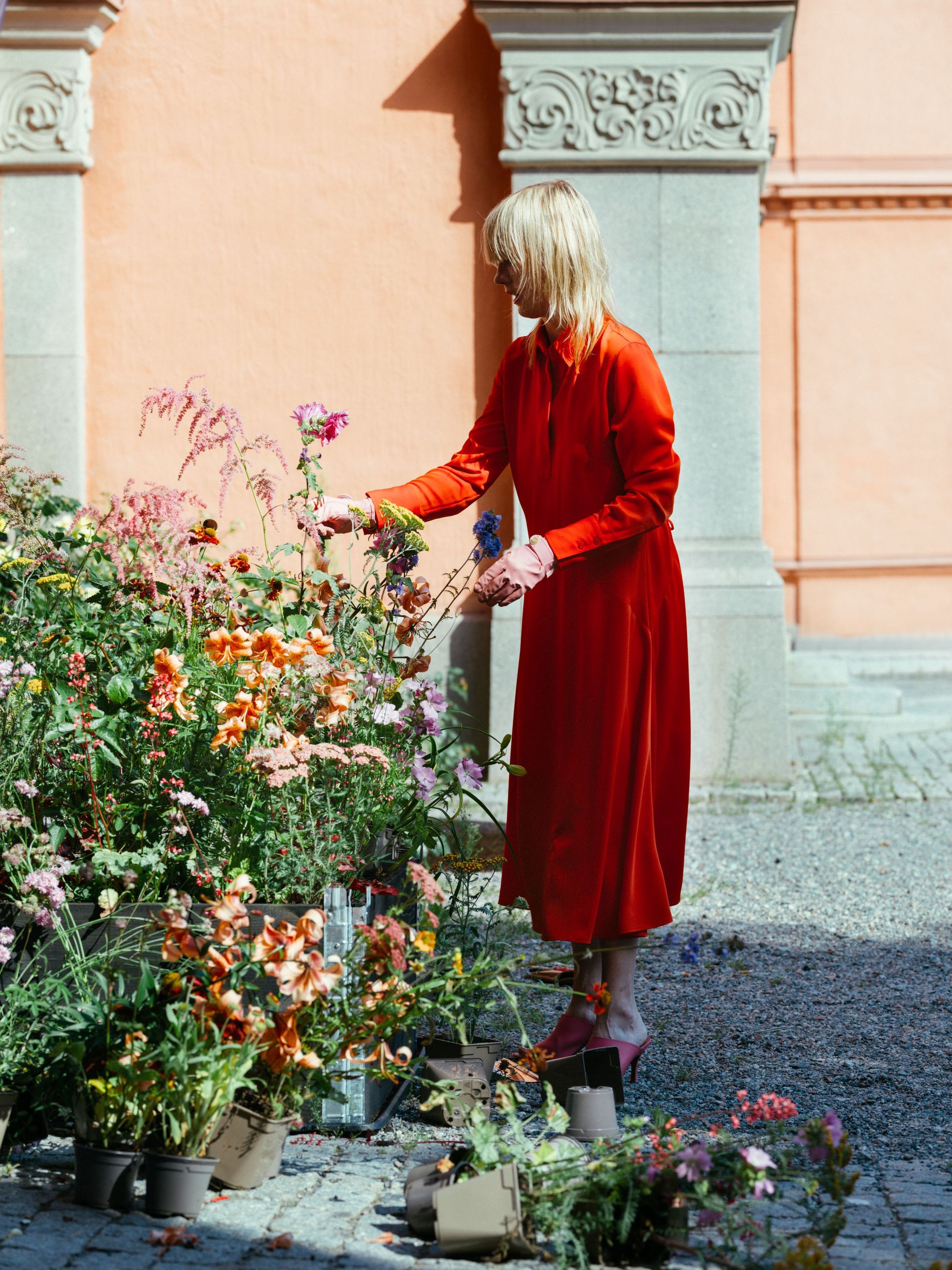 "Also give your plants liquid nutrients in the form of water. The best way to determine if it's in need is to put your hands at least 10 cm down into the soil, as you can get fooled by the surface looking wet, so you need to scratch below the surface. Make sure you give some extra water to the borders of your pallkrage too, as they get especially dry. During the colder months, let your plants rest, and when spring arrives you can cut your plants back – cut them all the way down, just leaving 1 cm."
Vogue Scandinavia
Kelly Gale & Joel Kinnaman's Getaway — Aug/Sep Issue