If you're in and out of the pool this summer, here's the do's and dont's of avoiding your tresses taking on green tones this summer
All products featured on Vogue are independently selected by our editors. However, when you buy something through our retail links, we may earn an affiliate commission.
If you wish to maintain your blonde hair colour fresh and bright, one cardinal rule applies: do not take a plunge in a swimming pool. Easier said than done, right? Especially when scorching summer days are upon us. Although all hair types are prone to some sort of damage, it's lighter hair that, unfortunately, is the most vulnerable to the effects summer can have on our hair. While heat and the harmful sun's rays weaken and dry out your strands, a refreshing dip in a pool can result in blonde hair turning green.
But before you go and scour the internet for a fashionable swimming cap (although that will protect your hair to a great extent, too), there are other ways to prevent your blonde locks from taking on brassy or chartreuse tones. Note: it's not only chlorine that can make light hair go green.
"Swimming in chlorinated water will easily cause blonde hair to acquire green tones. However, light hair can also turn green and dull due to impurities or high levels of copper in your piping," says Linda Lehto, Educational content specialist at Four Reasons and hairstylist specialising in blonde hair. "I would recommend getting a filter for your shower, and also to regularly apply a deep cleansing treatment, that will remove the mineral build-up from your hair. My personal favourite product for a deep cleanse is Olaplex's new N4C Bond Maintenance Clarifying Shampoo."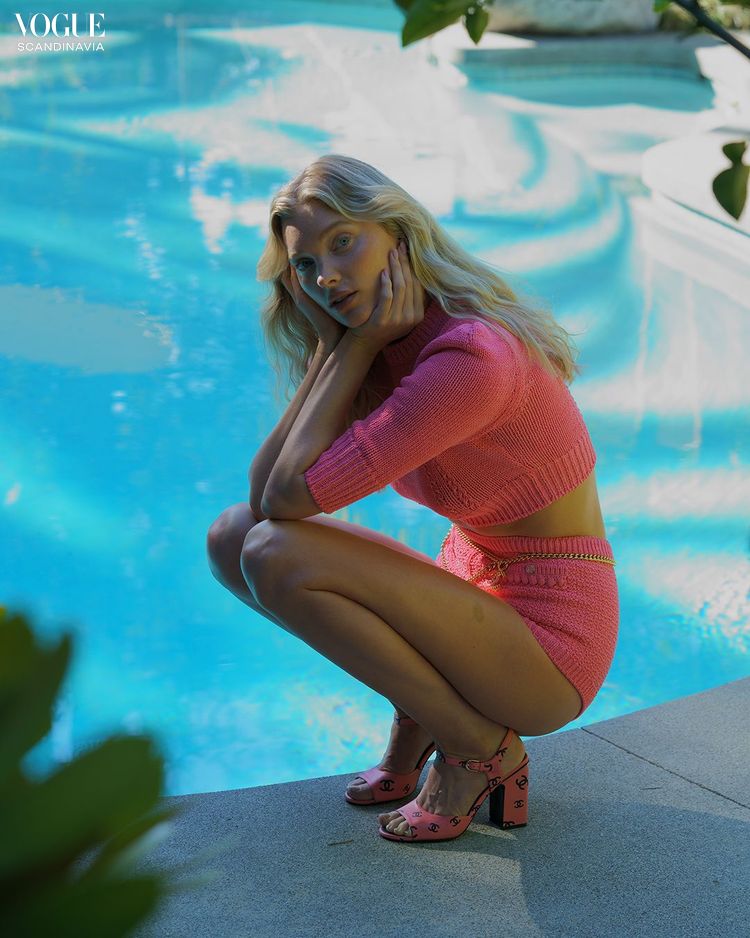 Elsa Hosk for Vogue Scandinavia's April/May 2022 issue, wearing: Knitted pullover, €1,950, Knitted shorts, €1,820, Metal belt, €1,590, Printed leather sandals, €1,150. All Chanel. Photo: Torbjørn Rødland
Even though avoiding drenching your hair in the pool is recommended, what if you really want to jump in? Ensure you wet your hair first, as dry hair will suck up the chlorine and copper-filled water faster. To really care for your colour, before plunging in, consider coating your wet hair with a product that will block the absorption of the pool water while keeping your strands moisturised. Philip Kingsley's Swimcap is designed for that purpose, for example.
"It ought to be remembered that dry and damaged hair will always absorb harmful minerals easier, so the first thing is to consistently maintain your hair in a good condition," explains Amanda Kupari, a Colour technician at Baldacci Hair. "I always bring the Hard Water Kit from Malibu C on all my travels or when I know I'm going to wash my hair in water that may contain minerals. You should also make sure your hair gets enough proteins and moisture."
If you notice green tones on your hair, forget DIY tricks and head to a hairdresser. "Do not bleach or dye your hair at home. It can react to the minerals and push them further in the hair, making the unwanted colour stuck in your strands," Kupari says.
Lehto agrees: "During summer, it's crucial to remember to keep your hair hydrated and for blonde hair, leave-in conditioners are a must. If your hair has turned green, I recommend booking the Malibu C Crystal Gel treatment that will be done at a hairdresser and is normally accompanied by a toning treatment that will fix the hair colour."
---
Keep your blonde hair bright and shiny