William Värnild was responsible for Princess Sofia of Sweden's envy-inducing wedding glow in 2015. Now, the royal's favourite makeup artist reveals his best tips and tricks – and exactly which products to keep on hand for the big day
All products featured on Vogue are independently selected by our editors. However, when you buy something through our retail links, we may earn an affiliate commission.
For William Värnild, the most important thing on any wedding day is the person sitting in his makeup chair. During his 20-year-long career – throughout which the makeup artist and founder of I Will Makeup has helped a slew of celebrities to look their best – this has always been the main focus, whether the person in question is royal or not. "That was important to me when I did Princess Sofia's makeup for her big day," says Värnild.
Princess Sofia was very clear about what she wanted; a timeless look that had longevity. One she could look back on with love years from now. "We did a couple of tests, shared ideas and thoughts, and from there, the look took shape," says Värnild. Balance and harmony were the keywords, but the most important was for Princess Sofia to "feel her best on her big day."
Below, discover this royally good makeup artist's best tips on how to nail a timeless look for your nuptials: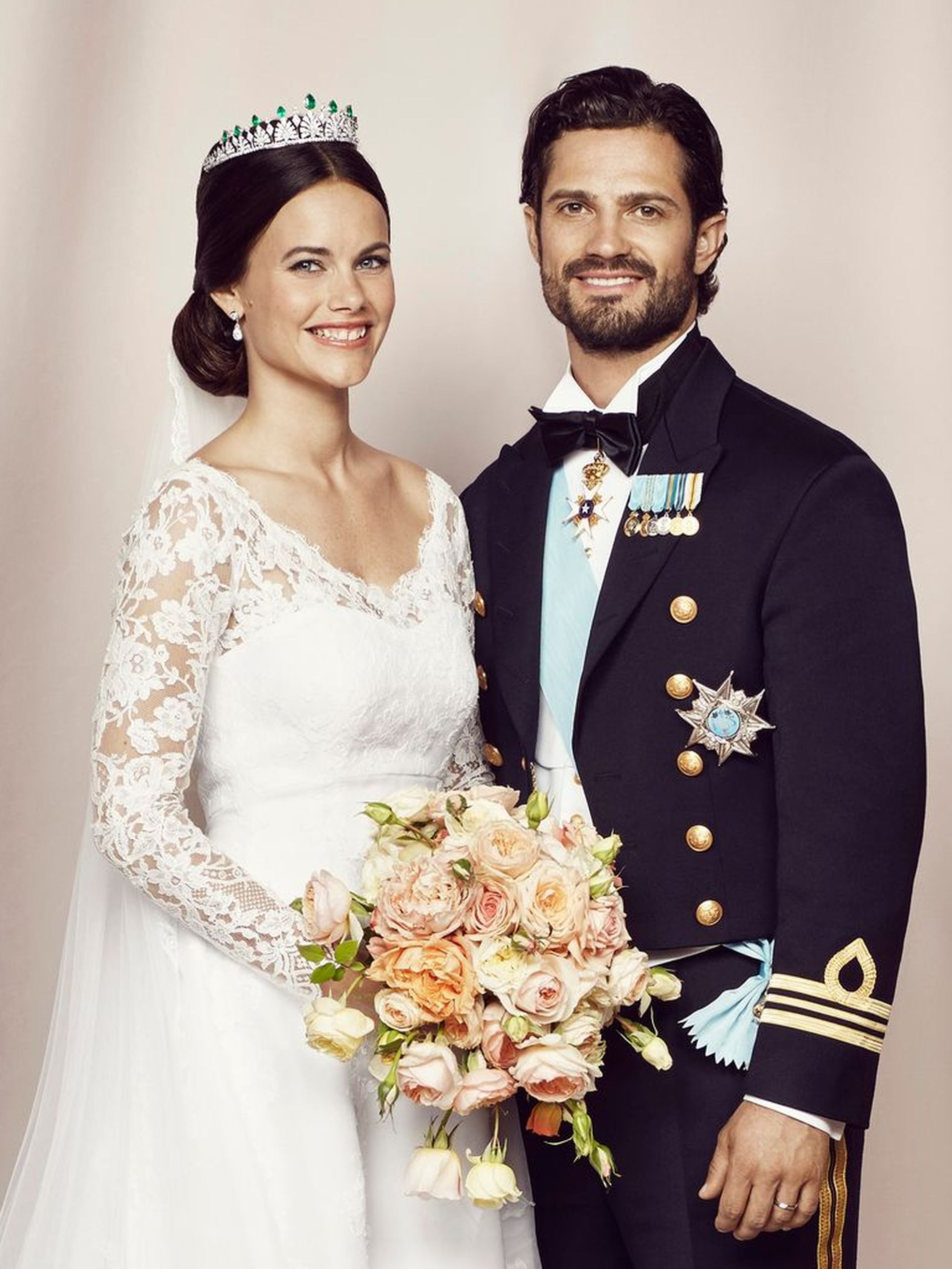 Prince Carl-Philip and Princess Sofia on their wedding day, 2015. Photo: Mattias Edwall/The Royal Court of Sweden
Pre-wedding prep
Developing a routine before the big day is essential, according to Värnild. "Hydrated, happy skin is the best foundation," he notes. "And it is what helps your makeup settle properly." No matter how talented your makeup artist is or how expensive your base products are, any look could end up cakey without the right canvas. "And consider this, we want to enhance your features - not cover them," Värnild adds.
Make sure to moisturise – especially the skin around your eyes – before the wedding (starting days, if not weeks in advance). "That way, your makeup will glide on beautifully," Värnild says. His second tip is to not forget the lips; "Peel them regularly and sleep with a lip mask; that way, they'll be in perfect, plush condition for the big day."
Consider the longevity of your look
"I usually tell brides-to-be that their wedding day is all about timelessness, that I'm there to make them shine without any dramatic changes," says Värnild, who specialises in a natural look. After all, he notes, "your loved ones should recognise you." This is not the time for a "party" look. Leave glitter eye-shadows, heavy liners, and a vampy red lip for another occasion – if that isn't your regular routine, of course.
"You should feel and look your best, and this comes from being comfortable with what you're wearing. While not losing out on that 'wow' effect you'll have on your partner," notes Värnild. In summary, your makeup should not be the main focus but rather enhance your beautiful self. That said, it is always advisable to "try some looks" before the big day to see which ones make you feel the most confident. "Usually, this is a combination between your everyday makeup and your party persona," says Värnild.
Focus on framing the eyes
According to Värnild, the most important aspect of nailing your timeless look is to "create a red thread throughout" the makeup. "As a makeup artist, I always want to enhance someone's best features, but tend to focus on the eyebrows." A pair of well-shaped eyebrows frame and help "lift" the face. "The eyes should also be outlined, but I avoid anything too heavy – it can easily come across as too made-up."
Värnild tends to rely on enhancing the lashline and soft shadow along the hollow of the eye. The choice of shade range depends on the colour of the eye, but also what the bride feels best in. "I want to create a playful gaze, one that draws other's eyes to it." This is best achieved with an eye pencil applied along the upper waterline, creating a fuller-looking lash, alongside fake lashes to enhance the shape – a potentially "crucial step" if the aim is to make the eye "pop".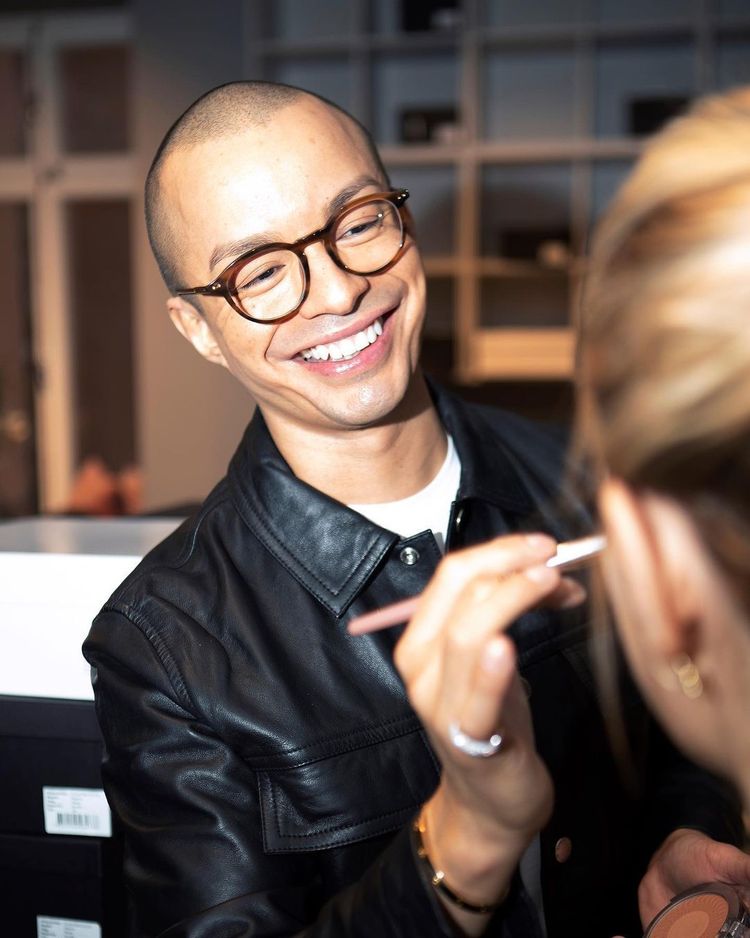 Varnild in action at the makeup chair. Photo: @william_varnild
Nail the 'you-but-better' base
The base is crucial when creating a look that should last throughout the day. "A key puzzle piece many forget is to properly prep the skin," says Värnild, emphasising the importance of a moisture-focused routine on and before your wedding day. "That way, your primer can work to keep your foundation and concealer intact all day." These are products Värnild would suggest you invest in, opting for formulas which will stay put through tears and belly-laughters.
Finally, it's important to set your cream products. Värnild prefers loose translucent powder to lock everything in place before moving on to the eyes. Here, it is important to consider the style of wedding photography you are going for. "If you're planning a lot of outside photography in harsh daylight, I'd be careful with glow and highlights. It can come off as sweaty in images," says Värnild. The same applies if you're opting for flash photography – no one wants a white or off-tone cast in their wedding photos.
Your must-have wedding day kit, sorted
First and foremost, primer. "My favourites are Smashbox's photo finish and Charlotte Tilbury Wonderglow Face primer," says Värnild. As for the eyes, he reaches for LH Cosmetics eye primer. "For setting spray, I use Urban Decay's all-nighter." Värnild uses his own Magic Lip Care kit to prep the pout, leaving the lips "primed and hydrated so that the lipstick lasts all day." Finally, a loose powder to fix everything in place is essential. "We want a product which doesn't create that cake-like finish but reduces redness and removes any unwanted shine." For this, Mac Cosmetics is Värnild's go-to.
Moving on to the eyes, Värnild favours Sensai's 38 degrees for a lashline that can handle any heart-felt tears, adding Sweed Lashes Cluster Flair individual fake lashes placed carefully to boost the volume without losing the natural look. "Nathalie Berzelius's The Riviera Box is an amazing palette, you can create any number of looks using it, and it has everything you need for the big day." Finally, he shapes the eyebrows, brushing them up with I Will Makeup's Amazing Brow Gel. "It's the perfect product for touch-ups throughout the day.
---
William Värnild's favourite bridal beauty products