The waterfront hotel has been a bastion of glamour and history for over 100 years, a favourite of the 'it' crowd and famous faces alike. And now, it's had a facelift for today's fans, one that holds true to its esteemed legacy
Turn up at the bar at the Radisson Collection Strand Hotel, Stockholm many moons ago and you would be met by some familiar faces that would undoubtedly warrant a second take. The actress Greta Garbo was said to have considered the hotel as her second home, she was spotted so regularly frequenting it. Ingrid Bergman, too, was apparently another regular, as was Frank Sinatra and Audrey Hepburn. Since its opening in 1912 with the Olympic games, the historic hotel has given refuge to many distinguished guests, both lay persons and Hollywood celebrities alike.
"The hotel had an intriguing history of being a sophisticated place to party over several decades," explains Leila Atlassi, architect at world-renowned Swedish architecture studio Wingårdhs who are responsible for the hotel's revamp. After all, during the '70s the hotel reportedly even played host to the legendary Alexandra's nightclub.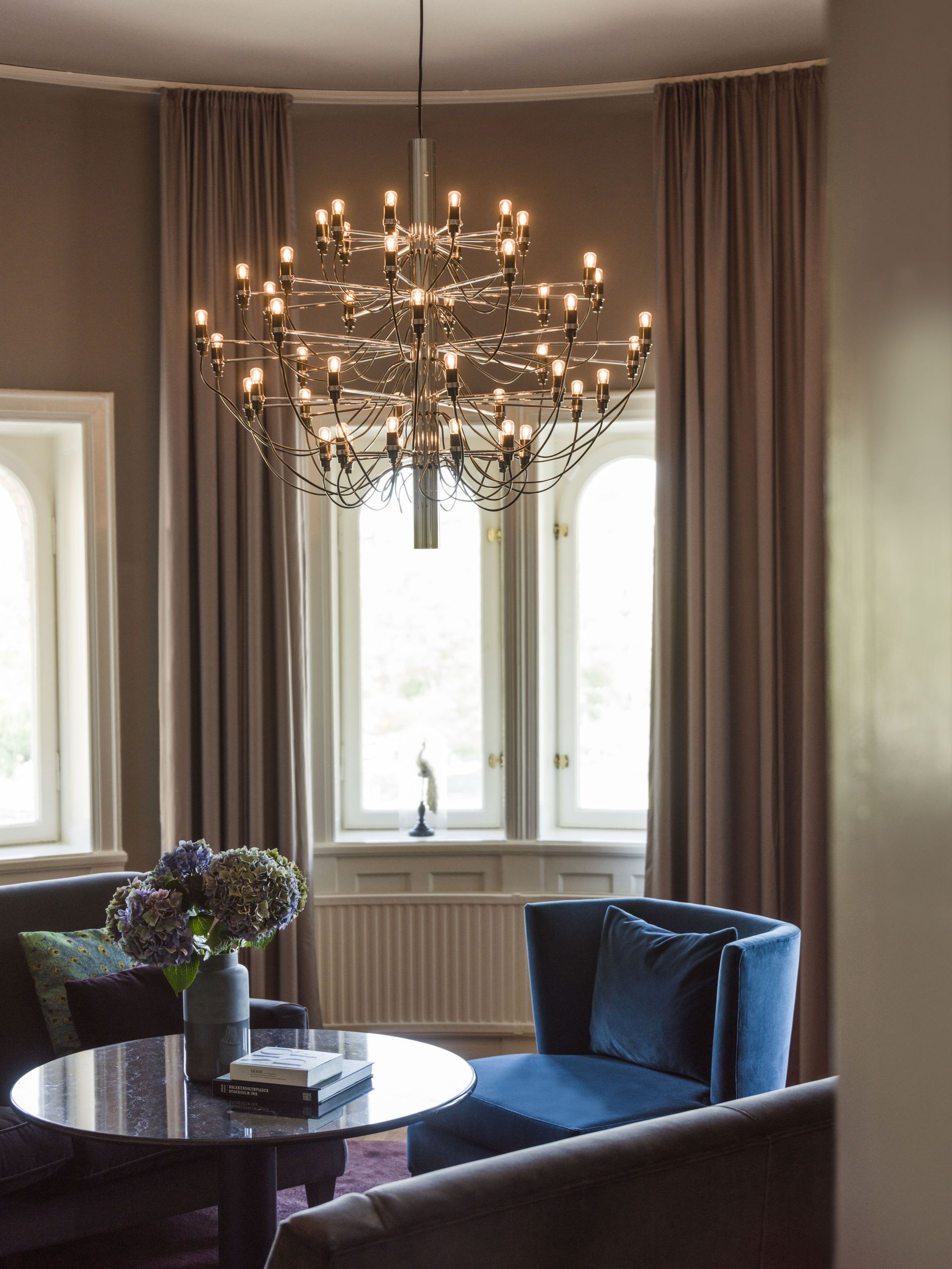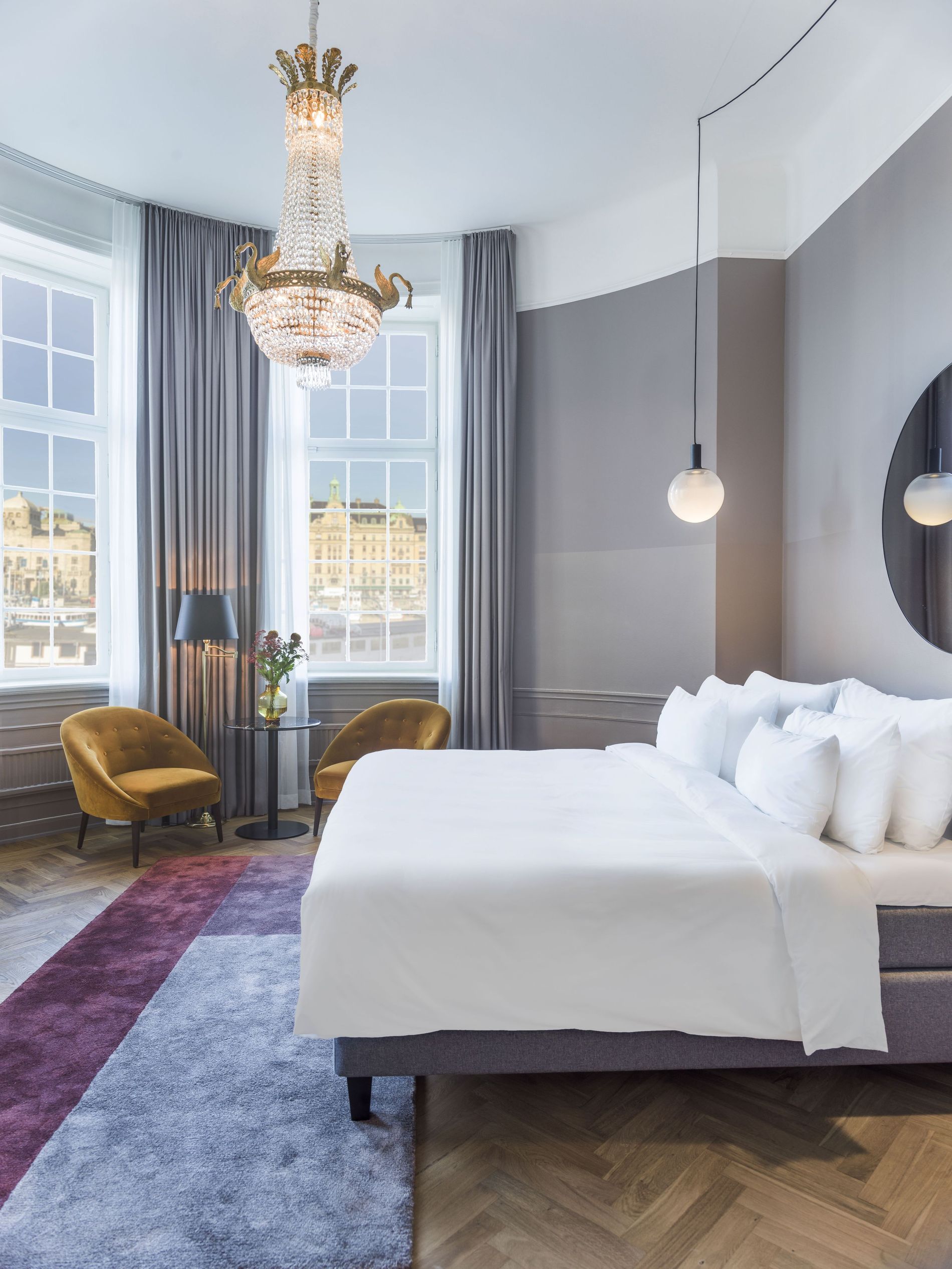 A place of luxurious intrigue is a difficult atmosphere to muster, particularly given that the Radisson is made up of a chain of hotels, dotted across the globe including in the heart of historic Venice, with its stunning views of the Cannaregio Canal, and in Milan, right next to the city's Duomo. But the Stockholm's Radisson Collection Strand somehow manages to give off the feeling of a boutique hotel, nestled in one of the most coveted postcodes in all of Stockholm. Situated directly on the city's waterfront, on Nybrokajen, a stone's throw away from the charming old town, Gamla Stan, and a short walk away from cultural must-visits such as the Moderna art gallery and the Abba Museum, a stay here proves perfect for any weekend warrior looking for a quick European getaway.
Staying true to a building's long and lauded heritage, whilst simultaneously giving it an update for the contemporary guest is a tough challenge to meet. But one that has so clearly been more than achieved when you take one glance around the hotel and take in the surroundings of its latest incarnation. "To create a warm and welcoming atmosphere, the interior tonality has been set from natural materials like stone, wood, leather and metal in their natural colours," describes Atlassi.
Using a consistent colour scheme of grey, coupled with hints of purple, this is the 'red thread' hue which forms the building's base colour continuing throughout the hotel, helping to bind the various rooms and annexes together as one and create a feeling of cohesiveness. "One colour that had lots of character, was sophisticated and that suited both the breakfast dining as well as in the hotel rooms. This was a way to create a thread through the building to make it connect all its parts," says Atlassi.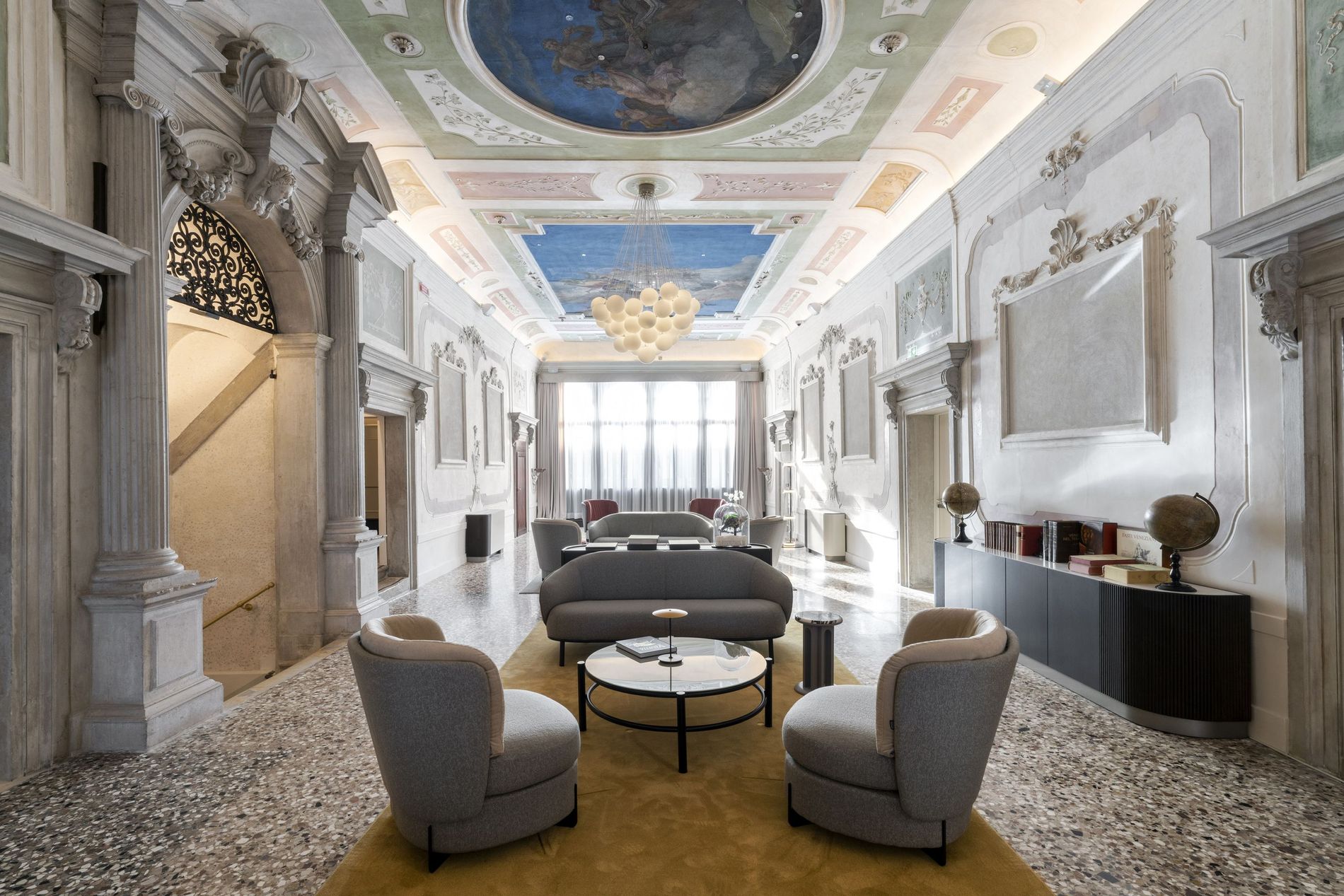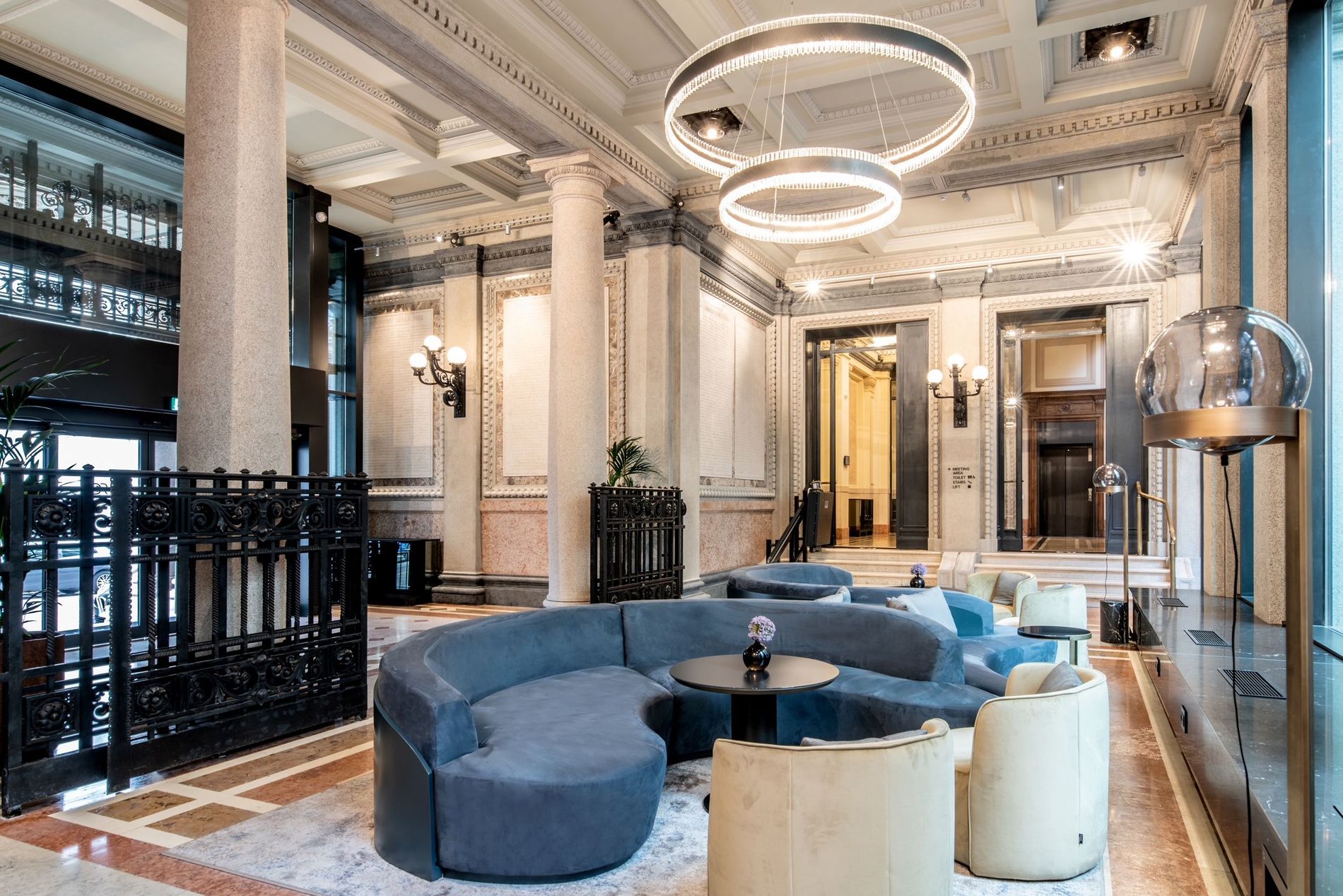 With 170 different guest rooms and suites, including meeting spaces, lobby, restaurant and bars, it was important to get the interiors right. In part that meant playing with textures and patterns. It involved "rich full bodied colours, glossy bold graphic floors and to create just the right darkness throughout the whole experience to make it alluring and appealing during all hours of the day," says Atlassi. Extra thought and care was put into small details and accents, such as warm metals and smokey mirrors, utilised to bring an added edge to the space, which Atlassi describes as "sharp, yet intriguing".
And of course, the revamp wouldn't be complete without inclusion of key, quality pieces sourced from Danish furniture design brand Fritz Hansen, a company that holds a long and intimate history with the hotel. Some long-loved Fritz Hansen pieces were even taken from other sister Radisson hotels in a sustainable move to make use of the heritage pieces, so guests may have the opportunity to fall in love with the Fritz Hansen furniture over and over again. "All the furniture is chosen to work together to create a harmonious whole and at the same time be high quality pieces with design that lasts for decades. We hope the interior may be easily updated in parts and changed if necessary but never because of fads/trends or bad quality manufacturing," asserts Atlassi.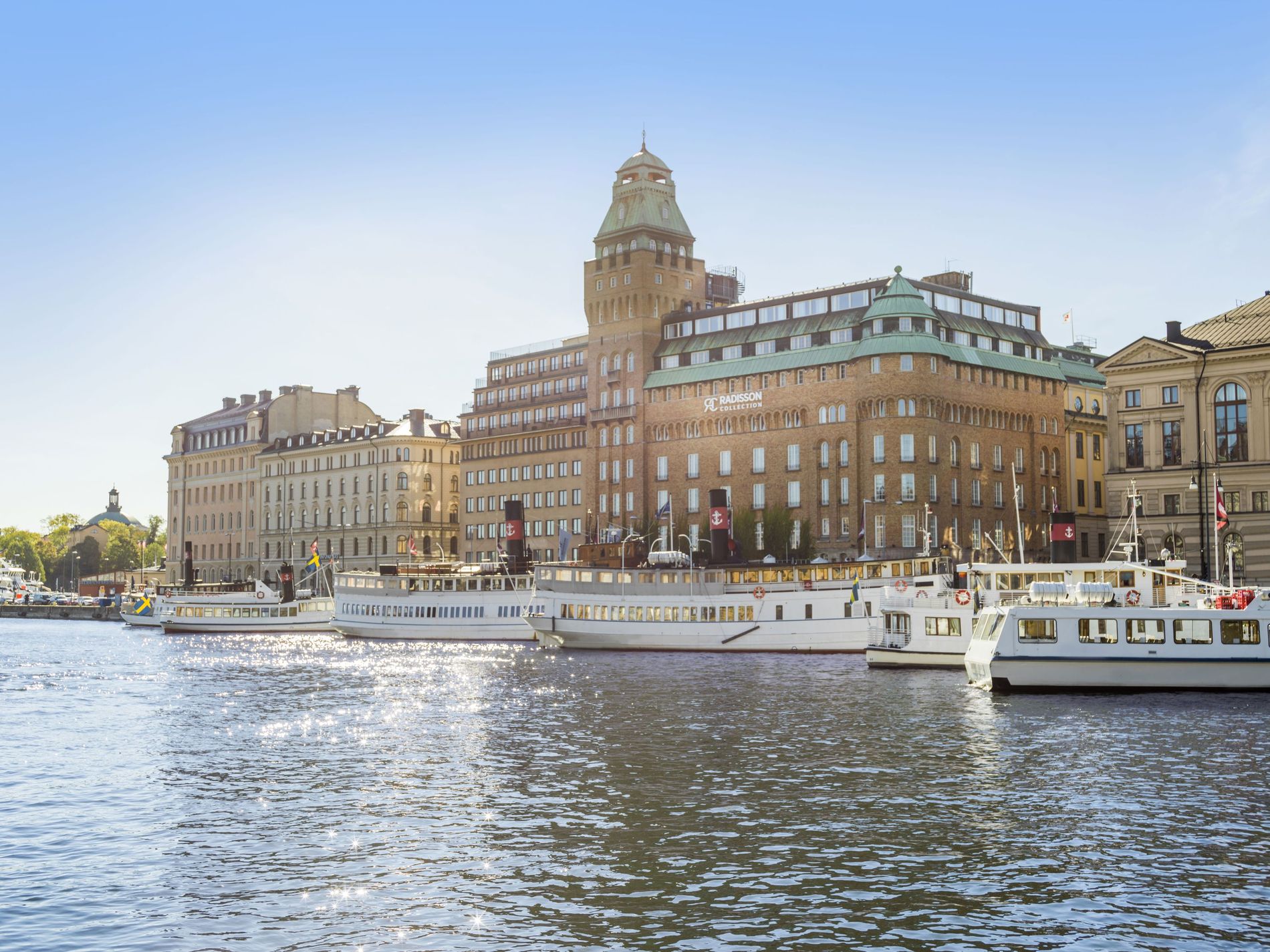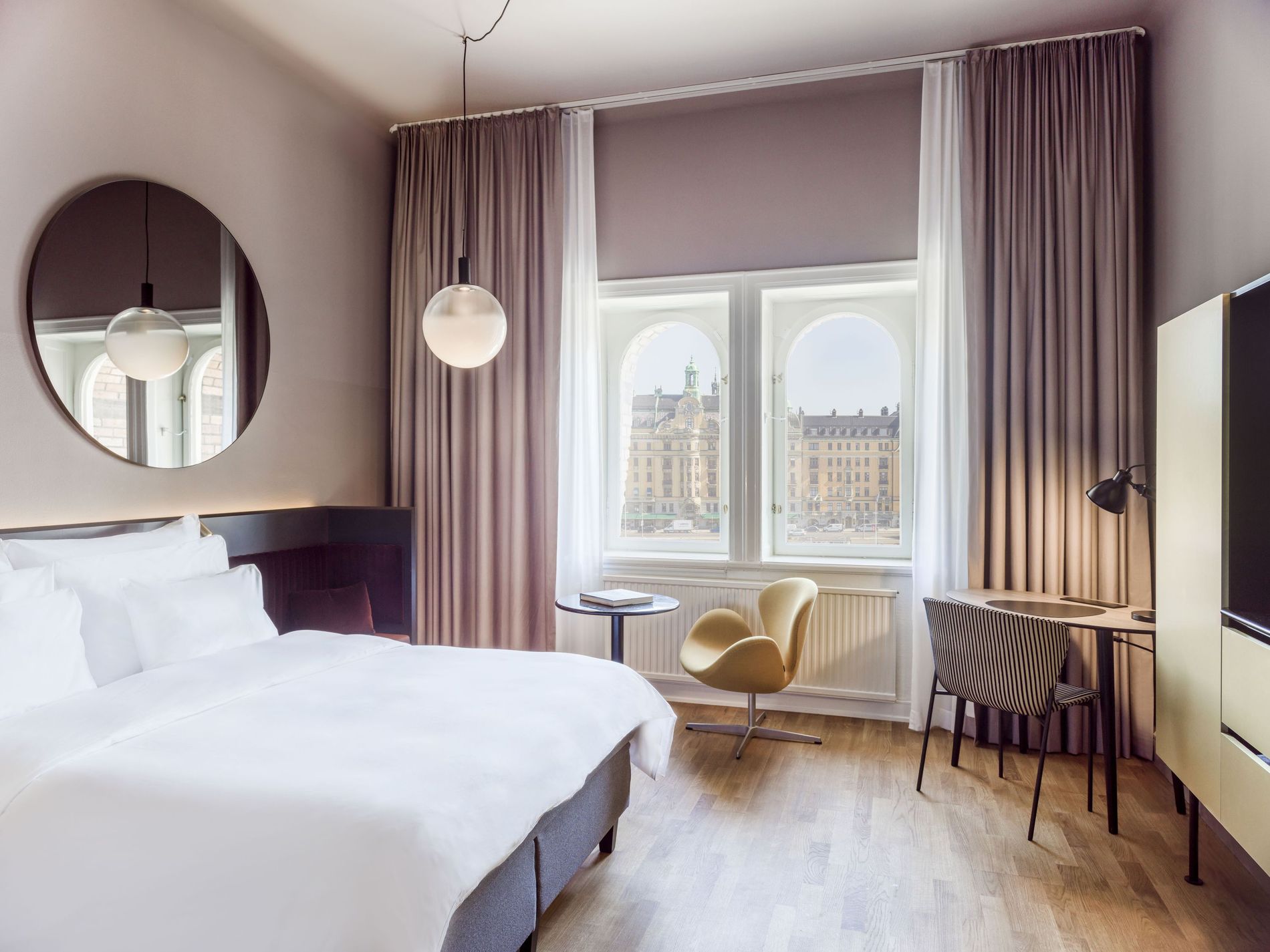 So whether it's the breathtaking view across the Stockholm waterfront, or the sumptuous brunch (reportedly the first spot in the city to serve it) this is one stay you will have to drag yourself away from.
Radisson Collection is a luxury lifestyle collection of iconic properties located in unique locations, with more than 30 hotels in operation globally and many more to come in 2023. Their key locations include many flagship destinations around the world, to mention a few: Radisson Collection Hotel, Palazzo Nani Venice; Radisson Collection Hotel, Palazzo Touring Club Milan; Radisson Collection Hotel, Gran Vía Bilbao; and the newly opened Radisson Collection Hotel, Santa Sofia Milan and Radisson Collection Astorija Hotel, Vilnius.