Vogue Scandinavia spoke with Einrúm founders Kristín Brynja and Steffan Iwersen on running a business within two different creative spheres
"My grandmother, Katrín, had a balaclava which she had made in the seventies. I thought this was a brilliant hat," explains Einrúm founder Kristín Brynja. "So in 2016, I asked [knitwear designer] Anne Grete Duvald to design a knitting pattern of a modern version of my grandmother's balaclava."
With the balaclava being one of this autumn's most desirable accessories, seen on most runways during fashion week including Miu Miu, Givenchy, Jacquemus, Max Mara, Raf Simons and Moschino (to name just a few), Brynja's grandmother definitely was one step ahead of the fashion world. The balaclava is a knitted headpiece which goes all the way down to the neck with an opening for the eyes, with the intention to keep you warm despite cold weather. With its long history, it has been a consistent player in Scandinavian wardrobes for centuries. And recently it appeared in the October-November issue of Vogue Scandinavia, but is also the staple piece in Einrúm's knitting range.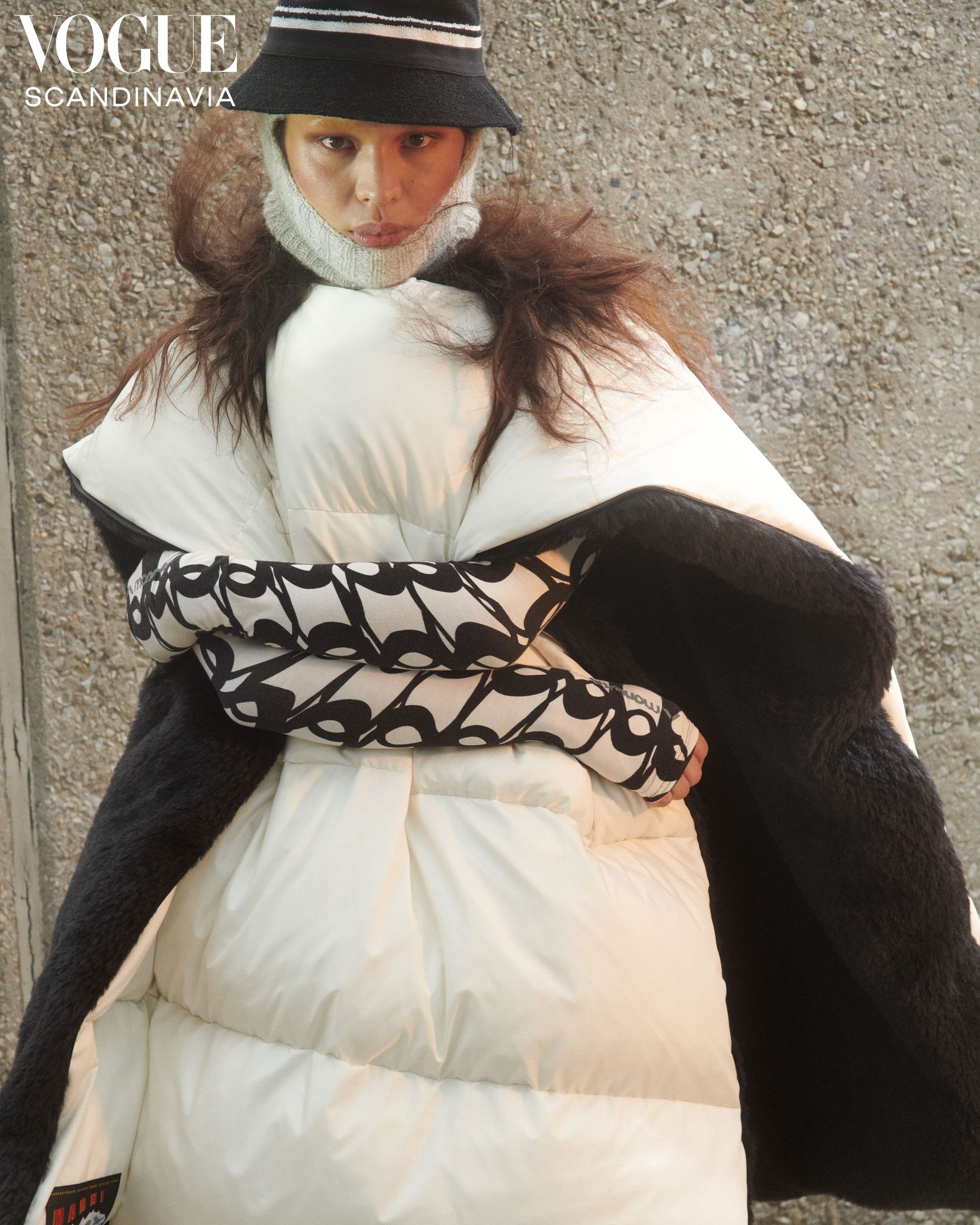 Cape, price on request. Marni. Cotton bodysuit, €330. Monosuit. Balaclava, €150. Einrúm, Design by Anna Grete Duvald. Bucket hat, stylist's own . Photo: Jason Nocito
Founded alongside her husband, Steffan Iwersen, Enirúm is a brand that combines knitting and architecture in a unique way. With the couple focusing on different parts, Steffan on the architecture and Kristín on the knitting side, Einrúm encompases both spheres.
Einrúm offers different kinds of products, either knitting patterns or already knitted items, and their expertise within wood and timber architecture. At first glance it is hard to find a synergy between knitwear and architecture, however, after talking to the Einrúm founders it all makes sense. "Though architecture and knitting might seem very different at first sight, they are not so different apart from the object's scale. It's all about transforming an idea into a form to work with measures, structure and textures," explains Iwersen.
I have always loved Icelandic wool for its structure and isolating qualities.
Kristín Brynja