We hear the personal stories of women on the front line reporting on the horrors of war
Isobel Yeung has maintained her composure while reporting on atrocities that some people can hardly stomach. As a Vice News correspondent, the 35-year-old London-based Yeung has covered the child brides and domestic abuse victims of the Yemeni Civil War and the decimation of women's rights under the Taliban takeover of Afghanistan last year. "It's possible to detach yourself in those moments," Yeung says. Sometimes, however, "something cracks and you suddenly find yourself on the edge."
In an immersive report aired in March, Yeung laid bare the horrors in southern Ukraine in the face of a Russian army that has killed civilians and forced more than five million people to flee their homeland. In the southern port city of Mykolaiv, Yeung and a small field crew documented the stream of casualties rushing into a hospital, a chaotic scene of blood and bullet wounds and guttural cries of pain.
In a sterile hallway, Yeung met Alexandra Mikhalchenko, a 60-year-old woman wearing a wool hat and coat of matching maroon. Her husband had been closing the balcony window of their home when artillery rained in "from I don't know where," Mikhalchenko explained, tearing through his chest. For a moment, "his heart stopped," she told Yeung, her voice beginning to waver. He lost blood, and fell into a coma. "And now we have to save him somehow," Mikhalchenko said through tears, "because I can't live without him."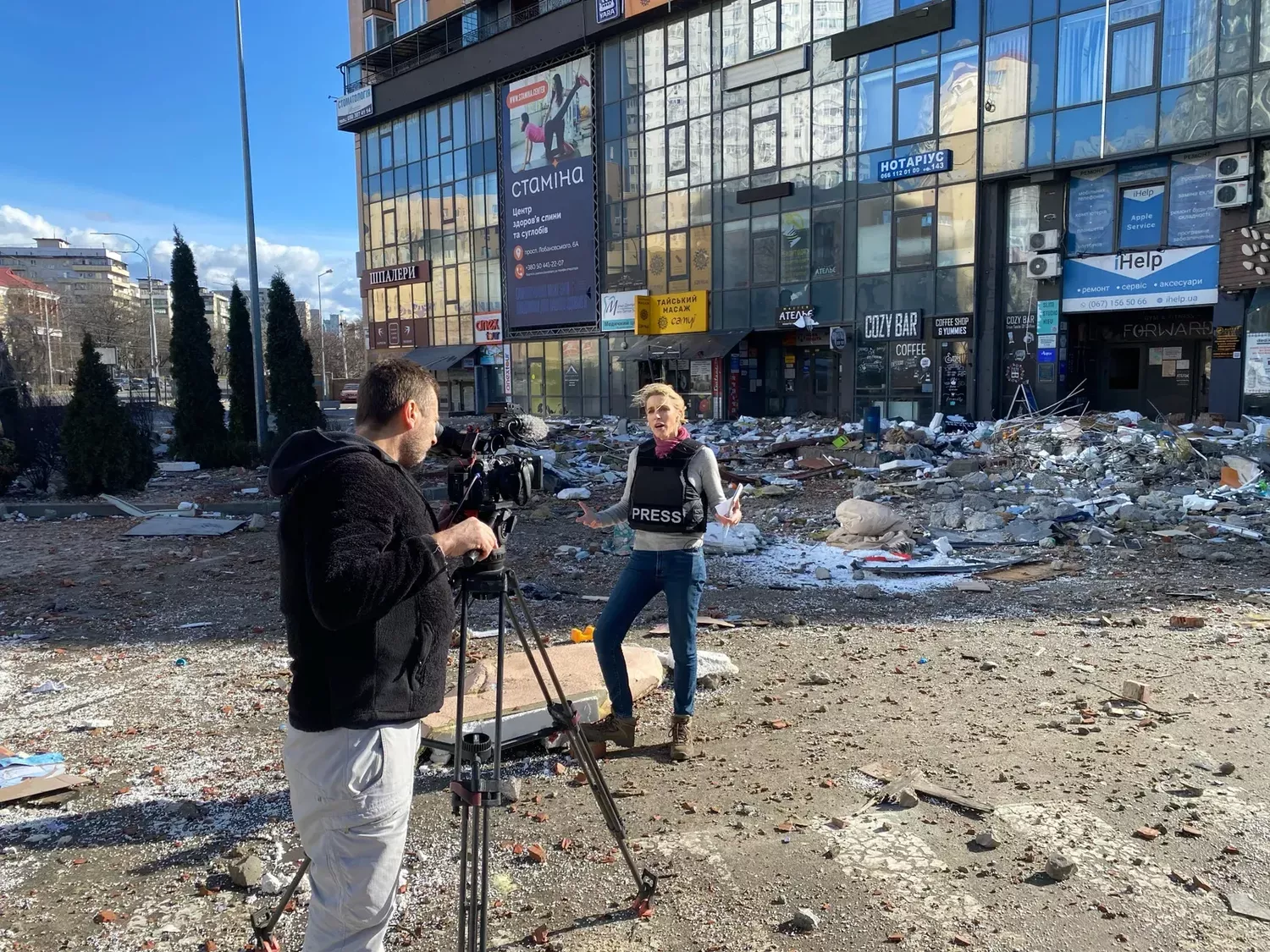 Yeung recounts this story from her London apartment, sage green walls and fig tree visible in our Zoom along with a mound of laundry that she apologizes for: After nearly a month of reporting in Ukraine, she is home for a week, trading her down North Face jacket for a soft black-and-white sweater and cat eyeliner. Mikhalchenko's pure panic, the way she seemed to cling to Yeung, remained unshakably with her. "I normally am quite good at not getting torn up, but she just really reminded me of my grandma," says Yeung, who was raised in Salisbury, spending time in the Chinese restaurant owned by her British mother and a father who emigrated from Hong Kong. Mikhalchenko was warm and vulnerable. "She'd lived almost her whole life with this man by her side," Yeung says. She remembers laying a comforting hand on the woman's arm. "She was holding on to me…and it reminded me of when my grandma lost my granddad. It was devastating." Mikhalchenko's grief embodied the raw shock Yeung had observed en masse in Ukraine. She had "lived such a peaceful life up until that moment," Yeung says.
Mikhalchenko was—is—more than a fleeting subject to Yeung. She made it her mission to keep in touch, following up the day before her 22-minute report aired on Vice TV. "She told me that her husband had died," Yeung says. "She could barely speak." The news of his death was included in her segment, a choice made to underscore the brutality of the Russian onslaught. "Individuals allow us to empathize," Yeung says, "in a place that speaks a different language; in a place that can seem so alien to us."
Yeung is one of a diverse group of female correspondents reporting from Ukraine, and it is their in-depth, empathetic, almost impressionistic emphasis on civilian life—the upheavals, the sudden loss of normalcy, and the everyday ways people persist in the darkest of circumstances—that has been defining the coverage. This reporting has made the war viscerally present in novel scenes: at funerals and defiantly optimistic weddings, in encounters with children lamenting the pet hamsters they were forced to leave behind. "Women are doing some of the best work, because they're incredibly brave and intrepid, but also full of humanity and compassion," CNN chief international correspondent Clarissa Ward, 42, observes from her London living room, where she is taking a break—though still obsessively following the news—after seven weeks leading the network's coverage from Ukraine. "The contemporary form of storytelling that I see resonating is more experiential," she adds, "getting a sense of what it feels like to see desperation, or to be in that desperate situation yourself."
Women are doing some of the best work, because they're incredibly brave and intrepid, but also full of humanity and compassion
CNN's Clarissa Ward
In a striking dispatch from Kyiv on the first Saturday of March, Ward explained—clear-eyed and seemingly off-script—that the trickle of people behind her were navigating the twisted metal of a broken bridge to flee hard-hit Irpin. They'd left reluctantly, Ward said, not knowing where they were going, or if they'd ever be able to return home. In a moment that ultimately went viral, Ward, wearing a helmet and bulletproof vest, excused herself mid-report to lend a hand to an elderly man, and to help a crying woman carry her bag across the jagged path.
It's a tonal shift from what we're used to: frontline military reports, often delivered by a swashbuckling male journalist. "Traditionally, the way we have told [war stories] has been the 'stand and deliver,' " Ward says, referencing the broadcasts filmed from the edge of combat. She adopts a booming baritone: "Well, Jeff, if you look behind me, you can see the front line…' " she trails off. "That doesn't work anymore," she adds matter-of-factly. "That's over." Ward, who previously spent time embedded with the U.S. military in Iraq, reported from Afghanistan and succeeded Christiane Amanpour at CNN in 2018, says she's "more interested in capturing what it's like for people experiencing the fallout."
The New York Times' Sabrina Tavernise, 51, who covered Iraq and the January 6 U.S. Capitol insurrection, had only just been appointed a new host of the Times' podcast The Daily when she felt compelled to travel to Ukraine—a departure for what is usually an in-­studio role. In a wrenching episode from early March, Tavernise, speaking fluent Russian, provided an intimate, documentary-​style account of a two-day journey along the slow-moving, unpredictable evacuation route from hard-hit Kyiv to western Lviv, including audio of brushing her teeth alongside children at a kindergarten where she spent a night. She captured audio at a train station packed with refugees headed to Poland, where a seven-year-old boy named Tim confided a secret to Tavernise: He'd pulled out two loose teeth since fleeing Kyiv, where his father remained. "He wanted to talk about his Legos," Tavernise tells me by phone. "And when I asked him where he was, he said he didn't know."
Tavernise's reporting conveyed tragic, overnight disruptions through interviews with women who had fled, many of them mothers with their children, and with office workers and screenwriters and interior designers who described "one day going to the dentist, and the next, being in a dark basement with a stranger," Tavernise says. "They talked about doing the dishes and looking out the window and seeing tanks." Before the invasion, at a Georgian restaurant in Kyiv, Tavernise caught up with a group of local friends who hoped against hope, thinking that "it could never happen here," she recalls. "And then, suddenly, there's a crack from the sky and life stops."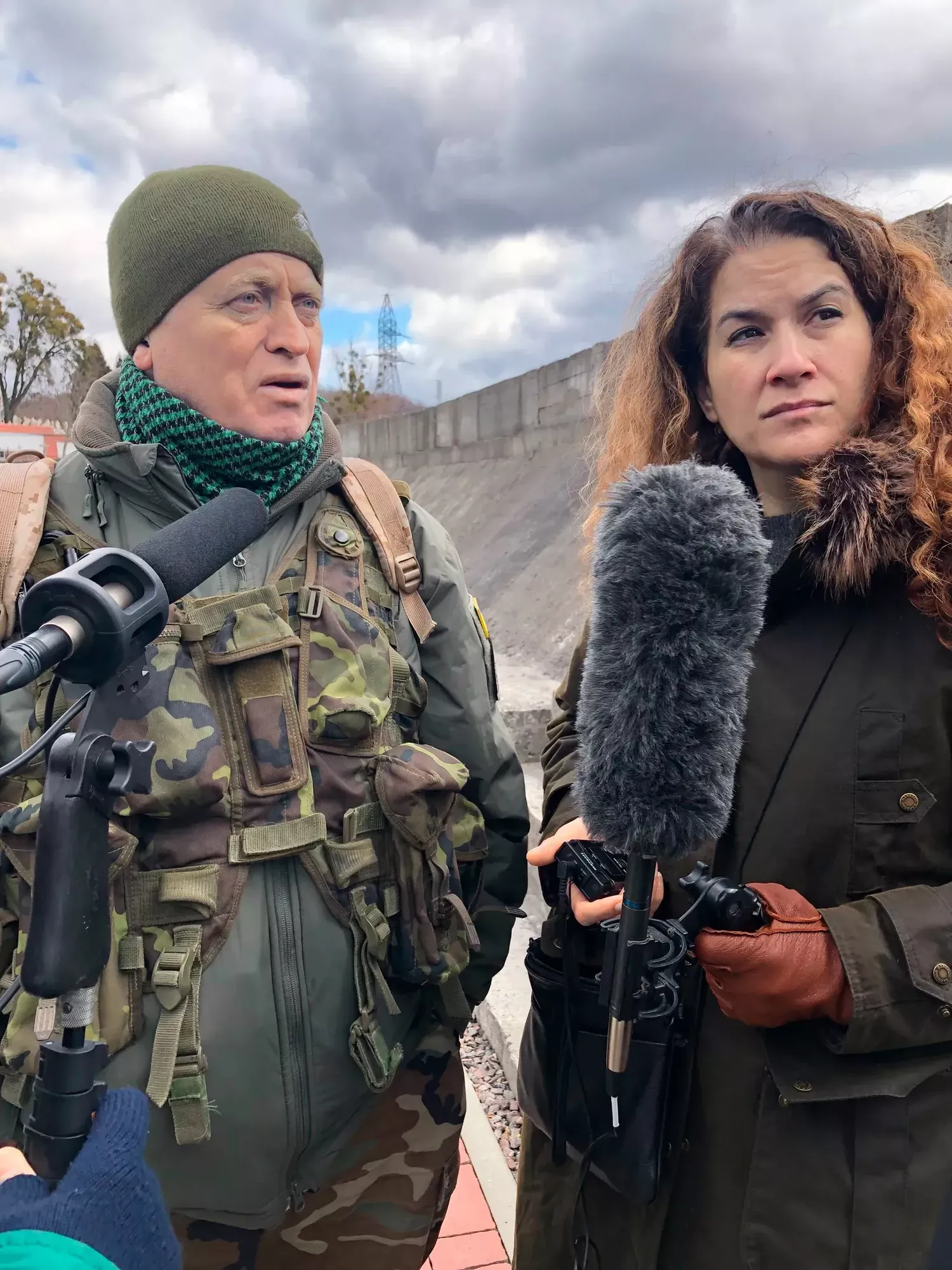 NPR's Leila Fadel in Lviv. Photo: Arezou Rezvani/NPR
Explaining the aim of her reporting, Tavernise cites Nobel Prize–winning Belarusian investigative journalist Svetlana Alexievich's 1991 book, Boys in Zinc (the title refers to the zinc coffins in which fallen soldiers of the Soviet-Afghan War were sent home). Tavernise keeps one of Alexievich's sentences saved on her laptop; reading it has a way of making her cry. "Alexievich said, 'I was trying to present a history of feelings, not the history of the war itself.' "
As you'd expect, the female reporters I spoke to resisted easy generalizations around gender. "I don't want to be defined, necessarily, as a female conflict reporter," Yeung says. "That is, in some ways, too narrow." At the same time, "I do think that it's really nice not to have to see conflict through a male, macho lens, which is quite often what it slips into." The nuanced humanitarian coverage from Ukraine is shaped also by "a much greater diversity of people telling stories," Ward says, pointing, for instance, to more industry-wide inclusion beyond Ukraine, including more Arab American journalists and correspondents of Middle Eastern descent covering that region.
"I got into the business because I remember feeling like so much of the coverage of the places that I was living in didn't reflect people that looked like me or sounded like me and my family," said Leila Fadel, 40, host of National Public Radio's Morning Edition. Like Tavernise, Fadel had been newly appointed to what is often considered an in-studio position when she traveled to Ukraine in March. The daughter of an American mother and a Lebanese father who'd immigrated to the U.S., Fadel grew up partly in Saudi Arabia, where her father worked at the oil company Aramco, under the specter of the Gulf War (she remembers carrying a gas mask to school). The Fadels paid summer visits to Beirut, a city in the grip of civil war. "I know from my own experience that people continue to try to be normal," Fadel says from Washington, still getting her bearings after four weeks in Kyiv and Lviv. Even in wartime, she says, "people want to get married. They want to have parties. All of these things continue to happen."
I got into the business because I remember feeling like so much of the coverage of the places that I was living in didn't reflect people that looked like me or sounded like me and my family
NPR's Leila Fadel
In a March report from Kyiv, Fadel detailed "a guy walking his dog, somebody riding their bike, people picking up their groceries—and then a building that's clearly been hit by a missile, with windows for, gosh, a block and a half shattered out." Through the buzz of electric hair clippers, Fadel ventured inside one of the few still-open beauty salons, where a woman, Exsinya Kojushko, shared her guilt over having her hair done.
"I don't think of myself as a war reporter," says Fadel, who previously served as NPR's international correspondent based in Cairo. "I just cover people…sometimes that means they're living through some of the most traumatic things that you can imagine, and that can be anywhere," she says. "It's becoming clear that there isn't one part of the world where conflict is endemic." Fadel was struck by the particular brand of shock that war would erupt in Europe, and the accordant idea that Ukraine might prompt more global empathy because it seemed more racially and culturally familiar to the Western world. "There should be an outpouring of compassion and shock over tragedy, always," Fadel says. "This idea that war is so new to the modern era? No, it's not."
You Don't Belong Here is the blunt title of author Elizabeth Becker's 2021 account of three trailblazing female correspondents in the Vietnam War (Becker herself began her career reporting on the Cambodian Civil War in the 1970s). "The Vietnam press corps was a male bastion that women entered only at the risk of being humiliated and patronized," reads her epigraph, a quote from the Associated Press correspondent Peter Arnett. "The prevailing view was that the war was being fought by men against men and women had no place there."
When author Janine di Giovanni started out as a young foreign correspondent in the 1990s, "there were very, very few women in the field," she says. "The men were much older than me, much more experienced, and really went out of their way to make me feel that I didn't know what I was doing." Di Giovanni, who is now directing a project documenting and verifying war crimes in Ukraine called Enabling Witnesses, remembers suffering "overt sexual harassment," including "foreign editors telling me disgusting things over the phone."
It could have been me as much as it was them
Photojournalist Lynsey Addario
More women broke into the profession over the ensuing decades (though behind-the-camera roles are still male-dominated and women are still outnumbered in many foreign bureaus, Ward tells me). In Iraq between 2003 and 2007, "I was the only woman in the Baghdad bureau for pretty much that entire time," Tavernise says. She didn't attempt to compete with reporters embedded with troops. Instead, she set out to "be in as many living rooms of Iraqis" as possible, a sector of coverage seen as "backwater," as she describes it. But her time immersed with Iraqis, hearing directly about entire blocks of men being killed in sectarian fighting, meant she gained an earlier understanding of the burgeoning civil war than many of her male colleagues did. "I think, actually, I got to where the war was going ahead of them," Tavernise says.
Military coverage can still seem like the gold standard. A day after Ward's viral dispatch on CNN, the Kyiv side of the same bridge where she stood—a known evacuation point for civilians—was attacked by a Russian mortar, killing Tetiana Perebyinis, a 43-year-old Ukrainian mother and accountant; her two children, Mykyta, 18, and Alisa, 9; and 26-year-old Anatoly Berezhnyi, a church volunteer helping the family flee. Photojournalist Lynsey Addario, who had been huddled behind a cement wall, was sprayed with gravel in the blast, wondering at first if she'd been hit by shrapnel. The mortar had landed between Addario and the family. "It could have been me as much as it was them," Addario, 48, says from London, during a brief hiatus at home after six weeks in Ukraine. Addario hurriedly photographed the fallen as she fled the scene, not knowing whether the pictures were even in focus. The grim images of four lives cut short—lying among their luggage, the children's backpacks still strapped on—landed on the front page of The New York Times, providing searing evidence that, despite its denials, Russia was flouting even the flimsiest rules of engagement and transgressing into war crimes.
Still, Addario, a winner of the 2009 Pulitzer Prize, self-flagellated. "I have been beating myself up for the last two months about the photos that I haven't been getting, the fact that I wasn't doing more frontline stuff, more soldiers shooting their guns, more smoke and fire and destroyed buildings," she says. "I kept feeling like, Oh, my coverage isn't good enough. It's not tough enough…but in lieu of that, I focus on the things that I, as a woman and a mother and a human being, am drawn to." (Addario is the mother of two sons, Lukas, 10, and Alfred, 3, with her husband, former Reuters journalist Paul de Bendern.) In April, Addario detailed the crisis conditions for pregnant women, some huddled in a makeshift underground maternity ward, others so stressed they were going into premature labor: "Giving birth is difficult in the best of times," she says. "Imagine what it's like to have to go down into a basement shelter with your two-hour-old baby and try to find a breast pump that's not available in any pharmacy." In a story close to her heart, Addario photographed 19 babies born to surrogates—as Addario's younger son had been—lying on cheerful blankets in a Kyiv basement, being kept alive by nannies who refused to leave them. That the babies' biological parents were unable to reach them—"I can't even get my head around that," Addario says, recalling her own family's experience with a surrogate in Utah with whom they are still in contact. Addario and de Bendern had been in the delivery room. "We were so lucky," she tells me.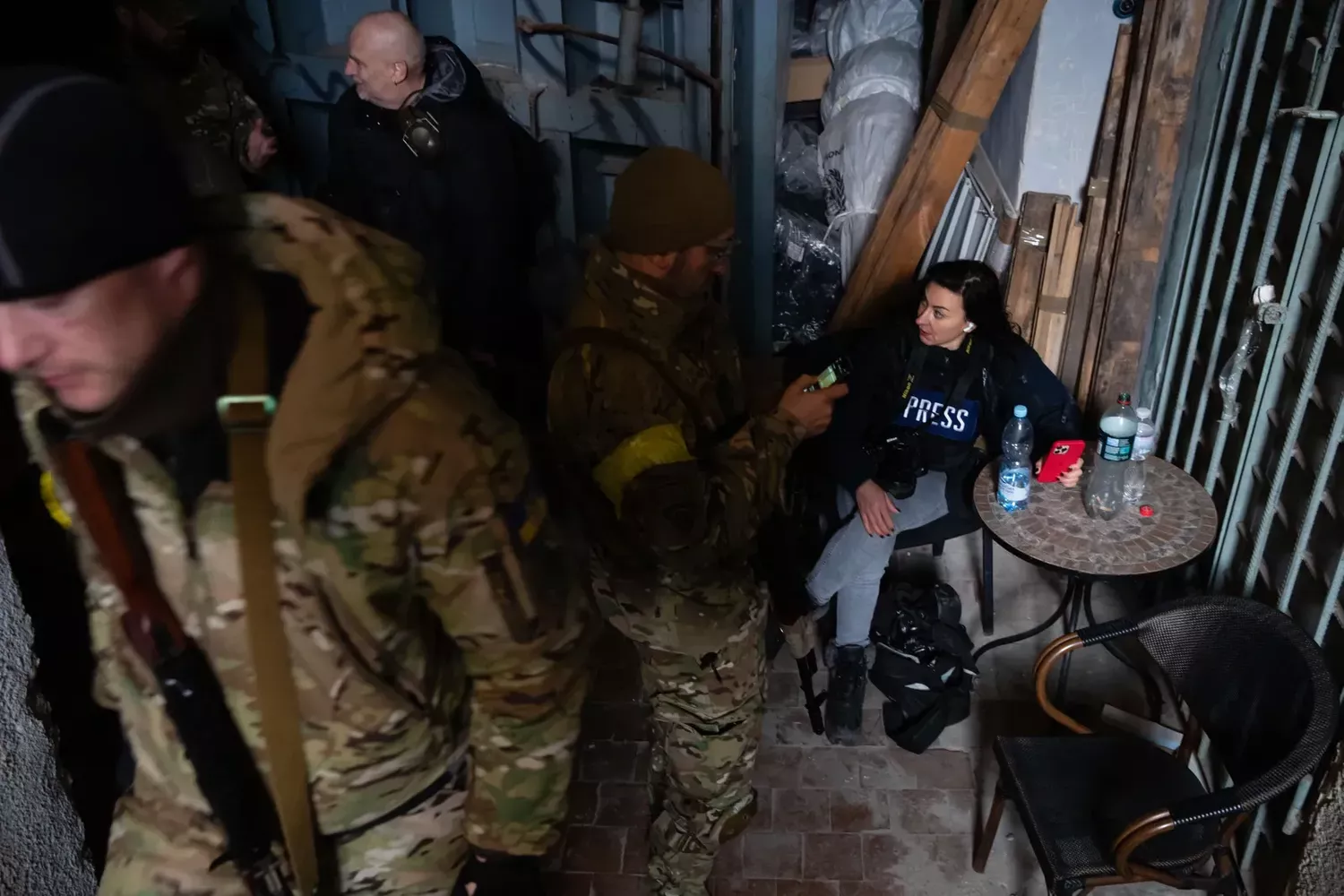 Motherhood changes the stakes for women covering conflict zones—even as Addario resents the double standard of being asked about her family more often than fathers are. "The notion that I might die is a completely integral part of me going on assignment," she says, pointing to the five journalists killed in the first month of the Ukrainian war alone. Among them was Fox News cameraman Pierre Zakrzewski, whose death "shatters the illusion that you can do this in a sensible way and not get hurt," says Ward, a longtime friend. "With every assignment I take, I wonder if I'll come home," says Addario. "It's not like it didn't matter before I had children, but with my husband, I thought, Okay, he'll just remarry. But you can't have another mother."
Ward wrestled with a heightened sense of risk when she first had her boys, four-year-old Ezra and two-year-old Caspar, with her husband, fund manager Philipp von Bernstorff. She fielded "more than a whiff of casual misogyny," she remembers— suggestions that she'd stop traveling to war zones in favor of an in-studio position. Ward has since come to believe that motherhood adds dimension to her reporting. "Maybe we need to have more mothers covering war," she says. "I really believe that when you do it as a mother, you have a sense of responsibility to mothers in war zones. I think it's great to have mothers and fathers covering war."
Addario is more cautious now, more calculated with her decisions, but "I'll never be that kind of mother that society tells us we need to be," she says. For Addario, "I feel like it's harder, almost, to be a mother than it is to be on assignment on a story like Ukraine, because that's where my whole life was, on stories like that, before I decided to have a family. I'm very comfortable and very happy when I'm on assignment. When I come home, I have to get to know my kids again." Six weeks away from her three-year-old feels like a particularly long stretch. "I have to ask the nanny, 'What does he like now? What is he doing?' " Addario says it breaks her heart to observe that her 10-year-old hardly asks questions about her work, perhaps not wanting to know details as a form of self-protection.
I believe in this work, I really believe that photographs and good journalism can change the world
Photojournalist Lynsey Addario
"I sometimes describe coming home as going through a time machine. You're getting sucked into the atmosphere of a different planet," says Tavernise. "You tend to have this dazed feeling back in America," the whiplash of arriving in a city "where everybody's walking around drinking espresso." Returning to a comfortable life after witnessing such horrors as bodies piled in the hallways of a Ukrainian morgue "is the weirdest part of this job," Yeung agrees. Her fiancé, journalist and documentary filmmaker Benjamin Zand, "says I'm always a very strange person when I come back."
At home in London, Yeung felt "consumed with guilt," she says—for the privilege of being able to leave the war, for worrying her family and for not being able to look away from the story and stop refreshing her news feeds. "It's hard to be in both worlds, and my therapist would say that I need to try to be in the world that I'm in at the moment," Yeung says, shaking her head.
Ward makes a point of speaking publicly about the mental-health toll of conflict reporting and the fact that she sees a therapist. "It's still a taboo in this industry, because there is a lot of bravado and macho culture," she says. She tells younger war correspondents: "Not only is it not shameful in any way to talk to someone, it's actually something that should be mandatory."
Yeung's own trauma is evident: She frequently "jumps out of my skin" at loud noises, like the trash collector slamming bins. But "it's not necessarily just that you are up all night dreaming of bodies," she says. "It's also that you become detached from what your life is, and so then you become irritable and it affects your relationships." Many of Yeung's peers from university are married with children. Yeung's frequent travels complicate the notion of those milestones. "I don't know how I would do this job with kids, and that's a conversation that I have a lot with my boyfriend," she says. "He's a journalist, but he also needs me to be around in order to service that relationship, and I think he struggles with that a lot."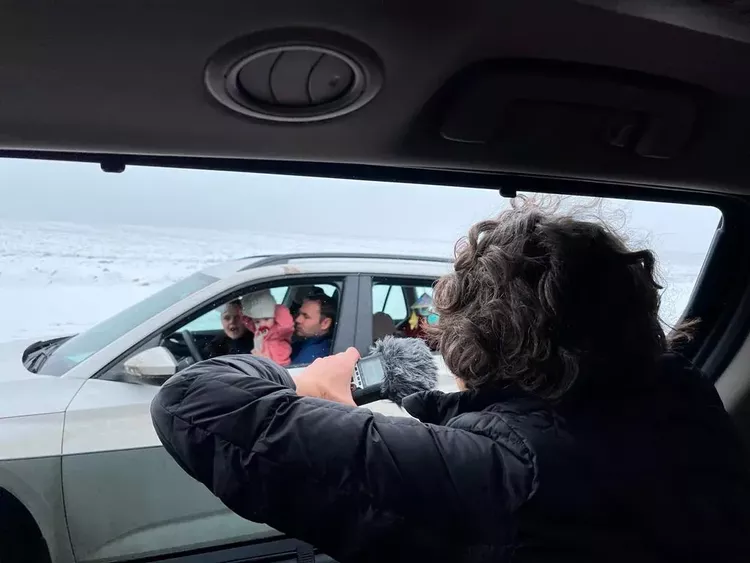 The New York Times's Sabrina Tavernise interviewing fleeing Ukrainians by car in March. Photo: Valerie Hopkins/Courtesy of Sabrina Tavernise
During her six weeks in Ukraine, Addario repeatedly insisted that she was fine when friends from all phases of her life texted her with the same loaded question: "Are you okay?" The minute she crossed into Poland and texted de Bendern that she was safe, "I burst into tears," Addario recalls. "I could not stop crying." It was the release of six weeks of bottled stress and fear. "I didn't know if I would survive, you know?" At home, she couldn't bear to look at her photograph of the slain family at the Kyiv bridge. She bristled at the violence in the Swedish TV series her husband was watching. "I can't listen to violence when I'm not in violence."
The work becomes a bridge between two realities. "I think there's a moral obligation, frankly," says Fadel, an imperative to tell stories that many people won't be able to witness themselves. Outsiders often look at them with morbid fascination, but Addario says there is nothing twisted in her past that led her here. She notes with a laugh that she is the daughter of hairdressers from the comfortable suburb of Westport, Connecticut. "I don't think of it at all as this crazy, brave profession," she says. "I believe in this work. I really believe that photographs and good journalism can change the world."
The women on the ground in Ukraine are determined to keep audiences engaged even in an ever-churning news cycle. "People always connect with the human condition," Fadel says. "What do you do about sanitary products and how do you get groceries? As long as you can help people connect to an individual or a family, I think that people care." When I ask Tavernise if she'll be traveling back to Ukraine, she doesn't hesitate: "I hope to."
As for Yeung, she hadn't told her mother yet, but the day after our Zoom call, she was heading back to Ukraine—to the southeastern city of Zaporizhzhia, where refugees are fleeing from the devastation in Mariupol. She wanted to focus on the children displaced, their futures uprooted. "Maybe it's the grandiose idealism of the job, but I think it's worth it," Yeung says—worth the risk and the fear. "Providing depth and humanity to this war is valuable."